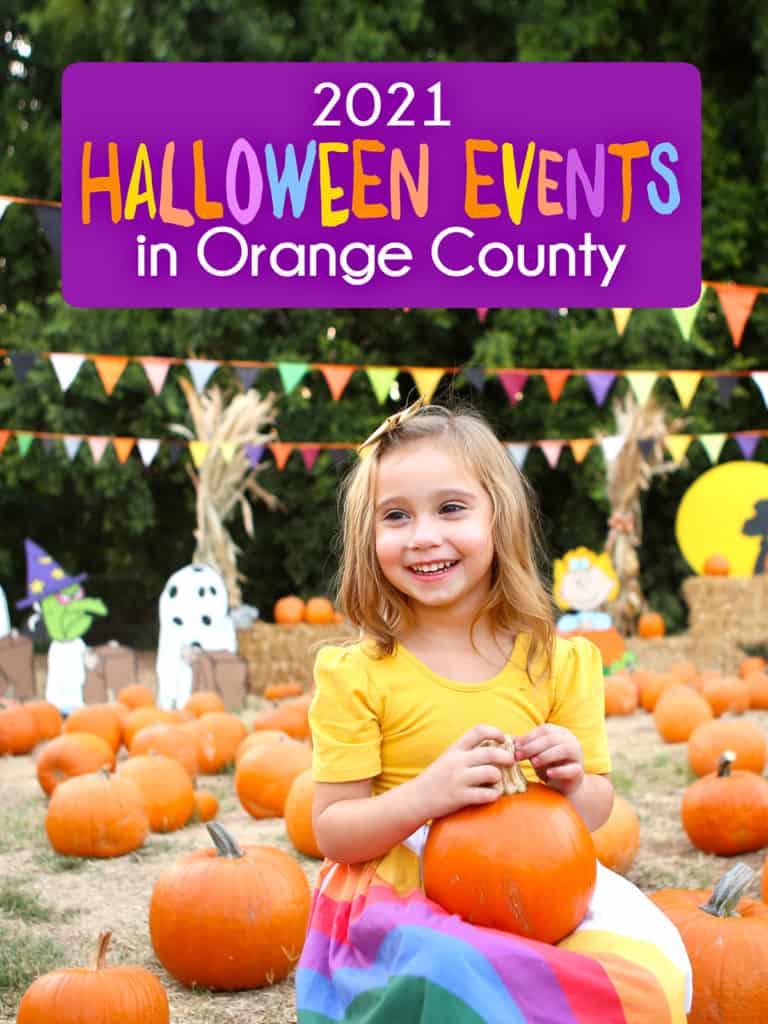 Halloween season has arrived in Orange County! Here's a list of over 100 Halloween events happening all over Southern California. I will do my best to update this list of 2021 Family-friendly Halloween Events in Orange County for Kids as the season continues. So please check back often!
2021 Halloween Events in Orange County for Kids and Families
More events will be added as they are announced. And if you have one to add to the list, please email jill@jillparkindesigns.com
Aliso Viejo Halloween Events
Fall Fest
October 31 | 6 - 9:00pm | Compass Bible Church
Details coming soon!
Anaheim Halloween Events
Kid Zone - Monster Slime
October 9, 2021 | Anaheim Town Center
Kids Fun Zone is hosting a Monster slime tutorial. Happy Halloween! Slime is a fun activity that teaches kids a bit of science and a little magic. We will be creating monster slime to get us into the Halloween spirit. Kids will also receive a candy holder bag to prepare for their Halloween activities. Kids Fun Zone will be held in-person, we will be providing individual supplies to all registered kids.FREE
Anaheim Fall Festival & Halloween Parade
October 1-30, 2021 | Center Street Promonade, Anaheim
It's happening again. The online Anaheim Fall Festival is back!! All the contests! All the Entertainment!! All the FUN!!! Available right now at anaheimfallfestival.org. Stay tuned for more details on what we have brewing for this years modified Halloween Parade! FREE
Trunk or Treat
October 31, 2021 | The Salvation Army, Anaheim
The Salvation Army will be doing a free Trunk or Treat event for the community in their parking lot. Along with candy stations, we will have a canteen with hot chocolate, and activities for children. Volunteers are needed! FREE
Halloween Time at Disneyland Resort
September 3 - October 31, 2021 | Disneyland Resort
Halloween Time has returned to the Disneyland Resort! Join Mickey Mouse and Minnie Mouse this spooky season and experience boos and aahs around the Parks.
Anaheim Plaza Trick or Treat
October 30, 2021 | Anaheim Plaza
For Kids ages 12 and under, dressed in costume. Enjoy a FREE and SAFE way to TRICK or TREAT in the light of day! Kids must be dressed in costume to participate. Candy available from 11 am – 1 pm or while supplies last. Look for the "Trick or Treat" signs posted in the windows of participating stores and restaurants.
Trunk or Treat at Grace OC
October 30th | Grace OC Church, Anaheim
Join us for a night of FUN, GAMES, and CANDY! Our parking will be full of cars decorated differently with of course FREE CANDY. Admission is free and food will be sold. Dress up and lets have a good time!
Safe Harvest Halloween Festival
October 31, 2021 | West Anaheim Youth Center
Grandma's House of Hope annual Safe Harvest event provides a safe alternative to trick or treating on Halloween for the low-income families living in motels in Anaheim. The event serves 1200 children and their families. To successfully provide for Safe Harvest we need roughly 8,000 pounds of candy, 20 carnival style game booths or activities, child appropriate entertainments and food and drink.
Halloween Night Market
October 23-24, 29-31, 2021 | GardenWalk, Anaheim
Enjoy an evening of shopping from your favorite spooky vendors, live entertainment, food trucks, and fun photo ops!
Tunnel of Terror OC Haunted Car Wash
October 7-31, 2021 | Big Wave Car Wash, 2219 West Lincoln Avenue
Residents of Orange County and all nearby cities are welcomed to come with their family and friends to experience a one-of-a-kind Halloween thrill, filled with chills and Terror to delight the entire group. The Tunnel of Terror is a carefully curated experience, with scary and creepy performers popping up throughout the wash, and special effects providing a terrifying ambiance. Participants can also expect unique surprises each night!
Anaheim Hills Halloween Events
Fall Fest
October 22, 2021 | Canyon Hills Friends Church
Come enjoy some fall family fun! Your family can enjoy food, kids crafts, a petting zoo, face painter, and bounce houses. This is a don't miss event!
Halloween Spooktacular
October 22, 2021 | Anaheim Hills Festival Shopping Center
Spooky season is here! We are calling all goblins, ghosts, and ghouls to join us for our Halloween Spooktacular event on Sunday, October 31st, from noon to 2 pm. The event will feature trick-or-treating throughout the shopping center at participating tenants and restaurants, live DJ, face painting, balloon twisting, photo opportunities, and more. You are sure to have a SPOOKTACULAR time!
Buena Park Halloween Events
Knott's Spooky Farm
Saturdays & Sundays Sept. 21 - Oct. 31, 2021 | Knott's Berry Farm
Enjoy the spooktacular Halloween season at Knott"s Spooky Farm, an event full of Halloween activities for kids ages 3-11.Kids can trick-or-treat through Ghost Town to collect sweet Halloween treats. Fun Halloween-themed shows are in store. Guests of all ages can learn about the creepy crawly critters occupying Ghost Town"s Livery Stable. The Halloween Hootenanny returns as The Timber Mountain Log Ride transforms with spooky but family-friendly surprises. This event is included with regular park admission or your Season Pass.
Knott's Scary Farm
Sept. 16 - Oct. 31, 2021 | Knott's Berry Farm
Knott's Scary Farm is the largest and most haunting Halloween event in Southern California, with unimaginable scares and innovative thrills that can't be found anywhere else. The fully transformed theme park features uniquely haunted mazes and attractions, sinister shows, and more than 1,000 horrifying creatures lurking in the fog and hiding in every corner of the park. These haunted attractions have the ingredients of a truly terrifying nightmare. But unlike most dreams, Knott's Scary Farm is a nightmare you can't wake up from -- which makes it the thing to do for Halloween.
Fall Spooktacular
October 29, 2021 | 6650 Beach Blvd. Buena Park
The Trick or Treating Spooktacular includes a pumpkin patch, carnival games, arts & crafts, food trucks, haunted house, and kids costume contest. The fun events is presented by the Buena Park Police Department and Community Services Department.
Vampirates
October 1-31, 2021 | Pirates Dinner Adventure, Buena Park
Join us for a spooky tale of good vs. evil filled with the perfect blend of intrigue, loyalty, betrayal, adventure, guest participation and razor-sharp teeth that are sure to leave you and your family howling for more! There will also be a costume contest every Saturday and Sunday for ghouls and goblins of all ages! However, all costumes must be family friendly, no masks and no weapons..
Costa Mesa Halloween Events
Barktoberfest
October 23, 2021 | Tewinkle Park, Costa Mesa
Pet costumes, pet adoptions, dog training introductory classes, vendors, and Halloween fun!
Scare Crow Festival
October 16, 2021 | Lions Park Event Lawn
The Costa Mesa Scarecrow Festival is a local tradition that dates back to the late 1930's and is a chance for you and your family to make some #Costamazing memories. Create your own scarecrow and enter for a chance to win the the coveted "People's Choice" award. Activities include face painting, arts and crafts, a pumpkin patch, and train rides with the Orange County Model Engineers
Trunk or Treat
October 23, 2021 | Rise OC Church
Join us for a safe (masks required) trunk or treat for kids! Trunks, treats, photo area and more! Costumes are encouraged but no scary ones please.
Dana Point Halloween Events
Halloween Spooktacular & Trunk or Treat
October 23, 2021 | Dana Point Community Center
The City of Dana Point Recreation Division is teaming up with Dana Point Police Services for two great family events on one night. Besides the regular indoor activities of carnival games, crafts, cookie decorating, entertainment, costume parade, and treats for all the children, Dana Point Police Services will be holding their Trunk or Treat event in the parking lot area. Come meet the Blood Hounds, Bomb Squad, K-9 Unit, Mounted Patrol and the dedicated staff that keep our City safe. Free BBQ hot dogs and refreshments.
Spooky Seas Evening Adventure
October 29 & 30, 2021 | The Ocean Institute
Come to Ocean Institute to partake in the ghostly fun. It will be an evening packed with enchanted activities such as: Learning sailor myths, legends and superstitions during the days of R.H. Dana. Visit the Mad Scientist Lab to conjure up ghost bubbles and fizzing eyeballs. Enjoy an animal encounter at the intertidal touch tank. Exercise your powers of observation. Compete in the Sea Monster scavenger hunt. See the magical sparkle of Bioluminescence and fluorescence Learn about vampire squid, ghost sharks and angular fish Observe squid and cow eye dissections.
Spooky Treat Trolley
October 30, 2021 | Locations in Dana Point
Stay tuned for a list of locations!
Creatures of the Night
October 30, 2021 | Sherman Library and Gardens
Creatures of the Night is a lively and engaging event where families can come to have fun while learning about the habits of birds of prey and nocturnal animals. OC Birds of Prey, Santa Ana Zoo and Adventures in Living Science will be here sharing their knowledge and their creatures. Grab an adventurous partner, or the whole family, and enjoy an eerie garden walk and discover what plants do after dark. Toxic specimens, night blooming plants, and the Forbidden Jungle await! Dissect an owl pellet in the Nocturnal Alley, or create your own baby owlet out of a pinecone at the craft table. Or both!
Fullerton Halloween Events
The 17th Door Haunt Experience
September 17 - October 31, 2021 | West Fullerton Shopping Center
OC's scariest & most intense haunted house known for pushing boundaries! Mind-blowing rooms, shocking innovation & unique experiences that have never been undertaken before in a haunt, including an epic 45 minute add-on experience called The Field Trip!
Sew a Giant Pumpkin Plushie Workshop
October 5-7, 2021 | The Muckenthaler Cultural Center
This soft sculpture is perfect for decoration for Halloween and Thanksgiving. Amaze yourself and your friends with this playful and beginning sewing project. Classes for toddlers through adults!
Downtown Fullerton Market
October 23, 2021 | Casa 723, 723 S. Harbor Blvd.
Come on out and support 15+ Vendors at our Pop Up Market!! You definitely you don't want to miss out on this event! Family and pet friendly event. Dog Halloween costume contest at 1pm. Kids Halloween costume contest at 3pm. Food, drinks, live DJ and giveaways!
Trunk or Treat at Seeker's Chapel
October 31, 2021 | Seeker's Chapel, Fullerton
Bring your children to Seeker's ALL OUTDOOR Trunk or Treat! 3:00 - 4:00pm/\. Kids can enjoy viewing beautifully decorated trunks and gather lots of delicious candy! OUR THEME: THOSE WHO ARE WITH US ARE MORE THAN THOSE AGAINST US!
Community Trick or Treat
October TBD | Seeker's Chapel, Fullerton
Please Join Seeker's Chapel for an amazing evening of Trunk or Treating! If you are looking for a little reprieve (and candy 🙂), come enjoy a fun filled family outing. All are welcome to this free event.
Garden Grove Halloween Events
Howl-O-Ween at Great Wolf Lodge
October 1 – 31 | Great Wolf Lodge
Great Wolf Lodge Southern California is ringing in the spooky season with the unBOOlievable kick-off of its annual Howl-O-Ween celebration! Families looking for fun and safe ways to celebrate this year's holiday traditions will discover Great Wolf Lodge's seasonal festivities were designed to get everyone into the Halloween spirit. This year's events include the Trick-Or-Treat Trail, The Thrill of Howl-O-Ween Yoga Tails, Monster Bash Dance Party, and Critter Cartoons art class, just to name a few.
Jack-o-Lantern Jamboree
October 30, 2021 | Atlantis Play Center
Reservations required for entrance. Costumes encouraged! Kettle corn, lemonade, shaved ice, and ice cream treats will be available for purchase from local vendor, C&M Ohana. Smoking, including e-cigarettes/vaporizers, and alcohol are not permitted. No animals allowed (with the exception of service animals).
Great Wolf Lodge Howl-o-ween
Every Day in October | Great Wolf Lodge Anaheim (located in Garden Grove)
The Great Wolf Lodge is decorated for the season. Enjoy trick or treating and Halloween activities. Get ready for a Howling good time.
Ohana's Halloween Town Event
October 23, 2021 | Elks Lodge, 11551 Trask Avenue, Garden Grove
Come support all your small shop Ghoul friends. Join us for a Spooky Halloween Event with over 50+ small shops, artist, music, food, Aguas Frescas, drinks, giveaways, photo ops and Kids Halloween Costume Contest. Bring the whole family for a spooktacular time
Huntington Beach Halloween Events
Fall Fest
October 23, 2021 | Murdy Park
Calling all families! Join us for a drive-thru fall festival at Murdy Park. We will be handing out pumpkins from our pumpkin patch, decorating kits, candy, and more! Decorate your car for a chance to win a fun family prize! The cost is $20 per family, which includes a pumpkin, goody bag, photo booth, and more!
HALLOWEEN BASH at Sea Salt
October 30, 2021 | SeaSalt Beachside Burger
Join us for a Halloween costume concert at the beach!! Live music, food, beer, wine, pet and kid friendly! Wear your costume!!
Irvine Halloween Events
Tanaka Farms Pumpkin Patch
September 18 - October 31, 2021 | Tanaka Farms, Irvine
Have you ever picked your own pumpkin right out of the pumpkin patch? Tanaka Farms is one of the only farms in Orange County with a REAL pumpkin patch! We offer lots of activities, from wagon rides to arts and crafts!
Monster Splash 2021
October 23, 2021 | William J. Woollett Jr. Aquatics Center
Calling all monsters! Dress in your spooky-best and join us at the pool to celebrate Halloween! In addition to trick-or-treating around the pool decks, we'll have a floating pumpkin patch and decorating station. Enter the Halloween costume photo contest before changing to swim in the enchanted lagoon. Work up an appetite in the bounce houses before you purchase a ghoulish snack from gourmet food trucks. Come partake in the fun!
Spooky Baby Steps
October 10, 2021 | Pretend City
Join us for this October's Baby Steps event as we explore some of nature's creepy crawly critters! Exploring the different types of bugs in your backyard or on your evening walks can teach your little one about nature and help them develop positive attitudes towards themselves, natural life, and the earth! Come in costume for our baby costume parade.
The OC GHOSTBUSTERS!
October 23, 2021 | Pretend City
We ain't fraid of no ghosts…especially because the Ghostbusters will be here to handle all of the ghouls and goblins that try to impede on our fun. Join us for a spooky good time with hands-on activities and photo-ops.
Costume Week
October 27 - 29, 2021 | Pretend City
Black cats and witch's brew, we want to dress up with you! Wear your costume to Pretend City this whole week and receive 25% off your second admission!
Frankenstein Day
October 29, 2021 | Pretend City
In honor of Mary Shelley's classic fictional character, Frankenstein, we're celebrating this green giant with monstrously fun activities. We may not be mad scientists, but we're mad about monsters!
Trick or Treating through Pretend City
October 31, 2021 | Pretend City
We're all treats and no tricks here in the city! Come be a part of our special trick-or-treat extravaganza as our Pretendgineers give away some neat surprises! This party is bound to be a scream!
Laguna Niguel Halloween Events
Haunted Trails
October 22 - 24 | Crown Valley Park
Haunted Trails is back again for another year of terrifying thrills! You are invited to join us on the trail for three memorable nights that are sure to haunt your dreams. Our undead monsters are eagerly awaiting your arrival. This year's event will be reservation based, limited, and will sell out. Reservations will open online and in person in early October. Not recommended for children under 8 years old.
Fall Boutique & Crafts Faire
October 2, 2021 | Crown Valley Community Center
Join us at this year's Fall Boutique & Crafts Faire held at the NEW Crown Valley Community Center at Crown Valley Park! Shop from a variety of vendors selling unique and one-of-a-kind items. Start your holiday shopping early, or treat yourself to something special.
Lake Forest Halloween Events
Fall
October 1, 2021 | Lake Forest Sun and Sail Club
Join us at the Sun & Sail Club for our All Ages Halloween Event! We'll have pumpkin carving, inflatable games, kid's crafts, and frightful foods. The evening ends with a performance from Orchid Quartet playing Spooky Music Soundtracks Lakeside.
All Ages Halloween Event
October 1, 2021 | Lake Forest Sun and Sail Club
Join us at the Sun & Sail Club for our All Ages Halloween Event! We'll have pumpkin carving, inflatable games, kid's crafts, and frightful foods. The evening ends with a performance from Orchid Quartet playing Spooky Music Soundtracks Lakeside.
Mission Viejo Halloween Events
Haunt of Halloween
Every Thursday - Sunday, September 30 to October 31, 2021 | Kaleidoscope Mall, Mission Viejo
Haunt of Halloween is coming to Mission Viejo! Purchase tickets now for a frightful Halloween experience at the Kaleidoscope. The event will feature a haunted maze, interactive scare zone, face-your-fears attraction, up-close horror pop up, thriller workshop, and makeovers by Hollywood special-effects makeup artists from Cinema Makeup School. You will also enjoy a souvenir photo op, sideshows and acts, live interactive reptile exhibit, meet and greets, pumpkin patch, kid-friendly trick-or-treating, Halloween-themed food and more!
Fall Family Photos
October 23, 2021 | Pacific Hills Dr. & Glenwood Dr. Greenspace, Mission Viejo
Bring your kids/family and have a free photo taken with a fun fall backdrop. Wear your Halloween costume if you would like to. Or just take this opportunity to have a family picture taken.
City of Mission Viejo Annual Scarecrow Contest
October - November | Norman P. Murray Community and Senior Center
The City will place more than 50 scarecrows in public places throughout the community and is seeking nonprofit organizations – churches, scouts, schools and charities – to make a scarecrow for the chance to win a cash prize. The City will build the frames and bases (made from wood and cement) or organizations can make their own. Each scarecrow will be tagged with the organization's name and on display during the month of October. FREE
Newport Beach Halloween Events
Roger's Gardens Halloween Boutique 'Cabinet of Curiosities'
September 3 - October 31, 2021 | Rogers Gardens
This is a Halloween must see! Experience the thrill of classic horror as you explore the rooms of our eerie and unusual house. Haunted walls hide unseen activity, and otherworldly creatures lurk at every corner. The sinister styled rooms are decorated with a beautiful, eclectic collection of antiquities and curios. Connect with your inner ghoul and monster this Halloween!
Environmental Nature Center Fall Faire & Pumpkin Patch
October 17 | Environmental Center
Join the fun at our 46th Annual Fall Faire! Embark on a "Craft Crawl" and "Story Walk". Play nature games, and watch performances around the "Fire Circle Stage". Enjoy delicious treats from our SavorOC restaurant sponsors. Get your face painted and pick up a pumpkin or two!
Halloween Spooktacular
October 17 | Mariners Church
Come out for the 4th Annual Halloween Spooktacular at Mariners Park! There will be LIVE music, trunk-or-treat area, haunted maze, carnival games, bounce houses, costume contests, food trucks and fun for the whole family!
Boo at the Bay: Family Halloween Party
October 30, 2021 | Upper Newport Bay Nature Preserve
Join us at the Peter and Mary Muth Interpretive Center for a fun family Halloween party featuring spooky stories, creepy crafts, weird science experiments, bizarre animals, and hair-raising games. All children who attend in costume will receive ghoulish door prizes.
Orange Halloween Events
Irvine Park Pumpkin Patch
September 18 - October 31, 2021 | Irvine Regional Park, Orange
Irvine Park Railroad's Pumpkin Patch in Orange County is fun for the entire family. Come out and enjoy the many activities for kids of all ages. Train rides, hay rides, carnival games, face painting, cookie decorating and more. The Pumpkin Patch is located just behind the train station and admission is FREE. Please note that a gate entrance fee will be charged by the County of Orange for each vehicle that enters Irvine Regional Park.
The Great Pumpkin Weigh Off
September 25, 2021 | Irvine Regional Park, Orange
Join the Irvine Park Railroad to see if pumpkin growers have what it takes to win a prize for growing the largest pumpkins. $6,700 in cash and prizes will be awarded. On this day only, we will have a lot of giant pumpkins. All Pumpkin Patch activities will be open and can be enjoyed by all visitors.
Bouncing Bats: Small but Mighty!
October 6 & 24, 2021 | Irvine Regional Park, Orange
After the sun has set, the night sky fills with small but mighty flying bats. Enjoy an evening discovering how important bats are to our ecosystems and how they help us stay bug-bite free! The program begins with an informal introduction to bats in the Soda Fountain at your own leisure. Then, breaking into groups, we will walk around the lake to search for these nighttime flyers as they race around catching their dinner. Bat detectors will help to identify and hear their high-frequency calls.
Harry Potter Potions Class at Hogwarts
Select dates in October | Rosemary House, Orange
Wear your robes and bring your wand for your first day of classes: potions, transfiguration and divination. You'll enter through the front door of a muggle home which is actually a port key to King's Cross Station where you'll pass through Platform 9 ¾. In the blink of an eye you'll apparate to Hogwarts where you'll be enchanted by floating candles, old spell books, Dumbledores pensieve, flying keys, and so much more! A custom spell book and all ingredients will be provided for you to try your hand at first year magic. Through the course of the evening we'll turn a balloon into an owl, create a crystal ball, make dragon eggs, and more!
Festifall at City Hall (Replaces Treats in the Streets)
October 23 - 29, 2021 | Orange City Hall
The front lawn of City Hall will be transformed into a pumpkin patch with the community's help. Drop off a decorated pumpkin with your costume on, take home a craft kit, see if you can escape the maze, and use the photo booth to capture your family's memories.
Pirates Cave Haunt
Select Nights October 16 - 31, 2021 | 2548 E Garfield Ave Orange, CA 92867
The Pirates Cave Haunt is back for its 22nd season. To keep Halloween alive this year, we are doing our first Yard Display Show on the origins of the Pirate's Cave. The attraction is a 10-minute multi-screen video presentation synced to lighting effects, props, special effects, and live actors. FREE
Orange County Haunted Ghost Walks
Through October 31 | 6 Historic Locations in OC
Haunted Orange County is officially OPEN all season and just added OVER 30 NEW TOURS from now until October 31st! Choose from Old Town Orange, Santa Ana, Gold Star Canyon, Kellogg House, San Juan Capistrano, and Fairhaven Cemetery. All tours are still running with safety protocols in place including face covering requirements, strict social distancing, and limited tour group sizes. Don't miss out on one of the hottest destinations for the 2020 Fall/Halloween season!
Placentia Halloween Events
Monster Mash
October 22, 2021 | Placentia Library
Welcome to our Monster Mash! While there is no graveyard at this bash, we will have a monstrous good time with carnival games, crafts, costume parade and much more! All ages welcome. Drinks and snacks will be for sale to support PTAC programs.
Rancho Santa Margarita Halloween Events
Halloween Family Festival
October 31, 2021 | 30842 La Miranda, Rancho Santa Margarita
Enjoy "spooktacular" fun for all ages at SAMLARC's Halloween Family Festival! Families can trick-or-treat in a safe and welcoming environment, play in bounce houses and inflatables, enter the costume contest, and join in the child and pet costume parade. Attendees are encouraged to capture their favorite memories at a festive photo booth, purchase refreshments from local vendors, and enjoy music, games, and more.
San Clemente Halloween Events
Pumpkin Splash
October 30, 2021 | San Clemente Aquatic Center
Attendees of all ages can swim in the Activity pool & Play Structure, float around with pumpkins, listen to spooky music, play on the inflatable obstacle course, and enjoy Halloween themed activities in and out of the pool! Each participant will enjoy one pumpkin for decorating while supplies last. Entry fee is $7 per person pre-registered space is limited.
Big Jacks Fall Festival
September 25, 2021 | Outlets at San Clemente
Local makers, live music, good grub, kids activities, pumpkin patch and much more!
Spooky San Clemente
October 23, 2021 | San Clemente Community Center
Tricks & Treats for All Ages! Grab your costumes and bring the family to the Community Center for a night of games, costume contest, trick-o-treating, pumpkins, and more! Avoid the ticket lines and purchase your pre-sale wristbands today for only $5.
Trunk or Treat
October 29, 2021 | Pacific Coast Church
Dress up in costume at come for Trick-or-treat. You can also decorate your car and pass out candy. 12 and under. A fun family activity.
Creepy Casa Haunted House
October 28 - 30, 2021 | Casa Romantica
Casa Creepy Haunted House is south Orange County's largest family-friendly Halloween attraction, with a 1920s-themed haunted house and gardens. Walk through 2.5 acres of the most haunted mansion on the block! Werewolves, vampires and ghosts are waiting behind every corner of our historic home, and you can bet on plenty of creepy-crawlies in the gardens. Casa Creepy Haunted House is suitable for most families with children ages 8 and up; please use your discretion. Costumes are encouraged; masks not allowed.
Santa Ana Halloween Events
Spooky Science
October 1 - 30, 2021 | Discovery Cube
Join the spooktacular hands-on activities throughout October. Don't miss the annual Halloween-themed event and buy your tickets today. VISIT US Halloween weekend, October 30 and 31, for the costume party parade and trick-or-treating at the museum!
Trunk or Treat
October 23, 2021 | Fairhaven Memorial Park
Bring your family to walk, collect treats and enjoy an array of beautiful cars, from classic to current. Open to the Public and Free to Attend. Costumes are Encouraged. All Children must be Accompanied by an Adult CDC Guidelines will be Observed.
Boo at the Zoo
October 23, 24, 29 & 30, 2021 | Santa Ana Zoo
Follow a fun Halloween trail through the Zoo during extended admission hours. You'll discover our "merry, not scary" decorations along the way, making this an activity the whole family can enjoy together, wearing family-friendly costumes and collecting goody bags for each child on the way out. Limited ADMISSIONS for EACH night must be purchased ONLINE on this page in advance. Admissions are good for night purchased only.
The Pumpkin Corral
October 3 - 31 | The MainPlace Mall
Join us for exciting rides, fun games, delicious food and even a petting zoo. Don't forget to pick up your pumpkins for this Halloween.
Tunnel of Fright - Haunted Car Wash
September 29 - October 31, 2021 | 4450 Westminster Avenue, Santa Ana
Our Haunted Carwash has recruited actors for the scare of your life. Our Zombies, ghosts, clowns and ghouls will surprise you throughout your adventure through our tunnel of fright. Theatrical special effects will leave you on the edge of your seat--- Keep you seat belt secured and your hands and arms inside at all times!
Creep It Real OC EXPO
September 12, 2021 | Heritage Museum of Orange County
While at the expo you can visit several mini haunt walk-throughs hosted by local haunts, visit our spooky photo locations, stroll through our halloween market-like bazaar with over 100 vendors to purchase all your oddities and curiousities, rock out to a Monster Rock and Roll band- The Rhythm Coffin, get down with our spooky DJ Bones halloween jams, get insta-snappy with our many spooky vehicles, mingle with monsters and cosplayers, meet Disney Legend Bob Gurr, pose with the Orange County Ghostbusters, interact with haunters throughout the event, as well as cruise on by our food truck party.
Hocus Pocus Halloween Movie Night
October 23, 2021 | Heritage Museum of Orange County
Before the movie begins, run "amuck, amuck, amuck" and enjoy trick-or-treating, themed photo ops, a costume contest, and trivia. Then find your spot, enjoy your picnic, and watch the Disney Halloween classic "Hocus Pocus" under the stars surrounded by the beautiful Victorian buildings oSf Heritage Museum of Orange County. Free parking is included with your ticket.
Kids Fun Zone: Spooktacular Edition
October 30, 2021 | noon - 3:00pm | Bristol Warner Marketplace
This month we'll be hosting a special spooktacular Halloween KFZ! Kids will get to participate in special Halloween crafts, games & more! FREE
San Juan Capistrano Halloween Events
Trick or Treat in Historic San Juan Capistrano
October 31 | 5:30 - 7:30 pm| Los Rios and downtown
Expect ghouls, treats and fun times in San Juan Capistrano on Halloween. The community is organizing a trick-or-treat event in the Los Rios and downtown area. Due to the COVID-19 pandemic, social distancing and masks are encouraged—the latter fitting for Halloween.
Second Annual Casper's Halloween Haunt Camping Trip
October 29 -31, 2021 | Ronald W. Caspers Wilderness Park
Join us for a Halloween Catered Camping Trip at Ronald Casper's Wilderness Park ! Prizes for the best three costumes, trail riding, friends and food! Food for this event is $130.00, and we will have a Spooktacular Feast on Saturday Night along with the costume contest! Please book your site as soon as possible as the entire campground is currently open! https://www.ocparks.com/rnp/reservation
Silverado Halloween Events
Boo at the Zoo Tour & Treats
October TBD | Rancho Las Lomas
You will find spooktacular Halloween fun here at Rancho Wildlife Foundation from October 29th- October 31st! Meet our creepy critters and explore our haunted grounds on a tour where children can enjoy trick or treating fun! Our tour guide will lead you and others on a 75 minute tour and pass out a treat at every critter. You can spend the following 45 minutes exploring the grounds and enjoying our silly spooks and happy haunts. Costumes are encouraged! Reservations are required and tickets are limited.
Stanton Halloween Events
Boo-tastic Halloween Party
October 1, 8, 15, 22, 28 & 29, 2021 | Adventure City
Enjoy 11 exciting rides, walk through "Trick-or-Treat Street" for FREE candy and trinkets, enter the Cosmic Vortex Tunnel, ride the Express Train for a fun Halloween Scavenger Hunt. Join the Spooktacular Dance Party and get FREE glow accessories to light up the night. Meet the Mad Scientist Magician for some astonishing tricks Show your Halloween spirit and wear a costume (optional).
Tustin Halloween Events
Halloween Howl
October 29, 2021 | Columbus Tustin Recreation Center
Bring the kids down to the Columbus Tustin Activity Center for candy, candy and more candy! There will be games and prizes and an awesome costume contest.
Haunted Trivia & Film Festival
October 1, 8, 15, 22 & 29, 2021 | The District Tustin Legacy
The District is celebrating Halloween this year with a family-fun "Haunted Trivia & Film Festival" on Friday nights. 5PM - Come early to 'stake' your spot in the AMC Courtyard and dine on takeout from The District's many restaurants, while enjoying lively music and drinks from our Beer & Wine Garden. 100% of proceeds to benefit The Boys and Girls Clubs of Tustin. 6PM - Bring your mobile device to play interactive digital trivia by Trivia Goat. It's easy! Download the app when you arrive and the Trivia Goat team will entertain you with fun family-friendly questions. Each group will be a team so get creative with your team names. The Top 3 teams with the most points will win a prize package to The District, including tickets to AMC Tustin 14. 7PM - Get comfy in your chairs and blankets and feel free to pick up popcorn or movie concessions from AMC. Sit back, relax and enjoy the movie!
Kids Fashion Camp OC Halloween Workshops
Select Days in October | The District at Tustin - Fashion Camp
From Boo Bags to Costumes...Join us for some Halloween fun! Costume workshops, trick or treat bags, spooky pillows and backpacks – we've got lots of projects to make this holiday spooktacular!
Westminster Halloween Events
Ghostbusters - Movie In Park
October 30, 2021 | Bolsa Chica Park, Westminster
enjoy fun, custom contest with prizes, pre-movie raffle prizes, complimentary popcorn & cotton candy while supplies last for attendees. COME IN COSTUME! COSTUME CONTEST WILL BE AT 5:30 (LINE UP @5:15) Prizes for - Funniest, Scariest, Best TV/Movie Character Match Bring your own picnic and dine in the park before or during the movie! Bring your own blankets, and low back outdoor chairs and get comfy! Enjoy DJ Music for 1 hour before movie! FREE
Villa Park Halloween Events
Villa Park Halloween Fest
October 30, 2021 | Villa Park Town Center
Instead of the traditional Town Center event, the VP Halloween Fest will be "A Haunt for Historic Locations". The special family friendly scavenger hunt can be done independently. Participate for a chance to win special prizes and sweet treats. FREE
Yorba Linda Halloween Events
Trail & Treats
October 30, 2021 | Travis Ranch Youth Park
Join us for a special Halloween Hike. As you hike along the trail, you'll discover treats for the kids and photo opportunities for the whole family. Pre-registration is required.
Trunk or Treat at St. Martin's Church
October 29, 2021 | 5 - 7pm | Messiah Lutheran Church, Yorba Linda
Family and kids invited to enjoy trick or treating in a safe and fun environment! Dress up your car for the fun and pass out candy. All are welcome to this FREE event.
Trunk or Treat at Messiah Lutheran Church
October 29, 2021 | 6:00pm | Messiah Lutheran Church, Yorba Linda
Come for an evening of family Halloween fun. The evening will conclude with TRUNK or TREATing. Dress up your car for the fun and pass out candy. All are welcome to this FREE event.
Historic Yorba Cemetery Tour
October 2, 2021 | Woodgate Park, Yorba Linda
Located in the neighborhood Woodgate Park, the Yorba Cemetery is one of the oldest cemeteries in Orange County. Enjoy a free guided tour...you may even see the Pink Lady.

Check out these awesome Halloween events, just ouside of Orange County.
Cal Poly Pumpkin Fest
October 2 - 31st | Cal Poly Pomona
Pumpkin Fest is back and better than ever! All 5 Weekends in October will be filled with your favorite Activities and Farm Fun! Pick a Perfect Pumpkin, Pet a Goat, Ride a Hay Wagon, get lost in the Giant Corn Maze, and so much more! Along with the popular Festival Food and Live Entertainment, we've got fun Farm Demonstrations like Cow Milking and Bee Keeping. Antique Tractors and Farm Equipment, as well as some some new attractions will be on display. Visit the Marketplace to pick up CPP Farm Fresh Produce, Apiary Honey, Specialty Pumpkins & Fall Decorations and Artisan goods. Also new is the Moo Moo Cow Train and Children's Garden activities including Creepy Bugs and Squirmy Snakes.
Halloween Horror Nights
September 9 - October 31st | Universal Studios Hollywood
This year's event brings together terrifying mazes, sinister scare zones, outrageous live entertainment and some of the park's most exhilarating attractions. You definitely need someone to hide behind, somebody to panic with. Because just as in horror films where the first to wander off meets a terrible fate, there's one thing to remember at Halloween Horror Nights: Never Go Alone.
The Pumpkin Factory
October 1st | Live Oak Canyon
Come experience the wonder of our pumpkin patches with their fantastic rides, slides ponies and petting zoo.
Brick-or-Treat at LEGOLAND®
October 2, 9, 16, 23, 30, 2021 | LEGOLAND California
Brick-or-Treat at LEGOLAND® California Resort is back with even more Halloween excitement! The Park is open after dark at the only kid-focused Halloween event in Southern California, every Saturday in October. Enjoy rides open late, trick-or-treating, live entertainment, Halloween décor, and more! Eat, drink, and be scary with season-al food and beverage options for the whole family. SEA LIFE® aquarium joins in on the celebration with Halloween décor, live creatures, and spooky-fun exhibits.
Seaworld Spooktacular
September 18 - October 31, 2021 | Seaworld
Halloween is back with candy, costumes, your favorite Sesame Street friends, and plenty of spooky surprises. Kids love trick-or-treating during this daytime event as they explore our decorated trail and meet all sorts of colorful characters. And that's just the beginning! From spooky stories and a Halloween dance party to moments with furry friends like Count von Count, Elmo, Cookie Monster, and more, this is immersive family fun you'll only find here.
Scarium at the Aquarium of the Pacific
October 30 & 31, 2021 | Aquarium of the Pacific, Long Beach
Discover the creatures lurking in the depths at the Aquarium of the Pacific – a spooktacular educational Halloween event for the whole family. Enjoy special Halloween programs, including the annual children's costume contest, creepy coloring contest, magic shows, underwater pumpkin carving, spooky storytelling, kooky crafts, and eerie animals in the Great Hall.
Haunt'oween LA Halloween Drive-through
October 1 - 31 | 6100 Topanga Canyon Blvd, Woodland Hills
An Immersive family friendly playground of Halloween adventures and fun! For 31 days we welcome families to interact and engage with EVERYTHING Halloween has to offer all in one place; pumpkin picking and carving, trick or treating, face painting, performances, games, food trucks and so much more!
Los Angeles Haunted Hay Ride Drive-Thru
September 24 - October 31, 2021 | 4730 Crystal Springs Drive, Los Angeles
Within the foothills of Midnight Falls, the leaves turn brown and the veil between the living and the dead is at its thinnest. The Witch of the Woods has cast her spell to summon the spirits of the underworld to cross over and assimilate into form. The Hayride leads to a thrilling adventure of horrors afflicting the town. Dazed within the spell cast upon them, the Witch commands her army of crops and flesh to seek revenge on the people that have casted her out. The Spirit of Halloween comes to life surrounding helpless victims brave enough to board The Hayride.
Freeform Halloween Road
October 1 - 5 | Heritage Square Museum, Los Angeles, CA
Freeform's 31 Nights of Halloween is throwing a bewitching bash full of mischief and mayhem. Get ghosted, in the best way possible, with an immersive outdoor walk-thru experience. Be transported inside the worlds of Tim Burton's Nightmare Before Christmas, The Addams Family, Hocus Pocus, and Ghostbusters.
Nights of the Jack
October 1 - 31, 2021 | King Gillette Ranch, Calabasas
Cruise across the grounds of the scenic King Gillette Ranch as the Santa Monica Mountains hideaway is illuminated with thousands of hand-carved jack-o'-lanterns. Nights of the Jack returns this year with a drive-through edition, with timed tickets required each night. Expect to spend about 25 minutes on the mile-long trail, and just a heads up that there will be no food or beverages for sale, nor will bathrooms be available.
{disclaimer: Be sure to check out events before attending as times and dates may have changed.}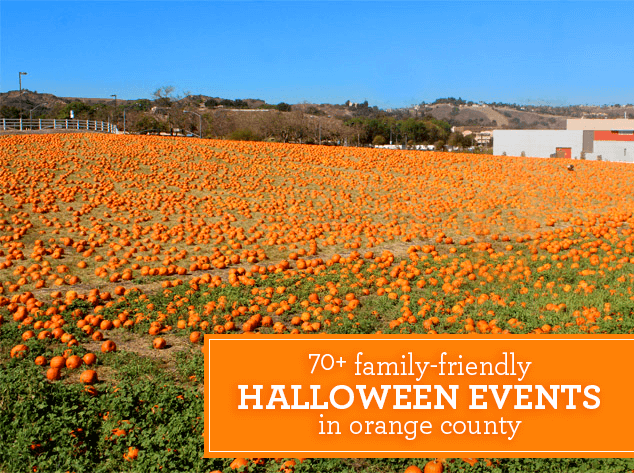 SaveSave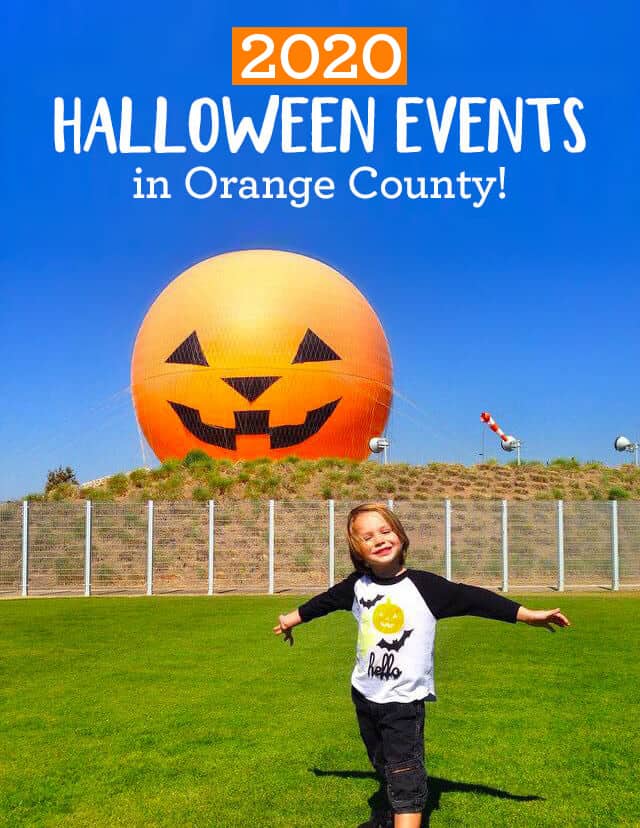 SaveSave
SaveSave
SaveSave
SaveSave
SaveSave
SaveSave