Here is OC's Best Halloween Guide of over 100 Halloween Events and Activities happening all over Southern California.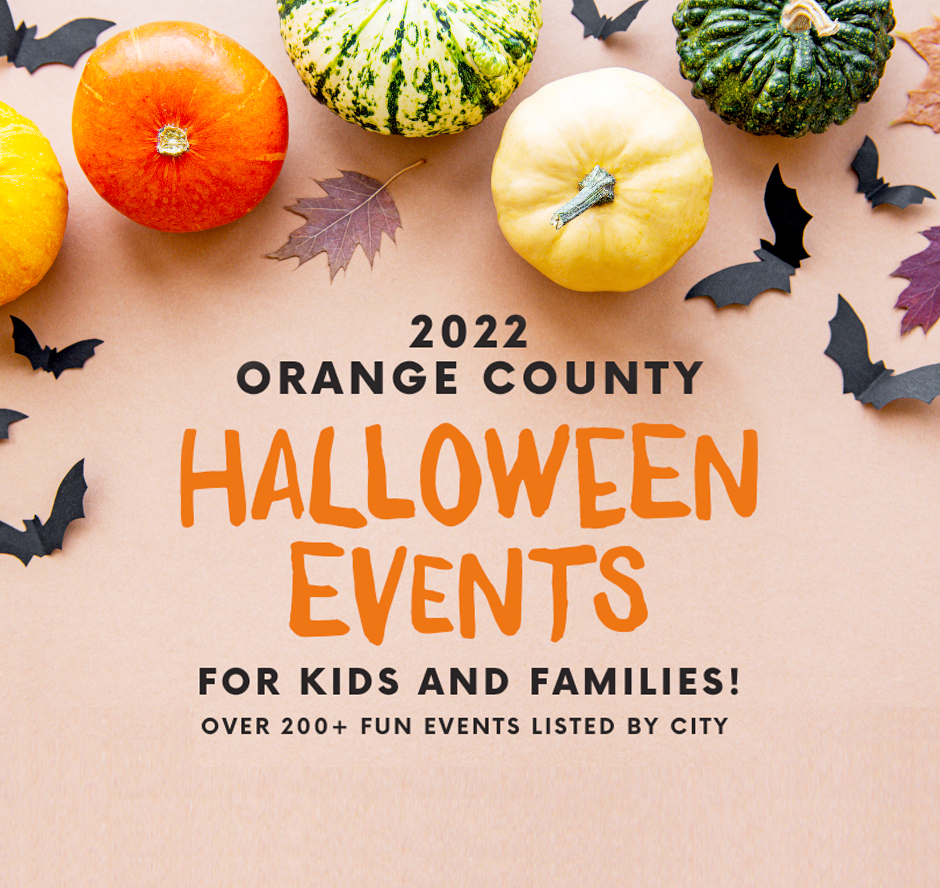 2022 Halloween Events in Orange County for Kids and Families
This list of 2022 Family-friendly Halloween Events in Orange County for Kids and Families will continue to be updated as the season continues. So please check back often!
Have one to add to the list?
Please email hello@sandytoesandpopsicles.com.
Aliso Viejo Halloween Events
Family Fall Photo Shoot at the Farm
October 23, 2022
Gold Coast Farm, Aliso Viejo
Celebrate the Fall Season with snacks, cookie and baby pumpkin decorating station, a photo booth bus, and learning activities around the aquaponics farm! Every family will leave with a bag of fresh produce straight from our garden and a digital copy of a professional family photo!
Victorious Villains Night
October 21, 2022
Aliso Viejo Ranch, Aliso Viejo
Pack your potions and indulge your inner villain at this wonderfully wicked workshop. Create a crown fit for an Evil Queen or King. You'll also create a poison apple so you can do away with your victim and remain fairest of all! Design a disguise before wreaking havoc in the village. Your night of doom will come to a thrilling end as you devour pizza while watching Maleficent.
Anaheim Halloween Events
Halloween Time at Disneyland Resort
September 2 - October 31, 2022
Disneyland Resort, Anaheim
Halloween Time has returned to the Disneyland Resort! Join Mickey Mouse and Minnie Mouse this spooky season and experience boos and aahs around the Parks.
Drive In Movie - Encanto
October 8, 2022
Anaheim Town Center, Anaheim
FREE
Load up the car with blankets and head over to Anaheim Town Square for a drive-in movie. The movie will be shown in the parking lot near Wells Fargo. The film begins promptly at 6:30pm, parking opens at 5:30pm. RSVP is required.
Anaheim Fall Festival & Halloween Parade
October 29, 2022
Center Street Promonade, Anaheim
FREE
The Anaheim Fall Festival is chock full of entertaining fun, it'll take 3 stages to pack it all in. Plus awesome featured artists exhibiting their wares and old-timey, hand built carnival games for the kids, free admission and yummy snacks for sale. Come out and enjoy the day and be sure to grab a seat along the street at the evening draws near for the 6pm step off of the parade.
Halloween Carnivals
Weekends in October 2022
Center Street Promonade, Anaheim
FREE
The Halloween Carnival will be open EVERY Friday, Saturday & Sunday in October with 50+ Spooky Vendors, 12 Food Vendors, Entertainment & Photo Ops 👻. On Saturdays, family entertainers taking the stage at the Halloween Carnival! From Balloons to Magicians to Puppets, there will be all kinds of magical spooky fun for ghouls of all ages to enjoy!
Anaheim Plaza Trick or Treat
October 29, 2022
Anaheim Plaza, Anaheim
FREE
For Kids ages 12 and under, dressed in costume. Enjoy a FREE and SAFE way to TRICK or TREAT in the light of day! Kids must be dressed in costume to participate. Candy available from 11 am – 1 pm or while supplies last. Look for the "Trick or Treat" signs posted in the windows of participating stores and restaurants.
Trunk or Treat at Grace OC
October 30, 2022 | Grace OC Church, Anaheim
FREE
Join us for a night of FUN, GAMES, and CANDY! Our parking will be full of cars decorated differently with of course FREE CANDY. Admission is free and food will be sold. Dress up and lets have a good time!
Tunnel of Terror OC Haunted Car Wash
October 6-30, 2022
Big Wave Car Wash, 2219 West Lincoln Avenue
Residents of Orange County and all nearby cities are welcomed to come with their family and friends to experience a one-of-a-kind Halloween thrill, filled with chills and Terror to delight the entire group. The Tunnel of Terror is a carefully curated experience, with scary and creepy performers popping up throughout the wash, and special effects providing a terrifying ambiance. Participants can also expect unique surprises each night!
Nightmare on Center Street
October 27, 2022
West Center Street Promenade, Anaheim
Trick or treat at your favorite regular market booths decked out in fun decor, then make your rounds at our ever-so-spooky Halloween village. You will find on-theme vendors that will have everything you need for a fun (and terrifying!) October 31st. This event is FREE and family friendly!
714POPUPS Halloween "Shop & Treat"
October 30, 2022
805 East Sycamore Street, Anaheim
Come join us! Bring your costumes and "Shop & Treat" yourself!
Anaheim Hills Halloween Events
Mikey's Pumpkin Patch at Adventure Lagoon
September 25 - October 31, 2022
Adventure Lagoon, Anaheim Hills
More details to come.
Multiple nights of Terror Haunted House
Chavarria Institute of the Arts - CIA
160 South Old Springs Road, Anaheim, CA
6 - 10pm
Join us for 8 rooms of Scary Fun! Food and drinks available, welcome to ALL Ages!!
Halloween Spooktacular
October 31, 2022
Anaheim Hills Festival Shopping Center, Anaheim Hills
FREE
Spooky season is here! We are calling all goblins, ghosts, and ghouls to join us for our Halloween Spooktacular event on Sunday, October 31st, from noon to 2 pm. The event will feature trick-or-treating throughout the shopping center at participating tenants and restaurants, live DJ, face painting, balloon twisting, photo opportunities, and more. You are sure to have a SPOOKTACULAR time!
Brea Halloween Events
Enchanted Country Pumpkin Patch
October 1 - 31, 2022
480 N. State College Blvd, Brea
Pumpkins are harvested fresh with extra long stems in a variety in different colors, shapes, sizes, and types. Kid ride-on tractors, carnival games, petting zoo, adorable baby chicks, slides, bounce houses, and obstacle courses. There are separate inflatable attractions for toddlers.
Movies Under the Stars – E.T.
October 22, 2022
Civic & Cultural Center, Brea
Arrive early to participate in our raffle prior to the movie and possibly win some fun prizes. Bring your portable chairs, blankets, snacks, and friends!
Buena Park Halloween Events
Knott's Spooky Farm
Thursdays through Sundays, September 29 - Oct. 31, 2022
Knott's Berry Farm
Enjoy the Halloween season at Knott's Spooky Farm, a family-friendly fall time celebration. Little ghouls can trick-or-treat around the town of Calico's shops and buildings to collect sweet treats from the friendly townsfolk plus enjoy even more kids' Halloween activities. Families can join in on the Halloween fun as the park is transformed with themed décor and spooky surprises.
Knott's Scary Farm
September 22 - Oct. 31, 2022
Knott's Berry Farm
Knott's Scary Farm is the largest and most haunting Halloween event in Southern California, with unimaginable scares and innovative thrills that can't be found anywhere else. The fully transformed theme park features uniquely haunted mazes and attractions, sinister shows, and more than 1,000 horrifying creatures lurking in the fog and hiding in every corner of the park.
Cops N' Goblins Spooktacular
October 31, 2022
6650 Beach Blvd., Buena Park
FREE
The Cops N' Goblins Spooktacular is a Halloween event for all ages, full of candy, costumes, and games! Make sure to have the little ones dress up if they want to participate in the Kids Costume Contest! This event will take place at the Buena Park City Hall. It is presented by the Buena Park Police Department and the Community Services Department. Admission is free.
Vampirates
September 27 - October 31, 2022
Pirates Dinner Adventure, Buena Park
Join us for a spooky tale of good vs. evil filled with the perfect blend of intrigue, loyalty, betrayal, adventure, guest participation and razor-sharp teeth that are sure to leave you and your family howling for more! There will also be a costume contest every Saturday and Sunday for ghouls and goblins of all ages! However, all costumes must be family friendly, no masks and no weapons..
Corona Del Mar Halloween Events
Family Art Class: Pretty Garden Pumpkins
October 15, 20222
2647 East Coast Hwy, Corona Del Mar, CA
Join artist instructor Alexandra Ito to learn how to decorate a pumpkin with dried leaves and flowers. This fun family class takes place in the outdoor classroom at Sherman Gardens before the garden is open. Your pumpkin will look great at your home or make a wonderful gift for someone special.
Family Art Class: Painting Pumpkins
October 29, 2022
Sherman Library and Gardens, Corona Del Mar
Join local artist Erna Van Dyk as she teaches you how to create a watercolor painting of pumpkins. Working together, you will use step-by-step watercolor techniques to create your own beautiful piece of art. This fun, relaxed class takes place in our outdoor classroom before the garden is open.
Family Art Class: Painting Sugar Skulls
October 29, 2022
Sherman Library and Gardens, Corona Del Mar
During this fun family workshop we will be learning to decorate sugar skulls or calaveras de azucar. These traditional decorations are an important part of a traditional Day of the Dead Altar or ofrenda and you will see them featured in the Sherman altar in the garden.
Trunk or Treat
Newport Center UMC
1601 Marguerite Ave Corona del Mar, CA
5 - 6pm
Join us in the church parking lot on Sunday, October 23, from 5-6 PM for this FREE family-friendly event. Either trick-or-treat at the trunks, or walk through to show off your Halloween costume!
Costa Mesa Halloween Events
Hana Field Pumpkin Patch
October 1 - 31, 2022
Tanaka Farms, Costa Mesa
Pick your own pumpkin! Pick your own flowers! Wander through the flower fields! Shoot the Root! Visit the Barnyard! Don't forget to bring your stroller or wagon to carry your pumpkins! Hana Field employees will not take pumpkins to your vehicle.
Seasonal Adventures Pumpkin Patch
October 1 - 31, 2022
Tanaka Farms, Costa Mesa
Quality pumpkins, hand selected just for you. If you're looking for fall decorations – you'll find scarecrows to cornstalks, Indian corn and even straw bales to add to your decor. Rides, Games, Petting Zoos, and lots of inflatables are available for your entertainment.
UFC Costa Mesa Halloween Kid Costume Pop Up
FREE
October 29, 2022
UFC GYM Costa Mesa, Costa Mesa
Shop with over 30 vendors and let the kids trick or treat with each one. Plus enjoy the free bounce house and free games.
Halloween Pet Fashion Show
October 2, 2022
Paul Mitchell The School, Costa Mesa
FREE
Paul Mitchell The School Costa Mesa is hosting our 2nd Halloween Pet Fashion Show! Enjoy a fun-filled morning of raffles, vendors, BBQ, and pets in costumes. All proceeds go to support our 10 charities.
Garden Class: Chocolaty Halloween Treats
October 15, 202
The OC Fair & Event Center, Costa Mesa, CA
10am - noon
A fun-filled class and make treats to take home! Participants will get to make their own Chocolaty Halloween Treats. Learn how to dip, drizzle and decorate pretzel rods and classic-shaped pretzels. Gift bags, ribbons and supplies are included in class fee and all we need for the fun to start is you! Classes fill up quickly, so sign up soon and bring a friend.
Scare Crow Festival
October 15, 2022
Lions Park Event Lawn, Costa Mesa
FREE
The Costa Mesa Scarecrow Festival is a local tradition that dates back to the late 1930's and is a chance for you and your family to make some #Costamazing memories. Create your own scarecrow and enter for a chance to win the the coveted "People's Choice" award. Activities include face painting, arts and crafts, a pumpkin patch, and train rides with the Orange County Model Engineers
Dana Point Halloween Events
The Great Pumpkin Decorating Contest for Kids
October 24, 2022
Dana Point Community Center
FREE
For kids up to 12 years of age. Send in a photo of your best decorated pumpkin. Pumpkins do not have to be carved. Use your imagination and get creative. To enter the contest, send in a photo of your pumpkin, along with your name and age to recreation@danapoint.org. by Monday, October 24th. Winning entries will receive a special Halloween gift basket.
Halloween Spooktacular & Trunk or Treat
October 22, 2022
Dana Point Community Center
FREE
These two fun Halloween family events are hosted by City's Recreation Division and Dana Point Police Services. Indoor activities are from 2:00pm to 8:00pm and include an elaborate Halloween maze, games, crafts, entertainment, and treats for children. Outdoor activities include the Dana Point Police Services Trunk or Treat from 2:00pm to 7:00pm, with candy for the kids at each display they visit. Come meet the Bloodhounds, Bomb Squad, K-9 Unit, Mounted Patrol, and staff. Kid's costume parade with prizes! Refreshment and food available to purchase from food trucks.
Spooky Treat Trolley
October 29, 2022
Dana Point Community Center
FREE
The Spooky Treat Trolley will be making stops at the following park locations and handing out treats for children up to 12 years of age. The trolley features elaborate decorations, Halloween themed music and the City's Recreation staff dressed up in costumes. Get in the SPIRIT and come dressed in costume!
Spooky Seas Evening Adventure
October 28 & 29, 2022
The Ocean Institute, Dana Point
An evening packed with enchanted activities – Learn sailor myths, legends and superstitions during the days of R.H. Dana. Visit the Mad Scientist Lab to conjure up ghost bubbles and fizzing eyeballs. Enjoy an animal encounter at the intertidal touch tank. Compete in the Sea Monster scavenger hunt. See the magical sparkle of Bioluminescence and fluorescence. Learn about vampire squid, ghost sharks and angular fish Observe squid and cow eye dissections.
Fullerton Halloween Events
The 17th Door Haunt Experience
September 16 - October 31, 2022
West Fullerton Shopping Center, Fullerton
OC's scariest & most intense haunted house known for pushing boundaries! Mind-blowing rooms, shocking innovation & unique experiences that have never been undertaken before in a haunt, including an epic 50 minute add-on experience called The Field Trip!
Pop-Up Family Class: Scarecrows with Sarah Clifton
September 17, 2022
The Muckenthaler Cultural Center, Fullerton
Bring your family and make a life-sized scarecrow!
Día de los Muertos Festival
October 30, 2022
The Muckenthaler Cultural Center, Fullerton
FREE
Join us to celebrate Día de los Muertos! We will have festive activities for the whole family, live music, local artisans, and arts and crafts for kids.
Downtown Fullerton Market
October 22, 2022
Casa 723, 723 S. Harbor Blvd., Fullerton
Come on out for Octo-BOO fest! and support 15+ Vendors at our Pop Up Market!! Trick or treating, costume parade, live music, hot food, kids crafts and raffles!
Mystical Market Halloween Market
October 2, 2022
723 South Harbor Boulevard, Fullerton
Mystical Market is hosting its first ever Halloween Pop Up! Join us and over 20 creative & witchy vendors for a night of trick or treating, spiritual/mystical shopping, and even a costume contest! This event is entry free and pet friendly! FREE parking is available!
Trunk or Treat at Seeker's Chapel
October 30, 2022  |   Seeker's Chapel, Fullerton
FREE
Bring your children to Seeker's ALL OUTDOOR Trunk or Treat! 3:00 - 4:00pm. Kids can enjoy viewing beautifully decorated trunks and gather lots of delicious candy!
Garden Grove Halloween Events
Howl-O-Ween at Great Wolf Lodge
October 1 – 31, 2022
Great Wolf Lodge
Great Wolf Lodge Southern California is ringing in the spooky season with the unBOOlievable kick-off of its annual Howl-O-Ween celebration! Great Wolf Lodge's seasonal festivities are designed to get everyone into the Halloween spirit. This year's events include the Trick-Or-Treat Trail, The Thrill of Howl-O-Ween Yoga Tails, Monster Bash Dance Party, and Critter Cartoons art class, just to name a few.
Trunk or Treat
October 22, 2022
Orangewood Academy, Garden Grove
At Relove Church Trunk or Treat guests will walk through our themed zones, collect candy from our designated Candy Stations and vote for the best decorated trunks. You will be treated to games, jumpers, tacos, pumpkin decorating and more! Each family must be accompanied by a child under the age of 12.
Jack-o-Lantern Jamboree
October 22, 2022
Atlantis Play Center, Garden Grove
Costumes encouraged! Event activities include a puppet shows, inflatable obstacle courses, a petting zoo, a reptile booth with educational shows, carnival games, glitter tattoos, a pumpkin patch, and a pumpkin decorating craft! Please note, only children ages 3-11 will receive a pumpkin and pumpkin decorating kit. All other activities will be open to all event attendees. Kettle corn, lemonade, shaved ice, and ice cream treats will be available
Huntington Beach Halloween Events
Falloween
October 22, 2022
Worthy Park, Huntington Beach
FREE
Join us for a fall-themed celebration! We'll be hosting fun family activities including a pumpkin patch, games, food trucks, a movie, and more! Dress in your favorite fall outfit or your Halloween costume!
Huntington Beach Spooktacular
October 28-30, 2022
Huntington Central Park Equestrian Center
This fun three day event will be filled with horses, pumpkins, music, a movie, games, food and even adult beverages. Something for everyone! This event if free and family friendly but you must register to attend.
Huntington Beach Trick or Treat
October 29, 2022
6956 Ellis Avenue, Huntington Beach, CA
Costume Parade, pumpkin decorating, carnival games, outdoor movie, hotdogs, hamburgers, cotton candy, popcorn, horse kissing booth, and more!
Halloween Trunk or Treat
October 15, 2022
Huntington Beach Kiwanis Club
18000 Pacific Coast Highway, Huntington Beach, CA
FREE
Families can come and enjoy a safe and free event thanks to Premier Youth Sports and the partnership with HB Kiwanis Club and HB Kiwanis 'Angels.'v
Halloween Pet Costume Parade & Contest
October 23, 2022
Old World Huntington Beach
Join us and fellow pet lovers & owners as they dress in their favorite Halloween costumed attire and parade the nostalgic cobblestone walk-ways of the Old World German Village in Huntington Beach.
The Beach Boogie
October 29, 2022
Seaglegs on the Beach, Huntington Beach
This is an ALL AGES EVENT. Live performances by Yung Pinch, food trucks, skates demo, costume party, costume contest, game booths, art installations, and giveaways!
Halloween Scarolers
October 21, 22, 28 & 29, 2022
Bella Terra, Huntington Beach
There will be classic Halloween Scarolers lurking around Bella Terra singing frightening Halloween songs and ghoulish scarols for a terrifyingly good time.
Irvine Halloween Events
Tanaka Farms Pumpkin Patch
September 17 - October 31, 2022
Tanaka Farms, Irvine
Have you ever picked your own pumpkin right out of the pumpkin patch? Tanaka Farms is one of the only farms in Orange County with a REAL pumpkin patch! Tanaka Farms offers many activities – from wagon rides to arts and crafts!
Manassero Farms Pumpkin Patch
September 24 - October 31, 2022
33 Irvine Valley, Irvine, CA
Lots of beautiful pumpkins and guards to choose from, in all shapes and sizes. There's a playground for the kids, photo ops, and a Halloween boutiques with unique spooky decor!
Monster Splash 2022
October 15, 2022
William J. Woollett Jr. Aquatics Center
Calling all monsters! Dress in your spooky-best and join us at the pool to celebrate Halloween! In addition to trick-or-treating around the pool decks. There will be a floating pumpkin patch and decorating station. Take some photos with spooky friends before changing to swim in the enchanted lagoon.
Spooky Baby Steps
October 9, 2022
Pretend City, Irvine
Join us for this October's Baby Steps event. There will be easel painting with brushes, fall themed sensory bin with pumpkins and gourds and homemade sensory bags filled with water, glitter and Halloween critters! "Go Away, Big Green Monster!" and "Little Blue Truck's Halloween" story time, and Five Little Pumpkins followed by parachute play!
Trick or Treating through Pretend City
October 30, 2022
Pretend City
We're all treats and no tricks here in the city! Come be a part of our special trick-or-treat extravaganza as our Pretendgineers give away some neat surprises! This party is bound to be a scream!
21st Annual Irvine Global Village Festival at Great Park
October 8, 2022
Orange County Great Park
Families will delight in an action-packed Kids Village with crafts, interactive activities, and a petting zoo. Attendees of all ages will enjoy local and global cuisine, a global marketplace, music, art, and exhibits, all while attending Orange County's premier festival.
Fall Block Party 2022 Saddleback Irvine North
October 22, 2022
Saddleback Church North Irvine - Main Patio
FREE
Enjoy some fun with bounce houses, carnival games, candy stations, photo booth, and fall-inspired treats! Kids and Students are encouraged to dress in their favorite fall costume and will be given tickets during church service for the fun activities!
Trunk or Treat at Irvine Community Church
October 23, 2022
Irvine Community Church
FREE
Share an afternoon of facepainting, a balloon artist, bounce house, crafts, candy and decorated car trunks. Everyone is welcome!
Laguna Hills Halloween Events
Pumpkin City Pumpkin Patch
September 30 - October 31, 2022
24203 Avenida de la Carlota, Laguna Hills
Come celebrate the Fall season in October at Orange County's premier Harvest Festival. Meander through thousands of pumpkins in all shapes and sizes in a charming farm atmosphere. Enjoy a host of Kiddie amusement rides, game booths, and activities all set under the canopy of the beautiful autumn sky.
Laguna Niguel Halloween Events
Haunted Trails
October 13 - 16, 2022
Crown Valley Park, Laguna Niguel
Haunted Trails is back again for another year of terrifying thrills! You are invited to join us on the trail for four memorable nights that are sure to haunt your dreams. Our undead monsters are eagerly awaiting your arrival.
Fall Boutique & Crafts Faire
October 1, 2022
Crown Valley Community Center, Laguna Niguel
Join us at this year's Fall Boutique & Crafts Faire! Start your holiday shopping early or treat yourself to unique, handmade, one-of-a-kind gems!
Halloween Snap & Treat
October 15 & 16, 2022 | Crown Valley Park, Laguna Niguel
Join us at Halloween Snap and Treat for a less haunting, family friendly experience on the trail! Participants can visit spook-tacular trick or treat stations, take part in a variety of themed photo opportunities, and pick up a Halloween craft. Tickets will be available for purchase beginning Tuesday, September 13th.
Movie in the Park: Hocus Pocus
October 21, 2022
Crown Valley Park, Laguna Niguel
FREE
Pack your blanket and bring your friends and family for a movie under the stars at Crown Valley Park! We will be screening Hocus Pocus (1993/PG). Crafts and activities will begin at 5pm, movie screening will start after sunset (approx. 6:15pm).
Trick or Treat
October 31, 2022
Sea Country Senior and Community Center, Laguna Niguel
FREE
Come between 10am and 12pm for a fun trick-or-treat experience! Stop by the front desk to pick up a themed bag so that you can collect the treats that are stored all around the building! Explore at your own pace and grab some candy at the Halloween-decorated doors! Fun for all age groups.
Lake Forest Halloween Events
Fall Boutique
October 15, 2022
Lake Forest Community Center
Join us at this year's Fall Boutique! Start your holiday shopping early or treat yourself to unique, handmade, one-of-a-kind gems!
Fall-O-Ween
October 14-16 & 21-23, 2022
Heritage Hill Historical Park, Lake Forest
Tour the decorated historical grounds during special park hours and take your picture at a variety of fall and Halloween-themed photo opportunities. Find your way through the straw maze and complete a scavenger hunt for ghoulish goodies at this free, family-friendly event.
Mission Viejo Halloween Events
Creepy Crawly Bug Program
October 22, 2022
City Hall Council Chamber
FREE
Learn the difference between insects and arachnids in this fun and interactive live bug program presented by Doodlebugs Animal Adventures. Ages 3 and older.
Library Trick or Treat
October 29, 2022
Mission Viejo Library
FREE
Enjoy tricks and treats at the Mission Viejo Library! Visit Halloween treat and activity stations throughout the library from 10:00am to 4:30pm (while supplies last). Costumes welcome!
Night Market
North Paseo
25282 Marguerite Parkway, Mission Viejo, CA
5 - 9pm
FREE
Enjoy nerf and laser tag, a slime station, games, food vendors, photo opportunities and live music. This Night Market includes a professional pumpkin carver that will demonstrate how to create amazing jack-o-lanterns with different fun designs. Also on tap is a "TapTruckOC" beer truck serving delicious, local craft beer.
Paint a Pumpkin
North Paseo
25282 Marguerite Parkway, Mission Viejo, CA
4 - 6:30pm
FREE
Join the Mission Viejo Friends of the Arts and artist Jack Knight for pumpkin painting. Paint a small, real or plaster pumpkin while supplies last.
City of Mission Viejo Pumpkin Diving
October 23, 2022
The Sierra Recreation Center, Mission Viejo
This fun-filled event transforms the Sierra pool into a floating pumpkin patch. Along with diving for pumpkins, you can decorate your autumn squash and play fun carnival games.
Newport Beach Halloween Events
Roger's Gardens Halloween Boutique 'Nightmare'
September 2 - October 31, 2022
Rogers Gardens, Newport Beach
FREE
Come with us to experience and see, this our dream land of Halloween. Meander through our maze of fun and immerse yourself in what's to come. Discover creepy, crawling, bone chilling ghouls all hailing the Pumpkin King in this formal room. Mischievous faces welcome you inside but keep your eyes open for tricks they might hide. Life is no fun without a good fright, but onwards you go towards the light.
Environmental Nature Center Fall Faire & Pumpkin Patch
October 16, 2022
Environmental Center, Newport Beach
FREE
Join the fun at our 47th Annual Fall Faire! Embark on a "Craft Crawl" and "Story Walk". Play nature games, and watch performances around the "Fire Circle Stage". Enjoy delicious treats from our SavorOC restaurant sponsors and pick up a pumpkin or two!
Halloween Spooktacular
October 29, 2022
Mariners Park, Newport Beach
FREE
Come out for the 5th Annual Halloween Spooktacular! There will be LIVE music, trunk-or-treat area, a haunted maze, carnival games, bounce houses, costume contests, food trucks, and fun for the whole family! The event is free to attend. Food will be available for purchase and proceeds will benefit our neighbors at Mariners Elementary PTA to support their school.
Boo at the Bay: Family Halloween Party
TBD
Upper Newport Bay Nature Preserve, Newport Beach
Join us at the Peter and Mary Muth Interpretive Center for a fun family Halloween party featuring spooky stories, creepy crafts, weird science experiments, bizarre animals, and hair-raising games. All children who attend in costume will receive ghoulish door prizes.
Fall Faire and Pumpkin Patch
October 16, 2022
Environmental Nature Center, Newport Beach
Join the fun at the 47th Annual Fall Faire! Embark on a "Craft Crawl"! Play nature games! Watch performances around the "Fire Circle Stage"! Enjoy delicious treats from our SavorOC restaurants! Pick up a pumpkin or two! Member Pumpkin Patch Preview: October 12, 13 and 14 from 2-5PM.
Orange Halloween Events 2022
Irvine Park Pumpkin Patch
September 17 - October 31, 2022
Irvine Regional Park, Orange
Irvine Park Railroad's Pumpkin Patch in Orange County is fun for the entire family. Come out and enjoy the many activities for kids of all ages. Train rides, hay rides, carnival games, face painting, cookie decorating and more. The Pumpkin Patch is located just behind the train station and admission is FREE. Please note that a gate entrance fee will be charged by the County of Orange for each vehicle that enters Irvine Regional Park.
The Great Pumpkin Weigh Off
September 24, 2022
Irvine Regional Park, Orange
Join us to see if pumpkin growers have what it takes to win a prize for growing the largest pumpkins. $6,700 in cash and prizes will be awarded. On this day only, we will have a lot of giant pumpkins. All Pumpkin Patch activities will be open and can be enjoyed by all visitors.
Halloween Zoo-Tacular at the OC Zoo
October 31, 2022
Irvine Regional Park, Orange
Join us for Halloween fun, including a scavenger hunt*, trick-or-treating*, and spooky crafts! The first 100 children in costume will receive a free gift!* Come see the zoo animals receive treat-filled pumpkins throughout the day! *Children ages 12 & Under. *Trick-or-treating candy & scavenger hunt prizes available while supplies last.
Halloween Animal Art Preschool Class ages 3-4
October 7, 12, 14 & 27 2022
Irvine Regional Park, Orange
Class includes hands-on learning, fun crafts, and meeting zoo creatures up close! Program is for ages 3-4 years old ONLY. Cost is $5 per child (one parent included). Parent must accompany child for entire program. Phone registration is required. To register for a class, call 714-973-6846. Parking fee is $3 per car on weekdays.
Halloween Animal Art Preschool Class ages 5-6
October 15, 2022
Irvine Regional Park, Orange
Class includes hands-on learning, fun crafts, and meeting zoo creatures up close! Program is for ages 5-6 years old ONLY. Cost is $5 per child (one parent included). Parent must accompany child for entire program. Phone registration is required. To register for a class, call 714-973-6846. Parking fee is $3 per car on weekdays.
Orange Treats In The Streets 2022
October 27, 2022
Old Town Orange, Orange
FREE
Local merchants will hand out goodies to all the trick-or-treaters. Families are encouraged to dress up in their favorite costumes, and there will be a costume parade to show off all the best Halloween costumes to hit the city streets. Entertainment and games for everyone to enjoy, with food and drinks available to purchase for a small fee to feed all the hungry goblins. Come out and enjoy the beautiful fall weather with friends and family at this exciting annual event held at Old Towne Orange Plaza.
Fall Festival
October 22, 2022
First Christian Church-Orange, Orange
FREE
Join us for a BBQ, games, crafts, pumpkin decorating contest, and more! (We'll even have some fun stuff for adults to enjoy too.
Orange County Haunted Ghost Walks
Through October 31, 2022
6 Historic Locations in OC
Haunted Orange County is officially OPEN all season and just added OVER 30 NEW TOURS from now until October 31st! Choose from Old Town Orange, Santa Ana, Gold Star Canyon, Kellogg House, San Juan Capistrano, and Fairhaven Cemetery. Don't miss out on one of the hottest destinations for the 2022 Fall/Halloween season!
Placentia Halloween Events 2022
Monster Mash
October 21, 2022
Placentia Library
FREE
Welcome to our Monster Mash! While there is no graveyard at this bash, we will have a monstrous good time with carnival games, crafts, and much more! All ages welcome. Drinks and snacks will be for sale
Pumpkin Book Character Decorating Contest
October 22-23, 2022
Placentia Library
FREE
Get ready for Halloween by showing off your favorite book character, in pumpkin form! Decorate a pumpkin with non-perishable items to resemble your favorite book character for a chance to win exciting prizes! Entries must not be carved in any way to prevent rotting while on display. This fun-filled contest is open to all ages! Visit our website for entry rules and details.
The Pumpkin Patch
October 11 - 31, 2022
300 Yorba Linda Boulevard, Placentia
Southern California's Oldest Pumpkin Patch. Lots of pumpkins to choose from. Enjoy inflatables, petting zoo, baby chicks, panning for gold, tractor ride ons, carnival rides, human hamster balls, face painting, and photo ops!
Trunk or Treat
Freckled Frog Dance Studio
2031 E Orangethorpe Ave, Placentia, CA
3 - 5pm
Come out to our 3rd Annual Trunk Or Treat! With trunks, games, raffles, and so much more, its a fun, safe event for the whole family! $10 per trick or treater at the door.
Fall Fest
Placentia Presbyterian Church
849 N Bradford Ave, Placentia, CA
5 - 7pm
FREE
Fun, Free Food & Drinks, Candy, Games.
Rancho Santa Margarita Halloween Events 2022
Halloween Family Festival
October 31, 2022
30842 La Miranda, Rancho Santa Margarita
FREE
Enjoy "spooktacular" fun for all ages at SAMLARC's Halloween Family Festival! Families can trick-or-treat in a safe and welcoming environment, play in bounce houses and inflatables, and enter the costume contest (child, pet and family categories). Attendees are encouraged to capture their favorite memories at a festive photo booth, purchase refreshments from local vendors, and enjoy music, games, and more.
San Clemente Halloween Events 2022
Pumpkin Splash
October 22, 2022
San Clemente Aquatic Center, San Clemente
Attendees of all ages can swim in the Activity pool & Play Structure, float around with pumpkins, listen to spooky music, play on the inflatable obstacle course, and enjoy Halloween themed activities in and out of the pool! Registration required.
Monster Dash 5k
October 29, 2022
Community Center, San Clemente
Join the City of San Clemente for the 1st Annual Monster Dash 5k, it's bound to be a smash! There will be tricks and treats for all ages including a costume contest and fun run!
Candy Corn Crawl
October 29, 2022
Outlets at San Clemente, San Clemente
FREE
Come trick-or-treat at Outlets at San Clemente!
TheABC Tree Farm Pumpkin Patch
September 17 – October 31, 2022
Outlets of San Clemente, San Clemente
Inflatable Amusements including bounce houses, GIANT slides and obstacle courses, Duck Bumper Boats as well as different types of Pumpkins, Gourds, Pumpkin Accessories, Snacks, Beverages and more.
Pumpkin Patch at the Outlets at San Clemente
September 17 - October 31, 2022
Outlets at San Clemente
Inflatable Amusements including bounce houses, GIANT slides and obstacle courses, Duck Bumper Boats as well as different types of Pumpkins, Gourds, Pumpkin Accessories, Snacks, Beverages and more.
Trunk or Treat
October 28, 2022
Pacific Coast Church, San Clemente
FREE
Dress up in costume at come for Trick-or-treat. You can also decorate your car and pass out candy. 12 and under. A fun family activity.
Creepy Casa Haunted House
October 27 - 29, 2022
Casa Romantica, San Clemente
Walk through 2.5 acres of the most haunted mansion on the block! Werewolves, vampires and ghosts are waiting behind every corner of our historic home, and you can bet on plenty of creepy-crawlies in the gardens. Casa Creepy Haunted House is suitable for most families with children ages 8 and up; please use your discretion. Costumes are encouraged; costume masks not allowed but medical masks are allowed.
Hocus Pocus Movie Night
October 18, 2022
Casa Romantica, San Clemente
Enjoy a movie night in Casa Romantica's historic Main Salon theater. This month features the cult classic Disney film from 1993.
Santa Ana Halloween Events 2022
Discovery Cube Member Event: Pumpkin Palooza
October 7, 2022
Discovery Cube, Santa Ana
Exclusively experience the new October festivals featuring bewitching STEM lab experiments, face painting, and more! Don't forget to come in costume.
Trunk or Treat
October 20, 2022
Fairhaven Memorial Park, Santa Ana
FREE
Join Jack Skellington on a trick-or-treat adventure through Fairhaven's "Magic Doors" to visit all the holidays for treats and photo opportunities!
Boo at the Zoo
October 22, 23, 29 & 30, 2022
Santa Ana Zoo, Santa Ana
Follow a fun Halloween trail through the Zoo during extended admission hours. You'll discover our "merry, not scary" decorations along the way, making this an activity the whole family can enjoy together, wearing family-friendly costumes and collecting goody bags for each child on the way out. Limited ADMISSIONS for EACH night must be purchased ONLINE. Admissions are good for night purchased only.
Creep It Real OC EXPO
September 10 - 11, 2022
Heritage Museum of Orange County
While at the expo you can visit several mini haunt walk-throughs hosted by local haunts, visit our spooky photo locations, stroll through our halloween market-like bazaar with over 100 vendors to purchase all your oddities and curiousities.
Kids Fun Zone: Spooktacular Edition
October 29, 2022
Bristol Warner Marketplace, Santa Ana
FREE
This month we'll be hosting a special spooktacular Halloween KFZ! Kids will get to participate in special Halloween crafts, games & more!
San Juan Capistrano Halloween Events 2022
Trick or Treat in Historic San Juan Capistrano
October 31, 2022
Los Rios and downtown
Expect ghouls, treats and fun times in San Juan Capistrano on Halloween. The community is organizing a trick-or-treat event in the Los Rios and downtown area. Due to the COVID-19 pandemic, social distancing and masks are encouraged—the latter fitting for Halloween.
Haunted San Juan Capistrano Tours
September 10, 17, 24 & October 1, 8, 15 & 22, 2022
The Streets of old San Juan Capistrano
Join the Capistrano Ghost Walk, on their newest venture into the dark and the macabre through the historic streets of one of California's oldest cities. Under the canopy of century old pepper trees hear the stories of the spirits that inhabit the old Los Rios district and make our way through the dimly lit Camino Capistrano to the outskirts of the Mission itself.
Halloween Night Market
October 23, 2022
The Inn at San Juan Capistrano
Halloween fun, food trucks, vendors, and more!
Stanton Halloween Events 2022
Boo-tastic Halloween Party
October 7, 14, 21, 27 or 28, 2022
Adventure City, Stanton
Enjoy 11 exciting rides, walk through "Trick-or-Treat Street" for FREE candy and trinkets, enter the Cosmic Vortex Tunnel, ride the Express Train for a fun Halloween Scavenger Hunt. Join the Spooktacular Dance Party and get FREE glow accessories to light up the night. Meet the Mad Scientist Magician for some astonishing tricks Show your Halloween spirit and wear a costume (optional).
Tustin Halloween Events 2022
Halloween Howl
October 31, 2022
Columbus Tustin Recreation Center
FREE
Bring the kids down to the Columbus Tustin Activity Center for candy, candy and more candy! There will be games and prizes and an awesome costume contest.
Kids Fashion Camp OC Halloween Workshops
Select Days in October
The District at Tustin - Fashion Camp
From Boo Bags to Costumes...Join us for some Halloween fun! Costume workshops, trick or treat bags, spooky pillows and backpacks – we've got lots of projects to make this holiday spooktacular!
Westminster Halloween Events 2022
Fall Festival
September 24, 2022
Civic Center, Westminster
FREE
The City of Westminster is celebrating our 65th Anniversary this year! Join us at the Civic Center for a wonderful Fall Festival in honor of this milestone. The event will feature live entertainment, delicious food, vendors, activities for the entire family and much more!
The Pumpkin Factory
October 1 - 31, 2022
Westminster Mall, Westminster
Welcome to the Pumpkin Factory at Westminster Mall! Providing families with fun-filled Fall memories is what we do! Share the excitement and anticipation as you carefully select just the right pumpkin, grown on our own family farm, It's a great time for the whole family!
Villa Park Halloween Events
Villa Park Halloween Fest
October 29, 2022
Villa Park Town Center, Villa Park
Halloween Fest is a Villa Park annual tradition that was started in 2002 and is now in it's 20th year (no 2020 event). Every year you can find kids of all ages in their favorite costumes partaking in the many contests and activities that are laid out for them. It's a fun family event for all!
Yorba Linda Halloween Events
Trails & Treats Halloween Hike
October 29, 2022
Travis Ranch Activity Center, Yorba Linda
Join us for a special Halloween Hike. Along the hike, there will be treats and photo opportunities for the whole family. Pre-registration is required.
Fall Festival
October 15, 2022
Coldwell Banker Parking Lot
21580 Yorba Linda Blvd, Yorba Linda, CA
FREE
Receive a FREE pumpkin, have your face painted, check out the photo booth, and so much more. A perfect event for the whole family. We have plenty of fun activities for both kids & adults!
Art Hollow's Eve
October 22, 2022
Yorba Linda Public Library and Cultural Arts Center
FREE
Guests will enjoy a spooky evening including a light display along the outdoor paseo as well as crafts, games and entertainment.
Movie in the Park - The Addams Family 2
October 15, 2022
4601 Casa Loma Ave, Yorba Linda, CA
FREE
Seating is available on the grass so be sure to bring your lawn chairs or blankets.
Octoberfest at St. Martin's Church
September 2 - October 2, 2022
St. Martin De Porres Church, Yorba Linda
Oktoberfest fosters community outreach and social fellowship that is faithful to our Catholic values, by providing a wholesome, safe and family-oriented weekend of entertainment and fun.
Trunk or Treat at Messiah Lutheran Church
October 28, 2022
Messiah Lutheran Church, Yorba Linda
FREE
Come for an evening of family Halloween fun. The evening will conclude with TRUNK or TREATing. Dress up your car for the fun and pass out candy. All are welcome to this FREE event.
Historic Yorba Cemetery Tour
October 1, 2022
Woodgate Park, Yorba Linda
Located in the neighborhood Woodgate Park, the Yorba Cemetery is one of the oldest cemeteries in Orange County. Enjoy a free guided tour...you may even see the Pink Lady.
Other Southern California Halloween Events for Kids
Check out these awesome Halloween events, located just ouside of Orange County.
Brick-or-Treat at LEGOLAND®
October 1, 8, 15, 22, 29, 2022
LEGOLAND California
Our signature Halloween event is better than ever this year! Brick-or-Treat will bewitch LEGOLAND® California Resort with tons of candy, an all-new show line up, never-before-seen exclusive LEGO® characters, and more!
Cal Poly Pumpkin Fest
October 1- 30, 2022
Cal Poly Pomona
Pumpkin Fest is back and better than ever! All 5 Weekends in October will be filled with your favorite Activities and Farm Fun! Pick a Perfect Pumpkin, Pet a Goat, Ride a Hay Wagon, get lost in the Giant Corn Maze, and so much more! Along with the popular Festival Food and Live Entertainment, we've got fun Farm Demonstrations like Cow Milking and Bee Keeping. Antique Tractors and Farm Equipment, as well as some some new attractions will be on display. Visit the Marketplace to pick up CPP Farm Fresh Produce, Apiary Honey, Specialty Pumpkins & Fall Decorations and Artisan goods. Also new is the Moo Moo Cow Train and Children's Garden activities.
The Pumpkin Factory
October 1, 2022
Live Oak Canyon
Providing families with fun-filled memories is what we do! Come experience the wonder of our pumpkin patches with fantastic rides, slides, petting zoos, games, food and more! Share the excitement and anticipation as you carefully select just the right pumpkin, grown on our own family farm. It's a great time for the whole family! Join us at one of our outstanding locations. We look forward to seeing you!
Seaworld Spooktacular
September 17 - October 31, 2022
Seaworld, San Diego
Halloween is back with candy, costumes, your favorite Sesame Street friends, and plenty of spooky surprises. Kids love trick-or-treating during this daytime event as they explore our decorated trail and meet all sorts of colorful characters. And that's just the beginning! From spooky stories and a Halloween dance party to moments with furry friends like Count von Count, Elmo, Cookie Monster, and more, this is immersive family fun you'll only find here.
Halloween Spooktacular at Sesame Place
September 17 - October 30, 20222
Sesame Place, Chula Vista
Come in costume and celebrate silly, not-too-spooky fun at The Count's Halloween Spooktacular at Sesame Place! The park will be transformed into a family-friendly Halloween haven and guests will enjoy trick-or-treating around the park, Halloween-themed shows, the Sesame Street Halloween Parade, Dance Party, an interactive Spot-The-Ghost Scavenger Hunt, Sesame Street-themed dry & wet rides, games, special retail, and unique photo opportunities with everyone's favorite furry friends dressed up in costume!
Halloween Horror Nights
September 8 - October 31, 2022
Universal Studios Hollywood
Summon your scream squad to Universal Studios Hollywood's Halloween Horror Nights with 8 haunted houses, the Terror Tram, scare zones, a live show and exhilarating attractions. Whether you're a superfan, here for the snacks or selfies, scared of everything or skeptical of everyone, remember, never go alone.
Haunt'oween LA Halloween
September 30 - October 31, 2022
6100 Topanga Canyon Blvd, Woodland Hills
Go trick-or-treating in the Town of Haunt O' Ween, walk through thousands of pumpkins, play a multitude of games and rides, get your face painted, enjoy food and drinks... the list is endless. Make sure to take plenty of photos and videos—you'll remember the month of Haunt O' Ween for years to come!
Los Angeles Haunted Hay Ride
September 29 - October 31, 2022
4730 Crystal Springs Drive, Los Angeles
Experience the world-famous Los Angeles Haunted Hayride. Los Angeles' Ultimate Halloween Event. Halloween lives here! Includes hayride and other emmersive Halloween experiences.
Spooky Science
October 1 - 30, 2022
Discovery Cube Los Angeles
Join the spooktacular hands-on activities throughout October. Don't miss the annual Halloween-themed event and buy your tickets today. VISIT US Halloween weekend, October 30 and 31, for the costume party parade and trick-or-treating at the museum!
Nights of the Jack
September 30 - October 31, 2022
King Gillette Ranch, Calabasas
Cruise across the grounds of the scenic King Gillette Ranch as the Santa Monica Mountains hideaway is illuminated with thousands of hand-carved jack-o'-lanterns. Nights of the Jack returns this year with a drive-through edition, with timed tickets required each night. Expect to spend about 25 minutes on the mile-long trail, and just a heads up that there will be no food or beverages for sale, nor will bathrooms be available.
{disclaimer: Be sure to check out events before attending as times and dates may have changed.}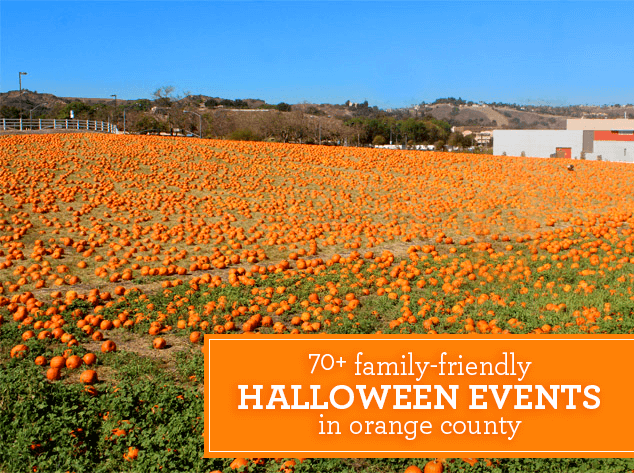 SaveSave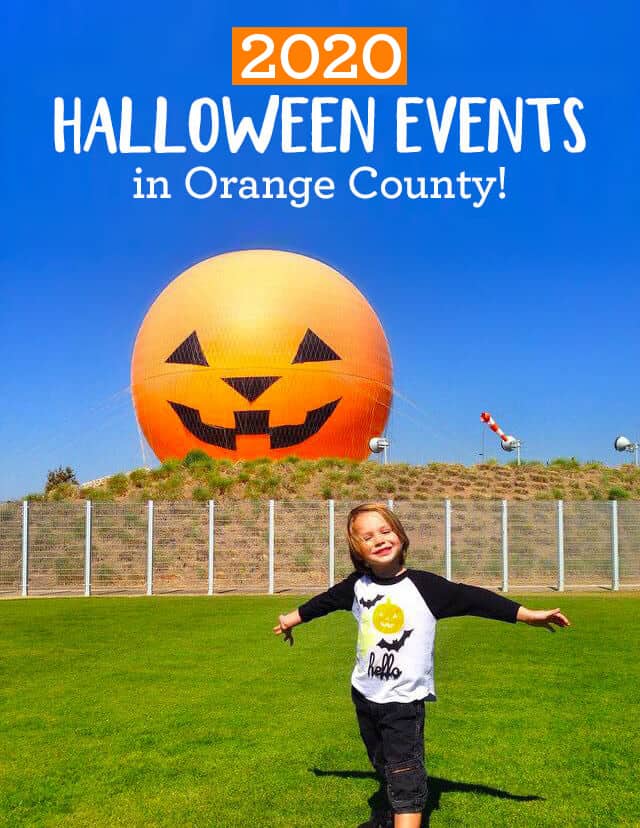 SaveSave