Every year we make a visit to this enormous Cal Poly Pumpkin Patch! The Pumpkin Fest at Cal Poly Pomona is a yearly tradition of ours. This is a really unique pumpkin patch in Southern California has acres upon acres of pumpkins making it the premier backdrop for Fall photos!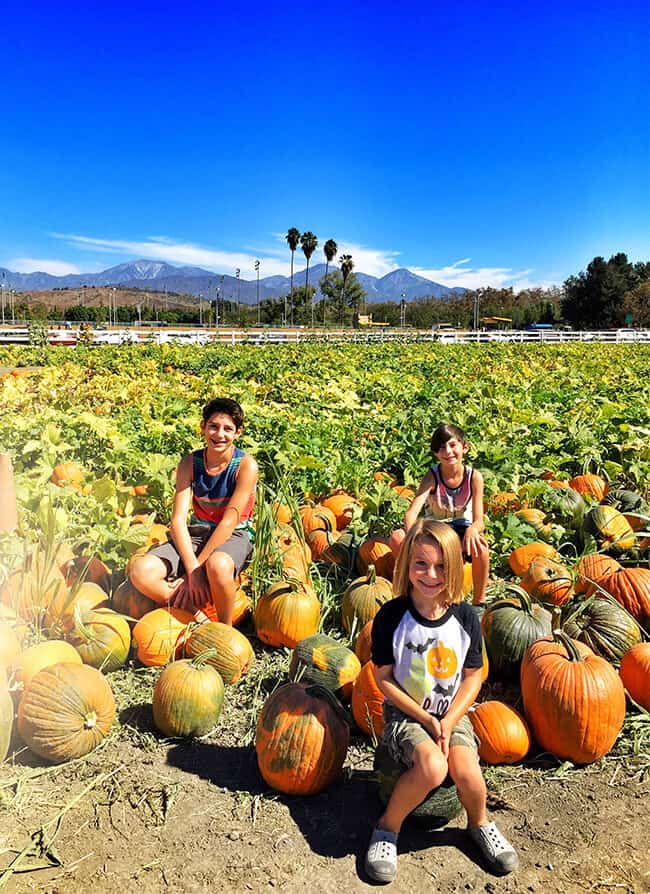 Is the Cal Poly Pumpkin Fest Worth it?
YES!!! I feel that compared to more commercial pumpkin patches, the Cal Poly Pumpkin Patch offers a unique experience. Guests from all over Southern California can experience a more farm like pumpkin patch with some of the pumpkins growing on the vine, animals, fall activities, hay bales, hay rides, corn mazes, farm store, homemade goods from the college clubs, photos ops and more. It's pretty incredible!
There are pumpkins as far as the eye can see. Thousands and thousounds!!!
Plus there are food booths, fruits and veggies to purchase that are grown right at the college, games and fun for the kiddies, a petting zoo and more.
What's there to do at Cal Poly Pumpkin Fest?
Pumpkin Hill - A Huge Patch includes thousands of Medium to Large Pumpkins for Purchase surrounded by plenty of Photo Ops.
The Marketplace - Hand Made Artisan & Craft Vendors, Dessert & Snack Vendors.
Ag Demo Zone - Featuring Ag Themed Demonstrations & Displays including WAPA Antique Tractors & Engines, Amazing Weaving Demonstrations, Beekeeping, and Cucamonga John's Gadgetorium.
NEW! Pumpkin Land - A wonderful and colorful area filled with an amazing variety of pumpkins and gourds making beautiful creations.
CPP Farm Stand - A good old-fashioned Farm Stand featuring Unusual Pumpkins, Fall Decorations, CPP Apiary Honey, Pumpkin Bread and other goodies.
Kid's Pumpkin Patch - A fun and colorful space for little ones to find the perfect sized pumpkin and lots of photo ops.
Farm Kids Country Fair - The Country Fair includes a Hay Bale Obstacle Course, Fun Photo Ops, Games the Exciting Duck Races and the entrance to the Kid's Corn Maze.
Sunflower Fields Forever - A Beautiful Maze filled with over a dozen different types of Sunflowers.
The Barn - Live Country and Bluegrass
Check out some of the photos from our last visit....
There is special kids' area that's really fun for all ages from toddler on up. It features games, mazes, smaller pumpkins, a tractor and things to do for the little ones.
What's New at the Cal Poly Pumpkin Fest for 2022?
Buying tickets - This year, you can't buy tickets at the gate, you must buy tickets for the Pumpkin Fest online here
More weekends - The Pumpkin Fest will happen Thursday through Sunday, all Weekends in October. It will feature all your favorite Activities, Attractions, Food and Entertainment and give you the opportunity to visit more than just during one weekend.
Pumpkin Fest Preview Night - For the first time, the Pumpkin Fest will kick off with a Special Preview Night featuring beer, wine, food & dessert tastings, live music, hay rides, petting farm, mini corn maze, special activities, and, of course, the pumpkin patch! The event is open to guests 21 and older. Click here for tickets.
NEW! Pumpkin Land - A wonderful and colorful area filled with an amazing variety of pumpkins and gourds making beautiful creations.
Can You Visit the Cal Poly Pumpkin Patch during the week?
Yes, this Pomona Patch is also open Wednesday thru Friday with limited attractions on Wednesdays and Thursdays. Only the pumpkin patch, corn maze and Farm Store will be available.
Is the Cal Poly Corn Maze Worth it?
Our son's favorite part of the Pumpkin Festival was the corn maze. He ran all the way there. Him and his daddy got to follow the corn maze map and find different stations to solve a riddle. At the end they got a special corn maze button which was so much fun.
I feel it is one of the best corn mazes in Southern California, so YES, I do recommend checking it out.
Will there be an Insect Festival?
Usually, before the pandemic hit, the Cal Poly Pumpkin Patch also had a Bug Zoo next to the Pumpkin Festival. It may not be happening this year, but I am sure that at some point it will be back.
At the Insect Festival, you can see all sorts of amazing insects and also touch a feel them. I stayed clear of any of the creepy crawlers, but i have to admit, there are some beautiful insects out there. Here are some photos of the boys inside the insect festival part of the Pumpkin Festival.

Cal Poly Pomona Farm Store
When you go to the Cal Poly Pomona Pumpkin Festival, you must stop by the Farm Store. There are so many unique products and homemade items available for purchase, including fresh made baked goods, plants, food, local honey, dried fruits, gourds, cornstalks, drinks, sandwiches...you name it. and everything is so fresh and yummy.
If you can't make it to the Cal Poly Pumpkin Festival, it's okay. The good news is that you can still make a trip to the Cal Poly Pomona Pumpkin Patch during the month of October. It's open to the public weekdays and weekends. You can still get pumpkins for $5 and visit the Farm Store. So head over and check it out.