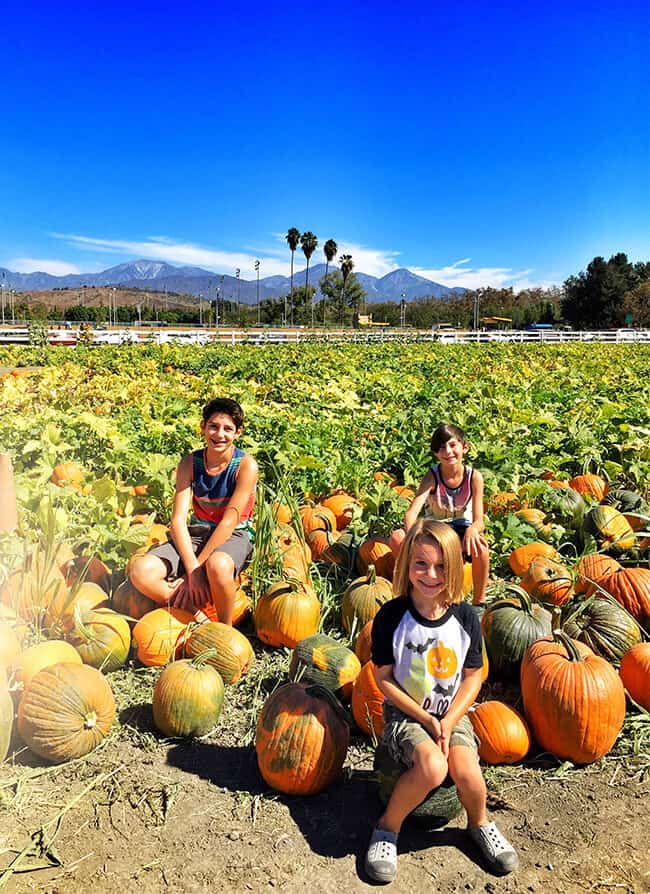 Every year we make a visit to this enormous Cal Poly Pumpkin Patch! The Pumpkin Fest at Cal Poly Pomona is a yearly tradition of ours. This is a really unique pumpkin patch in Southern California has acres upon acres of pumpkins making it the premier backdrop for Fall photos!
Is the Cal Poly Pumpkin Fest Worth it?
YES!!! I feel that compared to more commercial pumpkin patches, the Cal Poly Pumpkin Patch offers a unique experience. Guests from all over Southern California can experience a more farm like pumpkin patch with some of the pumpkins growing on the vine, animals, fall activities, hay bales, hay rides, corn mazes, farm store, homemade goods from the college clubs, photos ops and more. It's pretty incredible!
There are pumpkins as far as the eye can see. Thousands and thousounds!!!
Plus there are food booths, fruits and veggies to purchase that are grown right at the college, games and fun for the kiddies, a petting zoo and more.
Check out some of the photos from our last visit....
There is special kids' area that's really fun for all ages from toddler on up. It features games, mazes, smaller pumpkins, a tractor and things to do for the little ones.
What's New at the Cal Poly Pumpkin Fest for 2021?
Buying tickets - This year, you can't buy tickets at the gate, you must buy tickets for the Pumpkin Fest online here
More weekends - Also, due to Covid limited capacity restrictions, the Pumpkin Fest will happen all 5 Weekends in October. It will feature all your favorite Activities, Attractions, Food and Entertainment and give you the opportunity to visit more than just during one weekend.
Night Maze and Evening Admission - Visit the corn at night! If you think the corn maze is challenging by day, come try it at NIGHT! Thrills and chills after dark in the Maze. *Face masks will be required in the Night Maze. You can do the Night Maze on Friday & Saturday Nights at 6:30pm-8pm beginning October 8. There is a separate FEE to enter.
Can You Visit the Cal Poly Pumpkin Patch during the week?
Yes, this Pomona Patch is also open Wednesday thru Friday with limited attractions on Wednesdays and Thursdays. Only the pumpkin patch, corn maze and Farm Store will be available.
Is the Cal Poly Corn Maze Worth it?
Our son's favorite part of the Pumpkin Festival was the corn maze. He ran all the way there. Him and his daddy got to follow the corn maze map and find different stations to solve a riddle. At the end they got a special corn maze button which was so much fun.
I feel it is one of the best corn mazes in Southern California, so YES, I do recommend checking it out.
Will there be an Insect Festival?
Usually, before the pandemic hit, the Cal Poly Pumpkin Patch also had a Bug Zoo next to the Pumpkin Festival. It may not be happening this year, but I am sure that at some point it will be back.
At the Insect Festival, you can see all sorts of amazing insects and also touch a feel them. I stayed clear of any of the creepy crawlers, but i have to admit, there are some beautiful insects out there. Here are some photos of the boys inside the insect festival part of the Pumpkin Festival.

Cal Poly Pomona Farm Store
When you go to the Cal Poly Pomona Pumpkin Festival, you must stop by the Farm Store. There are so many unique products and homemade items available for purchase, including fresh made baked goods, plants, food, local honey, dried fruits, gourds, cornstalks, drinks, sandwiches...you name it. and everything is so fresh and yummy.
If you can't make it to the Cal Poly Pumpkin Festival, it's okay. The good news is that you can still make a trip to the Cal Poly Pomona Pumpkin Patch during the month of October. It's open to the public weekdays and weekends. You can still get pumpkins for $5 and visit the Farm Store. So head over and check it out.