Springtime is here! Time to celebrate with bunnies and Easter egg hunts! How about taking the kiddies to a fun spring fling or an Easter Egg Hunt. There are a bunch of fun Family and Kids Easter Events and Spring Activities happening in Orange County this Spring!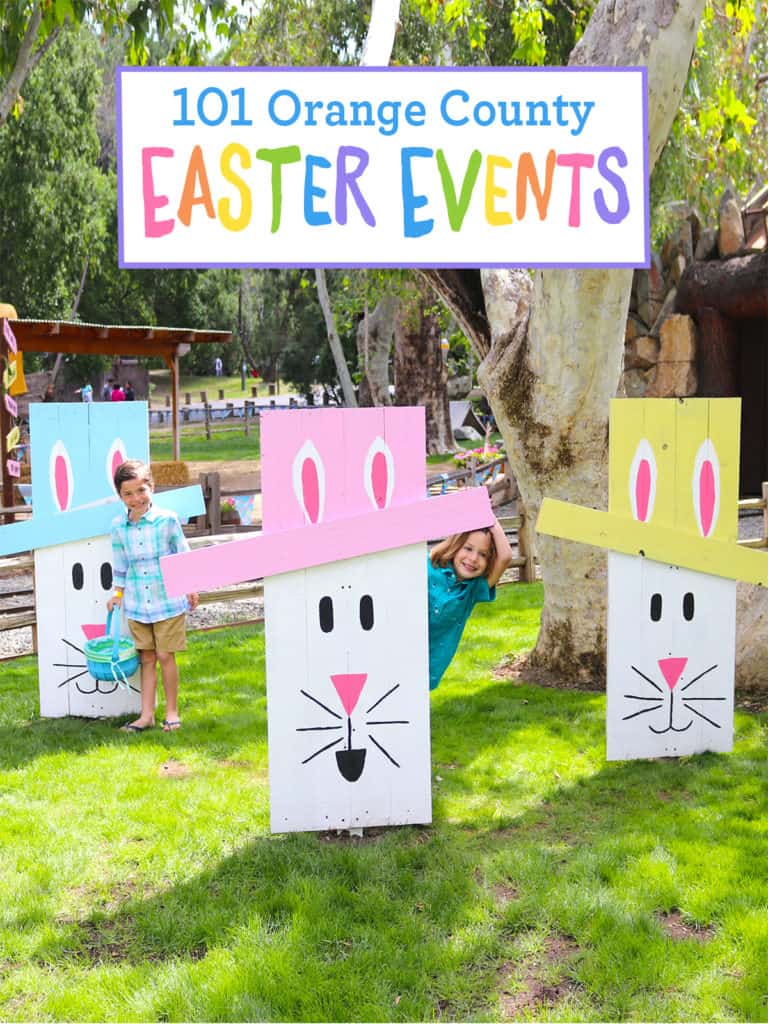 100 Best Easter Events in Orange County
Here's a list to help you find the ones your family will enjoy most. They are listed by city and linked to the event websites!
Have an event you want to add? email hello@sandytoesandpopsicles.com
Aliso Viejo Spring Activities
🥚 Easter Egg Hunts in Aliso Viejo
These are the Egg Hunts that are happening in Aliso Viejo:
Anaheim Spring Activities
🥚 Easter Egg Hunts in Anaheim
These are the Egg Hunts that are happening in Anaheim:
🌼 Spring Events in Anaheim
These are the Spring and Easter events happening in Anaheim:
🐰 Easter Bunny Photos in Anaheim
Brea Spring Activities
🥚 Easter Egg Hunts in Brea
These are the Egg Hunts that are happening in Brea:
🌼 Spring Events in Brea
These are the Spring and Easter events happening in Brea:
Spring Boutique
Friday, March 17 & 18, 2023
Brea Community Center
695 East Madison Way, Brea, CA
🐰 Easter Bunny Photos in Brea
Where to get photos with the Easter Bunny in Brea:
Buena Park Spring Activities
🌼 Spring Events in Buena Park
These are the Spring and Easter events happening in Buena Park:
Corona Del Mar Spring Activities
🥚 Easter Egg Hunts in Corona Del Mar
These are the Egg Hunts that are happening in Corona Del Mar:
Egg Hunt
April 8, 2023
Grant Howard Park
3000 5th Avenue, Corona del Mar, CA
FREE
🌼 Spring Events in Corona Del Mar
These are the Spring and Easter events happening in Corona Del Mar:
Costa Mesa Spring Activities
🥚 Easter Egg Hunts in Costa Mesa
These are the Egg Hunts that are happening in Costa Mesa:
Egg-citement
Saturday, April 8, 2023
Tanager Park, 1780 Hummingbird Drive, Costa Mesa, CA
SpringFest
TBA
Lyons Park Lawn, 570 W. 18th Street, Costa Mesa, CA
FREE
Community Easter Egg Hunt
TBA
First United Methodist Church of Costa Mesa
420 W. 19th Street, Costa Mesa, CA
FREE
Super Egg Hunt at The Crossing
Saturday, April 1, 2023
The Crossing Church, 2115 Newport Blvd, Costa Mesa, CA
FREE
Spring Party & Egg Hunt
March 25, 2023
Estancia Park, Adams Avenue Costa Mesa, CA 92626
FREE
🌼 Spring Events Hunts in Costa Mesa
These are the Spring and Easter events happening in Costa Mesa:
🐰 Easter Bunny Photos in Costa Mesa
Where to get photos with the Easter Bunny in Costa Mesa:
Dana Point Spring Activities
🥚 Easter Egg Hunts in Dana Point
These are the Egg Hunts that are happening in Dana Point:
Dana Point Egg Hunt
Saturday, April 8, 2023
Pines Park
34942 Camino Capistrano, Dana Point, CA
FREE
Dana Point Egg Hunt
Saturday, April 8, 2023
Sea Canyon Park
33093 Santiago Drive, Dana Point, CA
FREE
🌼 Spring Events in Dana Point
These are the Spring and Easter events happening in Dana Point:
Fountain Valley Spring Activities
🥚 Fountain Valley Easter Egg Hunts
These are the Egg Hunts that are happening in Fountain Valley:
Fullerton Spring Activities
🥚 Fullerton Valley Easter Egg Hunts
These are the Egg Hunts that are happening in Fullerton:
Garden Grove Spring Activities
🥚 Garden Grove Easter Egg Hunts
These are the Egg Hunts that are happening in Garden Grove:
🌼 Garden Grove Spring Events
These are the Spring and Easter events happening in Garden Grove:
Huntington Beach Spring Activities
🥚 Huntington Beach Easter Egg Hunts
These are the Egg Hunts that are happening in Huntington Beach:
Easter Hunt and Family Fun Day
Saturday, April 8, 2023
Huntington Central Park Sports
18100 Goldenwest Street, Huntington Beach, CA
EASTER Eggstravaganza at Old World Village
Saturday, April 8, 2023
Old World Village
7561 Center Ave, Huntington Beach, CA
Bunny Hop Egg Hunt at Terra Bella
Monday, April 3, 2023
Bella Terra
7777 Edinger Avenue, Huntington Beach, CA
FREE
🌼 Huntington Beach Spring Events
These are the Spring and Easter events happening in Huntington Beach:
🐰 Easter Bunny Photos in Huntington Beach
Where to get photos with the Easter Bunny in Huntington Beach:
Irvine Spring Activities
🥚 Irvine Easter Egg Hunts
These are the Egg Hunts that are happening in Irvine:
🌼 Irvine Spring Events
These are the Spring and Easter events happening in Irvine:
Egg-A-Pool-Looza
Saturday, April 8, 2023
William J. Woollett Jr. Aquatics Center
4601 Walnut Avenue, Irvine, CA 92604
Hilltop Easter Luncheon at Tanaka Farms
Sunday, April 9, 2023
Tanaka Farms
5380 ¾ University Drive, Irvine, CA
Spring Equinox at Pretend City
Sunday, March 12, 2023
Pretend City
29 Hubble, Irvine, CA
The Rabbit Run 5k
Saturday, April 8, 2023
Jeffrey Trails Middle School
155 Visions, Irvine, CA
Easter Bash Market
Saturday, April 1, 2023
Hangar 24 Orange County
17877 Von Karman Avenue, #110, Irvine, CA
FREE
Easter Fun at Manessaro Farms
Saturday, April 1, 2023
The Original Manassero Farms
33 Irvine Valley, Irvine, CA
FREE
La Habra Spring Activities
🥚 La Habra Easter Egg Hunts
These are the Egg Hunts that are happening in La Habra:
Spring Family Eggstravaganza
Saturday, April 8, 2023
La Bonita Park
1440 W. Whittier Boulevard, La Habra, CA
FREE
Egg Night
Friday, April 7, 2023
La Bonita Park
1440 W. Whittier Boulevard, La Habra, CA
Ladera Ranch Spring Activities
🥚 Easter Egg Hunts in Ladera Ranch
These are the Egg Hunts that are happening in Ladera Ranch:
Laguna Beach Spring Activities
🌼 Spring Events in Laguna Beach
These are the Spring and Easter events happening in Laguna Beach:
Laguna Hills Spring Activities
🥚 Easter Egg Hunts in Laguna Hills
These are the Egg Hunts that are happening in Laguna Hills:
Eggstravaganza
Friday, April 7, 2023
Laguna Community Center, 25555 Alicia Pkwy, Laguna Hills, CA
FREE
Easter Egg Hunt
TBA
Costeau Park, Laguna Hills, CA
FREE
Family Egg Hunt at Crossline
Sunday, April 2, 2023
Crossline Church
23331 Moulton Parkway, Laguna Hills, CA
FREE
🌼 Spring Events in Laguna Hills
These are the Spring and Easter events happening in Laguna Hills:
Laguna Niguel Spring Activities
🥚 Easter Egg Hunts in Laguna Niguel
These are the Egg Hunts that are happening in Laguna Niguel:
🌼 Spring Events in Laguna Niguel
These are the Spring and Easter events happening in Laguna Niguel:
Bunny Bonanza
Saturday, April 1, 2023
Chapparosa Park
25191 Chapparosa Park Road, Laguna Niguel, CA
FREE
Spring Blockbuster Movie: Sing 2
Friday, March, 2023
Crown Valley Park Amphitheater
29751 Crown Valley Parkway, Laguna Niguel, CA
FREE
Lake Forest Spring Activities
🥚 Easter Egg Hunts in Lake Forest
These are the Egg Hunts that are happening in Lake Forest:
Bunny Blast
Saturday, April 8, 2023
El Toro Park
23701 Los Alisos Boulevard, Lake Forest, CA
🌼 Spring Events in Lake Forest
These are the Spring and Easter events happening in Lake Forest:
Spring Boutique
Saturday, April 8, 2023
Lake Forest Community Center
100 Civic Center Drive, Lake Forest, CA
Los Alamitos Spring Activities
🥚 Los Alamitos Easter Egg Hunts
These are the Egg Hunts that are happening in Los Alamitos:
Spring Carnival
Saturday, April 8, 2023
Little Cottonwood Park, 4000 Farquhar Avenue, Los Alamitos, CA
Mission Viejo Spring Activities
🥚 Mission Viejo Easter Egg Hunts
These are the Egg Hunts that are happening in Mission Viejo:
🐰 Easter Bunny Photos in Mission Viejo
Where to get photos with the Easter Bunny in Mission Viejo:
Newport Beach Spring Activities
🥚 Easter Egg Hunts in Newport Beach
These are the Egg Hunts that are happening in Newport Beach:
8th Annual Mayor's Egg Race
Saturday, April 1, 2023
Civic Center Lawn
100 Civic Center Drive, Newport Beach, CA
FREE
Newport Dunes Easter Egg Hunt
TBA
Newport Dunes Waterfront Resort, 1131 Back Bay Drive, Newport Beach, CA
FREE
OC Fertility Easter Egg Hunt Eggstravaganza
Sunday, March 12, 2023
Newport Beach Civic Center Community Room
100 Civic Center Drive Newport Beach, CA 92660
FREE
🌼 Spring Events in Newport Beach
These are the Spring and Easter events happening in Newport Beach:
Orange Spring Activities
🥚 Easter Egg Hunts in Orange
These are the Egg Hunts that are happening in Orange:
🌼 Spring Events in Orange
These are the Spring and Easter events happening in Orange:
🐰 Easter Bunny Photos in Orange
Where to get photos with the Easter Bunny in Orange:
Placentia Spring Activities
🥚 Easter Egg Hunts in Placentia
These are the Egg Hunts that are happening in Placentia:
🌼 Spring Events in Placentia
These are the Spring and Easter events happening in Placentia:
Spring Celebration
TBA
Placentia Presbyterian Church
849 N. Bradford Avenue, Placentia, CA
FREE
San Clemente Spring Activities
🥚 San Clemente Easter Egg Hunts
These are the Egg Hunts that are happening in San Clemente:
🌼 Spring Events in San Clemente
These are the Spring and Easter events happening in San Clemente:
Spring Pop-Ups
TBA
Outlets at San Clemente, 101 W. Avenida Vista Hermosa, San Clemente, CA
FREE
🐰 Easter Bunny Photos in San Clemente
Where to get photos with the Easter Bunny in San Clemente:
Easter Bunny Photos
TBA
Outlets at San Clemente
101 W. Avenida Vista Hermosa, San Clemente, CA
FREE
San Juan Capistrano Spring Activities
🌼 Spring Events in San Juan Capistrano
These are the Spring and Easter events happening in San Juan Capistrano:
Kids Easter Blast
Sunday, April 9, 2023
South Coast Christian
31501 Avenida Los Cerritos, San Juan Capistrano, CA
FREE
Easter Event At Zoomars
Saturday, April 3, 2023
Zoomars Petting Zoo
31791 Los Rios Street, San Juan Capistrano, CA
Santa Ana Spring Activities
🥚 Easter Egg Hunts in Santa Ana
These are the Egg Hunts that are happening in Santa Ana:
Community Egg Hunt
Saturday, April 8, 2023
Orange County First Assembly of God
FREE
Easter Bunny Comes to Fairhaven Memorial Park
Sunday, April 9, 2023
Easter Eggstravaganza
April 2, 2023
Heritage Museum of Orange County
3101 W. Harvard Street, Santa Ana, CA
"Egg-cellent Adventure" Egg Hunt
Saturday, April 8, 2023
Centennial Regional Park
3000 W. Edinger Avenue, Santa Ana, CA
Egg Hunt FREE Breakfast is $5
🌼 Spring Events in Santa Ana
These are the Spring and Easter events happening in Santa Ana:
🐰 Easter Bunny Photos in Santa Ana
Where to get photos with the Easter Bunny in Santa Ana:
Stanton Spring Activities
🥚 Easter Egg Hunts in Stanton
These are the Egg Hunts that are happening in Stanton:
Trabuco Canyon Spring Activities
🐰 Easter Bunny Photos in Trabuco Canyon
Where to get photos with the Easter Bunny in Trabuco Canyon:
Tustin Spring Activities
🥚 Easter Egg Hunts in Tustin
These are the Egg Hunts that are happening in Tustin:
Westminster Spring Activities
🥚 Westminster Easter Egg Hunts
These are the Egg Hunts that are happening in Westminster:
🐰 Westminster Easter Bunny Photos
Where to get photos with the Easter Bunny in Westminster:
Yorba Linda Spring Activities
🥚 Easter Egg Hunts in Yorba Linda
These are the Egg Hunts that are happening in Yorba Linda:
Flashlight Egg Hunt
Friday, April 7, 2023
Hurless Barton Park
4601 Casa Loma Avenue, Yorba Linda, CA
Eggcitment Egg Hunt
Saturday, April 8, 2023
Hurless Barton Park
4601 Casa Loma Avenue, Yorba Linda, CA
FREE
Spring Craft Fair and Egg Hunt
Saturday, March 11 & 12, 2023
4501 Casa Loma Ave, Yorba Linda, CA
FREE
{please double check these events before you attend. i do my best to make sure everything is accurate and up to date, but cancellations can occur and i can makes mistakes once in a while}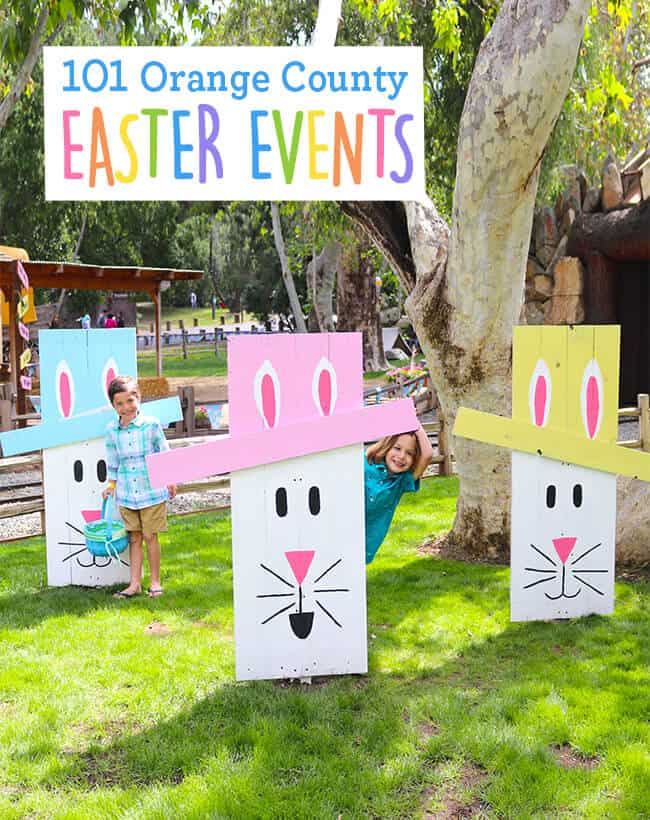 springtime is here, and it's time to celebrate with bunnies and Easter egg hunts! how about taking the kiddies to a fun Spring fling or and Easter Egg Hunt. there are tons of family-friendly and kids Easter events and happenings in Orange County this spring! here's a list to help you find the ones your family will enjoy most. check them out…