We're so excited that Spring is here because that means the Irvine Park Railroad Easter Eggstravaganza opens for the season! It's one of our family's favorite Easter activities to do in Orange County. There are so many fun spring activities such as Easter egg hunts, hayrides, face painting and of course the train.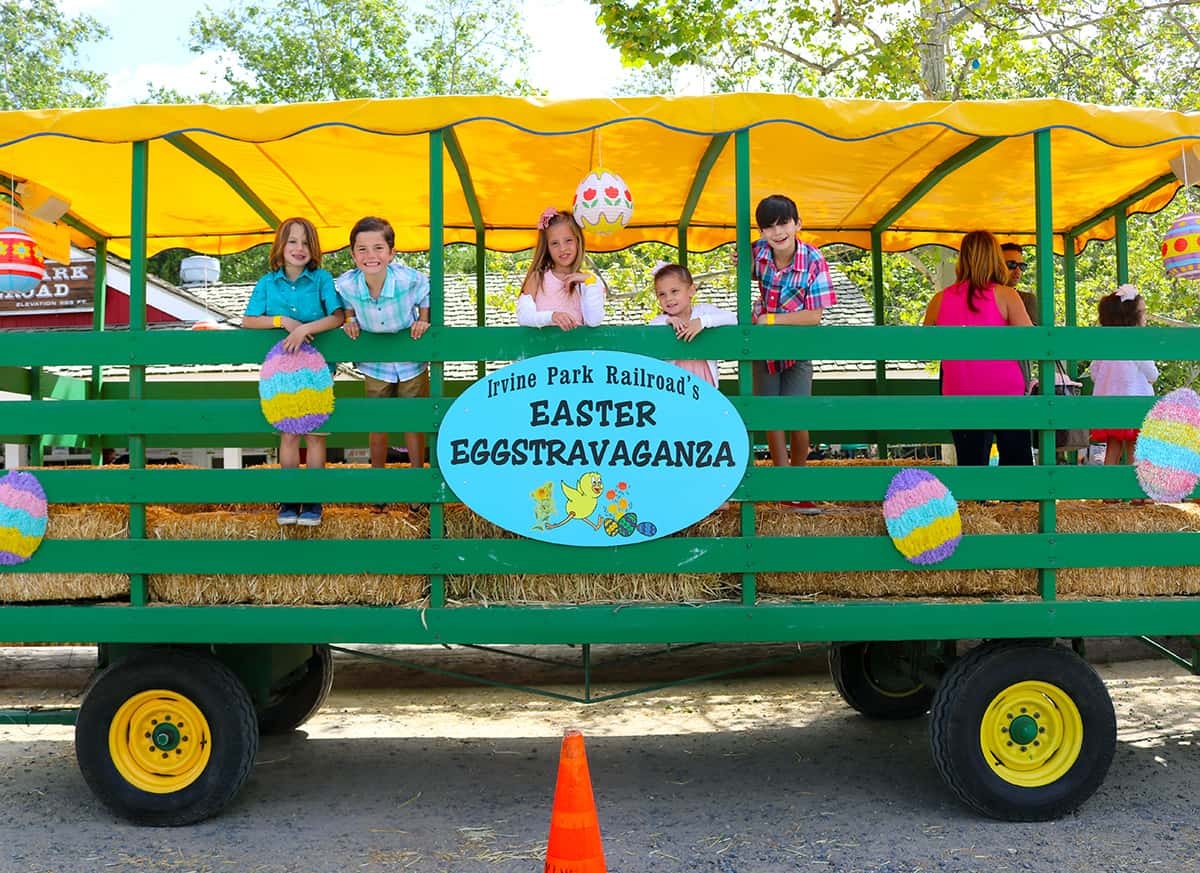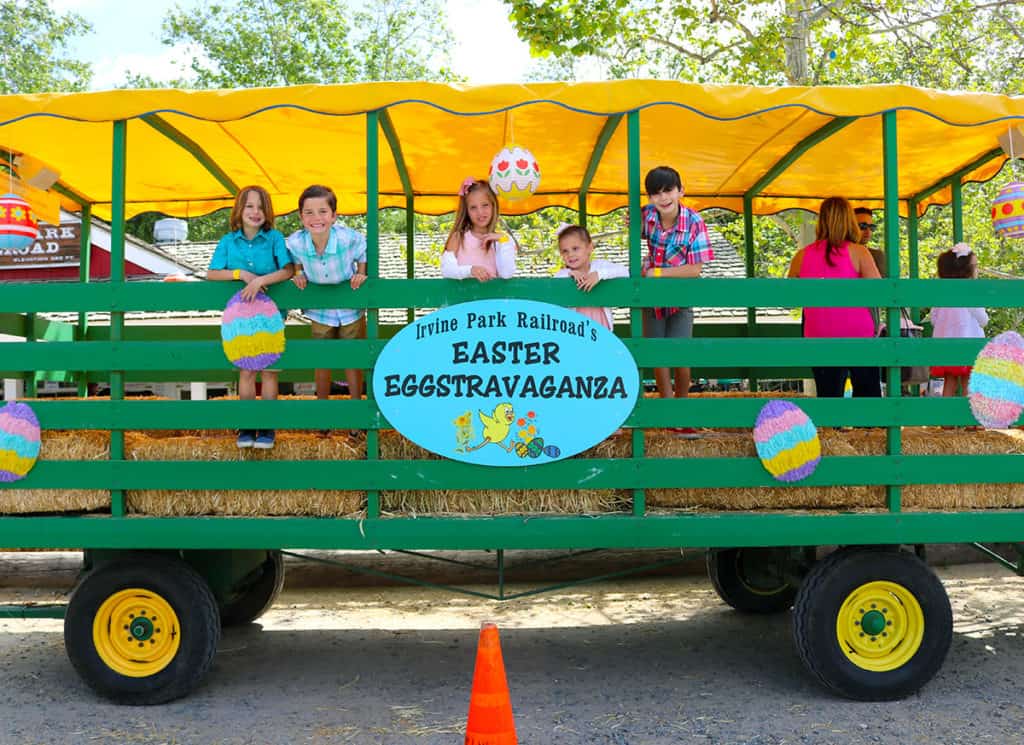 This year's Easter Eggstravaganza begins March 11, 2023 and runs through April 8, 2023. It's not open on Easter Sunday.
Things to Do at the Irvine Park Railroad Easter Eggstravaganza
What makes the Easter Eggstravaganza at Irvine Park Railroad so popular with Orange County families are all the fun spring activities! Not only can you ride the train, but you can buy tickets to enjoy Easter and spring themed games and activities.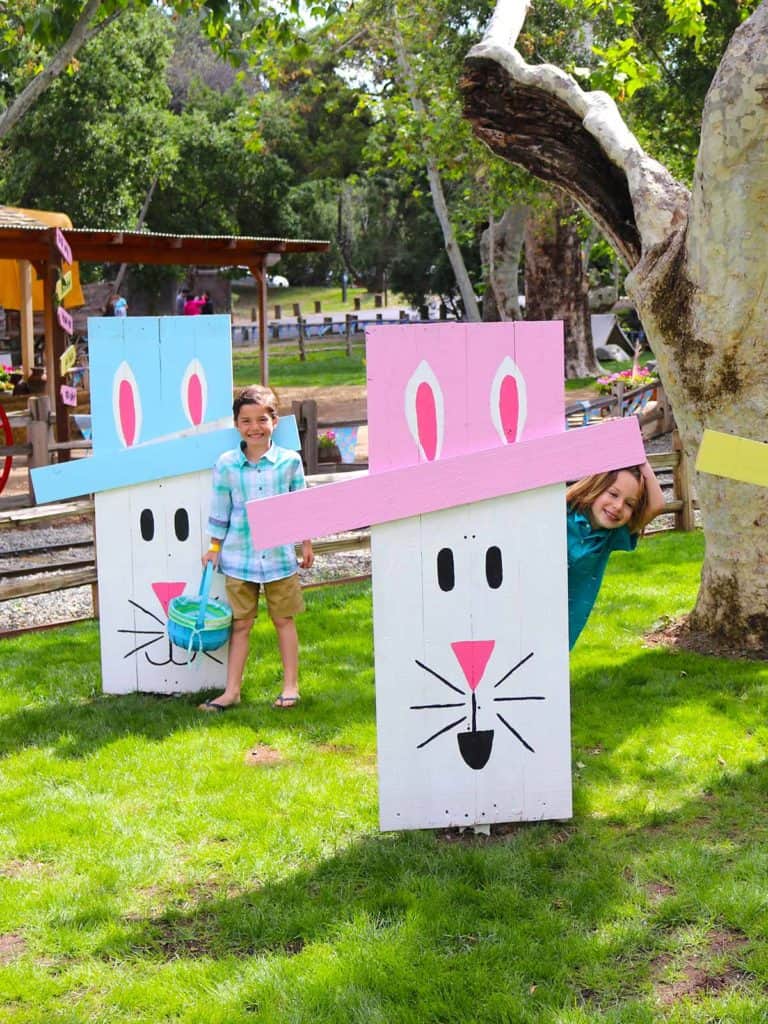 Ever year, the Irvine Park Railroad offers many of the same Easter activities. These become family traditions...and a fun time to see the kids grown up doing the same activities each year.
Does the Irvine Park Railroad Easter Eggstravaganza Cost Money?
Entrance into the Easter Eggstravaganza is free. But the spring activities require activity tickets. Activity tickets are $7.00 each. A book of 15 tickets is $90.00 (a $15.00 savings). There are also a few activities that are free.
Here are some of the activities offered this year and how many tickets they require:
Train Rides - 1 Ticket
The Irvine Park Railroad is a favorite of so many children. It is a ⅓ scale train that takes both children and adults on a ride through beautiful and historic Irvine Regional Park. Riding the train is a must when you visit the park.
Train rides are 1 ticket for kids and adults. Babies under 1 year old are free.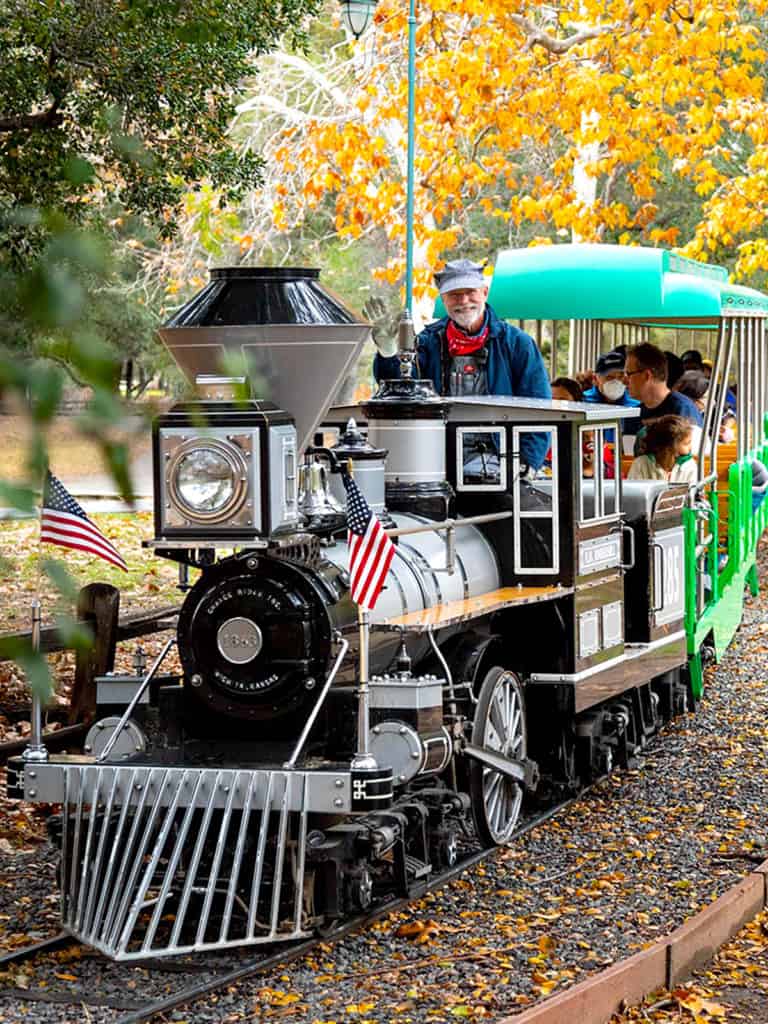 Visit the Easter Bunny
Kids can with the Easter Bunny every day during the Easter Eggstravagaanza. We love this Easter Bunny. Isn't he cute! Easter Bunny Hours: Weekday 10:00 am – 4:00 pm Weekend 9:00 am – 6:00 pm
The cost is $15 per group/visit and includes one complimentary Irvine Park Railroad photo. Each additional print of the same photo is $8. Photos are printed on location within a few minutes.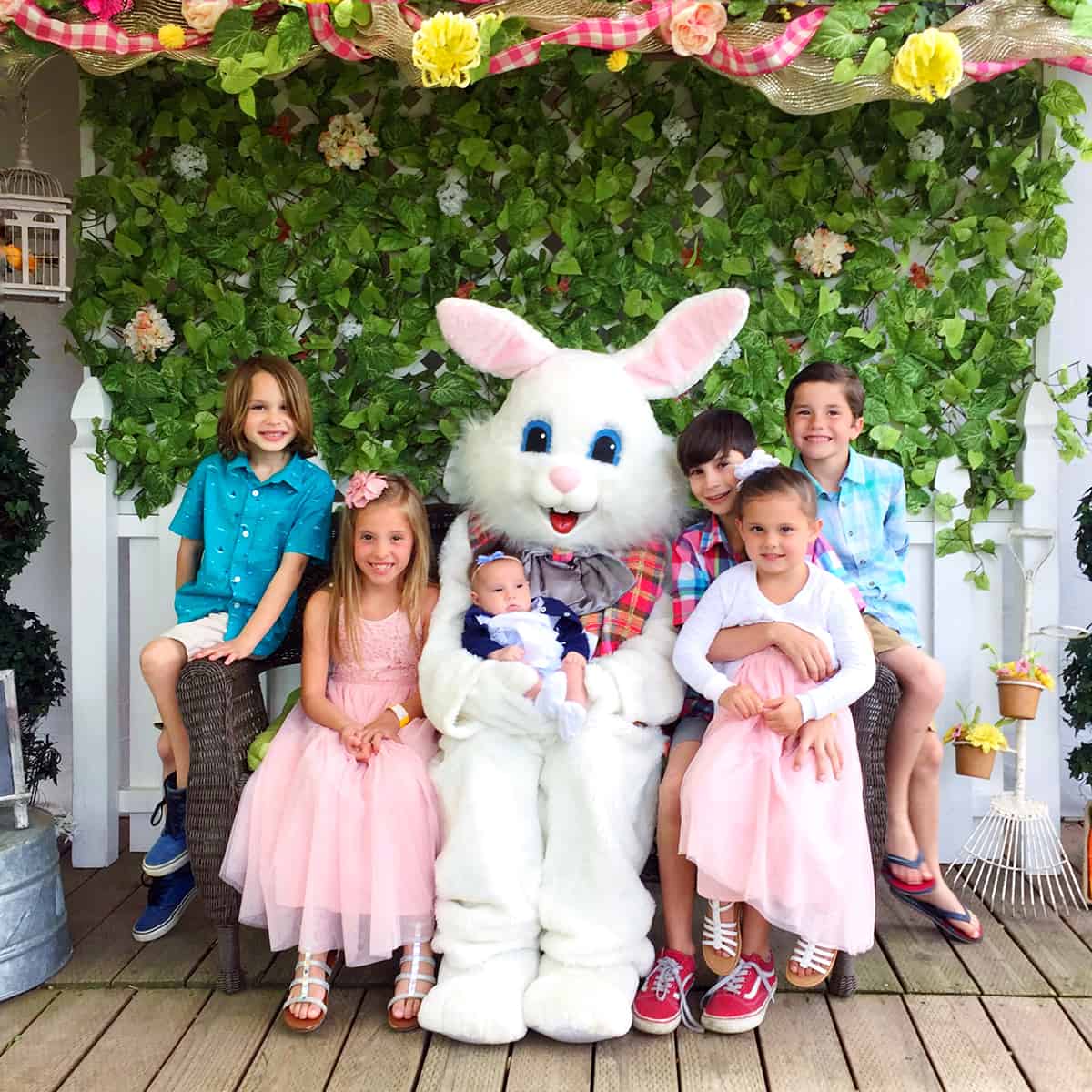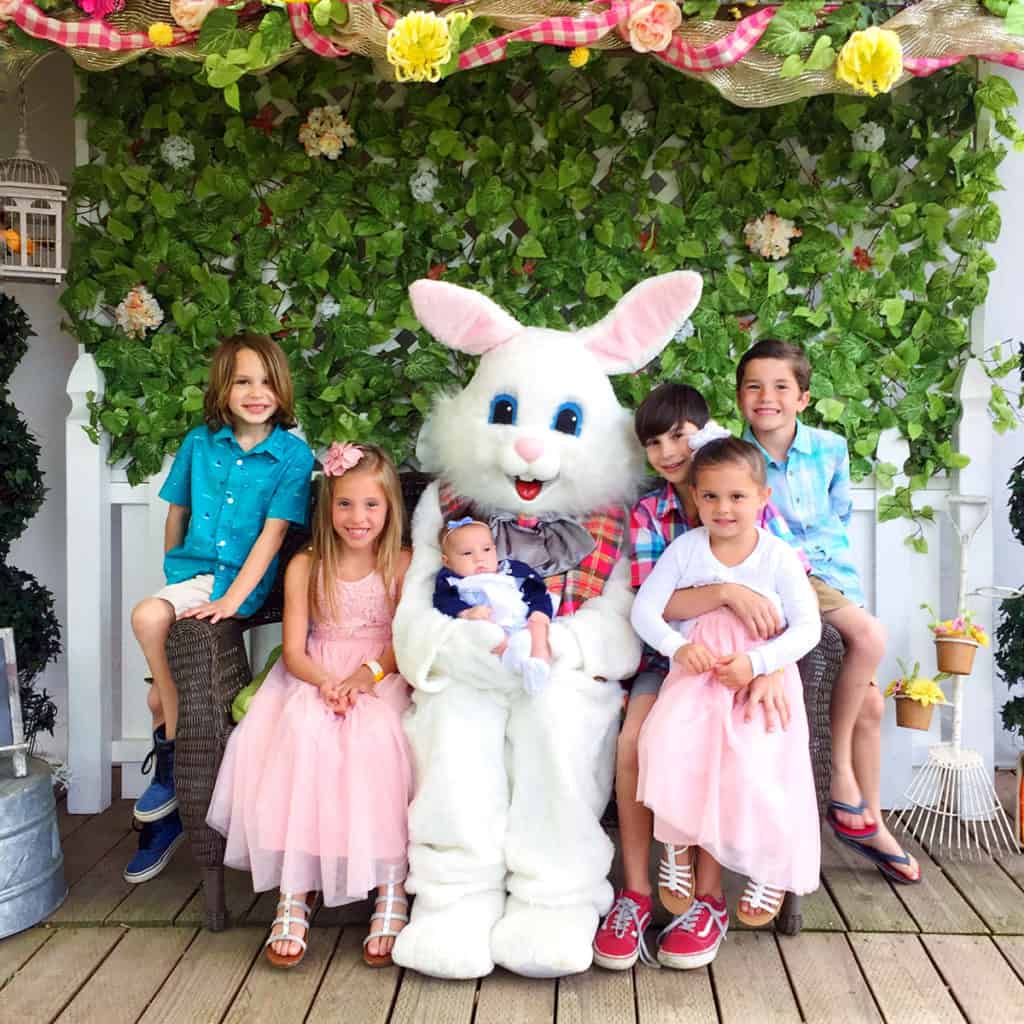 Cookie Decorating - 1 Ticket
We always end up decorating cookies at the Easter Eggstravaganza. The cookies are really big, and the railroad provides the cookies, frosting, and sprinkles. Kids can decorate a cookie to their hearts content. Best of all, the mess stays at the park...not at your house!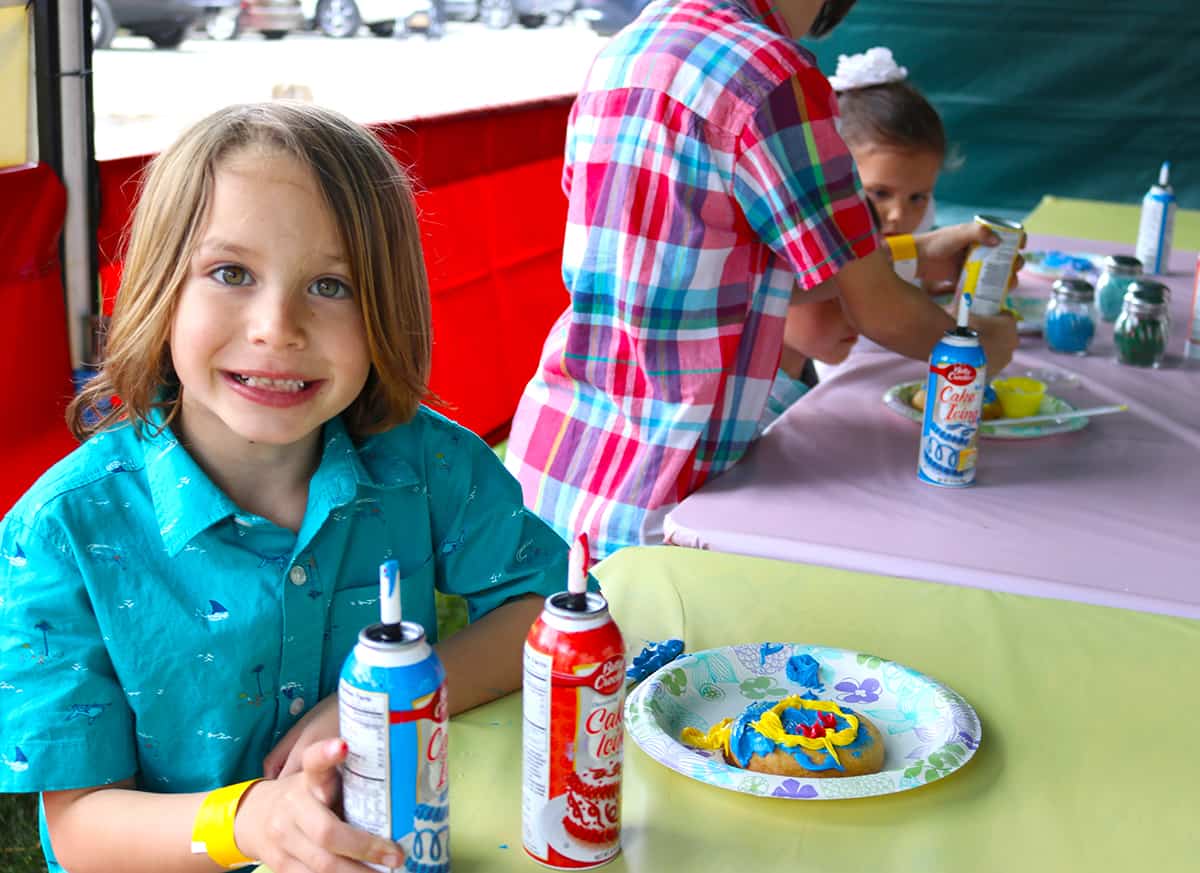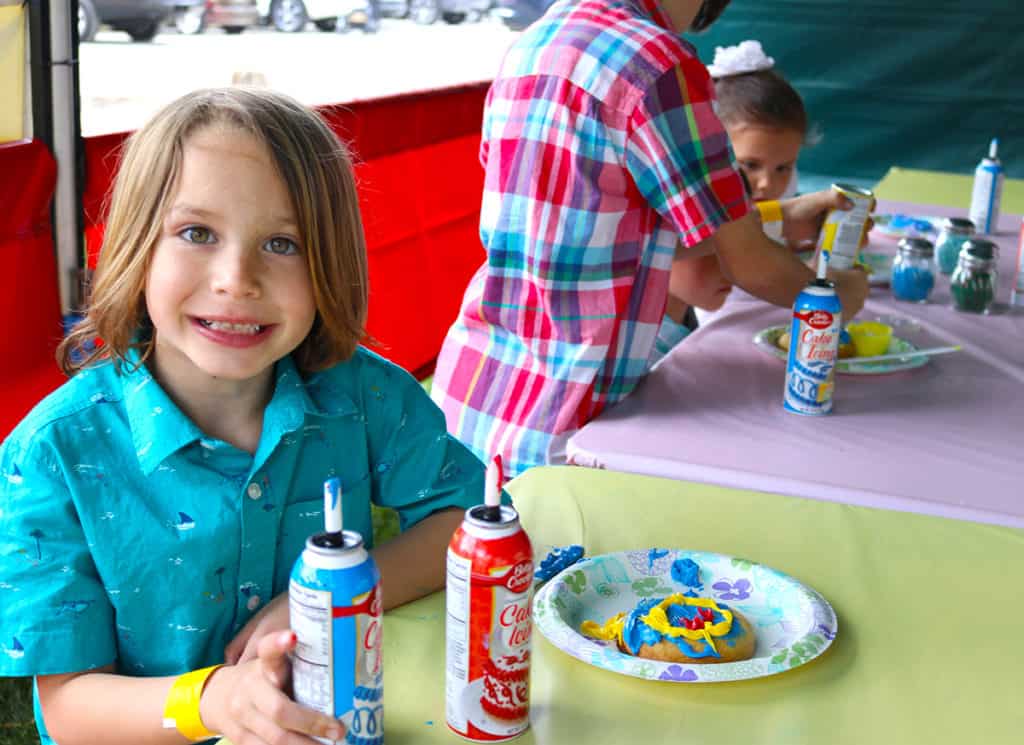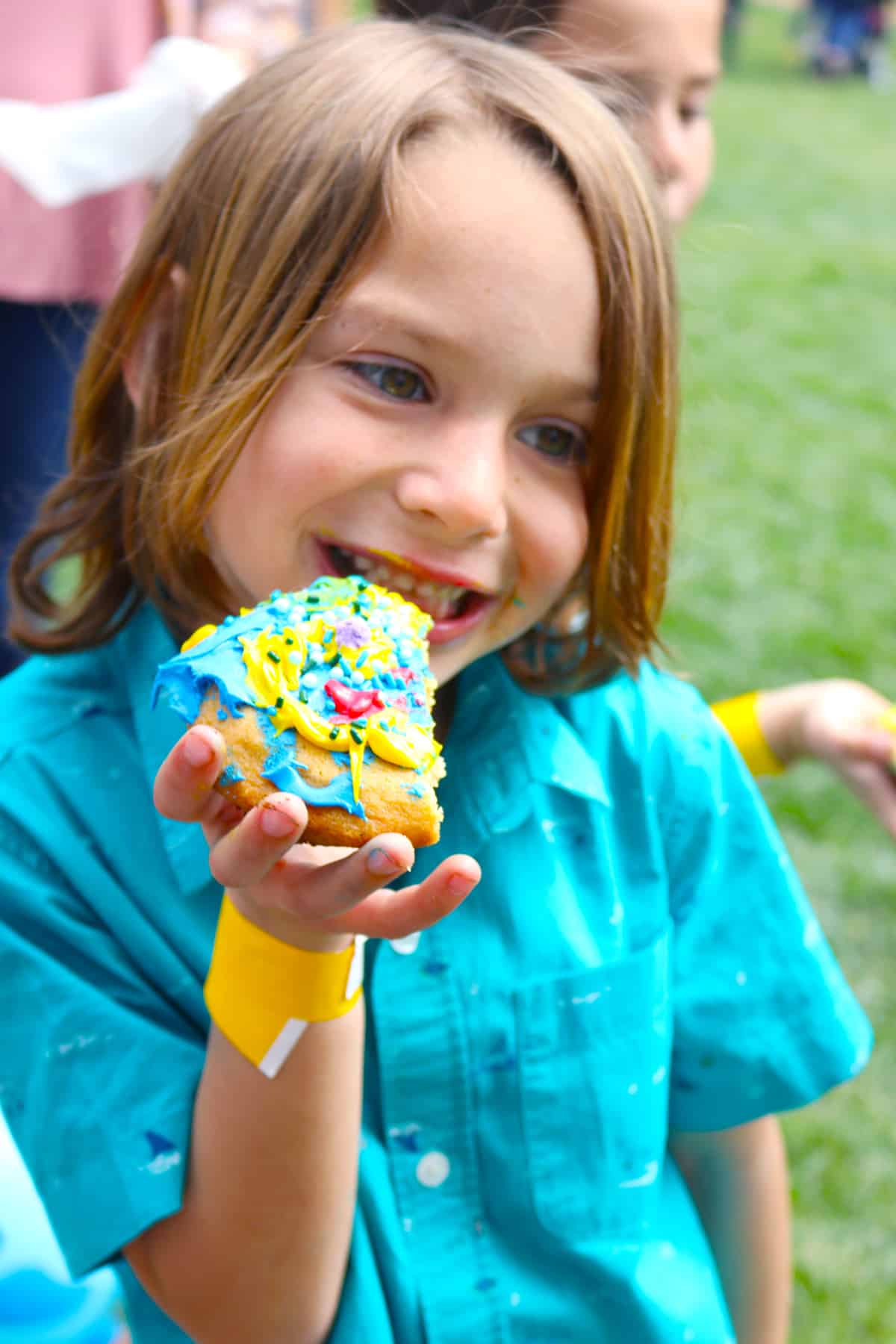 Face Painting - 2 Tickets
Face painting is always a treat at the Irvine Park Railroad. My kids have had some of the most beautiful face paintings done at the railroad. You get to pick the design you would like, and it is a full face design...of that is whaat you want.
Spring Hay Ride - 1 Ticket
Taking a hay ride at Irvine Park Railroad's Easter Eggstravaganza is also fun. All ages can enjoy this activity. You will board a wagon that's attached to a tractor that pulls you around the park.
It's a great way to rest your feet and still enjoy the beauty of Irvine Regional Park!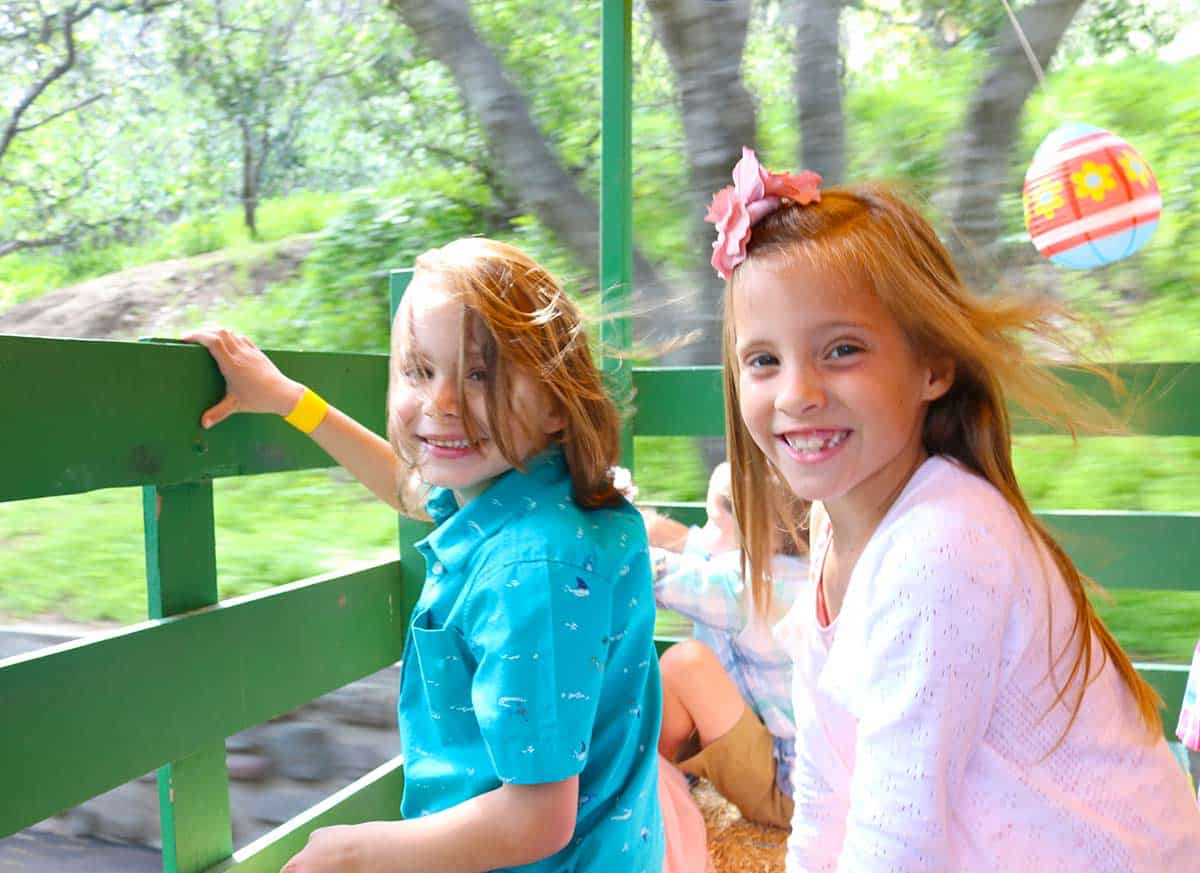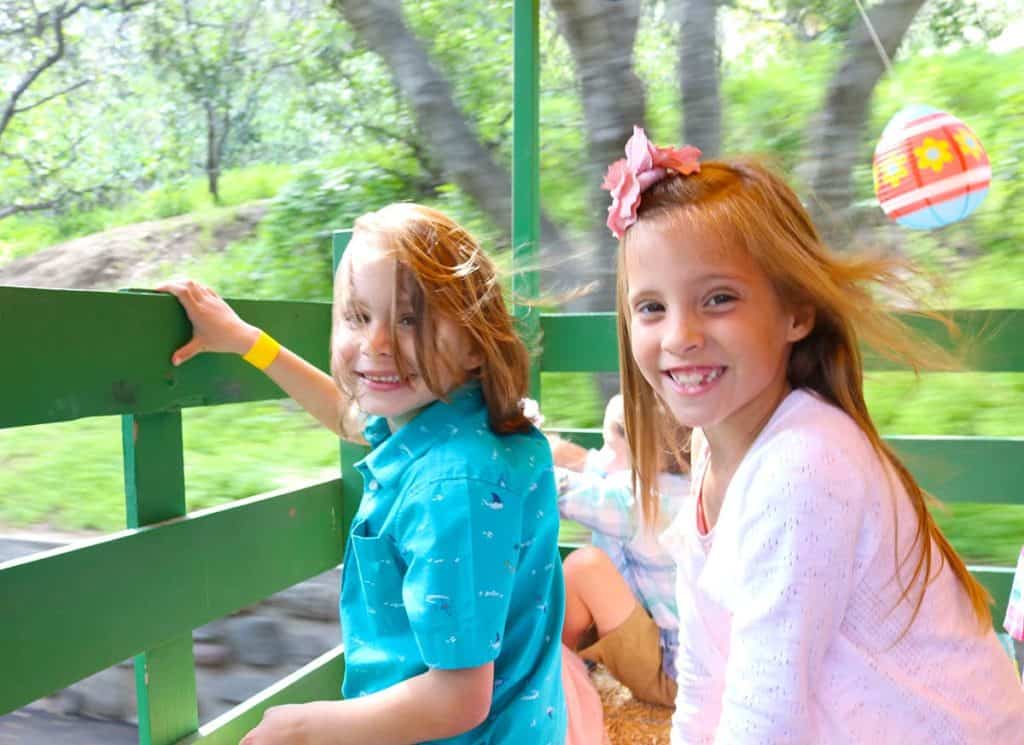 Easter Egg Hunt - 2 Tickets
The Easter Egg Hunt at Irvine Park Railroad is another must do at the Easter Eggstravaganza. Not only has it been a tradition for us, but it is fun!
One reason I like this egg hunt is because it is regulated. Each egg hunt is limited to a certain number of children. And every kid is allowed to get a certain amount of eggs. This means no tears and no children that don't find any eggs.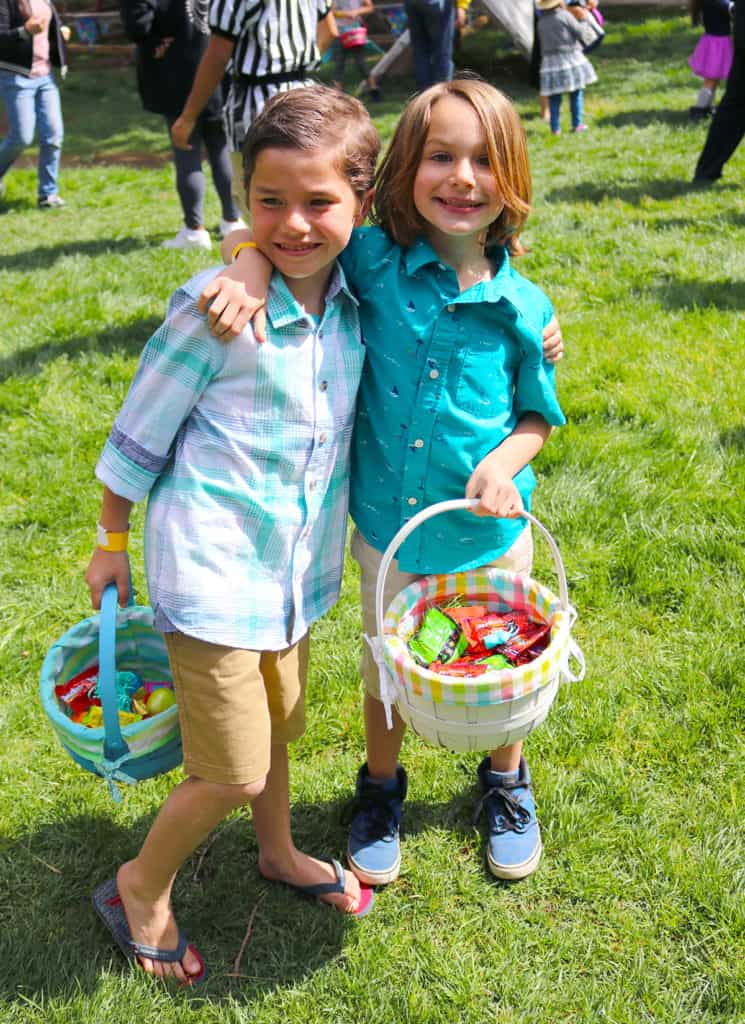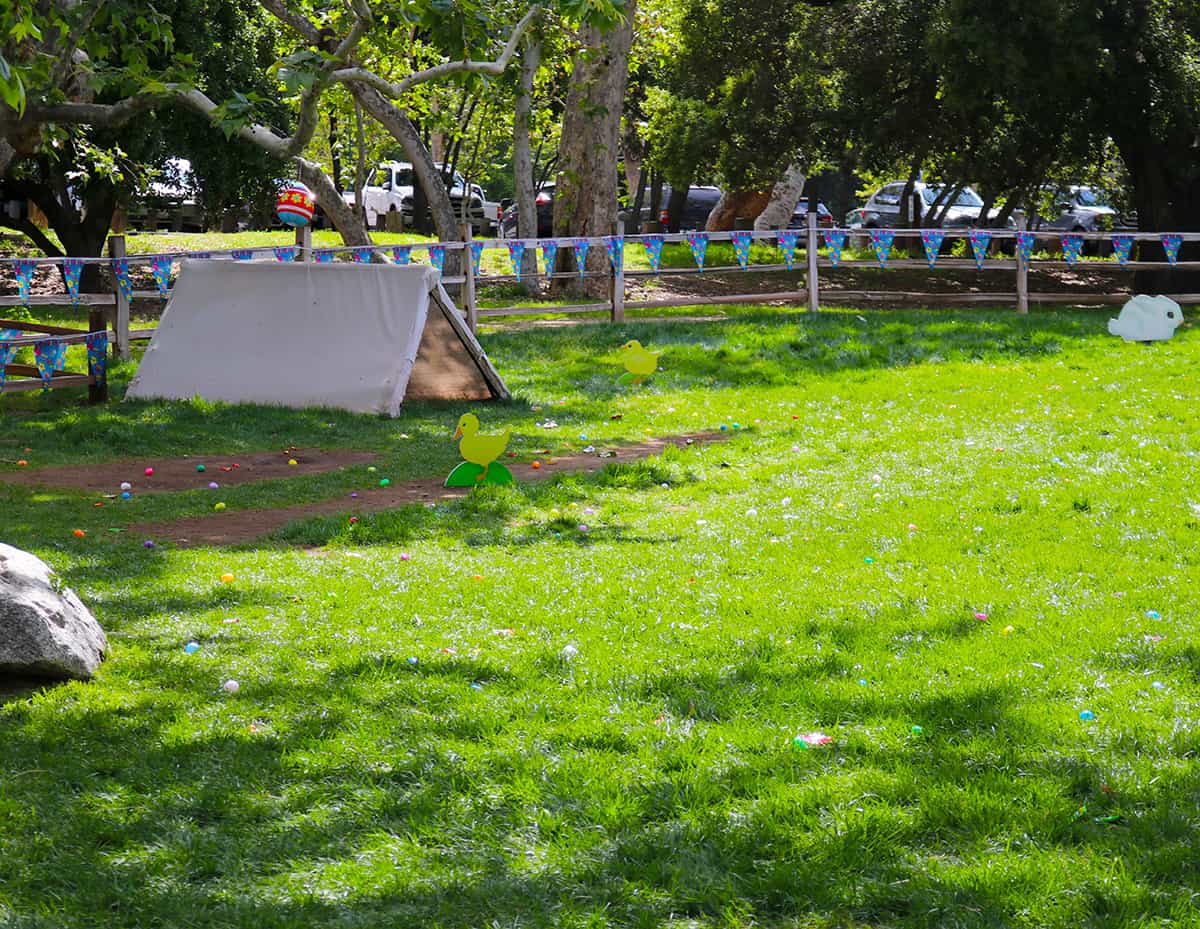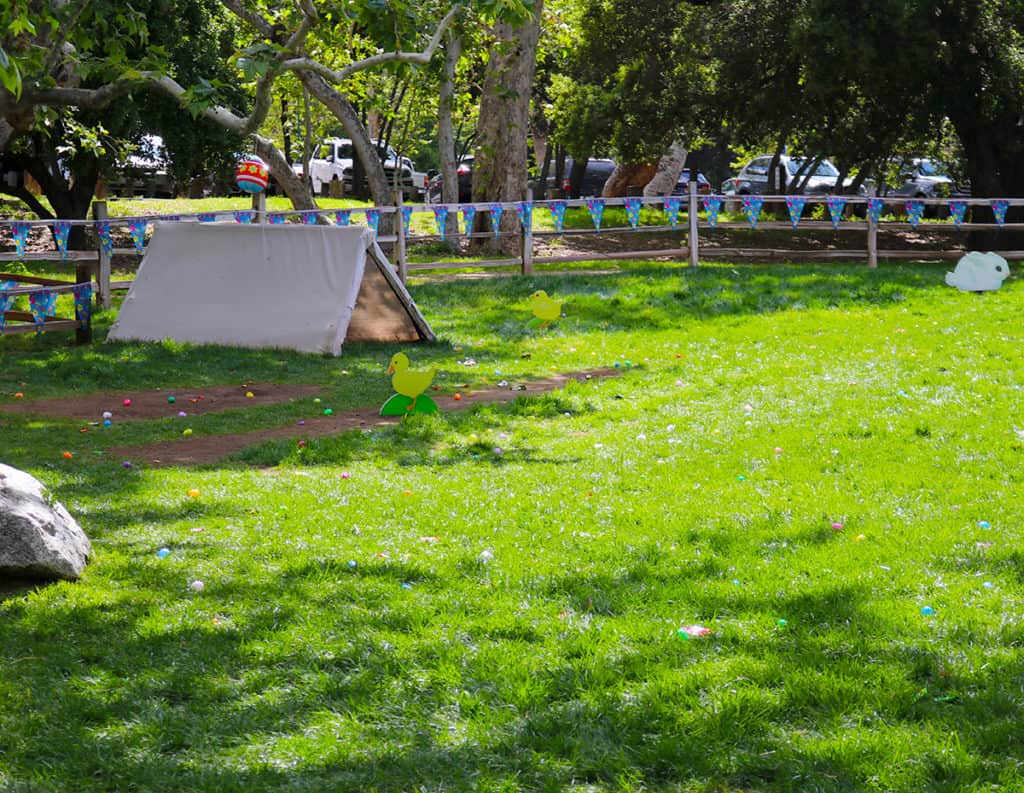 The eggs will be filled with a variety of treats or prizes (FYI nothing elaborate). Some will even filled with coupons to use at the railroad! Make sure to bring an Easter basket. But if you forget, you can purchase one from Irvine Park Railroad.
Important Note: Easter egg hunts may sell out… plan to arrive early to exchange your ticket for a wristband for a specific hunt.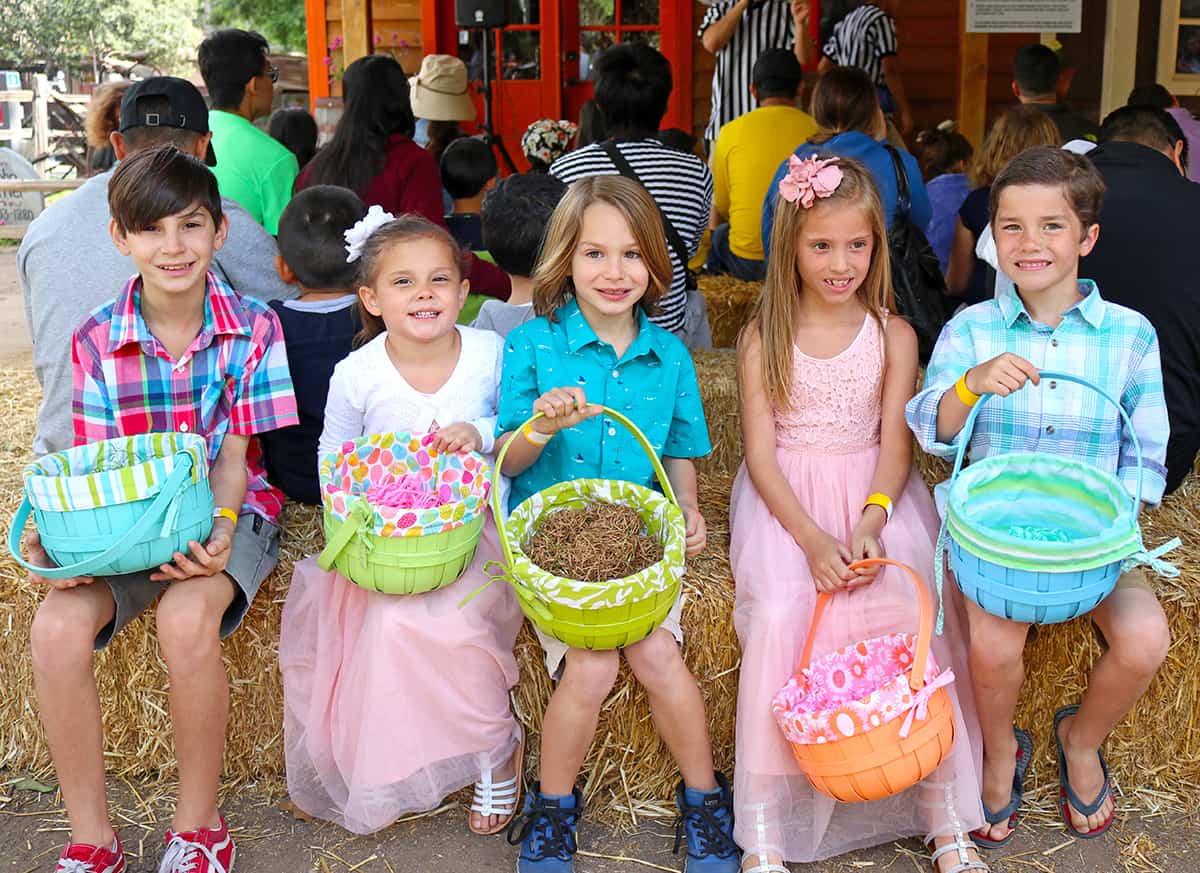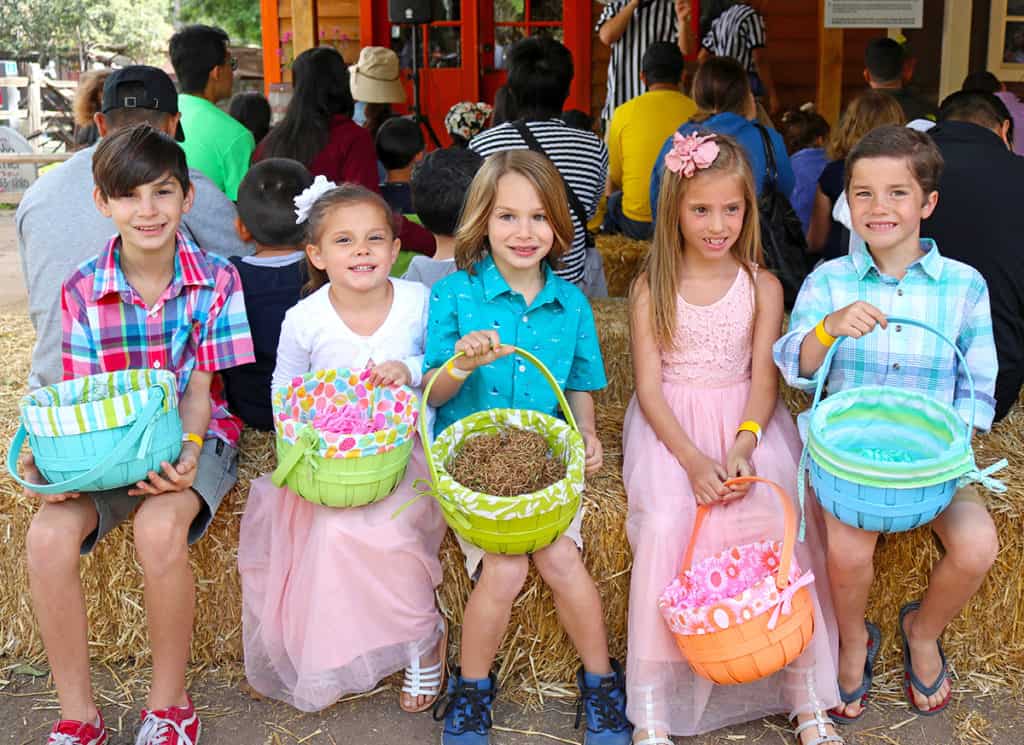 Bounce House - 1 Ticket
There are usually a few bounce houses running if your kids like to jump. We don't usually do the bounce houses, so I don't have any photos. But they are pretty popular.
Carnival Games - 1 or 2 Tickets
My kids love the Irvine Park Railroad carnival games. Probably because you win a prize no matter if you win or not. There are a variety or ring toss games, egg toss games, and one called a paint party where you throw eggs with paint.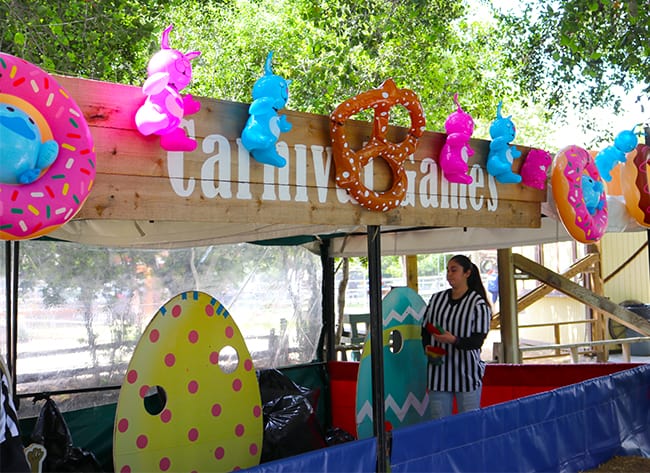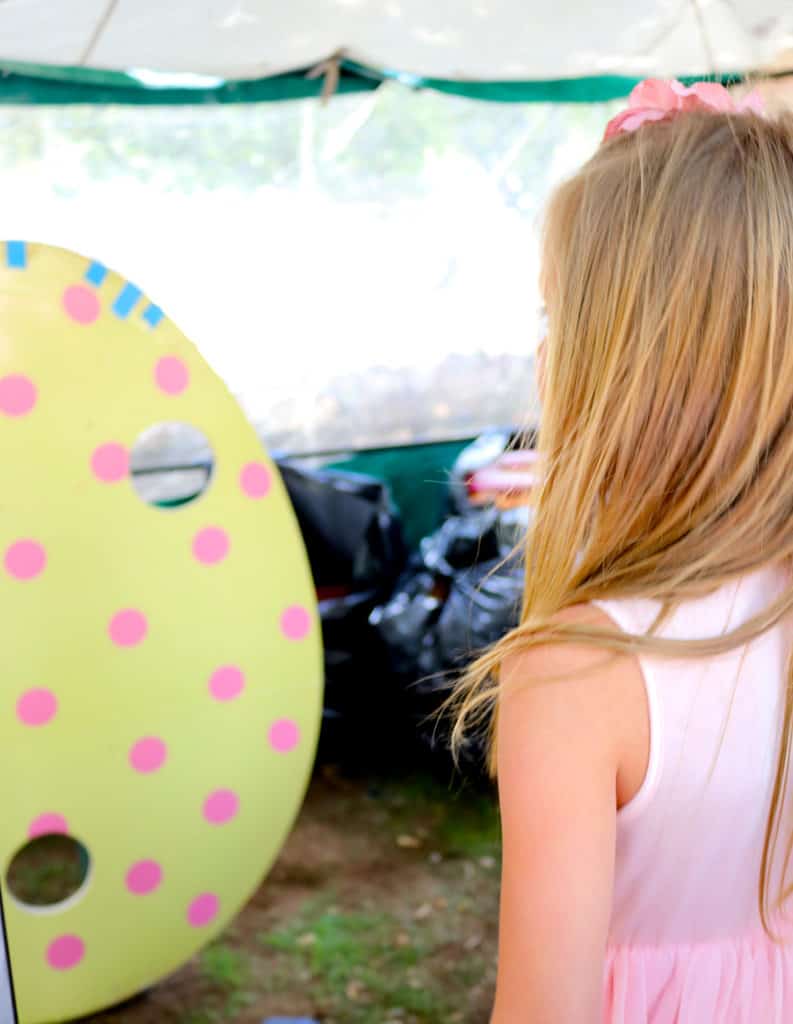 Prizes are usually small stuffed animals or blow up toys!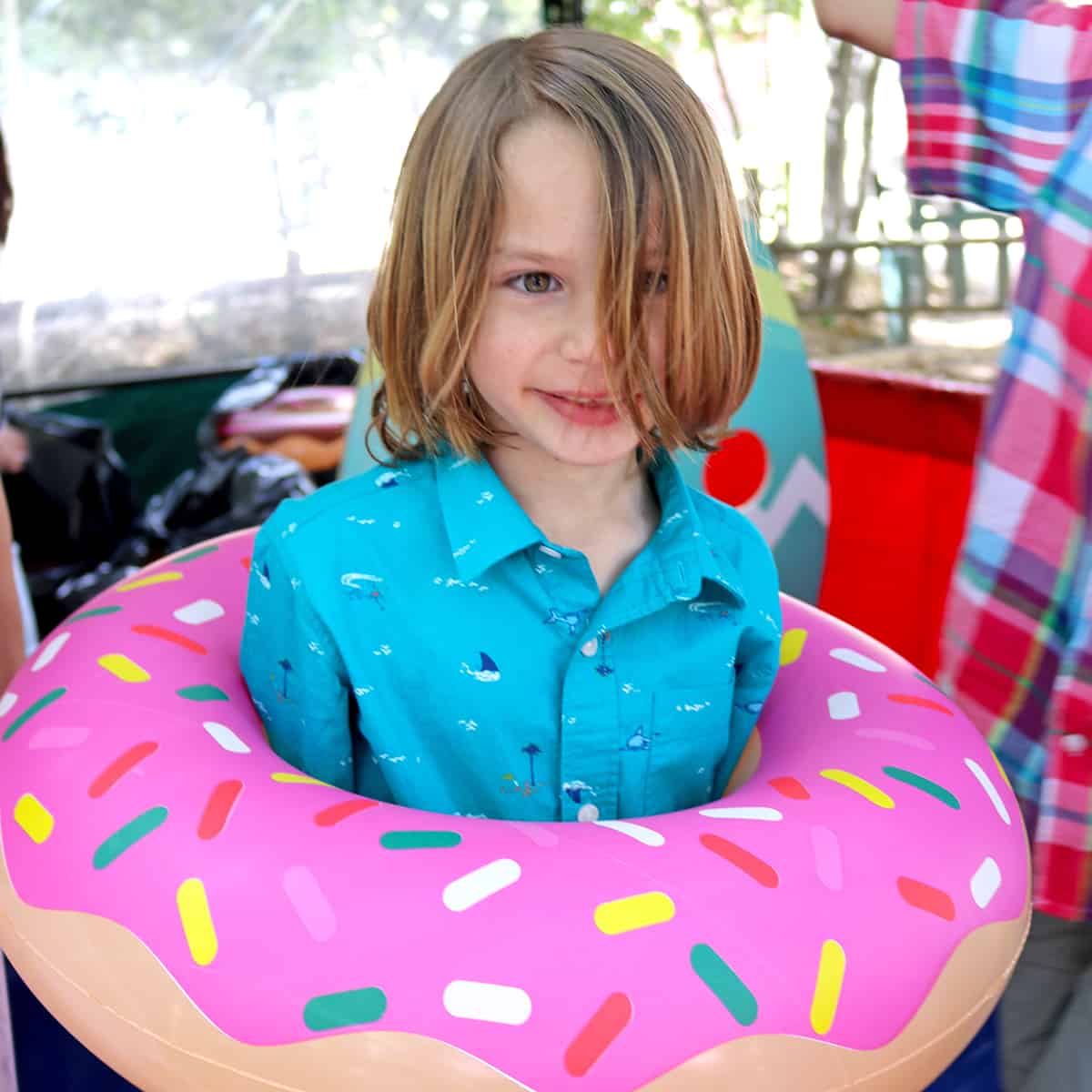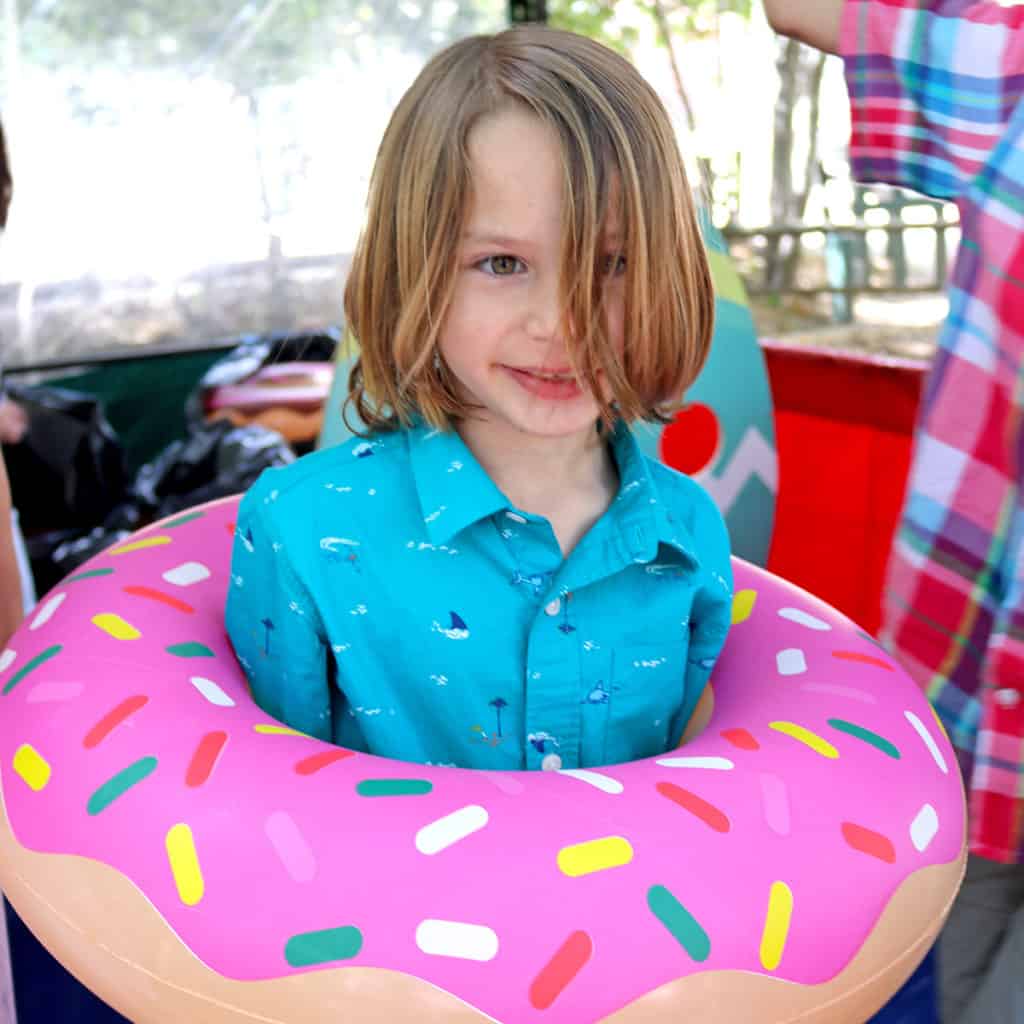 Free Activities at the Easter Eggstravaganza
Although most of the activities at the Irvine Park Railroad Easter Eggstravaganza require activity tickets, they do offer a fun coloring station for the kids. Easter themed coloring pages and crayons are available to color and take home to display.
Plus, don't forget about all the AMAZING photo opportunities. Bring your camera, because there are so many cute photos spots. Check out some of the photos I captured during our visits.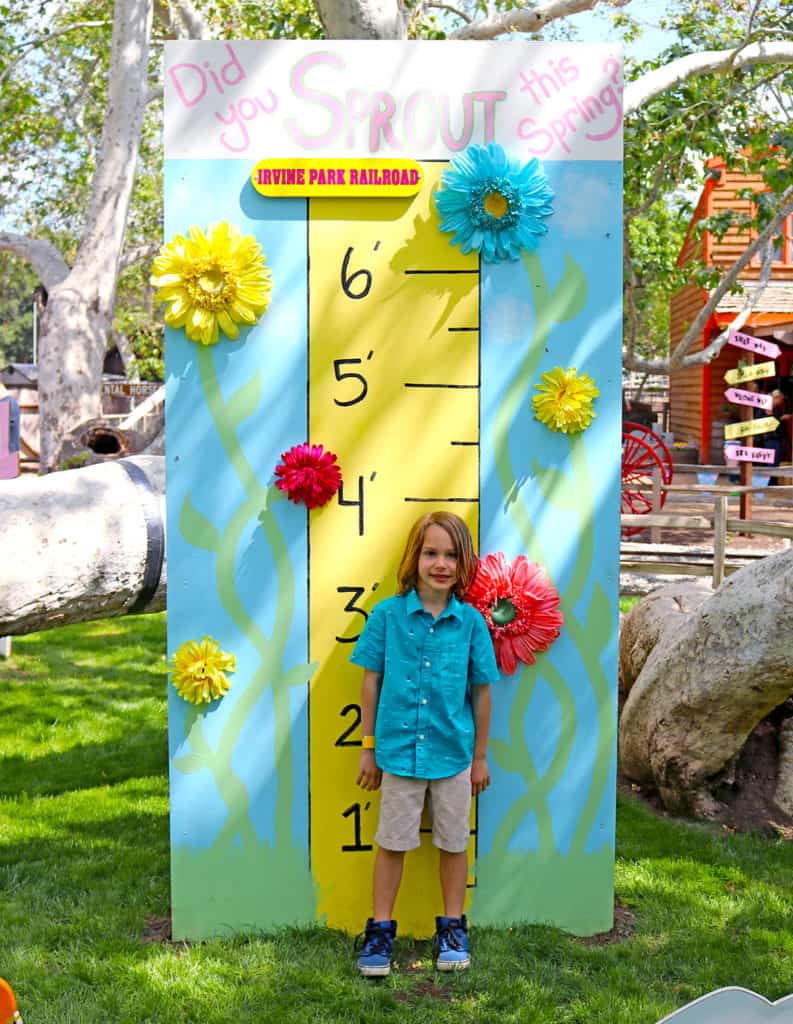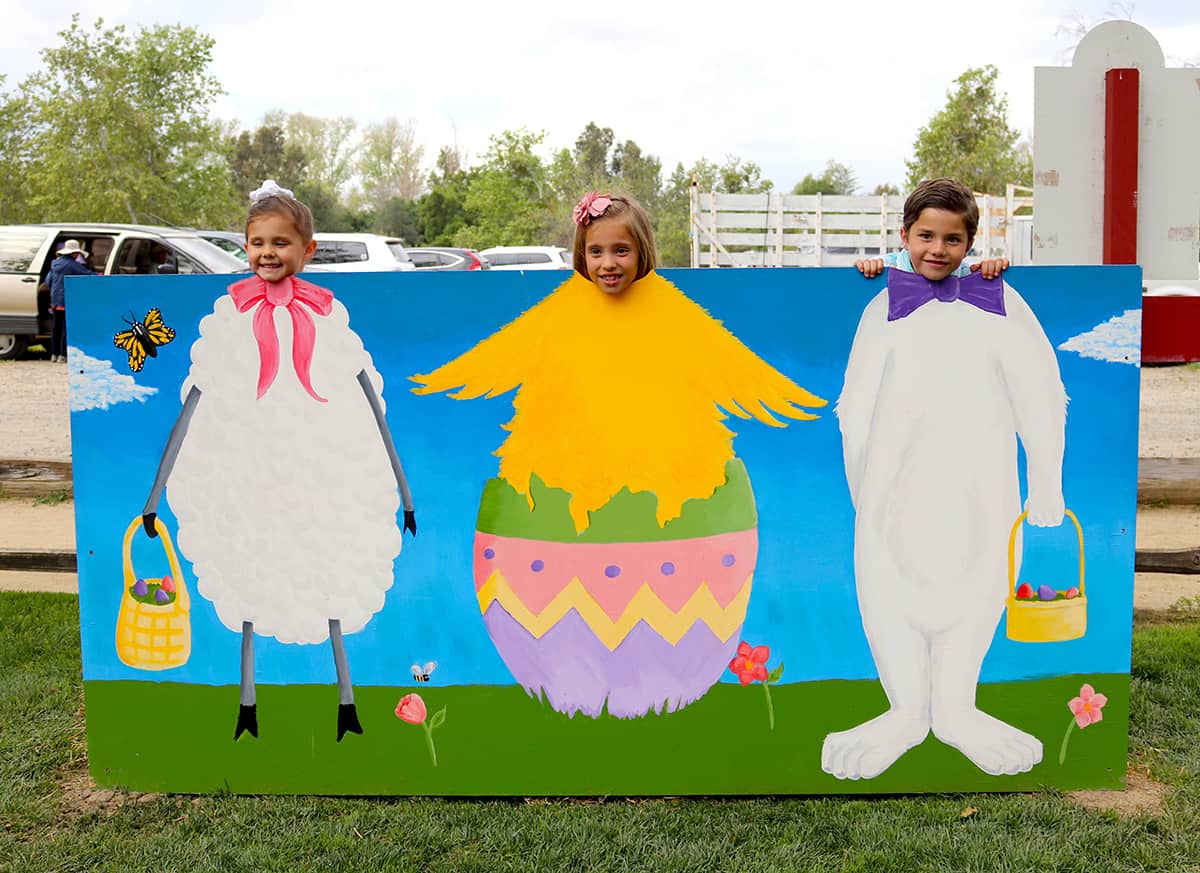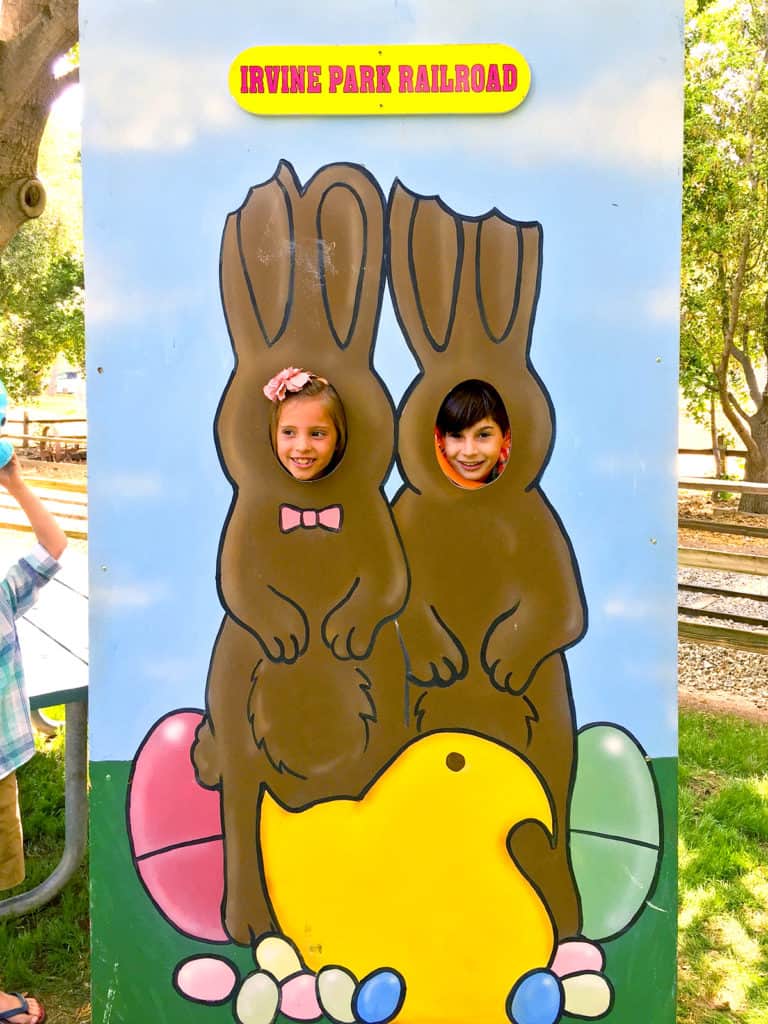 Best Tips for Visiting the Easter Eggstravaganza
Does the Easter Eggstravaganza Sell Out?
No. The Easter Eggstravaganza does not sell out. Easter egg hunts for specific times may sell out. All Easter Eggstravaganza activities are open throughout the day. If you plan on visiting the Easter Eggstravaganza on Good Friday and the Saturday before Easter.
When is the Best Time to go to Irvine Park Railroad Easter Eggstravaganza?
The best time to arrive is as soon as it opens to avoid crowds. Irvine Regional Park is extremely busy during this time of the year and the park may close until parking again becomes available.
Is Food Available for Purchase at the Irvine Park Railroad Easter Eggstravaganza?
Yes. There's a full-service snack bar located at the train station. Seasonal snacks such as popcorn and cotton candy are available for sale inside of the Easter Eggstravaganza.
Where should I Park for the Irvine Park Railroad Easter ?
If not full, you can park right in front of the Irvine Park Railroad in the parking lot. However, if the parking lot is full, the County of Orange will close the front gate and will not permit any additional cars to enter.
Additional parking is available at Santiago Canyon College. It's approximately a one mile walk from this parking lot to the park entrance. The Santiago Canyon College parking lot and costs are not set, managed, and/or controlled by Irvine Regional Park and/or Irvine Park Railroad.
Are Dogs allowed at the Irvine Park Railroad Easter Eggstravaganza?
No. Dogs are not allowed inside of the Easter Eggstravaganza and not allow to take photos with the Easter Bunny. However, dogs are allowed in other areas of the park and must be kept on a 6′ leash. They must be kept on a 6′ leash.
What Else Can You Do at Irvine Regional Park?
And if visiting the railroad isn't enough, you can visit the OC Zoo or head over to the lake and rent a paddle boat, surrey or fun bike at Fun Wheel Rentals.
Wow...I am already getting excited. before you head over to the railroad, click here for some great coupons!
Make sure to follow Irvine Park Railroad on social media for more news and events!