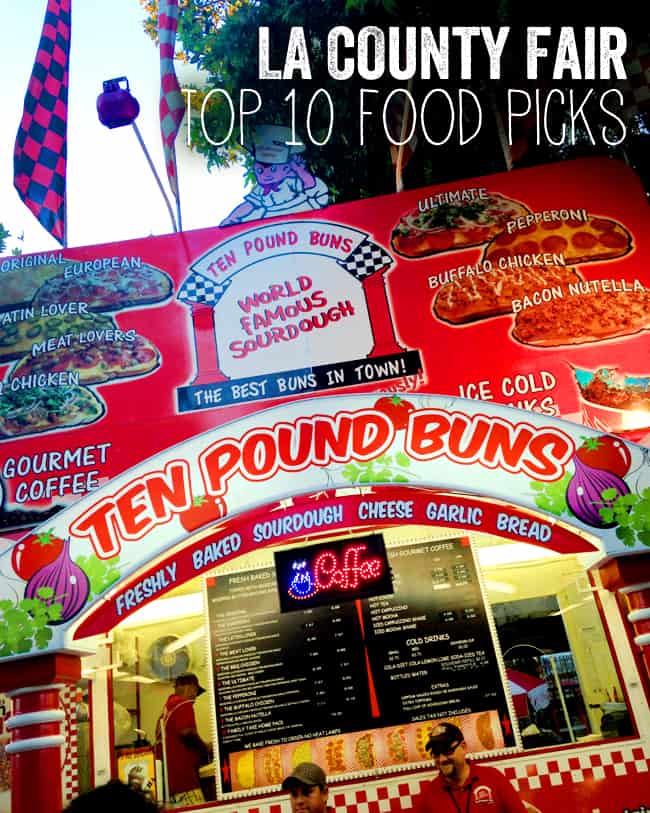 the L.A. County Fair is finally back at the Pomona Fairplex from august 30th through september 29th....and this year, it's all about the food. you can't go to the fair without getting a yummy treat..most likely something fried or that is wrapped in bacon. i jumped at the chance to check out some of the food that will be served at the LA County Fair. wow...talk about fair food...there is a lot to choose from, and i enjoyed trying all of it. what did i like most? well, here are my top 10 fair food choices for 2013:
1. Deep Fried Twinkie - this is a fair must. it's a relief that Twinkies are back so we can enjoy this fair delicacy. fried to perfection, topped with chocolate or strawberry syrup, i could barely get my hands on it before my boys gobbled it up.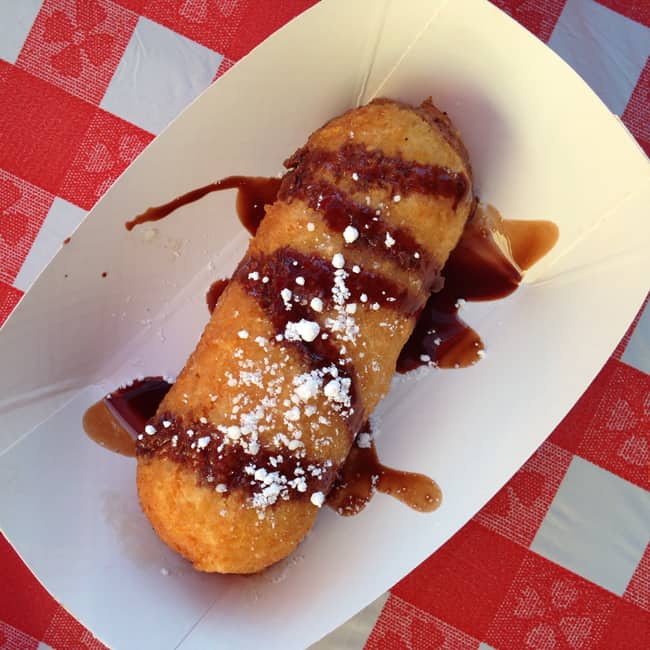 the best part is the filling is melted inside creating a fantastic yummy gooey middle. YUMMO. you can get a Deep Fried Twinkie at Chicken Charlie's.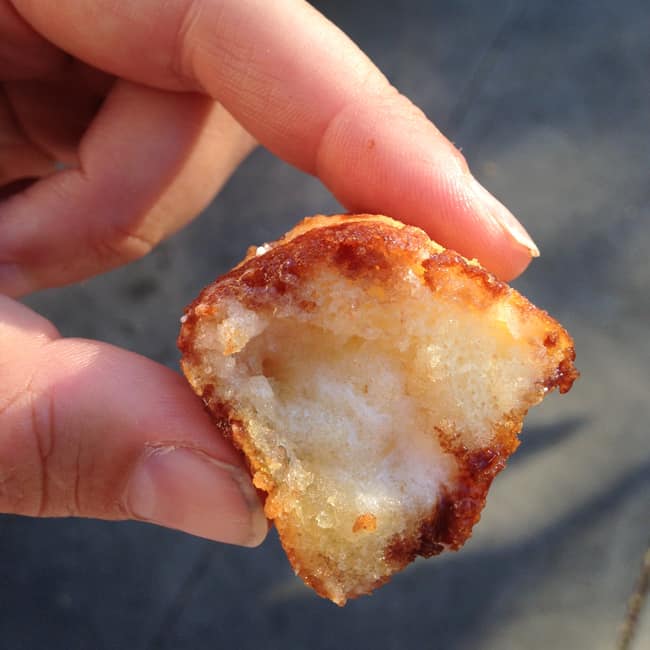 2. Chipotle BBQ Tasti Chips - freshly-cut, fried potato chips topped with tomatoes, scallions, blue cheese, bbq beef and the best chipotle sour cream sauce. you can also make this tasty treat vegetarian by omitting the meat or just get the fresh potato chips plain. they also have a bunch of different toppings. i love savory dishes, so this was one of my top choices. you can get this at Tasti Chips.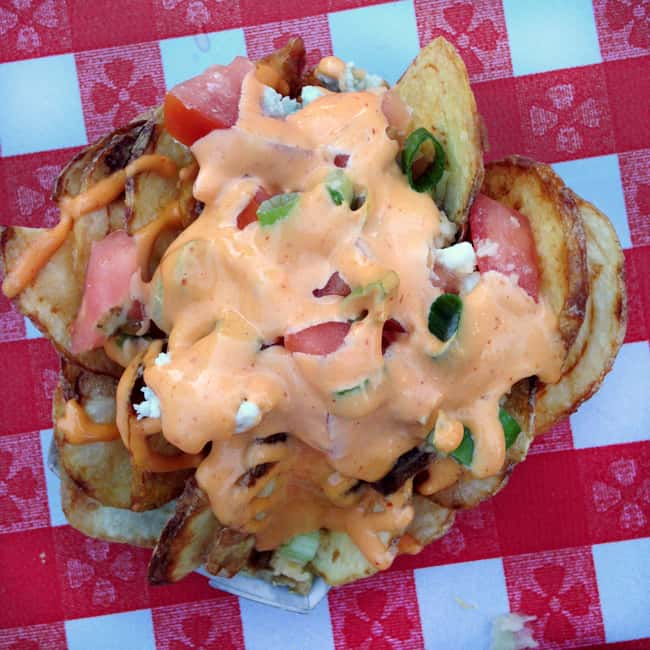 3. BBQ Tri-tip Sandwich - you had me a tri-tip. one of my favorite bbq items. it tastes as good as it looks...and is cooked to tender perfection. you can get this at Texas Barbeque.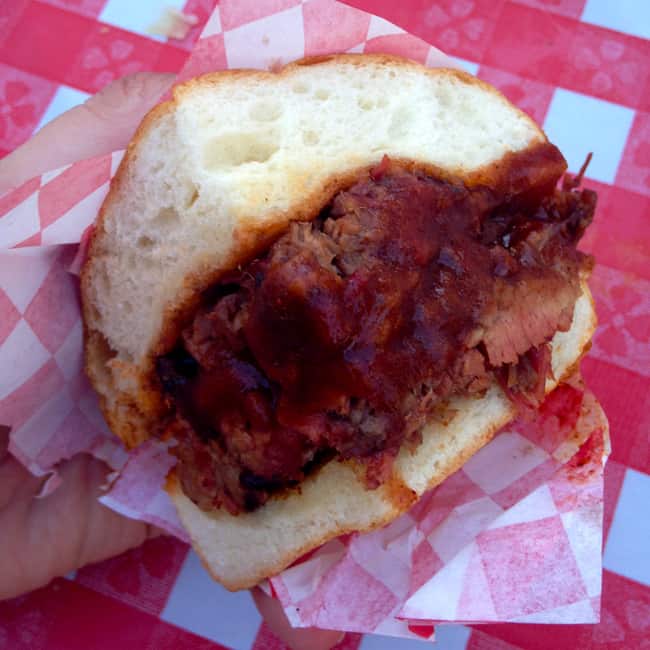 4. Cheese Fries - it's a simple dish, but it's not often when i indulge in nacho cheese goodness. and fries topped with cheese are so good, you can't go wrong with these. my boys loved them. you can get them at Blooming Onions.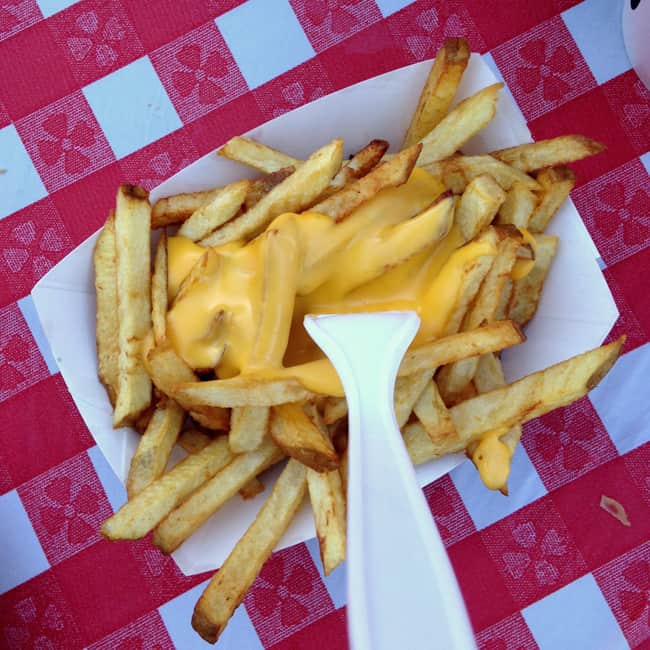 5. Giant Blooming Onion - you don't find many of these outside of the fair or a restaurant. and Blooming Onions make them to perfection. the perfect ratio of breading to onion...served with a side of ranch (although i prefer ketchup.) i would get this again and again.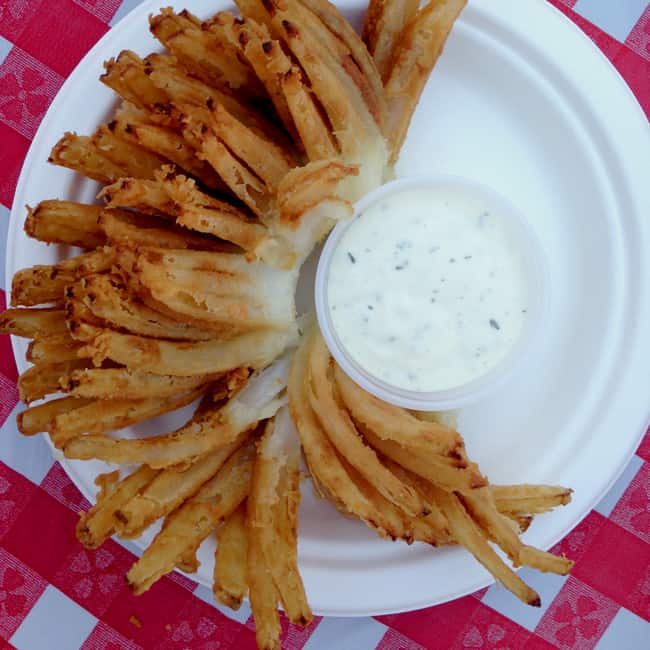 6. Corn Dog and Curly Fries - corn dog are just better when they are fresh made, and my boys had to get one. you can even get giant ones, sausage ones or just a hot dog! check out the great selection at the Monster Grill.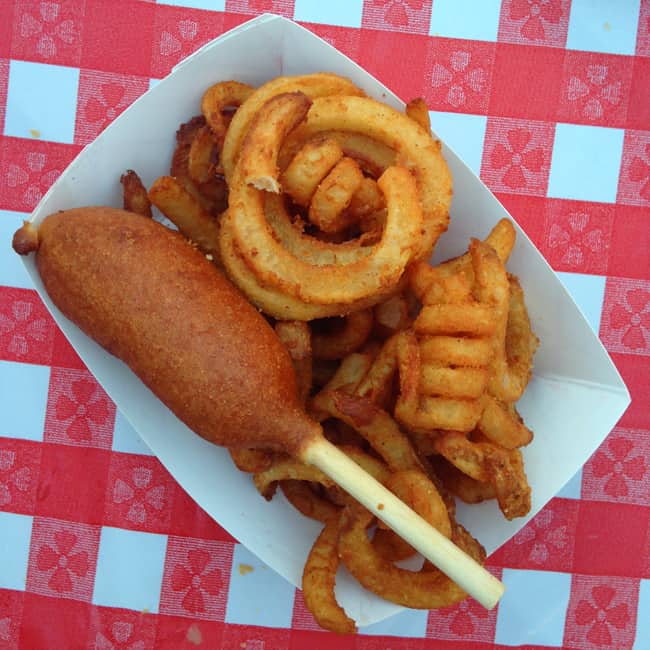 7. Sourdough Bread Goodness - this is something i haven't seen before, but apparently it is a fair favorite. Ten Pound Buns takes 10 pound loaves of sourdough bread and grills and tops giant slices of bread with the best toppings. you can get pizza flavors, chicken buffalo, jalepeño cheese and even Nutella bacon bit! i loved them all.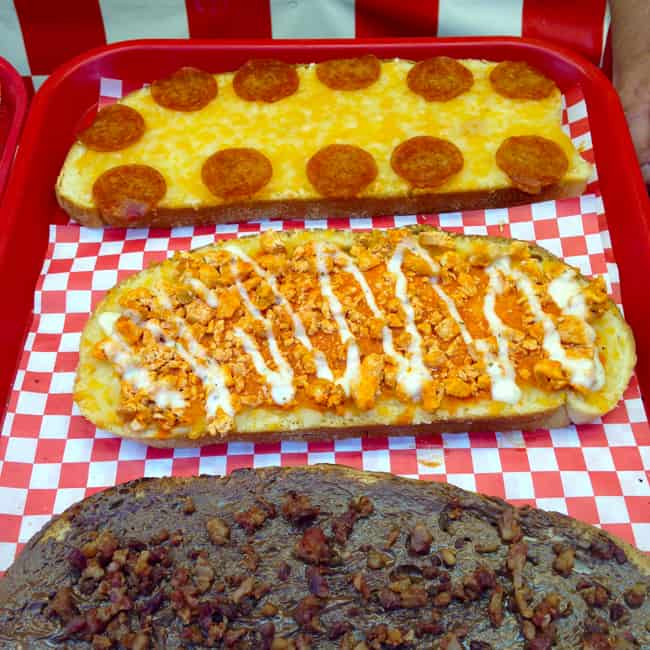 8. Brisket Sundae - looks like a sundae treat...but don't be mistaken. this is so much more. can you say "tender barbecue brisket on top of creamy mashed potatoes, topped with gravy and a cherry tomato." yep...this is not dessert. you can get this unique meal at Texas Barbeque.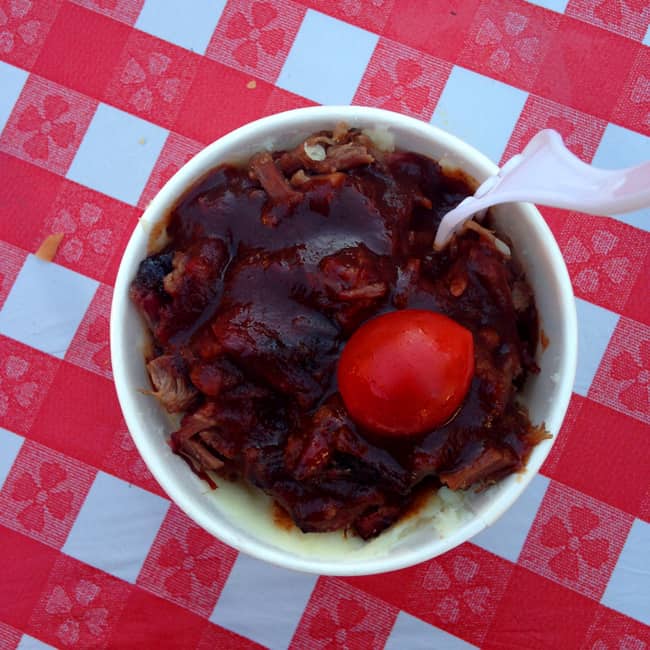 9. Bacon Wrapped Pickles - this was the food item i was really looking forward to trying, and it didn't disappoint. a warm juicy pickle wrapped in bacon and deep-fried. i'm actually craving one now...i really really liked it. and where can you get one of these...at the king of deep-fried food, Chicken Charlie's.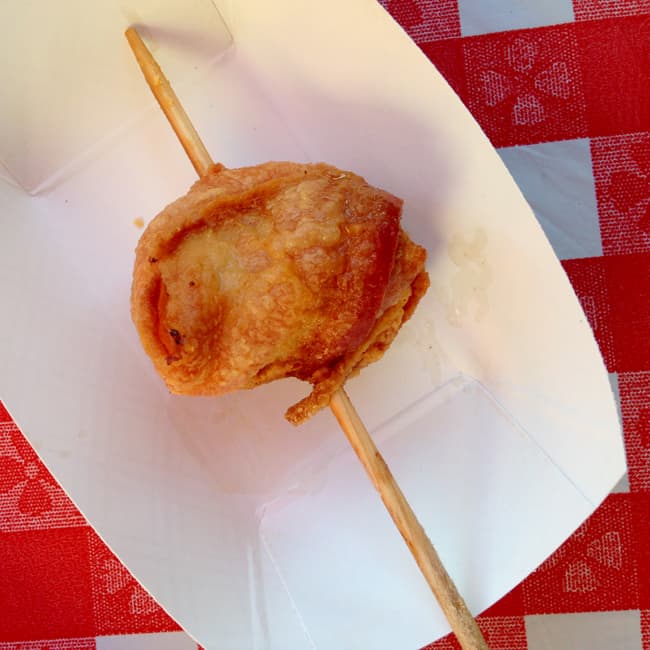 10. Krispie Creme Donut Burger or Sloppy Joes - i've been hearing about these, and every kept saying to try them out...so how could i not. and yes...it was actually good...even fun. who would have thought a burger placed on a donut could be good...not i. but it was. i only wish i got some better pics, but it was too late after a bunch of hungry boys gobbled them up. you can thank Chicken Charlie's for this unusual delight.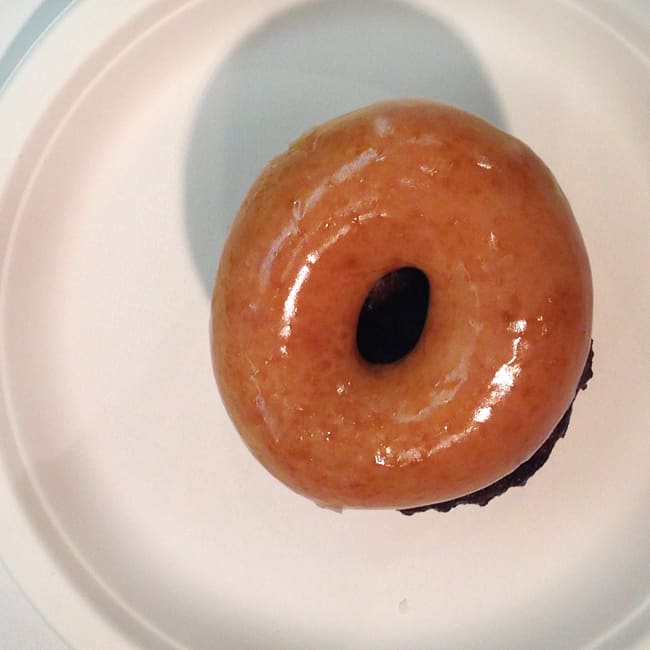 and there you have it. my Top 10 Food Picks at the LA County Fair. make sure to make it out to the fair before it's gone till next year. it's fun for the whole family and there is lots to see and do. be sure to check out the LA County Fair's website for deals, special offers and discounts. i hope to see you there!