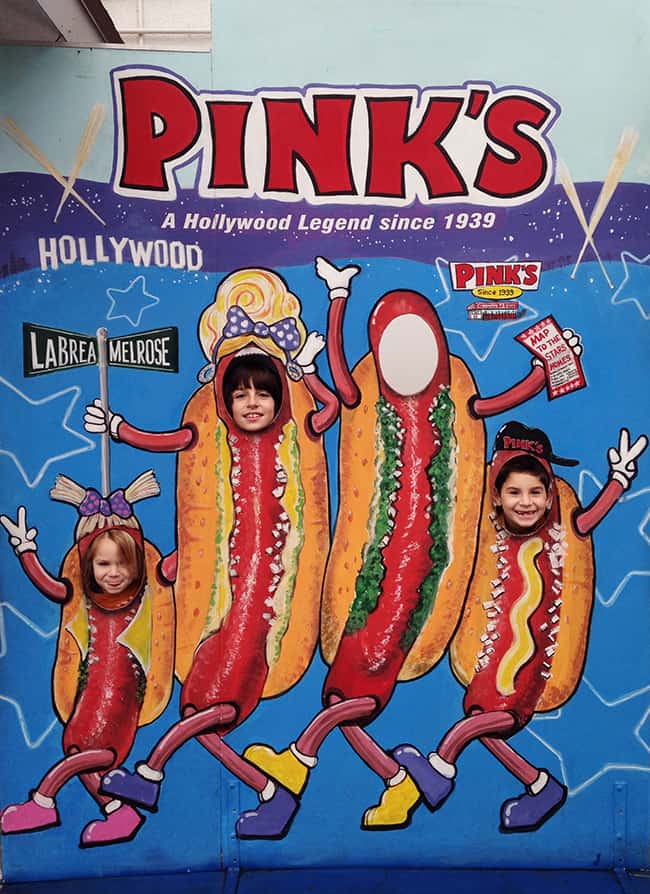 today is National Hotdog Day, and i thought this was the perfect time to share our visit to the historic Pink's Hotdogs in Hollywood. i took the boys there to try some of their famous hotdogs on a visit to Los Angeles earlier this year, and we had a lot of fun.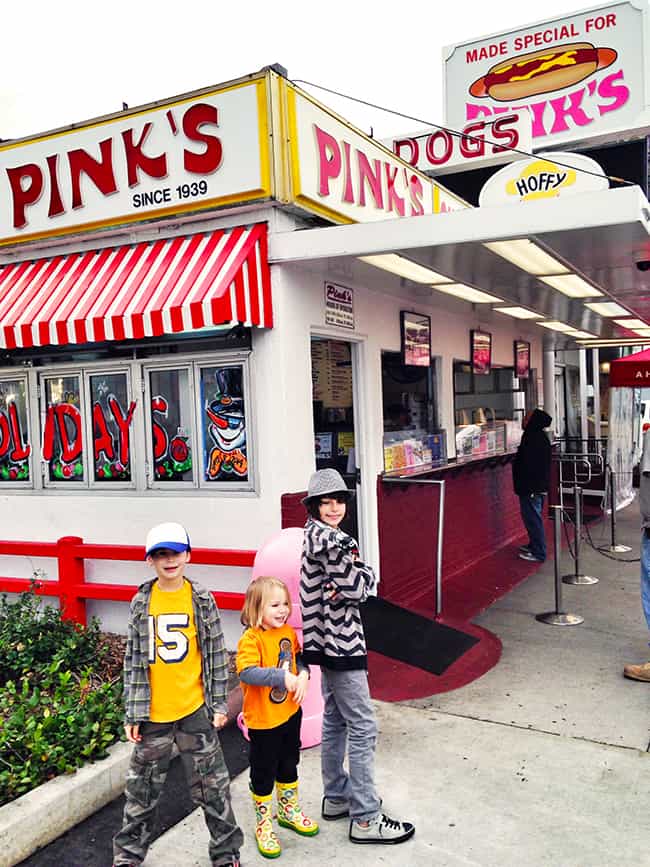 Pink's has been serving hotdogs in LA since 1939, as it began as a Mom and Pop hot dog stand. it all began when Paul & Betty Pink started selling hot dogs from a cart on a neighborhood street corner at La Brea & Melrose. everyone loved their hotdogs so much, that they are still serving them up today.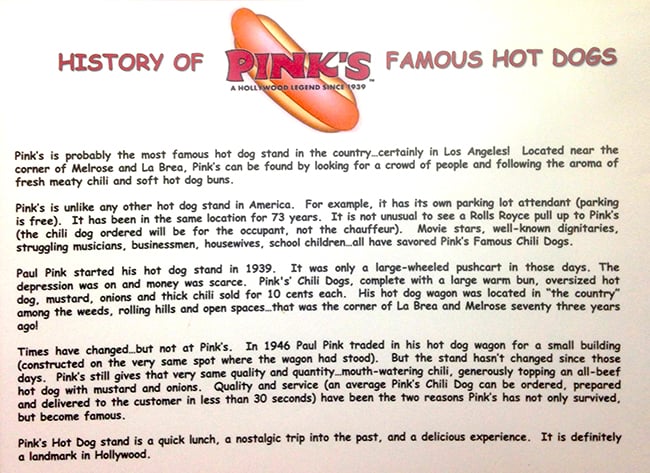 Pink's has become a Hollywood landmark and is famous around the world. it is currently operated by Paul & Betty's family: Richard, Gloria, and Beverly, and has expanded to ten locations including Southern California, Las Vegas, and Ohio.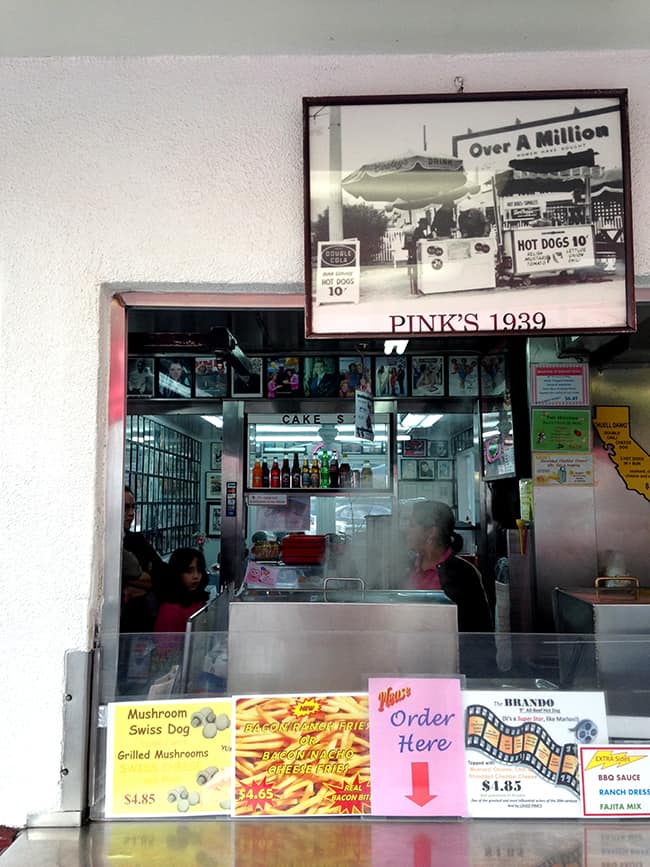 Celebrities love Pink's too, they have been visited by many stars. from Orson Welles to Marlon Brando to Michael Jackson, Pink's has served personalities such as Jay Leno, Craig Ferguson, Steve Martin, Bill Cosby, Betty White, Martha Stewart, Aretha Franklin and Guy Fieri. they even have been visited by celebrity chefs such as Bobby Flay, Giada de Laurentiis and Emeril Lagasse.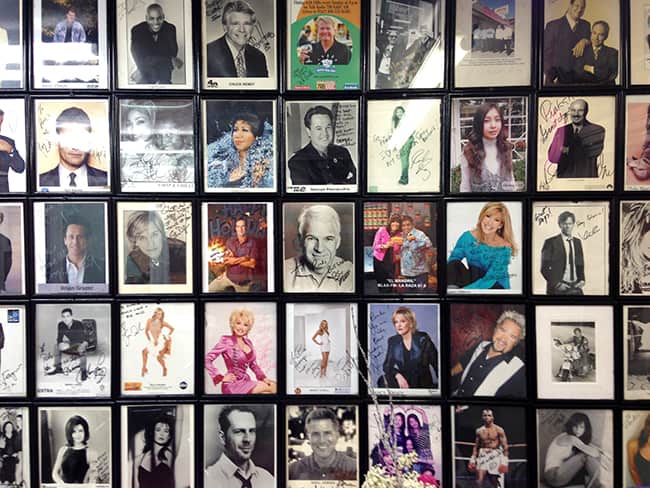 Jackson was especially excited to find that Tony Hawk has visited Pink's.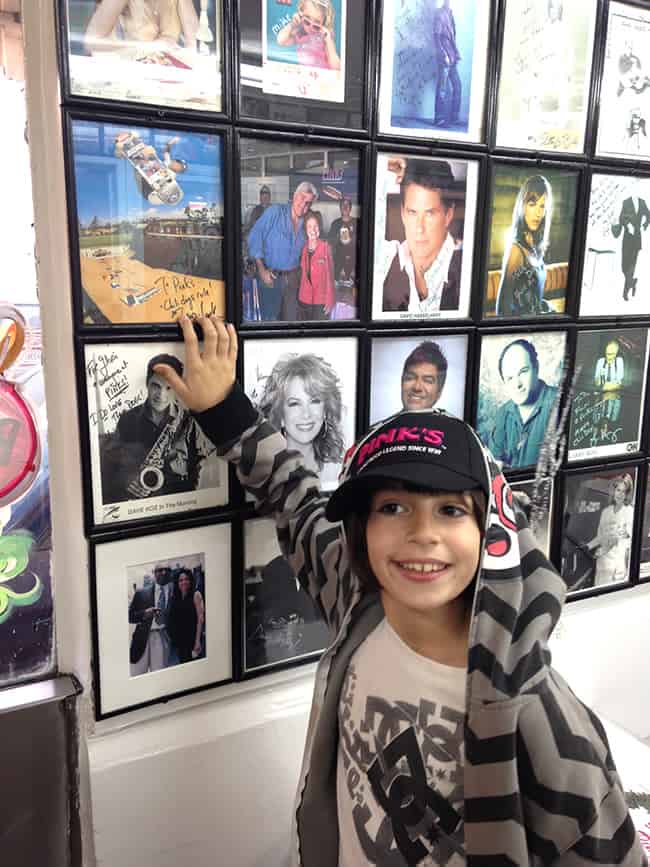 Pink's is known for its yummy variety of hot dogs, hamburgers and fries. plus…the portions are huge, and prices are affordable. i mean….check out these dogs!!!!!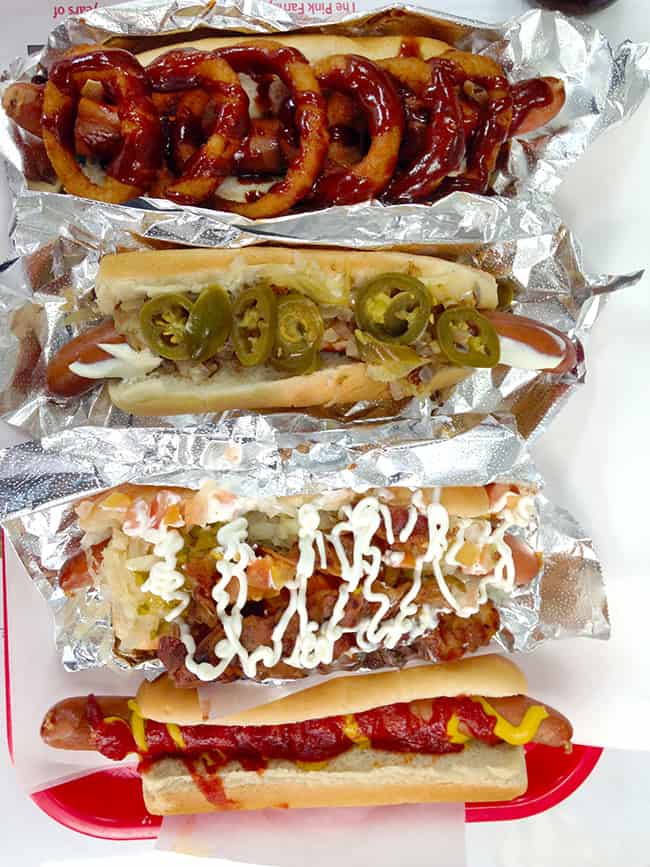 Pink's has all your favorites…and some you probably haven't heard of before…like this
LORD OF THE RINGS DOG, a yummy BBQ sauce, topped with onion rings. $5.45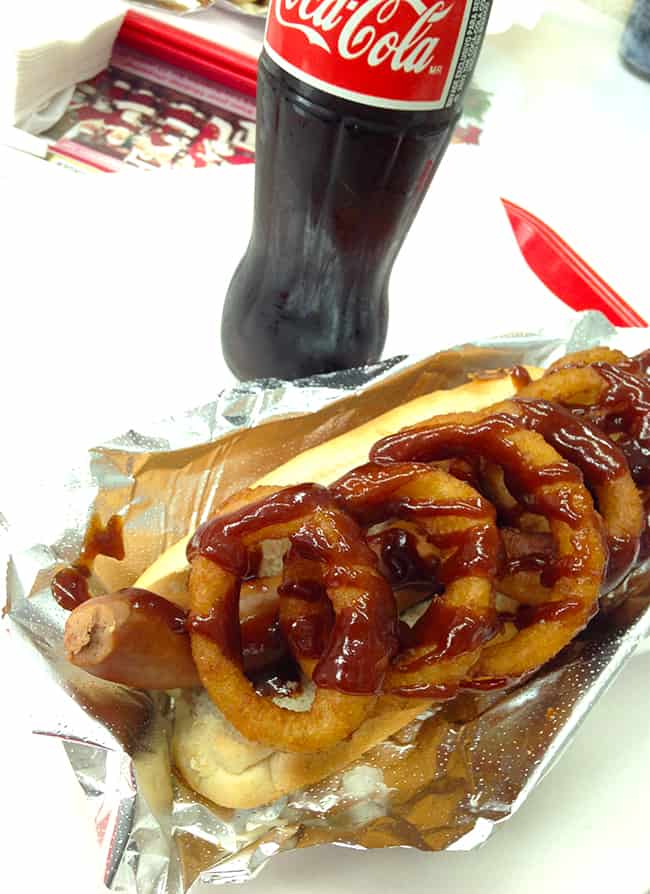 and the MARTHA STEWART DOG, relish, onions, bacon, chopped tomatoes, sauerkraut & sour cream. $6.75.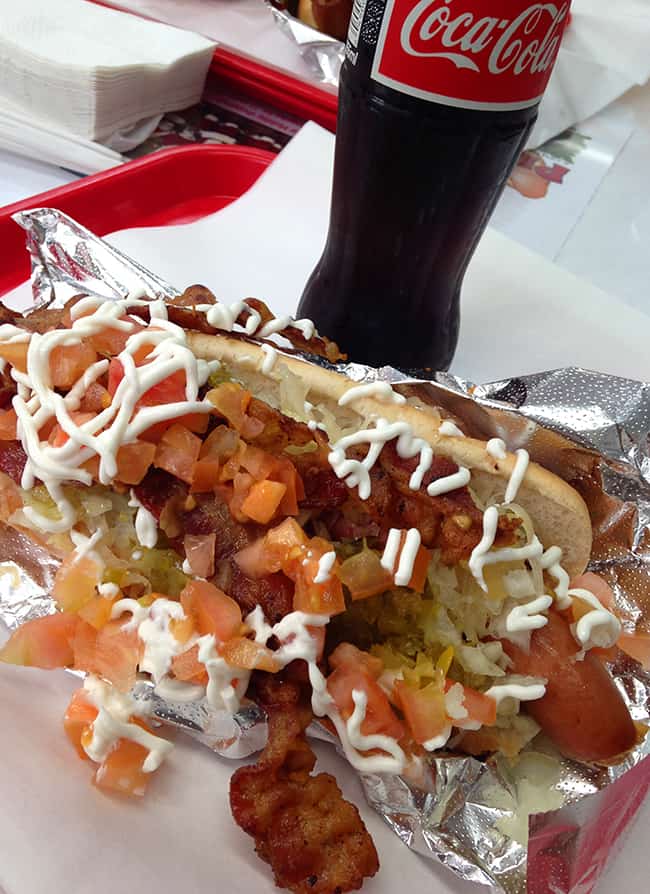 and this NACHO CHEESE FRY HOTDOG.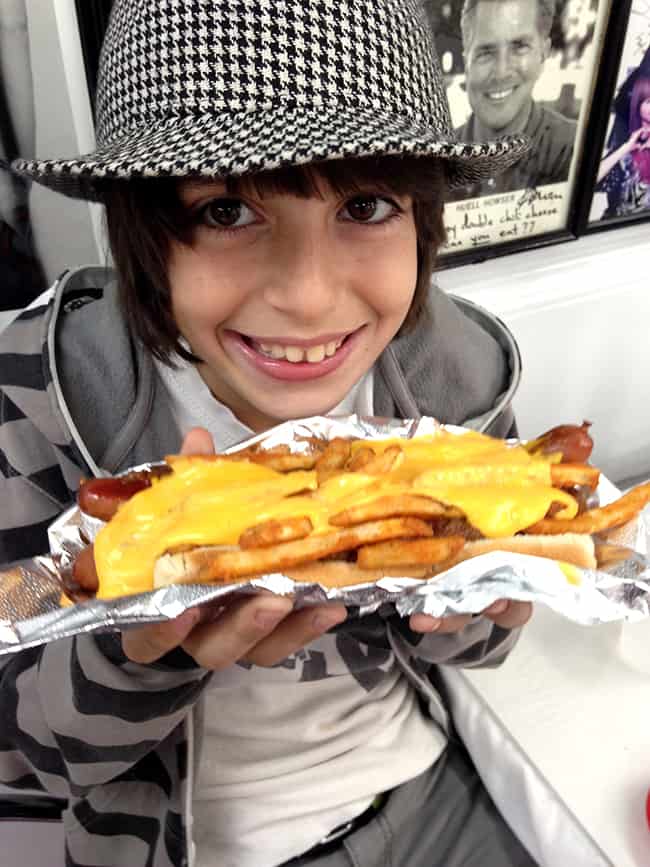 but of course Pink's has classics like this CHILI DOG, with mustard, chili and onions. $3.85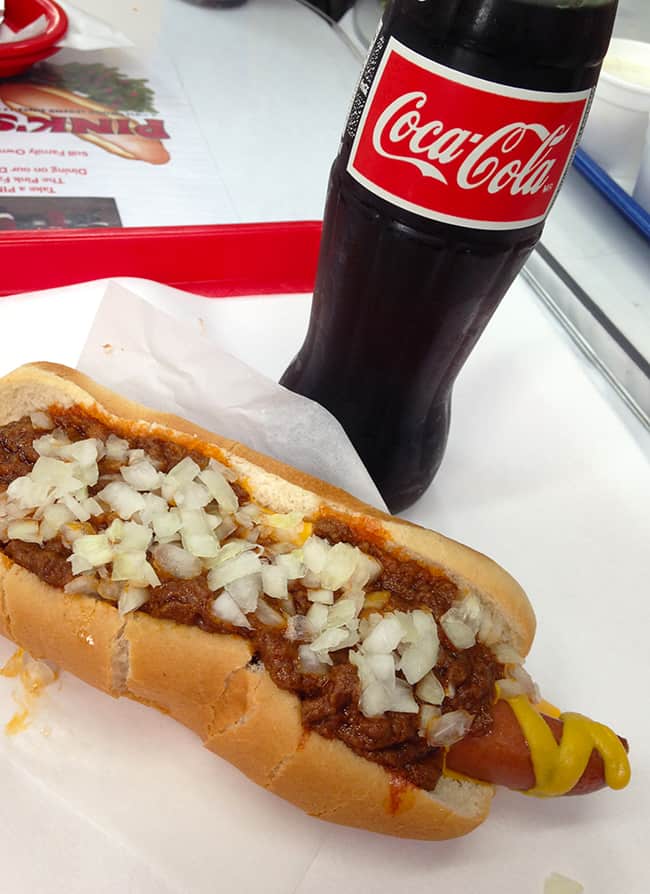 and don't forget the fries and onion rings. plus Pink's has burgers, drinks and desserts!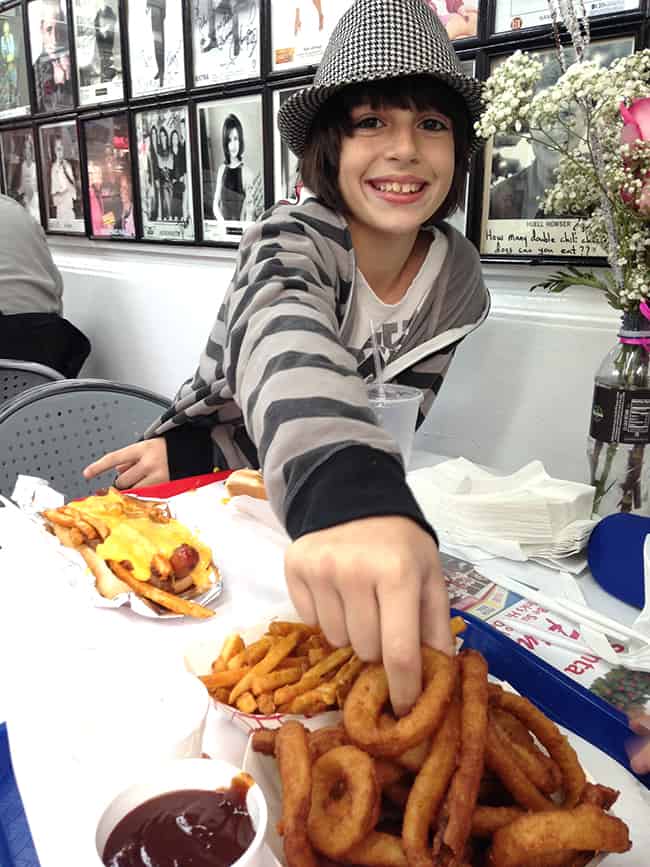 we had so much fun trying out all the hotdogs, and Pink's is fun…with a great atmosphere.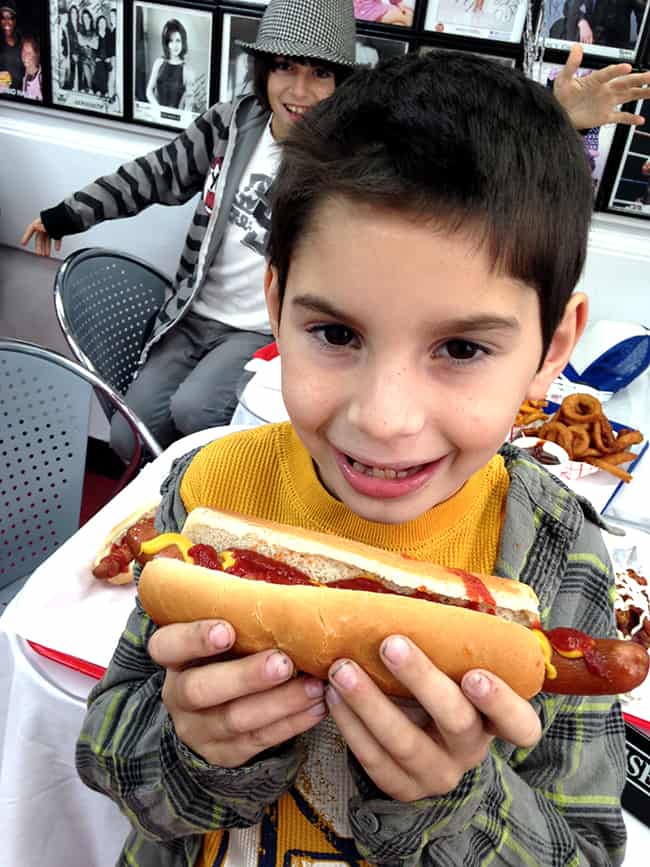 Pink's continues to serve the best hotdogs in town…so the next time you're in LA, stop by and check it out. you'll be glad you did.
and the best part of our day?
this!
i am so flattered that i'm thinking of changing my name to "Hotdog Blog"…LOL! thanks Pink's Hotdogs for the fabulous meal…Popsicle Blog Loves You Too!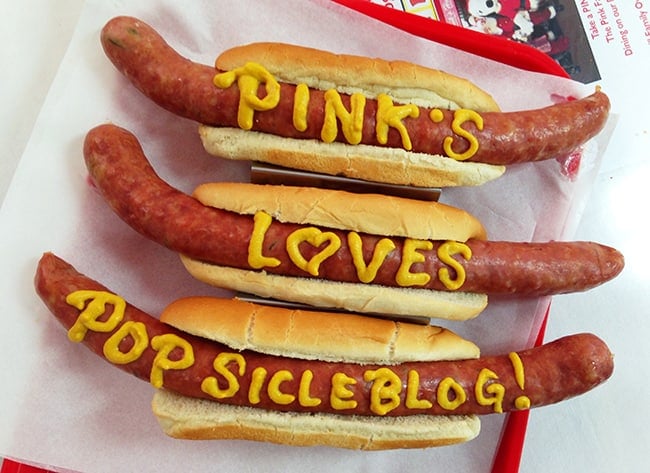 {Disclosure: We were invited guest's of Pink's Hotdogs and received our meal complimentary. All thoughts and opinions are 100% mine. }