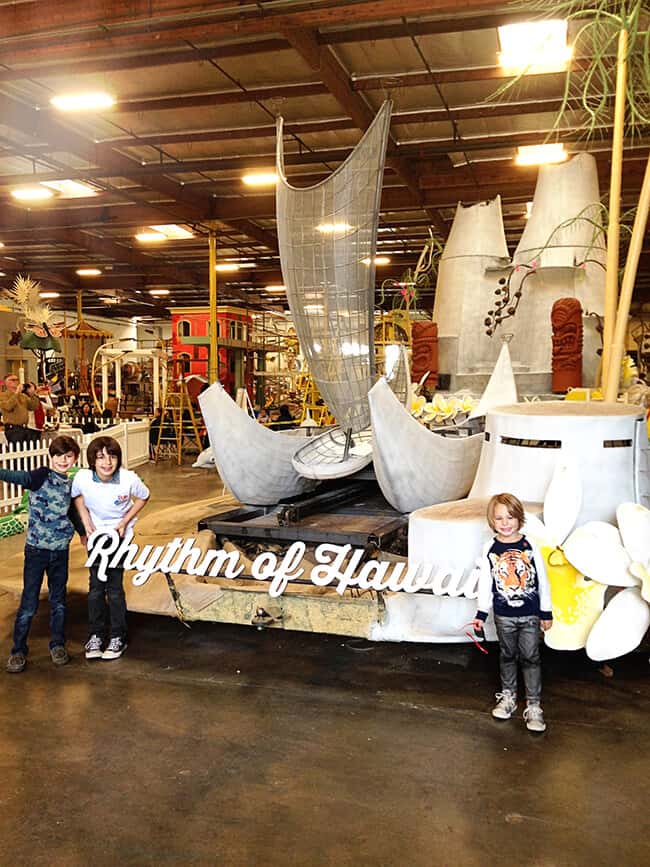 for the past few years, we have been fortunate to have the opportunity to check out Dole's float entry for the Tournament of Roses Parade as it is being built and decorated for the big parade day. it has always been a fun and exciting experience for the kiddies to see the before and the beautiful after as we watch it glide down the parade route on television.
a few weeks ago, we again went to check it out, and it looks like it will again be a show stopper! this the fifth year that DOLE has participated in the Tournament of Roses Parade, and they have won the Sweeptakes Trophy (the most beautiful entry) four years in a row. this is something that has never been done before. they are hoping to win again this year...and i am rooting for them for their 5th win.
before the float is decorated with beautiful fresh flowers, it looks like this. the drawing render is what it will end up looking like once it is full decorated. it is sure to be breathtaking.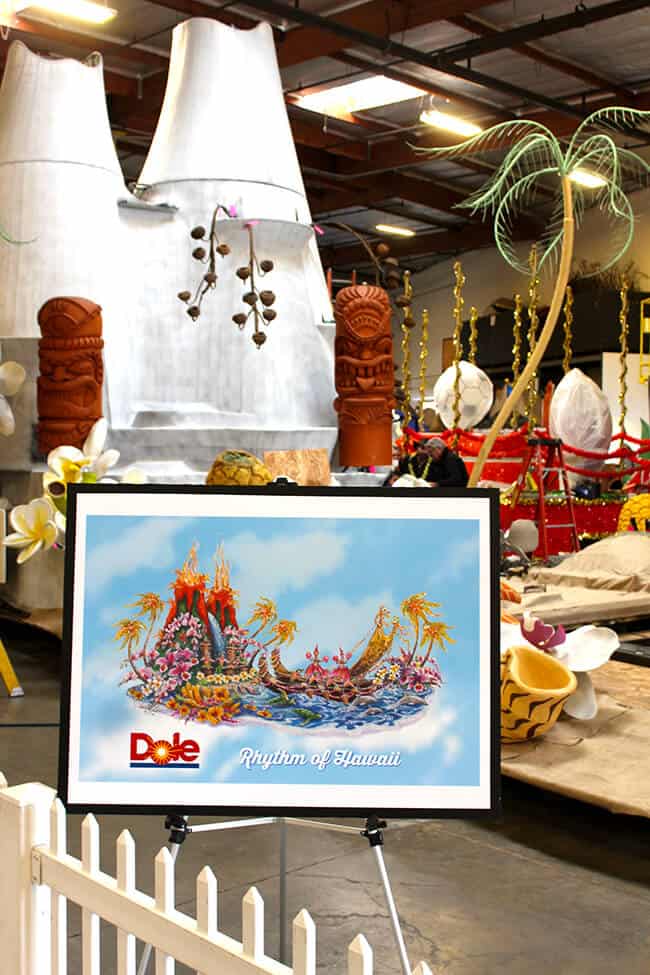 on the float, an enormous outrigger canoe will sail more than 12 feet back and forth with the aid of six paddlers. the main hull will be center stage featuring ethnic dancers. shimmering dolphins and sea turtles will escort the outrigger, and frolic in the warm waves of floral waters. at the rear of the float, two volcanos will roar to life creating an eruption of 20 foot tall flames, smoke and steam, and a magnificent waterfall featuring more than 1,000 gallons of recycled water will cascade down the volcano becoming the backdrop for the pahu drummers.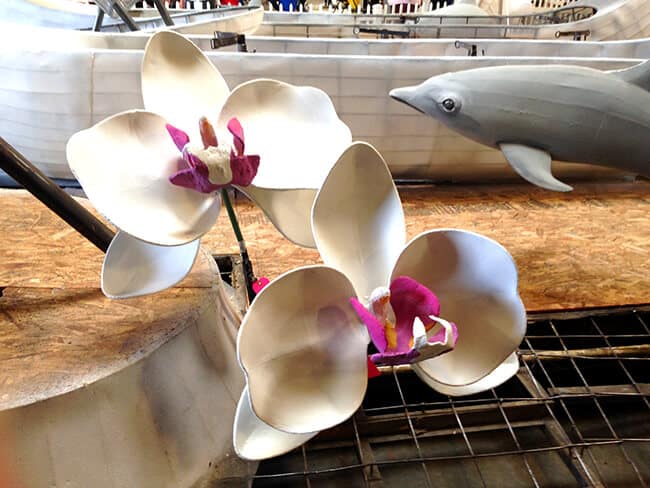 throughout this floral masterpiece, fresh and healthy GMO-free fruits, including bananas, pineapples, mangoes, and papayas that are grown and provided by DOLE for use on their float will be featured. sculptured Cattleya and Phalaenopsis orchids, colorful yellow hibiscus (the state flower of Hawaii), dainty plumeria and various seashells finish off this tropical setting. finally, 16 dancers at street level will perform authentic hula and Pacific-Island dances that encompass the melting pot of today's Hawaiian Islands.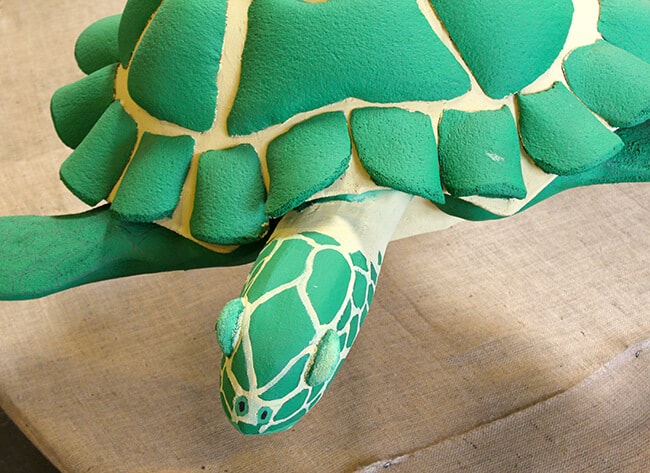 the kiddies even got to help decorate the float by covering the structure with leaves and seeds. the rule is that each float entered in the parade be completely covered with natural elements. here the kids are coating the structured leaves with glue and then covering them with crushed bay leaves.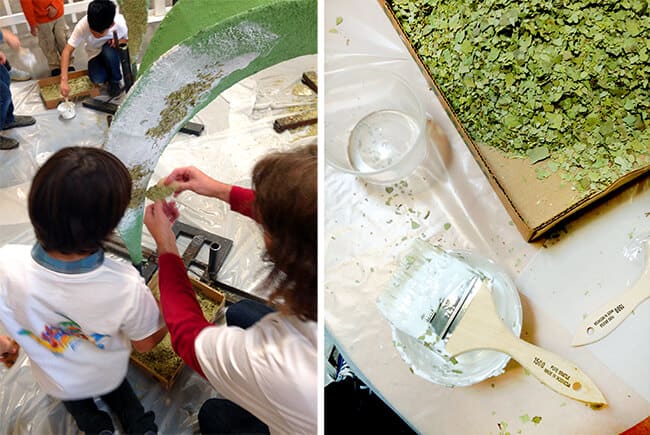 when i was little, i always wished to help decorate the parade floats, so i am so excited that my boys will have this fun memory.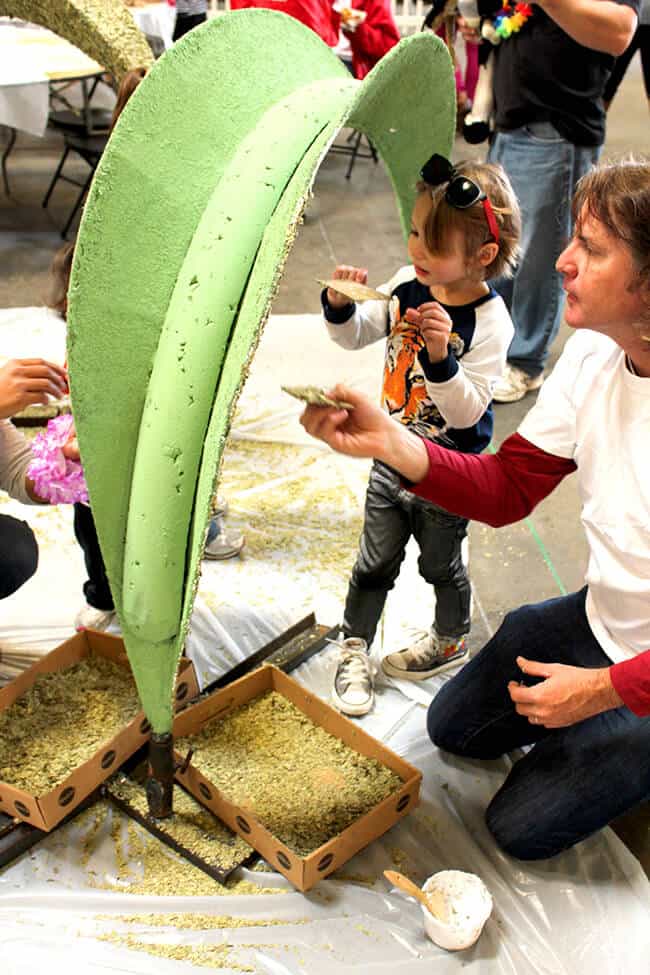 we also got a chance to meet the ladies of the Tournament of Roses Royal Court at the event. every September, 1,000 young women try for the honor of serving as a member of the Tournament of Roses Royal Court. after multiple rounds of interviews with the Tournament's Queen and Court Committee, a few select participants with the right combination of poise, personality, public speaking ability and scholastic achievement received the honor. Royal Court members become ambassadors of the Tournament, and selecting the right young women is an important task.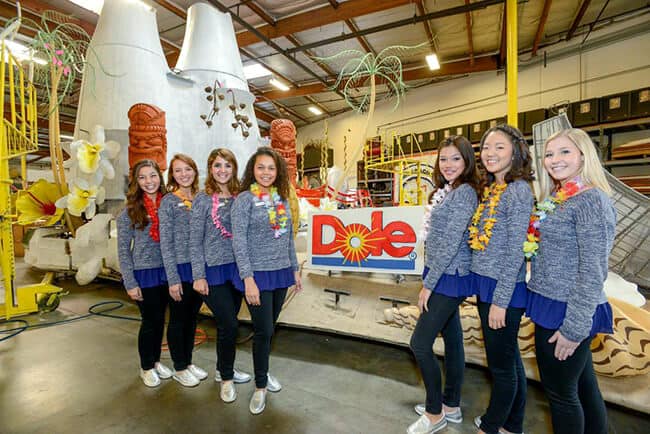 i am very proud to support companies like Dole Packaged Foods. Dole's environmental practices, respect for natural resources and commitment to non-GMO products are embedded in its culture. it operates in tropical paradises around the world, as well as here in the United States, and is an industry leader in developing packaged products that are closer to nature. it's products are GMO free, plus, all of Dole Packaged Food's packaging is 100% BPA free, do not contain High Fructose Corn Syrup and Dole packs its fruit cups and jars in 100% juice, not syrup. something we can feel good about when feeding our families.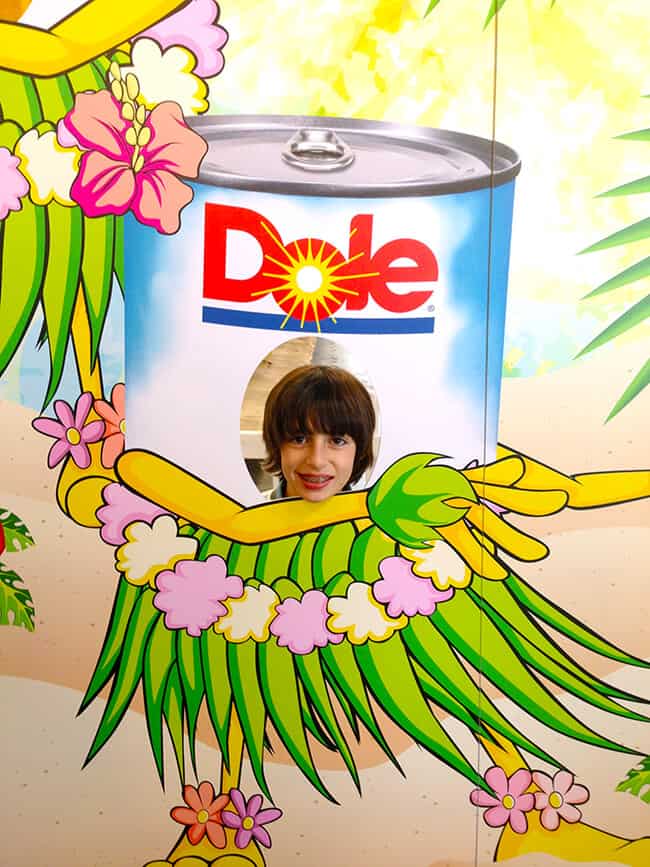 we can't wait to spot Dole's float in the upcoming 126th Rose Parade on January 1st, 2015. Good luck on winning the Sweepstakes Trophy Award!
here is a short video of an interview i had with Dave Spare, VIP of marketing for Dole Foods.
{ this is not a sponsored post. we were invited guests of Dole to come check out their float for the Tournament of Roses Parade. }