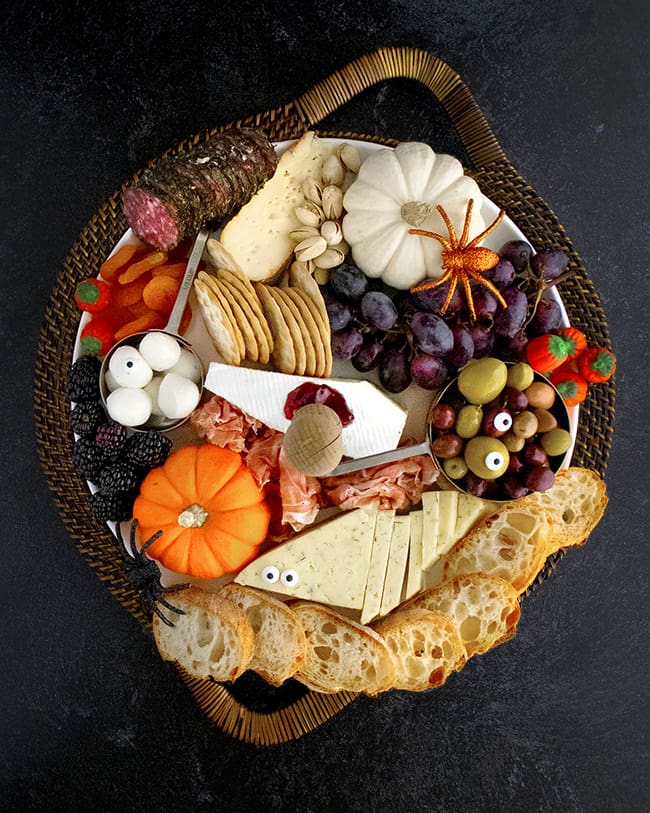 It's SPOOKY season!!!! Charcuterie boards have become very popular nowadays, so I decided that it was a great time to make a creepy Halloween Charcuterie board. I've included all the steps and ingredients to make creating this halloween themed charcuterie board super easy and quick.
Here is a list of ingredients to use on your halloween charcuterie board. You can find everything at your local grocery store. My favorite places to find charcuterie board ingredients are Trader Joe's, Aldi, Sprouts and Whole Foods.
Ingredients Needed for the Halloween Charcuterie Board
Cheeses (see notes for amounts based on number of servings)
Brie
Havarti
Mozzarella balls , small
Something stinky (Roquefort or Camembert)
Brie, Havarti, and Mozzarella are cheeses that both kids and adults love, so they're a safe bet for a cheese board. As an appetizer, you can expect an adult to eat between ¼ and ⅓ of a pound of cheese. So for a party of 10, I would buy 2.5-3 pounds of cheese divided evenly between my cheeses. To make it easy, buy 1 pound of brie, 1 pound of Havarti, and 1 pound of mozzarella.
Note: If you can't find Havarti, Cheddar is a great substitute.
Fruits
1-2 small bunches of large grapes
1 cup fresh Blackberries or Boysenberries
1 cup dried apricots or figs
Meats (see notes for amounts based on number of servings)
As an appetizer, I plan for adults to eat a little less than ¼ pound of cured meat. So, for a party of 10 I would buy 2 pounds of cured meats divided evenly between the two types: 1 pound of prosciutto and 1 pound of salami.
Crackers/Breads (see notes for amounts based on number of servings)
Water Crackers
Sliced Baguette
You can use any kind of crackers you like: Ritz, Water Crackers, Triscuits, Wheat Thins, etc. For a party of 10, I would buy 1 baguette and 1 box of crackers. You'll likely have leftovers but it is better to have too much than not enough.
Fillers
¼ cup pistachios
1 cup mixed olives
½ cup candy corn pumpkins
¼ cup fig or apricot jam
¼ cup grainy or dijon mustard
Here is where you can add all your favorite garnishes. I've suggested a few but feel free to pull anything you have in your pantry or fridge. Any jams, mustards, pretzels, nuts, etc. Additionally, the exact amount of filler you add to the board is not important. You just want to make sure the board doesn't look empty.
Directions to Create the Halloween themed charcuterie board
First, place a few small bowls and pumpkins evenly around your cheeseboard. The exact number you need will vary but when placed together, they should take up about ¼ of your board.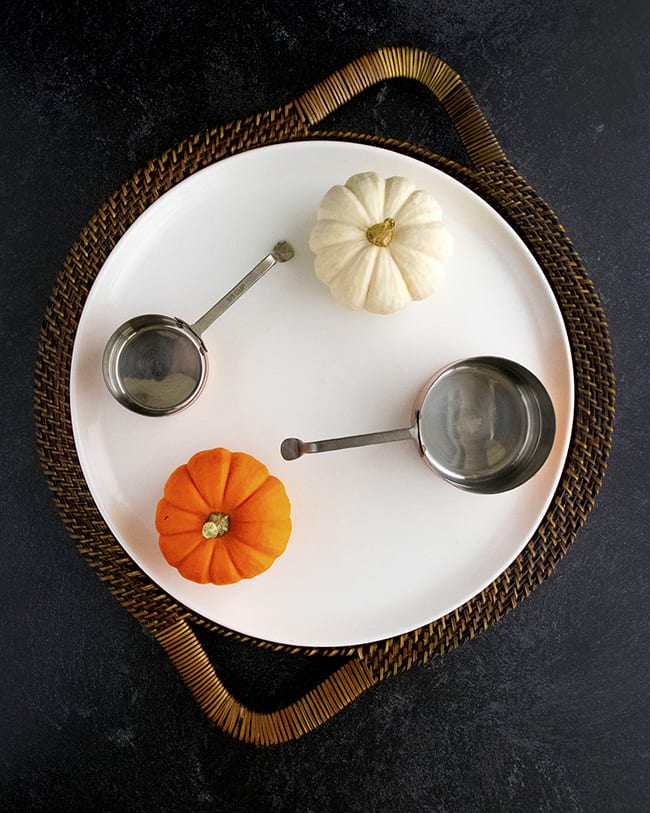 Next, add your cheeses. Again, spread them out over the board filling in any holes around the bowls and pumpkins.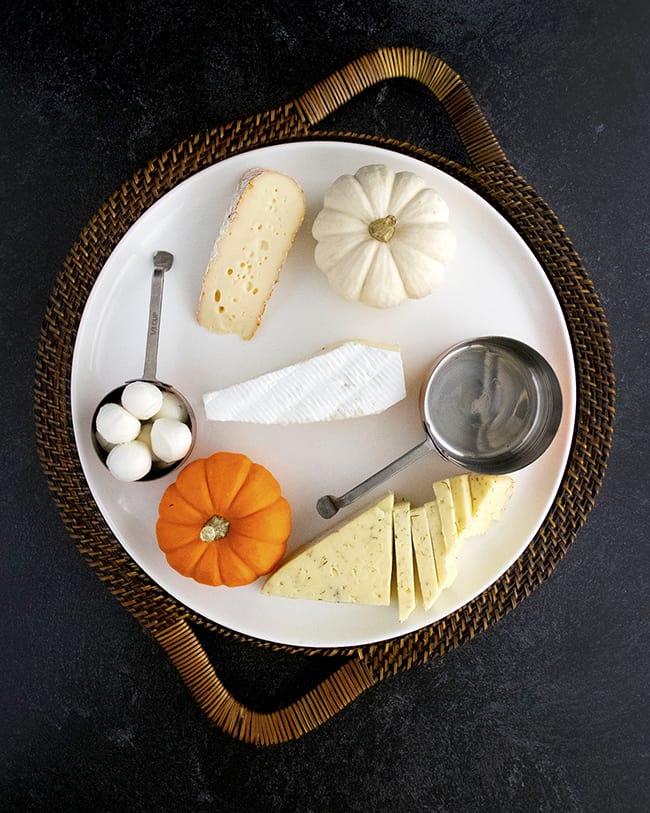 Next, add your largest bunch of fruit right in the center. Add 2-3 more smaller piles of fruit around the board.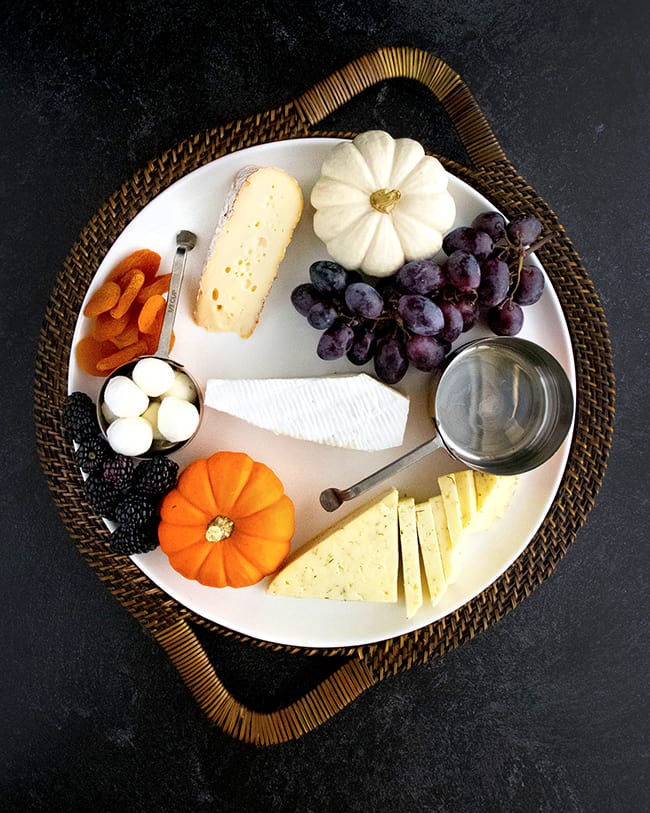 Now add your cured meats to fill in large gaps.
Next, add your crackers and sliced baguette. Try to form "c" or "s" shaped curves with your crackers. This will help create a flow that will carry your eyes around the board.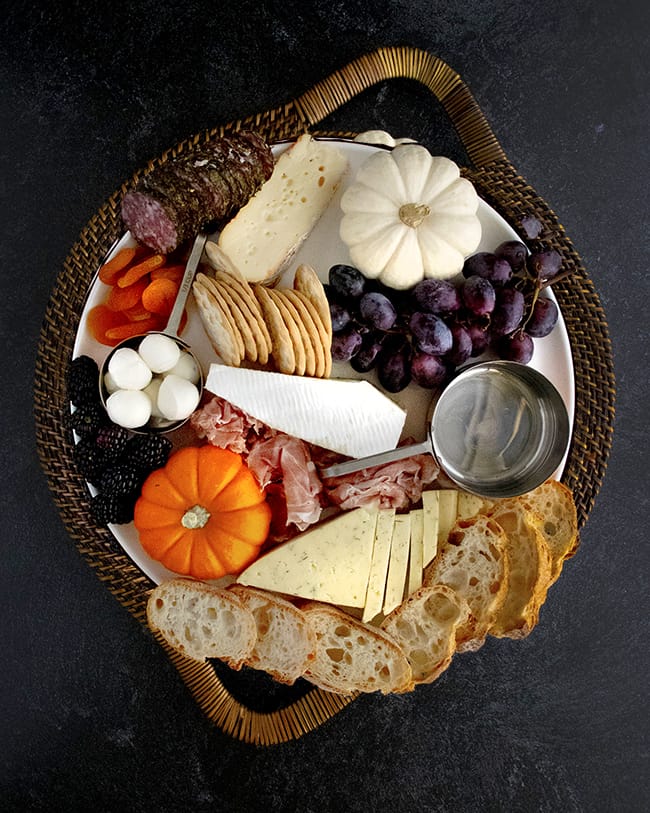 Now you can add fillers to the bowls and gaps until your Halloween themed charcuterie board is almost completely covered. If you see a hole, add more fillers! However, there is no right or wrong place to put fillers.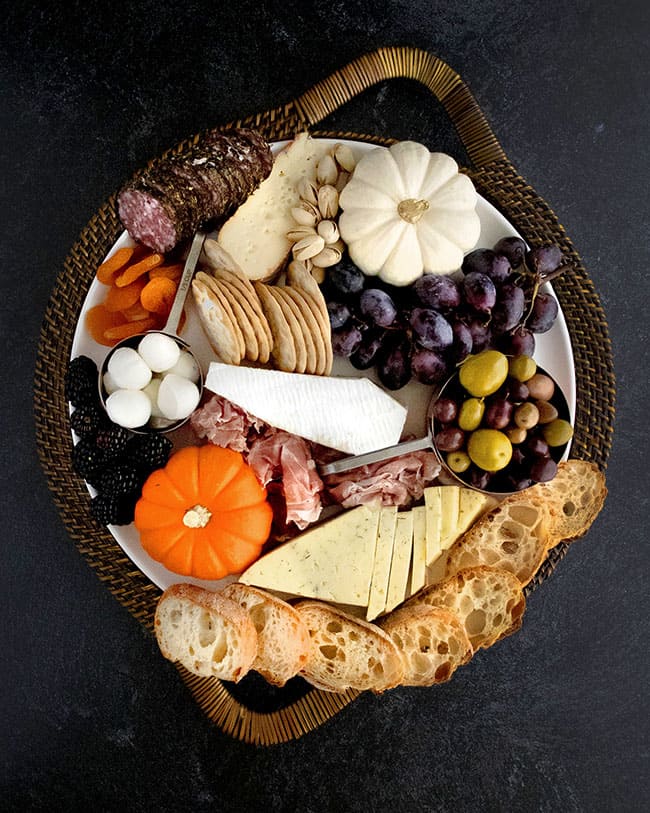 Lastly, make it Halloween! Adding candy eyes and fake spiders can help take the cheese board from cute to creepy!
What do you think? Don't you think your guests will love this Halloween Charcuterie Board?!!!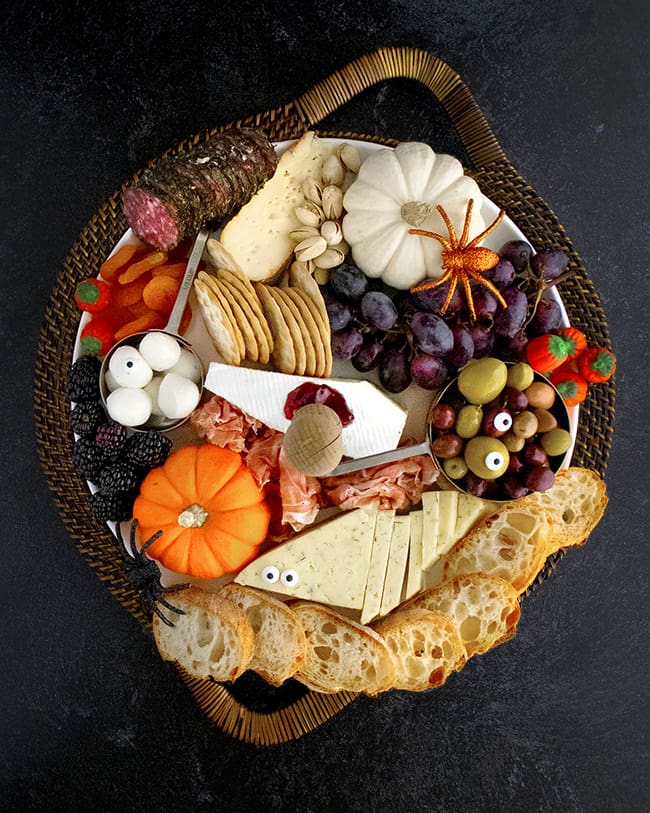 Final notes...
The Key to A Great Cheese Board
In conclusion, he key to a great cheese board is to make it look abundant! If your cheese board doesn't look great, it is probably too empty. Add more!
The second most important thing to keep in mind when making a cheese board is that you want large groups of ingredients. When you look at the cheese board, you immediately notice big groups of grapes, olives, and cheese. But, if you were to mix these all together, they would start looking like trail mix and not a distinguished cheese board, we don't want that. Simply fill in gaps with fillers but keep main ingredients (cheeses, fruits, crackers, meats) in large groups.
Above all, a good rule of thumb is that groups of main ingredients should always be at least as big as your first — this will ensure they don't get lost in the fillers.
Need Some More Halloween Food Ideas?
Halloween Mummy Dogs are easy to make and create a fun meal for the kids.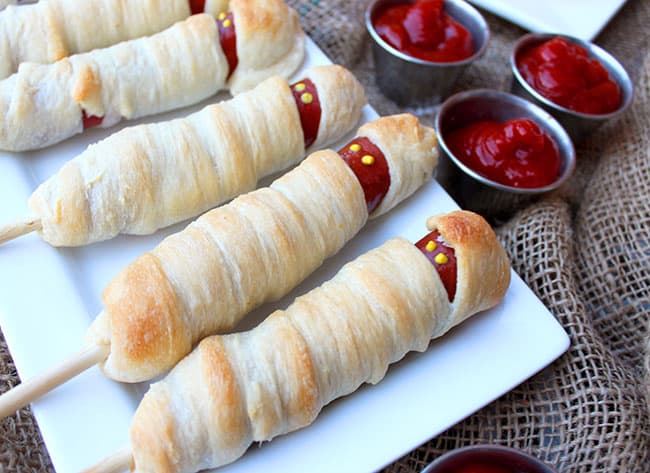 This Halloween Onion Ranch Cheese Ball is fresh and creamy. Makes a fun appetizer kids and adults will love.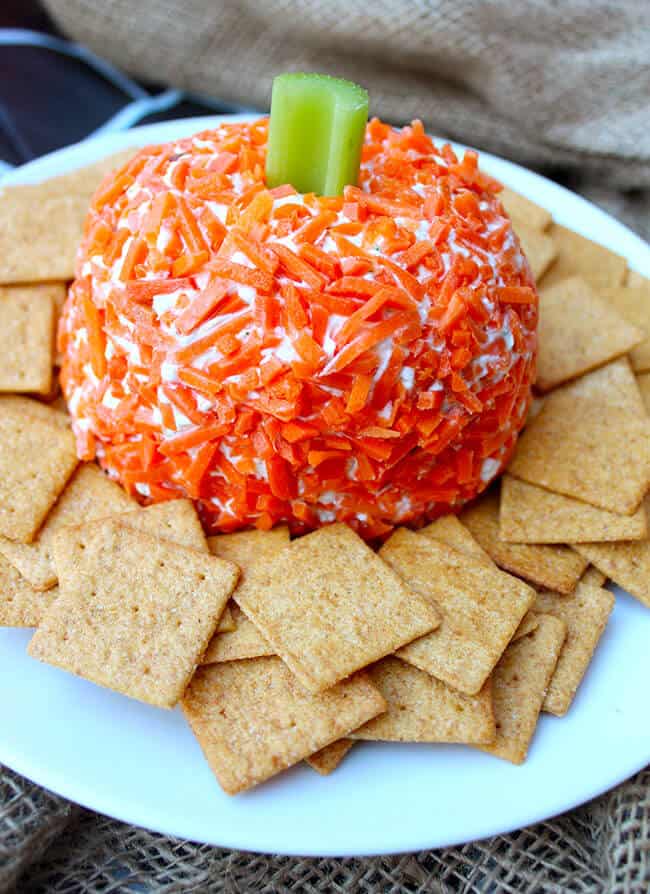 How about a fun Halloween Drink Station!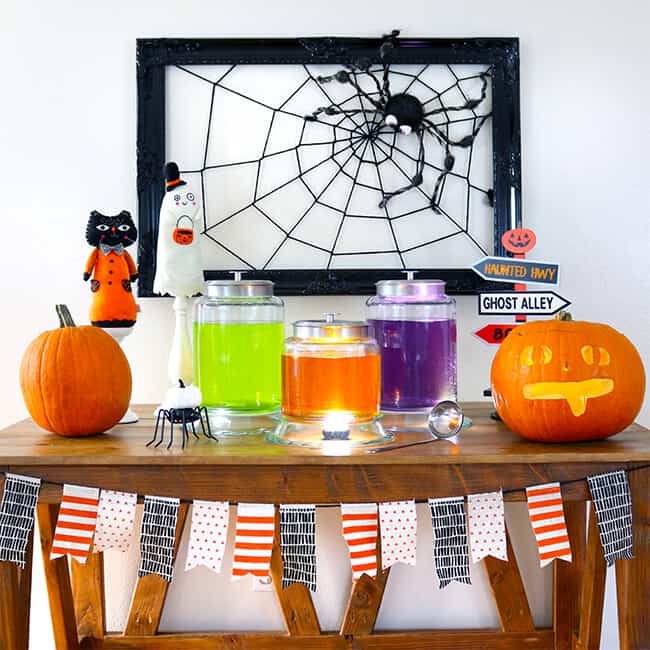 And don't forget the treats! These Spooky Halloween Floats and Spider Web Cookies are not only yummy, but scream Halloween!