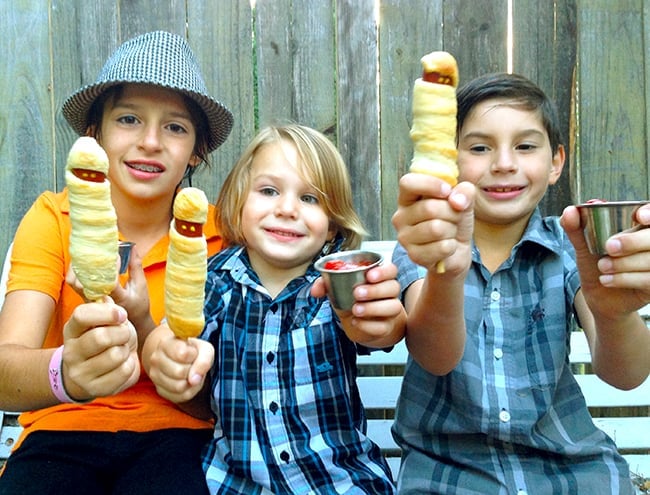 if you are looking for a quick and easy Halloween dinner idea, these Mummy Hotdogs are just that. i made these for my Halloween party, and the boys (and everyone else) really enjoyed them. all you need to make them are hotdogs (i used organic turkey dogs) and then breadstick or pizza dough. the dough that pops out of a can will work just fine. also, if you can get some sticks, it will make these Mummy Hotdogs a little easier to make, and will also give the kiddies something to hold them with. (i found that the caramel apple sticks i found at my local craft store worked perfectly).
first, you will want to insert the sticks into the hotdogs. then take a piece of breadstick dough, and hold it at the bottom of the hotdog where you inserted the stick. now start twisting it around the hotdog, stretching as you go. when you get near the top, skip an area for the face, and stretch the rest of the dough over the top to cover the mommy's head.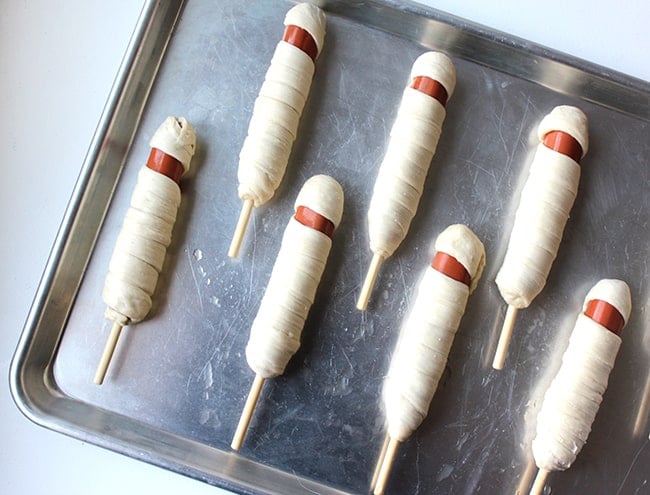 when you have wrapped up all your hotdogs in the dough, place them into a preheated 350º oven and bake until the dough is golden brown. approximately 10-15 minutes. once they are cooked, use a toothpick to add mustard eyes to complete your mummy look. serve them with dipping sauces like ketchup, mustard or nacho cheese. they will be perfect to eat for family dinners or at a Halloween party.
aren't these just the cutest little Mummy Hotdogs. HAPPY HALLOWEEN!