This is a sponsored post. I am an official ambassador for Dole. Dole provided me with compensation for my time. As always, all opinions expressed in this post are mine.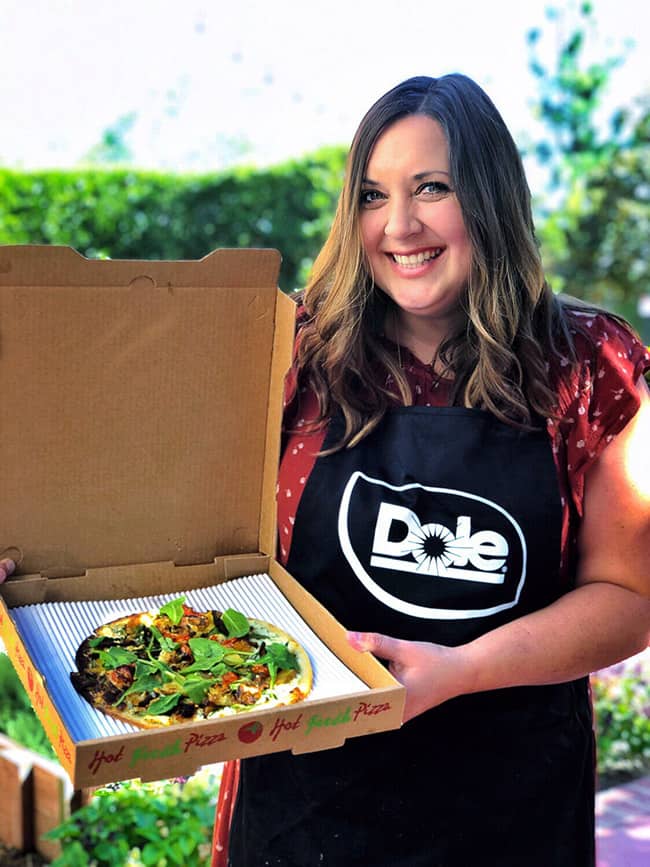 It might look like I am holding just a regular delivery pizza, but what if I told you this is a healthier pizza that I made?!!! Last month, I was able to attend the Dole Fall Blogger Summit and was able to try out some of their new nutritious…and super yummy recipes. I also got to learn more about how Dole and Disney have come together for "Powering the Hero Within" initiative.
The Powering the Hero Within initiative pairs the excitement of Disney characters with Dole produce to help parents encourage no-worry nutrition in their families. It's all about including and adopting a diet rich in fresh fruits and vegetables, plus, working with its registered dietitian, Dole has created family-friendly recipes themed to Disney movies. How fun is that? And if you've ever tried any of Dole's themed recipes, then you know how yummy and fresh they taste! Whenever I make one of these AH-mazing recipes for my family, my children rave about it.
As you may know, Disney's Frozen 2 is coming to theaters November 22, so the theme of the Dole Fall Blogger Summit was Disney Frozen 2.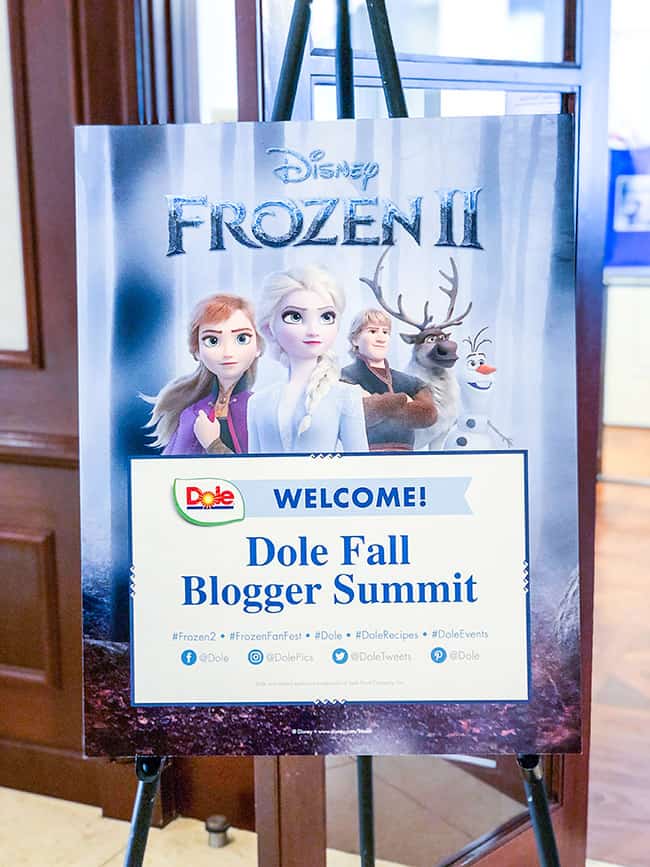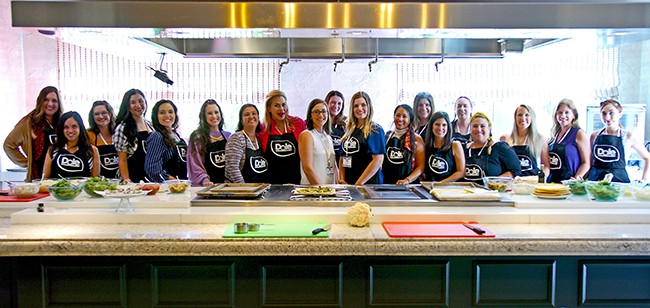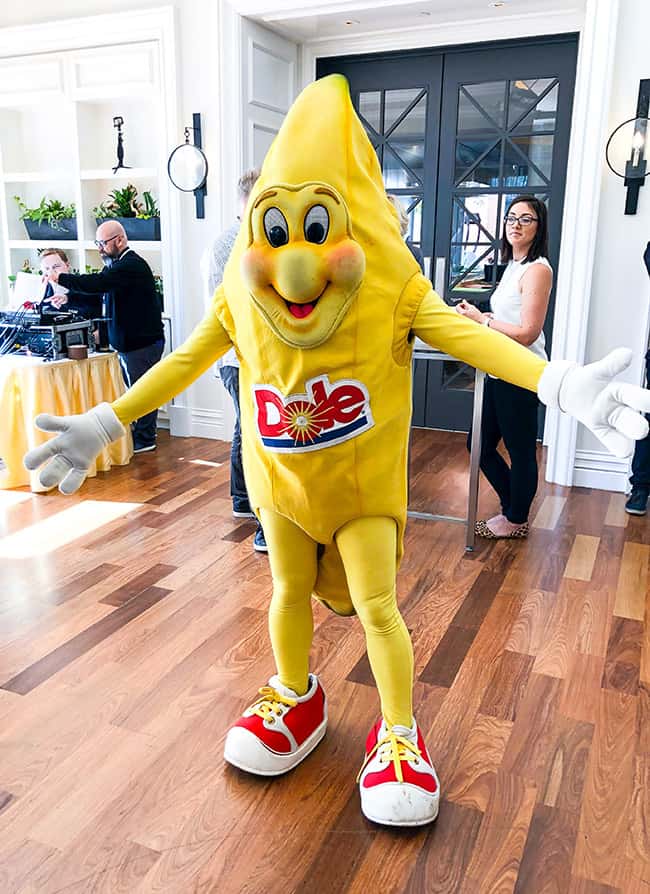 I've loved working with Dole for many years and am impressed with the great steps they have taken to make eating healthy easier for families. So I couldn't be more excited to be working with Dole again, this time sharing that their next set of recipes are Disney Frozen 2-themed!!!
We go to preview a few of the Disney Frozen 2-themed recipes. Check these out...
Make-Ahead Frozen Brr-eakfast Sandwiches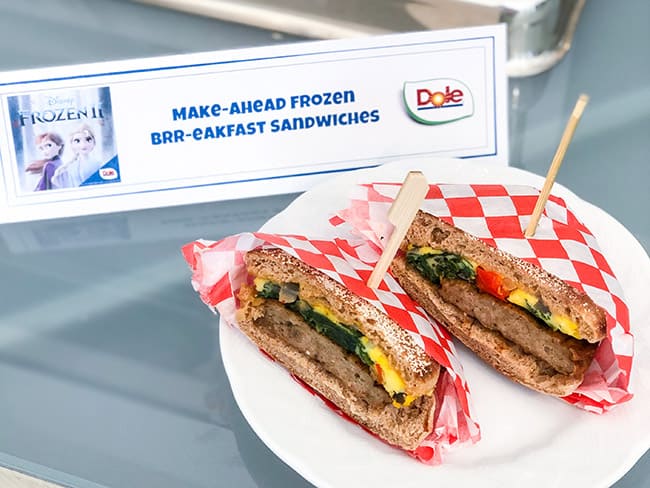 Sven Sleigh-Pulling Power Smoothies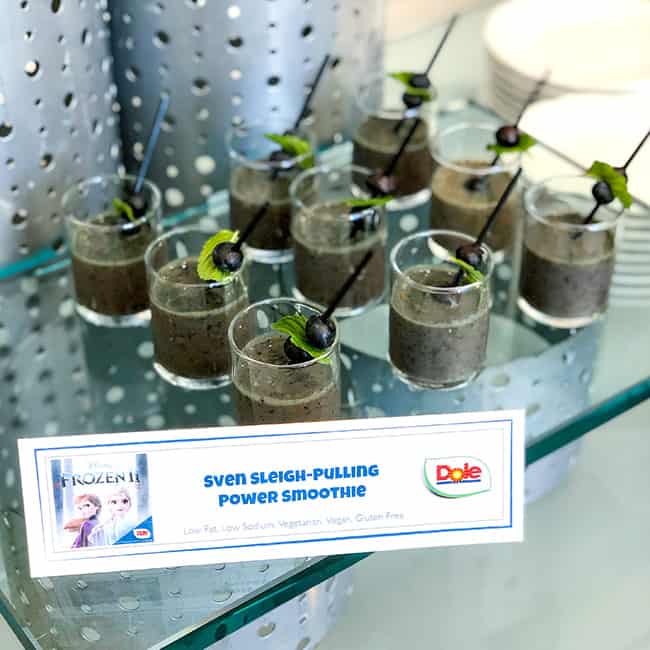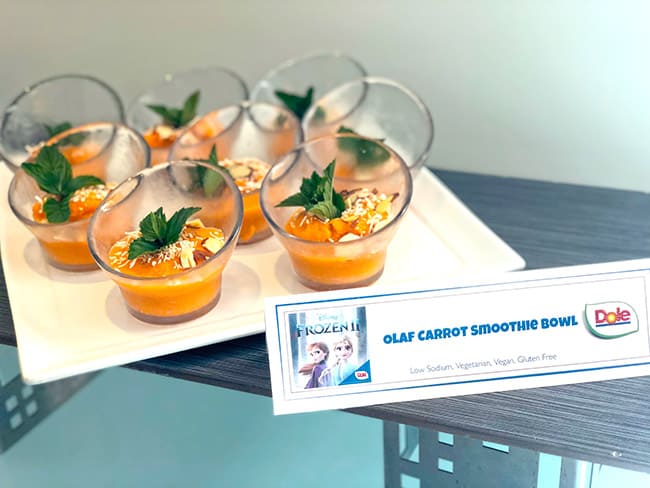 we made our own Dole Snow-flower Pizzas! These pizzas are jam packed with fresh roasted veggies on top of a cauliflower crust. When you are using fresh Dole products, this is what your cooking experience looks like. So healthy, so good, and it taste is so fresh.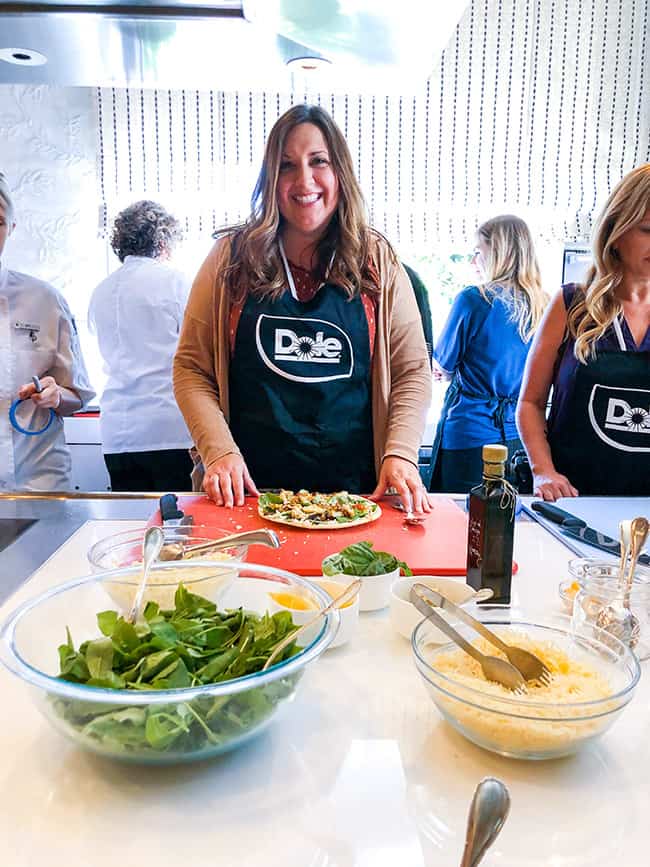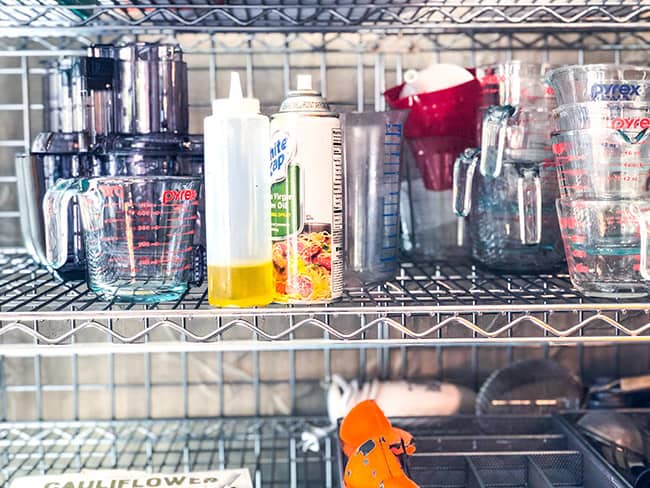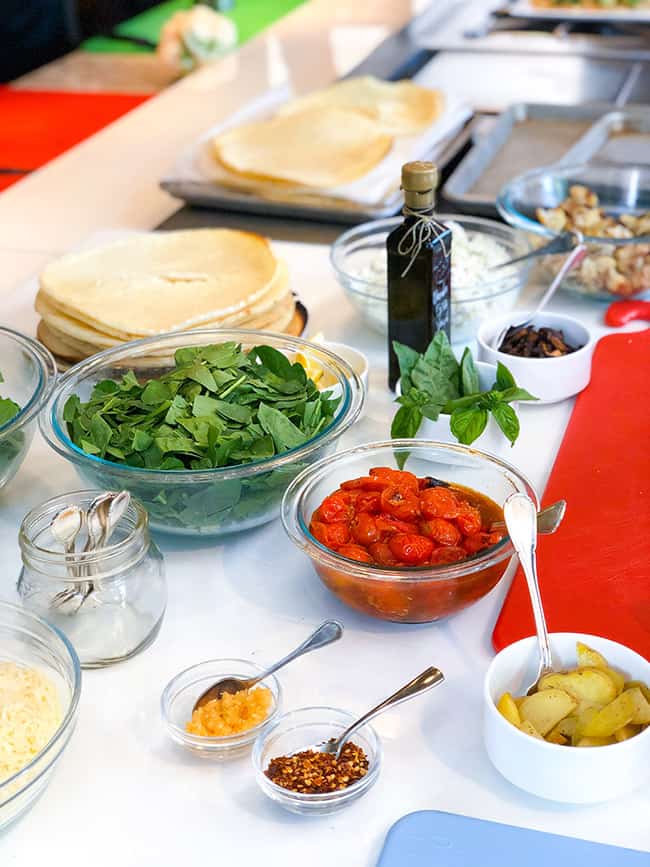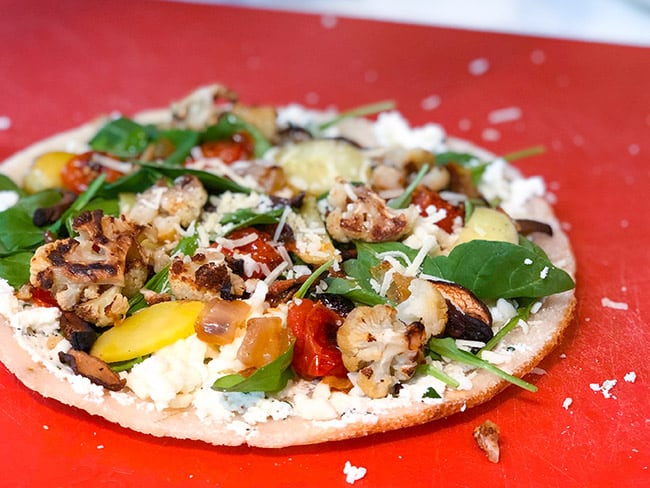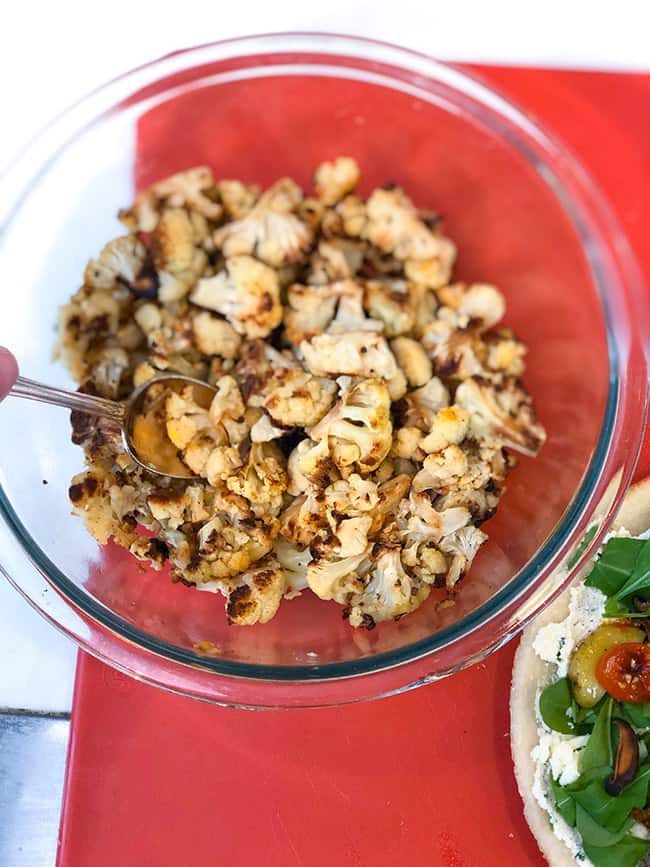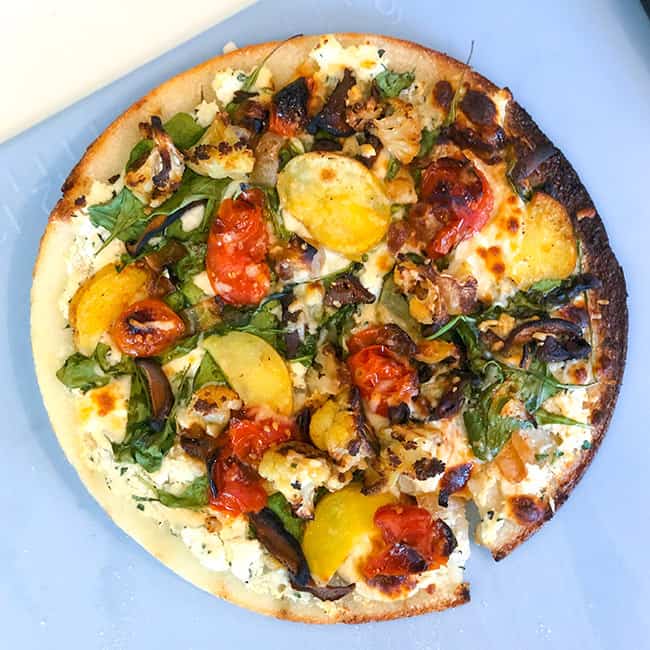 And what about dessert? Dole has you covered. Check out the Frozen Banana Split Cups we made. These were so simple and would make a simple treat your kids and friends will love.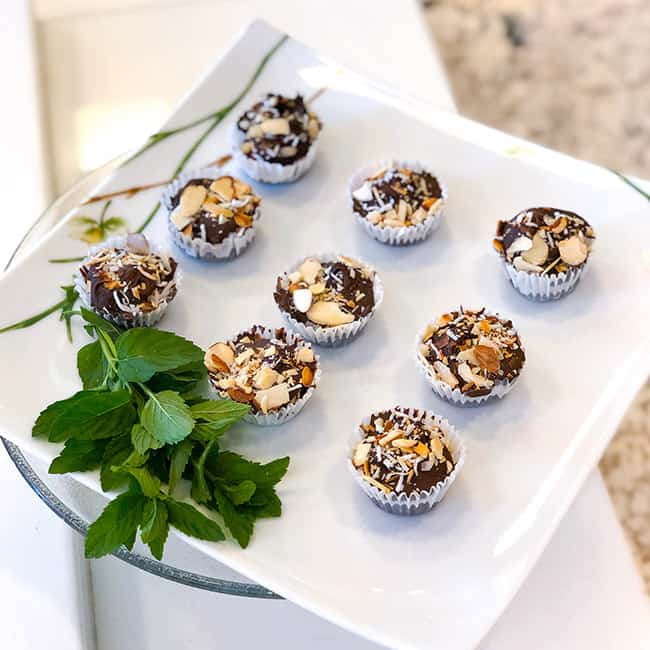 All these recipes and more are available on the Dole website. Currently there are 11 Disney Frozen 2 inspired recipes, and 11 more are coming soon. A total of 22. Just in time for the holidays! (hint...they have a holiday twist.)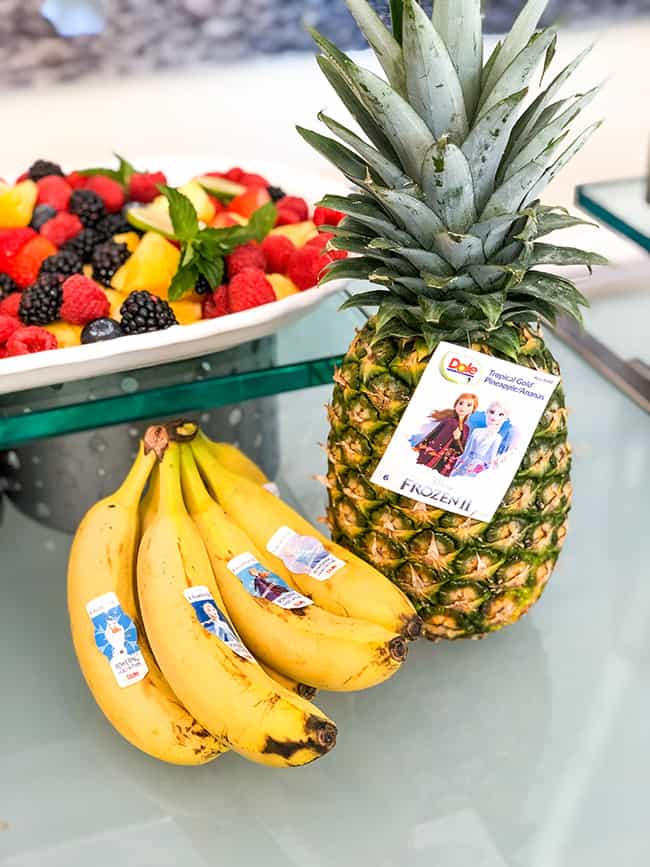 As I mentioned, Dole also has added Disney's Frozen 2 to some of their produce. I just recently wrote a post about DOLE® Bananas and Pineapples featuring images of Anna, Elsa, Olaf, Sven and Kristoff. They are currently available in the produce departments of supermarkets throughout the U.S. and Canada. There are 20 different DOLE® Banana tags as well as a Dole® Pineapple tag featuring Frozen 2. Disney and Dole fans can participate in the DOLE® Banana Sticker Peel and Play Game by downloading the official activity sheet on www.dole.com/Disney. You can collect the entire blizzard of 20 Disney's Frozen 2-inspired stickers on DOLE Bananas across North America.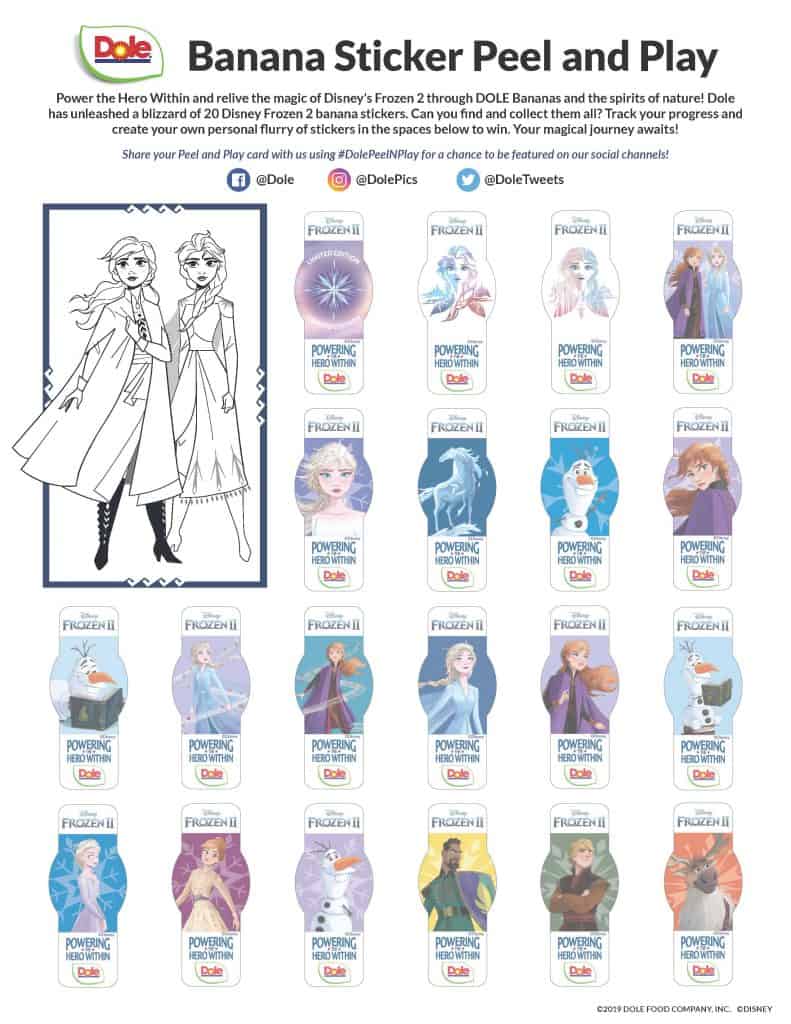 Dole's specially branded fruit and activity sheet are part of "Empowering the Hero Within, a three-month healthy-lifestyle celebration of Disney's Frozen 2 which will continue through January 2020. So be sure to head over to the Dole website and check out the flurry of healthy family fun including exclusive Dole recipes inspired by Disney's Frozen 2!
And be on the lookout for another fun Dole and Disney Frozen 2 recipe post coming from me! It's in the works and will feature more Dole recipes and health tips inspired by Disney's Frozen 2.
Disney Frozen II Prize Giveaway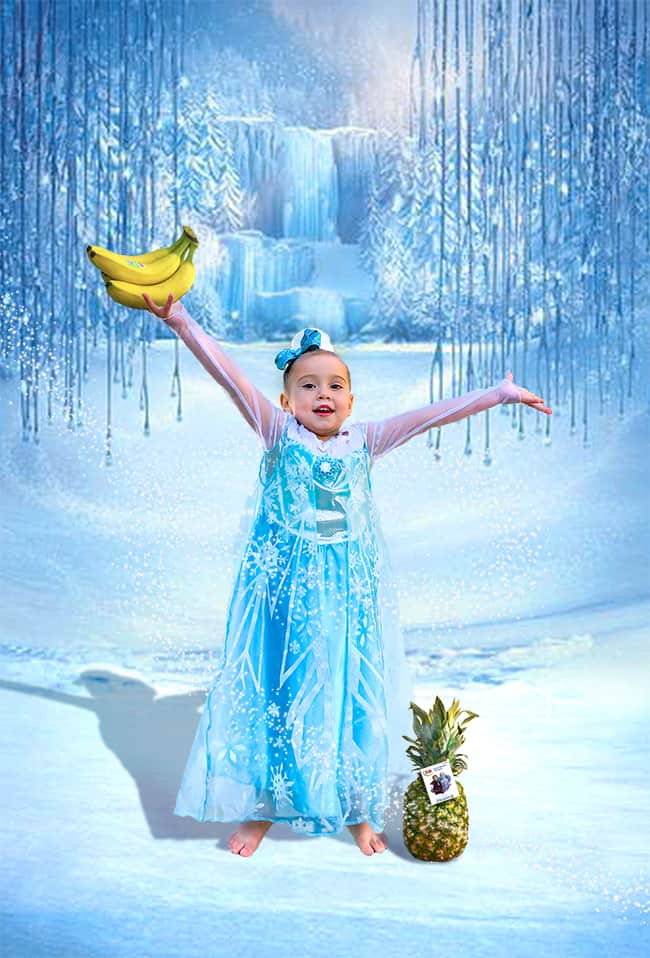 Excited for Disney Frozen 2? I have a FUN giveaway to celebrate! One lucky reader win a Disney Frozen 2 prize bundle (Retail value of over $200). Just enter via Rafflecopter below! Giveaway ends November 23, 2019. Open to U.S. residents only. Good luck!!!
*This giveaway is in no way sponsored, endorsed or administered by, or associated with, Disneyor Dole. The giveaway is solely owned, administered solicited and operated by me.
a Rafflecopter giveaway
More Dole X Disney Recipes!
Want to check out some more Dole Disney inspired recipes? Check out this post I wrote here!
Yummy Dole Recipes to Celebrate Disney Mickey Mouse's 90th Anniversary