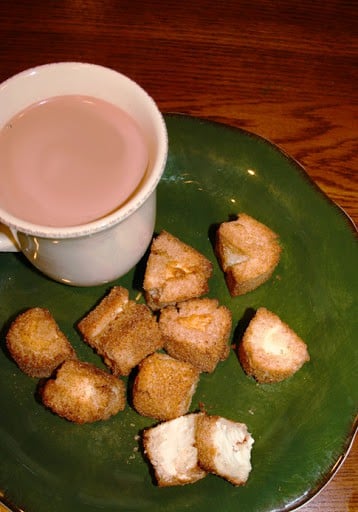 with the pouring rain and it being so cold lately, i was in the mood to make an old favorite. Cinnamon Snails. don't let the name fool you. this recipe does not include an creepy crawlers. just ooey gooey yumminess. and i suggest you make some.
4-6 slices of bread 

cream cheese, softened

cinnamon and sugar

butter, melted (optional)

butter flavored cooking spray
2)

  trim crusts off of bread
3)

  spread cream cheese on each slice off bread
4)

  roll up each slice of bread with cream cheese on the inside of roll.
5)

  slice each bread roll into 3, 1" spirals.
6)

  spray all spirals (on all sides) generously with cooking spray OR dip into melted butter.
7)

  roll each spiral in cinnamon and sugar and place on baking sheet.
8)

  bake 5-10 minutes until edges are crispy and cream cheese is gooey.

if you used melted butter, it will be bubbly.