This post is sponsored by ALDI.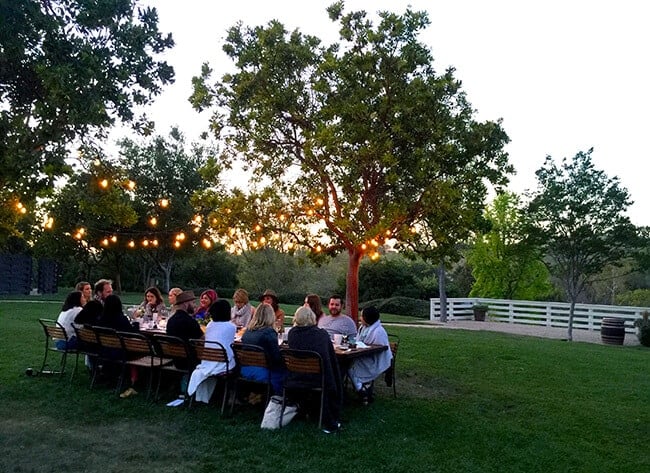 a couple of weeks ago, i went to a special 'Taste of ALDI' event in Santa Ynez, where i was able to learn more about the ALDI brand. i left the event feeling very excited about all the possibilities of things i could create with the foods offered at ALDI. if you have never heard of ALDI, i wrote a very informative blog post about ALDI here. they just opened a bunch of stores here in Southern California, which is very exciting. so now, i can create some of the amazing food dishes that i got to enjoy at the 'Taste of ALDI' event.
one thing that impressed me about ALDI, was their selection of cheeses and meats. they really are your one-stop-shop when it comes to food for entertaining. during the event, we were offered this amazing cheese platter filled with unique cheeses and meats. we were also offered wine that paired perfectly with the cheeses and some great appetizers. and although i don't drink...i can tell you that everyone was raving about the wine.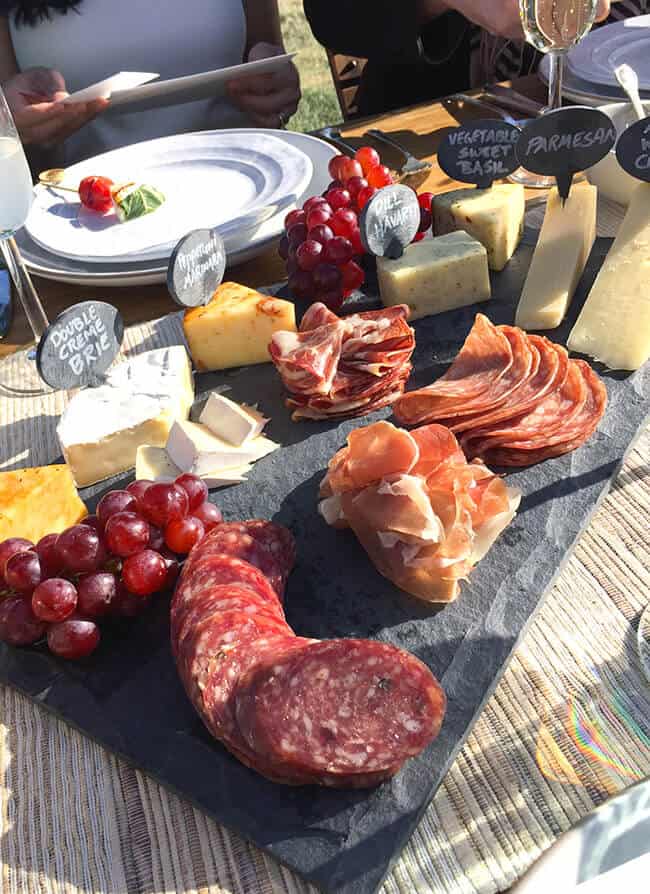 i was so inspired by the cheese platter, that i thought i would share how you could create your own using products from ALDI. summer is coming up, which means summer barbecues and dinner parties. offering your guests a cheese and meat platter like this is the perfect way to begin the entertaining.
ALDI has so many products that can be used on a cheese platter. after walking the aisles at ALDI, i ended up with all these great items that i thought would be perfect on a cheese platter. some of them are standard items you will find at ALDI, some of them are ALDI Finds, which are items that are only available for a limited time. they are specials for a limited time, so if you see them and like them, you better get them fast before they are gone. from specialty cheeses, to salami and meats, to crackers, to dried fruit and nuts, ALDI had everything i needed to make a fabulous cheese platter. check out what i bought...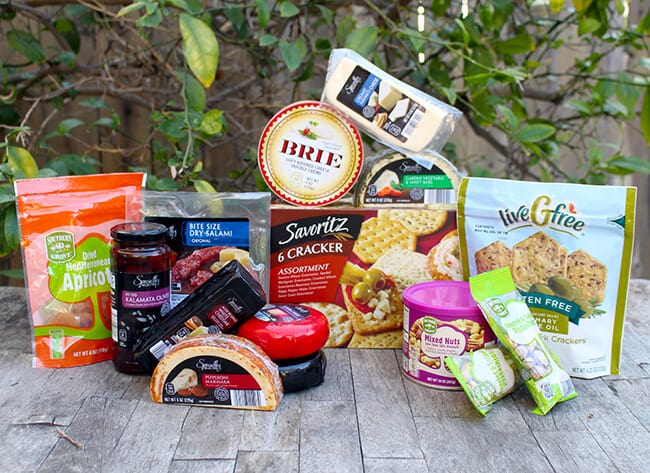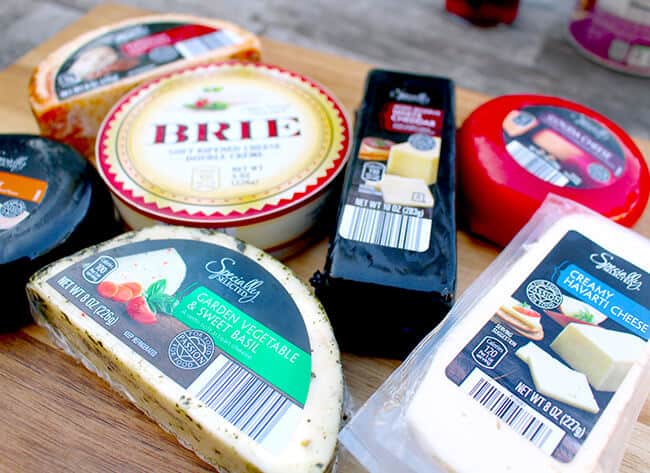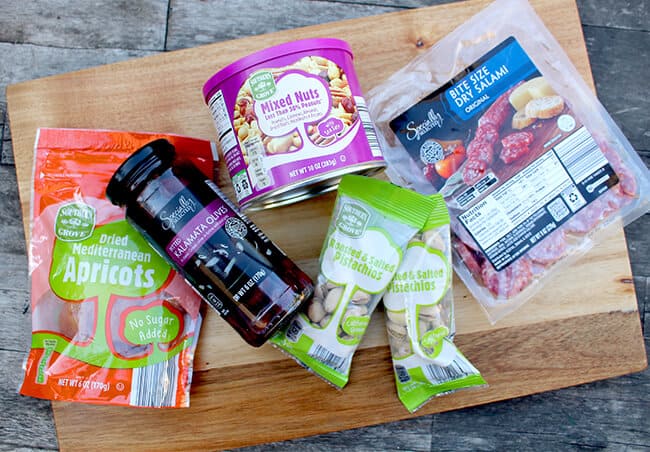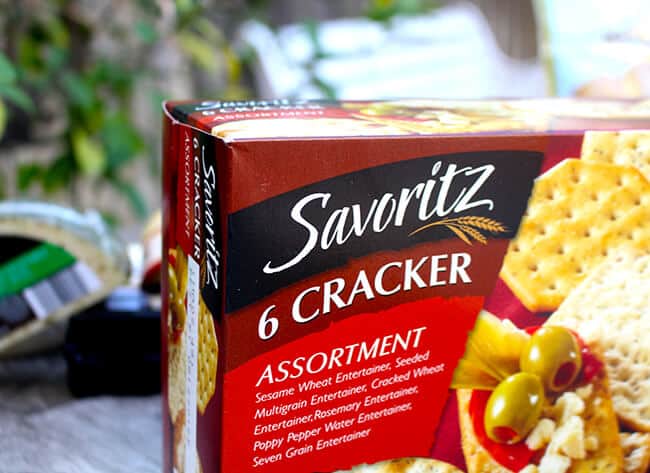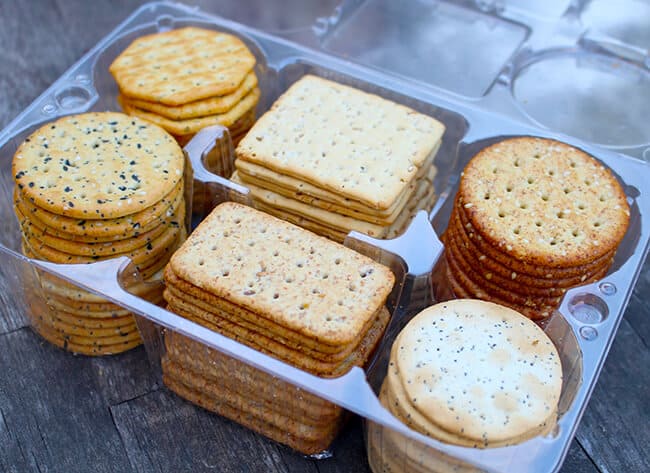 look at the cheeses! here are just some of the great varieties i found – Happy Farms Preferred Brie Cheese, Specially Selected Aged Reserve White Cheddar, Specially Selected Gouda Cheese, Specially Selected Creamy Havarti...which also had dill and jalapeño flavors, Specially Selected Garden Vegetable & Sweet Basil, and Specially Selected Pepperoni Marinara which tastes like pizza! plus, the prices were amazing. almost all of them were under $3. i probably don't need to tell you this, but i love cheese....so this made me really excited.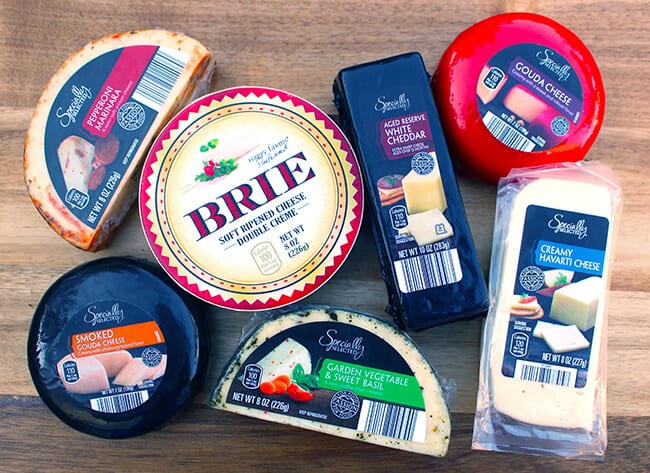 now to create the cheese platter, all i did was place the different cheeses on a nice cutting board. if you don't have one, check out the ALDI Finds aisle in ALDI...you may find one. i got a nice circular slate platter at ALDI that would make a great cheese plate. but for this summery cheese board, i thought a wood one would be best.
after i laid the cheese out on the board, i filled in the open spaces with nuts, dried fruits, olives, salami and crackers. fresh fruit would also be great on the platter. ALDI has great fresh produce, so be sure to check it out. you can put the nuts directly on the board, or in little dishes like i did. i also cut some of the cheese into bite sized pieces and added some toothpicks. ALDI had some yummy Specially Selected Blackberry Fruit Spread on sale, i knew it was yummy because i tried it at the event. i decided to drizzle it over the creamy brie. the preserves and the brie complement each other, and can be served with crackers or apple slices. i really love how my board turned out. so much goodness on one plate!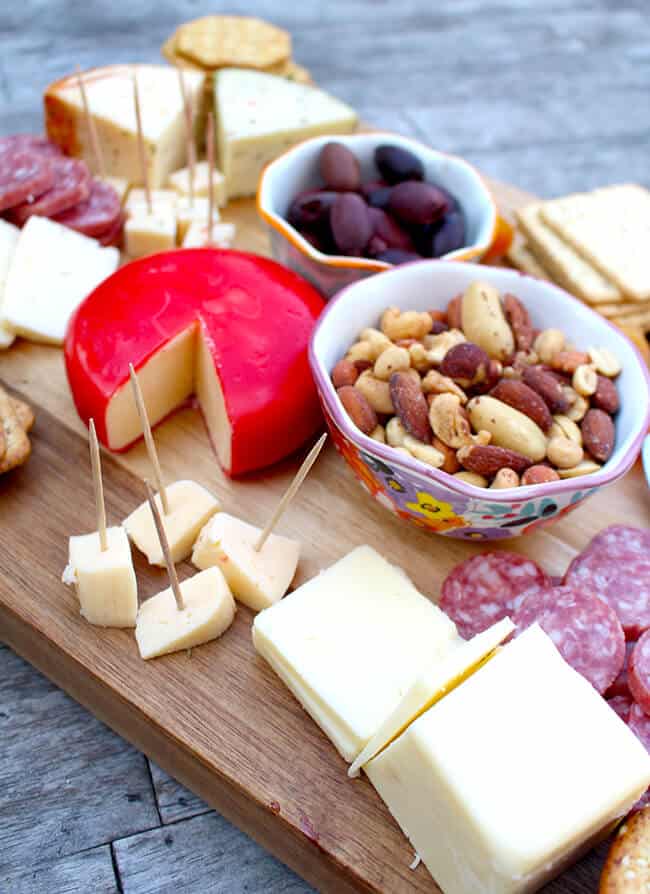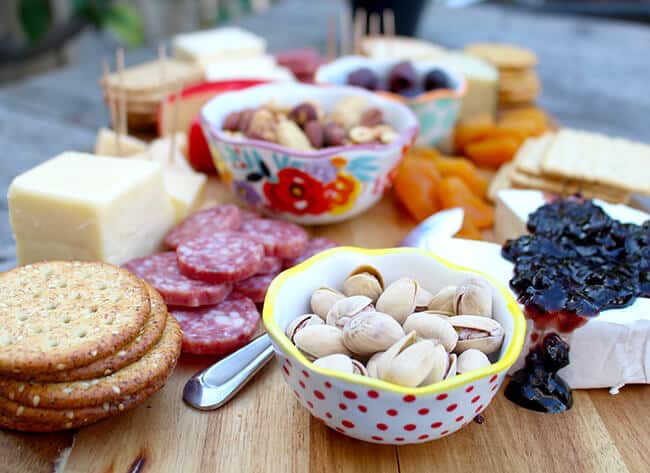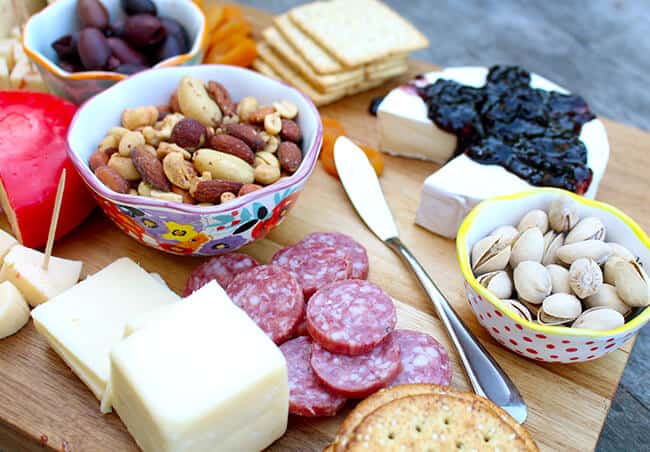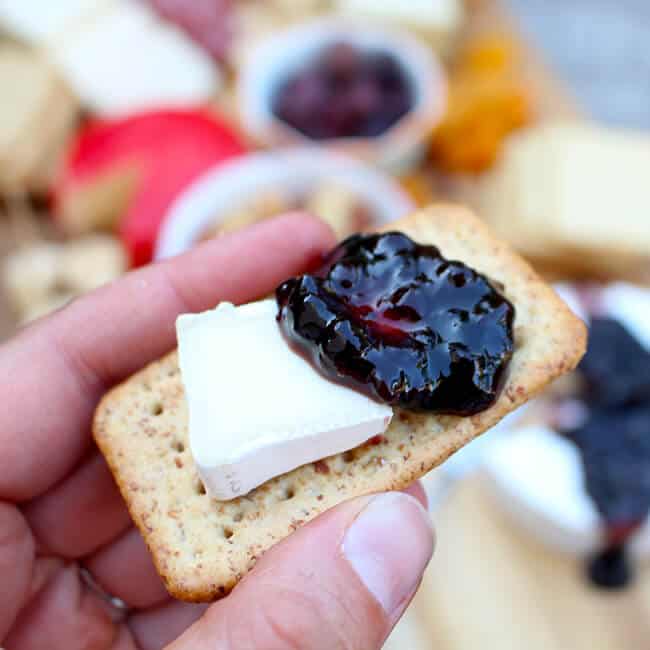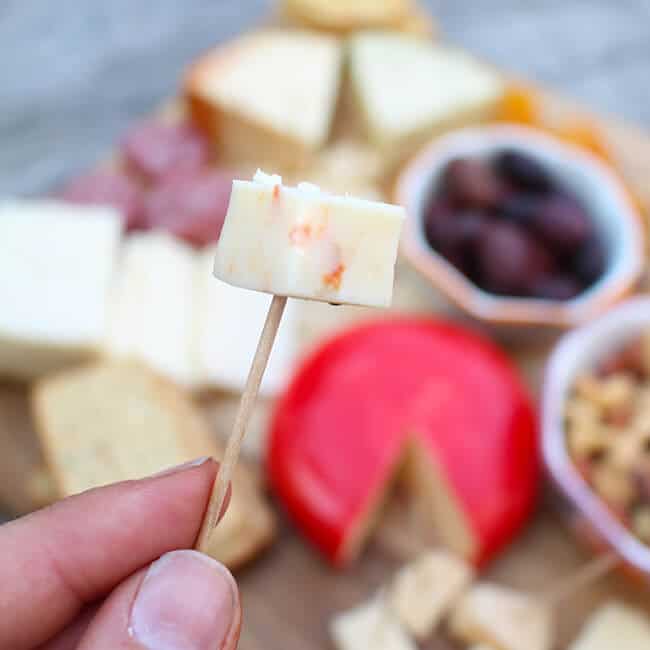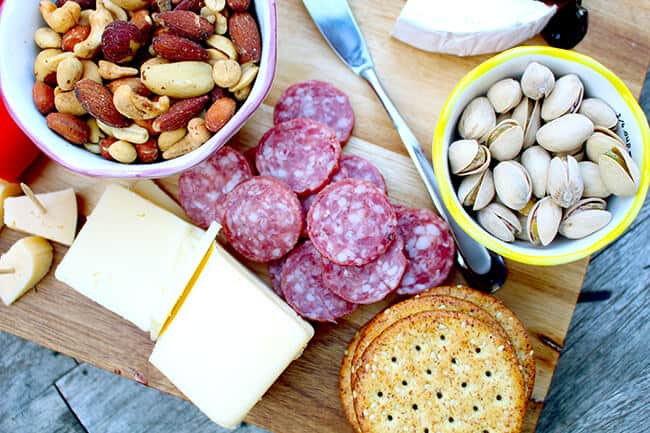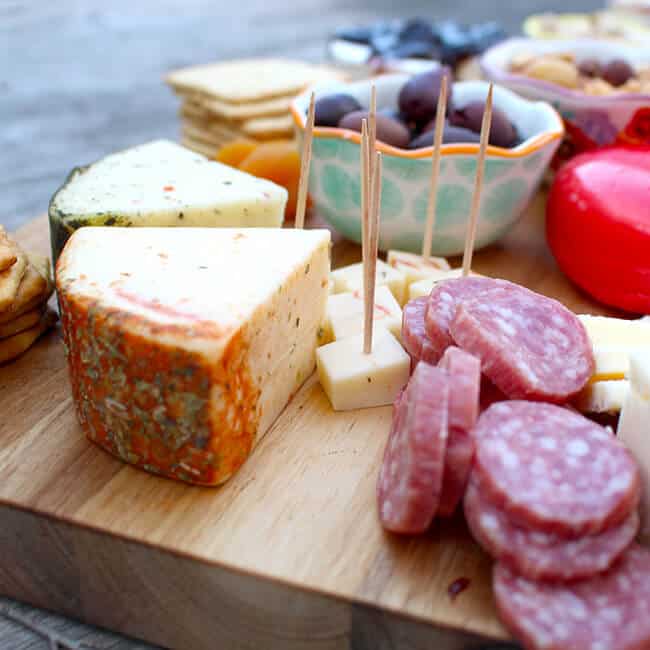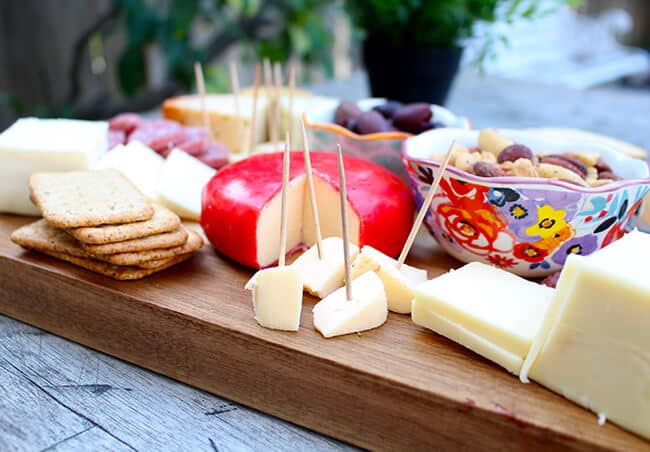 here is what my cheese platter ended up looking like. i can't wait to make one for my next party. and these cheeses and other items aren't just for entertaining. my boys have loved them in their lunches. i just cut the cheese into bite-sized pieces, include some crackers and salami, and they have a great snack for school. ALDI is a great place to shop when you are looking for unique items for entertaining. i will definitely be visiting often this summer to stock up on all the great food products...i love hosting summer dinners with friends, and it's always nice to have something for them to snack on while they are waiting for the food to finish on the barbecue. plus, i can also purchase everything i need for dinner at ALDI. best of all, i will be saving money, prices at ALDI are amazing! especially considering the high quality of their products. i am so happy that ALDI has made their way to California.