This post is sponsored by ALDI.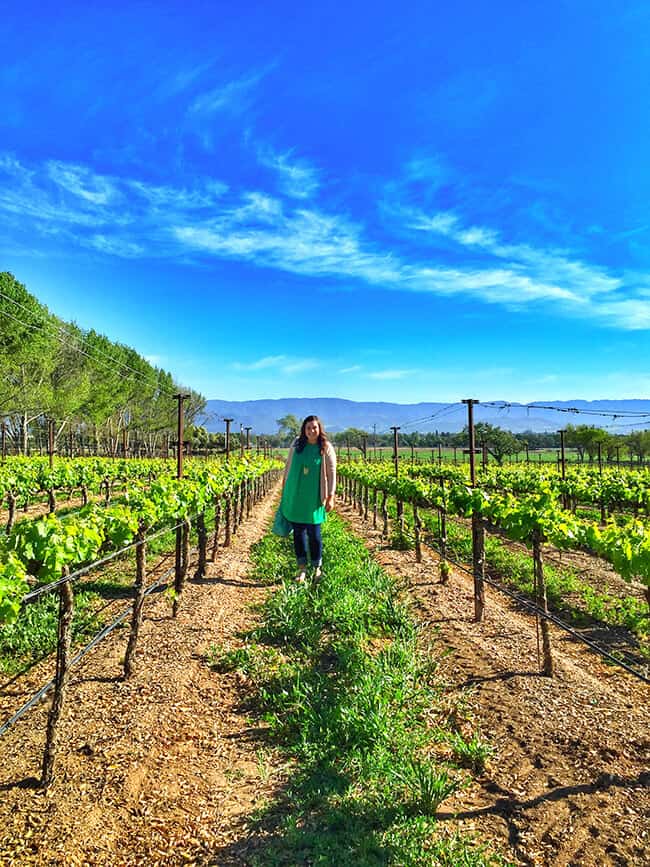 a couple of weeks ago, i wrote about how ALDI Food Markets are coming to Southern California and shared what makes ALDI unique and what to expect when you go shopping there. that was a popular post! looks like many people are really excited for the ALDI Food Markets to open here in Orange County. besides being able to tour one of the new ALDI stores before it opened, i was also invited to a special "Taste of ALDI" event a couple of weeks ago to learn more about ALDI. it took place in beautiful Santa Ynez – Central California's wine country, and at the event, i was able to experience more of what ALDI will be offering us Southern Californians. i'm now even more excited for the stores to open here in the OC!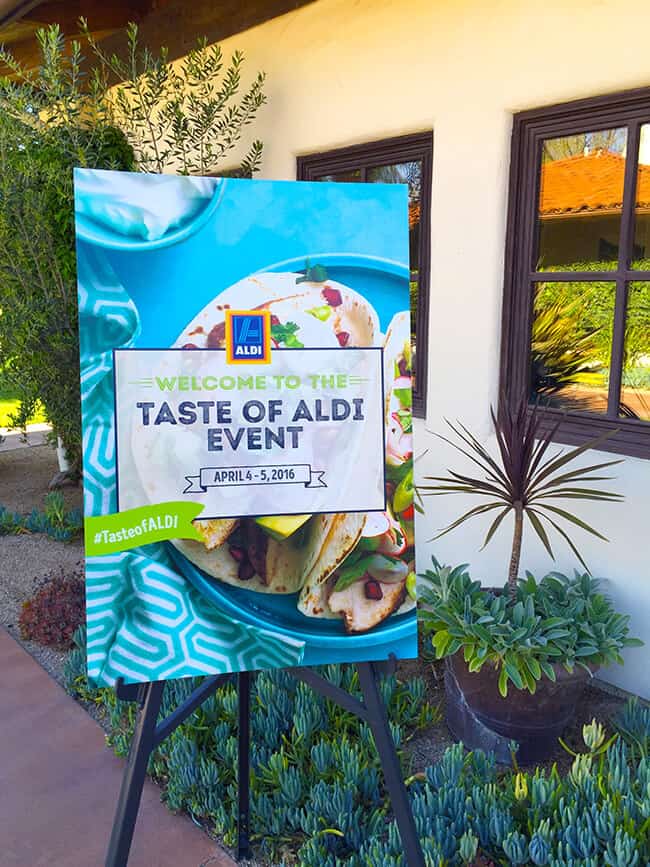 to set the scene, the Taste of ALDI event took place at the beautiful Bridlewood Estates Winery a working vineyard and wine tasting estate with a track for horse racing located on the property. the reason this location was chosen, is that ALDI has partnered with many California vineyards to bring some of the best wines to their stores. the new California stores will have an even larger selection of local wines to choose from than stores on the East Coast and Midwest because ALDI brings in locally made products. we are lucky to live in California where fresh produce is abundant. Bridlewood Estates Winery was the perfect place to get to learn more about ALDI.
after exploring the vineyard and doing a little wine tasting...a sparkling non-alcoholic drink for me, we began the evening being treated to a sunset dinner. an absolutely fabulous meal from beginning to end.
we started with appetizers – mushroom crostini, prosciutto wrapped asparagus, mini caprese salads, the most tasty cheese and meat platter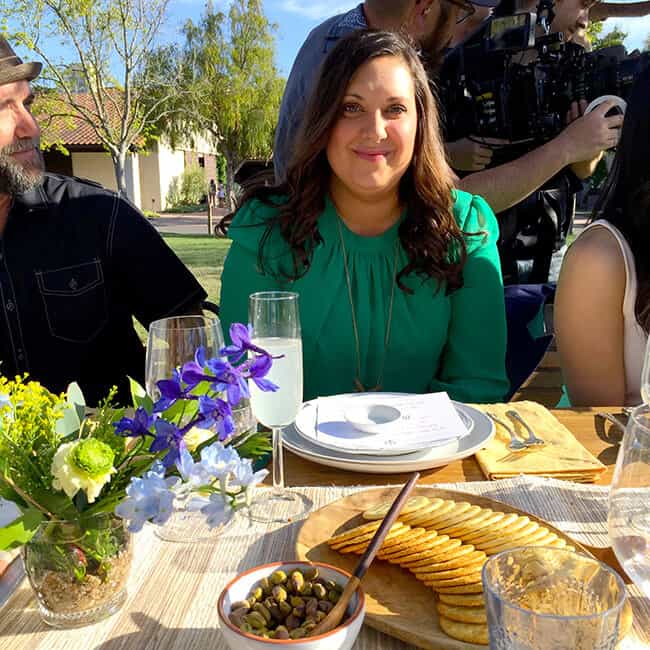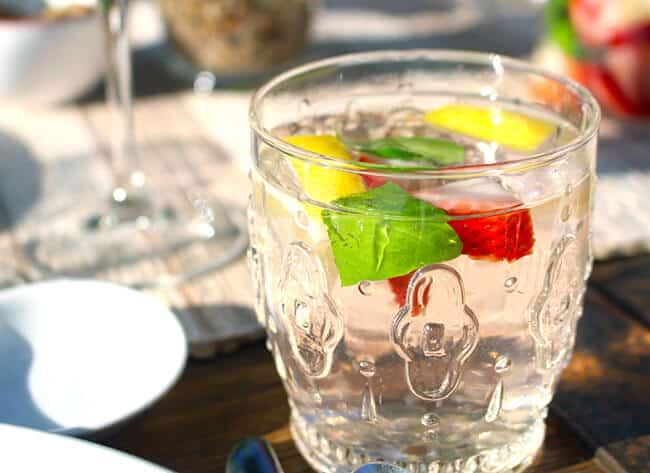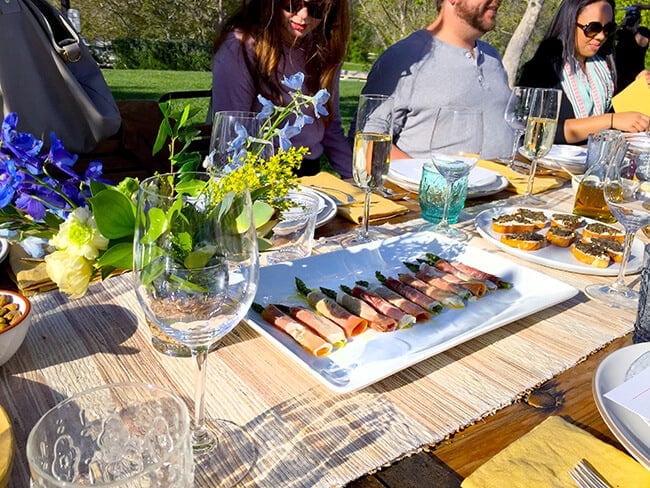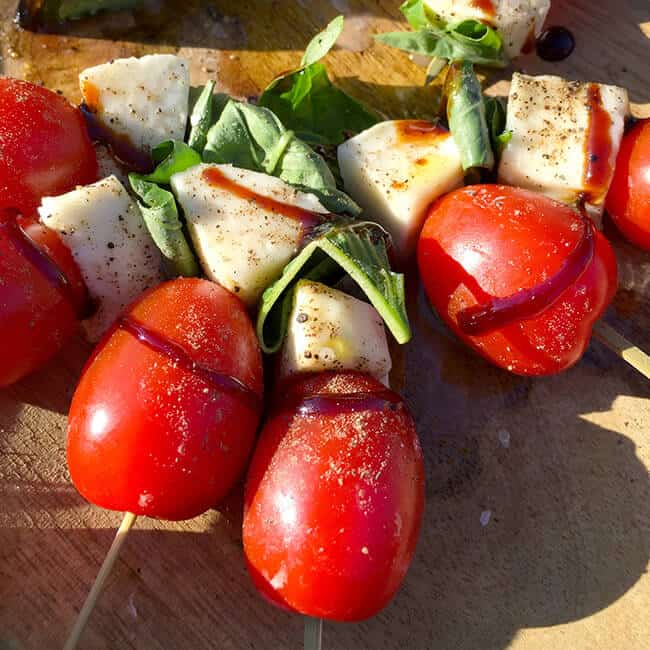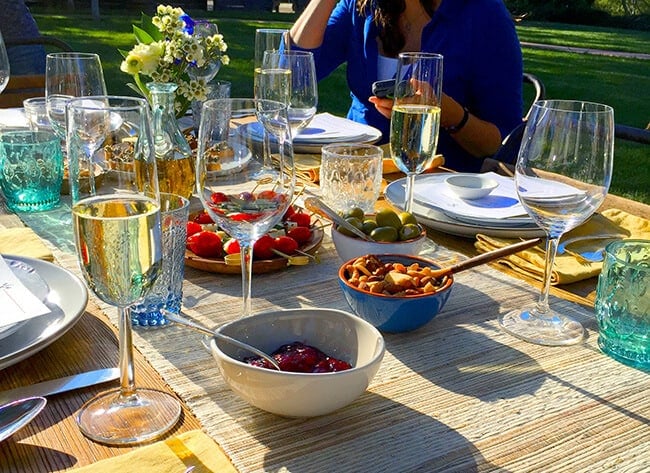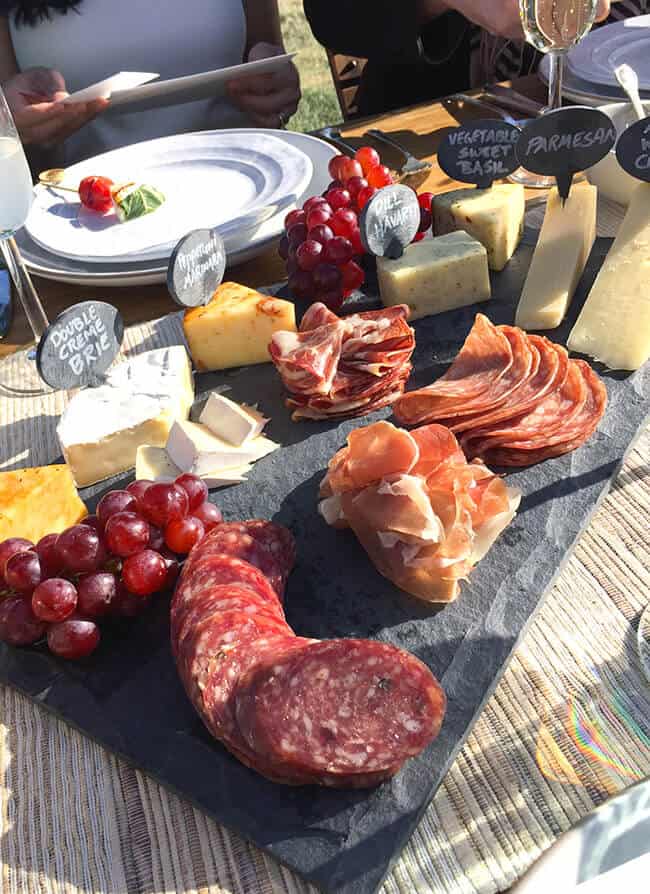 the salads and main course were just as wonderful. kale with avocado and lemon-yogurt salad, seared Specially Selected Jumbo Scallops, USDA Choice Flat Iron steak and seared cauliflower with red onion jam.
the meal ended with the most scrumptious and rich chocolate layer cake with almond-cream cheese filling and berries.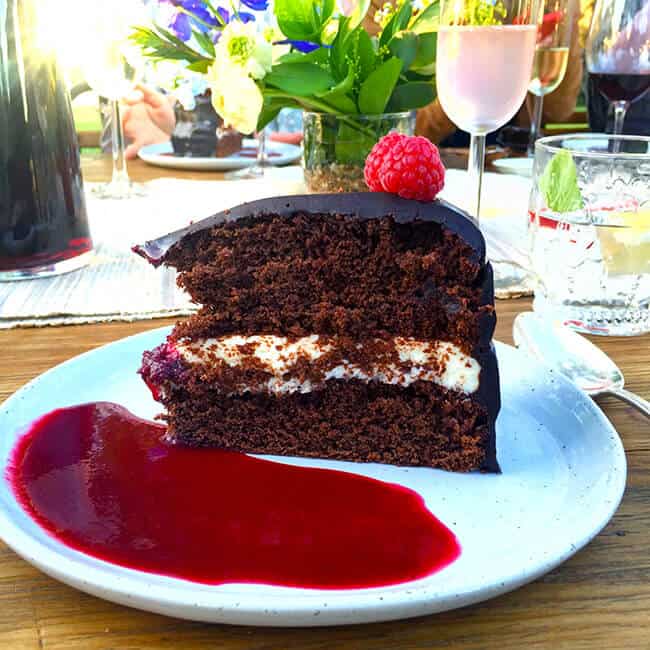 it was one of the nicest and tastiest meals i have had in a long time. we were all surprised to find that everything served to us during the meal was bought from ALDI. and what was even more amazing was that this entire gourmet meal was created for less than $15 per person!! i found it very exciting that such a wonderful and detailed meal could be create from products found at ALDI...because the prices there are much lower than other grocery stores....up to 50% over the national brands! plus, the quality and selection was definitely there, and i can see myself creating many dishes and entertaining with the food served to us that evening.
the next day, we got down to business tasting and comparing the ALDI brand products to national brands. from yogurts, to almond milk, to chips, to cheeses...we were all surprised to find that for significantly less money, you could get practically the same products as the ones you currently shop for regularly. they either tasted the same or better...which is very cool.
i also found that i am an excellent blindfolded taste taster, and managed to win the taste testing contest. so much fun.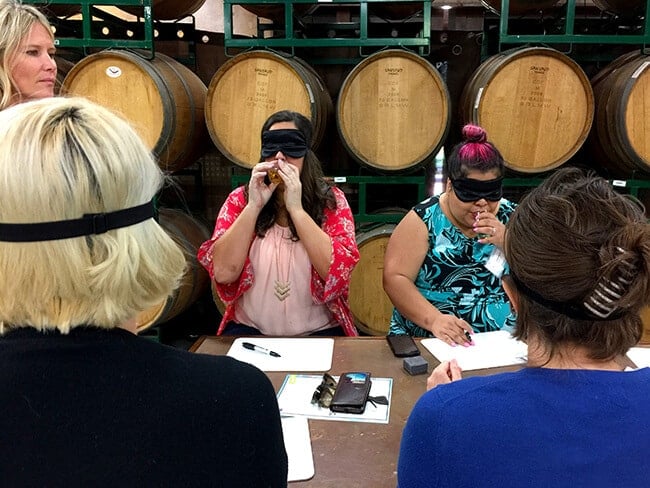 next up we were treated to a cooking demonstration by the adorable Chef Brigitte Nguyen who made a grapefruit, avocado and blue cheese salad with pecans that was to die for. it is always fun to get inspiration to create more tasty dishes...and this salad is going to be made by me on a regular basis from now on. and of course, the entire thing was made with ingredients from ALDI. doesn't it look amazing? you can get lots of recipes like these on the ALDI website.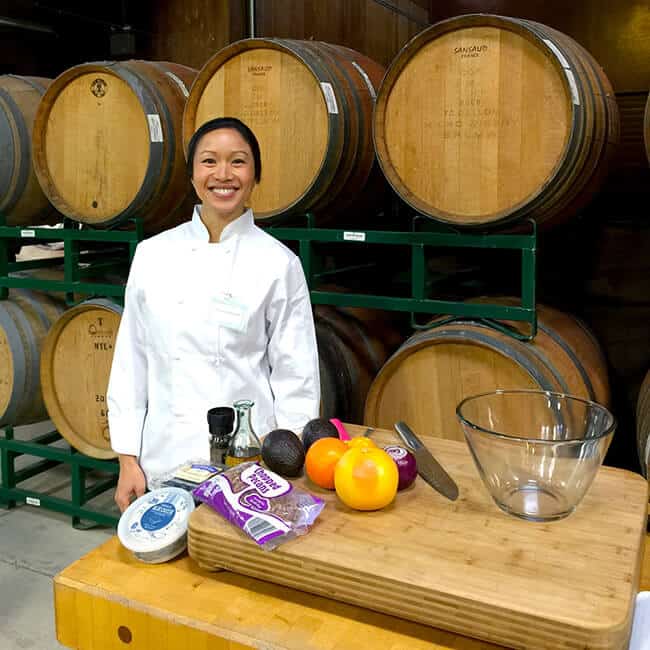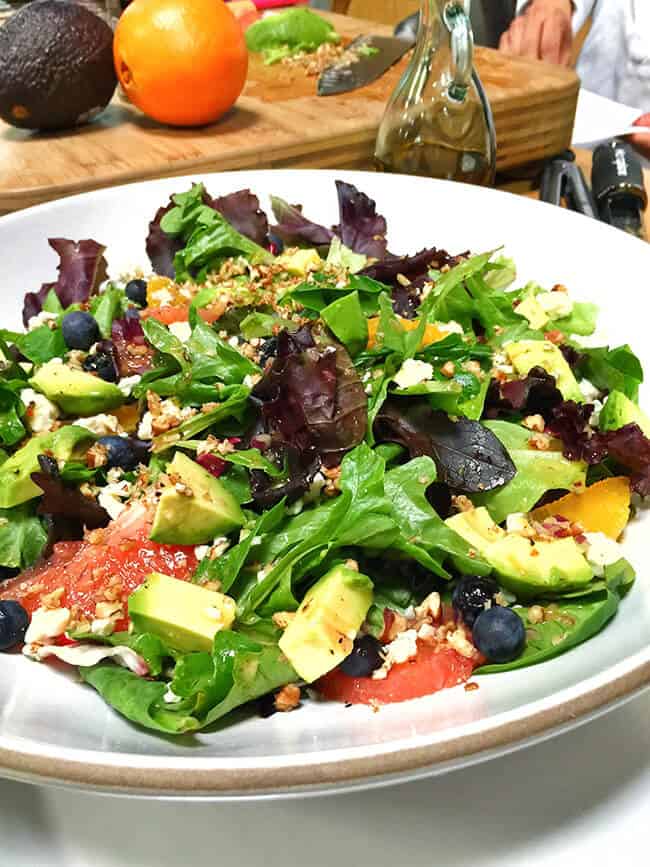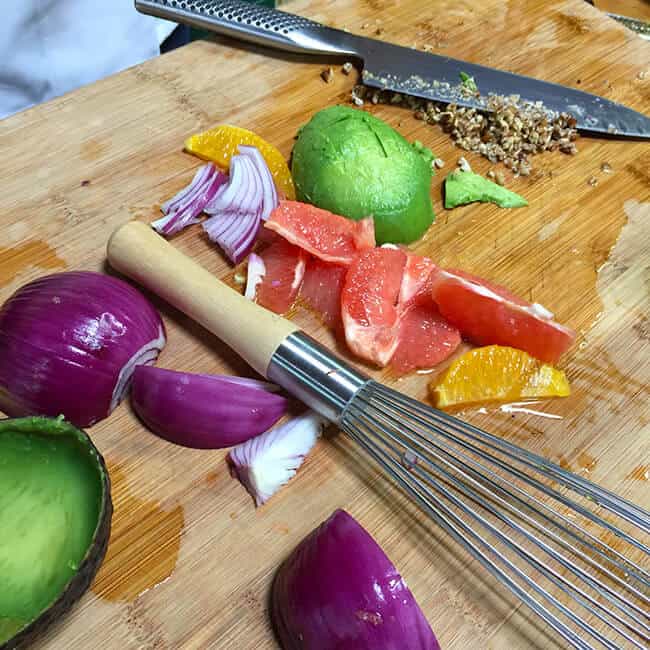 then i was able to experience something that i have never done before. learn about the art of wine tasting from Sommelier Leslee Miller. and although i do not drink, i found this to be very interesting. we learned everything from how to taste wine to how to pair it with foods. Leslee also shared with us how impressed she was with the selection and quality of wines sold at ALDI....especially for the low prices they are sold for. i can tell you from what she was sharing with us, that if you are a wine drinker, you will want to check out the wine at ALDI. it will probably become your new favorite place to shop for wine. she even told us that she likes to guess the prices of each bottle of wine before she finds out the true price – usually guessing at least $7-14 more above the true price of each of the bottles of ALDI wine.
finally, we ended the day with more food of course. a lunch with a beautiful view of the vineyard. all the food again being from ALDI and oh so yummy. and if you have notice all the pretty flowers in my photos, do know that they too are also from a local grower that supplies ALDI flowers. yes, ALDI also sells flowers from local growers – and they are fresh fresh fresh. i took some home from the event and they are still alive two weeks later.
i left the 'Taste of ALDI' event feeling inspired and excited. i look forward to shopping in a new way and finding new products that my family loves. i also want to tell everyone i know about ALDI. you really need to give these new California stores a chance. i am confident that you're going to love them and their products just as much as i do. not only because of the savings, but because of the quality and freshness you will find. so be on the lookout for a store and hopefully pop in a check it out. and because ALDI saves you money by renting the carts for 25 cents and by having customers bring their own bags, don't forget a quarter for the carts and your reusable bags!