This post is sponsored by Orville Redenbacher's Popcorn.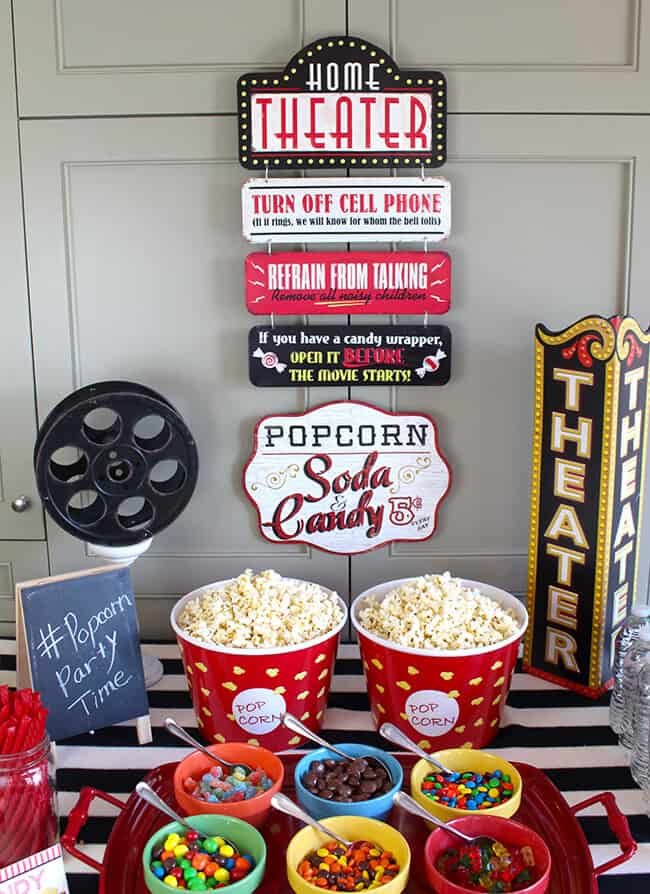 there is something magical about watching a movie outside under the stars. it may be the fresh air or the twinkling stars or the relaxed atmosphere – i'm not sure what it is, but everyone seems to love a backyard movie party. our family sure does.
our family has had many backyard movie parties over the years: some with our neighbors that are very low-key – simply watching a movie over pizza and popcorn – and some full-blown backyard movie parties where we invite lots of people and decorate the place. but no matter what kind of backyard movie party we have, there are a few things we always make sure to have at all of our parties.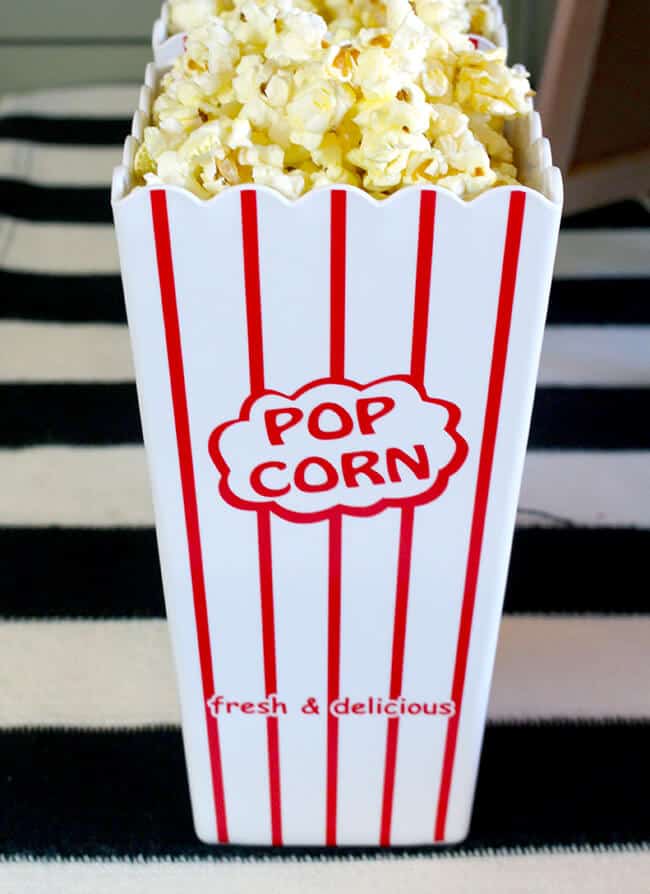 How to Throw a Fun Backyard Movie Party
CHOOSING THE RIGHT MOVIE
first thing's first: when you have a backyard movie party, you must make sure you pick a movie that is right for your guests. consider your youngest guests and what they would be comfortable with, and go from there. if the party is for both kids and adults, make sure you pick a kid-friendly movie that adults will enjoy too. If the party is only adults, consider everyone's interests and choose a movie that would fit the majority's likes. you might also want to have a few movie choices and take a vote for which one you will watch. or how about a double feature?
POPCORN
besides the movie, this is the most important thing you will have at a backyard movie party. you want your party to feel like you are at a movie theater, where you can get buttery movie-theater popcorn. our family's popcorn of choice is Orville Redenbacher's Movie Theater Buttered Popcorn. YUM! you just can't watch a movie without snacking on some popcorn, and Orville Redenbacher's Movie Theater Buttered Popcorn is our family's go-to brand. It pops up in minutes, giving you a delicious, light, and fluffy snack that's perfect anytime. plus, it tastes just like movie-theater popcorn.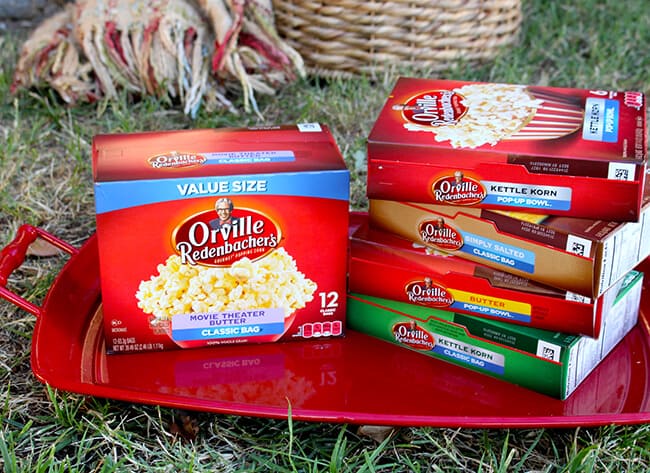 and if you are looking for different popcorn varieties, make sure to check out all the Orville Redenbacher's popcorn choices. there are a lot of great varieties.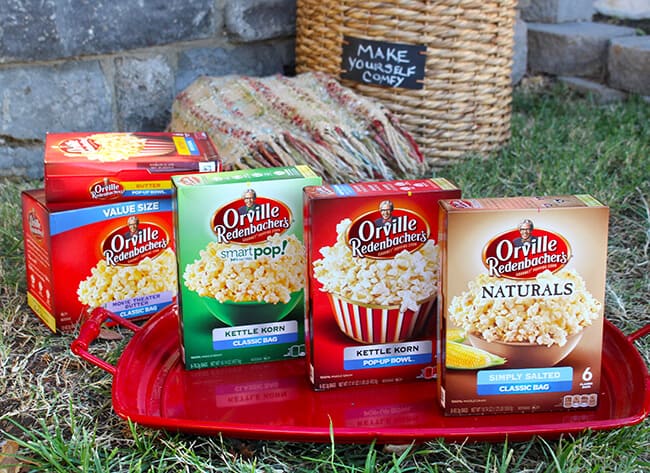 CANDY AND DRINKS
along with the popcorn, you are going to need candy and drinks. making a concession stand will make your backyard movie party feel like a real movie theater. either put a bunch of candy bars on a platter and set up the drinks in a nice display, or do something like we do and keep the food indoors so people can come in and get what they please. a DIY concession stand is always the highlight of a movie party.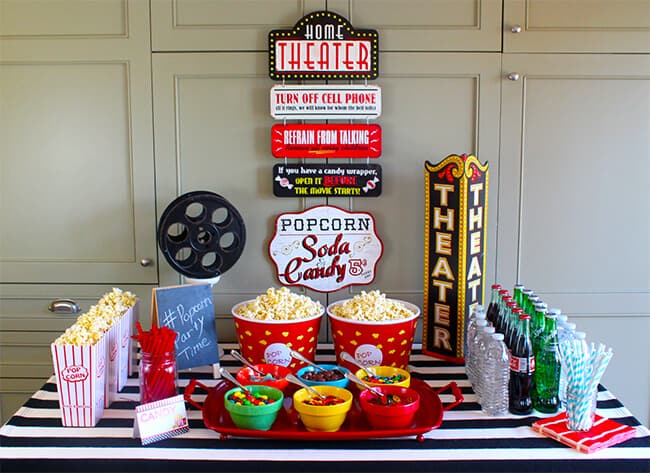 my personal favorite thing to make is a DIY popcorn mix-in station. guests can fill a personal tub with popcorn and mix in their favorite candies, such as chocolates, gummy candy, or jelly beans. that way, you get a bit of sweet and salty, and guests can pick and choose their favorite candy to enjoy during the movie.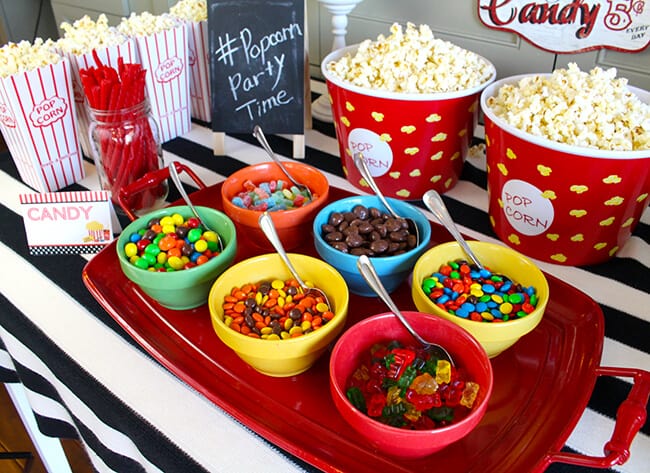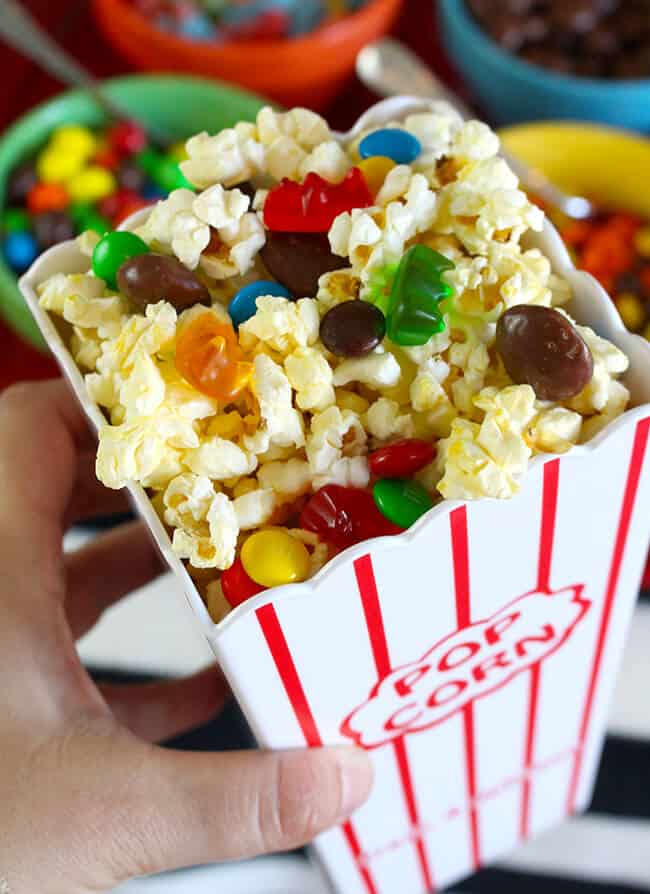 make sure to have a variety of drinks, including bottled water. using the old-fashioned bottles is a nice touch.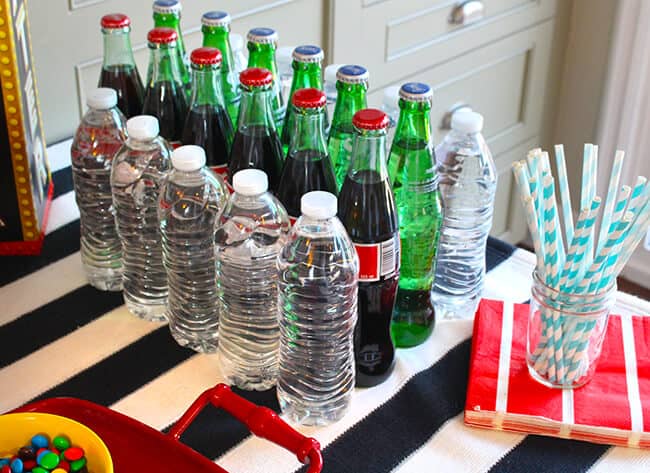 and of course, don't forget to put out the popcorn. i like to buy the value pack of Orville Redenbacher's Movie Theater Buttered Popcorn and pop it just before the movie so the place smells like a movie theater. everyone's taste buds will be excited.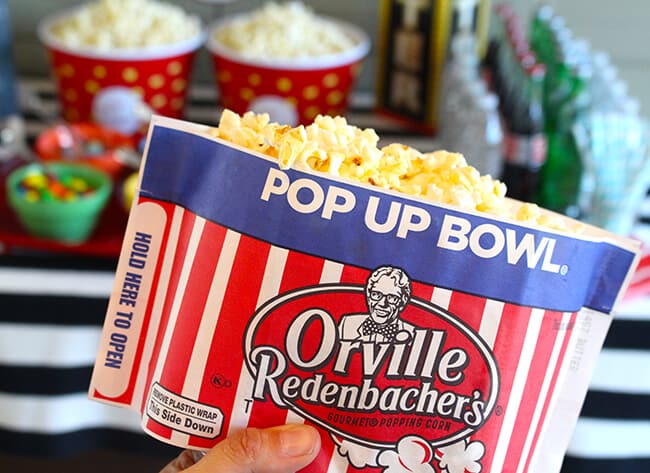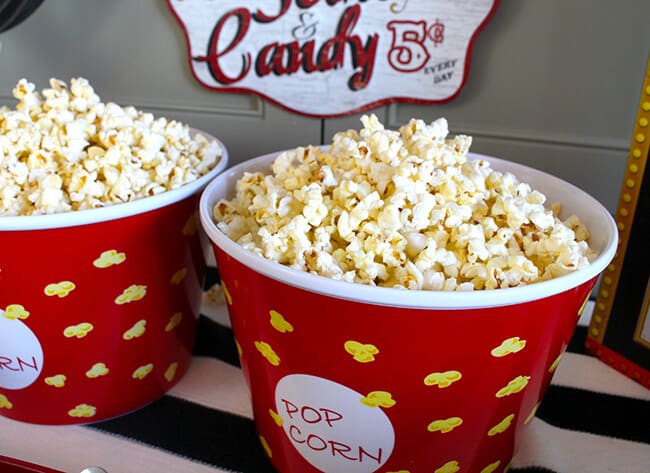 OUTDOOR MOVIE SET-UP AND DECORATIONS
it doesn't matter whether you buy a fancy movie projection system or hang a white sheet on the wall or garage door, as long as your movie is large enough for all your guests to see. you can have it on grass and guests can sit on blankets, or my personal favorite is the driveway because the garage door makes a perfect backdrop to project the movie onto. you could also carefully set up your big-screen television outside—just make sure the weather is nice. party-rental places also often have setups that are inexpensive to rent for an evening.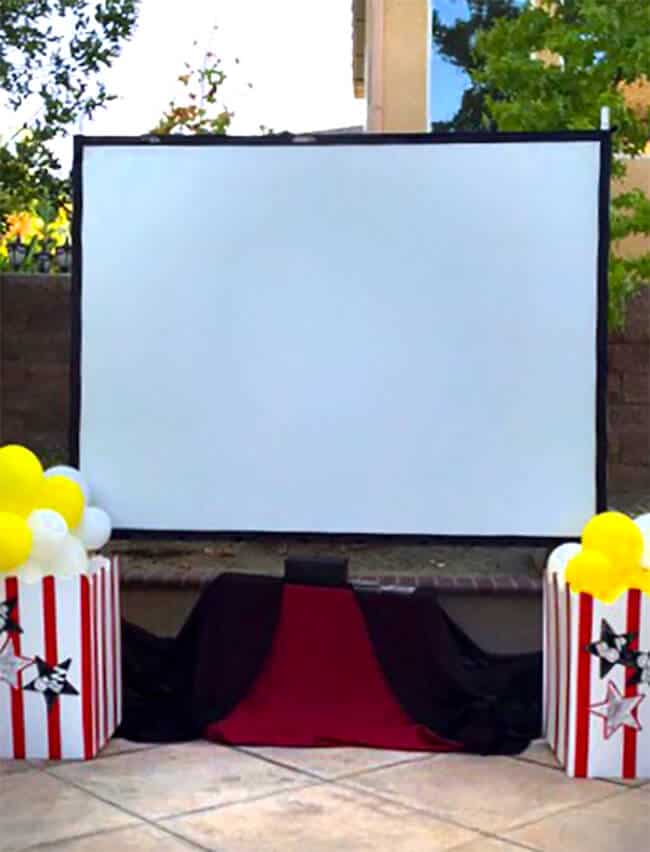 as for decorations, you can find lots of cool things at your local crafts store or on Etsy. vintage signs are fun too. i found this sign that i thought was perfect for our movie party.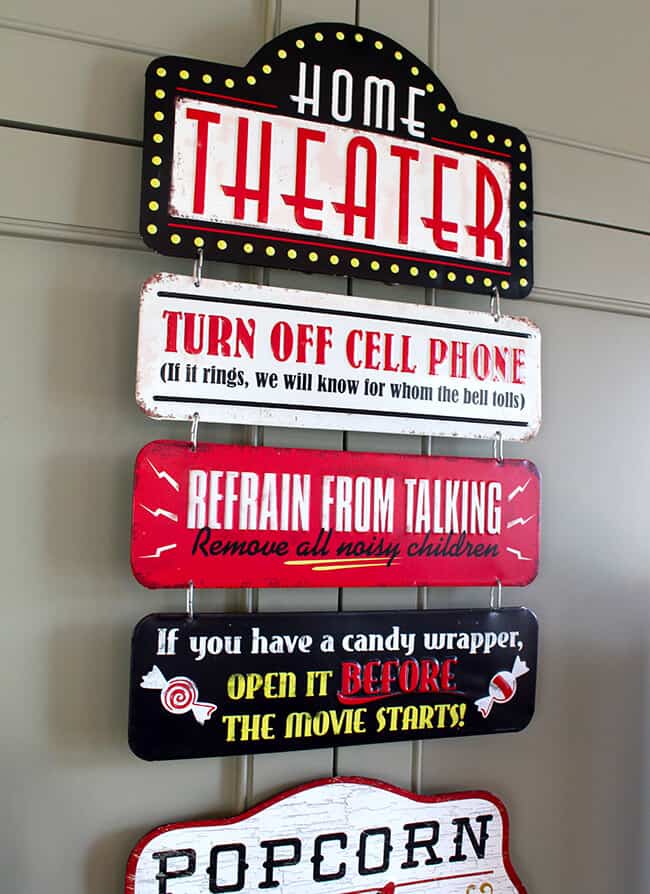 CONFY SEATING AND BLANKETS
you want your guests to be comfortable, make sure there is plenty of seating available. lawn chairs work great, especially if they can recline. sometimes we move our sofas to the backyard just for the evening. it is nice to have a bunch of blankets and pillows available for your guests to use.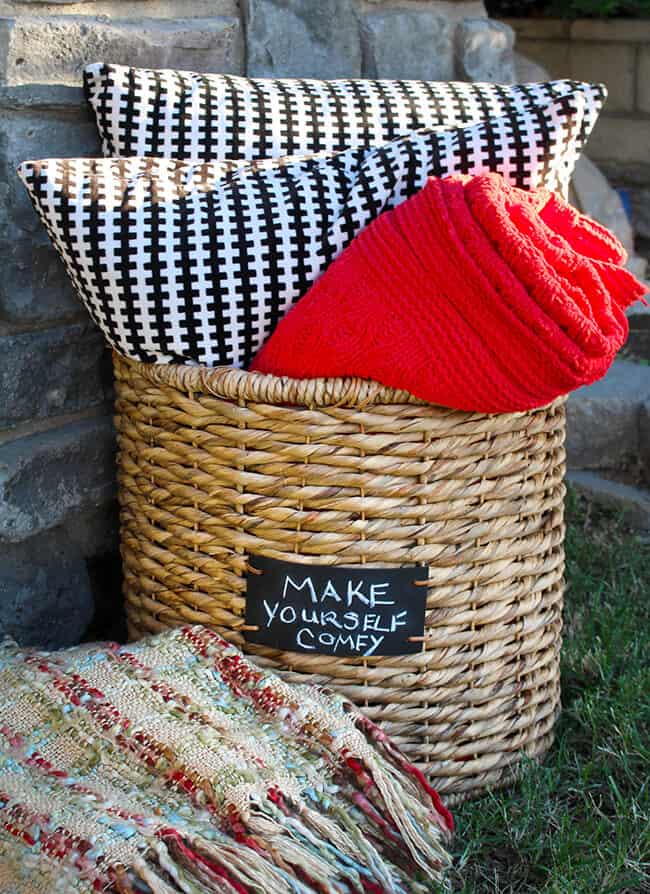 finally,
INVITATIONS
you want people to come to your party, so how about sending them a special invitation. i created this fun invite to send out to my guests. it can be used in an email or sent in the mail. i am including the free Movie Party Invitation Printable so you can download it to use at your own backyard movie party.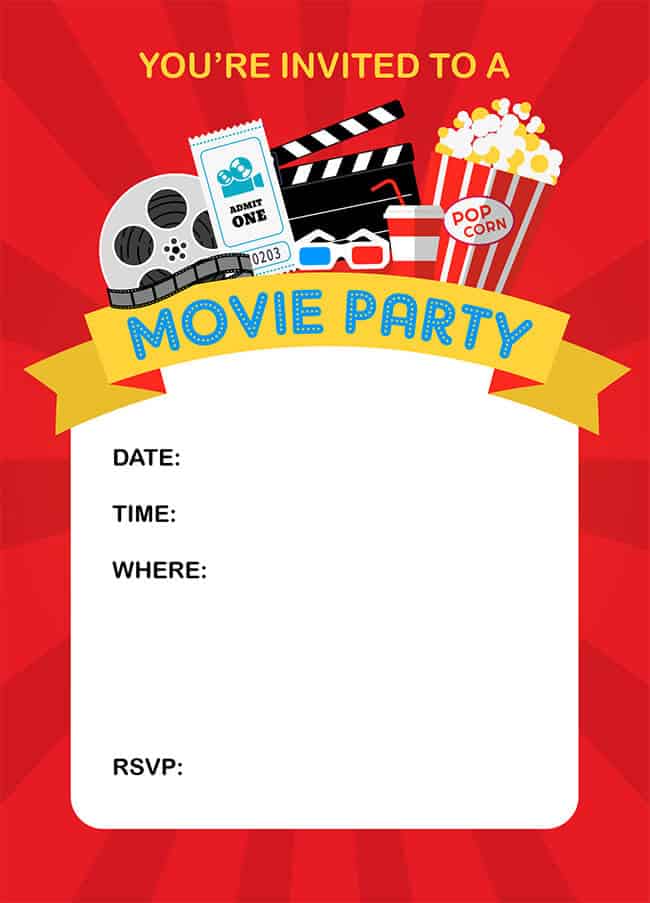 click here to download the FREE Movie Party Invitation Printable.
now that you have the perfect movie, popcorn, concessions, the backyard set-up, and comfy seating, you are all set to host a fun backyard movie party. all you need now are the guests!!! it now #PopcornPartyTime!