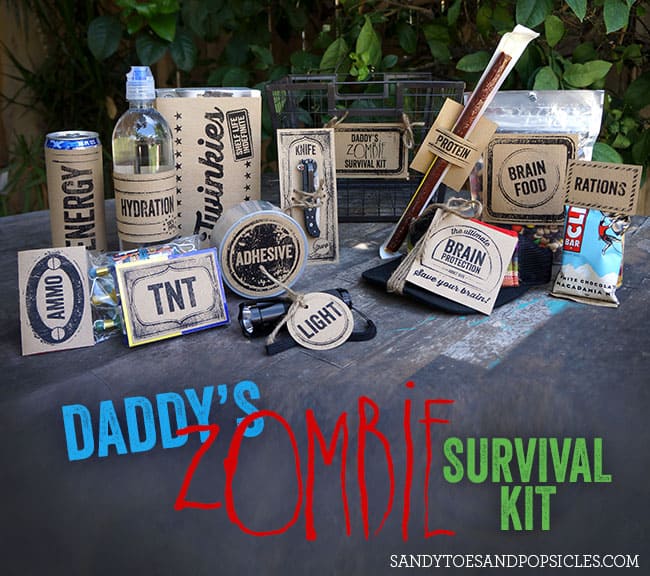 so, i hate to admit it, but before this week, i didn't really know what exactly a zombie was. my boys and husband are constantly talking about a zombie apocalypse, and how we would be moving into Costco if there was one. they also play that iPad game, Plants vs. Zombies…and i hear every one talking about the hit show The Walking Dead. so you would think that i would have learned a bit about zombies. but i guess i didn't really care to until now. apparently, they are pretty popular now days.
every year i make a special printable for Father's Day to share with my readers. i have done a Father's Day Star Wars printable, a Father's Day Mustache Printable, a Father's Day Angry Bird printable and i even made a Father's Day La Luche Libre printable. this year, since all of my boys, including the hubby have been talking about zombies so much, i figured that i would make a Father's Day Zombie Printable. apparently zombies are dead people who want to eat our brains. the only way to kill them is by killing their brain at the brain stem (i think). and if there was a zombie apocalypse we would need to take matters into our own hands and live off of what we had. we would need lots of supplies and rations to get us through the apocalypse.
so in keeping with that theme, we made a Daddy's Zombie Survival Kit with all the things he may need if there ever was a zombie apocalypse. it was pretty fun to make, and the boys are super excited to give it to their dad. luckily…if you have a zombie loving dad or kids, i have included this Zombie Father's Day printable for you to download as well!
to make the kit, you will need 7 sheets of colored card stock. i used wood textured kraft paper…i love how it looks. then just print out the printable on the card stock, cut out the labels and attach them to your gift items with tape, glue or twine.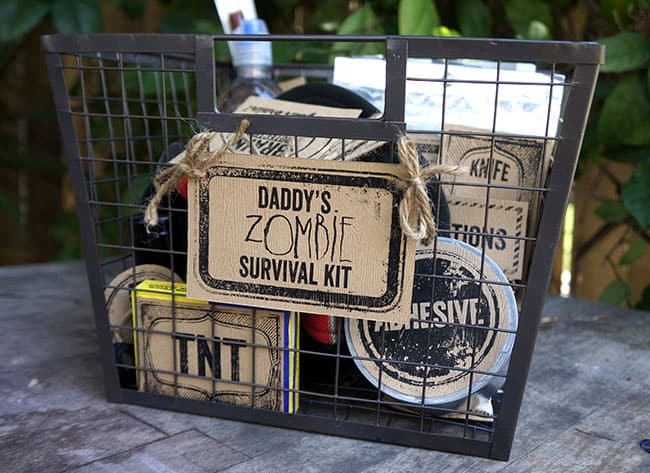 i started off our kit, by buying a cool vintage bin to put all the survival items in. i was going to use an old tool box, which would have been great, but i thought this would work too. i tied a tag that said "Daddy's Zombie Survival Kit" to the front of the basket. i have also included tags for Grandpa, Papa and Father, just in case you use a different name for your dad.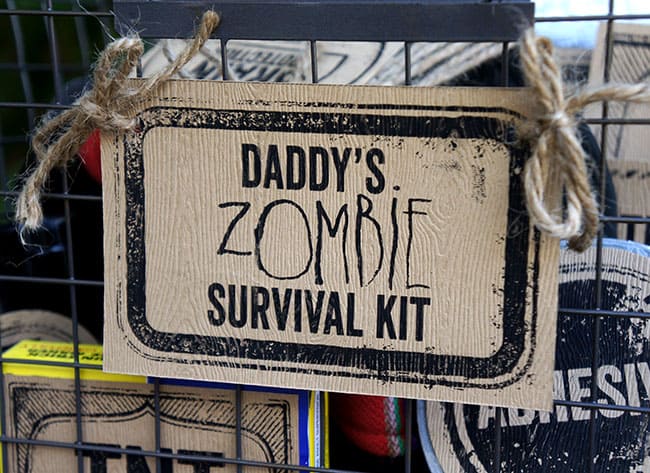 then i packed the kit with food items, utility items and a few fun things you could use for a "zombie apocalypse".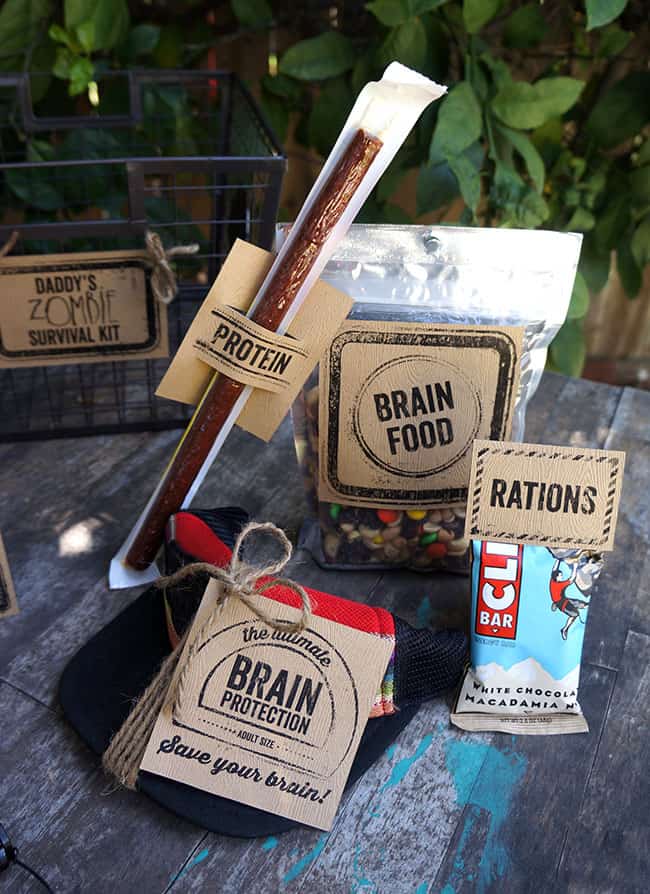 for fun we got dad a new hat and called it "Brain Protection." i guess zombies really like to eat brains…and we don't want them to eat ours.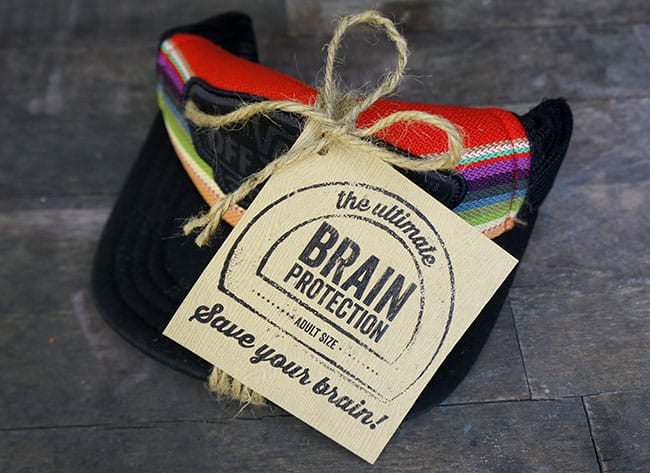 beef jerky, an energy bar and a bag of trail mix make good sustainable foods for when you are on the go. i got this great bag of trail mix at Target, and made the label to fit perfectly over the existing label.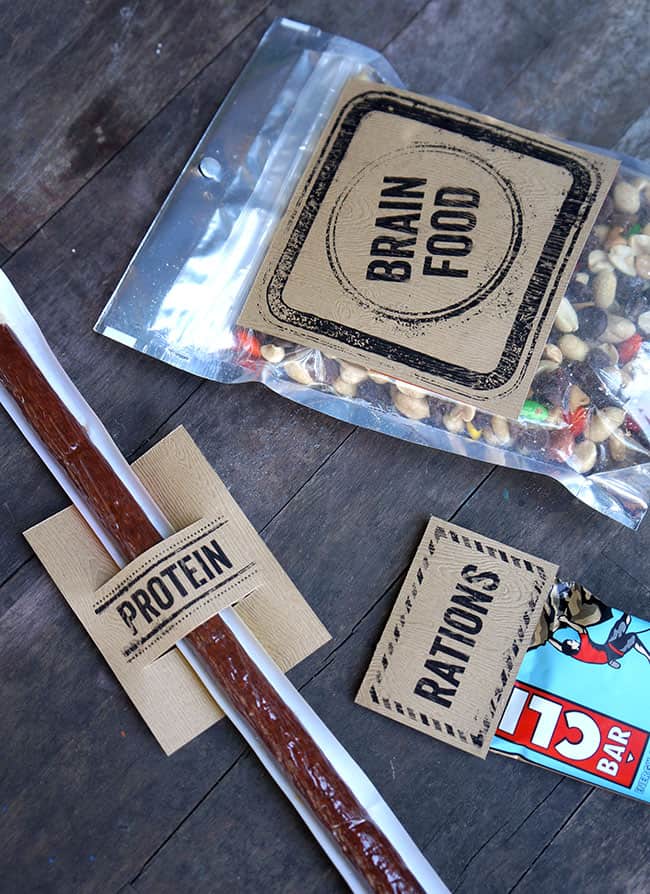 besides food, you will also need some survival  items to get you through the hard times.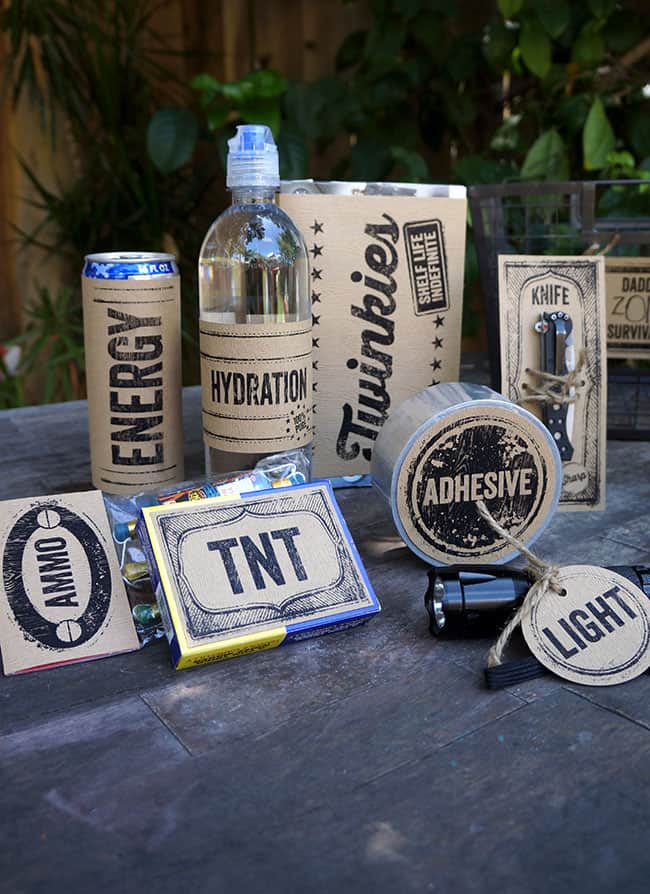 you will definitely need a knife to kill the zombies! how about getting dad a nice blade or pocket knife. i attached a nice one to a card with thick twine. i think it looks pretty cool. and our dad loves Duck Tape. he can make and repair most anything with it…so that was included in the zombie survival kit. plus a flashlight to see in the dark.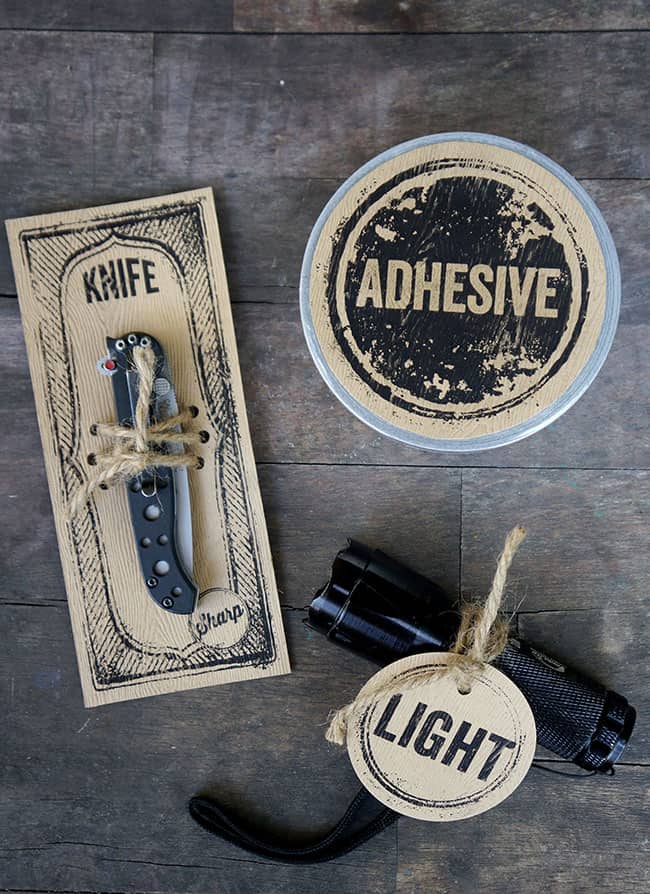 ammo (aka party poppers) and Pops! (little poppers of gun powder) will serve as ammunition against the zombies. these are really fun to play with dad…under the proper supervision that is!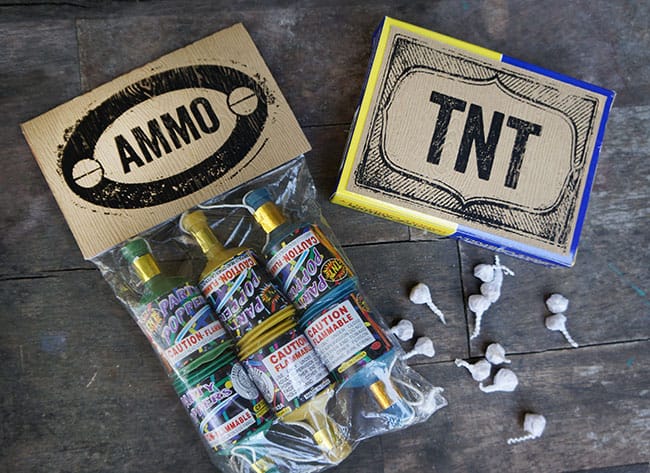 and don't forget to hydrate. water and energy drink are a must during a zombie apocalypse.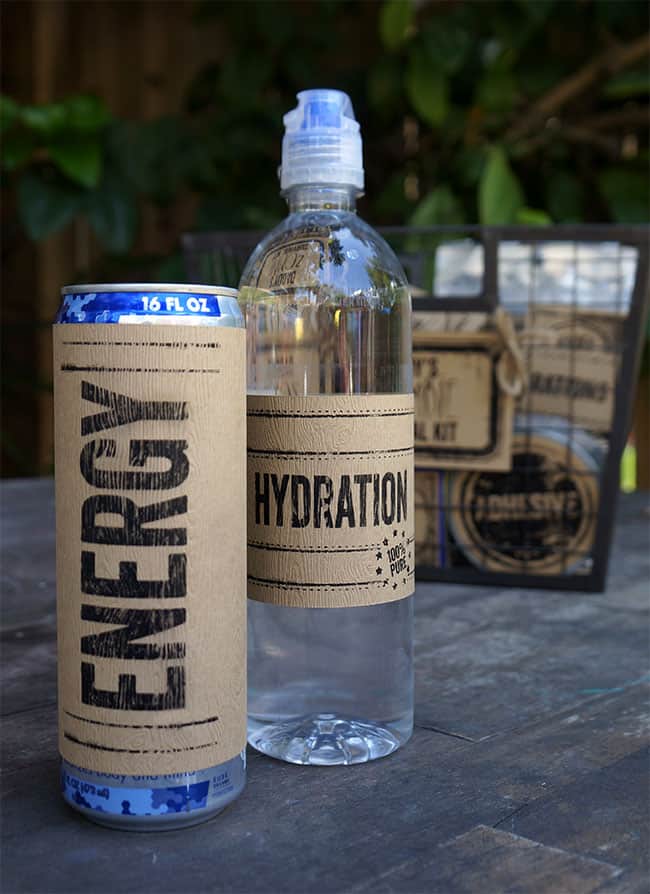 when asking people about a zombie apocalypse and what you may need, someone jokingly said Twinkies…because they last forever. so yes, we got some.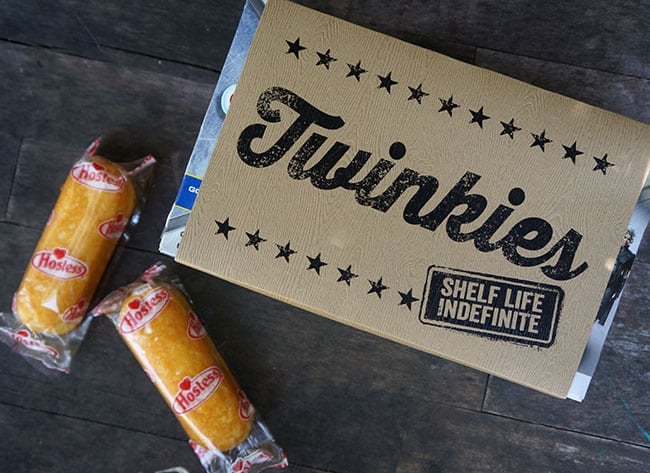 to finish off our Father's Day Zombie Survival Kit, i designed this fun card to give to dad. it says "Happy Father's Day. Thank you for loving us even when we make you feel like a zombie." it's a fold-over card, so once you print it out, you can write a nice message to dad inside.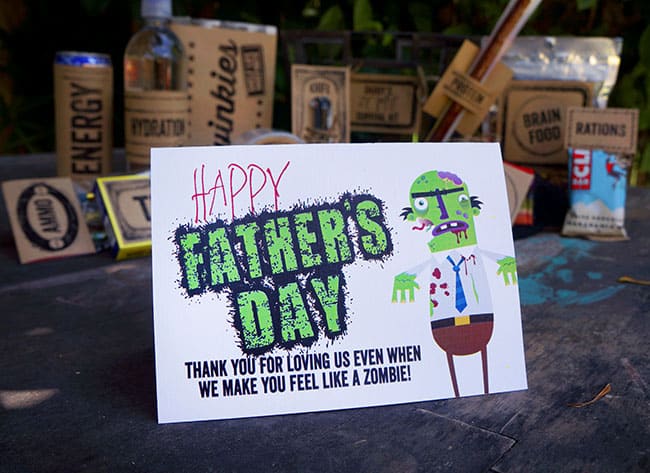 and with that, our entire Daddy's Zombie Survival Kit is complete. of course you can add whatever you would like to your own, and change around the tags to go on whichever items you are giving your daddy. and if you do make one for your dad…i hope he enjoys it!
Happy Father's Day
click here to download the Daddy's Zombie Survival Kit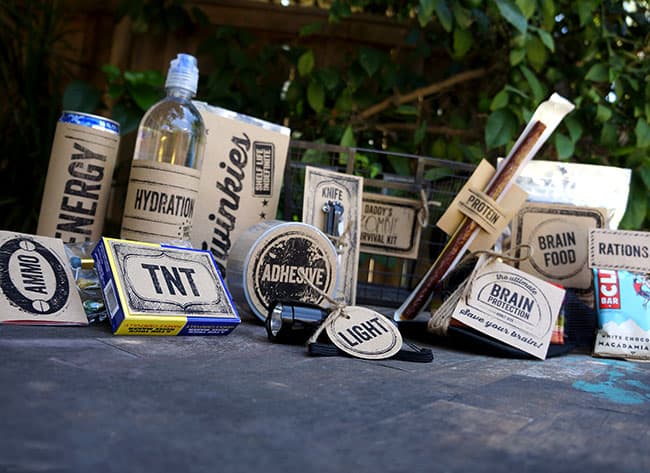 check out these other great Father's Day Gift Ideas!
Star Wars Father's Day Kit with Free Printable
Father's Day Mustache Jars with Free Printable
La Lucha Libre Father Day Gift and Free Printable
Angry Birds Father's Day Kit and Free Printable
DIY Father's Day Tie
Pin it!