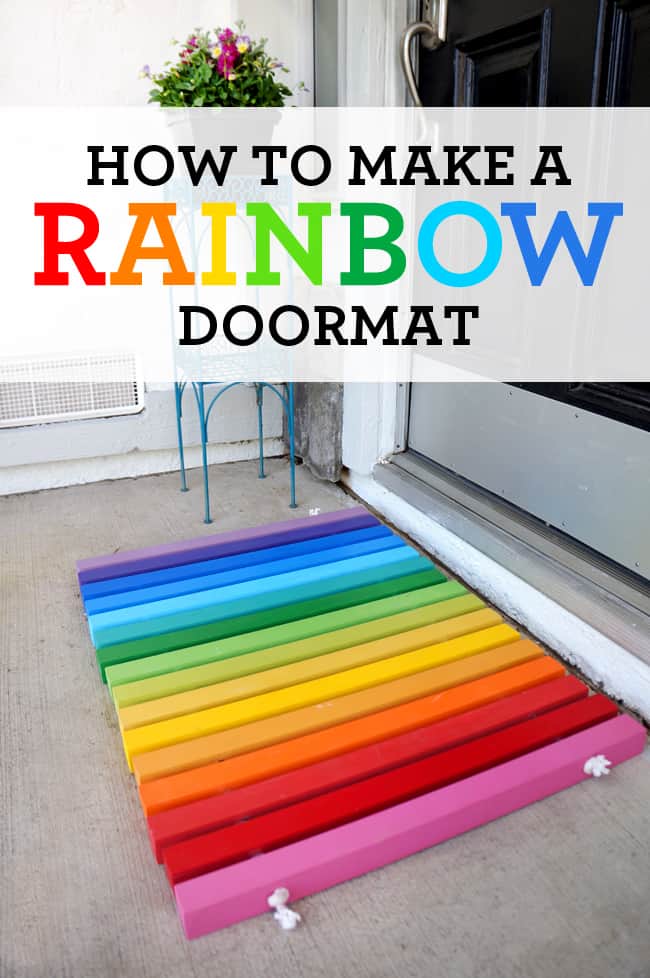 a couple of years ago i received the Lowes Creative Ideas magazine in the mail and saw this great rainbow doormat. i told my husband that i wanted it, and he promised to make it for my birthday. he decided he not to use the directions, and tried to make it on his own. needless to say…it didn't go very well. flash-forward two years later to the present, and he still hasn't finished my rainbow doormat. and with my birthday last weekend, i decided i was finally going to get a rainbow doormat!
so i came up with plans for a more simple doormat. it would just be 2 x 2's strung together with ropes, and stainless steel nuts to act as spacers, keeping the boards separated. i figured that we could accomplish making this doormat in just a few hours. and we did…and i love it.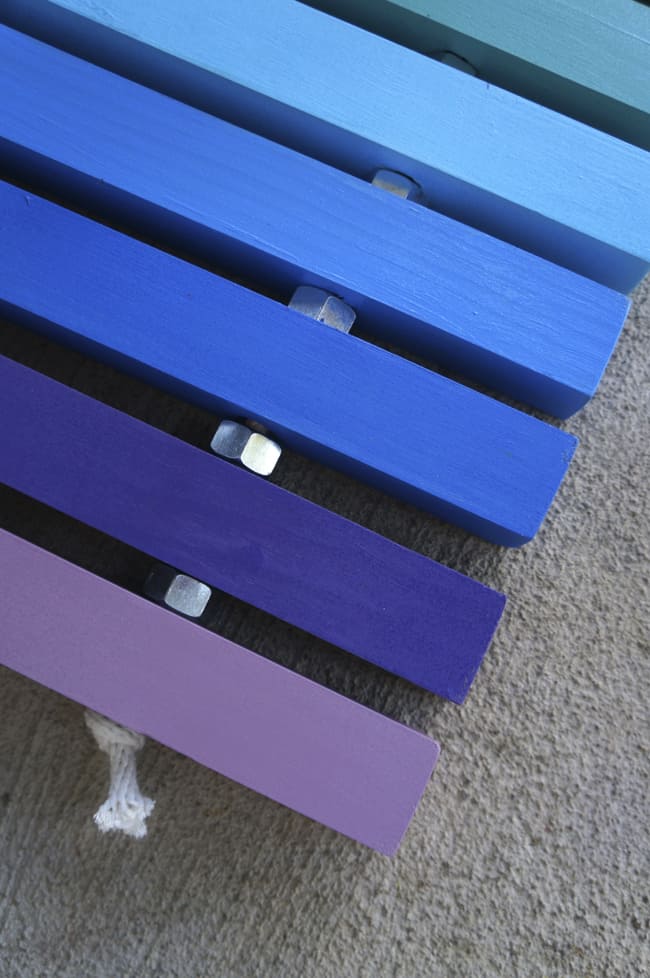 i thought i would share how we made it, since many people have been asking. so continue reading below for the complete instructions on how to make it. i was able to buy everything i needed at my local home improvement store.
to make this doormat, here is what you will need:
• (4) 2" x 2"" x 8' Lumber cut into (16) 23-½" boards
• (30) ⅝" Stainless steel nuts
• 7' of Rope (i used cotton clothesline)
• Drill with ¼ - ⅜" drill bit
• Sandpaper
• Paint (i used Plaid FolkArt Acrylic paints from my local craft store. i like the range of colors they offer. but you could also use spray paint or house paint)
• Clear Polyurethane Coating (i used Krylon Clear Polyurethane Coating Spray)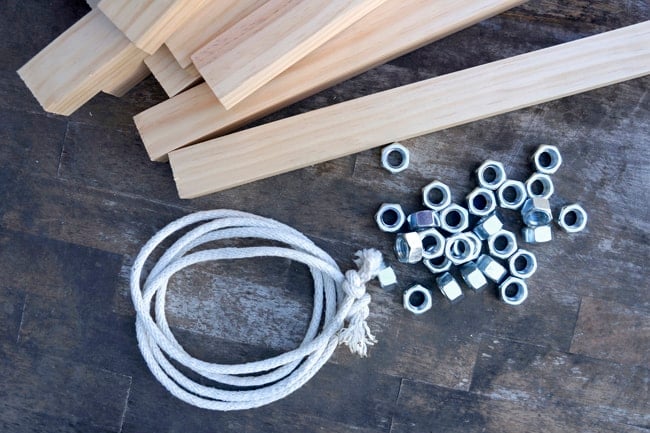 first, cut the 2"x 2" x 8' lumber into (16) 23-½" boards. you can probably find inexpensive pine for $.99 per 8' board. however, i felt that the soft pine wouldn't be durable enough to withstand all the foot traffic at my house, so i opted to buy the more expensive kiln dried wood. even though it was about $8 per 8' board this was the best decision. not only is the wood smoother and straighter, it also doesn't dent or ding as easily.
also, it was awesome that home improvement store cut all the boards for me…i didn't even have to make a mess with the saw at home.
next, drill two holes in each board by measuring 4 inches down on each side of the (16) boards, and marking the center point. drill all the way through.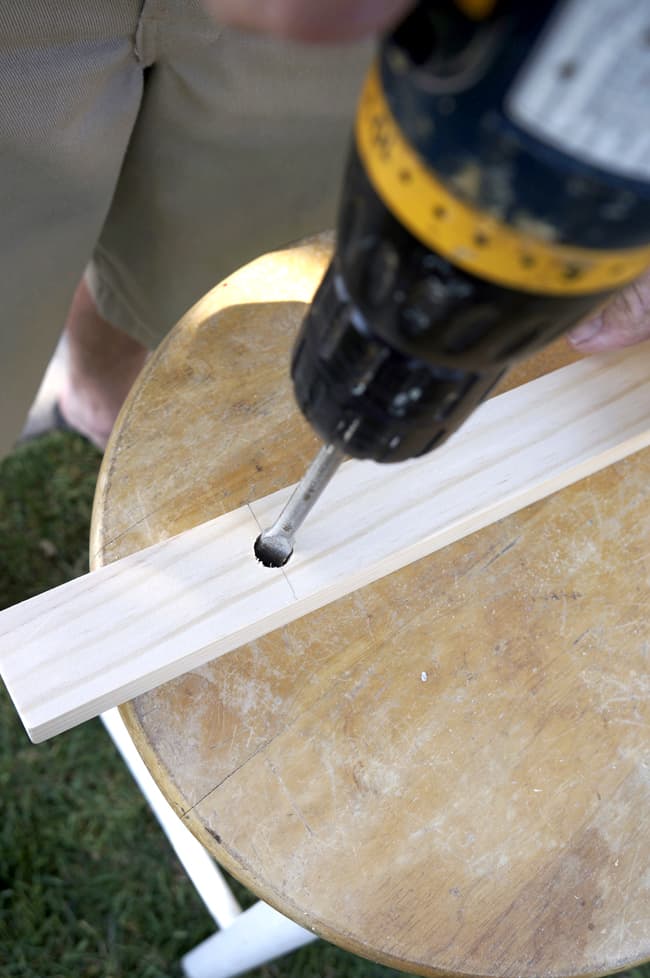 once all the boards have been cut and drilled, use sand paper to sand all the rough edges. you can now paint the boards any color that you want. i recommend two coats of paint.
when the paint is completely dry, spray two coats of clear polyurethane coating to seal the boards. you can use gloss or matte. whichever you prefer. let the spray completely dry.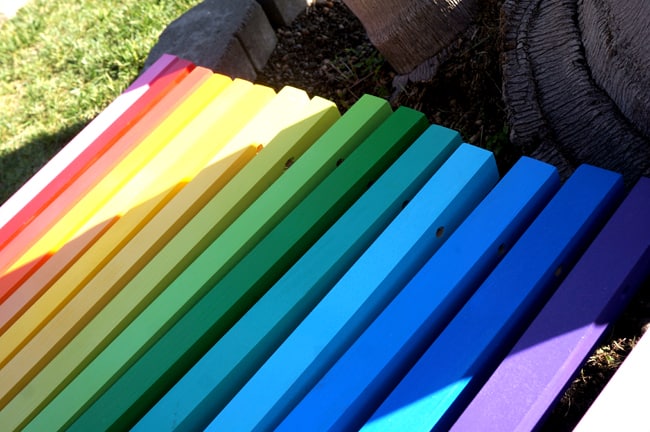 now is the fun part….putting the doormat together.
start by tying a knot at the end of the rope, and wrap masking tape on the other end of the rope to make it easier to thread through the boards. lay the boards out in the order that you want your finished doormat to be. thread the rope through the first hole, then add a nut spacer.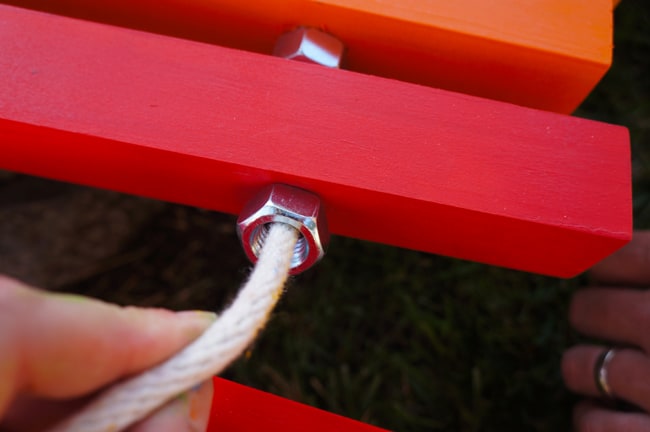 repeat threading the rope and then a nut spacer until you have used all the boards.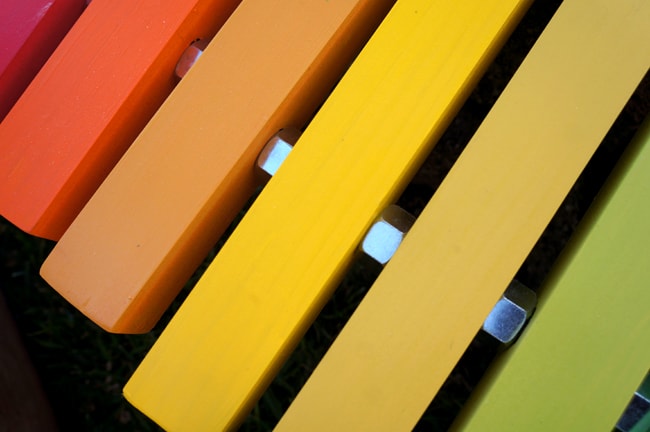 finish by tying off the rope and cutting it leaving 1" tail.
repeat these steps with the other set of holes at the other end of the boards.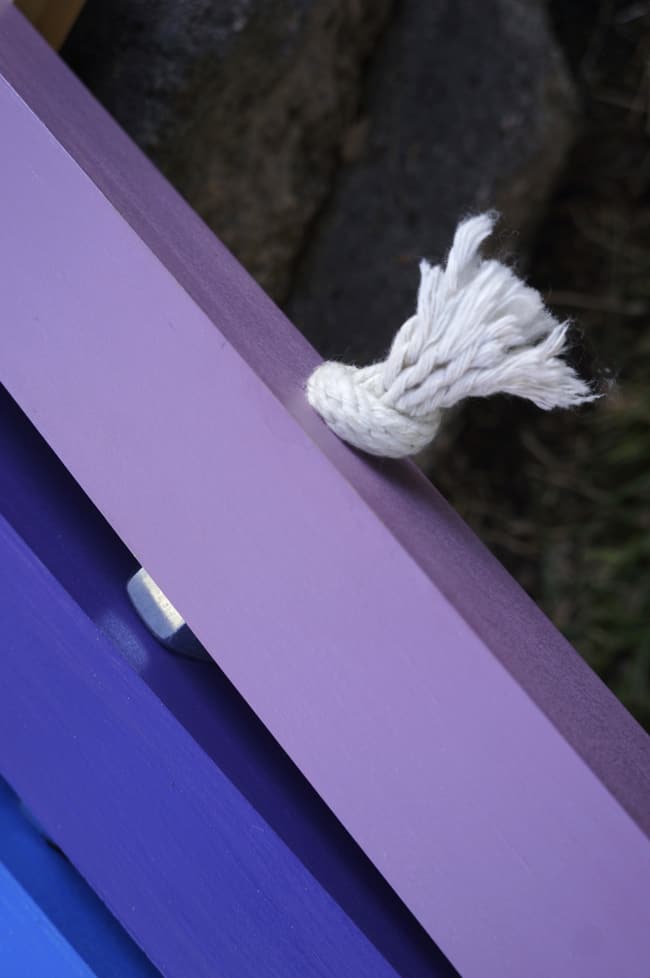 here is the finished product.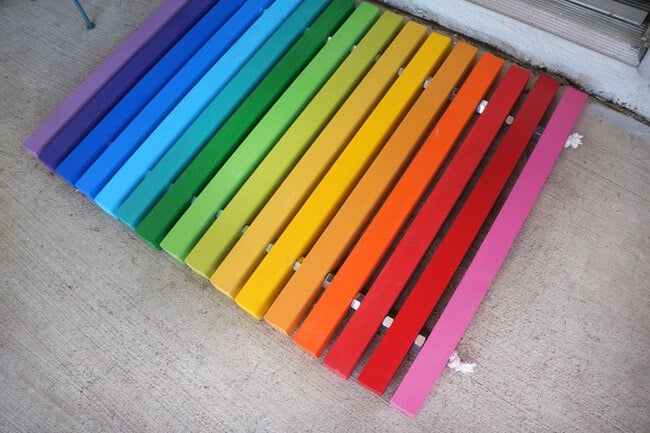 i am thrilled with how it turned out….and everyone who has come to my front door has commented on how great it is. people have even offered to pay me to make them one. luckily, they can just come here and learn how to make their own.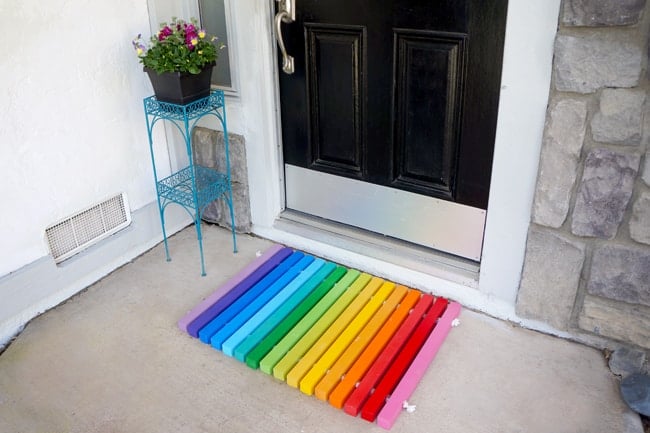 i just love my RAINBOW doormat.