This is a sponsored post on behalf of Tulip.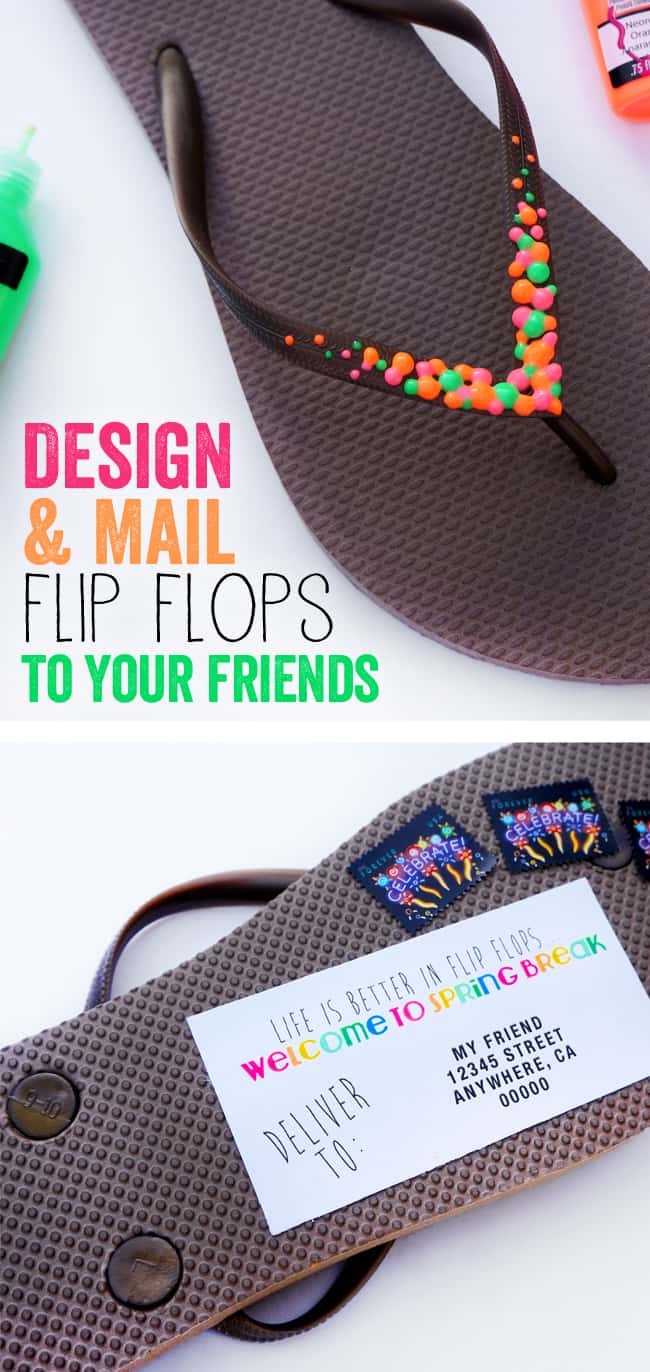 with spring break coming up this next month, and the continuous hot weather here in Southern California, i feel like it's time to start putting away the winter wardrobe and get ready for spring. and i thought it would be fun to get my friends in the mood for spring as well. so how about mailing them some flip flops! did you know that you can mail flip flops without putting them in a box or envelope?!! yep...if you place a mailing label and stamps on EACH of your flip flops, you can put them directly into the mail with out any packaging.
and i didn't want to send just any old flip flops, i wanted to add my own fun touch to them. which i did using Tulip Slick Dimensional Mini 3 Packs in NEON. using neons as bold pops of color are all the rage in the fashion industry. they are a great way to update your neutral wardrobe. whether its adding color to the oh so hot black & white trend or if your all about neon & nude, Tulip has some great products to create some fun DIY neon accessories and even clothing.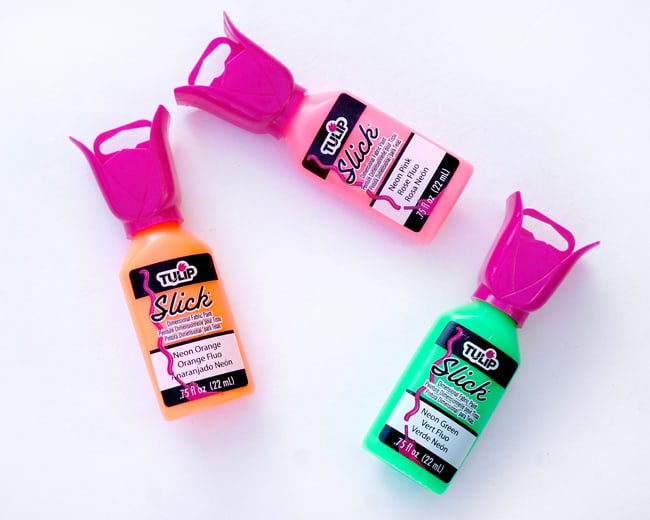 you can pick up these exclusively at your local Michaels Arts & Crafts store. for those folks without a Michaels store in their area, you can order the products at iLove To Create. they are currently offering free shipping on any of their NEON Tulip Products for the month of February when you use coupon code NeonFEB (ends February 28th).
so, i grabbed a few pairs of cheap flip flops from the store, they were 2 pairs for $5.00. what a bargain. it will cost more to ship them. this is a great project for all ages. even little ones can decorate pairs of flip flops for themselves or their friends. it would make a fun spring break or summer craft project.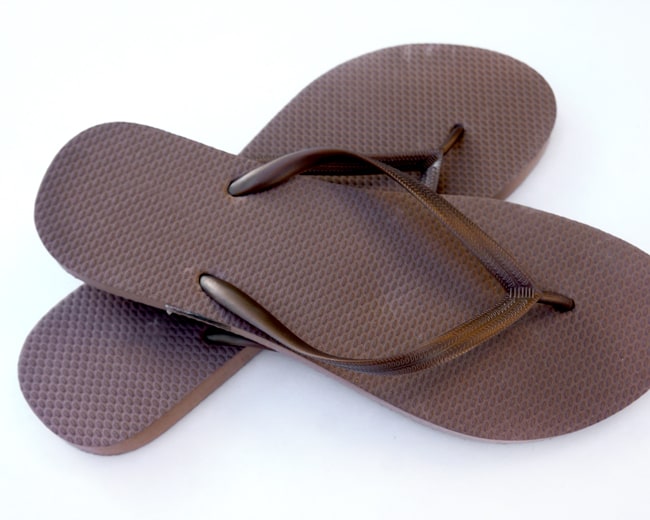 i chose a nice metallic brown neutral because i wanted the neon paint to really pop out. i thought that the easiest design would be to do stripes, cheverons or dots...dots was what i was in the mood for...so dots it was.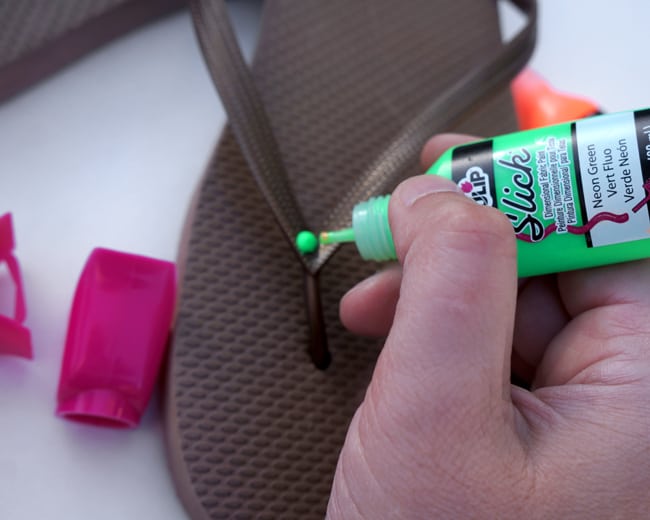 i carefully added more and more dots in different sizes and neon colors. i kept going until i was satisfied with my design. i think it turned out pretty cool. now i wish i made some for myself.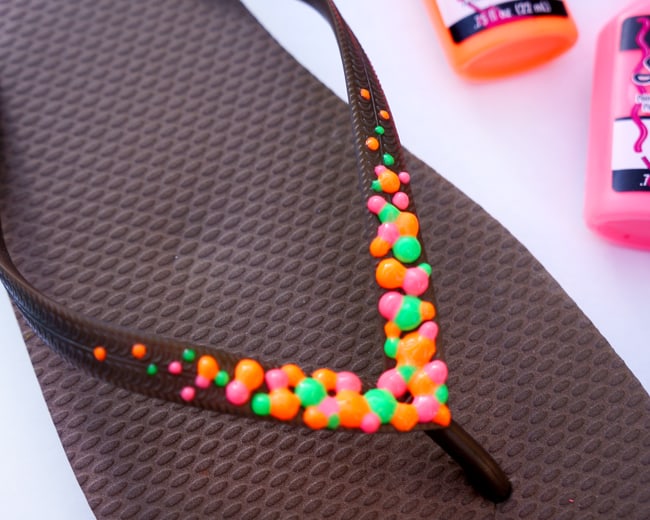 you will want to let the paint dry overnight. and once it is dry, you can get them ready to mail. you will need to weigh each flip flop to find out how much postage each will cost. it cost me $2.39 per shoe...at almost $5, it cost me more to mail the shoes than buy them. please remember that you have to put postage and a mailing label on BOTH flip flops.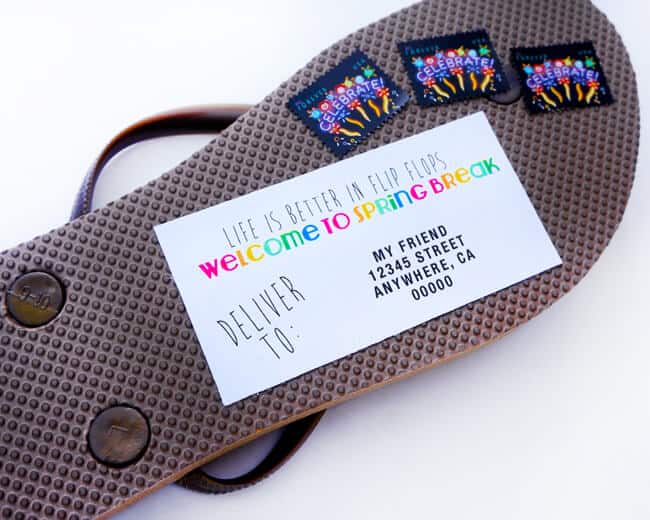 you can make your own labels, or i have included my labels as a free printable. i have done these labels for "Spring Break" or "Summer" for your personal use. they fit Avery Shipping Labels for copiers 10 per sheets, or you can just print them out on standard paper and tape them to the flip flops with double-sided tape. make sure you tape the label securely so it doesn't fall off.
Download SPRING BREAK address label here
then add your postage to each flip flop and you are ready to send them of in the mail.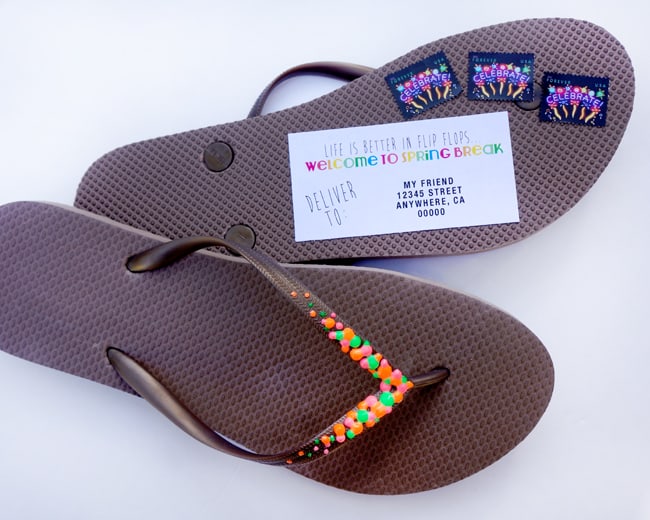 wouldn't it be a nice surprise to find a pair of flip flops in your mailbox. receiving a fun neon pair like this would surely take away the winter blues.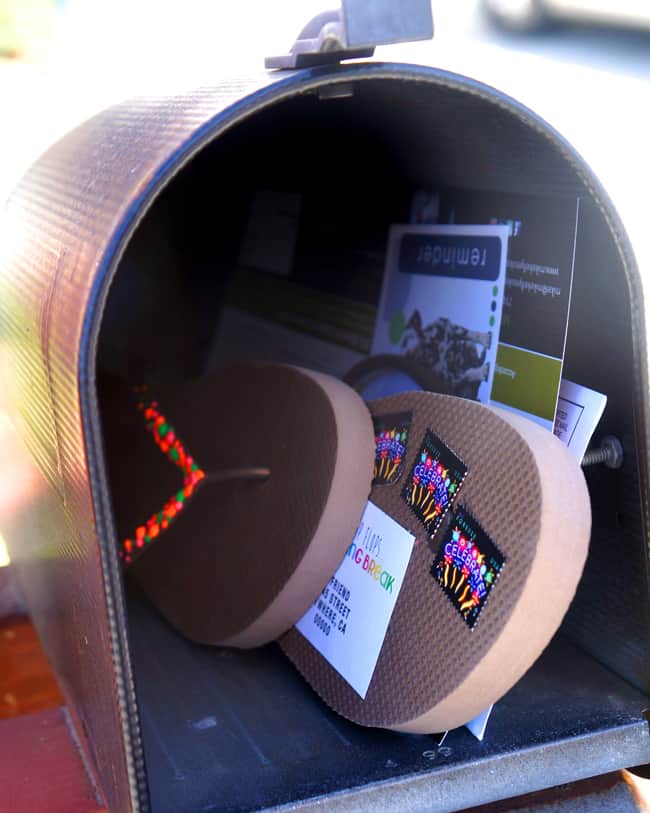 {disclosure: this is a sponsored post. i receive product to produce my project and compensation. all thoughts and opinions are my own. }