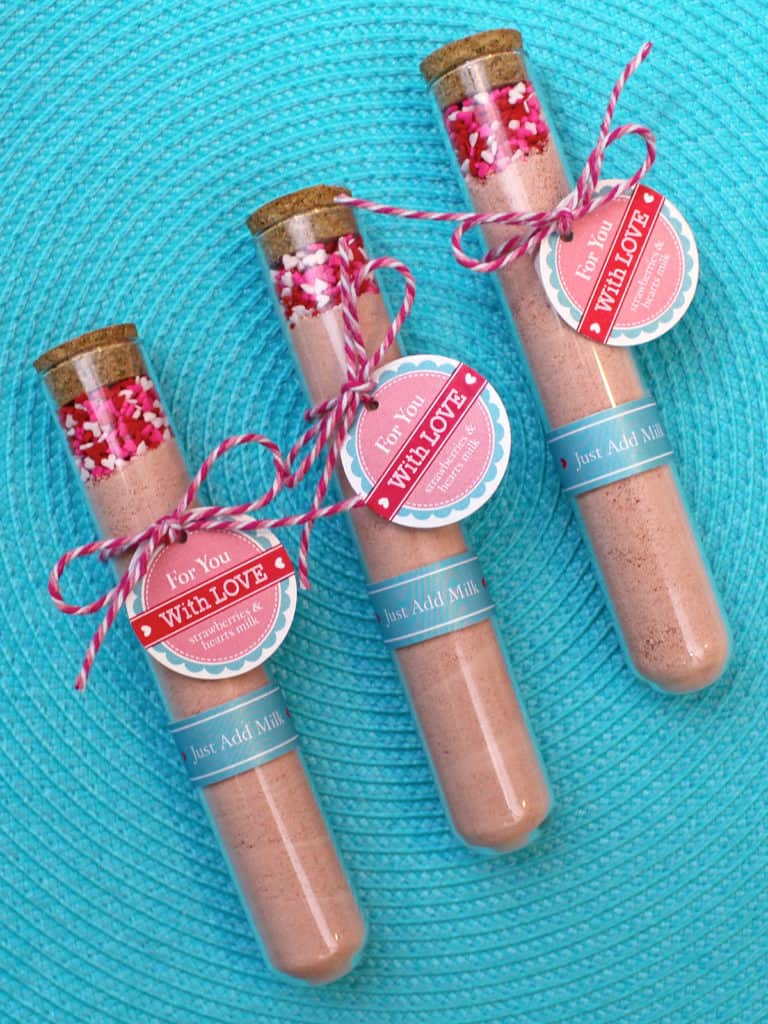 This month i participated in a dollar bin challenge with a group of bloggers. we found these glass test tubes at Michael's Craft Store for $1.50 each in the dollar bins. each of us could do whatever craft we wanted with them, so i decided to make a Valetine's Day gift with a free printable. i call my project, Valentine Strawberry & Hearts Milk Gift.
so you start off with a glass (or plastic) test tube that you can find at the craft store. make sure it has a lid that closes pretty good.for this Valentine Strawberry & Hearts Milk Gift, you need the test tubes, string or ribbon, strawberry milk powder, sprinkles, and the free printable tags and wraps printed on card stock and cut out.i used white card stock to print my tags and wraps out on, and then used a 1-1/12" circle punch to cut the circle tags out, and a paper cutter to cut the wraps out. i also used a small hole punch to punch a hole at the top of the tags.

now, all you do is fill each test tube with the strawberry milk powder leaving about an inch of space at the top, then fill the rest of the test tube up with sprinkles. make sure to leave enough room for the cork or lid to seal the test tube, but make sure not to leave any extra space at the top or the sprinkles and strawberry milk powder will start to combine.
Finally, tie the tag to the test tube, and stick the "just add milk" wrap around the test tube with double sided tape.the final product are cute little Valentine Strawberry & Hearts Milk Gifts that you can give to friends for Valentine's Day...or for any occasion for that matter.now your friend can enjoy some festive pink milk with floating hearts or sprinkles to celebrate Valentine's Day. i am so thrilled with how these turned out!
pssst....i have included the free printable for you to download, enjoy!
click here for the Free Valentine's Day Strawberry Milk Tags Printable
want to see what the other Bloggers for their test tube Dollar Bin Challenge?
check their links below....
Dinah Wulf
How to Make Homemade Bath Salts
Monika from Life with Love Bugs
Decoupage Candy Holders
Tara from A Spectacled Owls
Love Potion No. 9 Valentine Printable