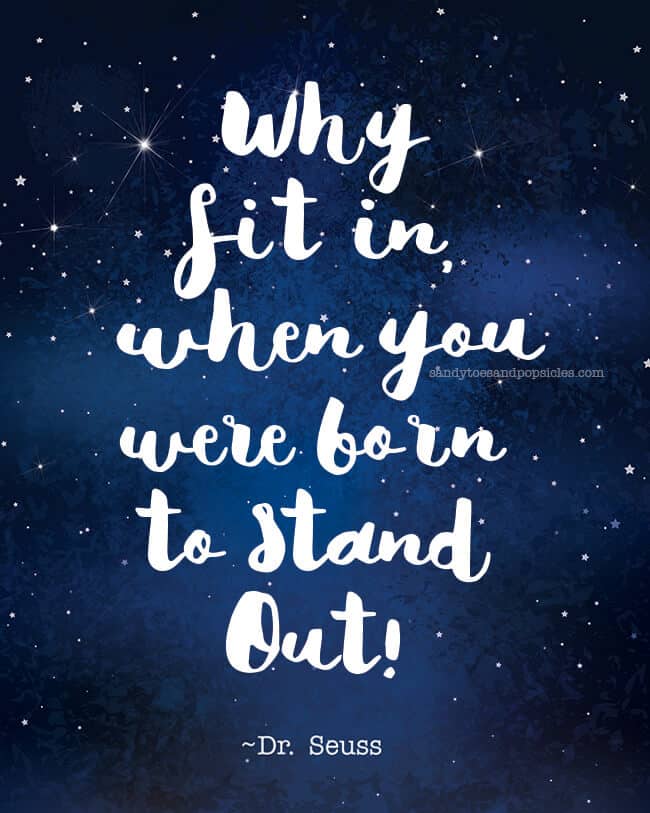 when i was a young mom, just learning how to navigate motherhood with my oldest sons, a wise woman told me something similar to this quote "Why Fit In When You Were Born to Stand Out." i had been struggling with figuring out his personality, his abilities and whether or not my child was…i guess what you would say a "normal" kid. she told me…"don't worry about that, the world needs a variety of people or life would be boring….he will do great things."
this weekend, i took my boys to see the new hit movie "Wonder" with Julia Roberts, Owen Wilson, and Jacob Tremblay. it was fantastic. we cried, laughed and gushed with all the emotions. it was the perfect way to start this holiday season. the storyline was great and the acting was perfect. it put a great perspective on life, and how others feel. our family personally deals with being bullied with one of our children, the effects are hard and heartbreaking. you can feel lost and helpless with nowhere to go. my wish would be for everyone to see this movie and hopefully get a perspective on the effects of it. and also see that there is greatness and special gifts within everyone….so treat them kindly. just as the wise woman once told me…the world "needs a variety of people or life would be boring."
"Why Fit In When You Were Born to Stand Out"  happened to be one of the quotes in the movie, and i've always loved it and instilled it in my kids. i thought it would be nice thong it up in our home, so i created this 8 x 10″ printable that can easily fit into a frame i already own. you are welcome to use it too!
click here for the free 8 x 10″ printable
i highly recommend taking your children to see "Wonder." it's great for all ages, my seven year old even enjoyed it. i hope that by seeing this movie, my kids will always….always and forever…treat other kindly. that they will "choose kind". what an awesome world that wold be.
#ChooseKind