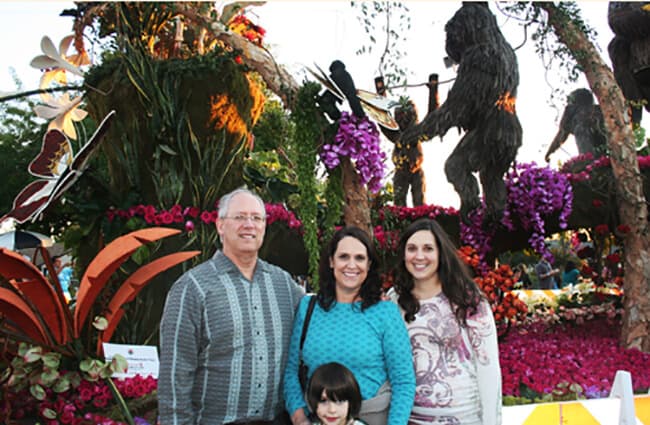 watching the Tournament of Roses Parade is one of my favorite things to do on New Year's morning. the beautiful fresh flowers decorating the floats and the creativity that goes into the floats is just amazing. but watching them on television is nothing like seeing them in person. i remember going to the rose parade when i was a kids and the colors, the smell, sights and sounds were an experience i will always remember. and although i haven't taken my boys to see the actual Rose Parade yet...we have gone to see the floats a number of time and it is always a fun activity for our family.
i am always surprised that the boys enjoy it as much as i do....it has been a highlight of our winter break every year that we have gone. and the last few years it has been even more exciting since they had the chance to help decorate the Dole floats. it is super fun to see the before and after of a float cover with flowers. it looks so bare before it get covered in florals.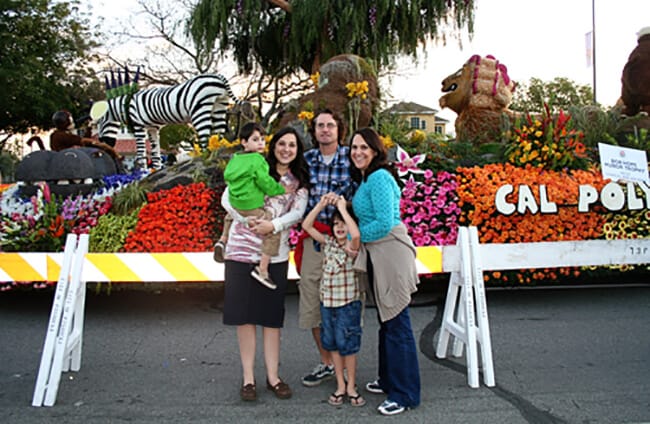 we are going to make our way to see the floats tomorrow, and i highly recommend doing the same with your kids. if you have some time today or tomorrow or this weekend, try going up to Pasadena and check out the parade floats. one of the best things about seeing them in person is the experiencing the varieties of beautiful flowers. plus, the floats make the backdrop for fantastical photos...their colors and amazingly vibrant and the details are amazing in person. do not forget your camera.
tips for visiting the Rose Parade Floats
•  wear tennis shoes, you will be walking and most likely will have to park far.
•  bring some water or drinks (kids are always thirsty)
•  bring your camera
•  strollers or wagons are a good vehicle for kids who don't like to walk far. plus you can store jackets, food and stuff you bring without having to carry it.
•  plan to get to the float showcase no later than 2:00 p.m. ticket booths close at 3:00 p.m. (we had this experience last year, and half of us didn't get tickets in time.)
•  parking is limited. carpool if you can, the less cars your group comes in the better. there are areas you can park and get shuttled in for $3. be sure to visit the website to see were you can go.
•  study a map to get familiar with the area...this will help you find closer parking and figure your route to the float area.
•  MOST OF ALL, use this time to enjoy the beginning of the new year! these are memories your kiddies will carry throughout there lives.
wanna go? here's the info....
Tournament of Roses Parade Float Showcase
January 1, 2014 • 1:00 p.m. to 5:00 p.m.
January 2, 2014 • 9:00 a.m. to 5:00 p.m.*
January 3, 2014 • 9:00 a.m. to 5:00 p.m.*
*early admission for senior citizens and disabled visitors from 7:00 a.m. to 9:00 a.m.
location
End of Parade route on Sierra Madre Blvd.
Street parking near the event is limited.
click here for Park & Ride shuttle locations if you want to avoid finding parking.
admission
$10 per person (free for children five and under)
*Ticket sales end at 3:00 p.m.  venue closes at 5:00 p.m.
Presale Tickets are available through Sharp Seating Company online or by calling (626) 795-4171. Tickets will also be available at the event box office and all Park-N-Ride locations.