lately, i've been dreaming about pretty jewelry. i have been busy cleaning out the house, and noticed that a lot of my necklaces and jewelry needs to be replaced. it's either out-dated, worn-out, or has been broken by little boys who think necklaces are for jump roping. and since i have been slowly working on my New Year's resolution, i think is the perfect time to freshen up my jewelry box. Valentine's Day is just around the corner...the perfect time to pick out some new jewelry pieces. so i have partnered with Don Roberto Jewelers to go window shopping and give the hubby a few hints of things i really like.
i want to add some new style to my outer appearance, and feel good about myself. i guess you could say, spring cleaning for mom. jewelry always seems to do that for me. and if the hubby wants to pick up an extra piece for our 16th anniversary the following week, i promise to act very surprised! check out some of the items i would love to have....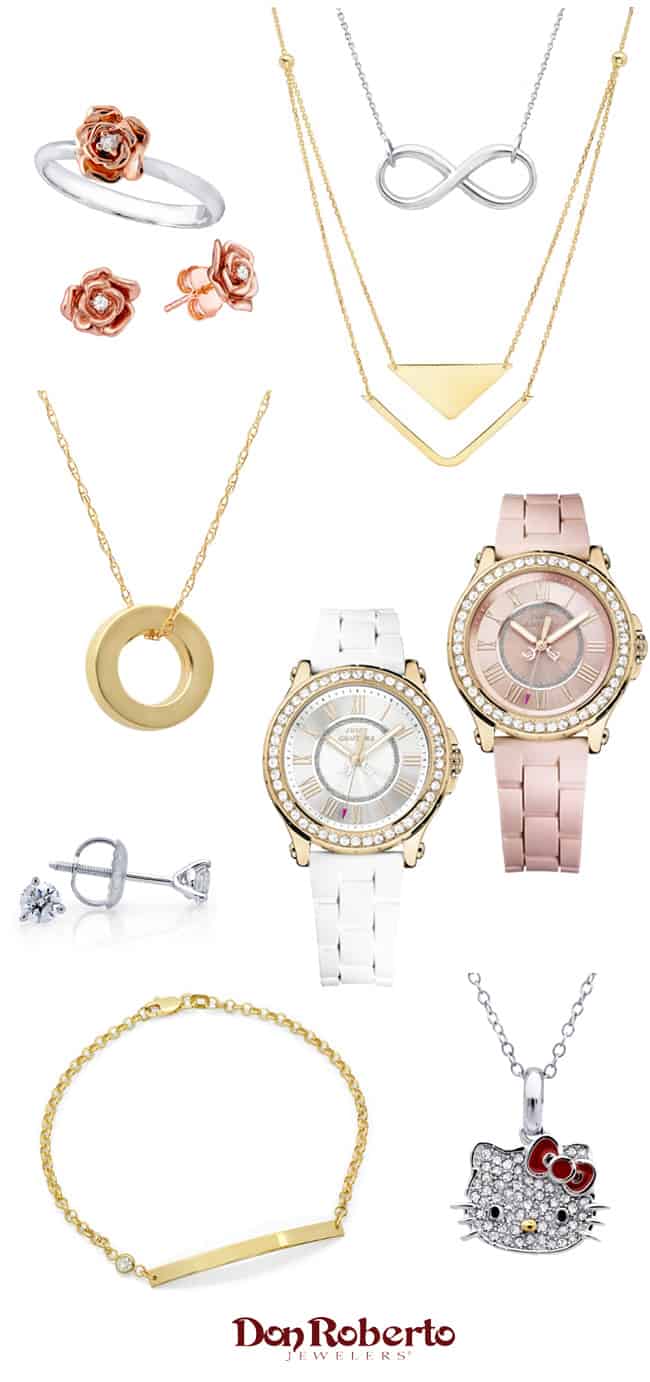 gold and silver is what's hot right now, as well as layered and geometric necklaces. i also love the trend with beautifully simple pieces like the open-circle pendant below or the infinity necklace. believe it or not, i don't have my ears pierced anymore. i let them close up when i was having trouble with them in my teens. but lately, i've been wanting earrings again. so i think if i got a nice pair of white gold studs i would go out and get them done again. plus....did you see the Hello Kitty Pendant and the rose colored Juicy Couture watch!
here are the links to the above jewelry pieces i window shopped for on the Don Robertos website....
Rose & Diamond Rose Gold Earrings | Rose Shapped Two Toned Gold Ring | Sterling Silver Infinity Necklace | 14K Yellow Gold Layered Duo Triangle Necklace | Yellow Gold Circle Pendant | Juicy Couture Watches | 14K White GoldDiamond Earrings | Yellow Gold ID Bracelet with Cubic Zirconia | Hello Kitty Crystal Pendant
you can get any of the jewelry above at Don Roberto Jewelers. it's available in their stores across Southern California or online. they are offering a 25% discount off your first purchase online when you use promo code BP25FP at checkout. Don Roberto also has financing with Easy Credit or layaway options are available when you visit their store.
{ The opinions in this article are my own. I do not work for, or with, any brand mentioned in this article, nor do I have any official relationship with them. I have a relationship with Gigasavvy, for whom I create original editorial content. }