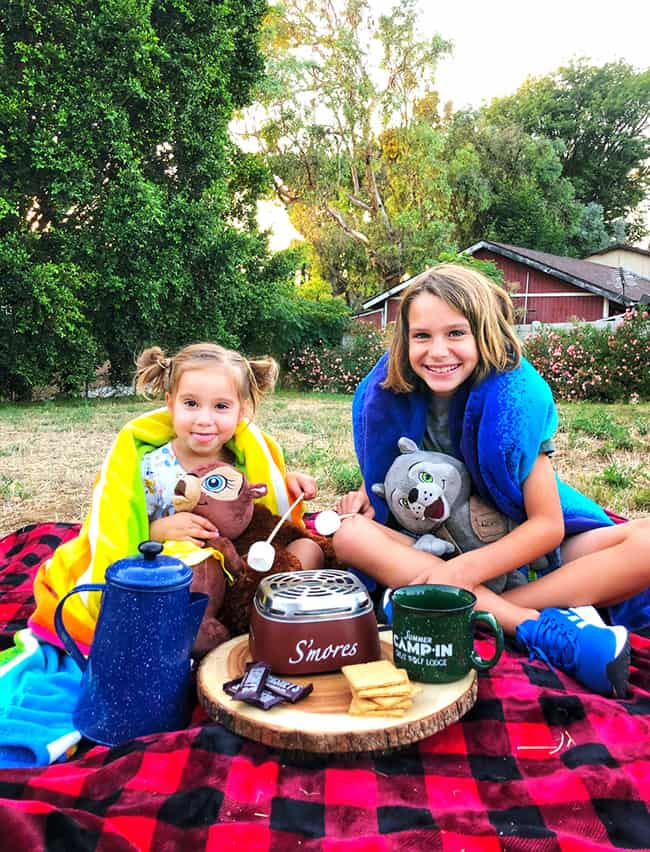 (Make sure to head down to the bottom of this post for the BEST DEAL EVER!)
Where can you got this summer, to play on waterslides all day, have story time with Wiley the Wolf, make s'mores and sing campfire songs to end the day? Look no further to Great Wolf Lodge! There are so many new things and special deals happening this summer at Great Wolf!
I have mentioned many time before about how much our family loves Great Wolf Lodge. It's the first vacation that we have taken as a family where I've felt care-free. My kids always have the best time, and everything is in one place. No loading up the car for meals or going places. I think every family can have a blast...especially with these new summer deals! You gotta fit a stay at Great Wolf into your summer finale plans. Check these out...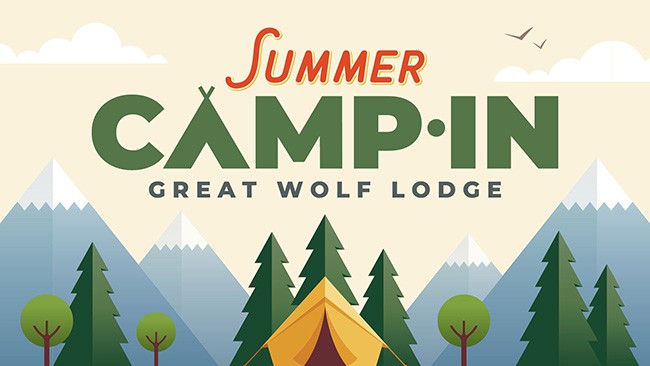 Great Wolf's Summer Camp-In
If you haven't heard, Great Wolf Lodge has taken the summer tradition of camping and turned it outside-in with an all-new family escape called Summer Camp-In! From Memorial Day weekend to Labor Day weekend, all Great Wolf Lodge resorts will celebrate the joys of camping with an array of special activities and events designed for families to participate in together.
The lodges themselves will be decked out for summer camp and resort staff will be dressed in camp counselor gear. Select guest rooms will have a camp theme with everything from pennant bunting and yellow gingham bed scarves to actual in-room tents and campfire lanterns. The camp-themed rooms are exclusively for the Summer Camp-In celebration and will provide guests with a true feeling of being in the great outdoors.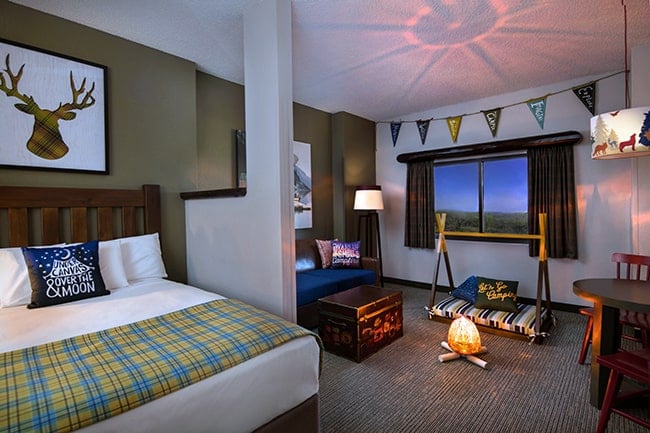 Then, get ready for nonstop with pool parties, character appearances, games, music, feasting on flame-grilled barbecue "camp cuisine" and more. When the sun goes down the fun turns up with campfire sing-alongs, summer camp Story Time, dance parties and more. From outdoor yoga to camp bingo, moving their feet in a conga line or a kick-off-your-sandals pool party, families will blaze trails to summer fun like never before. Here are a few highlights of summer fun at Great Wolf Lodge:
Character Breakfast: Wiley the Wolf, Oliver Raccoon, Sammy the Squirrel and other characters will treat guests to a morning breakfast buffet with some flag-raising fun, tasty food and festivities. Enjoy counselor-led songs, dances, napkin twirling and photos and autographs from Wiley and friends..
Pool Party: Guests can jump in and have a splash-tastic time with games, DJ music and refreshments all poolside. Activities include how low can you go in the limbo, rubber duck races, corn hole toss and a conga dance to cap it all off.
Trailblazer Challenge: Sign up for select activities and earn a badge for every game you complete. Participate in different arts and crafts projects such as friendship bracelet making and rubber ducky decorating, family trivia and corn hole challenges. When campers collect ten badges, they earn the ultimate honor – the title of Trailblazer.
BBQ: Got a hankerin' for a camper feast served hot off the grill? Mouthwatering BBQ anchors dinner menus at the resort's main restaurant. After all, no summer camp should be without BBQ and all the fixins'. Step right up, campers!
S'mores: Families should make sure to leave s'more room for that savory staple of summer camp as a special s'mores dessert bar will be featured during the Summer Camp-In celebration.
Campfire Ceremony: End the day with family around a crackling fire. From the ceremony of lighting the fireplace the nighttime fun begins. There's singing, face painting, s'mores, silly story-swapping, character shows and the time-honored Great Wolf Lodge tradition, Story Time. Groove the night away at a rollicking, DJ-led dance party under the stars. Linger longer for nighttime bowling or a hole in one mini golf challenge.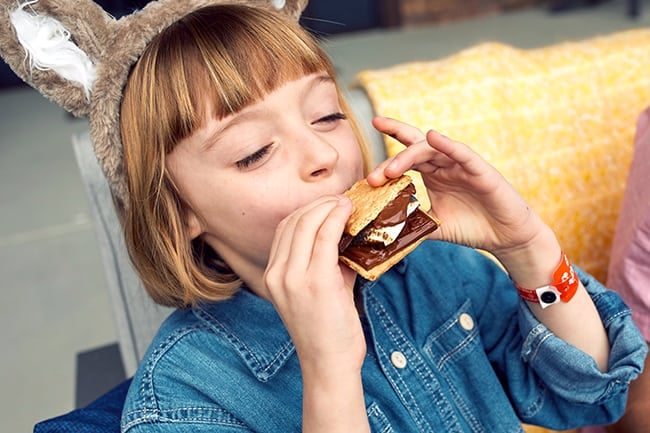 Did you read about the S'MORES? Great Wolf Lodge's Master S'morelier has created some specialty s'mores for Great Wolf Lodge Guests! Imagine flavored marshmallows with interesting toppings - Passionfruit, Bacon -Infused, or Dulce de Leche. Wow, I bet they are amazing. They will be offered alongside traditional versions at a decadent s'mores dessert bar nightly at the lodge's Summer Camp-In Jamboree. The s'mores dessert bar is only available during the Summer Camp-In celebration where guests can purchase a s'more from the dessert bar starting at $1.99, with the Master S'morelier creations starting at $2.99. YUM!
For more information on Great Wolf Resorts and its brands of indoor water park resorts, visit greatwolf.com.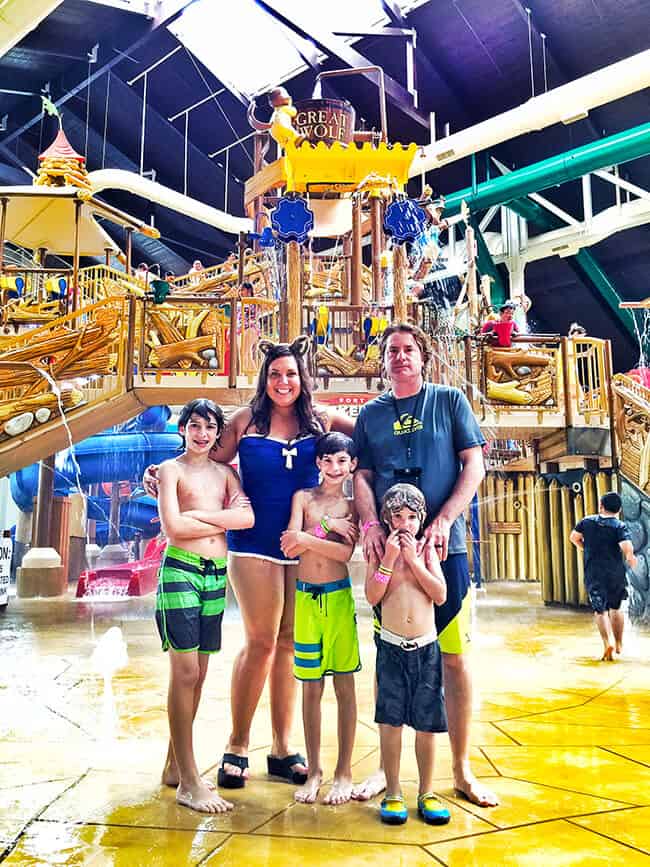 Introducing Day Passes to the Great Wolf Lodge Waterpark
Now you don't have to stay over night toplay at the Great Wolf Lodge Waterpark! Great Wolf Lodge has announced that it is offering day passes to the waterpark for the first time ever. Yipee. Previously only available to guests staying on property, families can choose to howl for a single day with a brand-new waterpark day pass starting at $50 per person, available at all of its U.S. resorts this summer.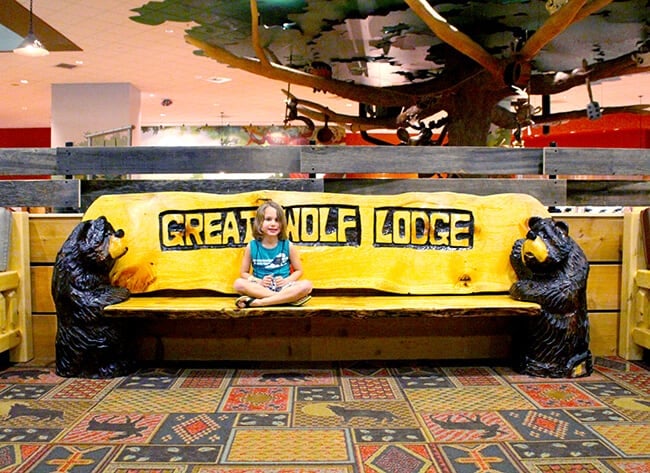 Best End of Summer Great Wolf Lodge Deal!
This is the best deal I have ever seen at Great Wolf Lodge. Summer is heating up and Great Wolf Lodge Southern California is announcing its HOTTEST sale yet with savings up to 58% off!
Great Wolf's indoor waterpark is a pleasant 84-degrees all year-round and to celebrate, they are offering their first-ever 84 Degrees Sale! For one day only on August 4, 2019, guests will be able to book rooms starting at $84/night for stays from September 2 to October 31, 2019, at any U.S. location. This rate is available for stays Sunday-Thursday and blackout dates apply. To book, use promo code 84DEGREES online at greatwolf.com, or mention code while booking over the phone (new reservations only).