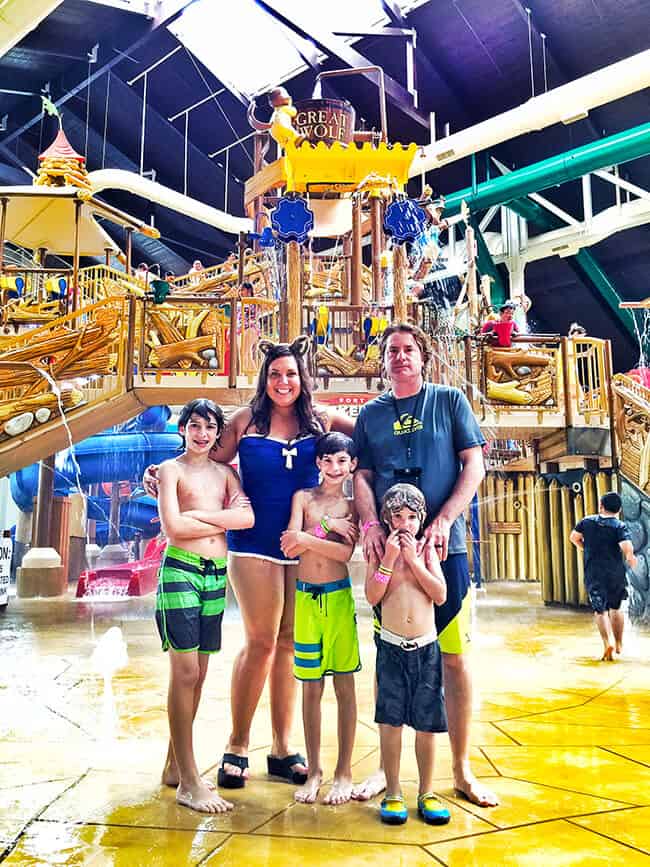 from the moment i found out about the Great Wolf Lodge, i knew that i wanted to take my family on a vacation there. it was about four years ago when i read a post on another blog about the Great Wolf Lodge in Texas. it looked AMAZING...like a rustic lodge with amazing experiences for kids and a giant indoor water park. at that time, there were only seven Great Wolf Lodges in the United States, but the ones in Texas and Seattle were the closest to us here in California. unfortunately, our family was never able to travel anywhere close to any Great Wolf Lodges. so imagine my excitement to find out that one would be opening in Southern California!!!!! Garden Grove in Orange County to be exact.
we anxiously watched the construction and even went on a hard hat tour while the work was in progress. atlas, it was finished and recently just opened this past February. my family finally got to take that vacation, or should i say "staycation", to the Great Wolf Lodge in Southern California last month!
we had an absolutely fabulous time. all of us....parents and kids. it was more than i had thought it would be. and so that you can see what to expect when you stay at the Great Wolf Lodge Southern California...i'm going to share some....okay A LOT of photos from our visit. click here for discounts and deals to stay at Great Wolf Lodge Southern California.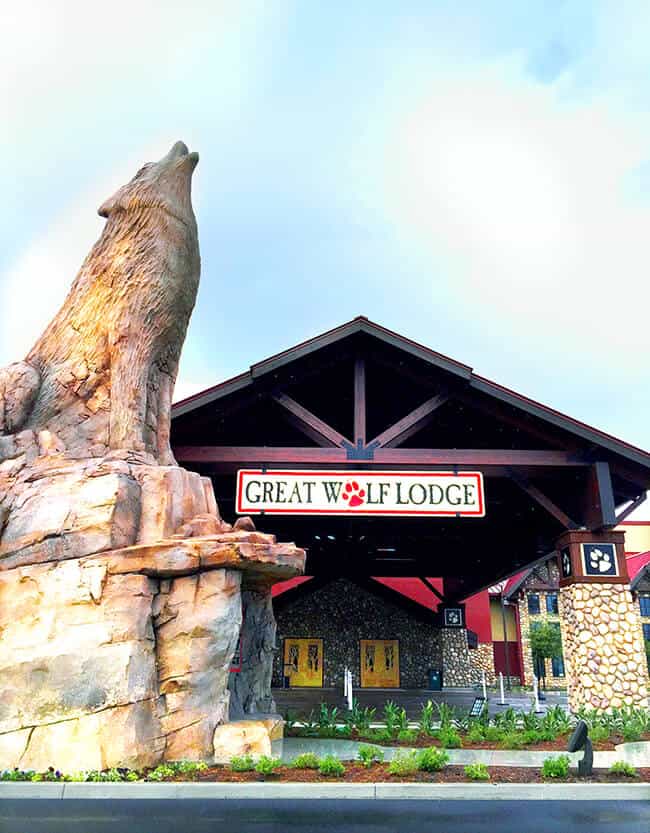 the Great Wolf Lodge is unlike any other hotel or resort in Southern California. its 100% geared towards families – everything you need is right there in the resort, from food, to entertainment to the hotel rooms. you can eat, sleep and play and not have to worry about leaving the resort until your stay is over. kids are allowed to do what they do best, just be kids. it's okay to be loud, run and have FUN. and be prepared for lots of it.
when we walked in the lobby, we were greeted into a grand lodge...with vaulting ceilings, a gigantic stone fireplace that is used as a gathering place for bedtime story time and dance parties, and wilderness murals flanking the walls.
i immediately felt my kids excitement as we entered. they wanted to start exploring right away! so we quickly checked in and headed up to our room to put away our luggage. everyone who is staying in the room is given a wristband that acts as your room key. it allows you access to the water park, and the coolest thing is not ever having to worry about losing a room key. this saved me so much time...you don't even know!
the rooms are fun...decorated in rustic cabin style. there are many types to choose – from standard to deluxe. we happened to stay in a "Kid Cabin" which has a separate area for the kids with themed wallpaper and creatures on the wall that have special effects when you wave a MagiQuest wand at them.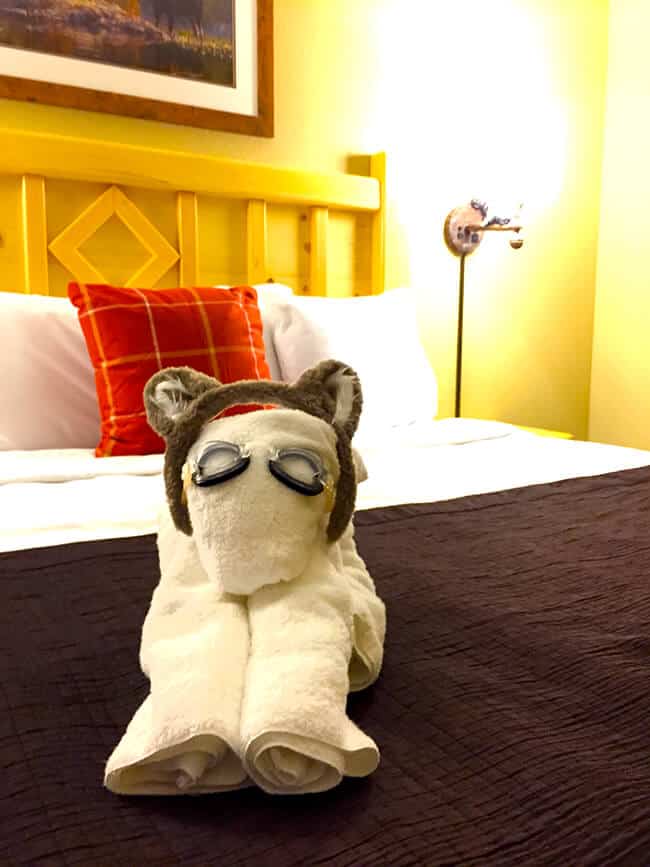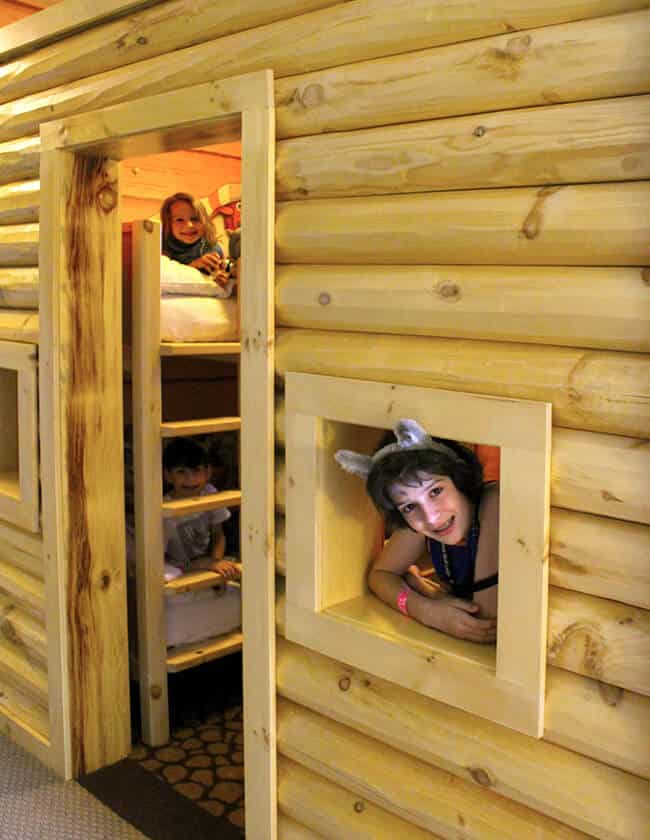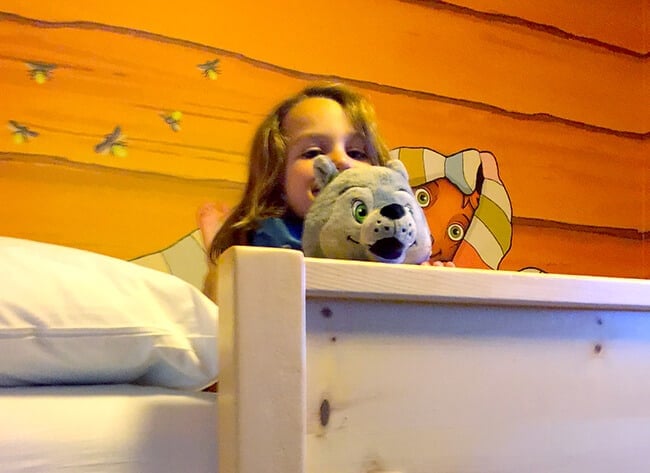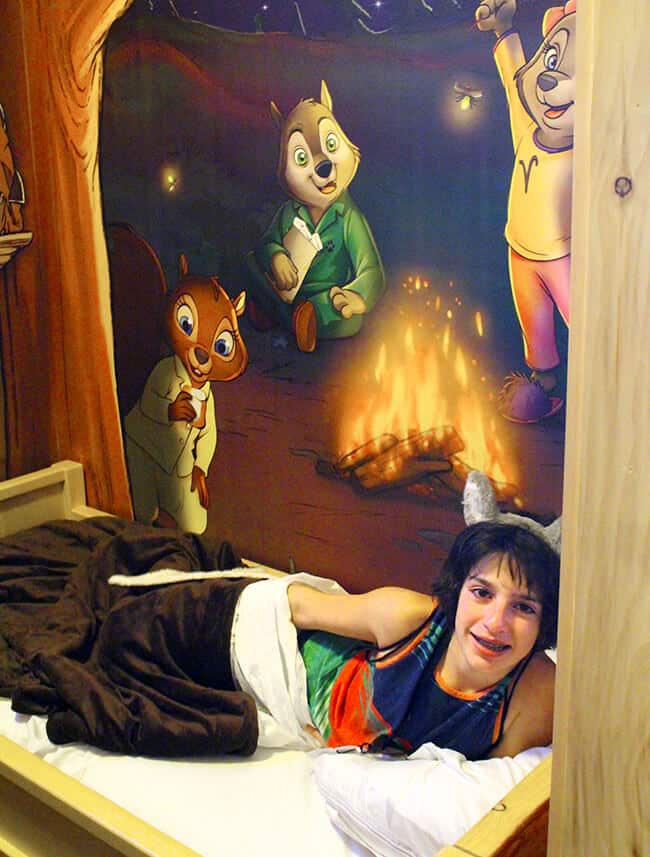 the rooms were cool...but not where we wanted to spend the day, as there were so many more things to explore at the GWL. we changed into our swim suits and headed out.....straight to the water park! because that's the main reason why you stay at GWL. when you enter the water park, the kids get measured and given a color coded band that lets you and the lifeguards know which rides you are safe to ride on. you can also get pool towels.
check it out! how fun is this water park. there are slides for every age, Fort Mackenzie with lots of water features and a giant bucket that pours water every few minutes, a full-sized wave pool, places to splash, swim and climb...and sooooooo much more!!!! the water is heated to 84º and the air is also a nice 84º. you don't ever have to worry about rain, or putting on sunscreen.
my boys' favorite ride was the FlowRider. a wave simulator that you can surf on. and no, there is no extra cost to ride it.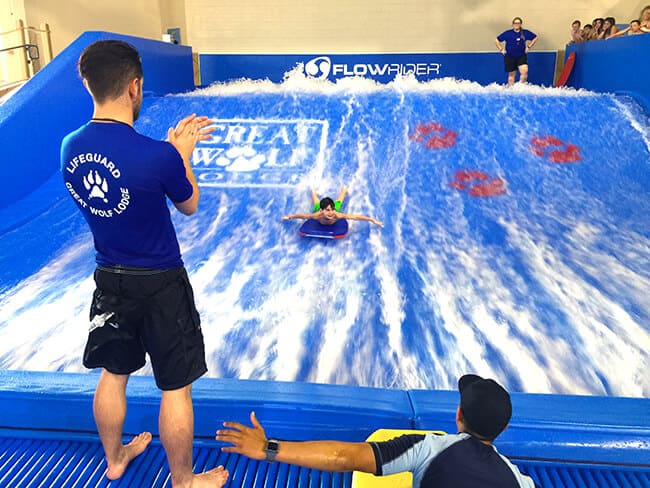 my hubby loved the Wolf Tail slide that basically drops the floor out from under you in a 20 foot drop into a water slide. yikes...i didn't try it, but he sure loved it.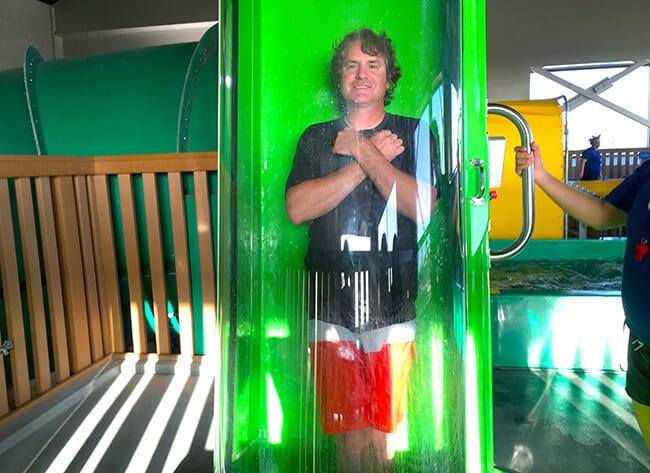 Vann and i spent a good part of the time in the kiddie area which had slides, pools and fun toys to play with that were just his size. you didn't have to worry about the big kids being too rough in this area.
finally, not all of the water park is indoors. if you need some fresh air, head outside and enjoy the outdoor splash pool.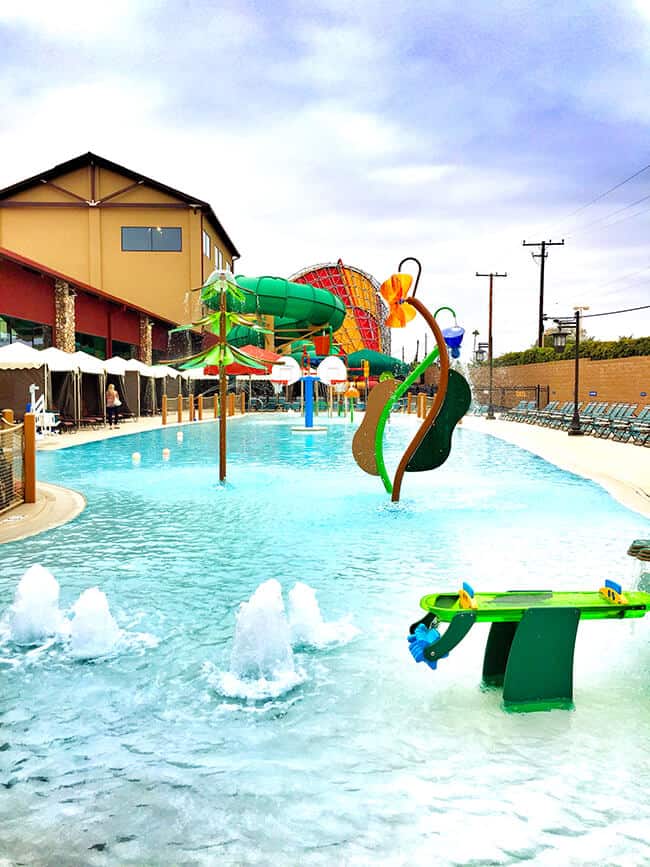 as for food, there are lots of choices of places to eat. i am going to share all about them in another blog post, but i will mention that we mostly ate at the Loose Moose Kitchen – a family buffet that serves dinner and breakfast with lots of choices for everyone. there's also a sit down restaurant, poolside restaurant, a pizza parlor and an outside grill that has a bar for the adults.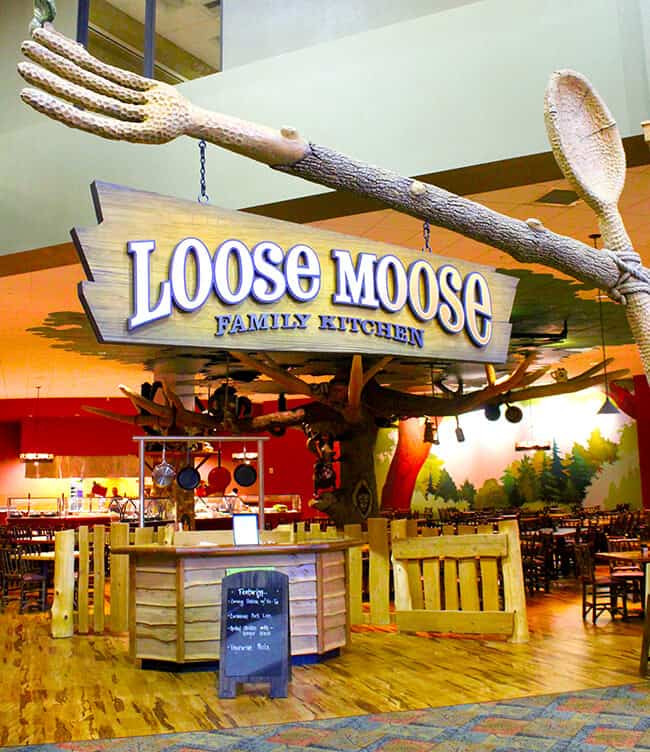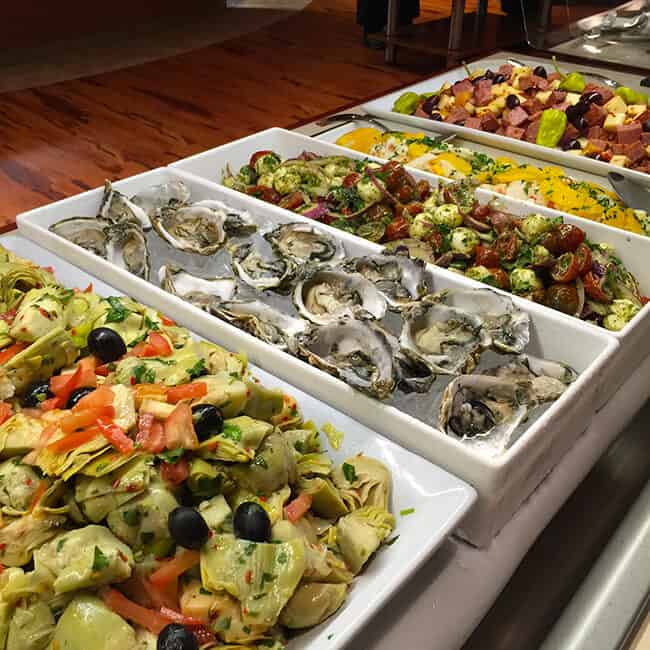 in the morning, we couldn't resist. we had to get Dunkin' Donuts. that's right, there is one in the GWL!!!!!!!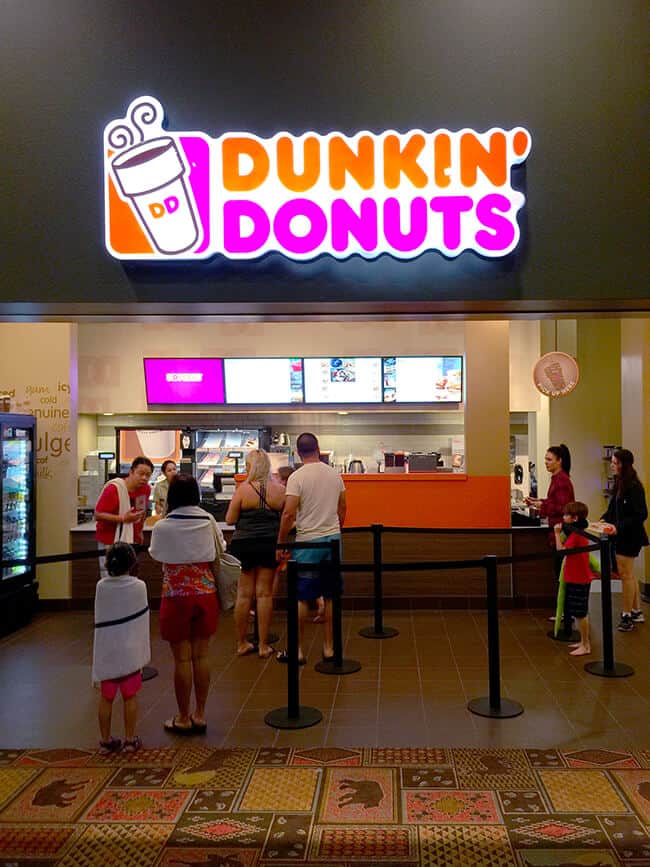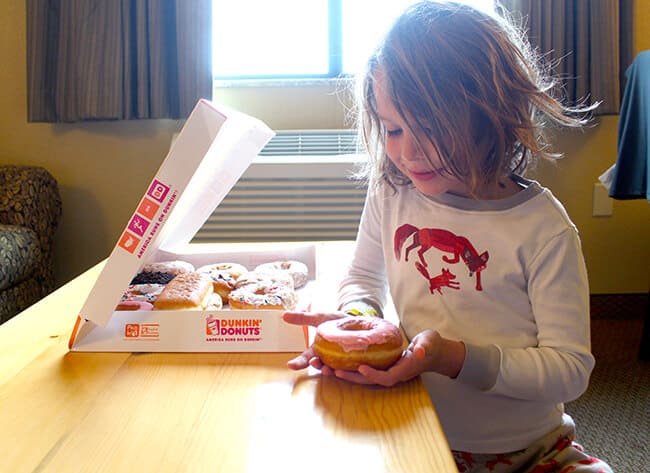 we experienced so much more at GWL then just the water park. there are tons of fun activities to do there. one thing we noticed right away, is that lots of kids were running around with magic wands. they are part of the game, MagiQuest, that is played at kiosks throughout the entire hotel. you can purchase a wand of your choice, and even customize it if you'd like, the follow the clues as you wave your wand at the different stations. this was an additional highlight of our trip for the boys – the fun lasted throughout the entire weekend while we were at the hotel. after the boys solved all the clues at each station, they were able to fight the dragon at the end. MagiQuest was the perfect adventure for my older boys.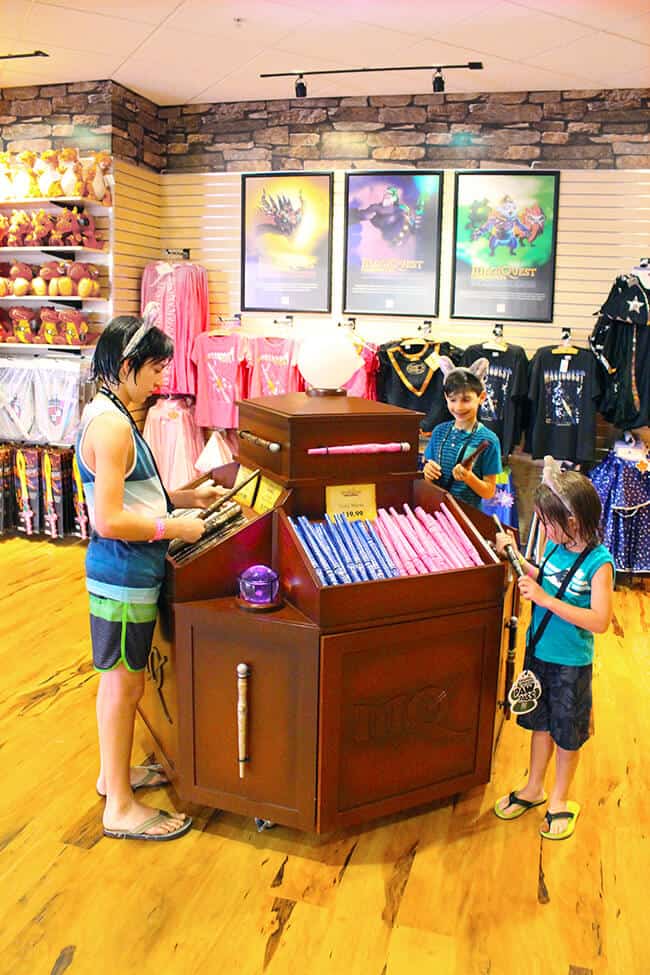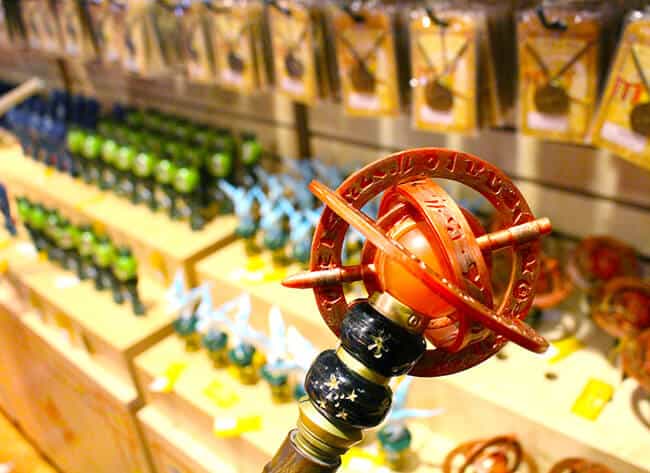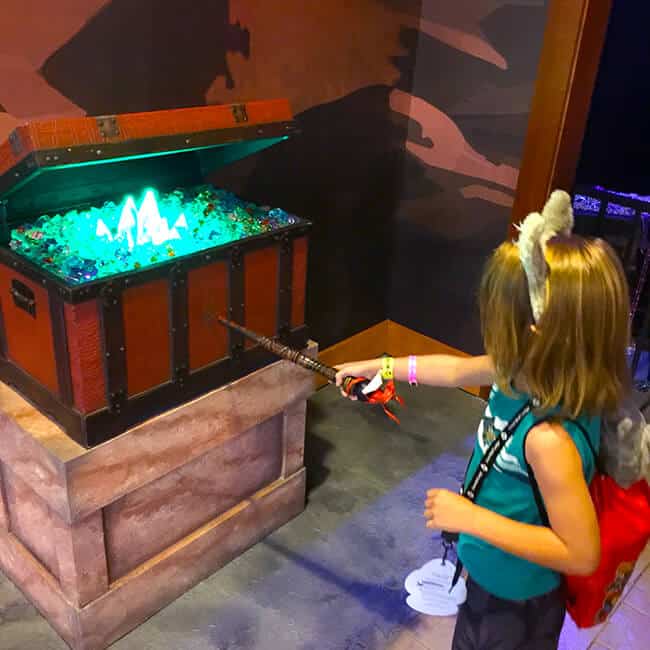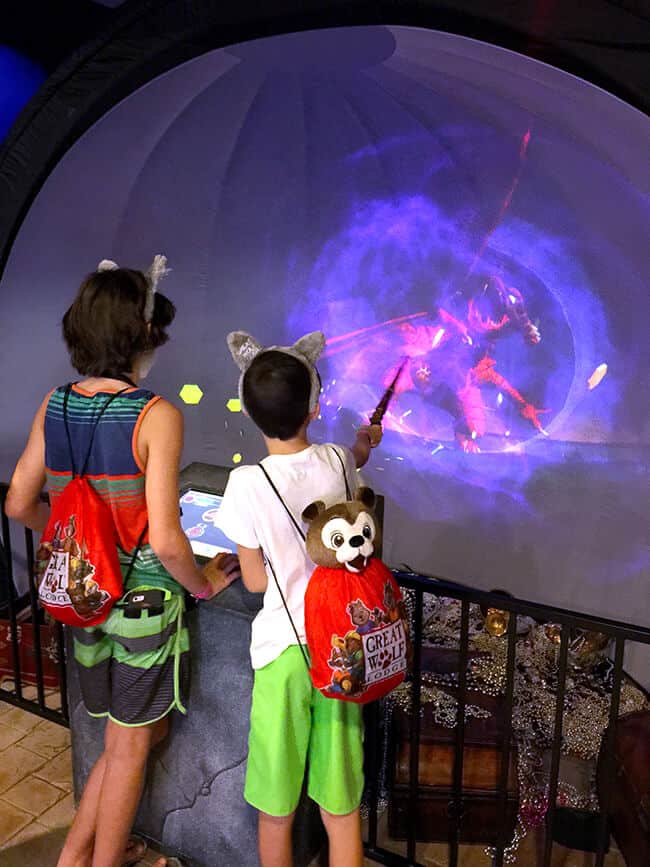 my youngest loved creating his own Clubhouse Pal at the Creation Station and then taking an adventure at the Clubhouse Crew kiosks on the lower levers of the GWL. this is fun for the smaller kids. and both the Clubhouse Pals and MagiQuest wands have sensors that unlock magic surprises around the rest.
there are lots of other fun activities to do with the kids, like bowling.....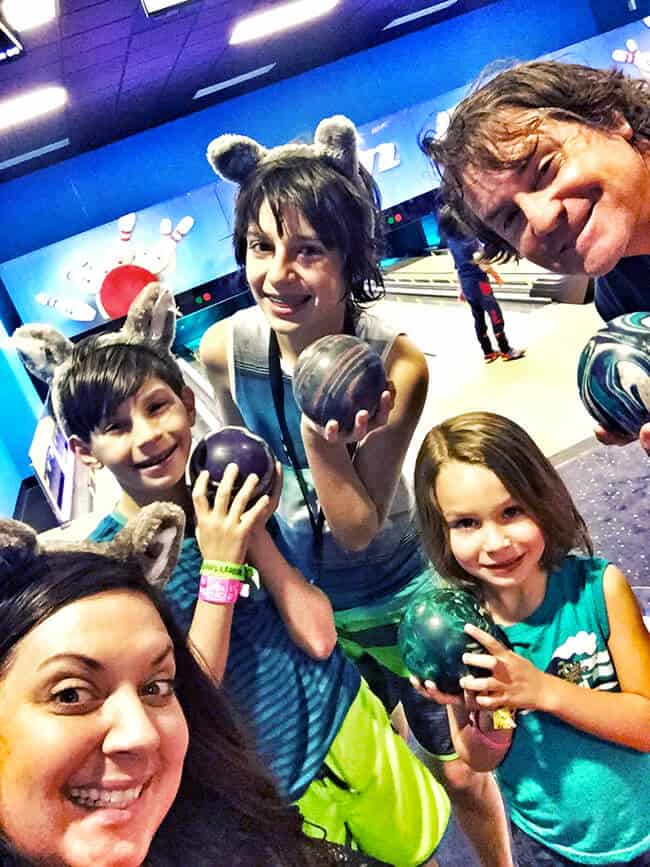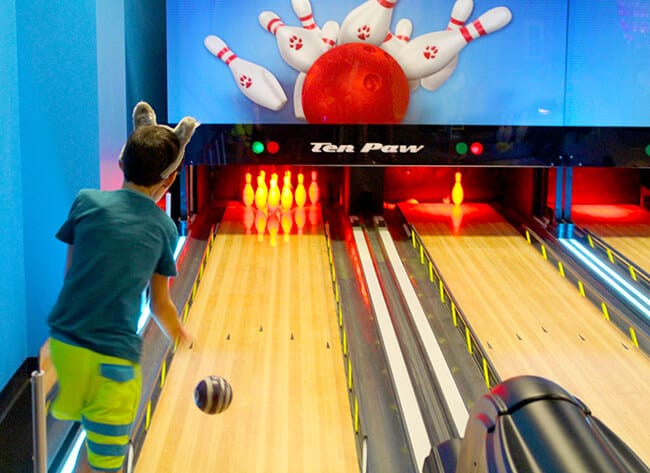 a 3-D Howly Wood XD simulator....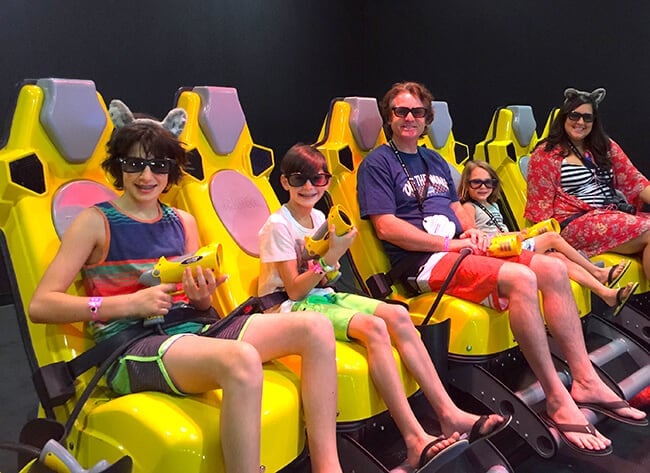 Howl at the Moon Mini Golf....
a fun arcade....
plus...Wiley, the Great Wolf Lodge mascot, is always popping up around the lodge. he sure got a lot of hugs from our family.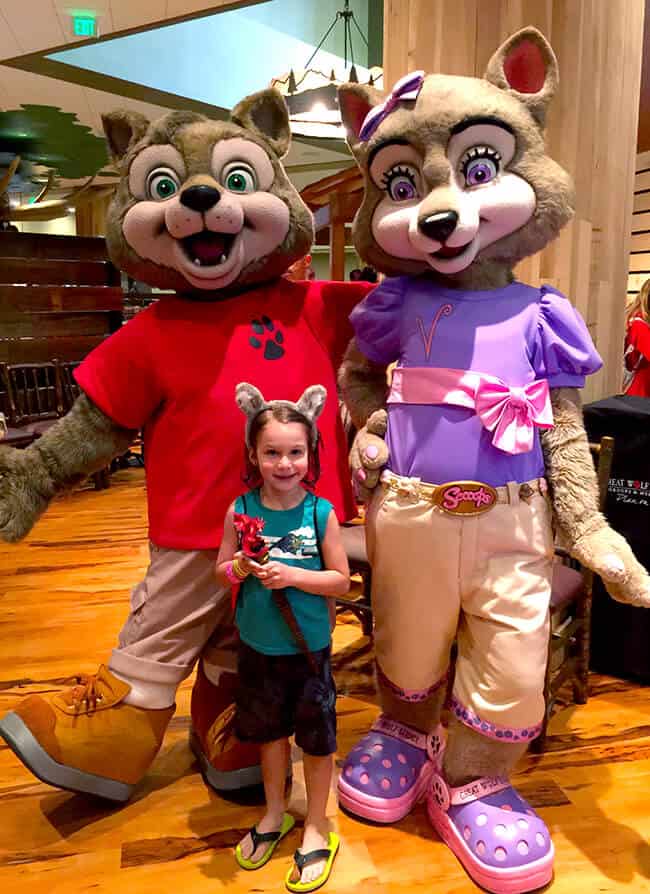 and one of the most special experiences was going to Scooops and having a mommy and me, ice cream scented pedicure/manicures with Vann. it was the cutest thing...there was even banana split and ice cream chairs. and after your treatment you get to eat an ice cream treat!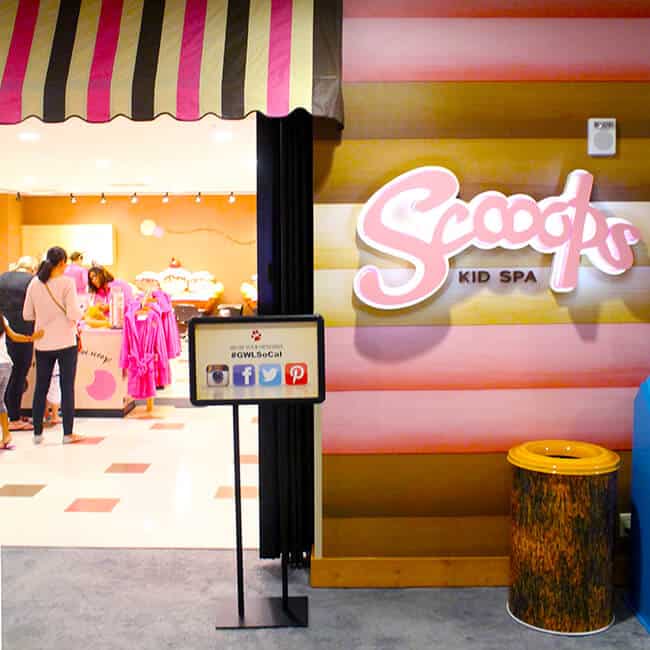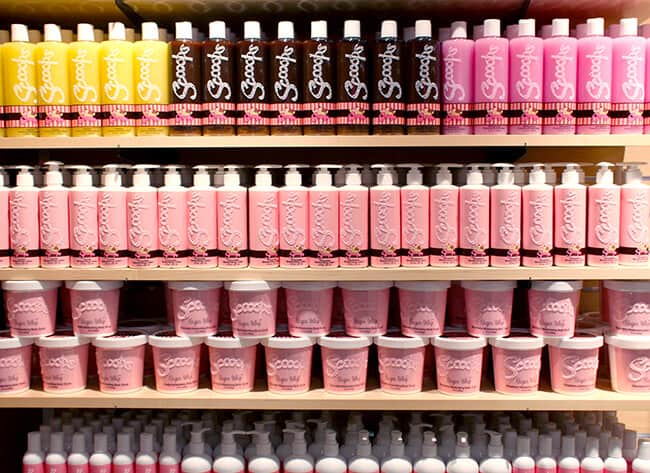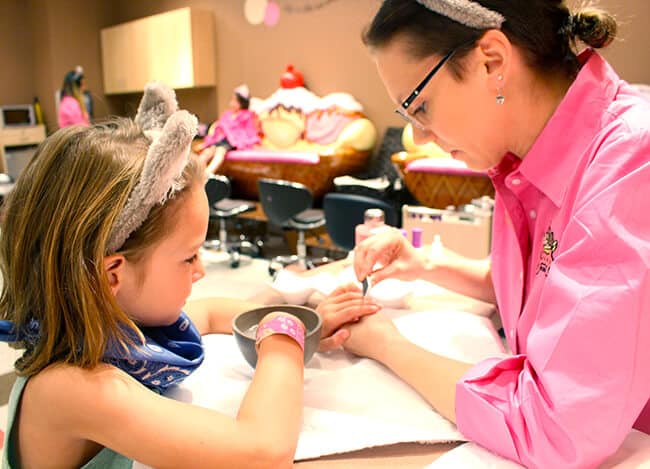 lastly, after a full day of activities at the Great Wolf Lodge, we ended our day with a dance party and bedtime stories around the grand fireplace. all the kids staying at the lodge, even adults, are welcome to wear their jammies and enjoy an evening of fun playing together with Wiley the wolf. then it is off to bed. now that was a fun day.
the boys and i had the most amazing time at the Great Wolf Lodge....we are definitely going to visit again sometime in the future. there is so much more that i can tell you about GWL and so many more photos i can share, but one blog post is not enough. i can tell you that my kids left with an amazing amount of new special family memories that we made throughout our visit. it really was a special experience for all of us. honestly, it was the most relaxed i have felt on a vacation because i knew my kids were safe and happy. i didn't have to worry about them getting lost or getting stolen...it was just nice. and for me...that is big. i was able to just enjoy watching them smile and have fun....something i love most as a parent.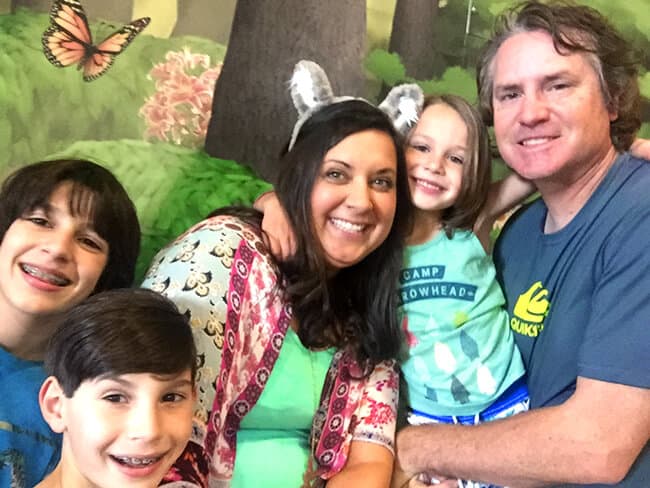 with something like this, it's one of those adventures that does cost some money. i personally feel that it worth it. you get to go to the water park for two days....that in itself would cost almost as much as a nights stay. plus, included in your stay – everyone in your party receives a pair of wolf ears, can visit with Wiley and friends as they walk around the resort, participate in morning yoga, nightly story times and dance parties. everything else does cost money, so be prepared for that...but, is not necessarily needed in order to enjoy a GWL stay. i do recommend saving up some money as a family to come to the resort....enough to include some extra funds so that you can experience some of the extra activities. it's an experience i would love for all families to enjoy, and would be fun to have a GWL fund where you could enjoy a "staycation" once or twice a year. i do hope that your family gets to visit the Great Wolf Lodge Southern California soon.
lastly, after you read this post, you will probably want to go with your family as well! .....so here is a link to get the best deals around. make sure to sign up as and exclusive member. it's FREE and will enroll you to get special offers right to your inbox and a $50 resort credit. click here for discounts to stay at Great Wolf Lodge Southern California.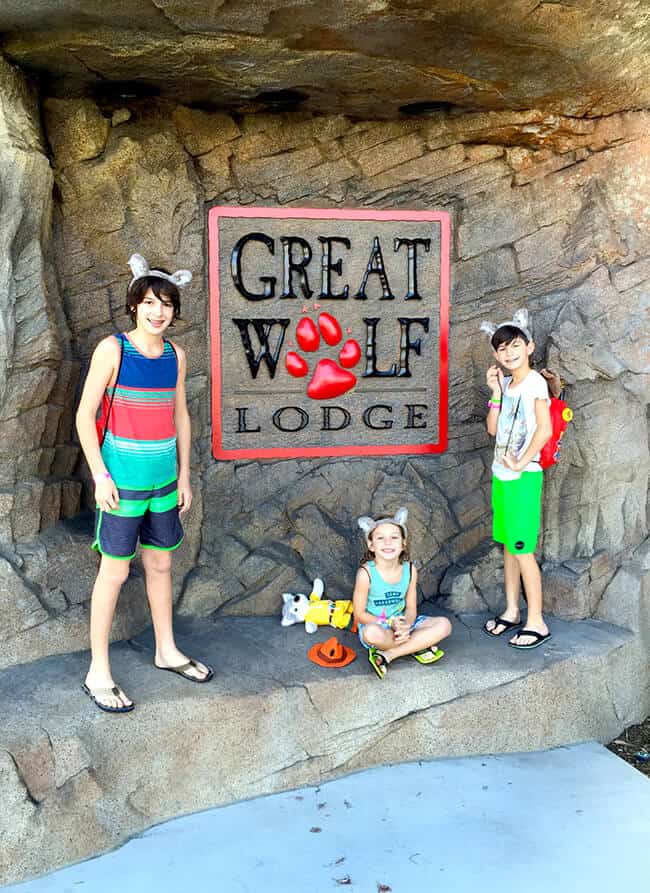 stay tuned for more Great Wolf Lodge coverage. i have some more detailed posts coming soon!
click here for discounts and deals to stay at Great Wolf Lodge Southern California