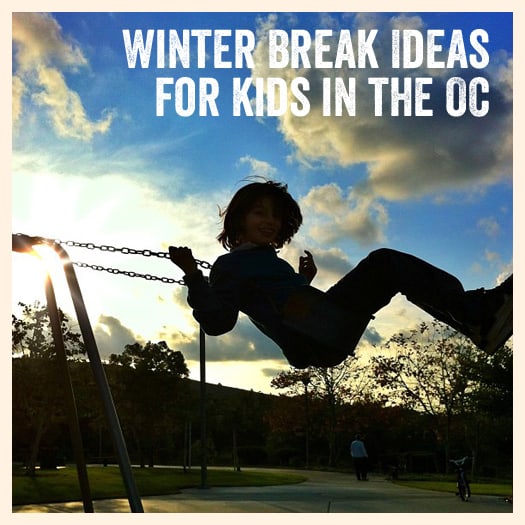 it's here....it officially winter break for all the kiddies in the Orange County. so, how are you going to entertain these kiddies these next couple of weeks? we've got a great list of great activities to do....so you are surely never going to hear "i'm bored!" from your kiddies.
i am planning to take a bit of a break for the blog. i need some time to recoup and refresh. my kids need me....so, see you all in the New Year!!!!!! have fun during winter break.

first, you can check out our weekly Orange County "to do" list. it has day-by-day listings of great activities, storytimes and kid-friendly events happening in the OC. lots of free activities too.

second, Michelle from Fun Orange County Parks has an awesome list of fun things to do with the kids during winter break. in fact, her entire website is full of great information all about our parks here in Orange County. it's the first place i go when i want the scoop about a park in the OC.

third, here are a few links to some of our favorite go-to activities. check them out and see what would interest your kiddies.
OC Zoo
just $2 per person, you can see animals native to Orange County. bring a picnic lunch and enjoy the rest of Irvine Regional Park as well.
Irvine Park Railroad
a favorite of my two-year old. we can't leave without riding the train $4, and taking a ride on a pony $4. go to their website to find coupons for a discounted train rides.
Zoomar's
we just love feeding the guinea pigs and bunnies. plus, it's nice to walk around the charming historic town, catching a glimpse of the train, and grabbing a bit to eat at Ruby's Diner.
Indiana Jones Exhibit at Discovery Cube
Scooter's has open play sessions almost every day during the break. i love it because the kiddies are contained and able to run around and get their energy out!
lastly....you could let the kids toilet paper you house!!!!  LOL.