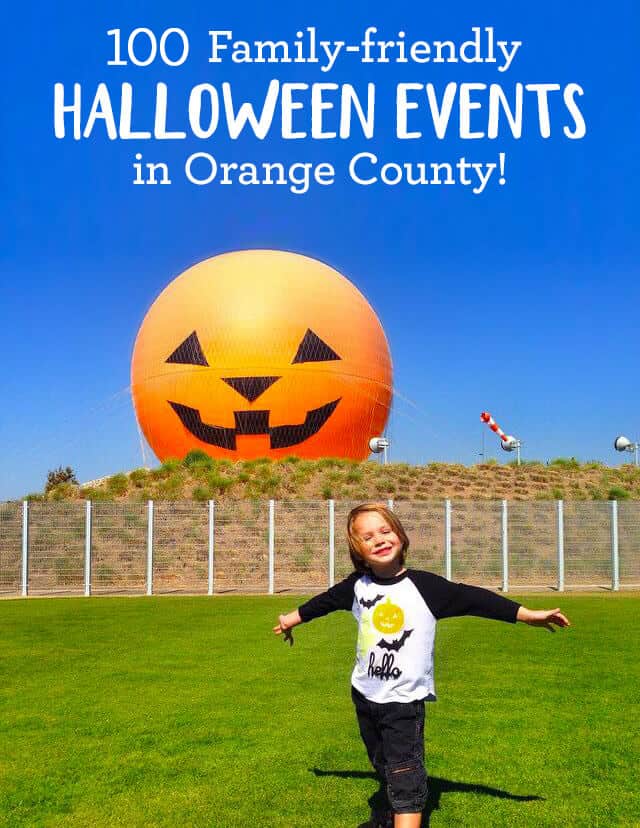 Just like that, the Halloween season is about to arrive in Orange County!  Very soon, Halloween events will be popping up all over Southern California. Here is a list of over 100 Orange County Halloween Events for Kids and Families…most of which are kid-friendly or family-friendly. and all of them are scheduled around the OC and SoCal this Halloween season.
Get your calendar out and pick out the ones that look like the most fun for your family and make this Halloween season one to remember! (Be sure to check back here, as more events will be added to the list as they are announced.)
2019 Orange County Halloween Events for Kids and Families
Knott's Spooky Farm
Every Weekend in October  |  Knott's Camp Snoopy and Ghost Town
Enjoy the spooktacular Halloween season at Knott's Spooky Farm, a family-friendly Halloween celebration geared for kids. Little ghouls can trick-or-treat through Ghost Town to collect Halloween treats. Treat bags will be given to kids ages 3 – 11 from opening until 4:30pm. A fun Halloween-themed show "Monsters are Coming" at the Camp Snoopy Theater plays hosts a daily costume contest for kids in costume. The Halloween Hootenanny returns as The Timber Mountain Log Ride transforms with spooky but family-friendly surprises. The fall daytime Seasons of Fun event is included with regular park admission or your 2019 Season Pass.
Oogie Boogie Bash at Disneyland Resort
September 17, 19, 22, 24, 26 & 29, October 1, 3, 6, 8, 10, 13, 15, 17, 20, 22, 24, 27, 29 & 31  | Disney California Adventure Park
A Disney Halloween Party begins. Once the party starts, you'll be treated to 5 hours of shindig shenanigans—including special Halloween-themed entertainment, attractions, Character Greetings and more. Tickets to this seasonal celebration can sell out, so be sure to book ahead.
Halloween Time at Disneyland
September 6th – October 31st   |   Both Parks at Disneyland Resort
Disneyland Resort and Disney's California Adventure are dressed up for Halloween! Check out the decorations and enjoy special Halloween activities throughout the park.
Howl-O-Ween at Great Wolf Lodge
October 1 – 31  | Great Wolf Lodge Anaheim
Book and stay before October 31, 2019, for a Howl-O-ween to remember! We'll have special events scheduled for you to share with your family including – Trick-Or-Treat Trail, Monster Bash Dance Party, Spooktacular Story Time & more!
Pumpkin Nights
October 10 – November 3 | 5:00 – 10:00pm | Pomona Fairplex
In 2016, a team of passionate artists set out to create a brand-new Halloween experience. At Pumpkin Nights, visitors journey through eight different themed lands, all crafted using over 3,000 hand-carved real and synthetic pumpkins. Now, for the first time ever, we're bringing the Pumpkin Nights experience to Los Angeles!
Fall Fest
October 31 | 6 – 9:00pm  |  Compass Bible Church
Kettle Corn, Churros, Tons of Candy, Coffee, Laser Tag, Pony Rides, Rock Climbing Wall, Giant Ferris Wheel, lots of Game Booths, BBQ'd Hot Dogs & In & Out. The event is free, along with rides, games and candy. There will be small charge for food, so please bring cash (credit cards will be accepted with a small add'l charge). FREE
Spooky Science at Discovery Science Center
Weekends in October  |  Discovery Science Center OC
Giant bugs, creepy crawlers and friendly spooks are all making their way to Discovery Cube for Spooky Science this October. Join us as we explore bugs of all colors and sizes among over-sized exhibit sets and hands-on learning stations. Even the youngest of goblins will enjoy spooky fun while exploring insects like never before.
Boo at the Zoo
October 19, 20, 26 & 27  |  5:30 – 8:00pm  |  Santa Ana Zoo
A "Merry not Scary" family friendly event where everyone is encouraged to come in costume! One of the safest places for children (ages 2-12) to trick-or-treat for Halloween enjoying goodies from TEN Trick-or-Treat Stations throughout the Zoo providing a variety of toys, books, snacks, and candy on the Trick-or-Treat Trail, Entertainment, Animal Presentations, Storytelling, Costume Parade, Ride the "Boofari" Express Train and Carrousel for an additional fee and "Teen Scream" Haunted House (a separate area, included in the price of admission)
Bootastic Halloween Party
October 11, 18, 25 & 31   |  5:30pm |  Adventure City
Halloween Time is right around the corner and for four nights only, Adventure City is hosting a family-friendly Halloween Bash! To ensure that ride wait times are at a minimum, limited special event ticket quantities are available.
Pretend City Trick Or Treat Through The City
October 31 | Pretend City Children's Museum
Pretend City is all treats and no tricks here in the city! Get a start on the festivities by joining us for our special trick-or-treat extravaganza as you stop by our exhibits from some neat giveaways. This party is bound to be a scream!
Costume Week at Pretend City
October 27 – 31 | Pretend City Children's Museum
Black cats and witch's brew, we want to dress up with you! Wear your costume to Pretend City this whole week and receive 25% off your second admission!
The OC Ghostbusters Visit Pretend City
October 26  | Pretend City Children's Museum
We ain't afraid of no ghosts…especially because the Ghostbusters will be here to handle all of the ghouls and goblins that try to impede on our fun. Join us for a spooky good time with hands-on activities and photo-ops.
Frankenstein Friday
October 25 | Pretend City Children's Museum
Have a monster of a time at Pretend City and pay tribute to Mary Shelley's classic fictional character, Frankenstein with these monstrously fun activities. We will be dancing to the Monster Mash, making Frankenprints, and doing some Monster Science and Math Activities. Let's have a monster of a time!
Pageant of the Monsters
October 26, 27, 28, 31  |  6 – 9:30pm  | Laguna Festival of Arts
This Halloween the Festival of Arts and Pageant of the Masters brings a monster of a good time to Laguna Beach! Only returning every five years, the Pageant of the Monsters offers families a frightfully fun time filled with ghoulish tricks and treats. The Pageant's backstage is transformed into a haunted house themed RAIDERS OF THE LOST ART where guests can follow along on a perilous quest to recover treasures from exotic locales across the globe. The Festival of Arts grounds will be filled with Halloween-themed arts and crafts, a reptile zoo, music, and other "spook-tacular" surprises! Not recommended for children under 5.
Creepy Casa Haunted House
October 25, 26 & 27  |  7 – 9:00pm  | Casa Romantica – Have you ever wondered if Casa Romantica is haunted? Yes, it is! CASA CREEPY: HAUNTED HOUSE is one of the most fun and unique haunted houses for families in south Orange County. Walk through 2.5 acres of the most haunted mansion on the block! Werewolves, vampires and ghosts are waiting behind every corner of our historic home, and you can bet on plenty of creepy-crawlies in the gardens.  Period films such as Nosferatu and vintage-themed special effects will 'reel' in the whole family, and candy and refreshments will be available. Suitable for most families with children ages 8 and up. Costumes are encouraged; masks not allowed.
Fall Festival Fun!
September 24  | Pretend City Children's Museum
It's time to fall in love with this change in seasons! The leaves are turning, and the weather is shifting which means there is lots of fun to had here at Pretend City. Let's celebrate with art, games, books and sensory play all focusing on fall, leaves, pumpkins, and gourds!
Tanaka Farms Pumpkin Patch & U-Pick Tours
September 21 – October 31 | Tanaka Farms, Irvine
Tanaka Farms invites you to visit our Pumpkin Patch with all your favorites as well as some new and improved guest experiences for 2019. Make sure to buy a parking pass online if you go on the weekend.
Historic Yorba Cemetery Tour
October 7 | 10:00am  | Woodgate Park, Yorba Linda
enjoy a guided tour through Orange County's oldest private cemetery. FREE
Knott's Scary Farm
September 19 – November 2  |  Knott's Berry Farm
Be prepare to get SCARED!!!! This event is definitely not for the kiddies. send your teenagers or make a date night at this frightfully scary night of terror. You can go through the monster mazes, watch the traditional Hanging Show, and be sure to try out the new interactive Trapped Maze. a pre-show buffet is offered at an additional price.
Aliso Viejo Fall Harvest Festival
October 26 | 10:00am – noon |  Grand Park, Aliso Viejo
Children's Crafts, Carnival Games, Balloon Twisters, DJ Entertainment and more! Wear your costume as you walk through the costume parade. Parade begins at 10:30 am. AVCA will also be hosting a Canned Food Drive with South County Outreach. Bring FIVE canned food items, pet food or make a donation and your child receives a wristband for a pony ride (the only way for your child to ride a pony). Canned food will be distributed by South County Outreach to those in need here in OC. FREE
Halloween Animal Art – Toddler Program
October 4, 9, 15, 17 & 30  |  10:15 a.m.  |  OC Zoo
Come learn about creatures that are associated with Halloween! Class includes hands-on learning, fun crafts, and meeting zoo animals up close!  Ages: 3-4 years old only. Parent must accompany child for duration of program. Fee: $5 per child (includes one adult).
Halloween Animal Art for Ages 5-10
October 19  |  10:15am  |  OC Zoo, Irvine Regional Park, Orange
Come learn about creatures that are associated with Halloween! Class includes hands-on learning, fun crafts, and meeting zoo animals up close!  Ages: 5-10 years old only. Parent must accompany child for duration of program. Fee: $5 per child (includes one adult).
Close Up With Bugs and Spiders
October 5  |  11:00am  |  OC Zoo
Come learn more about bugs and spiders. Class includes hands-on learning, fun crafts or art projects, and meeting zoo animals up close! Ages 5-10 years old only.
Spooky Halloween Train
October 19 |  9:00am – noon  |  Fullerton Train Museum
Calling all ghosts and goblins! Come down to the Fullerton Train Museum between 9 a.m. & noon. Come in your best Halloween costumes and enjoy trick-or-treating, games, a coloring table, and photo opportunities. Beware, our very old rail conductor could be lurking behind a door or closet just ready to hand out treats!
Halloween Zoo-tacular
October 26  |  10:00am – 4:00pm  |  OC Zoo
Join us for Halloween fun at the OC Zoo! Activities include trick-or-treating*, spooky kids crafts, a scavenger hnt*, and fun games! (*children ages 12 & under). The first 100 children (ages 12 & under) in costume will receive a free gift! Come see the zoo animals receive treat-filled pumpkins throughout the day! Reservations are not needed. Activities are free with paid zoo admission
Fall Craft Boutique
October 5  |  10am – 2pm  |  Crown Valley Community Park
Don't miss one of a kind finds and treasures! Vendors will be selling a variety of beautifully crafted and unique objects. This is a great opportunity to buy home and holiday decor, as well as jewelry, gifts, and handcrafted items.
Halloween Petacular
October 12  |  9:00am – 1:00pm  | Orange Home Grown Farmers & Artisans Market
Halloween Petacular is Back! Healthy Pet Hospital and Grooming will once again be sponsoring this spooktacular event for our furry friends at the farmer's market! Pet rescue organizations, goodie bags, giveaways, pets available for adoption, pet theme vendors and more! Costume contest for kids and pets at 11am! Don't miss out on the fun at the farmer's market!
Spooktacular Halloween Fun with Kids Imagine Nation
October 11  |  6:30pm  |  Crown Valley Community Park
A fun spooktacular adventure you'll never forget! Wear your costume and bring your dancing shoes to take part in the KIDS IMAGINE NATION high-energy, interactive show, where children can sing and dance along with Aaron, Rachel, and Beatz the Robot! The festivities begin
Heritage Festival and Parade
September 30 – October 31  |  6:00am – 4:00pm  |  Tri-City Park, Placentia
Since 1965, this celebration of the city's heritage includes a parade and fair booths. The festivities begin with the Chamber of Commerce pancake breakfast at 6:30 a.m. followed by the parade and band review at 9:30 a.m. The festival begins at 9:30 a.m. and will feature many exciting activities for the entire family including the annual car show, a crafts fair, food booths, kids games and more.
Kids Halloween Party
October 19  |  11:00am – 1:00pm  | American Legion Placentia Post 277
Placentia Auxiliary's Annual Children's Halloween Party! Best Costume Prizes, Games, Crafts, Pumpkin Decorating, Snacks, Pizza and Drinks! Please sign up all the little kiddies on the sign up sheet located in the club room at the post!
Pirate's Diner Adventure's Vampirate's!
September 30 – October 31 |  Pirate's Dinner Adventure – Buena Park
Celebrate Halloween with Pirate's Dinner Adventure at Treasure Bay's Annual Masquerade Ball. However, heed this warning: be wary. For the Evil Captain Sebastian the Black is still lurking in the shadows, awaiting unsuspecting guests who would become prey to him and his horde of "Vampire Pirates." Care to join the Vampirates… as their dinner?
Zoomars Pumpkin Palooza
October 1 – 31  |  Zoomars, San Juan Capistrano
Bring your family this autumn and experience a full pumpkin patch on our historic farm.
Annual Candy Crawl
October 26  | 1 – 3:00pm |  Outlets at San Clemente
Save the date for our annual pre-Halloween celebration! Collect treats from participating stores and enjoy family fun, including a Pumpkin Patch, inflatable fun (fees apply), creepy crawlies from Wild Wonders, photo ops and more!
Spooky San Clemente
October 26  | 4 – 7:00pm |  San Clemente Community Center
Tricks and treats for all ages! Save the date and start planning your costumes! Join us for a night of haunted houses, spooky corn maze, tricks on Del Mar and a movie in the dark.
City of San Clemente Pumpkin Splash
October 30  | 3 – 5:00pm |  Old Hanson Beach Club
Bring your bathing suit and towel and jump in the pool with the pumpkins! Free event for all ages – event includes a floating pumpkin patch, giant inflatables, and more! Each participant will take home an orange floating friend of their choosing.
Boo at the Zoo
October 31  |  10:00am – 1:00pm  |  Rancho Wildlife Foundation
Calling all ghouls, goblins, ghosts and fairies. Join us for a howling good time Halloween morning for a little trick or treating! $5 per child (all ages), Adults FREE , ONLY 2 FREE ADULTS ALLOWED PER RESERVATION. $8 valet parking, Costumes encouraged. RSVP to julie@ranchowildlife.org
Trunk or Treat with the Fullerton Police
October 30 | 5:00pm | Fullerton Police Department
The Fullerton Police Department invites you to our second annual Trunk-Or-Treat event. Trunk or Treat will be held in the back lot of the police department at the corner of Highland and Amerige. Wear your costume, and trick-or-treat with some of the officers that keep your neighborhoods safe. A few of the officers may even be dressed up….Come if you dare!
Halloween Fun with Family & Friends
October 26 | noon – 4:00pm | Stanton Park, Stanton
The City of Stanton invites you to its annual Halloween Fun With Family And Friends event! This special event is open to ghosts, goblins and witches of all ages. The event will feature games, DJ entertainment, spooky stories, craft making, costume contests, food booths and a howling good time for everyone. Be sure to bring a trick-or-treat bag!
Trunk or Treat at Messiah Lutheran Church
October 25 | 6:00pm | Messiah Lutheran Church, Yorba Linda
Come for an evening of family Halloween fun. The evening will conclude with TRUNK or TREATing. Dress up your car for the fun and pass out candy. All are welcome to this FREE event.
Trick Or Treating at HAUNTington Harbour Place
October 11  |  Huntington Harbour Mall
Come for a treat at the HAUNTington Harbour Place! There will be face painting, trick-or-treating, games, crafts, bounce house, raffles and a ton of Spooky Family FUN! 100% of the funds raised will go towards HB's Waggin Trails Rescue Foundation! We will also be collecting blankets and towels for local dog rescues.
Trunk or Treat at Seeker's Chapel
October 27 | 4:30 – 7:00pm | Seeker's Chapel, Fullerton
Come one, come all to an amazing evening of discovery and fun. Kids will find plenty to do as they (and their favorite grown-ups) join us for an evening of dinner, crafts, rock painting , a scavenger hunt as well as a special activity to help remind us about the blessing of giving. The evening will conclude with TRUNK or TREATing. All are welcome to this FREE event.
Hauntoberfest & Family Halloween Party
October 27  |  Phoenix Club, Anaheim
enjoy authentic German food, food eating contests, fire engine hay ride, train rides, bounce house, pony rides, folk dancers & music.
Villa Park Halloween Fest
October TBD | 4 – 7:30pm |  Villa Park Towne Center
Halloween Fest is a Villa Park annual tradition. Every year you can find kids of all ages in their favorite costumes partaking in the many contests and activities that are laid out for them. It's a fun family event for all! FREE
Halloween Spookfest
October 31 | 5 – 7:00pm | The District at Tustin Legacy
Bring your princesses and superheroes for trick-or-treating, DJ dance parties, balloon art, kids activities, photo opportunities and more! Enjoy trick or treating throughout the Promenade – look for the "Trick or Treat Here" signs in the windows of participating Promenade stores and restaurants. Pick up your free Trick-or-Treat bag at the District booth located in the AMC Courtyard (while supplies last).
Halloween Extravaganza
October 31 | 4 – 5:30pm | Newport Beach Central Public Library – Trick-or-treat at Newport Beach Public Library!  Calling all little ghouls and goblins for a fun-filled Halloween extravaganza. At the library, they'll have not-so-scary stories, Halloween crafts and yummy treats. Finish the evening with trick-or-treating around the library. Don't forget to wear your costume! Children must be accompanied by an adult. No registration required. FREE
Spooky Stories
October 30 | 3:30 – 4:30pm | Newport Beach Central Public Library  Spooky but not too scary (we promise) stories and crafts for Halloween. Feel free to come in costume! Ages 3 and up. Children must be accompanied by an adult. No registration required. First come, first served. FREE
Pumpkin Patch Festival
October 19 | 10:00am – 3:00pm | 1720 Pacifc Coast Hwy. Ste 101, Huntington Beach
Coldwell Banker- Campbell Realtors is sponsoring it's 9th Annual Pumpkin Patch to raise money for the Huntington Beach Police and Community Foundation. Every child gets one FREE pumpkin! We will have our traditional 'Guess the Weight of the Giant Pumpkin' along with face painting, food, games, silent auction and more! FREE
Halloween Harvest Festival
October 19 | 11:00am – 2:00pm | Bella Terra, Huntington Beach
Come celebrate the Harvest Season and Halloween with us for a fun family event on the Green. Enjoy carnival games, a fun kids DJ who will be playing festive and spooky tunes, FREE face painting for kids, and pumpkin crafts. Come dressed in your Halloween costumes if you dare! Please RSVP for each child to make sure we have enough crafts. FREE
Ghoulish Crafts
October 29 | 4 – 5:00pm | Newport Beach Central Public Library
Come make some not-too-spooky crafts for Halloween! Ages 3 and up. Children must be accompanied by an adult. No registration required. First come, first served. FREE
Haunted Escape Room
October 28 | 10:00am – 7:00pm | Mission Viejo Library
You have been trapped inside a haunted room! Can you work together and find a way out? Registration opens October 1st. This program is free and sessions run every 40 minutes. FREE
Fall Family Fest
October 6 | Noon – 3:00pm | Chapman Crafted
Join Chapman Crafted and Orange County Moms Blog and  for a fun-filled FALL event! Enjoy 20% off flights of beer, food trucks, + giveaways! We will have a Face-painter from Royal Kids Parties and Wonder Woman! Tickets are $10 per family!
Halloween Family Festival
October 31 | 2 – 5:00pm | Central Park, Rancho Santa Margarita
Families can trick-or-treat in a safe and welcoming environment, play in bounce houses and inflatables, enter the costume contest, and join in the child and pet costume parade! Capture your favorite memories at our festive photo booth, purchase refreshments from great local vendors, and enjoy music, games, and more! FREE
Trunk or Treat
October 27 | 4 – 7:00pm | St. John's Rancho Santa Margarita
During this event, we will open our parked car trunks that have been decorated in silly, Halloween ways by our church and school families. The parking lot will be closed so our kids can safely walk from car to car, playing games and collecting candy. Free face painting, balloon animals, a costume parade at 5 pm and a Monster Dance Party for everyone will round out the fun. This event is young children friendly so NO SCARY COSTUMES. FREE
Pumpkin Diving
October 20  | 2 – 5:00pm  |  Sierra Recreation and Fitness Center
Jump in and pick you pumpkin! Join us for this annual event as we transform the Sierra pool into a floating pumpkin patch. Once you pick your pumpkin, you can decorate it at one of decorating stations and play fun carnival games. Enter the pumpkin decorating contest for a cheance to win a FREE one-month membership! Spots fill up quickly, register today!
Halloween Movie Night under the Giant Wheel
October 12  |  7:00pm  | Irvine Spectrum
Head over to the Spectrum for a special Halloween edition of their movie nights under the Giant Wheel with the seasonal classic Hocus Pocus! The movie will start at 7PM, so plan accordingly to make sure you have time to buy snacks!  FREE
Olde Tyme Fall Festival
September 28  |  Noon – 5:00pm  | Buena Park Historical Society
Celebrate Buena Park's mystery & history! There is no place like BOO-uena Park for the fall season. Kick off this spooktacular time with our 3rd Annual Olde Tyme Fall Festival. This event showcases the City's Historical Society with – Historical tours of the Whitaker-Jaynes Estate, Storytelling in the historic Bacon House, Arts and crafts for kids, Local on-stage entertainment & Food trucks.  FREE
Octoboofest 
October 24 |  4:30 – 8:30pm  |  Downtown Fullerton Plaza
Don't miss the last day of the market! Dress in your Halloween costume for trick-or-treating at vendor booths, kids' costume parade at 5:00pm and 6:45pm, pre-decorated pumpkin contest and more. FREE
Carnival of the Dead
October 25 |  10:00pm  |  Anaheim
Señores, its time for skulls and sombreros as we celebrate the Day of the Dead with our Mexican inspired Festival! Skull Face Painting! Co2 Cannons & Confetti Showers! Circus Acrobats & Fire Breathers! Live Percussionists & Latin Parade Performers! Come and celebrate the Day of the Dead! Fancy dress is strongly encouraged!
Trick or Treat at the Senior Center
October 25 |  9:30 – 11:00am  | Lakeview Senior Center, Irvine
Bring your little ghouls and goblins to the Lakeview Senior Center for a morning of trick-or-treat stations, snacks, and activities. Tours last approximately 30 minutes; drop in between 9:30 and 11 a.m. $3 per person. Register at yourirvine.org; search for course #21237. Walk-ups accepted as space permits. For more information, call 949-724-7422.
Happy Hallowiener Doggy Dress Up & Races and Kids Costume Day
October 27 | 1 – 7:30pm | Old World Huntington Beach
Doggy Dress Up & Kid Costume Party to celebrates Halloweiner & the last day of Kinderfest! There will be a Best Doggie and Kid Costume Contest on that day. It's a great family day during Oktoberfest! While the kids are having fun, the adults can enjoy the the great selection of German Beers and menu options which include some amazing sausages you'll love.
Yappy Howl-O-Ween
October 27 |  4 – 7:00pm  | The Ritz-Carlton, Laguna Niguel
Bark your calendar to join other canines and their companions to sniff and schmooze at Yappy Hour. Haute hounds enjoy lapping up libations, thanks to water in his favorite flavor – bacon, chicken, beef or vegan – while human guests relax with a glass of spirits. Beer and a selection of barbecue items are also available for purchase.
Halloween Boutique | Malice in Wonderland
August 30 – October 31 | All Day  | Rogers Gardens Corona Del Mar
Follow the White Rabbit down the rabbit hole to experience Wonderland, a labyrinth full of strange and impossible décor to fill your home for Halloween. Enter the Red Queens domain, but be cautious of her wrath, or she will threaten to cut off your head with just a snap.  Find yourself exploring the Mad Hatter's workshop, full of treasures, surprises and frights. Celebrate a very merry un-birthday by pulling up a chair for a cup of tea at the Mad Hatter's Tea Party as the clock strikes midnight.  In a world that is simply mad, join us for an unimaginable visit to Roger's Gardens' Malice in Wonderland this Halloween season.  We're All Mad Here!
Trick or Treating at Festival Shopping Center
October 31  |  4 – 6:00pm   |   Festival Shopping Center in Anaheim Hills
Trick or Treating for kids at the shopping Center. FREE
Trick or Treating at Anaheim Marketplace
October 26  | 3 – 6:30pm  |  Anaheim Marketplace
Trick or Treating for kids at the shopping Center. FREE
Halloween Costume Exchange
October 12  | 9 – 11:00am  |  Brea Resource Center
The Brea Resource Center is hosting a Halloween Costume Exchange! ????
EEK! It's baaaack! Here's how it works: you bring us your gently used costumes, we give you a voucher. You then bring that voucher to "shop" for a costume on October 12! Eerily easy, right?
Treats in the Streets
October 31  |  5 – 7:00pm   |  Brea Downtown
Hundreds of thousands of the best Chocolate Candy will be given away – FREE!, Pony Rides, Bounce House, Petting Zoo,  Game Booths, Face Painting, Balloon Artist, Lots of Raffle and Trivia Game Prizes, Awesome Live Music Performances from our Main Stage. FREE
Bat Night at Tucker Wildlife Preserve
October TBD  |  4 – 8:00pm  |  Tucker Wildlife Preserve, Silverado
Boot Hill in Irvine
October 11, 12, 18, 19, 20, 25, 26, & 27 | 7 – 9:00pm  |  16 Goldenrod, Irvine
BOOT HILL rises from the fog for it's 20th year. The unearthly spirits from the Old West town of Bridgewood will materialize for NINE haunting nights, transforming the residence at 16 Goldenrod into the old church and cemetary that once occupied this hallowed ground. Come if you dare… but beware the ghost of Jedediah Smith, as he has been known to roam the decaying grounds of Boot Hill, exacting revenge on all who cross his path!
Halloween Spooktacular & Trunk or Treat
October 25  |  4:30 – 8:30pm  |  Dana Point Community Center
A Spooktacular Halloween-themed event at the Dana Point Community Center.  The City of Dana Point Recreation Division is teaming up with Dana Point Police Services for two great family events on one night. Besides the regular indoor activities of carnival games, crafts, cookie decorating, entertainment, costume parade, and treats for all the children, Dana Point Police Services will be holding their Trunk or Treat event in the parking lot area. Come meet the Blood Hounds, Bomb Squad, K-9 Unit, Mounted Patrol and the dedicated staff that keep our City safe. Free BBQ hot dogs and refreshments. FREE
Halloween Terrifying 10K, 5K and Kids Run
October 27  |  8 – 11:00am  |  Salt Creek Beach Park
Fun for the whole family! Register for this awesome, annual, family-friendly running event at Salt Creek Beach Park
Monster Dash 10K, 5K and Half Marathon
October 18  |  7:30am  |  Huntington Beach
It's time for the Monster Dash 5k, 10k, 15k, Half Marathon!!! This is a fun run that is clock timed (not chip timed).
Trick or Treat Pumpkin Party at Kaleidoscope
October 27 |  1 – 3:30pm  |  Kaleidescope, Mission Viejo
Kaleidoscope will host its annual Trick or Treat Pumpkin Dance Party. The free event will include trick-or-treating, dancing to music from a DJ, games, free face painting. For $5, children can pick and paint a pumpkin from Kaleidoscope's pumpkin patch. Costumed youngsters are invited to bring their own treat bag for trick-or-treating at participating stores and restaurants, from 1 to 3:30 pm, or while supplies last. FREE
Haunted High
October 18, 19, 25 & 26  |  6 – 9:30pm  |  Holy Cross Lutheran Church, Cerritos
Are you ready for the scream of your life? Then, come join us for our annual 'SPOOK'-TACULAR event, HAUNTED HIGH! Critics say it's the "Best haunted house in town!" Each year it gets better and better, so you won't want to miss out on all the fun! $5.00 donation.
Autumn Harvest Festival
October 5  |  4 – 9:00pm  |  Heritage Hill Historical Park, Lake Forest
Bring the family to a fun-filled adventure and experience the park transformed into a spooky Halloween festival. Enjoy the Trick-or-Treat stations, Adventure Maze, and dare to visit the Haunted School House. Children of all ages can participate in ghoulish games, costume contests and the pumpkin decorating zone. Costumes and trick-or-treat bags are recommended.
Haunt at Heritage Hill
October 12 – 13  |  6:30 – 10:30pm  |  Heritage Hill Historical Park, Lake Forest
OC Parks and the City of Lake Forest welcome trick-or-treaters ages 12 and older back to Heritage Hill Historical Park for the 12thAnnual Haunt at Heritage Hill. The park will once again transform into a haunted adventure with scream zones, music, and game booths. Admission: $10 per person. Costumes encouraged, but no masks or face paint will be permitted to enter the event.
Jack-o-lantern Jamboree at Atlantis Play Center
October 27  |  1:00 – 4:00pm  |  Atlantis Play Center, Garden Grove
Festivities include Petting Zoo, Bounce Houses, Magician (2:00p – 2:30p & 3:00p – 3:30p), Pumpkin Patch, Airbrush Tattoos, Euro Bungee, Crafts, Animal Balloons, Train Ride and Beach Bus Bistro (food truck selling food). (must buy pre-sale tickets beginning October 8th)
Mini Monster Bash
October 31  | 10:00am – noon  |  La Habra Children's Museum
Calling all little monsters for a Halloween bash featuring games, crafts, and a mini-maze! Little ones and their adults are encouraged to dress in costume! Free to CMLH Members and visitors with paid admission.
David Boatman's Spooky Cartoon Class
October 24  |  4:30pm   | La Habra Branch Library
Have fun learning how to draw spooky cartoons! FREE
Family Dia de los Muertos Celebration
October 26  | 11:00am – 3:00pm   | La Habra Branch Library
Crafts, Folklorico & Aztec dancers & more!! FREE
Irvine Park Pumpkin Patch
September 14 – October 31  |  Irvine Regional Park, Orange
The best pumpkin patch around. Be prepared to spend the day roaming through pumpkins, decorating cookies and running through and hay maze! you can enjoy pony rides, haunted house, face painting, bouncy houses, games, food and best of all….the train ride!
Irvine Park Pumpkin Patch Great Pumpkin Weigh-off
October 21  | 10:00am – noon  | Irvine Regional Park, Orange
Get ready for Irvine Park Railroad's 3rd annual "Great Pumpkin Weigh-Off". Come see if pumpkin growers have what it takes to grow the biggest pumpkin. All Pumpkin Patch activities will be open on this day. Thousands of dollars in cash prizes will be awarded. KTLA Channel 5 weatherman Henry DiCarlo will host this event.
Anaheim Fall Festival & Halloween Parade
October 26 | 11:00am – 9:00pm  |  Center Street Promonade, Anaheim
This Family Festival will have something for everybody including live entertainment, games, craft fair, community information booths, food, pumpkin patch and more! there will be trick or treating for costumed youth up to 12 years and also a haunted house. FREE
Huntington Beach Halloween Fest
October 31  |  4:00 pm – 8:00 pm  |  Main Street & 5th
HB Downtown including Main Street and 5th & PCH becomes HBoo Spookytown with family activities, and above all… trick-or-treating in the BID downtown zone on Main (and side-streets), PCH, the Pier, and 5th with businesses providing candy to children. Halloween costume contest for kids and dogs on 5th Street. Creepy Critters to view and hold from Prehistoric Pets. City of HB Police, Fire, Public Works and Marine Safety have equipment on Main St. and handout candy. Parks and Recreation will have activities. Halloween photo stations on Walnut. Inflatable games, slide, and obstacle course on Main. FREE
Fullerton Haunted Walking Tours
October 10, 11, 15, 16, 17, 18, 19, 22, 23, 24, 25, 26, 29 & 30 |  5:30pm  |  City of Fullerton Museum
The tours leave the museum promptly at 6 p.m., and last approximately two and one-half hours. Aul said "ghost hunters" should be prepared to walk approximately 1.5 miles, and the tours will include climbing stairs. Participants should wear comfortable walking shoes and bring a sense of humor with them.
Treats in the Streets Autumn Festival
October 24  |  4:00 – 7:00pm  |  Old Town Orange Plaza, Orange
 This free community event includes games, trick or treating with local merchants, a costume parade, and entertainment for participants of all ages. Our local non-profit groups provide delicious food items and tasty treats for a nominal charge. FREE
Friday the 13th Old Town Orange Ghost Walk
October 24  |  4:00 – 7:00pm  |  Old Town Orange Plaza, Orange
 A collection of history and true ghost stories from one of Orange County's most haunted places. Join us for a leisurely stroll through Old Town Orange while we talk of things that go bump in the night. Walk past antique stores that deal in goods that may carry a deadly past or something from the other side. Lear about restaurants where meals may be served alongside the dead. And what would a ghost tour be without visiting a local business that used to be the Orange Undertaker's morgue. Filled with history, beauty and the macabre, our tour gives you a new way to see old sights. Bring comfortable shoes and your backbone.
Doheny State Beach Haunted Campground
October 19  |  6:30 – 8:30pm  |  Doheny State Beach Campground
Come on down for a great autumn evening tradition at Doheny.  Wear your Halloween costumes and explore our craft and educational booths, earn tickets for prizes,  stroll along the Spooky Walk, get a temporary tattoo or maybe get your face painted and indulge in Halloween snacks.  Rangers, Lifeguards and other volunteers all pitch in to make this a really fun evening,  Please support our food drive by bringing a can or box of food for donation to a local food bank. FREE
Haunted Trails of Laguna Niguel
October 17 – 19  |  6:30 – 10:00pm  |  Crown Valley Community Park
There was a hotel in the Valley of Crowns that sat empty for years due to mysterious sounds. The hallowed halls are haunted by those from the past, screaming, and searching for answers at last! Guides will escort groups through the old hotel, the lobby, kitchen, and the gardens of HELL! This is a very SCARY events and do not recommended for children under 8 years of age. Pre-sale wristbands go on sale Monday, August 14 during office hours 8am-5pm at the Crown Valley Park Registration Office.
Halloween Howl in Tustin
October 31 | 3 – 5:00pm |  Tustin Activity Center
Costume contests, family entertainment, carnival games, priezes and candy. Hosted by City of Tustin Parks & Recreation
The Pumpkin Factory at Westminster Mall, Main Place Mall & Corona
Check website for dates
The City of Cypress Halloween Carnival
October 31  |   6 – 9:00pm  |  Cypress Community Center
Family Games, Entertainment and Trick or Treat! Food will be sold for an additional cost at the event.
Los Alamitos Trunk Or Treat
October 26  |  5:00pm  |  Little Cottonwood Park – Los Alamitos
The City of Los Alamitos invites you to our annual MemorialCare Miller Children's & Women's Hospital Long Beach Trunk or Treat presented by AYSO 159. Come out and enjoy fun family activities for all ages including costume contest, pie eating contest, train ride, trunk or treating, prizes, food trucks, inflatables, and photo booth! Don't miss out on the fun! FREE
Great List of Huntington Beach Halloween Events Here!

and check out these awesome Halloween events, just ouside of Orange County.
Legoland Brick-or-Treat Party Nights
September 28, October 5, 12, 19 & 26  |  5 – 9:00 p.m.  |  Legoland, Carlsbad
The home of Halloween fun is filled with…Live entertainment + new shows! Character Meet and Greets, Costume Contest: Group, Heroes and Villians, and LEGO, Treat stations with more than 1 million pieces of candy, Heartlake City Fall Festival with Pumpkin Patch Build and craft time with the LEGO Friends, The AstroBash Dance Party, Brick-or-Treat Party Nights Pop Badge Challenge and more! Plus, don't miss candy, decorations and your fishy friends at SEA LIFE® Aquarium included with your Party Nights ticket.
The Peanuts Great Pumpkin Express
October 12, 13, 19, 20, 26 & 27  | 9:00am – 4:00pm  |  Orange Empire Railway Museum
Enjoy a day of Family Halloween-Themed Fun! Get behind a real locomotive and take a Train Ride to adventure to the Pumpkin Patch – select and decorate your own pumpkin to take home, enjoy Jon and Rachel Music 4 kids on stage, and Mister Twister the balloon guy. Jump on a trolley for a ride around campus, Take part in kids crafts, the hay maze, visit the coloring station, temporary tattoos and stickers, bounce house, cookies and cider, scavenger hunt, and trick or treating, Carnival Games($1 each) and 14ft Kids' Ferris Wheel ($3 each). And kids, don't forget to wear your Halloween costumes for the Costume Contest!
Cal Poly Pumpkin Festival & Insect Fair
October 5 – 6  |  8:00am – 5:00pm  |  Cal Poly Pomona Farm Store
The Pumpkin Festival is a two-day event held every October at the AGRIscapes Agricultural Outreach Center at Cal Poly Pomona. For 26 years the festival has grown to become a very popular event, drawing thousands of visitors to pick pumpkins from a patch near the Farm Store. The Don B. Huntley College of Agriculture grows 40,000 pumpkins for the event. The festival also features a Corn Maze that is specially grown for the occasion, Pony Rides, and a Petting Farm. Visitors can compete and play games run by student clubs or listen to live music. Food and drinks are available to purchase from vendors.
Scarium at the Aquarium of the Pacific
October 26 & 27  |  7:00pm – Midnight  |  Aquarium of the Pacific, Long Beach
Discover the creatures lurking in the depths at the Aquarium of the Pacific's twentieth annual Scarium of the Pacific—a spooktacular, educational Halloween event for the whole family. Enjoy special Halloween programs, including the annual children's costume contest, creepy coloring contest, magic shows, underwater pumpkin carving, spooky storytelling, and kooky crafts, and meet eerie animals in the Great Hall.
Queen Mary Dark Harbor
September 26 – November 2 |  7:00pm – midnight  |  Queen Mary Long Beach
The Captain claims he is in control…but is he? Confusion and fear reign supreme at Dark Harbor 2019. It's all hands on deck for 23 select nights as the Captain, Scary Mary and over 200 monsters haunt six terrifying mazes, nightly live entertainment, secret bars and exciting rides.
SeaWorld Halloween Spooktacular
Weekends in September 21 – October 27 |  SeaWorld, San Diego
Watch silly and spooky live shows and presentations, enjoy fun Halloween activities and trick-or-treat for candy and goodies throughout the colorfully decorated park. Halloween Spooktacular is one of San Diego's biggest fall festivals, with weekends brimming with family fun. Get in the spooky spirit and catch popular live shows like Clyde & Seamore's Big Halloween Bash and the return of the Sesame Street Halloween Parade, join delightful Halloween dance parties and let the little ones trick-or-treat throughout the park in a safe, family-friendly environment.
Halloween Horror Nights at Universal Studios Hollywood
September 13 – November 3 |  7:00pm – 2:00am  |  Universal Studios Hollywood 
Enter a world more terrifying than you can imagine at Universal Studios Halloween Horror Nights – the most intense, spine-tingling event to besiege Southern California – now with more mazes than ever. The studio that spawned the original monster movie genre, once again, breathes new life into your darkest nightmares – bringing deeper fears and more hair-raising encounters to all-new immersive worlds of the living, the dead, and the in-between. From some of the most haunting moments in film and television come 10 new spine-chilling mazes that will have you screaming all night long.
{disclaimer: Be sure to check out events before attending as times and dates may have changed.}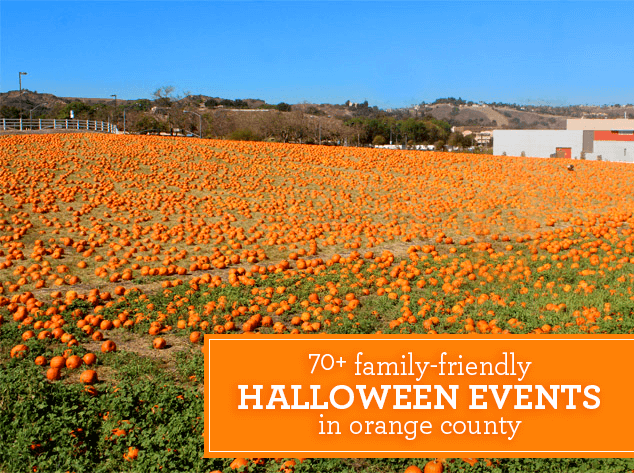 SaveSave
SaveSave
SaveSave
SaveSave
SaveSave
SaveSave
SaveSave