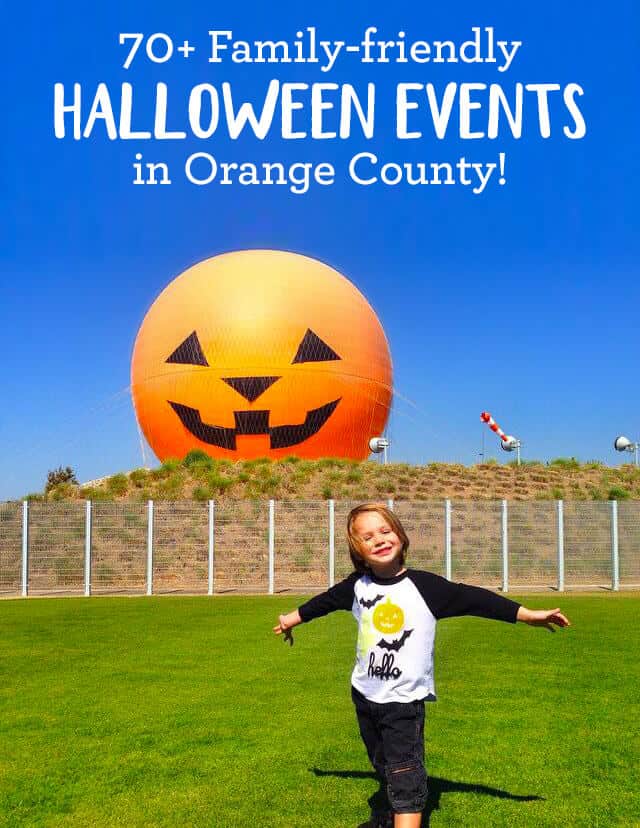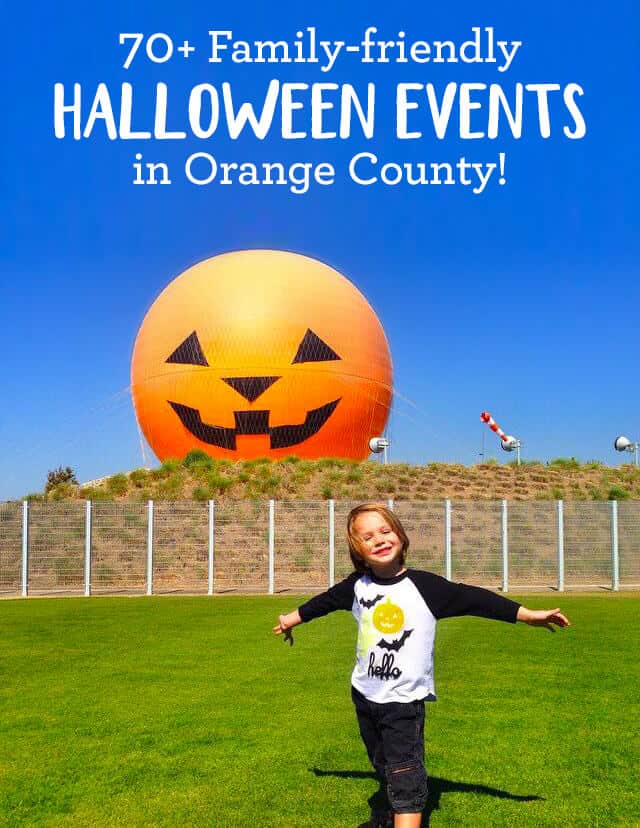 and just like that, the Halloween season is about to arrive in Orange County! soon, fun Halloween events will be popping up all over Southern California. i have compiled a list of over 70 Orange County Halloween events for Kids and Families…most of which are kid-friendly or family-friendly. and all of them are scheduled around the OC and SoCal this Halloween season.
it's time to get your calendar out and pick out the ones that look like the most fun for your family. i love to make the Halloween time extra special for my family, and taking them to a couple fun Halloween events, make the Halloween season one will always remember! (be sure to check back here, as more events will be added to the list as they are announced.)
2018 Orange County Halloween Events for Kids and Families
Knott's Spooky Farm
Every Weekend in October | Camp Snoopy and Ghost Town at Knott's
this daytime, non-scare event is a celebration of cheer rather than fear! you can enjoy shows, activities and of course, trick or treating. kids can take part in the "Monster Dance Party and Costume Parade," sing and dance along with the Peanuts gang as you watch the "The Monsters are Coming, Charlie Brown" in the Camp Spooky Theatre, walk through the "Spooky Hollow Maze", visit the Creepy Crawler Cabin, have fun in Ghost Town Trick or Treating and join Snoopy's Costume Contest and Dance Party. click here to go directly to the Knott's website.
Mickey's Halloween Party
September 19, 22, 24, 26 & 28, October 2, 5, 9, 12, 16, 19, 23, 26, 29 & 31 | Disneyland Resort
Party with Mickey Mouse in Disneyland and Disney's California Adventure, go trick or treating & watch the spectacular Halloween Screams Firework Show. Guests of the party get to enter Disneyland 3 hours before the party to enjoy the park!
Halloween Time at Disneyland
September 7th – October 31st | Disneyland Resort
Disneyland Resort and Disney's California Adventure are dressed up for Halloween! Check out the decorations and enjoy special Halloween activities throughout the park.
Pumpkin Nights
October 12 – November 4 | 5:00 – 10:00pm | Pomona Fairplex
In 2016, a team of passionate artists set out to create a brand-new Halloween experience. At Pumpkin Nights, visitors journey through eight different themed lands, all crafted using over 3,000 hand-carved real and synthetic pumpkins. Now, for the first time ever, we're bringing the Pumpkin Nights experience to Los Angeles! To learn more about what's in store, check out their website.
Fall Fest
October 31 | 6 – 9:00pm | Compass Bible Church
Kettle Corn, Churros, Tons of Candy, Coffee, Laser Tag, Pony Rides, Rock Climbing Wall, Giant Ferris Wheel, lots of Game Booths, BBQ'd Hot Dogs & In & Out. The event is free, along with rides, games and candy. There will be small charge for food, so please bring cash (credit cards will be accepted with a small add'l charge). FREE
Spooky Science at Discovery Science Center
Weekends in October | Discovery Science Center OC
Giant bugs, creepy crawlers and friendly spooks are all making their way to Discovery Cube for Spooky Science this October. Join us as we explore bugs of all colors and sizes among over-sized exhibit sets and hands-on learning stations. Even the youngest of goblins will enjoy spooky fun while exploring insects like never before.
Boo at the Zoo
October 20, 21, 27 & 28 | 5:30 – 8:00pm | Santa Ana Zoo
A "Merry not Scary" family friendly event where everyone is encouraged to come in costume! One of the safest places for children (ages 2-12) to trick-or-treat for Halloween enjoying goodies from TEN Trick-or-Treat Stations throughout the Zoo providing a variety of toys, books, snacks, and candy on the Trick-or-Treat Trail, Entertainment, Animal Presentations, Storytelling, Costume Parade, Ride the "Boofari" Express Train and Carrousel for an additional fee and "Teen Scream" Haunted House (a separate area, included in the price of admission)
Cryptozoology Night at the Zoo
September 29 | 6:30 – 9:30pm | Santa Ana Zoo
As the sun goes down and the nocturnal animals stir, other animals begin to rise. Join Charles Spratley, Haunted OC guide and lecturer as he leads you to discover and discuss some of the most famous examples of Cryptozoology. From Sasquatch and Yeti to the Chupacabra and others. We will cover their origins, first sightings and possible scientific explanations for these unique and elusive creatures. After the outdoor presentation in the amphitheater, guests will break into smaller groups and experience a night time walk-through of the zoo and Amazon's Edge Rainforest and perhaps catch a glimpse of some of it's nocturnal residents who prefer to come out after dark.
Bootastic Halloween Party
October 19 & 26 | 5:30pm | Adventure City
Halloween Time is right around the corner and for two Friday nights only Oct.19 & 26th, Adventure City is hosting a family-friendly Halloween Bash! To ensure that ride wait times are at a minimum, limited special event ticket quantities are available. Buy online today!
Pretend City Trick Or Treat Through The City
October 31 | Pretend City Children's Museum
Pirates, Ghosts, & Princesses Pretty! Come Trick-Or-Treating at Pretend City! On Halloween, we are having a special trick-or-treat extravaganza for all our friends! Stop by the museum and take part in our Halloween Bug Bash as well as trick-or-treat at different stations through the city! We will surely have a ghouly good time!
Costume Week at Pretend City
October 21 – 27 | Pretend City Children's Museum
Black cats and witch's brew, we want to dress up with you! Wear your costume to Pretend City this whole week and receive 25% off your second admission!
Healthy Halloween at Pretend City
October 30 | Pretend City Children's Museum
Happy Healthy Halloween! This time of year brings lots of treats and sweets into kids' lives that may make them fall into a junk food funk. Serving Kids Hope is joining us at Pretend City to share fun tips and tricks to keep your kids eating healthy this Halloween!
Pageant of the Monsters
October 26, 27, 28, 31 | 6 – 9:30pm | Laguna Festival of Arts
This Halloween the Festival of Arts and Pageant of the Masters brings a monster of a good time to Laguna Beach! Only returning every five years, the Pageant of the Monsters offers families a frightfully fun time filled with ghoulish tricks and treats. The Pageant's backstage is transformed into a haunted house themed RAIDERS OF THE LOST ART where guests can follow along on a perilous quest to recover treasures from exotic locales across the globe. The Festival of Arts grounds will be filled with Halloween-themed arts and crafts, a reptile zoo, music, and other "spook-tacular" surprises! Admission is $15 in advance, $20 at the door; children 12 and under $10. This event is not recommended for children under 5 years of age.
Creepy Casa Haunted House
October 27, 28, 31 | 7 – 9:00pm | Casa Romantica – Have you ever wondered if Casa Romantica is haunted? Yes, it is! CASA CREEPY: HAUNTED HOUSE is one of the most fun and unique haunted houses for families in south Orange County. Encounter ghosts, mummies, and creepy-crawly surprises around every corner during spooky tours of our historic 1927 home. Period films such as Nosferatu and vintage-themed special effects will 'reel' in the whole family, and candy and refreshments will be available. $12 general adult admission, $7 for ages 12 and under
Frankenstein Friday!
October 26 | Pretend City Children's Museum
Have a monster of a time at Pretend City and pay tribute to Mary Shelley's classic fictional character, Frankenstein with these monstrously fun activities. We will be dancing to the Monster Mash, making Frankenprints, and doing some Monster Science and Math Activities. Let's have a monster of a time!
The OC Ghostbusters Come to Pretend City
October 27 | Pretend City Children's Museum
The OC Ghostbusters are coming to Pretend City! If you're unafraid of ghost and into the Ghostbuster's Movie, put down that phone and get down to Pretend City today for some spooktacular activities!
Fall Festival Fun!
September 22 | Pretend City Children's Museum
FALL into this season as the leaves change colors and the weather gets colder! This season brings lots of exciting things for families, including holidays, fall themed foods, and maybe some family traditions in the making! Pretend City is celebrating Fall with our Fall Festival Day! Join us as we create art, play games, and do activities all focusing on fall, leaves, pumpkins, and gourds!
Tanaka Farms Pumpkin Patch & U-Pick Tours
September 29 – October 31 | Tanaka Farms, Irvine
Tanaka Farms invites you to visit our Pumpkin Patch with all your favorites as well as some new and improved guest experiences for 2018. Check back often as we will post updates about our Pumpkin Patch here!
Historic Yorba Cemetery Tour
October 6 | 11:00am – noon | Woodgate Park, Yorba Linda
enjoy a guided tour through Orange County's oldest private cemetery. FREE
Knott's Scary Farm
September 20 – October 31 | Knott's Berry Farm
be prepare to get SCARED!!!! this event is definitely not for the kiddies. send your teenagers or make a date night at this frightfully scary night of terror. you can go through the monster mazes, watch the traditional Hanging Show, and be sure to try out the new interactive Trapped Maze. a pre-show buffet is offered at an additional price.
Aliso Viejo Fall Harvest Festival
October 20 | 10:00am – noon | Grand Park, Aliso Viejo
Children's Crafts, Carnival Games, Balloon Twisters, DJ Entertainment and more! Wear your costume as you walk through the costume parade. Parade begins at 10:30 am. AVCA will also be hosting a Canned Food Drive with South County Outreach. Bring FIVE (or more) canned food items, pet food or make a donation and your child receives a wristband for a pony ride. The only way for your child to ride a pony this year is to donate and receive a wristband! Canned food will be collected and distributed by South County Outreach to those in need here in Orange County. FREE
Halloween Animal Art – Toddler Program
October 2, 10, 12, 18 & 31 | 10:15 a.m. | OC Zoo, Irvine Regional Park, Orange
Come learn about creatures that are associated with Halloween! Class includes hands-on learning, fun crafts, and meeting zoo animals up close! Ages: 3-4 years old only. Parent must accompany child for duration of program. Fee: $5 per child (includes one adult). Parking fee: $3 Registration is required! Call 714-973-6846 to register.
Halloween Animal Art for Ages 5-10
October 13 | 10:15 a.m. | OC Zoo, Irvine Regional Park, Orange
Come learn about creatures that are associated with Halloween! Class includes hands-on learning, fun crafts, and meeting zoo animals up close! Ages: 5-10 years old only. Parent must accompany child for duration of program. Fee: $5 per child (includes one adult). Parking fee: $3 Registration is required! Call 714-973-6846 to register.
Spooky Halloween Train
October 20 | 9:00am – noon | Fullerton Train Museum
Calling all trick-or-treaters! The Spooky Halloween Train is back! Come and visit us in your best Halloween costume and enjoy trick-or-treating, games, photo ops, and a special spooky surprise or two! The event is free and open to all ages! Donations are appreciated. As a non-profit organization, the Fullerton Train Museum relies on donations for our special events. We could not bring these free events to the public without the generosity of our visitors. Thank you.
Halloween Zoo-tacular
October 27 | 10:00am – 4:00pm | OC Zoo, Irvine Regional Park, Orange
Join us for Halloween fun at the OC Zoo! Activities include trick-or-treating*, spooky kids crafts, a scavenger hnt*, and fun games! (*children ages 12 & under). The first 100 children (ages 12 & under) in costume will receive a free gift! Come see the zoo animals receive treat-filled pumpkins throughout the day! Reservations are not needed. Activities are free with paid zoo admission
Fall Craft Boutique
October 6 | 10:00am – 3:00pm | Crown Valley Community Park, Laguna Niguel
Don't miss this popular, annual event! More than seventy-five vendors will be selling unique, handcrafted items. This is a great opportunity to buy gifts, home décor, jewelry, and a variety of beautifully crafted items. Free admission! Food will be available for purchase.
Family Fun Night with Kids Imagine Nation "Halloween Episode"
October 13 | 7:00pm | Crown Valley Community Park, Laguna Niguel
KIDS IMAGINE NATION is a high-energy, interactive children's musical. Come sing and dance along with Aaron, Rachel, and Beatz the Robot in their original theatrical show. There is no better way to celebrate Friday 13th than taking part of the spooktacular fun of Kids Imagine Nation. So, bring the family, wear your costume and bring your dancing shoes. This will be a Halloween adventure you will never forget! $5
Great Park Spooktacular Fundays
October 13 & 14 | 9:00am – 1:00pm | Orange County Great Park, Irvine
Come in costume and enjoy traditional family-friendly fall activities such as a pumpkin patch, treats, games, crafts, gourmet food trucks and much more at Spooktacular Fun Days 2017. Help scare away hunger by bringing nonperishable food items to support local food banks. Tickets for children 12 and younger are $5 plus food donation; space is limited. Free adult admission and parking.
Heritage Festival and Parade
October 13 | 6:00am – 4:00pm | Tri-City Park, Placentia
Since 1965, this celebration of the city's heritage includes a parade and fair booths. The festivities begin with the Chamber of Commerce pancake breakfast at 6:30 a.m. followed by the parade and band review at 9:30 a.m. The festival begins at 9:30 a.m. and will feature many exciting activities for the entire family including the annual car show, a crafts fair, food booths, kids games and more.
Pirate's Diner Adventure's Vampirate's!
Starting October 3rd | Pirate's Dinner Adventure – Buena Park
Looking for something fun to do with your family this Halloween in Orange County? Celebrate Halloween with Pirate's Dinner Adventure starting October 3rd at Treasure Bay's Annual Masquerade Ball. However, heed this warning: be wary. For the Evil Captain Sebastian the Black is still lurking in the shadows, awaiting unsuspecting guests who would become prey to him and his horde of "Vampire Pirates." Care to join the Vampirates… as their dinner?
Zoomars Pumpkin Palooza
October 1 – 31 | Zoomars, San Juan Capistrano
Pumpkins, petting zoo, train rides, pony rides & more.
Halloween Kids Event
October 20 | 2:00 – 5:00pm | Rancho Mission Viejo
No tricks here, just treats! Join us October 20th, 2 pm – 5 pm for a fun Kids Day Event! Featuring Mini Pumpkin Decorating – paint, glitter, glue your own mini pumpkin! Materials will be provided by Gelson's, I Scream, Balloons, Prizes, Face Painting, Anyone in costume will receive a prize! And even MORE Ghoulish Activities!
Spooky San Clemente
October 27 | 4:00 – 7:00pm | San Clemente Community Center
Attention all ghosts and goblins! Join us at Spooky San Clemente for scary fun and hours of fright including a haunted maze, a mystical magic show, a costume contest and parade, a movie on the lawn (MONSTERS, INC at 6 pm), and ghostly games. The Downtown Business Association and local shops will be open for "Treat Street" down Avenida Del Mar. Activity wristbands will be available for purchase for $5 at the event. This is a family-friendly Halloween celebration!
City of San Clemente Pumpkin Splash
October 30 | 3:00 – 5:00pm | Old Hanson Beach Club
Bring your bathing suit and towel and jump in the pool with the pumpkins! Free event for all ages – event includes a floating pumpkin patch, giant inflatables, and more! Each participant will take home an orange floating friend of their choosing.
Trick Or Treat Festival
October 28 | 10:00am – 2:00pm | OC Event Center, Costa Mesa
The first 500 kids in attendance will receive a complimentary trick-or-treat bag and specialty toy! Children are encouraged to grab a trick-or-treat map and visit participating vendors for candy throughout our Market Place. All ages are encouraged to dress in costumes.
All Treats No Tricks
October 31 | 3:00 – 7:00pm | Brea Mall
Come in costume for spooky family fun and activities based on Vampirina and your favorite Disney Junior pals! Find your favorite Disney Junior costumes and accessories at the Disney store at Brea Mall to gear up for your Play Date. There will be trick or treating at the mall from 4-7PM. Toy weapons or masks on anyone 10 years and older are not permitted
Boo at the Zoo
October 29 | 10:00am – 1:00pm | Rancho Wildlife Foundation
Calling all ghouls, goblins, ghosts and fairies. Join us for a howling good time Halloween morning for a little trick or treating! $5 per child (all ages), Adults FREE , ONLY 2 FREE ADULTS ALLOWED PER RESERVATION. $8 valet parking, Costumes encouraged. RSVP to julie@ranchowildlife.org or (949) 589-7900
Halloween Fun with Family & Friends
October 27 | noon – 4:00pm | Stanton Park, Stanton
The City of Stanton invites you to its annual Halloween Fun With Family And Friends event! This special event is open to ghosts, goblins and witches of all ages. The event will feature games, DJ entertainment, spooky stories, craft making, costume contests, food booths and a howling good time for everyone. Be sure to bring a trick-or-treat bag!
Trunk or Treat at Seeker's Chapel
October 28 | 4:30 – 7:00pm | Seeker's Chapel, Fullerton
Come one, come all to an amazing evening of discovery and fun. Kids will find plenty to do as they (and their favorite grown-ups) join us for an evening of dinner, crafts, rock painting , a scavenger hunt as well as a special activity to help remind us about the blessing of giving. The evening will conclude with TRUNK or TREATing. All are welcome to this FREE event.
Hauntoberfest & Family Halloween Party
October 28 | Phoenix Club, Anaheim
enjoy authentic German food, food eating contests, fire engine hay ride, train rides, bounce house, pony rides, folk dancers & music.
Villa Park Halloween Fest
October 27 | 4 – 7:30pm | Villa Park Towne Center
Halloween Fest is a Villa Park annual tradition that started in 2002 and is now in it's 17th year. Every year you can find kids of all ages in their favorite costumes partaking in the many contests and activities that are laid out for them. It's a fun family event for all! FREE
Myth and Lore of Wolves
October 28 | 4 – 5:30pm | Fullerton Arboretum
Wolves are woven within the stories of many cultures across the globe. Come learn of legendary lupines such as Fenrir, Asena, Sirius, and even creatures such as Skinwalkers and Werewolves. From the Creation of the first people to the impending rise of Ragnarok, wolves have been a keystone which have helped rewrite our perceptions of the world and reshped the environment. Join the Ambassador Wolves of Project Wildsong for an exciting evening centered around the "Myth and Lore of Wolves" –an exclusive Howl-o-ween presentation!
Halloween Extravaganza
October 31 | 4 – 5:30pm | Newport Beach Central Public Library – Trick-or-treat at Newport Beach Public Library! Calling all little ghouls and goblins for a fun-filled Halloween extravaganza. At the library, they'll have not-so-scary stories, Halloween crafts and yummy treats. Finish the evening with trick-or-treating around the library. Don't forget to wear your costume! Children must be accompanied by an adult. No registration required. FREE
Hometown Halloween
October 28 | 3 – 7:00pm | Norman P. Murray Community and Senior Center – Mission Viejo
Celebrate this fall holiday in glowing style with themed carnival games, crafts, music and much more from 4:00 pm to 6:00 pm. Then from 6:00 pm to 7:00 pm, it's fun or fright as you travel through our glowing haunted maze. FREE
Pumpkin Diving
October 21 | 2 – 5:00pm | Sierra Recreation and Fitness Center
Jump in and pick you pumpkin! Join us for this annual event as we transform the Sierra pool into a floating pumpkin patch. Once you pick your pumpkin, you can decorate it at one of decorating stations and play fun carnival games. Enter the pumpkin decorating contest for a cheance to win a FREE one-month membership! Spots fill up quickly, register today!
Octoboofest
October 25 | 4:30 – 8:30pm | Downtown Fullerton Plaza
Don't miss the last day of the market! Dress in your Halloween costume for trick-or-treating at vendor booths, kids' costume parade at 5:00pm and 6:45pm, pre-decorated pumpkin contest and more.. FREE
Happy Hallowiener Doggy Dress Up & Races and Kids Costume Day
October 28 | 2 – 7:30pm | Old World Huntington Beach
Doggy Dress Up & Kid Costume Party to celebrates Halloweiner & the last day of Kinderfest! There will be a Best Doggie and Kid Costume Contest on that day. It's a great family day during Oktoberfest! The kids can enjoy the dog races, carnival games, face painting, a bouncy house, DoDo the chicken, and join everyone on the dance floor for everyones favorite song, the Chicken Dance. While the kids are having fun, the adults can enjoy the the great selection of German Beers and menu options which include some amazing sausages you'll love.
Yappy Howl-O-Ween
October 25 | 4 – 7:00pm | The Ritz-Carlton, Laguna Niguel
Bark your calendar to join other canines and their companions to sniff and schmooze at Yappy Hour. Haute hounds enjoy lapping up libations, thanks to water in his favorite flavor – bacon, chicken, beef or vegan – while human guests relax with a glass of Mutt Lynch Unleashed Chardonnay, Merlot Over and Play Dead, Chateau d'Og Cabernet Sauvignon or a refreshing cocktail featuring Tito's Vodka. Beer and a selection of barbecue items are also available for purchase. Proceeds support The Veterans Initiative of Canine Companions for Independence.
Halloween Boutique | Hocus PocusMagic
September 1 – October 28 | All Day | Rogers Gardens Corona Del Mar
Wander the corridors of a most magical school where witches and wizards learn their craft. Prospective students are invited to tour the castle. Explore the Headmaster's Study, a room filled with curiosities and antiquities. Discover where novice witches and wizards study in the Potions classroom, be sure not to tamper with their mysterious experiments. Who knows what mythical creatures are lurking in the cabinets. Students wishing to learn about the magical properties of plants can visit the Greenhouse Conservatory where rare and unusual specimens are cultivated. Each of the many rooms in this castle is filled with enchanted objects and décor to fill your home with the spirit of Halloween. Visit Roger's Gardens this Halloween season and surround yourself in a world of magic.
Children's Halloween Festival at Roger's Gardens
October TBD | 4 – 5:00pm | Rogers Gardens Corona Del Mar
Calling all ghosts & goblins! Share your Halloween spirit and your creativity at our annual Halloween Festival. Bring in your children for some fun, interactive crafts and activities and everyone's favorite trick-or-treating costume parade throughout the Gardens for all to enjoy. Don't forget your camera!
Trick or Treating at Festival Shopping Center
October 31 | 4 – 6:00pm | Festival Shopping Center in Anaheim Hills
Trick or Treating for kids at the shopping Center FREE
Trick or Treating at Anaheim Marketplace
October 28 | 3 – 6:30 p.m. | Anaheim Marketplace
Trick or Treating for kids at the shopping Center
Kidz Block Party
October 31 | 5 – 9:00pm | Brea Downtown
Hundreds of thousands of the best Chocolate Candy will be given away – FREE!, Pony Rides, Bounce House, Petting Zoo, 20′ Tall Rock Climbing Wall, 25′ Tall Giant Shark Slide, Over 40 Game Booths, Face Painting, Balloon Artist, Lots of Raffle and Trivia Game Prizes, Awesome Live Music Performances from our Main Stage. FREE
Bat Night at Tucker Wildlife Preserve
October TBD | 4 – 8:00pm | Tucker Wildlife Preserve, Silverado
Boot Hill in Irvine
October 13, 14, 20, 21, 22, 27, 28 & 29 | 7 – 9:00pm | 16 Goldenrod, Irvine
BOOT HILL rises from the fog for it's 18th year to haunt the residence at 16 Goldenrod in Irvine, California. The unearthly spirits from the Old West town of Bridgewood will materialize for EIGHT haunting nights, transforming the residence at 16 Goldenrod into the old church and cemetary that once occupied this hallowed ground. Come if you dare… but beware the ghost of Jedediah Smith, as he has been known to roam the decaying grounds of Boot Hill, exacting revenge on all who cross his path!
Dana Point Oktoberfest
October 7 | 11:00am – 7:00pm | Sea Terrace Park
Halloween Spooktacular & Moonlight Movie
October 26 | 3 – 9:00pm | Dana Point Community Center
Halloween Carnival Games, Halloween Cupcake Decorating & Crafts, Carolyn Hopkin's Story Time, Franklin Haynes Marionette Show, Costume Parade, Pumpkin Decorating Contest for children up to 10 years. (Bring your already decorated or carved pumpkin). Free popcorn and treats. FREE
Halloween Terrifying 10K, 5K and Kids Run
October 28 | 8 – 11:00am | Salt Creek Beach Park
Fun for the whole family! Register for this awesome, annual, family-friendly running event at Salt Creek Beach Park
Boo Cruise at Dana Wharf
October 19 | 5 – 7:00pm | Dana Wharf, Dana Point
Enjoy a 20 minute Haunted Harbor Cruise and wear your favorite costume! Trips leave every 20 minutes. $5 per person. proceeds to Benefit Us Too Gymnastics and Community Autism Now, two local 501c3 nonprofit organizations helping children with special needs.
Trick or Treat Pumpkin Party at Kaleidoscope
October 28 | 1 – 3:30pm | Kaleidescope, Mission Viejo
Kaleidoscope will host its annual Trick or Treat Pumpkin Dance Party. The free event will include trick-or-treating, dancing to music from a DJ, games, free face painting. For $5, children can pick and paint a pumpkin from Kaleidoscope's pumpkin patch. Costumed youngsters ages 12 and under are invited to bring their own treat bag and stroll the center trick-or-treating at participating stores and restaurants, from 1 to 3:30 pm, or while supplies last. In addition, children who turn in their Trick or Treat passport card, stamped by the various participating shops at Kaleidoscope, will have an opportunity to win a Grand Pumpkin Giveaway Basket filled with candy and an iPad. ($5.00 fee for pumpkin) FREE
Haunted High
October 20, 21, 27 & 28 | 6 – 9:30pm | Holy Cross Lutheran Church, Cerritos
Are you ready for the scream of your life? Then, come join us for our annual 'SPOOK'-TACULAR event, HAUNTED HIGH! Critics say it's the "Best haunted house in town!" Each year it gets better and better, so you won't want to miss out on all the fun! $5.00 for maze and haunted house $3.00 to Nerf zombies
Autumn Harvest Festival
October 5 | 4 – 9:00pm | Heritage Hill Historical Park, Lake Forest
Heritage Hill is transformed into a spooky Halloween festival featuring the Indiana Jones Trick or Treat Stations, the Under the Sea Adventure Maze, "Harry Potter" School House, and Storytelling Adventures. Children of all ages can participate in games, face painting, "Lake Forest All Stars Glow Party," Princess Pumpkin Patch, and more!
Haunt at Heritage Hill
October 12 – 13 | 4 – 9:00pm | Heritage Hill Historical Park, Lake Forest
Get ready for Heritage Hill Historical Park to once again be transformed into HAUNT AT HERITAGE HILL! This scary and exciting event features mazes, music, scare zones, games and other terifying fun. Presented by the City of Lake Forest and OC Parks this will be one nightmare you won't want to miss! *Haunt at Heritage is a scary event and is recommended for ages 12 and older.
Jack-o-lantern Jamboree at Atlantis Play Center
October 27 | 1:00 – 4:00pm | Atlantis Play Center, Garden Grove
Festivities include Petting Zoo, Bounce Houses, Magician (2:00p – 2:30p & 3:00p – 3:30p), Pumpkin Patch, Airbrush Tattoos, Euro Bungee, Crafts, Animal Balloons, Train Ride and Beach Bus Bistro (food truck selling food). (must buy pre-sale tickets beginning October 8th)
Mini Monster Bash
October 31 | 10:00am – noon | La Habra Children's Museum
will feature craft stations that include edible crafts, silly games for little hands, costume parade and admission into the Museum. a great photo opportunity for parents attending the event with kiddies.
Enchanted Par-Tea
October 6 | 1 – 3:00pm | La Habra Community Center
Join us for a memorable afternoon at the La Habra Community Center ballroom. The event will include a petite lunch, sweet treats, tea, games and more. Open to children ages age three through 13 years with an accompanying adult. Tickets must be purchased in advance. The fee is $20 per person.
Irvine Park Pumpkin Patch
September 15 – October 31 | Irvine Regional Park, Orange
The best pumpkin patch around. Be prepared to spend the day roaming through pumpkins, decorating cookies and running through and hay maze! you can enjoy pony rides, haunted house, face painting, bouncy houses, games, food and best of all….the train ride!
Irvine Park Pumpkin Patch Great Pumpkin Weigh-off
October 22 | 10:00am – noon | Irvine Regional Park, Orange
Get ready for Irvine Park Railroad's 3rd annual "Great Pumpkin Weigh-Off". Come see if pumpkin growers have what it takes to grow the biggest pumpkin. All Pumpkin Patch activities will be open on this day. Thousands of dollars in cash prizes will be awarded. KTLA Channel 5 weatherman Henry DiCarlo will host this event.
Anaheim Fall Festival & Halloween Parade
October 27 | 11:00am – 9:00pm | Center Street Promonade, Anaheim
the Family Festival will have something for everybody including live entertainment, games, craft fair, community information booths, food, pumpkin patch and more! there will be trick or treating for costumed youth up to 12 years and also a haunted house. FREE
Mable's 6ft Under Haunted Motel
October 5 – November 3 | 6 – 9:00 p.m. | Center Street Promonade, Anaheim
Huntington Beach Main Street Halloween Fest Celebration
October 31st | 4:00 pm – 8:00 pm | Main Street & 5th Downtown Huntington Beach
For children of all ages, this annual Halloween celebration comes courtesy of the Downtown Business Improvement District. The spooky festivities include a moon bounce, petting zoo, Ferris wheel, pumpkin carving, costume contests and more. FREE
Fullerton Haunted Walking Tours
TBD | 5:00pm | City of Fullerton Museum
The tours leave the museum promptly at 6 p.m., and last approximately two and one-half hours. Aul said "ghost hunters" should be prepared to walk approximately 1.5 miles, and the tours will include climbing stairs. Participants should wear comfortable walking shoes and bring a sense of humor with them.
Treats in the Streets Autumn Festival
October 25 | 4:00 – 7:00pm | Old Towne Orange Plaza, Orange
A community event in Old Towns Orange that includes games, trick-or-treating, costume parade and entertainment. FREE
Doheny State Beach Haunted Campground
October 20 | 6:30 – 8:30pm | Doheny State Beach Campground, Dana Point
Don't miss out on Doheny's most festive event of the year! Bring your family and friends to celebrate Halloween in a fun and safe environment with good ole fashioned spookiness, arts and crafts, a fun zone, and an array of educational booths. The event is Saturday, Oct. 28 and runs from 6:30-8:30 pm in picnic sites A and B. There is no charge for admission; however, a donation of one non-perishable food item per person is greatly appreciated. Don't' forget to dress up those little ones! FREE
Haunted Trails of Laguna Niguel
October 18 – 20 | 6:30 – 10:00pm | Crown Valley Community Park, Laguna Niguel
Deep in the valley there is a special Crown, which is guarded by dragons and buried within the compound. The Knights of Temptation guard the castle walls, while thieves and treasure seekers search within the halls. Dare if you will to walk the Haunted Trails experiencing medieval life and all of its tales. When the sun sets, the trails will open, guides will escort groups of 10 guests through the halls and tents. This event is VERY SCARY and not recommended for children under 8 years old.
Haunted Trails of Laguna Niguel Behind the Scenes Tour
October 20 | 4:30 – 5:30pm | Crown Valley Community Park, Laguna Niguel
Are you too scared to visit Haunted Trails at night, but really want to see the event in daylight? We have created a behind the scenes tour so that you can see all the details of the Haunted Trails event.
Halloween Howl in Tustin
October 31 | 3:00 – 5:00 p.m. | Tustin Activity Center
Costume contests, family entertainment, carnival games, priezes and candy. Hosted by City of Tustin Parks & Recreation
The Pumpkin Factory at Westminster Mall, Main Place Mall & Corona
Check website for dates
The City of Cypress Halloween Carnival
October 31 | 6:00 – 9:00pm | Cypress Community Center
Family Games, Entertainment and Trick or Treat! Food will be sold for an additional cost at the event.
Los Alamitos Trunk Or Treat
October 27 | 5:00pm | Little Cottonwood Park – Los Alamitos
The Los Alamitos Recreation & Community Services Department is excited to host their 6th annual Trunk-or-Treat featuring the Treasure Hunt! $3 per person for this event- offers trunk-or-treating, treasure hunts, games, costume contests, and more!
Great List of Huntington Beach Halloween Events Here!

and check out these awesome Halloween events, just ouside of Orange County.
Legoland Brick-or-Treat Party Nights
Saturday Nights in October & September 29 | 5 – 9:00 p.m. | Legoland, Carlsbad
The home of Halloween fun is filled with…Live entertainment + new shows! Character Meet and Greets, Costume Contest: Group, Heroes and Villians, and LEGO, Treat stations with more than 1 million pieces of candy, Heartlake City Fall Festival with Pumpkin Patch Build and craft time with the LEGO Friends, The AstroBash Dance Party, Brick-or-Treat Party Nights Pop Badge Challenge and more! Plus, don't miss candy, decorations and your fishy friends at SEA LIFE® Aquarium included with your Party Nights ticket.
The Peanuts Great Pumpkin Express
October 13, 14, 20, 21, 27 & 28 | 9:00am – 4:00pm | Orange Empire Railway Museum
Take a ride to adventure to the Pumpkin Patch – select and decorate your own pumpkin to take home, visit the petting zoo, enjoy Nick & Jan kids' concert and ventriloquist performing on stage, and Mister Twister the balloon guy. Go on a hayride, jump on a trolley for a ride around campus, Take part in kids crafts, the hay maze, visit the coloring station, temporary tattoos and stickers, bounce house, cookies and cider, scavenger hunt, and trick or treating! New this year – the SPOOKY CABOOSE. And kids, don't forget to wear your Halloween costumes for the Costume Contest!
Cal Poly Pumpkin Festival & Insect Fair
October 6 – 7 | 8:00am – 5:00pm | Cal Poly Pomona Farm Store
The Pumpkin Festival is a two-day event held every October at the AGRIscapes Agricultural Outreach Center at Cal Poly Pomona. For 26 years the festival has grown to become a very popular event, drawing thousands of visitors to pick pumpkins from a patch near the Farm Store. The Don B. Huntley College of Agriculture grows 40,000 pumpkins for the event. The festival also features a Corn Maze that is specially grown for the occasion, Pony Rides, and a Petting Farm. Visitors can compete and play games run by student clubs or listen to live music. Food and drinks are available to purchase from vendors.
Scarium at the Aquarium of the Pacific
October 27 & 28 | 7:00pm – midnight | Aquarium of the Pacific, Long Beach
Discover the creatures lurking in the depths at the Aquarium of the Pacific's seventeenth annual Scarium of the Pacific—a spooktacular, educational Halloween event for the whole family. Enjoy special Halloween programs, including the annual children's costume contest, the creepy coloring contest, magic shows, underwater pumpkin carving, spooky storytelling, and kooky crafts, and meet eerie animals in the Great Hall.
Queen Mary Dark Harbor
September 27 through November 2 | 7:00 p.m. – midnight | Queen Mary Long Beach
The Queen Mary's Dark Harbor, Southern California's most terrifyingly authentic haunt, will once again rise from the deep, dripping with history of the infamously haunted ship. Named one of the top 10 most haunted places on Earth by Time Magazine, The Queen Mary's Dark Harbor offers the most authentically frightening experience available, bringing the true haunted tales of The Queen Mary to life.
SeaWorld Halloween Spooktacular
Weekends in September 22 through October 28 | SeaWorld, San Diego
Watch silly and spooky live shows and presentations, enjoy fun Halloween activities and trick-or-treat for candy and goodies throughout the colorfully decorated park. Halloween Spooktacular is one of San Diego's biggest fall festivals, with weekends brimming with family fun. Get in the spooky spirit and catch popular live shows like Clyde & Seamore's Big Halloween Bash and the all-new Sesame Street Halloween Parade, join delightful Halloween dance parties and let the little ones trick-or-treat throughout the park in a safe, family-friendly environment. Oh, and be on the lookout for singing pumpkins in the park.
Halloween Horror Nights at Universal Studios Hollywood
September 14 through November 3 | 7:00pm – 2:00am | Universal Studios Hollywood
Face your darkest fears in Southern California's scariest, most intense event. The movie studio that invented the horror genre brings to life all new immersive worlds of living, breathing icons from the most twisted imaginations in film and television. This year, discover the dark secrets lurking in the Upside Down world of Netflix Stranger Things. Plus, brace yourself for 7 more spine-chilling mazes designed to bring you nightmares so real you'll wish you were already dead:
{disclaimer: Be sure to check out events before attending as times and dates may have changed.}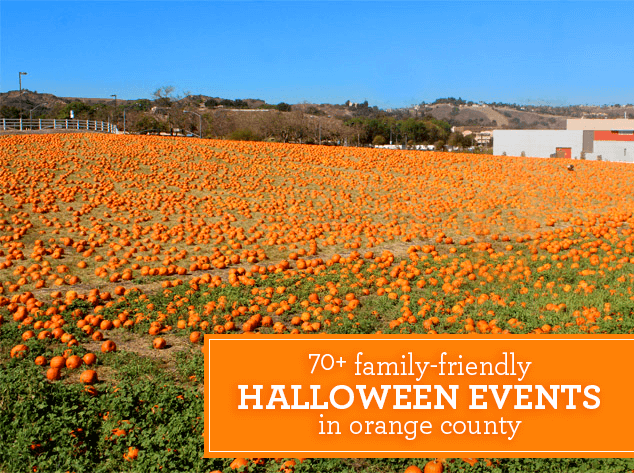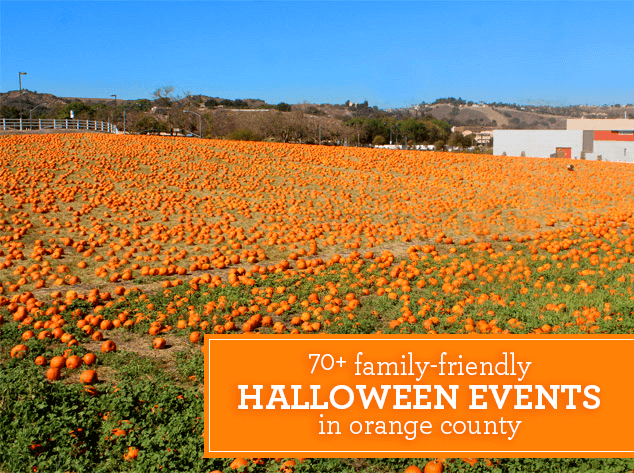 SaveSave
SaveSave
SaveSave
SaveSave
SaveSave
SaveSave
SaveSave