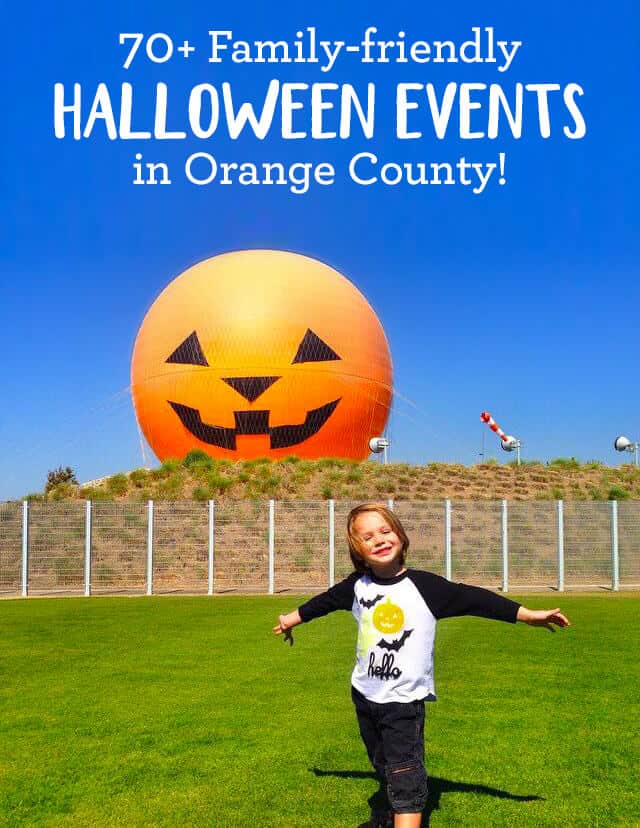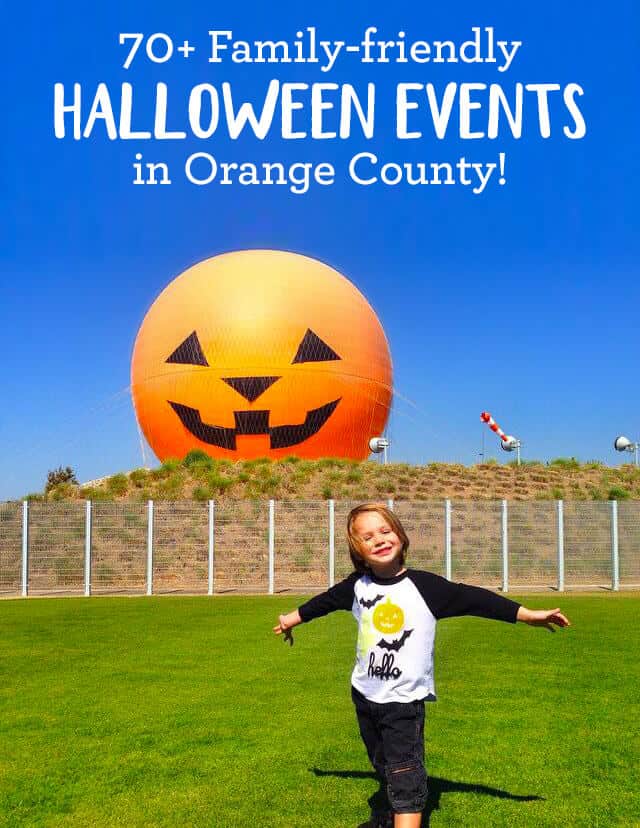 and just like that, the Halloween season is about to arrive in Orange County!  soon, fun Halloween events will be popping up all over Southern California. i have compiled a list of over 70 Orange County Halloween events for Kids and Families…most of which are kid-friendly or family-friendly. and all of them are scheduled around the OC and SoCal this Halloween season.
it's time to get your calendar out and pick out the ones that look like the most fun for your family. i love to make the Halloween time extra special for my family, and taking them to a couple fun Halloween events, make the Halloween season one will always remember! (be sure to check back here, as more events will be added to the list as they are announced.)
2017 Orange County Halloween Events for Kids and Families
Irvine Park Pumpkin Patch
September 16th – October 31st  |  Irvine Regional Park, Orange
the best pumpkin patch around. be prepared to spend the day roaming through pumpkins, decorating cookies and running through and hay maze! you can enjoy pony rides, haunted house, face painting, bouncy houses, games, food and best of all….the train ride!
Knott's Spooky Farm
Every Weekend in October  |  Camp Snoopy and Ghost Town at Knott's
this daytime, non-scare event is a celebration of cheer rather than fear! you can enjoy shows, activities and of course, trick or treating. kids can take part in the "Monster Dance Party and Costume Parade," sing and dance along with the Peanuts gang as you watch the "The Monsters are Coming, Charlie Brown" in the Camp Spooky Theatre, walk through the "Spooky Hollow Maze", visit the Creepy Crawler Cabin, have fun in Ghost Town Trick or Treating and join Snoopy's Costume Contest and Dance Party. click here to go directly to the Knott's website.
Spooky Science at Discovery Science Center
Weekends in October  |  Discovery Science Center OC
Giant bugs, creepy crawlers and friendly spooks are all making their way to Discovery Cube for Spooky Science this October. Join us as we explore bugs of all colors and sizes among over-sized exhibit sets and hands-on learning stations. Even the youngest of goblins will enjoy spooky fun while exploring insects like never before.
Mickey's Halloween Party
September 20, 22, 25, 27 & 29th, October 3, 6, 10, 13, 17, 20, 24, 27 & 31st  |  Disneyland Resort
Party with Mickey Mouse in Disneyland and Disney's California Adventure, go trick or treating & watch the spectacular Halloween Screams Firework Show. guest of the party get to enter Disneyland 3 hours before the party to enjoy the park!
Halloween Time at Disneyland
September 15th – October 31st   |   Disneyland Resort
Disneyland Resort and Disney's California Adventure are dressed up for Halloween! Check out the decorations and enjoy special Halloween activities throughout the park.
Boo at the Zoo
October 21, 22, 28 & 29th  •  5:30 – 8:00 p.m.  |  Santa Ana Zoo
A "Merry not Scary" family friendly event where everyone is encouraged to come in costume! One of the safest places for children (ages 2-12) to trick-or-treat for Halloween enjoying goodies from 10 Stations.
Pretend City Trick Or Treat Through The City
October 31st  | Pretend City Children's Museum
Pirates, Ghosts, & Princesses Pretty! Come Trick-Or-Treating at Pretend City! On Halloween, we are having a special trick-or-treat extravaganza for all our friends! Stop by the museum and take part in our Halloween Bug Bash as well as trick-or-treat at different stations through the city! We will surely have a ghouly good time!
Costume Week at Pretend City
October 22 – 28th  | Pretend City Children's Museum
Black cats and witch's brew, we want to dress up with you! Wear your costume to Pretend City this whole week and receive 25% off your second admission!
Healthy Halloween at Pretend City
October 30th  | Pretend City Children's Museum
Happy Healthy Halloween! This time of year brings lots of treats and sweets into kids' lives that may make them fall into a junk food funk. Serving Kids Hope is joining us at Pretend City to share fun tips and tricks to keep your kids eating healthy this Halloween!
Frankenstein Friday!
October 27th  | Pretend City Children's Museum
Have a monster of a time at Pretend City and pay tribute to Mary Shelley's classic fictional character, Frankenstein with these monstrously fun activities. We will be dancing to the Monster Mash, making Frankenprints, and doing some Monster Science and Math Activities. Let's have a monster of a time!
Build Your Own Scarecrow
September 15th  | Pretend City Children's Museum
Fall into the autumn season with our scarecrow workshop! Join us in building a small scarecrow that you can keep as decoration all season long! Admission not required to attend.
Fall Festival Fun!
September 22nd  | Pretend City Children's Museum
FALL into this season as the leaves change colors and the weather gets colder! This season brings lots of exciting things for families, including holidays, fall themed foods, and maybe some family traditions in the making! Pretend City is celebrating Fall with our Fall Festival Day! Join us as we create art, play games, and do activities all focusing on fall, leaves, pumpkins, and gourds!
Tanaka Farms Pumpkin Patch & U-Pick Tours
September 29th – October 31st   |   Tanaka Farms, Irvine
take a wagon ride around the farm, wander through the corn maze, pick your own vegetables, visit our petting zoo, take pictures by "Tanaka's Pile of Pumpkins" & finally pick your own pumpkin right off the vine. on the weekends there is a Fall Harvest Festival with food, games, atv rides and more!
Historic Yorba Cemetery Tour
October 7th • 11:00 a.m. – 12:00 p.m.    |   Woodgate Park, Yorba Linda
enjoy a guided tour through Orange County's oldest private cemetery. FREE
Knott's Scary Farm
September 21st, October 31st  |  Knott's Berry Farm
be prepare to get SCARED!!!! this event is definitely not for the kiddies. send your teenagers or make a date night at this frightfully scary night of terror. you can go through the monster mazes, watch the traditional Hanging Show, and be sure to try out the new interactive Trapped Maze. a pre-show buffet is offered at an additional price.
Aliso Viejo Fall Harvest Festival
October 21st | 10:00 a.m. – 12:00 p.m. |  Grand Park, Aliso Viejo
Children's Crafts, Carnival Games, Balloon Twisters, DJ Entertainment and more! Wear your costume as you walk through the costume parade. Parade begins at 10:30 am. AVCA will also be hosting a Canned Food Drive with South County Outreach. Bring FIVE (or more) canned food items, pet food or make a donation and your child receives a wristband for a pony ride. The only way for your child to ride a pony this year is to donate and receive a wristband! Canned food will be collected and distributed by South County Outreach to those in need here in Orange County. FREE
Halloween Animal Art – Toddler Program
October 5, 11, 13, 14, 17 & 20th  |  10:15 a.m.  |  OC Zoo, Irvine Regional Park, Orange
Come learn about creatures that are associated with Halloween! Class includes hands-on learning, fun crafts, and meeting zoo animals up close!
Fall Craft Boutique
October 7th   |  10:00 a.m. – 3:00 p.m.  |  Crown Valley Community Park, Laguna Niguel
Don't miss this popular, annual event! More than seventy-five vendors will be selling unique, handcrafted items. This is a great opportunity to buy gifts, home décor, jewelry, and a variety of beautifully crafted items. Free admission! Food will be available for purchase.
Family Fun Night with Kids Imagine Nation "Halloween Episode"
October 13th   |  7:00 p.m.  |  Crown Valley Community Park, Laguna Niguel
KIDS IMAGINE NATION is a high-energy, interactive children's musical. Come sing and dance along with Aaron, Rachel, and Beatz the Robot in their original theatrical show. There is no better way to celebrate Friday 13th than taking part of the spooktacular fun of Kids Imagine Nation. So, bring the family, wear your costume and bring your dancing shoes. This will be a Halloween adventure you will never forget!  $5
Great Park Spooktacular Fundays
October 14 & 15th  |  9:00 a.m. – 1:00 p.m.  |  Orange County Great Park, Irvine
Come in costume and enjoy traditional family-friendly fall activities such as a pumpkin patch, treats, games, crafts, gourmet food trucks and much more at Spooktacular Fun Days 2017. Help scare away hunger by bringing nonperishable food items to support local food banks. Tickets for children 12 and younger are $5 plus food donation; space is limited. Free adult admission and parking.
Pirate's Diner Adventure's Vampirate's!
Starting October 3rd |  Pirate's Dinner Adventure – Buena Park
Looking for something fun to do with your family this Halloween in Orange County? Celebrate Halloween with Pirate's Dinner Adventure starting October 3rd at Treasure Bay's Annual Masquerade Ball. However, heed this warning: be wary. For the Evil Captain Sebastian the Black is still lurking in the shadows, awaiting unsuspecting guests who would become prey to him and his horde of "Vampire Pirates." Care to join the Vampirates… as their dinner?
Zoomars Pumpkin Palooza
October 1st – 31st  |  Zoomars, San Juan Capistrano
pumpkins, petting zoo, train rides, pony rides & more.
Boo at the Zoo
October 31st  |  10:00 am – 12:00 p.m.  |  Rancho Wildlife Foundation
Calling all ghouls, goblins, ghosts and fairies. Join us for a howling good time Halloween morning for a little trick or treating! $5 per child (all ages), Adults FREE , ONLY 2 FREE ADULTS ALLOWED PER RESERVATION. $8 valet parking, Costumes encouraged. RSVP to julie@ranchowildlife.org or (949) 589-7900
Trunk or Treat at Seeker's Chapel
October 29th | 4:30 – 7:00 p.m. | Seeker's Chapel, Fullerton
Come one, come all to an amazing evening of discovery and fun. Kids will find plenty to do as they (and their favorite grown-ups) join us for an evening of dinner, crafts, rock painting , a scavenger hunt as well as a special activity to help remind us about the blessing of giving. The evening will conclude with TRUNK or TREATing. All are welcome to this FREE event.
Halloween Fun with Family & Friends
October 28th | 1:00 – 4:00 p.m. | Stanton Park, Stanton
The City of Stanton invites you to its annual Halloween Fun With Family And Friends event! This special event is open to ghosts, goblins and witches of all ages. The event will feature games, DJ entertainment, spooky stories, craft making, costume contests, food booths and a howling good time for everyone. Be sure to bring a trick-or-treat bag!
Hauntoberfest & Family Halloween Party
October 29th  |  Phoenix Club, Anaheim
enjoy authentic German food, food eating contests, fire engine hay ride, train rides, bounce house, pony rides, folk dancers & music.
Villa Park Halloween Fest
October 30th  |  4:30 p.m. – 7:30 p.m. |  Villa Park Towne Center
costume parade for kids & dogs, hayride, crafts, treats & food vendors. FREE
Fall Fest
October 31st  |  6:00 p.m. – 9:00 p.m.  |  Compass Bible Church
Kettle Corn, Churros, Tons of Candy, Coffee, Laser Tag, Pony Rides, Rock Climbing Wall, Giant Ferris Wheel, lots of Game Booths, BBQ'd Hot Dogs & In & Out. The event is free, along with rides, games and candy. There will be small charge for food, so please bring cash (credit cards will be accepted with a small add'l charge). FREE
Hometown Halloween
October 29th | 3:00 – 7:00 p.m. | Norman P. Murray Community and Senior Center – Mission Viejo
Celebrate this fall holiday in glowing style with themed carnival games, crafts, music and much more from 4:00 pm to 6:00 pm. Then from 6:00 pm to 7:00 pm, it's fun or fright as you travel through our glowing haunted maze. FREE
Pumpkin Diving
October 22nd   | 2:00 – 5:00 p.m.  |  Sierra Recreation and Fitness Center
Jump in and pick you pumpkin! Join us for this annual event as we transform the Sierra pool into a floating pumpkin patch. Once you pick your pumpkin, you can decorate it at one of decorating stations and play fun carnival games. Enter the pumpkin decorating contest for a cheance to win a FREE one-month membership! Spots fill up quickly, register today!
Octoboofest 
October 26th |  4:30 – 8:30 p.m.  |  Downtown Fullerton Plaza
Don't miss the last day of the market! Dress in your Halloween costume for trick-or-treating at vendor booths, kids' costume parade at 5:00pm and 6:45pm, pre-decorated pumpkin  contest and more.. FREE
Yappy Howl-O-Ween
October 27th |  4:00  – 7:00 p.m.  | The Ritz-Carlton, Laguna Niguel
Yappy Howl-O-Ween is the chance for pups to strut their stuff in their favorite costume. A panel of judges will determine which canine will take home the prize in the costume contest. First place prize in each category is a hand-painted dog bowl by Debby Carman of FauxPaw Productions. Donation to enter the costume contest is $10 per canine per category.
Halloween Boutique | Magic & Mayhem
September 1st – October 28th | 4:00 – 5:00 p.m.  | Rogers Gardens Corona Del Mar
A large owl glides through the air, there is a black cat sitting silently on the wall.  Shoppers walk by, carts loaded with plants, oblivious to the mysterious activity surrounding them.  Only those who know can detect the bewitching activity and excitement in the air.  For a limited time, it is possible to slip behind the wall, into a small alley lined with curious boutiques. Your number one source for rare and vintage spell books can be found next to an apothecary selling strange potions.  Magical creatures are for sale behind windows stacked with wands and broomsticks. Come and visit us before the door disappears, and step into a world of Magic & Mayhem.
Children's Halloween Festival at Roger's Gardens
October 30th | 4:00 – 5:00 p.m.  | Rogers Gardens Corona Del Mar
Calling all ghosts & goblins! Share your Halloween spirit and your creativity at our annual Halloween Festival. Bring in your children for some fun, interactive crafts and activities and everyone's favorite trick-or-treating costume parade throughout the Gardens for all to enjoy. Don't forget your camera!
Trunk or Treat at Kings Luther School
October 31st   |   6:00 p.m.   |   Kings Luther School
Trunk or treating, games and fun. FREE
Trick or Treating at Festival Shopping Center
October 31st   |   4:00 – 6:00 p.m.   |   Festival Shopping Center in Anaheim Hills
Trick or Treating for kids at the shopping Center FREE
Trick or Treating at Anaheim Marketplace
October 29th   |   3:00 – 6:30 p.m.   |   Anaheim Marketplace
Trick or Treating for kids at the shopping Center
Kidz Block Party
October 31st   |   5:00 – 9:00 p.m.   |   Brea Downtown
Hundreds of thousands of the best Chocolate Candy will be given away – FREE!, Pony Rides, Bounce House, Petting Zoo, 20′ Tall Rock Climbing Wall, 25′ Tall Giant Shark Slide, Over 40 Game Booths, Face Painting, Balloon Artist, Lots of Raffle and Trivia Game Prizes, Awesome Live Music Performances from our Main Stage. FREE
Bat Night at Tucker Wildlife Preserve
October 28th  |  4:00 p.m. – 8:00 p.m.  |  Tucker Wildlife Preserve, Silverado
Boot Hill in Irvine
October 13, 14, 20, 21, 22, 27, 28 & 29th  |   7:00 – 9:00 p.m. | 16 Goldenrod, Irvine
BOOT HILL rises from the fog for it's 18th year to haunt the residence at 16 Goldenrod in Irvine, California. The unearthly spirits from the Old West town of Bridgewood will materialize for EIGHT haunting nights, transforming the residence at 16 Goldenrod into the old church and cemetary that once occupied this hallowed ground. Come if you dare… but beware the ghost of Jedediah Smith, as he has been known to roam the decaying grounds of Boot Hill, exacting revenge on all who cross his path!
Dana Point Oktoberfest
October 7th  |  11:00 a.m. – 7:00 p.m.  | Sea Terrace Park
Halloween Spooktacular & Moonlight Movie
October 27th  |  3:00 – 9:00 p.m.  |  Dana Point Community Center
Halloween Carnival Games, Halloween Cupcake Decorating & Crafts, Carolyn Hopkin's Story Time, Franklin Haynes Marionette Show, Costume Parade, Pumpkin Decorating Contest for children up to 10 years. (Bring your already decorated or carved pumpkin). Free popcorn and treats. FREE
Boo Cruise at Dana Wharf
October 22nd  | 5:00 – 7:00 p.m. | Dana Wharf, Dana Point
enjoy a 20 minute Haunted Harbor Cruise and wear your favorite costume! Trips leave every 20 minutes. $5 per person. proceeds to Benefit Us Too Gymnastics and Community Autism Now, two local 501c3 nonprofit organizations helping children with special needs.
Trick or Treat Pumpkin Party at Kaleidoscope
October 28th |  1:00 – 3:30 p.m.  |  Kaleidescope, Mission Viejo
Kaleidoscope will host its annual Trick or Treat Pumpkin Dance Party. The free event will include trick-or-treating, dancing to music from a DJ, games, free face painting. For $5, children can pick and paint a pumpkin from Kaleidoscope's pumpkin patch. Costumed youngsters ages 12 and under are invited to bring their own treat bag and stroll the center trick-or-treating at participating stores and restaurants, from 1 to 3:30 pm, or while supplies last. In addition, children who turn in their Trick or Treat passport card, stamped by the various participating shops at Kaleidoscope, will have an opportunity to win a Grand Pumpkin Giveaway Basket filled with candy and an iPad.  ($5.00 fee for pumpkin) FREE
Haunt at Heritage Hill
October 13 – 14th  |  6:00 – 10:30 p.m.  |  Heritage Hill Historical Park, Lake Forest
enjoy a haunted house, mazes, ghost, scary movie classic and spooky music. a very scary tradition!
Haunted High
TBD  |  6:00 – 9:30 p.m.  |   Holy Cross Lutheran Church, Cerritos
Haunted High's 5th year will be the best yet. The classrooms and maze have been completely redone and new scares have been added. Haunted High School is produced in partnership with Boy Scout Troop 657. The troops help build the mazes and then transform into Zombies the nights of the event. We also offer a "no scare" option for those who wish to view the mazes without the scares.
Autumn Harvest Festival
October 7th | 4:00 p.m. – 9:00 p.m.  |  Heritage Hill Historical Park, Lake Forest
Heritage Hill is transformed into a spooky Halloween festival featuring the Indiana Jones Trick or Treat Stations, the Under the Sea Adventure Maze, "Harry Potter" School House, and Storytelling Adventures. Children of all ages can participate in games, face painting, "Lake Forest All Stars Glow Party," Princess Pumpkin Patch, and more!
Jack-o-lantern Jamboree at Atlantis Play Center
October 28th  | 5:30 – 8:30 p.m.  |  Atlantis Play Center, Garden Grove
Festivities include a haunted maze, games, themed crafts, bounce houses, free treats, and more. In addition, guests are encouraged to bring a homemade pumpkin racer for the inaugural 'Pumpkin Race Challenge. Pumpkins and race kits will also be available for $20 at the event. (must buy pre-sale tickets)
Mini Monster Bash
October 31st • 10:00 a.m. – 12:00 p.m.   |   La Habra Children's Museum
will feature craft stations that include edible crafts, silly games for little hands, costume parade and admission into the Museum. a great photo opportunity for parents attending the event with kiddies.
Kids Night Out: Spooktacular
October 20th  |  6:00 p.m.   |   La Habra Community Center
Kids, this quarterly event is all about you! Stop by and enjoy the evening and a break from your parents. Activities will include Star Wars themed games, crafts, dinner, popcorn and a movie! Kids can bring a blanket and a pillow to relax on during the movie. parents must register in advance; limited space is available, so register today. Open to ages 4-13 years old.
Halloween Zoo-tacular
October 28th  |  10:00 a.m. – 4:00 p.m.  |  OC Zoo, Irvine Regional Park, Orange
Activities include trick-or-treating, kids crafts, a scavenger hunt, and fun games! First 100 children in costume receive a free gift! See the zoo animals receive treat-filled pumpkins throughout the day.
Anaheim Fall Festival & Halloween Parade
October 28th | 11:00 a.m. – 9:00 p.m.  |  Center Street Promonade, Anaheim
the Family Festival will have something for everybody including live entertainment, games, craft fair, community information booths, food, pumpkin patch and more! there will be trick or treating for costumed youth up to 12 years and also a haunted house. FREE
Anaheim Motel 6ft Under Haunted House
October 6th – November 4th  |  6:00 – 9:00 p.m.  |  Center Street Promonade, Anaheim
Huntington Beach Main Street Halloween Fest Celebration
October 31st  |  4:00 pm – 8:00 pm  |  Main Street & 5th Downtown Huntington Beach
For children of all ages, this annual Halloween celebration comes courtesy of the Downtown Business Improvement District. The spooky festivities include a moon bounce, petting zoo, Ferris wheel, pumpkin carving, costume contests and more. FREE
Fullerton Haunted Walking Tours
Wed & Thurs, September 27th – November 4th  |  5:00 p.m.  |  City of Fullerton Museum
The tours leave the museum promptly at 6 p.m., and last approximately two and one-half hours. Aul said "ghost hunters" should be prepared to walk approximately 1.5 miles, and the tours will include climbing stairs. Participants should wear comfortable walking shoes and bring a sense of humor with them.
Treats in the Streets
October 26th  |  4:00 – 7:00 p.m.  |  Old Towne Orange Plaza, Orange
A community event that includes games, trick-or-treating, costume parade and entertainment. FREE
Doheny State Beach Haunted Campground
October 21st  |  6:30 p.m. – 8:30 p.m.  |  Doheny State Beach Campground, Dana Point
Don't miss out on Doheny's most festive event of the year! Bring your family and friends to celebrate Halloween in a fun and safe environment with good ole fashioned spookiness, arts and crafts, a fun zone, and an array of educational booths. The event is Saturday, Oct. 28 and runs from 6:30-8:30 pm in picnic sites A and B. There is no charge for admission; however, a donation of one non-perishable food item per person is greatly appreciated. Don't' forget to dress up those little ones! FREE
Haunted Trails of Laguna Niguel
October 26, 27 & 28th  |  6:30 p.m. – 10:00 p.m.  |  Crown Valley Community Park, Laguna Niguel
get escorted through haunted mazes, tents and a graveyard!
Haunted Trails of Laguna Niguel Behind the Scenes Tour
October 27th  |  2:30 p.m. – 4:30 p.m.  |  Crown Valley Community Park, Laguna Niguel
Are you too scared to visit Haunted Trails at night, but really want to see the event in daylight? We have created a behind the scenes tour so that you can see all the details of the Haunted Trails event.
Halloween Howl in Tustin
October 31st | 3:00 – 5:00 p.m.  |  Tustin Activity Center
Costume contests, family entertainment, carnival games, priezes and candy. Hosted by City of Tustin Parks & Recreation
The Pumpkin Factory at Westminster Mall, Main Place Mall & Corona
Check website for dates
The City of Cypress Fall Carnival
October 31st   |   6:00 – 9:00 p.m.  |  Cypress Community Center
Family Games, Entertainment and Trick or Treat! Food will be sold for an additional cost at the event.
Los Alamitos Trunk Or Treat
October 28th |  5:00 p.m.  |  Little Cottonwood Park – Los Alamitos
The Los Alamitos Recreation & Community Services Department is excited to host their 6th annual Trunk-or-Treat featuring the Treasure Hunt! This FREE community event offered trunk-or-treating, treasure hunts, games, costume contests, and more!

and check out these awesome Halloween events, just ouside of Orange County.
Legoland Brick-or-Treat Party Nights
Saturday Nights in October & September 29th  |  5:00 – 9:00 p.m.  |  Legoland, Carlsbad
Trick-or-Treat through the park trails, build a giant Lego vampire, party with the Boo Crew, spectacular fireworks and enjoy the entire Legoland Park.
The Peanuts Great Pumpkin Express
October 14, 15, 21, 22, 28 & 29th  | 10:00 a.m. – 4:00 p.m.  |  Orange Empire Railway Museum
The Peanuts™ Great Pumpkin Patch Express will take children of all ages on an adventure to the Most Sincere Pumpkin patch this October. While at the Most Sincere Pumpkin Patch guest will be able to select and decorate their own pumpkin, have photos taken with Charlie Brown, Lucy and Snoopy go on a hay ride and many more activities.
Cal Poly Pumpkin Festival & Insect Fair
October 7 – 8th  |  8:00 a.m. – 5:00 p.m.  |  Cal Poly Pomona Farm Store
The 24th Annual Pumpkin Festival is where you can choose from thousands of pumpkins right out of the patch ($5 ea). eat and play games at the College of Agriculture student club booths or head over to our popular Insect Fair featuring nearly 500,000 live and preserved insects (runs from 9am-5pm). We also have a corn maze, petting zoo, horse rides, entertainment, and lots of activities for kids! enjoy a pancake breakfast Saturday morning only from 8am-11am.
Scarium at the Aquarium of the Pacific
October 14 & 15th  |  7:00 p.m. – midnight  |  Aquarium of the Pacific, Long Beach
Discover the creatures lurking in the depths at the Aquarium of the Pacific's seventeenth annual Scarium of the Pacific—a spooktacular, educational Halloween event for the whole family. Enjoy special Halloween programs, including the annual children's costume contest, the creepy coloring contest, magic shows, underwater pumpkin carving, spooky storytelling, and kooky crafts, and meet eerie animals in the Great Hall.
Queen Mary Dark Harbor
September 28th through November 1st |  7:00 p.m. – midnight  |  Queen Mary Long Beach
This fall Southern California's most haunted Halloween event returns on September 28th with more monsters, more nights and more mazes than ever before.  With more sinister spirits taking over the Queen Mary, this will be the scariest year yet.  This year's Dark Harbor will include an all-new 4th maze on the haunted ship.  In addition, many of your favorite mazes will be intensified this year with more terrifying new scares.  Live your nightmares aboard the haunted Queen Mary and join our cast of ghouls, spirits, and undead for an unforgettable, frighteningly authentic haunted experience.
SeaWorld Halloween Spooktacular
Weekends in September 23rd through October 29th |  SeaWorld, San Diego
Trick-or-Treat through the aquarium, visit the Octopus' Candy Garden, watch Seamore's Spooky Adventure, visit Penelope's Pumpkinfish Patch, watch Pirates 3-D and countdown with Sesame Street to Halloween.
Halloween Horror Nights at Universal Studios Hollywood
September 15th through November 4th |  7:00 p.m. – 2:00 a.m.  |  Universal Studios Hollywood
Universal Studios® Halloween Horror Nights® brings together the sickest minds in horror to immerse you in a living, breathing, three-dimensional world of terror. From the movie studio that invented the horror film genre, prepare for the scariest, most intense Halloween event in Southern California. This year's event features more mazes than ever with 8 terrifying experiences based on the most frightening films and television shows. The thrills continue with Titans of Terror Tram hosted by Chucky, an all-new high-energy Jabbawockeez live show and three new scare zones awaiting you around every dark corner. Get ready for non-stop terror because the best nightmares never end!
{disclaimer: Be sure to check out events before attending as times and dates may have changed.}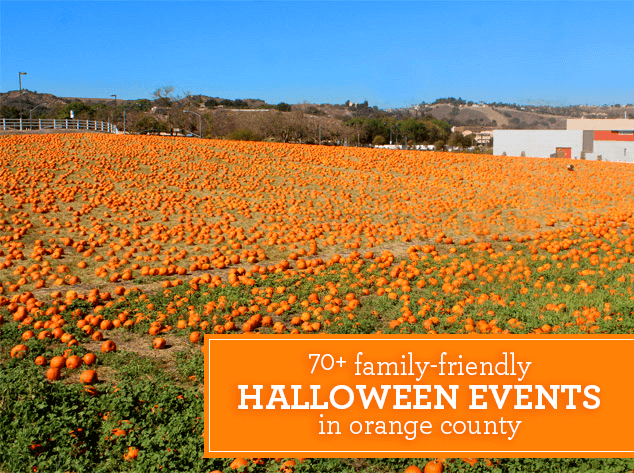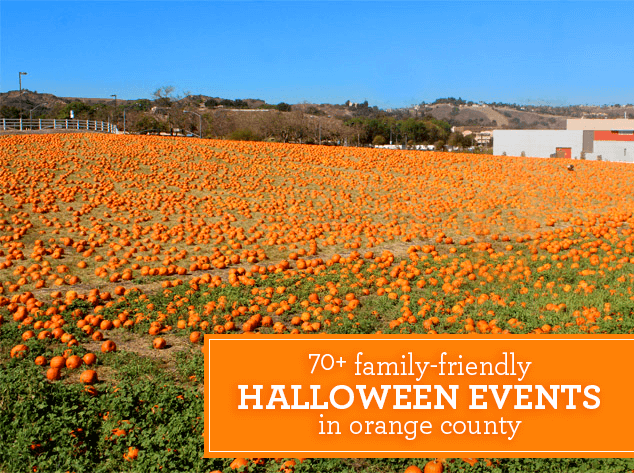 SaveSave
SaveSave
SaveSave
SaveSave
SaveSave
SaveSave
SaveSave