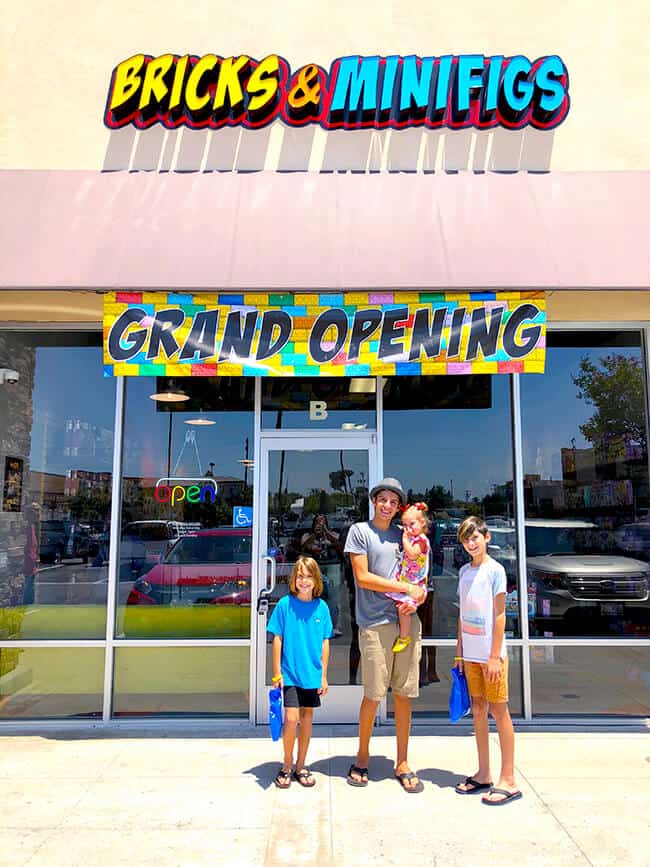 Updated December 2020 - Today, I surprised the boys and took them to the newest store in Orange County - Bricks & Minifigs Anaheim (Although it is technically in Fullerton). As you probably guessed, Bricks & Minifigs sells LEGO! But...it's not like "the" Lego Store. It is an aftermarket LEGO shop specializing in used LEGO® items. Yep...they actually buy and trade all kinds of LEGO products, from tubs of bulk to storage unit sized collections. When you no longer want a LEGO set, you can sell it to Bricks & Minifigs. As long as it's LEGO® brand, they will take it.
BTW, they also sell new LEGO sets and new retired LEGO sets. All of this is why Bricks & Minifigs is so unique!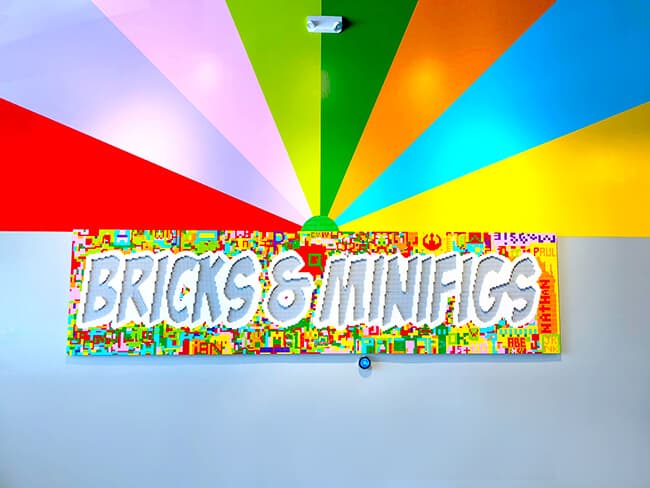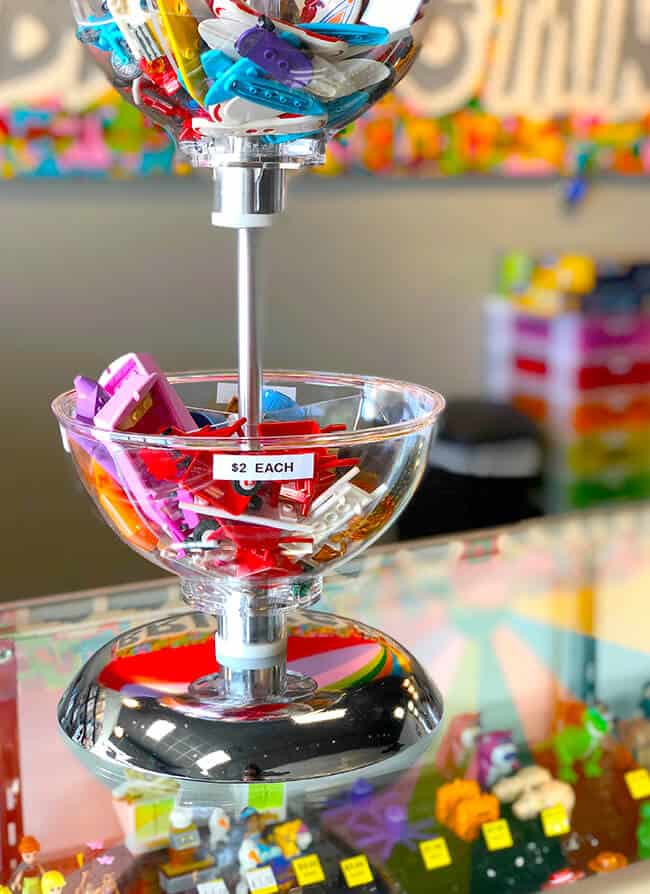 What is Bricks & Minifigs?
Bricks & Minifigs is actually a chain store, but this is the first one located on Southern California. Inside, you will find hundreds of individual minifigs, bulk bricks, components and accessories. If you are looking for a rare piece or minifig, or if your kid wants to sell their LEGO that is just sitting around, then this is a fun store to visit. My boys loved looking at all the minifies in the display cases, and they took forever deciding on what they wanted to buy.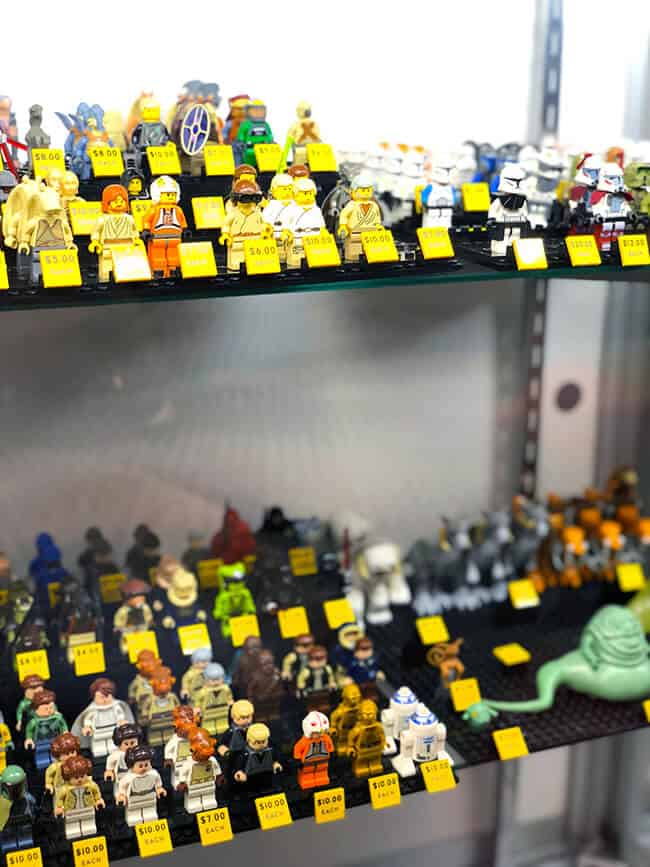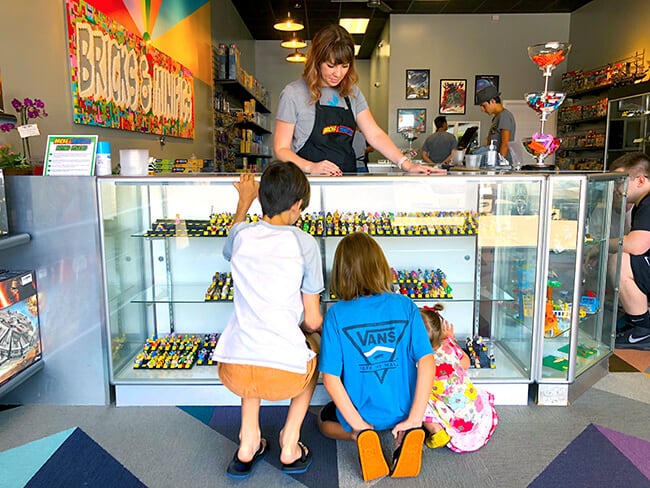 What are the prices like?
All of the minifigs on display have prices according to their popularity, rarity and condition. You can find minifigs for $5 and minifigs for $25+. many of the minifigs were once part of larger Lego sets that are no missing pieces or found for sale on eBay. Or maybe someone had two of the same and wanted to trade. There are even animals, accessories, and base plates available.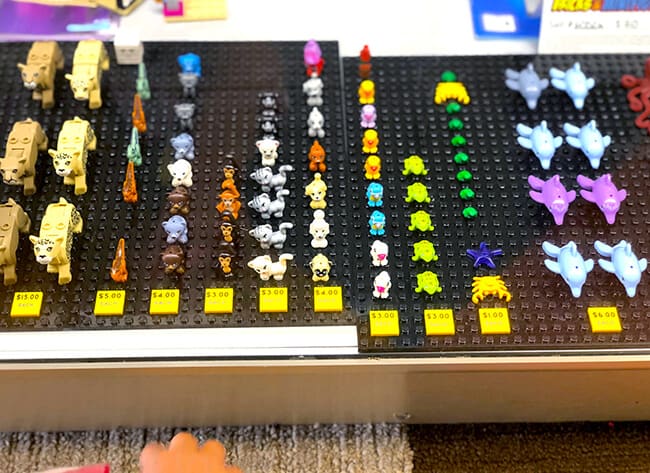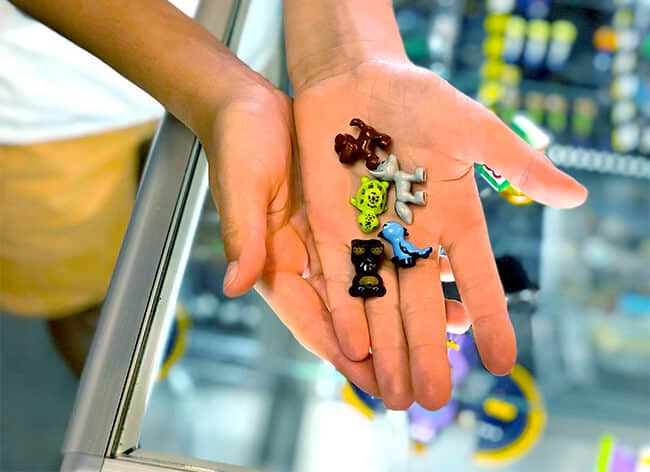 Another fun area is the bulk brick section. You will find thousands of pieces of Lego here. and it's better that the Lego Store's bulk section, because there are lots of unique and rare pieces....not just bins of the same color of overstock pieces. You can fill up tubs or bags for as little as $10 up to $40. There is a little bit of everything in these bins, so be prepared for kids take a long time to making their selections.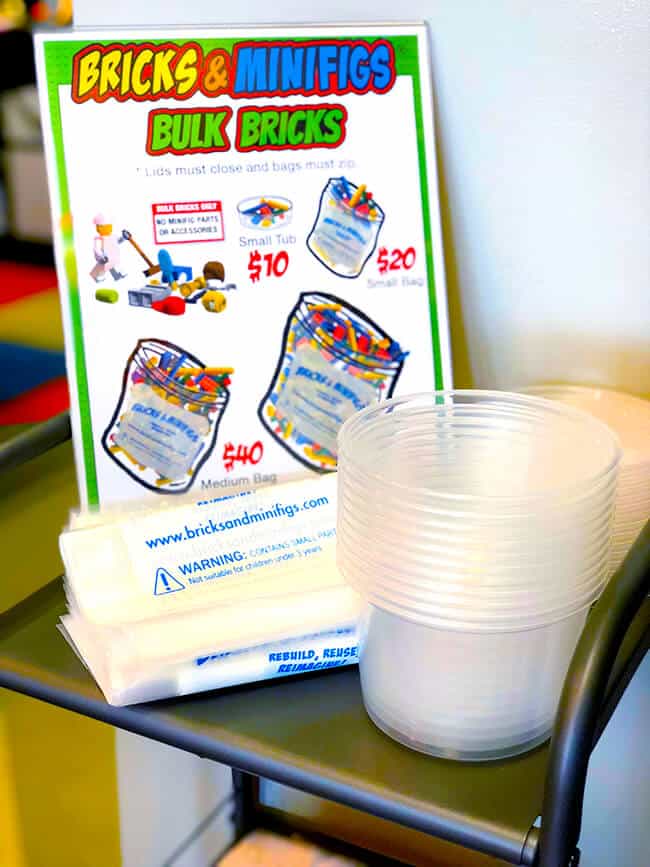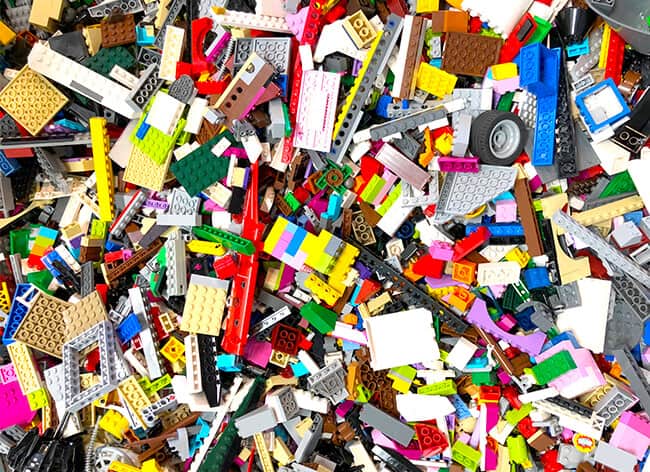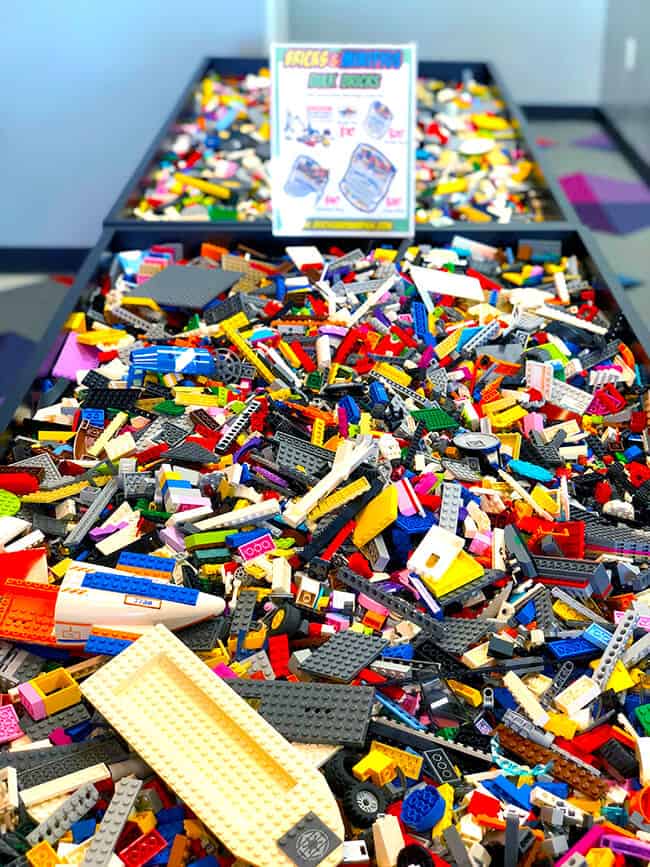 Selling Your LEGO
When you sell your Legos to Bricks & Minifigs, they will either give you CASH or store credit to buy more Legos. you will get more store credit than cash, and the amount of cash/store credit is based on multiple factors - condition, rarity, availability, how old, etc. you can even sell Lego sets (with or without missing pieces) or anything that is Lego brand. you can buy it all too! this store has a lot of unique things...and it's going to get better and better as time goes on. right now, the selection is small (actually there is quite a bit)...but as more people buy and sell, the more variety there'll be.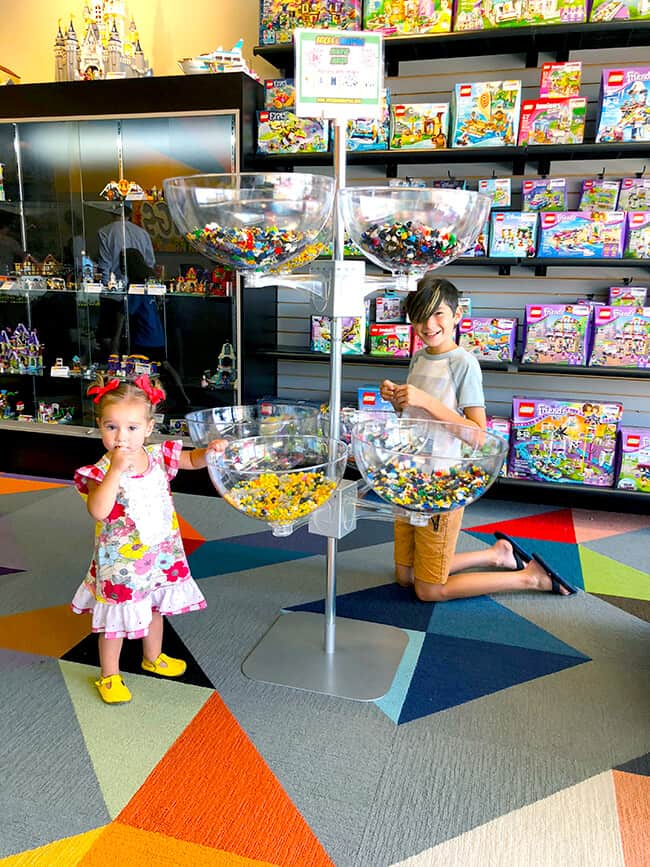 Support Orange County Small Businesses
Best of all, this particular Bricks & Minifigs happens to owned by a local Orange County mom. So head on down and check out the store and help support a local family in our community. Your kids will be very excited and it makes a fun couple hours spent out of the house. Bring your extra LEGO sets or some minifigs to sell. My boys were so excited to spend their allowance money.
Shop Their Store Online
Don't have time to get over to Bricks & Minifigs Anaheim? No problem. You can shop in their online store. Check out their rare, unique and fun LEGO minifigs and retired sets in the comfort of your own home.
Also, make sure to follow their Facebook page for the latest updates and killer sales!!!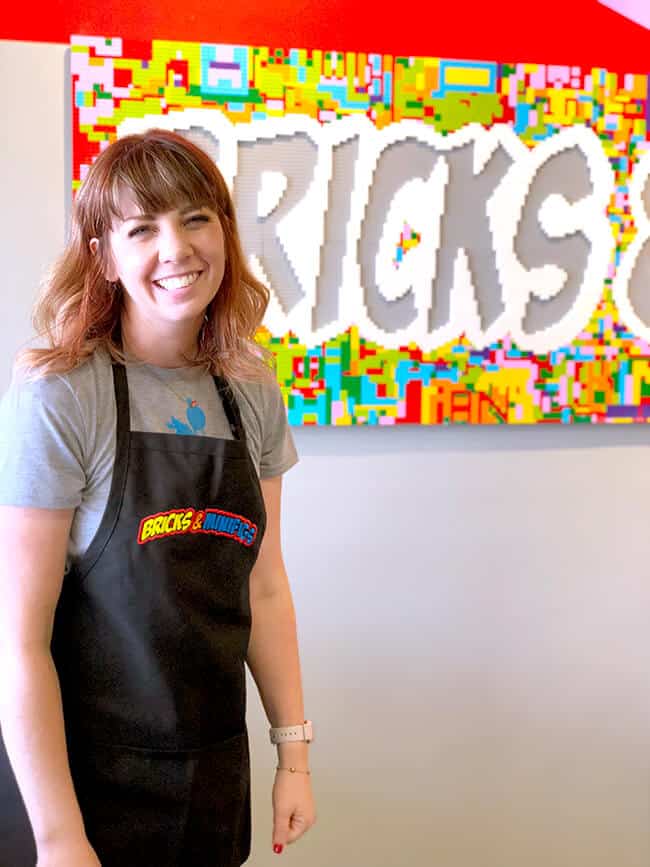 And while you are in Fullerton, head over to my favorite bulk popsicle store, Deelite Distribution, and get a box of popsicles. it's literally less than two miles away. we stocked up. SUCH. A. FUN. DAY.
Bricks & Minifigs Covid-19 Updates
Currently, Bricks & Minifigs is taking many precautions due to the pandemic.
Trades are by appointment only. Please call (657) 378-9777 or book online.
Masks are required to enter the store.
Hand sanitize before you enter.
Store capacity is limited to 12 people at a time.
Bulk tables and build-a-minfig are not available at this time. But you can buy prepackaged bulk bags.
Curbside pick-up is available.