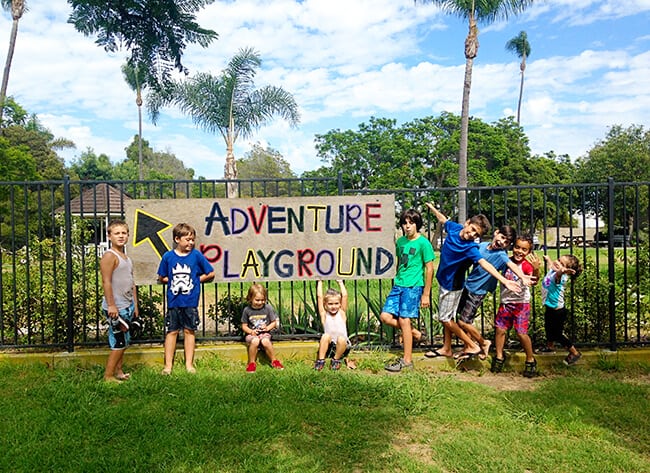 After 8 years of sharing fun places to go in Orange County, I've decided to stop promoting a particular summer attraction. I've have received numerous emails throughout the years about why it is not a great place to take kids, and I have finally been convinced to side with the naysayers. Adventure Playground in Huntington Beach is an awful place for kids and here are the reasons why:
1. It is so dirty. Why in the world would kids want to play in dirt, step in mud or get their clothes dirty? Gross. This is the kind of fun kids had in the olden days when electronics were unavailable. Why would we want to go back to that? Plus, YOU will most likely also be coerced to play in the dirt with your kids and there is NO WAY that you could handle this. Letting loose and letting your five year old yoga pants get dirty and playing with your kids is no fun at all. It might actually cause you to relieve some stress! That's just too much. And you know, washing machines and bathtubs are so hard to come by these days, you might never get clean.
see. i got my shoes dirty when i was forced to play with my kids.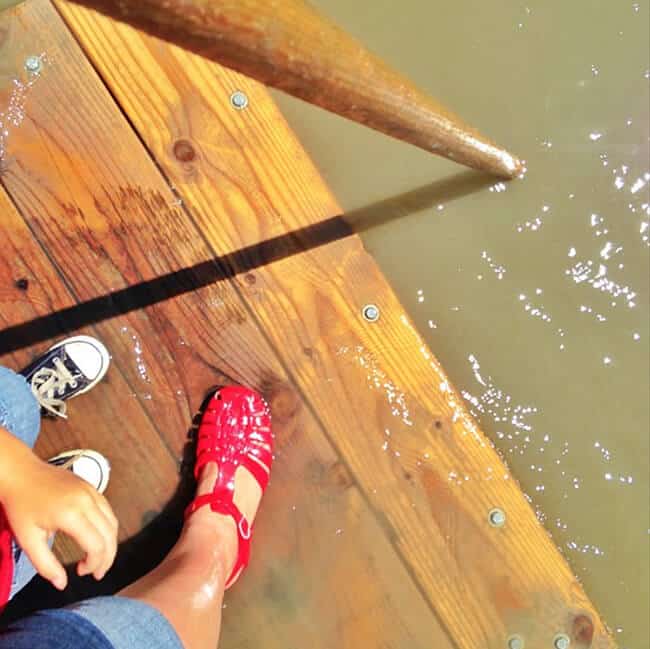 2. Your kids might get exposed to germs. Who knows what kind of diseases are lurking in that nasty muddy pond? Germs have no place on or in kids! It's probably everyone's personal toilet. I heard, from someone who knows someone who went there, that they allow kids to pee in it, right there in front of everyone! Yeah, your kids definitely shouldn't be playing on those neat Tom Sawyer rafts floating around in muck that is treated with chlorine everyday. What's about that even sounds fun at all?
yep. no fun at all.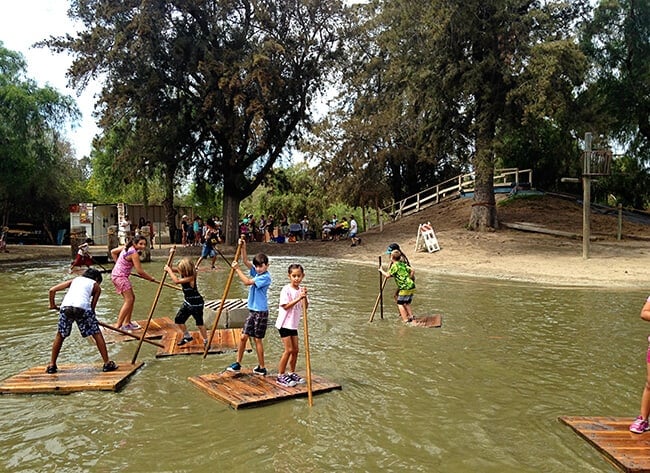 3. There are real tools just hanging around. Letting your kid play with real saws and hammers is extremely dangerous. They might cut off one of their fingers or smash a thumb while building an amazing tree house fort. Or worse, they might get a splinter and get gangrene. They shouldn't be able to learn from you or the staff about how to use such dangerous tools as these until they are at least eighteen years old. Actually, better make it thirty years old. Even when they are under the supervision of highly trained playground counselors that explain the rules and show them the proper way to use the tools, something terrible could totally happen.
so dangerous.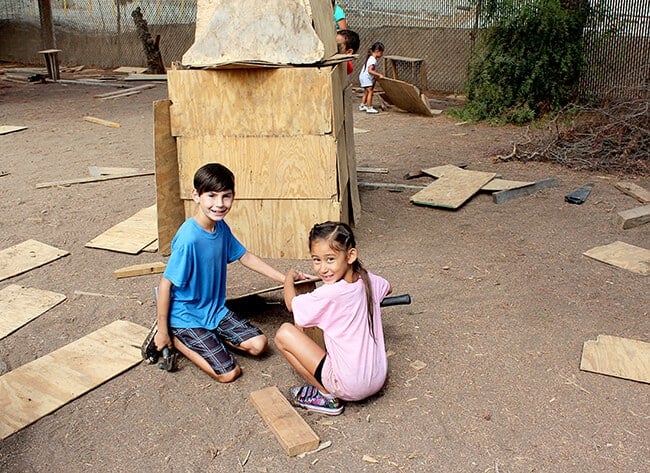 PLUS...if the kids don't follow the rules....
4. They might get put in time out. The trained Adventure Playground counselors will give your kid a time out if they don't follow the rules. How dare someone else discipline my child?! Children should be allowed to cut in line and swing saws in the air, or do whatever they want whenever they want. It's so annoying that these playground counselors keep such a close eye on all the kids to make sure they follow the rules to ensure their safety and the safety of those around them. The nerve!
5. Your kids might get Hypothermia. The water that is used on the water slide comes straight from the hose and it's freeeeeeeezing cold! you should ONLY let your kids go on water slides that use heated bottled water, preferably of the mountain spring variety. Their delicate bodies can not handle the cold, unfiltered tap water. Especially on a super hot day. Watching your kids slide down a makeshift black tarp water slide into an 18" deep freezing pool of water and screaming in terror would never be satisfying for a parent to watch...not even after all those Legos you've stepped on in the still of the night.
OMG....he is going to freeze.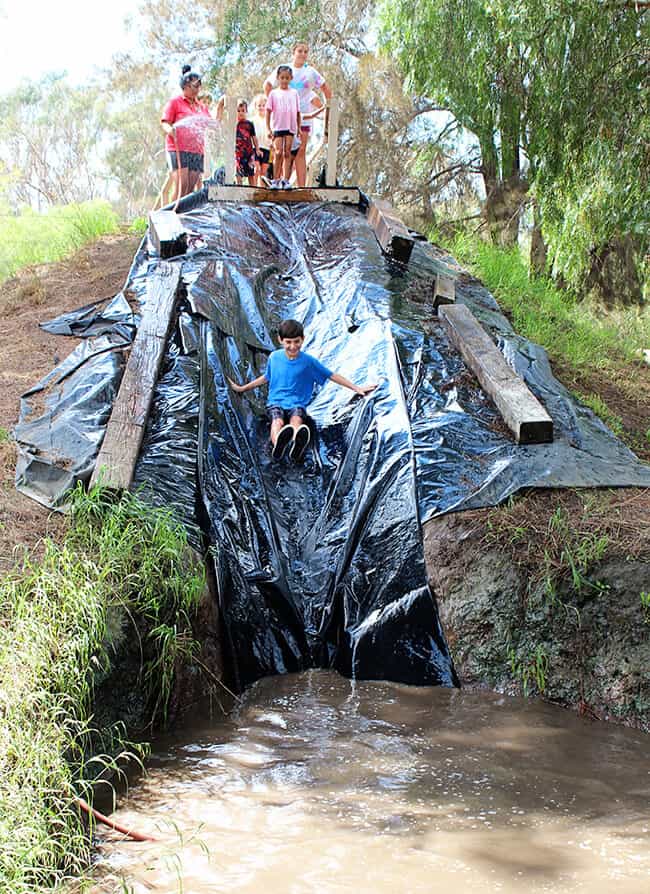 6. Letting your child pick up trash is degrading.  Why should my children have to do something constructive and helpful in order to earn nails to build something cool with wood? They should get unlimited nails for free without learning how to earn them. Life lessons such as these are so useless. This place is supposed to be fun.
7. They might get hurt on the rope bridge. Rope bridges are not for kids! They could get a rope burn or lose their balance and fall into that dirty pond while trying to cross the rope bridge. This would be the end of the world! Why would you want your kids to learn skills such as balance, patience and perseverance? Climbing is also not really fun for kids when they have video games and computers at home.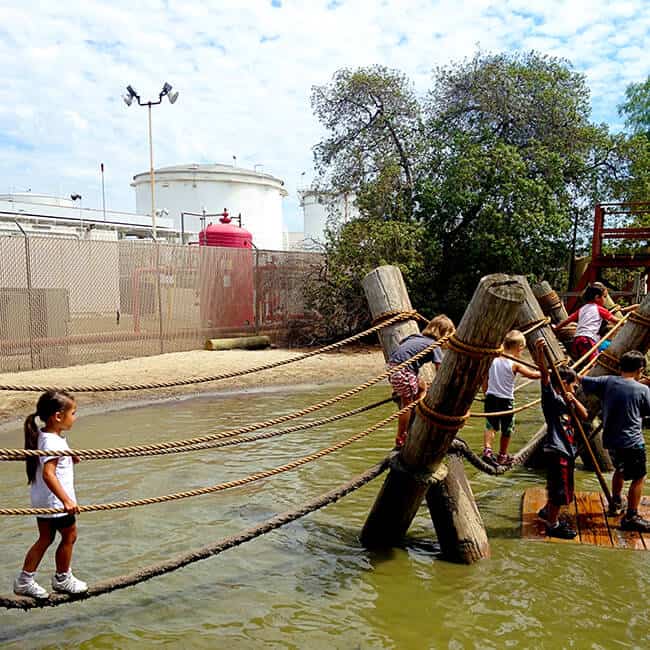 8. You might have to use a Port-a-potty. Yep, the bathrooms there are of the portable variety. They are so gross! You have definitely never had to use one in your entire life, and you can probably hold it, but what about your kids? What kind of parent would you be if you subjected them to something so...so classless? Yuck!
9. Your kids' clothes will get ruined. You know that obnoxious character tee or shoes that the grandparents gave your child? The one that they insist on wearing every. single. day? Yeah, that one! Well your kid might insist on wearing it to Adventure Playground–where it will get so dirty and stained that you have to throw it out. Darn. That would really suck.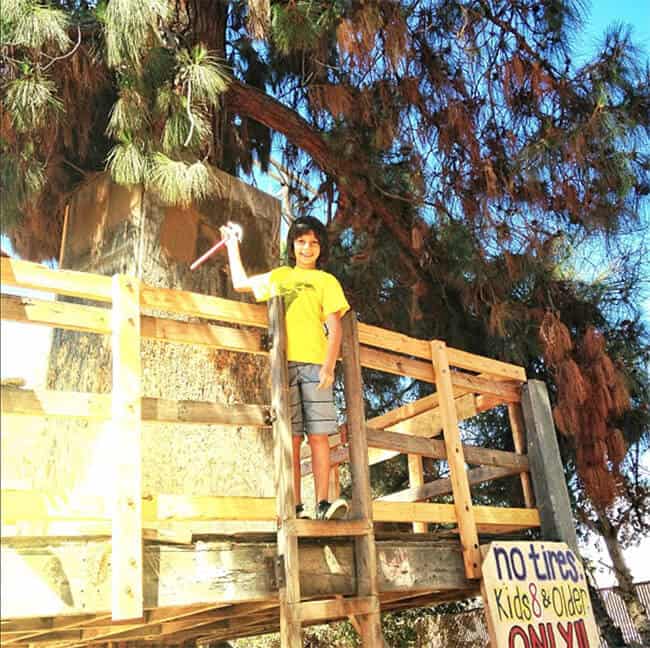 10. It's way too expensive. $4 per child is definitely too much to spend on an outing with the kids. Especially since it's an all-day activity. And especially since the parking is free. Such a pricey activity.
Adventure Playground is a place you really want to avoid during the Summer. Don't go there. Just STAY HOME. Kids should stay indoors playing video games and watching television all day, and should definitely not let themselves get dirty underneath the beautiful OC sun. Plus, there are just too many kids having fun there. I don't want the playground to get too crowded for my children who will be busy there not having any fun at all. That's why we go multiple times each summer - so I can torture them.
Still Want to Go to Adventure Playground?
Just in case you want to make sure that Adventure Playground is as horrible as I say it is, you can find the information on How to visit Adventure Playground in Huntington Beach here.
And just in case you didn't get my SARCASM, Adventure Playground is SUPER AWESOME. take your kids there at least once this Summer. The dirt and germs are worth it. And I suggest going after lunch when the day camps have left. It's less crowded then, which means even more fun.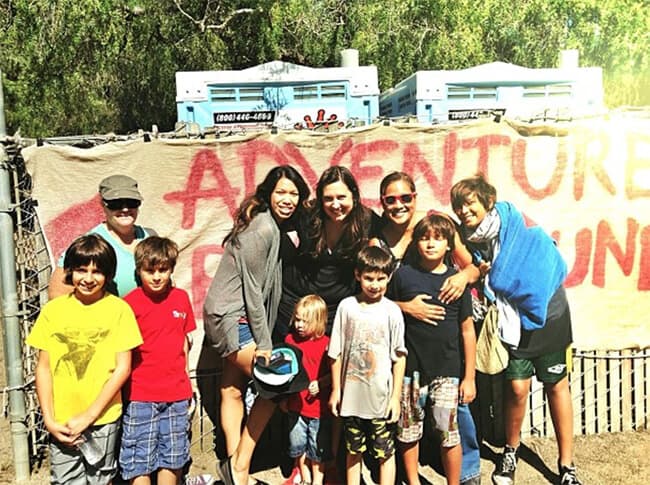 if you liked this article, then you will probably like this article too!
101 Things to Do with Kids in Orange County