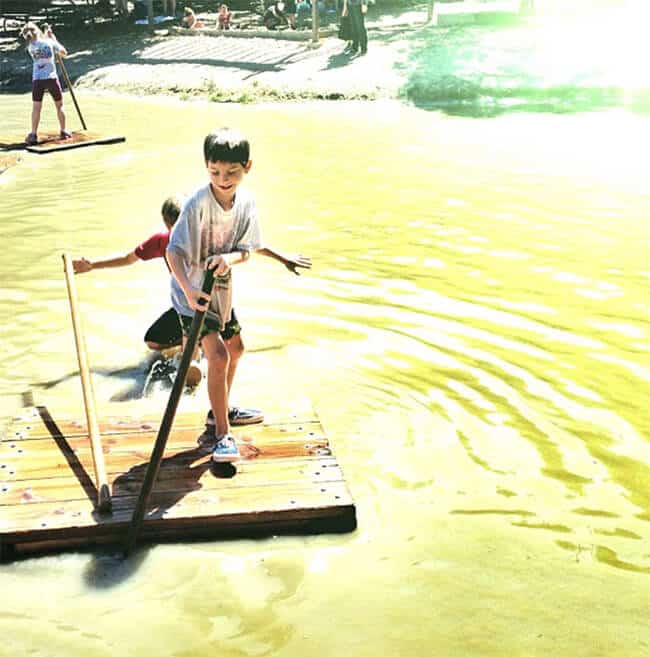 I know i post this every year, but this is seriously one of my kiddies favorite places to go! We are very excited that Adventure Playground in Huntington Beach is open for the summer! It's a mud park for kids in Central Park, Huntington Beach. But before you read ahead...you may want to read this post first: 10 REASONS WHY YOU SHOULDN'T TAKE YOUR KIDS TO ADVENTURE PLAYGROUND
Here are pictures from one of our trips a few years ago, in case you missed it: 
We went to Adventure Playground in Huntington Beach. paradise for kids who like to get dirty, play in the mud or build things. i have been trying to take my boys there since last year. I actually remember going when i was little.
So, we finally made it to Adventure Playground. I wasn't sure what to expect because i couldn't find much info about it on the internet. but you should have seen my boys eyes when we arrived. rope bridges, mud slide, tire zip line, forts to build with tools, a lake with rafts to float around on. just like Tom Sawyer. Little boy heaven.....although there were even more girls there.
We got there around 1:00 when all the day camps were leaving. The weather was great...not to hot. I guess this june gloom lasting into july can have benefits once in awhile. It cost $3 per child...a great deal! We went with a small group of friends and enjoyed ourselves for almost 3 hours.
Here are some pictures from our adventurous day
This is the pond where you can float around and balance on a raft. it is not deep at all, maybe 2 feet. This was the little ones favorite activity.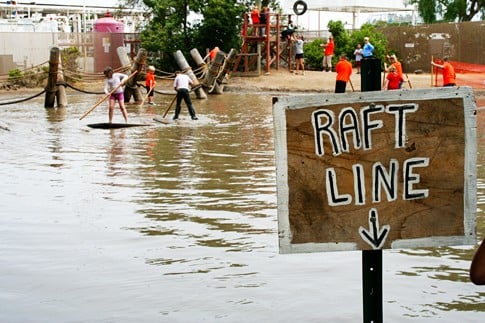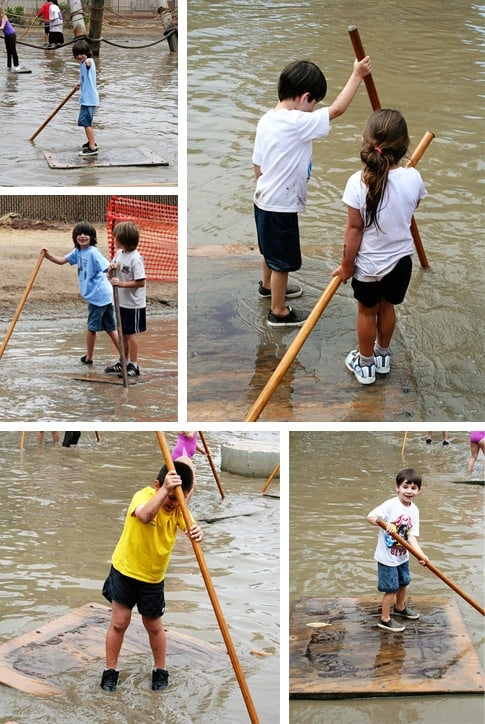 Then there was the building area where you can check out real tools. saws, hammers and nails. If you use all your nails, you can earn more by helping clean up. This was the boys favorite activity. you could tell they had dreams of building grand forts. *wink*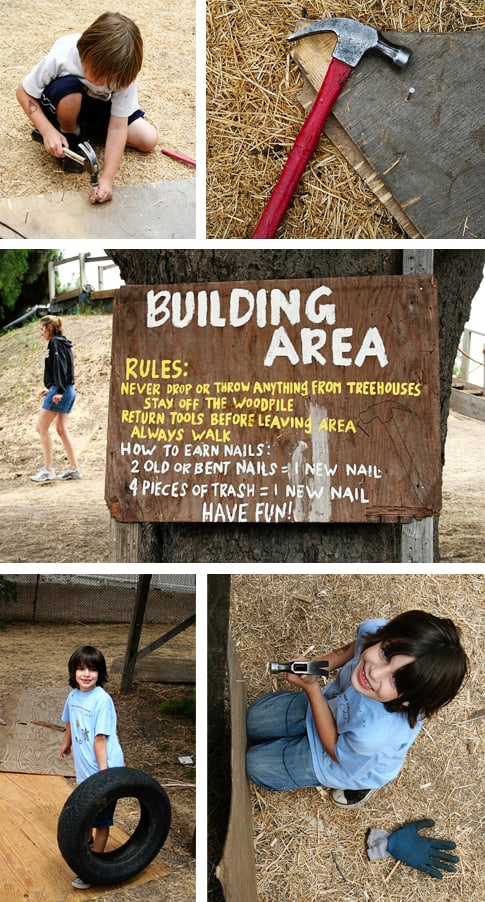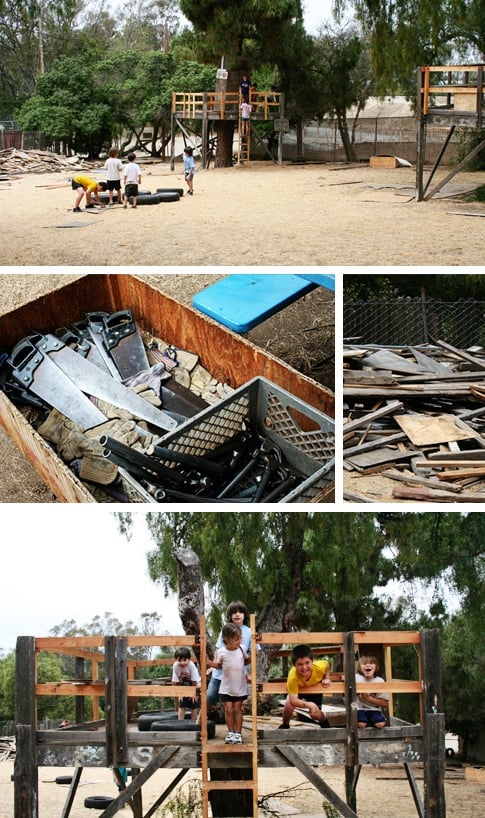 Don't forget the mud slide.....wheeeeeeeeeee!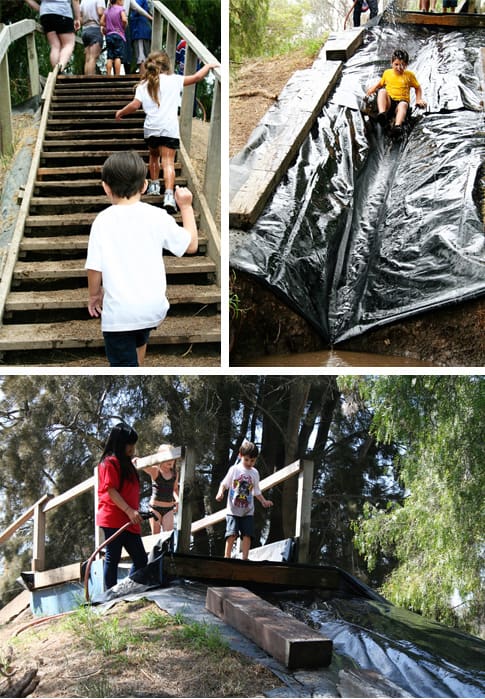 And even little girls can have fun! look at this little cutie who tagged along with our group of boys. What a fun, fun day it was.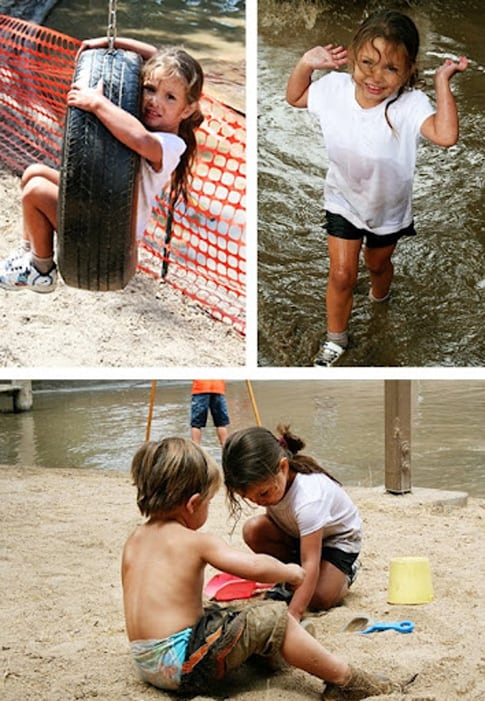 And of course, we always return a few times each summer!
Details about Adventure Playground
(Updated June 2019)
• 2019 season starts June 17 through August 16, 2019
• Open monday-saturday 10:00am – 4:00pm, play ends at 3:40 for clean-up (closed sundays & july 4th)
• $4.00 per child fee is charged.  All adults 16 and older are free. CASH ONLY
• suggested age is 5-12 (the 3 & 4 year old in our group loved it)
• There are picnic tables for eating
• There are no places to lock up valubles
• Everybody must wear closed-toe tennis shoes (no sandals, water shoes, Crocs, shoes without tongues, toe-shaped running shoes are allowed)
• You will get dirty....adults too
• Prepare for dirty kids, showers and changing area available (very rustic LOL)
• (714) 842-7442 or (714) 536-5486
click here for website.
Location of Adventure Playground
Adventure Playground is located in Huntington Beach off of Goldenwest, in the same parking lot as the Huntington Beach Central Library. Park and then walk up the hill. Click here for a map.
 P.S. Parents, plan on playing with your kiddies. some activities need parents help.