RESERVATIONS REQUIRED. We are so excited to announce, that after 3 years of being closed, Adventure Playground in Huntington Beach will be open THIS summer!!!! We couldn't be happier because this adventure park is seriously one of my kiddies favorite places to visit in Orange County! (Updated May 2023)
Adventure Playground is a mud park for kids located in Huntington Beach's Central Park. Pretty much the most amazing carefree messy, muddy fun for kids.
FUN READ: Before you read ahead...you may want to read this post first: 10 REASONS WHY YOU SHOULDN'T TAKE YOUR KIDS TO ADVENTURE PLAYGROUND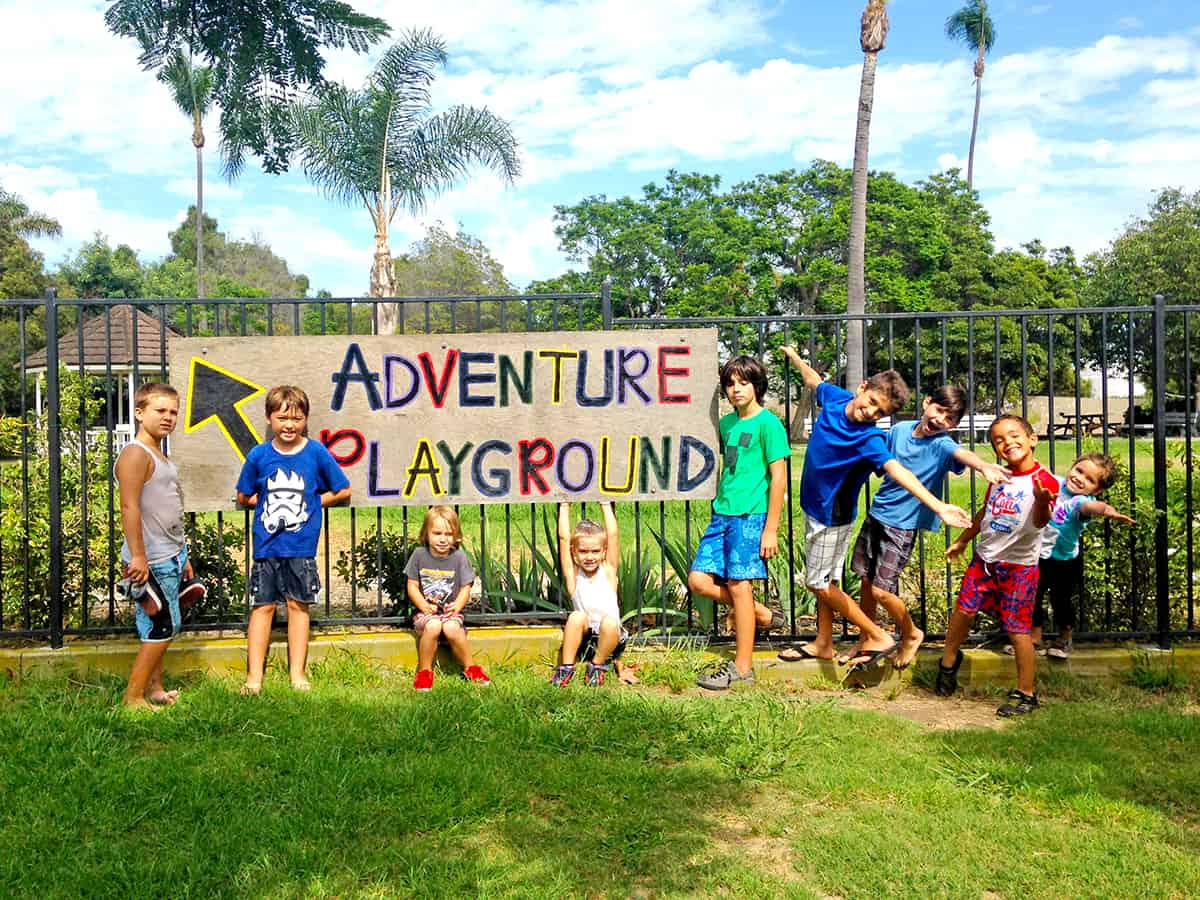 What is Adventure Playground in Huntington Beach?
Adventure Playground in Huntington Beach is paradise for kids who like to get dirty, play in the mud or build things. I have been trying to take my boys there since last year. It's been around for decades...and I actually remember going when I was little.
And of course, we always return a few times each summer! EXCEPT IT WAS CLOSED THE PAST THREE SUMMERS! How exciting that it will finally be open again.
When you visit, you will notice the location has undergone some changes since 2019. Three forts, the changing rooms, and the staircase to the mudslide have been completely rebuilt. Parents, plan on joining your kiddies in park play. Some activities need parents help.
What is there to do at Adventure Playground Huntington Beach? Well let me tell you!
Tom Sawyer Rafts at Adventure Playground Huntington Beach
One of the most coveted things to do at Adventure Playground Huntington Beach is to float around the pond on little rafts. Reminiscent of Tom Sawyer Rafts, kids can grab a stick and use it to guide them around the small shallow pond.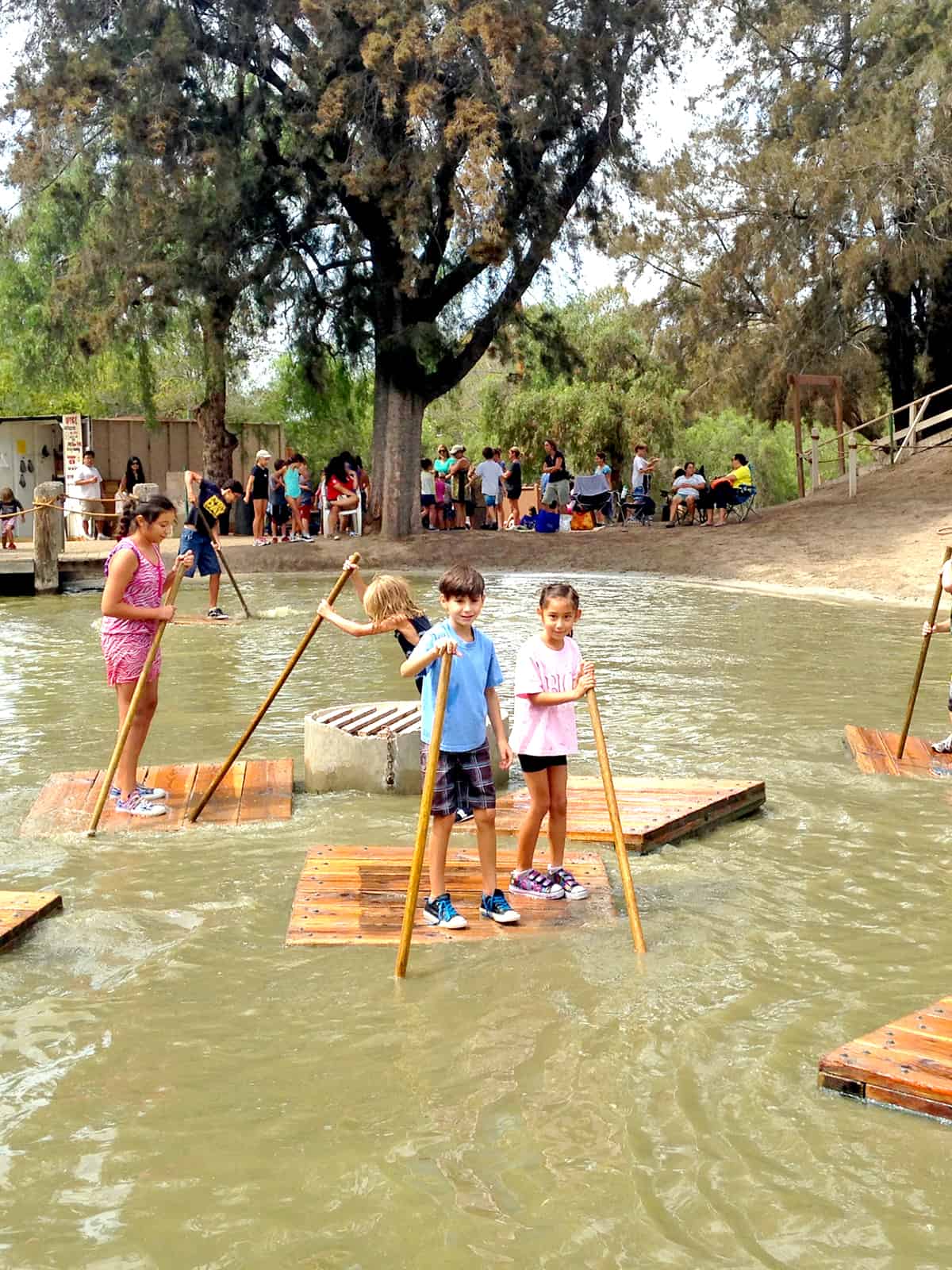 Kids take turns waiting on the dock, and are let into the pond in groups by camp counselors to assure it's not overcrowded and everyone gets a raft. Doubles are allowed, and parents can raft around with their children. It's fun and not to hard to get the hang of.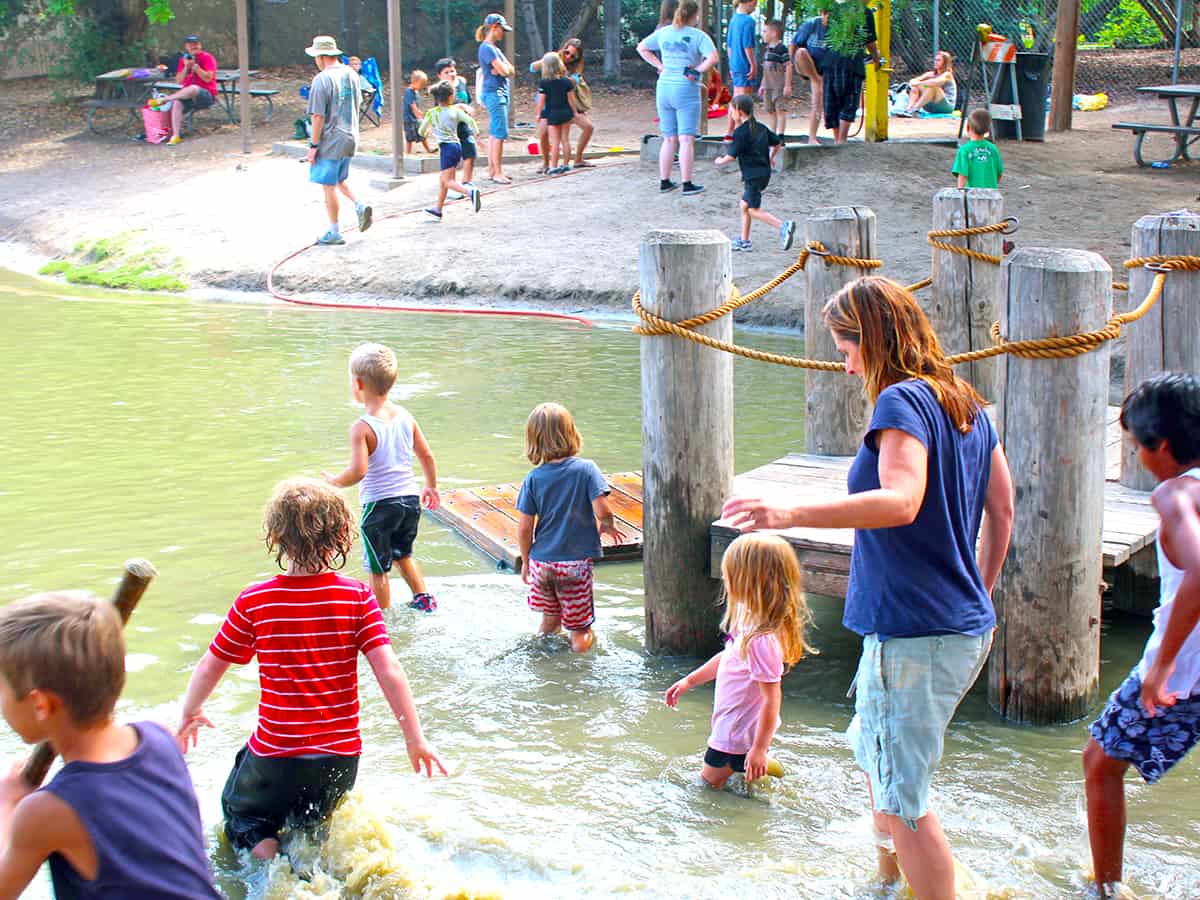 The pond where you can float around and balance on the raft is not deep at all, less than 2 feet. It only went up to my knees at the deepest point.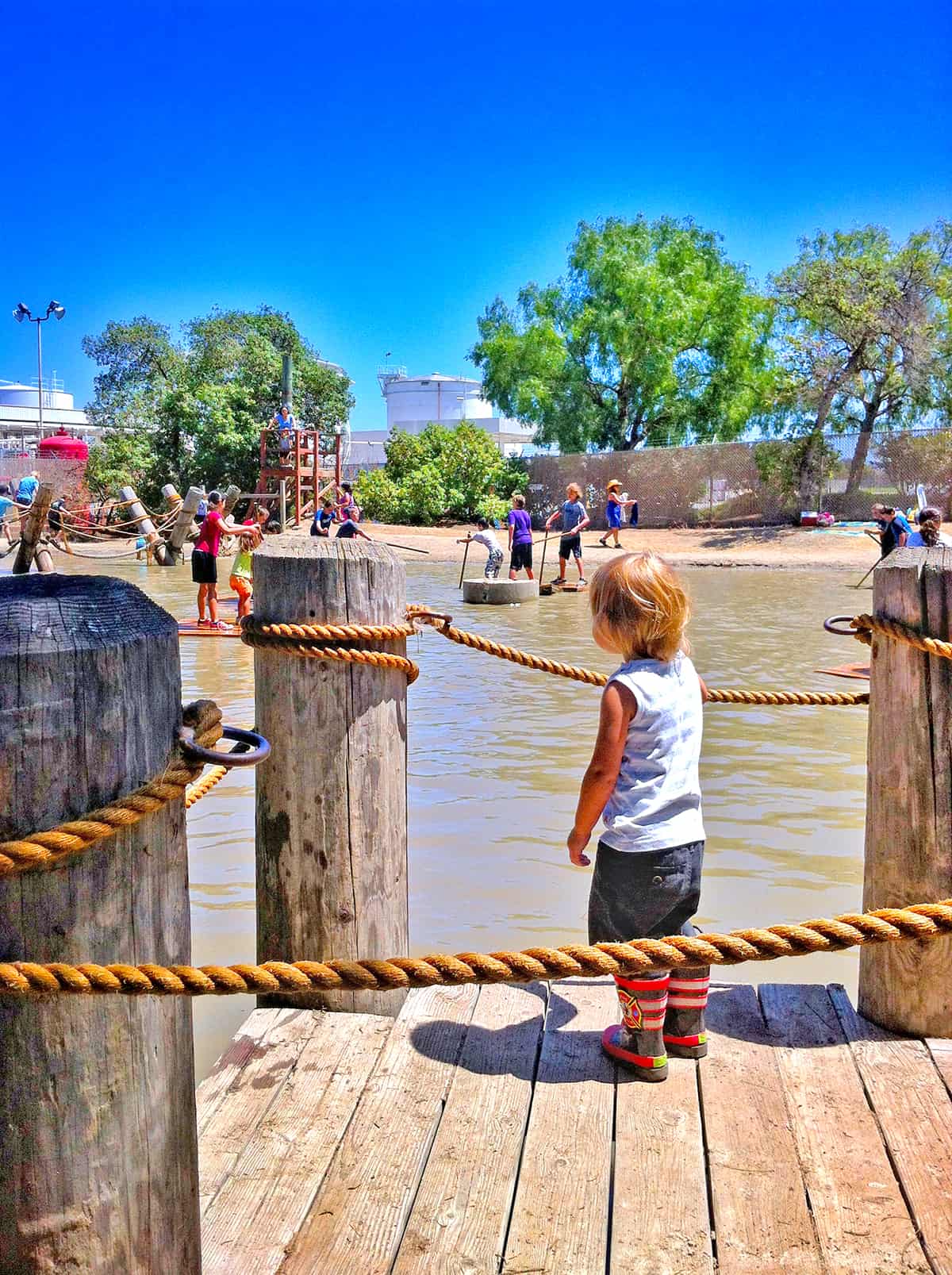 Even though it's shallow, you will want to keep you eye on small kids. This was the little ones favorite activity.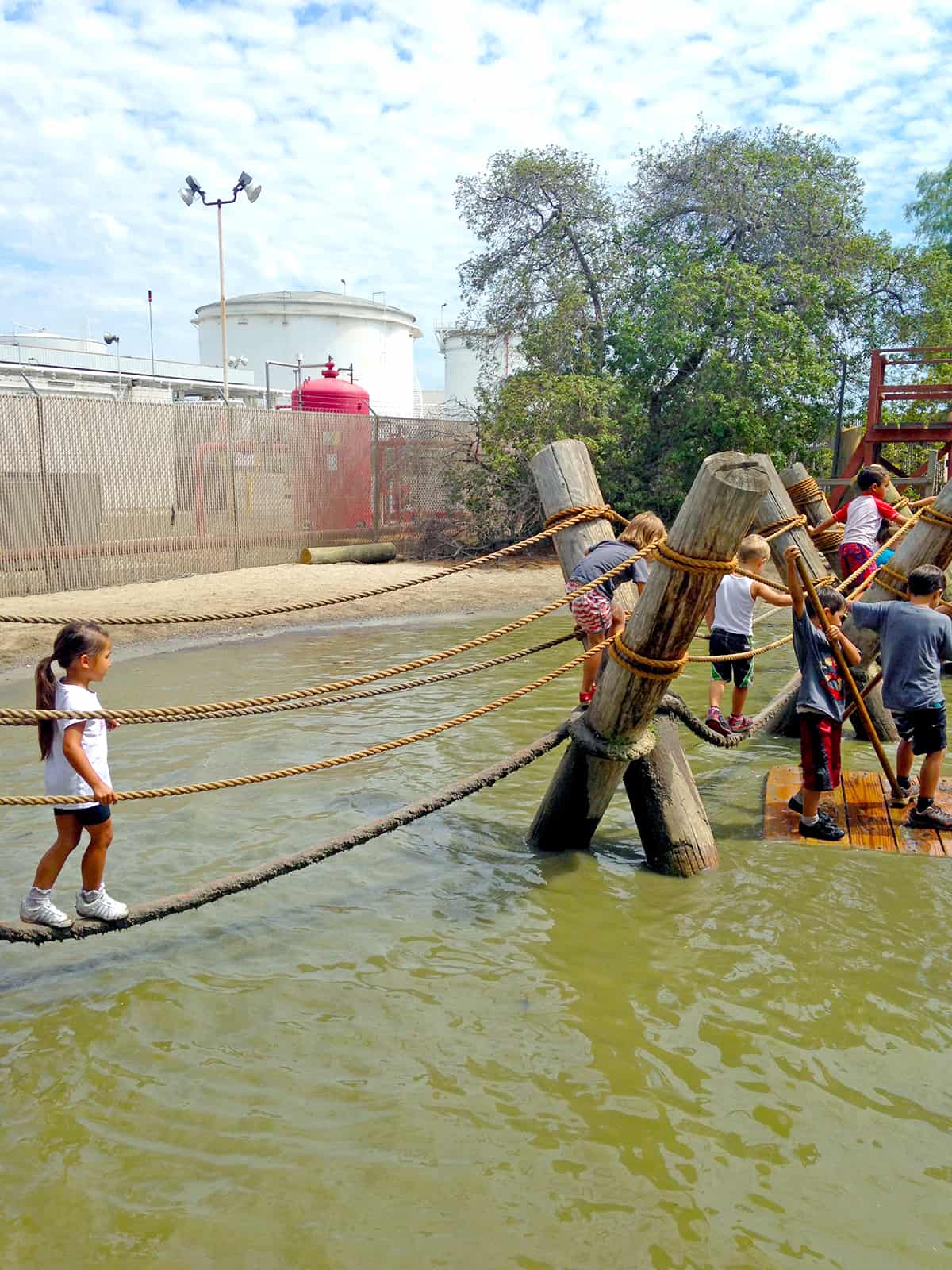 The rope bridge that goes across the pond is also a fun play space for kids. They can climb across and try not to fall into the water. There is also a very shallow area on the side of the bridge that is fun to wade and make mud castles in.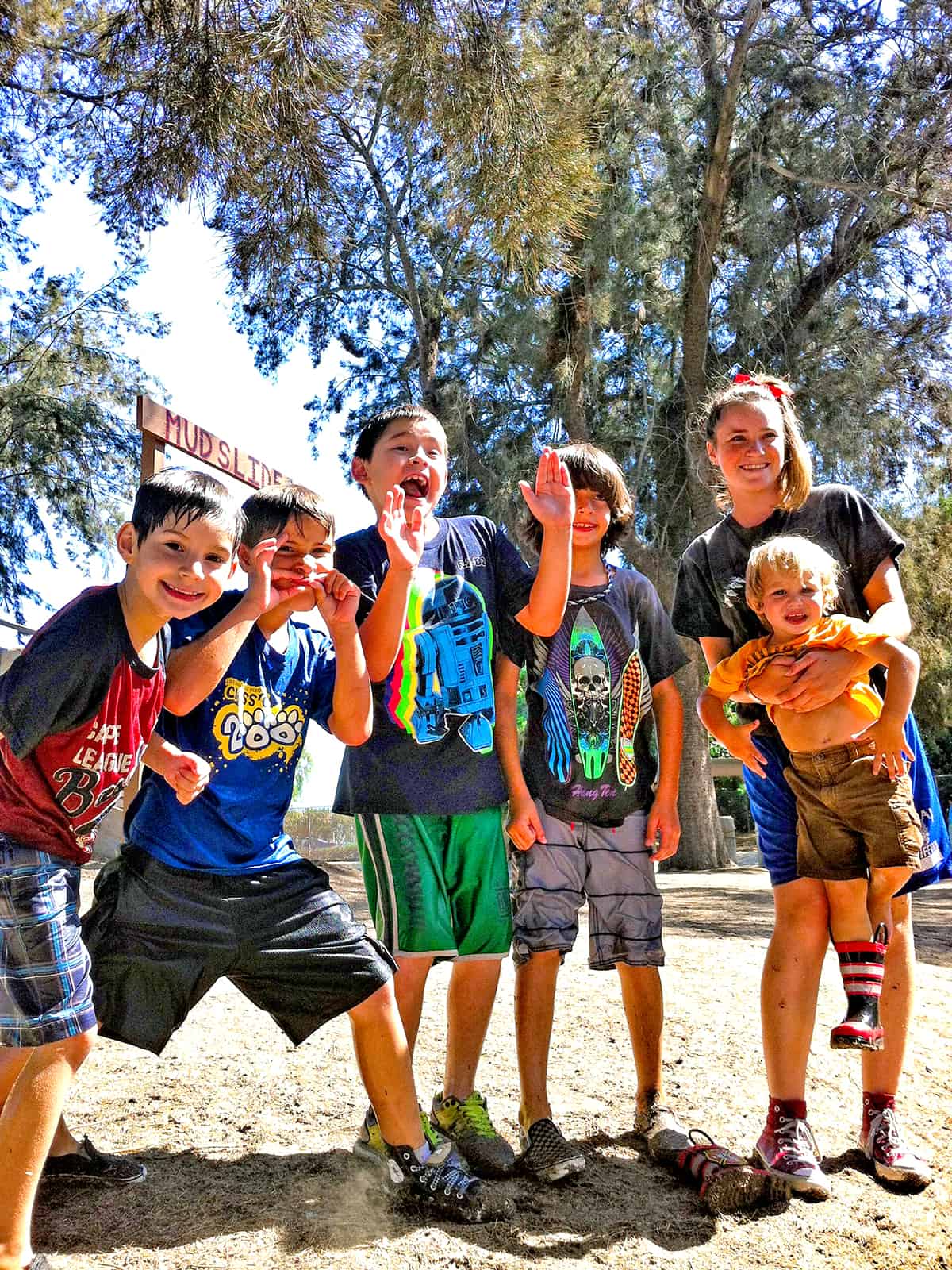 The Adventure Playground Huntington Beach Mudslide
The mudslide is a big hit with the kids! There is a staircase (recently renovated) that leads up the hill to the top of the mudslide. It's basically a piece of plastic tarp that you slide down on into a pool of muddy water.
BEWARE!!! The water is cold!!!!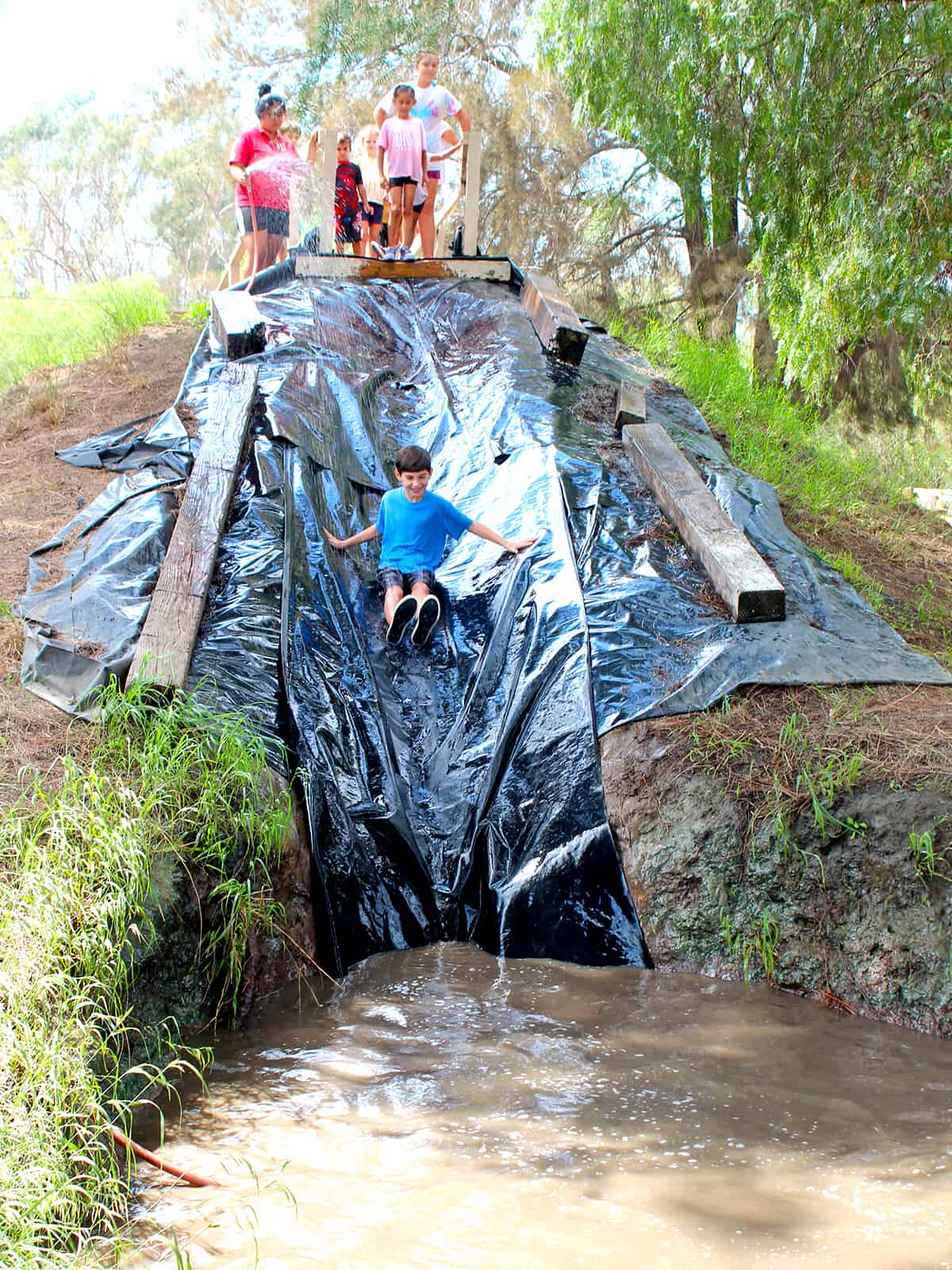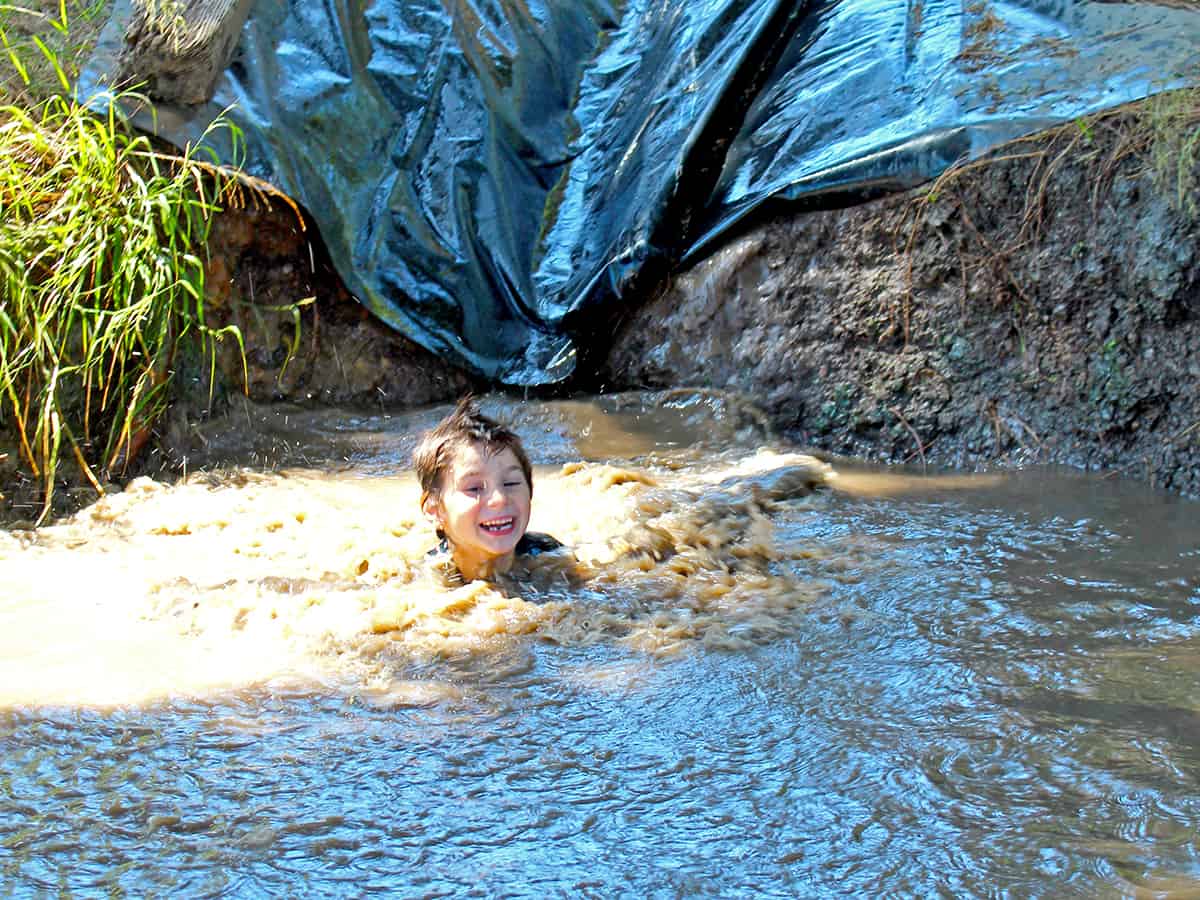 Forts at Adventure Playground Huntington Beach
If you have been to Adventure Playground in the past, you will notice one of the biggest changes. Unfortunately, the option to build on the forts with hammers and nails has been removed. This was to ensure the safety of all participants.
However, the City of Huntington Beach had rebuilt some of the forts to make it fun for kids to climb and explore. And even though you can no longer build onto these forts, hopefully kids can use their imaginations to explore and climb among the all-new forts.
(I will hopefully add updated photos of the new first shortly.)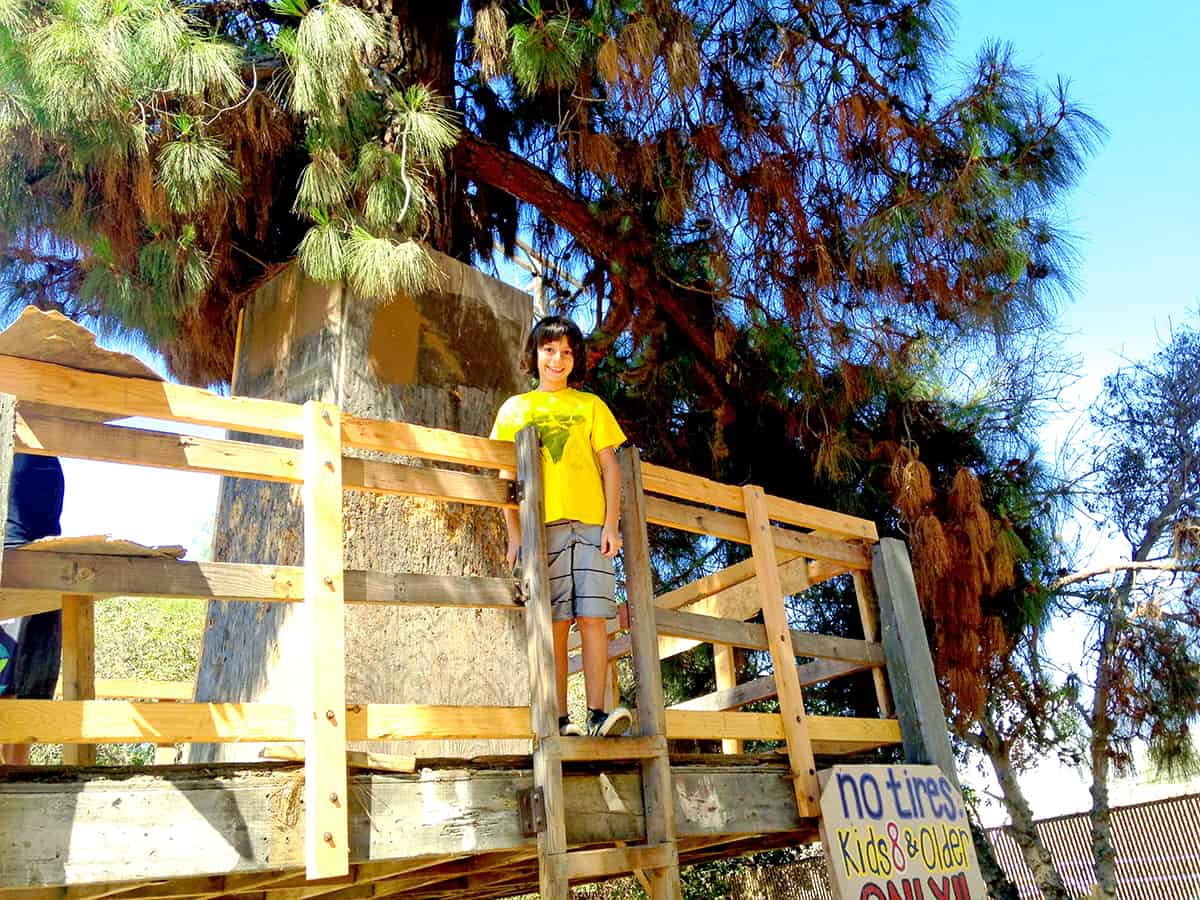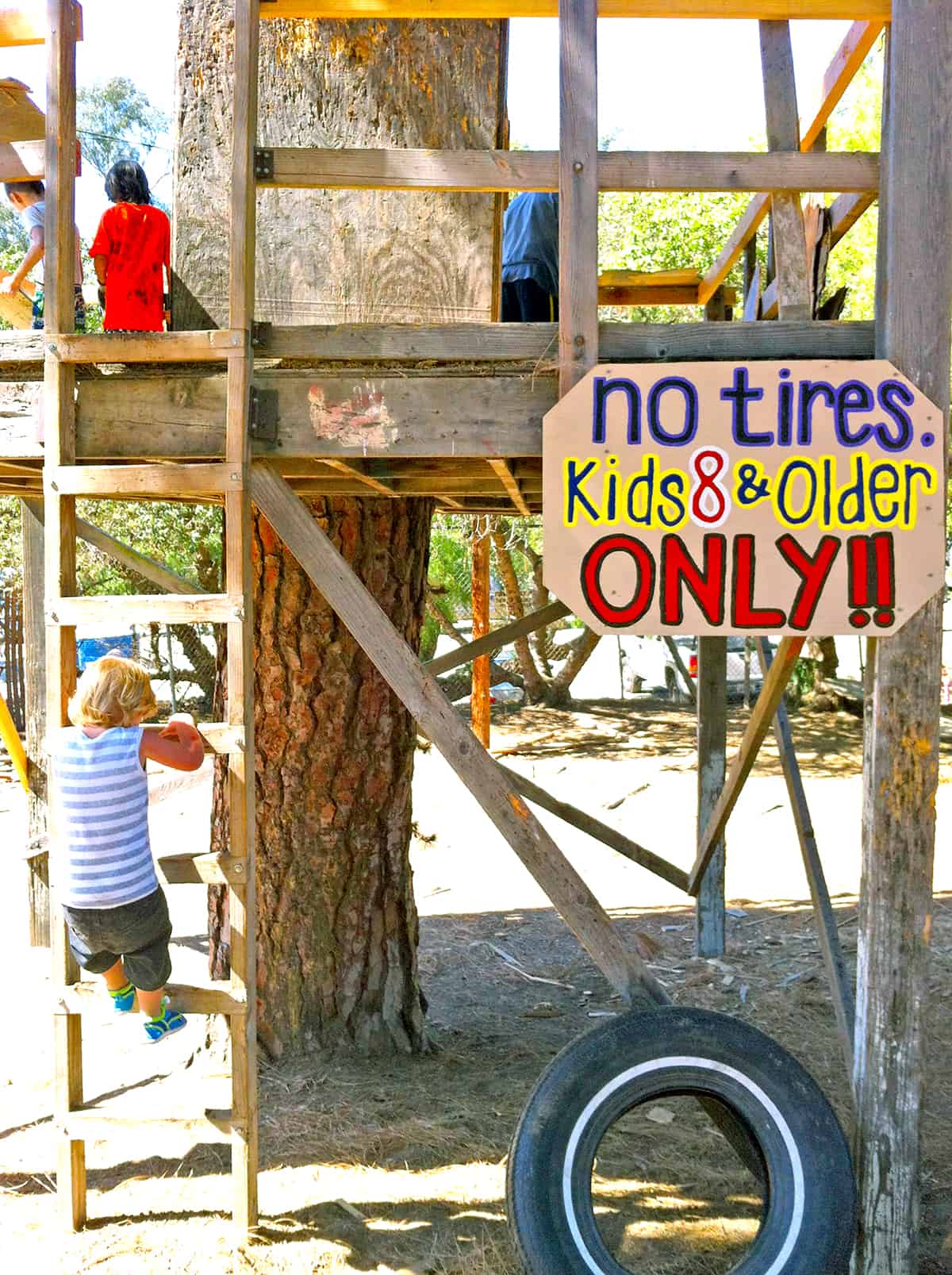 Doesn't Adventure Playground Huntington Beach look fun? Do you want to bring your own kids to enjoy the fun? Here is some information about the park that you need to know.
Details about Adventure Playground
Be sure to read the following information carefully. There are a lot of details and rules for Adventure Playground Huntington Beach. You want to make sure that you are prepared before you go so that you aren't caught off-guard.
Click here for official Adventure Playground Huntington Beach website.
When is Huntington Beach Adventure Playground open?
The 2023 Huntington Beach Adventure Playground season is open starts June 24, 2023 through August 18, 2023.
Open Monday - Saturday 10:00am – 4:30pm, (Closed Sundays & July 4th)
Play ends at 3:40 for clean-up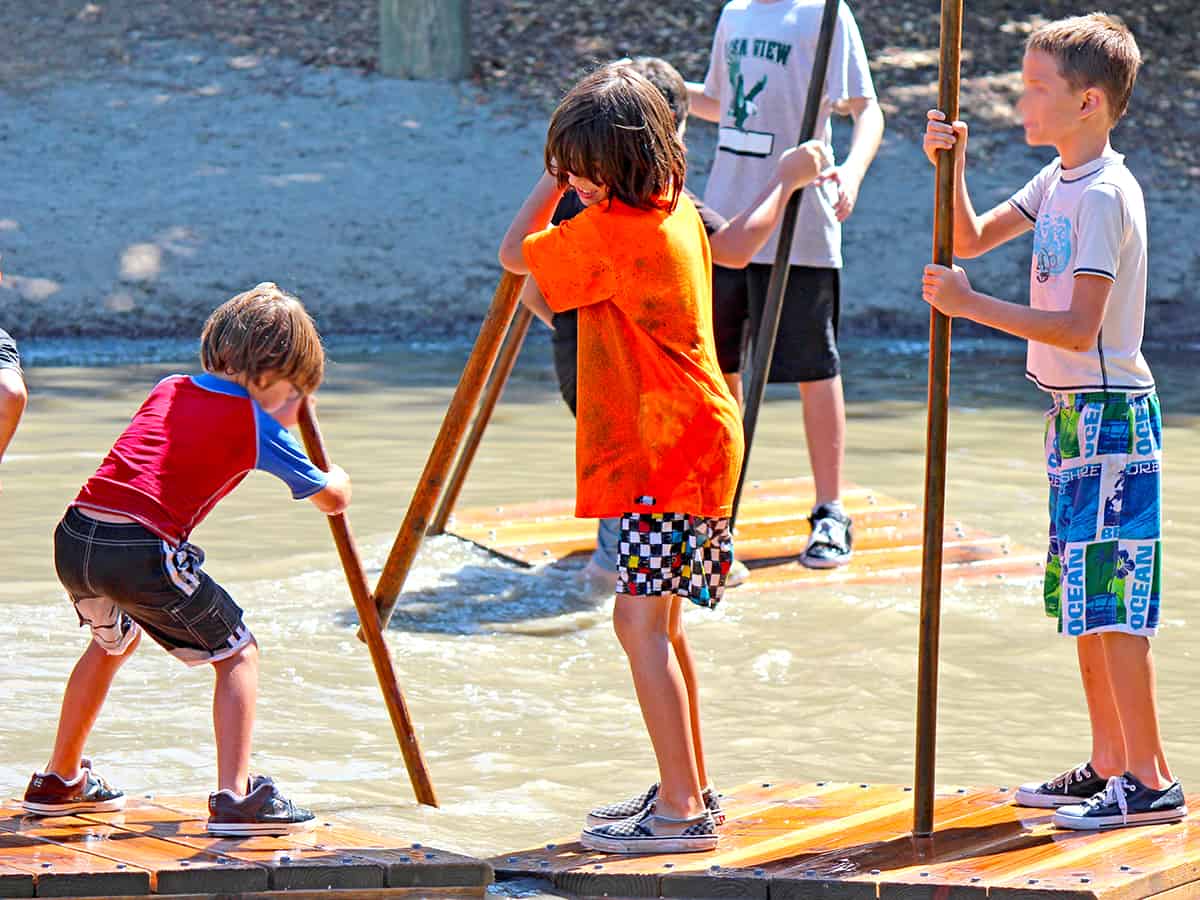 How Much is Admission into Adventure Playground Huntington Beach
Admission into Adventure Playground Huntington Beach is $4.00 per child.
Persons 16 and older are free when accompanying a child.
CASH and CREDIT CARDS are not accepted on-site. You must pay online.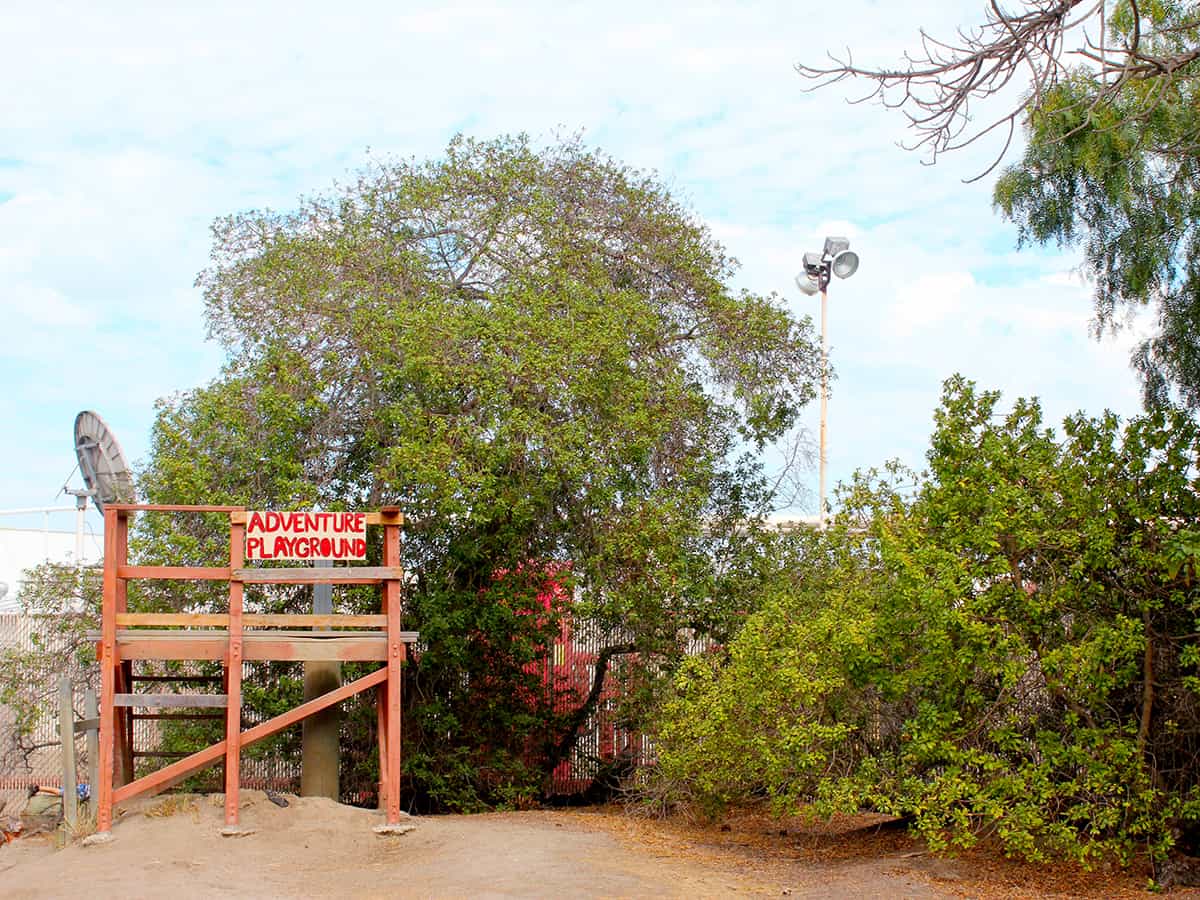 Reservations are Required for Adventure Playground Huntington Beach
This is one of the biggest changes. You use to be able to pay at the door to get into Adventure Playground Huntington Beach. This year, you need to pay online and register through Huntington Beach Parks and Recreation.
Click here to make reservations online.
Large groups may pay with a check made payable to the City of Huntington Beach.
What Ages is Adventure Playground Huntington Beach Recommended for?
Adventure Playground Huntington Beach is suggested for ages 5 - 12 years old.
Is Adventure Playground Huntington Beach good for toddlers? You will need to use your own dissgression when bringing a toddler to Adventure Playground. The 3 & 4 year olds in our group did enjoy it...but you need to be prepared to keep your eyes on them 100% of the time.
Is Adventure Playground Huntington Beach good for babies? Short answer is no. The only thing for babies to do is play in the dirt. And there is a risk of them crawling in the pond. Make sure to bring a stroller to contain your baby.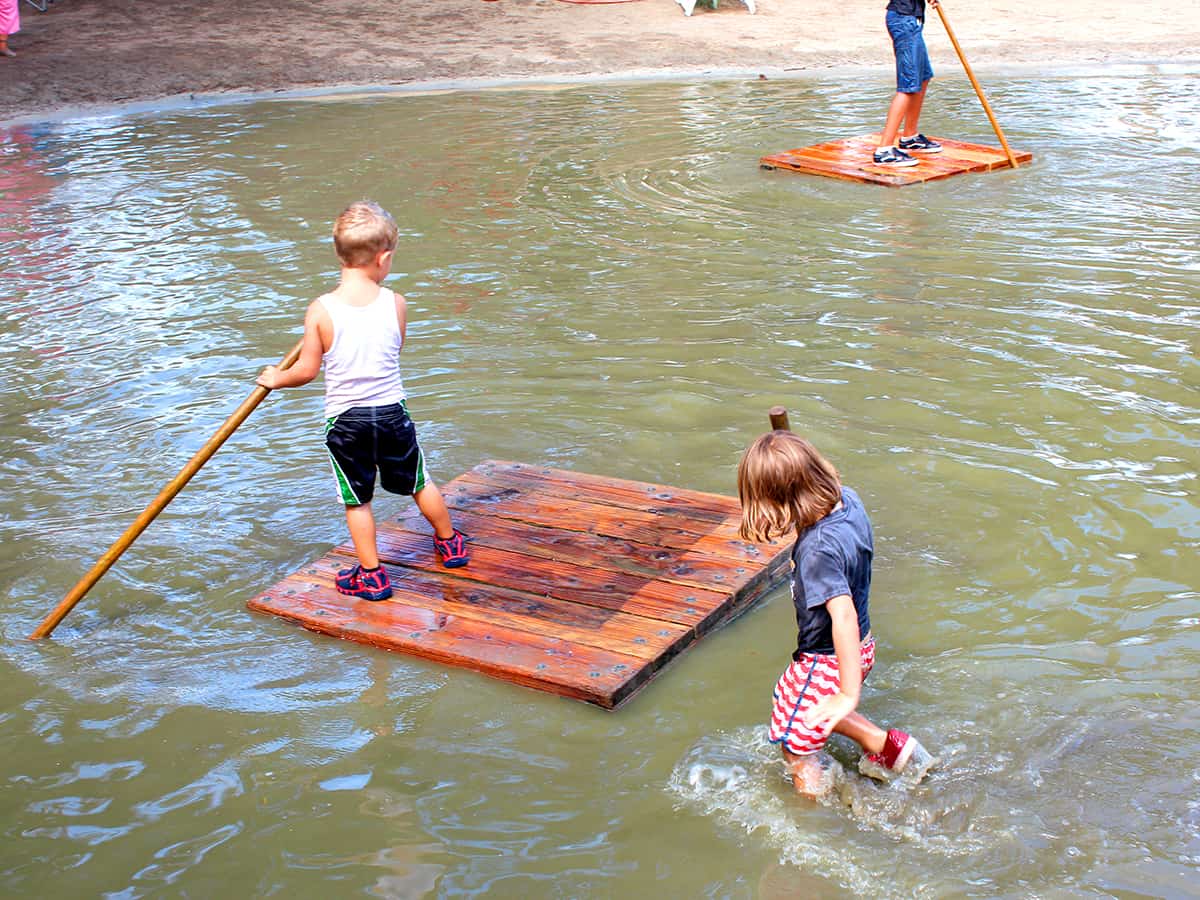 Rules About Footwear at Adventure Playground Huntington Beach
EVERYONE is required to wear closed-toe tennis shoes, including adults. Shoes must be worn at all times.
Closed-toe shoes that cover the entire foot without holes or slits on any part of the shoe.
No sandals, water shoes, crocs, or any shoe that may easily come off are allowed.
Anyone wearing shoes deemed inappropriate by park staff will not be allowed to enter.
Adventure Playground Huntington Beach usually has an assortment of old shoes available to use if shoes are not approved or forgotten.
Will You Get Dirty at Adventure Playground Huntington Beach
YES!!!! You will get dirty....adults too. (unless you really, really try not to, and don't try to raft in the pond.
Prepare for dirty kids. Participants will get wet.
Children will need to bring a towel, a change of clothes, extra shoes, and a plastic bag to keep them in.
Unheated showers and changing areas are available (very rustic LOL).
You are responsible for your own items. There are no lockers or cubbies available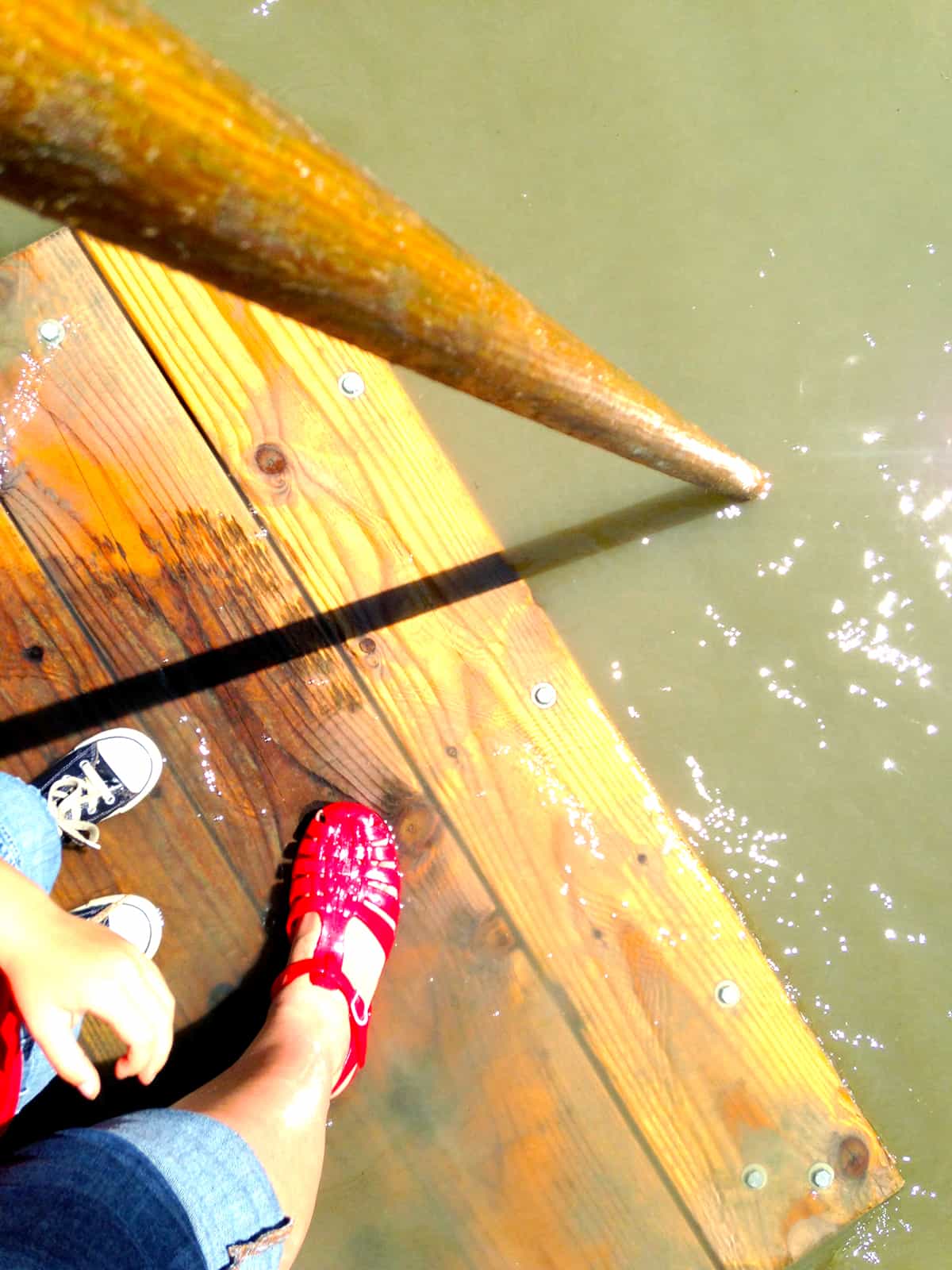 Can you Eat at Adventure Playground?
Eating at Adventure Playground is allowed and encouraged. You must bring your own lunch and snacks. You are allowed to eat inside the playground or outside in the park.
Tables at Adventure Playground are available on a first-come, first-served basis
No reservations for tables are allowed.
The City of Huntington Beach is not responsible for any items that are left unattended on the tables. Keep your personal belongings with you at all times to avoid any loss or damage.
Leave no trash. Trash cans are found inside the playground and down the footpath.
Address, Phone & Location of Adventure Playground
Adventure Playground is located in Huntington Beach off of Goldenwest, in the same parking lot as the Huntington Beach Central Library. It is to the EAST of the library. Park in the library parking lot and then walk up the hill. Click here for a map.
Driving directions from 405 Fwy: Exit Beach Boulevard South. Travel about 2 miles and turn right on Talbert Avenue. About ½ mile ahead enter Huntington Central Library parking lot, and park on the right near the tall trees.
The address for Adventure Playground Huntington Beach is: 18000 Goldenwest St, Huntington Beach, CA 92648
The address for Adventure Playground Huntington Beach is: (714) 536-5486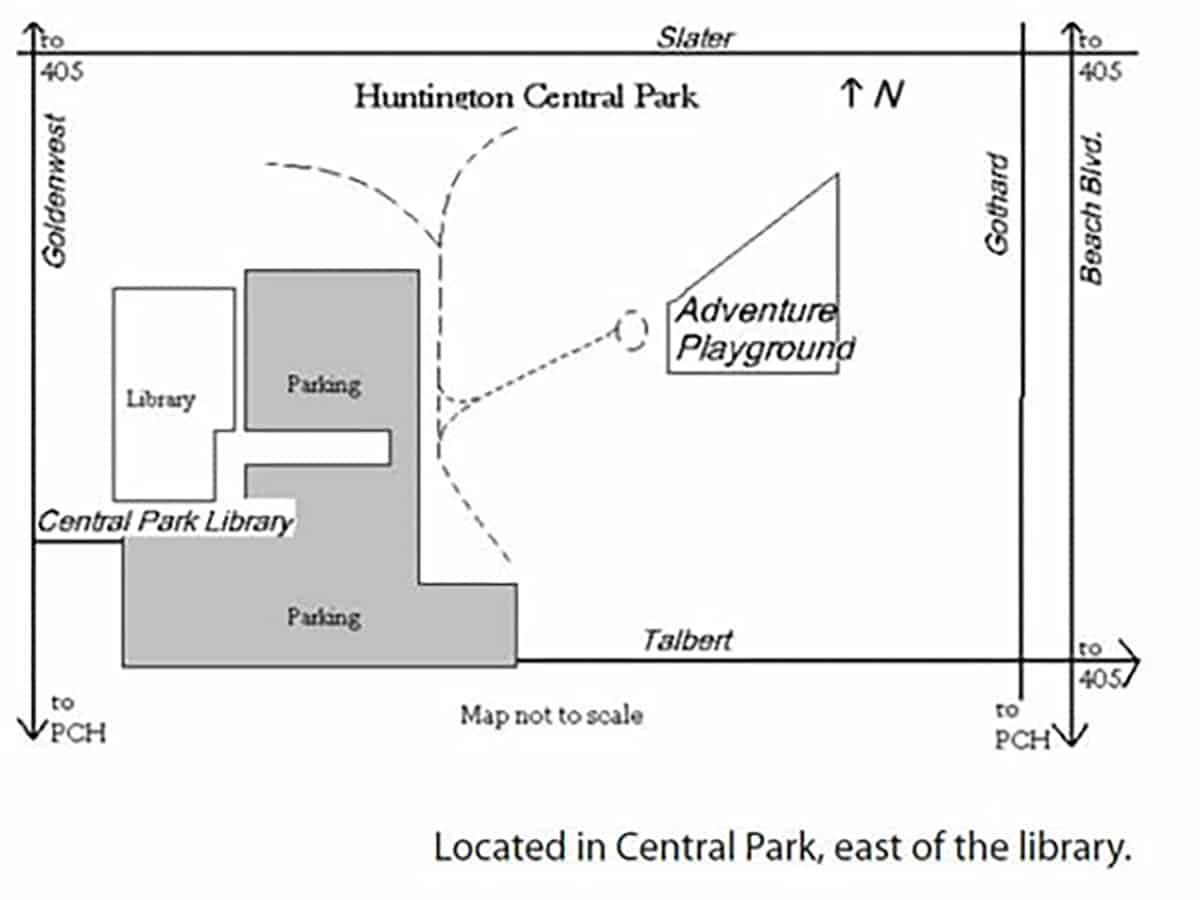 Past Photos from Adventure Playground Huntington Beach
Adventure Playground Huntington Beach has changed over the decades. These photos were taken in 2006. As you can see, there are some things that haven't changed and some things that have.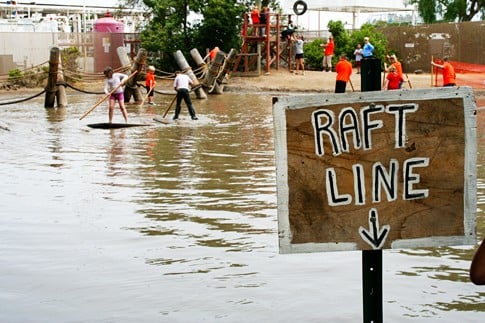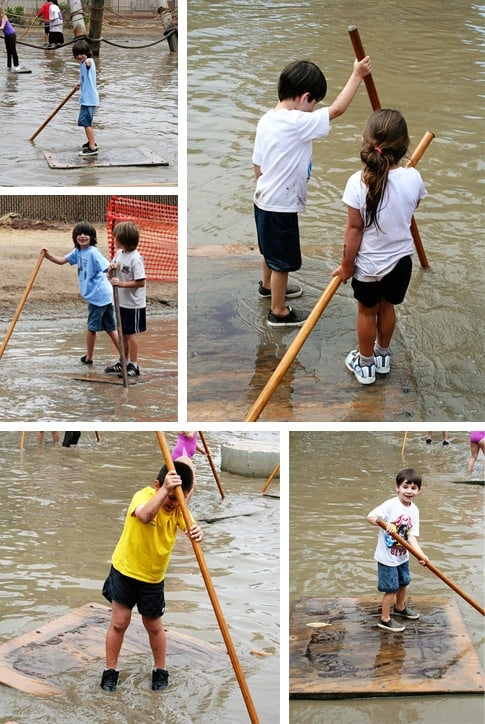 There us to be a building area where you could check out real tools. saws, hammers and nails. If you used all your nails, you could earn more by helping clean up. This was the boys favorite activity. You could tell they had dreams of building grand forts. *wink*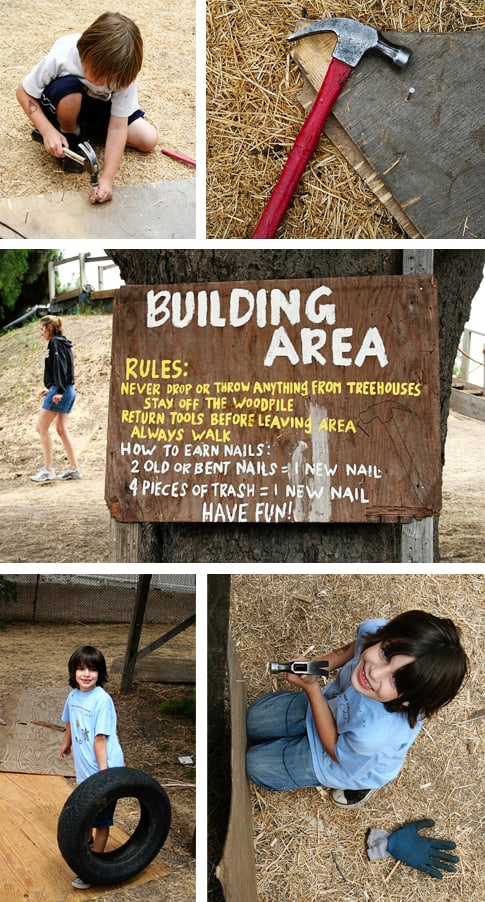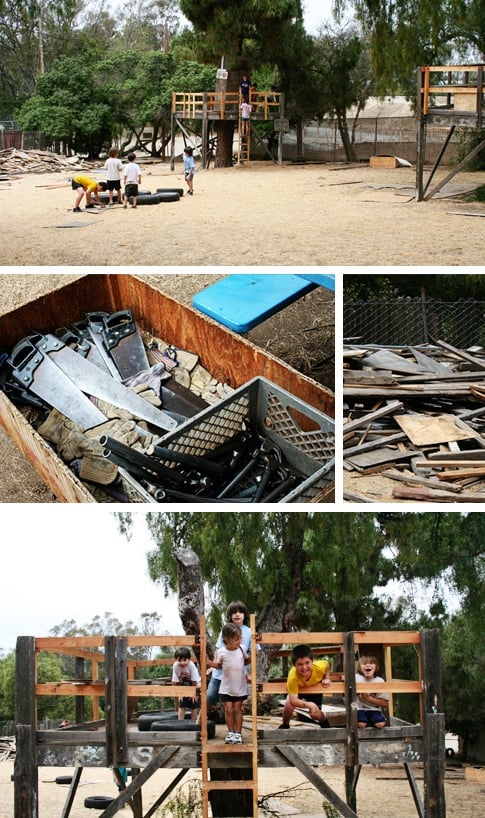 There also used to be a zip line where you could ride an old tire across the park.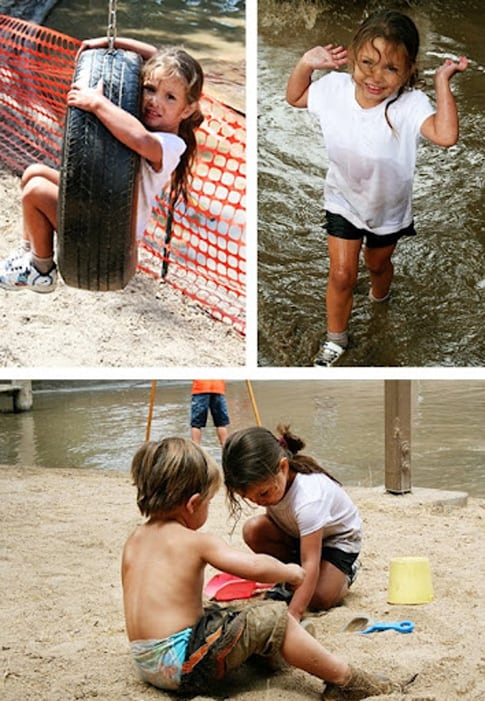 As you can see, Adventure Playground Huntington Beach has been a fun place for kids of all ages for many many years. We hope that the tradition continues for years to come.
Did you know there is another Adventure Playground in Orange County?
Yes, there is another Adventure Playground located in Irvine! It's not identical and has some of it's own features, but nonetheless, it's fun and adventurous. You can read all about it here: Adventure Playground Irvine