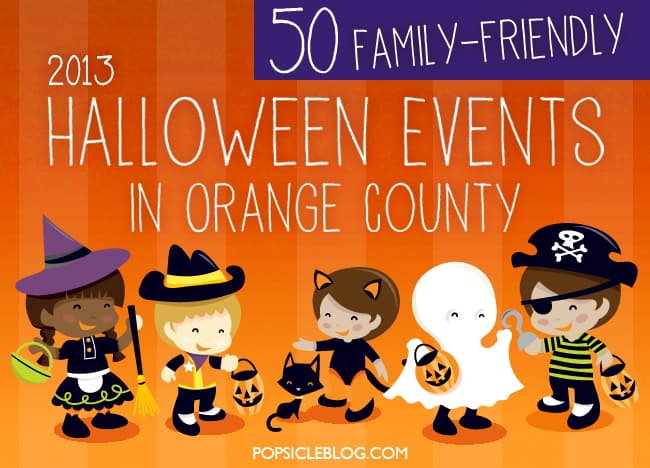 CLICK HERE FOR AN UPDATED LIST OF HALLOWEEN ACTIVITIES
the Halloween season has arrived here in Orange County and events are popping up all around Southern California! i have compiled this list of over 50 Orange County Halloween events...most of which are family-friendly, that are scheduled around the OC and SoCal this season. so get your calendar out and pick the ones that look the most fun for you and your family. get ready to make this Halloween season one your family remembers! (be sure to check back here, as more events will be added to the list as they are announced.)
Camp Spooky at Knott's Berry Farm
Weekends in October   |   Camp Snoopy at Knott's
this daytime, non-scare event is a celebration of cheer rather than fear! you can enjoy shows, activities and of course, trick or treating. kids can take part in the "Monster Dance Party and Costume Parade," sing and dance along with the Peanuts gang at the "Peanuts Halloween Spooktacular," and walk through the "Haunted Harvest" cornfield maze.
Mickey's Halloween Party
September 27th, October 1, 4, 8, 11, 15, 18, 21, 23, 25, 28, 30 & 31st   |   Disneyland Resort
party with Mickey Mouse, go trick or treating & watch the spectacular Halloween Screams Firework Show. guest of the party get to enter Disneyland 3 hours before the party to enjoy the park!
Halloween Time at Disneyland
September 13th through October 31st   |   Disneyland Resort
Disneyland is dressed up for Halloween! Check out the decorations and enjoy special Halloween activities throughout the park.
Irvine Park Pumpkin Patch
September 21st - October 31st   |   Irvine Regional Park, Orange
the best pumpkin patch around. be prepared to spend the day roaming through pumpkins, decorating cookies and running through and hay maze! you can enjoy pony rides, haunted house, face painting, bouncy houses, games, food and best of all....the train ride!
Boo at the Zoo
October 19, 20, 25, 26, 27 & 30th   |   Santa Ana Zoo
a family-friendly costumed extravaganza, trick-or-treating in a "Merry not Scary" Zoo atmosphere, educational animal presentations, storytelling, entertainment with a grand finale costume parade! for the older kids, there is a "Teen Scream," a haunted house filled with thrills and chills.
Pretend City's Bug Bog
October 8th-31st  | Pretend City Children's Museum
Dr. Strangebug will lead you through a bug scavenger hunt where kiddies can collect different types of play bug to receive a treat at the end of the hunt. there are also real bugs on display and kids can enjoy the bug adventure as many times as they would like during their time at Pretend City. Must purchase museum admission plus $3 for bug bog pass. (fun!)
Pretend City's Halloween Bug Bash
October 31st  • 10:00 a.m. - 5:00 p.m.  | Pretend City Children's Museum
Enjoy a full day of Halloween activities at the museum including Halloween crafts, Spooky Snacks, Bug Cafe, dancing, dental screenings and more! Plus, we are your costume for some trick-o-treating.
Tanaka Farms U-Pick Pumpkin Patch Tours
September 27th - October 31st   |   Tanaka Farms, Irvine
take a wagon ride around the farm, wander through the corn maze, pick your own vegetables, visit our petting zoo, take pictures by "Tanaka's Pile of Pumpkins" & finally pick your own pumpkin right off the vine. on the weekends there is a Fall Harvest Festival with food, games, atv rides and more!
Historic Yorba Cemetery Tour
October 5th • 11:00 a.m. - 12:00 p.m.    |   Woodgate Park, Yorba Linda
enjoy a guided tour through Orange County's oldest private cemetery. FREE
Knott's Scary Farm
September 27-28 & October 3-6, 10-13, 17-20, 24-27, 30 & 31st   |   Knott's Berry Farm
be prepare to get SCARED!!!! this event is definitely not for the kiddies. send your teenagers or make a date night at this frightfully scary night of terror. you can go through the monster mazes, watch the traditional Hanging Show, and be sure to try out the new interactive Trapped Maze. a pre-show buffet is offered at an additional price.
Aliso Viejo Fall Harvest Festival
October 19th • 10:00 a.m. - 12:00 p.m. |  Grand Park, Aliso Viejo
Costume parade, family games, pony rides, art and crafts, balloons, music & games. Bring (3) canned food items to be entered in an opportunity drawing for a prize. FREE
Soka University's Annual Halloween Fair & Haunted House
October 25 & 26th • 6:00 p.m. - 10:00 p.m.  |  Soka University Recreation Center, Aliso Viejo
university student clubs will once again combining their ghastly talents to host this fun family event. it will offer games, activities and food booths. you can also enter the haunted house at an additional cost! FREE
Teen Ghost Hunters Night
October 4th  |  7:00 - 9:00 p.m.  |  Crown Valley Community Park,  Laguna Niguel 
Teens will break into groups and attempt to record "para-normal" activity while exploring areas of the park. Everyone will meet back in the viewing room and share their findings while enjoying pizza! $5
The Empty Grave Haunted House
October 4-6, 11-13, 18-20, 24-27, 30-31  &  November 1-2  |  7:00 p.m. - 12:00 a.m.    |   Anaheim Garden Walk
The Empty Grave Haunted House is ALL NEW for 2013! This haunted attraction is located a few block from Disneyland with 50,000 square feet of terror! Featuring state of the art special effects, live actors and animatronics.
Hauntoberfest & Family Halloween Party
October 27th    |   7:00 p.m. - 12:00 a.m.   |   Phoenix Club, Anaheim
enjoy authentic German food, food eating contests, fire engine hay ride, train rides, bounce house, pony rides, folk dancers & music.
Villa Park Halloween Fest
October 30th    |   4:30 p.m. - 7:30 p.m.   |   Villa Park Towne Center
costume parade for kids & dogs, hayride, crafts, treats & food vendors. FREE
Octoboofest
October 31st   |   4:00 - 8:30 p.m.   |   Downtown Fullerton Plaza
Trick or treating, games and not so scary safe fun for the entire family.
Trunk or Treat at Kings Luther School
October 31st   |   6:00 p.m.   |   Kings Luther School
Trunk or treating, games and fun.
Kidgits Halloween Event at Brea Mall
October 31st   |   4:00 - 7:00 p.m.   |   Brea Mall
Trick or Treating for kids at the Mall plus fun and games.
Trick or Treating at Laguna Hills Mall
October 31st   |   4:00 - 6:00 p.m.   |   Laguna Hills Mall
Trick or Treating for kids at the Mall
Trick or Treating at Festival Shopping Center
October 31st   |   4:00 - 6:00 p.m.   |   Festival Shopping Center in Anaheim Hills
Trick or Treating for kids at the shopping Center
Trick or Treating at Anaheim Marketplace
October 31st   |   3:00 - 6:30 p.m.   |   Anaheim Marketplace
Trick or Treating for kids at the shopping Center
Kidz Block Party
October 31st   |   5:00 - 9:00 p.m.   |   Brea Downtown
Hundreds of thousands of the best Chocolate Candy will be given away – FREE!, Pony Rides, Bounce House, Petting Zoo, 20′ Tall Rock Climbing Wall, 25′ Tall Giant Shark Slide, Over 40 Game Booths, Face Painting, Balloon Artist, Lots of Raffle and Trivia Game Prizes, Awesome Live Music Performances from our Main Stage
Halloween in Silverado Canyon
October 31st • 7:00 p.m. - 9:00 p.m.  |  Canyon Market, Silverado
meet a ghost who haunts the historic mining town of Silverado & follow him into a creepy woodland. hear tales of long ago, meet an ghosts who are doomed to relive tragic events of their lives and summon the great spirit of the grizzly bear who roamed the mountains until 1908. an interactive event for the whole family. costumes must be worn by ALL participants. FREE
Great Park Pumpkin Harvest
October 26th • 9:00 a.m. - 3:00 p.m.  |  Orange County Great Park, Irvine
pick your own pumkin from the Great Park Pumkin Patch, enjoy pumpkin carving demos, train rides, corn mazes, games, petting zoo, puppet shows and more!  FREE $10 parking
OC Market Place Annual Trick-or-Treat Festival & Hearst Show
October 27th   |   10:00 a.m. - 4:00 p.m.   |  OC Event Center, Costa Mesa
pumpkin carving, screaming contest, trick-or-treating, carnival, face paining, puppet show, Hearst show and more!
Halloween Foodtacular
October 30th   |   5:30 - 9:00 p.m.   |  OC Event Center, Costa Mesa
Food Truck Fare will get spooky at the Halloween Foodtacular with a variety of gourmet food trucks, ghoulish tunes, cash bar with adult "spirits," truck-to-truck trick-or-treating for the kids, and more. Family-friendly costumed encouraged.
Boot Hill in Irvine
October 18-20, 25-28, & 30th  |   7:00 - 10:00 p.m. | 16 Goldenrod, Irvine
An elaborate yard display in Irvine, BOOT HILL rises from the fog for it's 14th year to inhabit the residence at 16 Goldenrod. The residence at 16 Goldenrod has been turned into the old church and cemetary that once occupied the land. Come if you dare! Please beware the ghost of Jedediah Smith, who has been known to roam through the decaying grounds of Boot Hill. FREE (Donations are accepted with proceeds going to CHOC, Children's Hospital of Orange County.)
Halloween Spooktacular & Moonlight Movie
October 25th  |  4:30 - 8:30 p.m.  |  Lantern Bay Park, Dana Point
Halloween Carnival Games, Halloween Cupcake Decorating & Crafts, Carolyn Hopkin's Story Time, Franklin Haynes Marionette Show, Costume Parade, Pumpkin Decorating Contest for children up to 10 years. (Bring your already decorated or carved pumpkin), "Hotel Transylvania" PG. Free popcorn and treats. FREE
Boo Cruise at Dana Wharf
October 25th  | 5:00 - 7:00 p.m. | Dana Wharf, Dana Point
enjoy a 20 minute Haunted Harbor Cruise and wear your favorite costume! Trips leave every 20 minutes. $5 per person. proceeds to Benefit Us Too Gymnastics and Community Autism Now, two local 501c3 nonprofit organizations helping children with special needs.
Bats, Cats & Spiders - Toddler Program
October 11, 18, 30 & 31st  |  10:00 a.m. - 11:00 a.m.  |  OC Zoo, Irvine Regional Park, Orange
learn about all the animals associated with the Halloween season with crafts and hands-on learning. ages 3-4 recommended.
Zoomars Pumpkin Palooza
October 1st - 31st  |  Zoomars, San Juan Capistrano
pumpkins, petting zoo, train rides, pony rides & more.
Haunt at Heritage Hill
October 18th  |  5:00 - 10:00 p.m.  |  Heritage Hill Historical Park, Lake Forest
enjoy a haunted house, mazes, ghost, scary movie classic and spooky music. a very scary tradition!
Autumn Harvest Festival
October 19th • 4:00 p.m. - 9:00 p.m.  |  Heritage Hill Historical Park, Lake Forest
enjoy a Halloween costume parade, games, haunted school house, trick-or-treating throughout the park, and narrated tours of the historic buildings. a great family-friendly event!
Jack-o-lantern Jamboree at Atlantis Play Center
October 18th  | 5:30 - 8:300 p.m.  |  Atlantis Play Center, Garden Grove
Festivities include a haunted maze, games, themed crafts, bounce houses, free treats, and more. In addition, guests are encouraged to bring a homemade pumpkin racer for the inaugural 'Pumpkin Race Challenge. Pumpkins and race kits will also be available for $20 at the event. (must buy pre-sale tickets)
Halloween Zoo-tacular
October 27th  |  10:00 a.m. - 4:00 p.m.  |  OC Zoo, Irvine Regional Park, Orange
see animals receive treat-filled pumpkins throughout the day! activities include kids crafts, trick-or-treating, scavenger hunts & face painting. the first 100 children in costume (ages 12 & under) will receive a gift!
Anaheim Fall Festival & Halloween Parade
October 26th • 11:00 a.m. - 9:00 p.m.  |  Center Street Promonade, Anaheim
the Family Festival will have something for everybody including live entertainment, games, craft fair, community information booths, food, pumpkin patch and more! there will be trick or treating for costumed youth up to 12 years and also a haunted house.
Anaheim Haunted House
October 26-31st & November 1st  • 6:00 - 9:00 p.m.  |  Center Street Promonade, Anaheim
Huntington Beach Main Street Halloween Fest Celebration
October 31st  |  4:00 pm - 8:00 pm  |  Main Street & 5th Downtown Huntington Beach
For children of all ages, this annual Halloween celebration comes courtesy of the Downtown Business Improvement District. The spooky festivities include a moon bounce, petting zoo, Ferris wheel, pumpkin carving, costume contests and more.
Fullerton Haunted Walking Tours
Wednesdays & Thursdays, September 11th - November 7th  |  6:00 p.m.  |  City of Fullerton Museum
The tours leave the museum promptly at 6 p.m., and last approximately two and one-half hours. Aul said "ghost hunters" should be prepared to walk approximately 1.5 miles, and the tours will include climbing stairs. Participants should wear comfortable walking shoes and bring a sense of humor with them.
Treats in the Streets
October 24th  |  4:00 - 7:00 p.m.  |  Old Towne Orange Plaza, Orange
a community event that includes games, trick-or-treating, costume parade and entertainment. FREE
Spooky Science at Discovery Science Center
October 5th - 31st  |  Discovery Science Center, Santa Ana
Make your own slime to take home, costume parade extravaganza, see a SPOOKtacular light show, Spooky Science stage shows, trick or treat and take home a goodie bag.
Doheny State Beach Haunted Campground
October 26th  |  6:30 p.m. - 8:30 p.m.  |  Doheny State Beach Campground, Dana Point
don't miss out on Doheny's most festive event of the year as we transform a section of the campground into a spooky area, an array of educational booths, arts and crafts, fun zone, and more. a donation of one non-perishable food item per person is greatly appreciated. FREE
Family "Fright" Zone Friday at Explorocean
October 26th  |   6:00 - 8:30 p.m.  |  Explorocean, Balboa Fun Zone
experience trick-or-treating, costume parade, face painting, pumpkins, candy, witches, ghosts and wizards on the waterfront!
Haunted Trail of Laguna Niguel
October 24, 25 & 26th  |  6:30 p.m. - 10:00 p.m.  |  Crown Valley Community Park, Laguna Niguel
get escorted through haunted mazes, tents and a graveyard!
Buster Balloons Halloween Spooktacular
October 11th   |  7:00 - 9:00 p.m.  |  Crown Valley Community Park, Laguna Niguel
Creepy comedy, spooky magic and monsterous balloon creations are guaranteed to have your little monsters howling with laughter and delight! With the help of his minions, Buster Balloon attempts to capture ghosts, conduct bizarre experiments, and battle the giant man eating Balloon Blob! All while pursuing his quest to build the perfect monster!
The Haunted Garden
October 25 & 26th  |  6:30 p.m. - 10:00 p.m.  |  Fullerton Arboredum, Fullerton
take a scary tour through the garden and encounter ghools and goblins. there will be a less spooky night for little kids too.
Halloween Howl in Tustin
October (date to come) | Tustin Activity Center
Costume contests, family entertainment, carnival games, prizes and candy. Hosted by City of Tustin Parks & Recreation
The Pumpkin Factory at Westminster Mall & Main Place Mall
Though October 31st
The City of Cypress Fall Carnival
October 31st   |   6:00 - 9:00 p.m.  |  Cypress Community Center
Los Alamitos Halloween Carnival & Haunted House
October 25, 26 & 27th  |  6:00 - 9:00 p.m.  |  Los Alamitos
The Haunted House is creepy and dark. It's filled with monsters and unexpected creatures. Come get lost in a frightening maze through a Dark Graveyard, Creepy Witch's Room, Toy Store Gone Wrong and Dracula's lair! Compete in a Pumpkin Pie Contest, Costume Contest, Games, Prizes, Candy, and much more.
Pumpkins & Pancakes
October 30th   |   8:00 a.m. - 11:00 a.m.   |  $30 per person  | South Coast Plaza, Costa Mesa
enjoy Plum's Café Gourmet Pancake Breakfast, a petting zoo, face painting, balloon artists, music, crafts, caricature drawings, professional photos, hair Feather artists, spooky characters and a silent auction benefiting CASA Orange County, CHOC Children's Foundation & Orangewood Children's Foundation.
Mini Monster Bash
October 31st • 10:30 a.m. - 12:30 p.m.   |   La Habra Children's Museum
will feature craft stations that include edible crafts, silly games for little hands, costume parade and admission into the Museum. a great photo opportunity for parents attending the event with kiddies.
Haunted High School
October 25th & 26th • 6:00 to 9:30pm |  Holy Cross Lutheran Church
a haunted school filled with twists and turns through a zombie crazed maze. 4312 Cerritos Avenue, Cypress, CA. For more information please call 714-527-7225. $2 Suggested donation.
Free Food on Halloween Here is a list of places that offer free food deals on Halloween.

and check out these awesome Halloween events, just ouside of Orange County.
Legoland Brick-or-Treat Party Nights
Saturday Nights in October  |  5:00 - 9:00 p.m.  |  Legoland, Carlsbad
Trick-or-Treat through the park trails, build a giant Lego vampire, party with the Boo Crew, spectacular fireworks and enjoy the entire Legoland Park.
Queen Mary Dark Harbor
October 3-5, 11-13, 17-20, 24-27, 31st & November 1-2  |  7:00 p.m. - midnight  |  Queen Mary Long Beach
Queen Mary's Dark Harbor returns for 17 terrifying nights with a sinister new circus themed maze, horrifying freak shows and more. Experience thrills and chills in mazes so daunting you'll sell your soul for a chance to survive. This year, the Captain celebrates Dark Harbor by raising a circus of horrific spirits, malevolent circus entertainers and other unfortunates. Tickets start at just $20.
SeaWorld Halloween Spooktacular
Weekends in September 29th through October 27th  |  11:00 a.m. - 6:00 p.m.  |  SeaWorld, San Diego
Trick-or-Treat through the aquarium, visit the Octopus' Candy Garden, watch Seamore's Spooky Adventure, visit Penelope's Pumpkinfish Patch, watch Pirates 3-D and countdown with Sesame Street to Halloween.