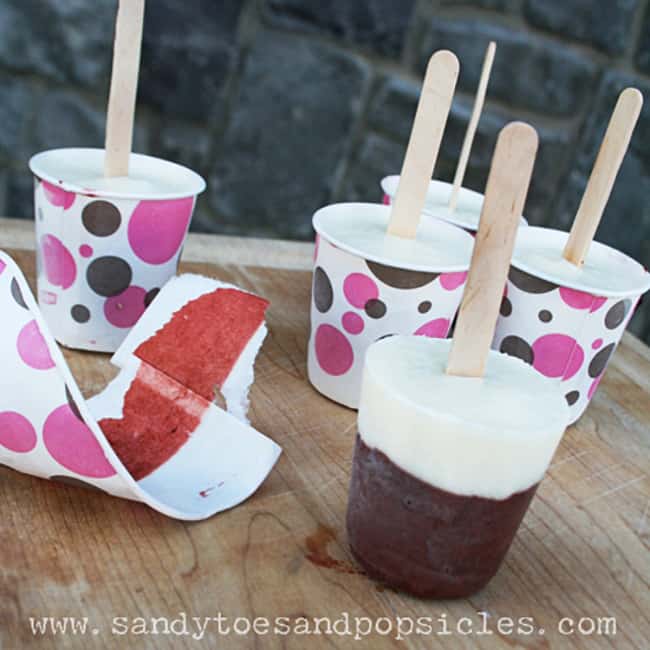 we love popsicles around here. remember
these
fun rainbow ones? so i thought....how about a popsicle for adults. ones the kiddies will pass up (although baby just loves these). how about a
Red Velvet Popsicle
! my all-time favorite cake flavor....chocolate cake with cream cheese icing.
so, here is what i came up with......i just love them. and i used those small little dixie cups, they make the perfect little afternoon indulgence on these hot summer days.

1 - large boxes (5.1 oz) chocolate instant pudding mix
milk
8 oz. cream cheese
¾ cup powder sugar (or to taste)
½ teaspoon lemon juice
½ teaspoon vanilla
red food coloring (optional)
• 
prepare pudding according to the directions. add red food color to make it the red velvet color.
• 
in another bowl, soften cream cheese.
• 
add ¾ cup milk, sugar, lemon juice and vanilla to the cream cheese.
• 
whisk cream cheese mixture until smooth.
• 
layer the chocolate pudding and cream cheese mixture into small dixie cups. i did the pudding first because i didn't want to wait for the cream cheese mixture to harden.  this way the pudding was thick enough to hold the cream cheese and make the popsicle stick stand up.
• 
cover with tin foil. insert popsicle sticks.
• 
chill in refrigerator 2 hours, then place in freezer to completely freeze.
to eat, peal off dixie cup paper and enjoy your pudding pop!