summertime means frozen treats, and these Chocolate Covered Bananas are a favorite of my kids and husband. we whipped up a batch this weekend and had a blast making them.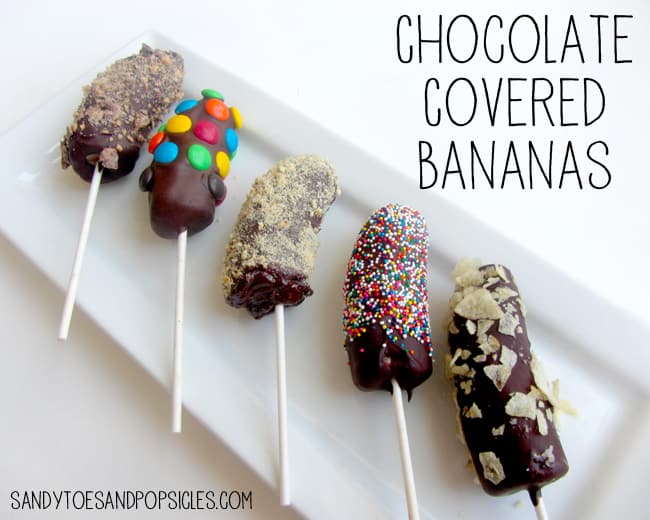 making Chocolate Covered Bananas is really easy. first you will need bananas and popsicle sticks (i used lollipop sticks). then i peeled nd cut all the bananas in half. (which is plenty enough for my kiddies and myself) of course, you can use full bananas, but i find them a little hard to dip. place a stick into each banana half and then place them into the freezer for at least 30 minutes to get hard.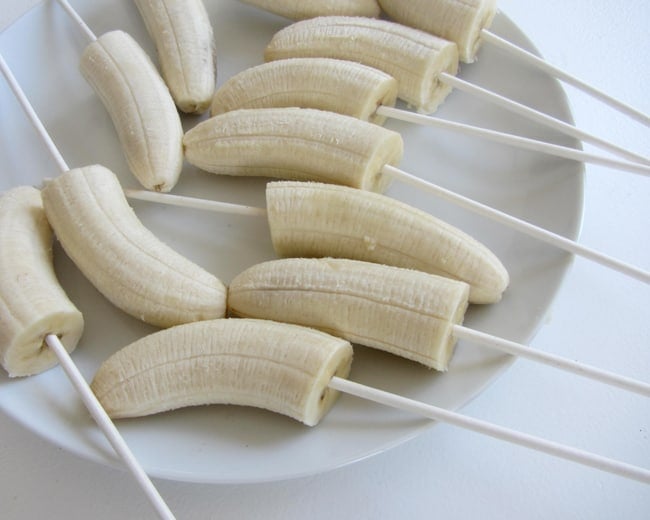 while you are waiting for your bananas to soft freeze, set up you toppings and get your chocolate ready.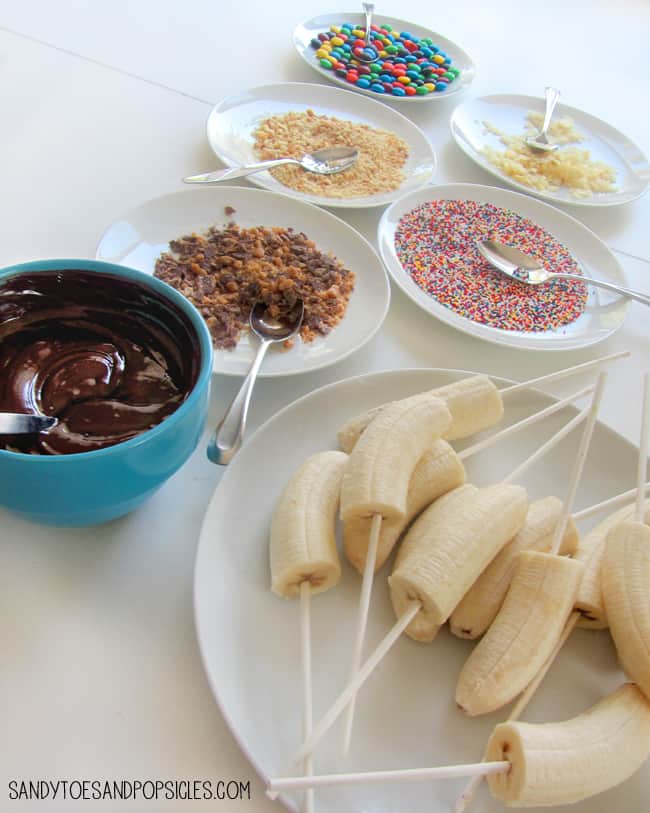 you can use almost anything you think is yummy for toppings. we used Heath Bar crumbles, Nilla Wafers, M & M's, potato chips (yes, they are good!) and sprinkles.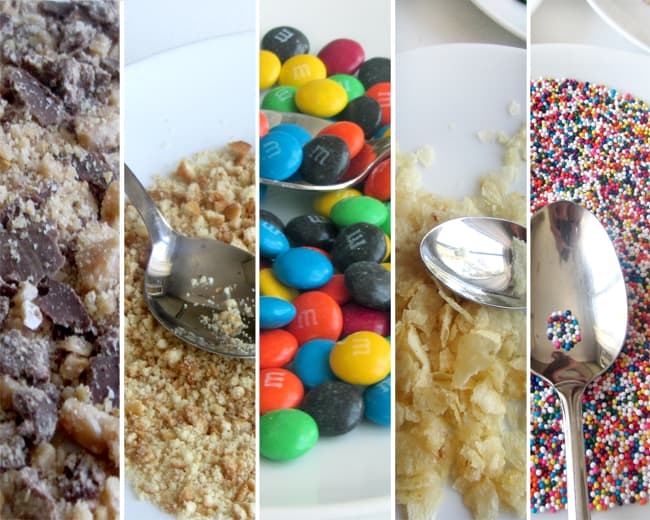 for the chocolate, we use chocolate chips. be careful when you melt them in the microwave, you can scorch them by heating to much, then they won't melt smooth. i recommend heating for 1 minute, then stirring and reheating in 15 sec intervals until smooth. i always add a dash of olive oil to thin out the chocolate and make it a bit more smooth/runny. you want to add enough olive oil to make the chocolate  thin enough to easily coat and the excess chocolate to shake off of the banana.
then you are ready to dip your bananas. take the bananas out of the freezer and then dip them one at a time into the chocolate and then into your toppings. you don't even need toppings if you'd rather have a plain chocolate covered banana.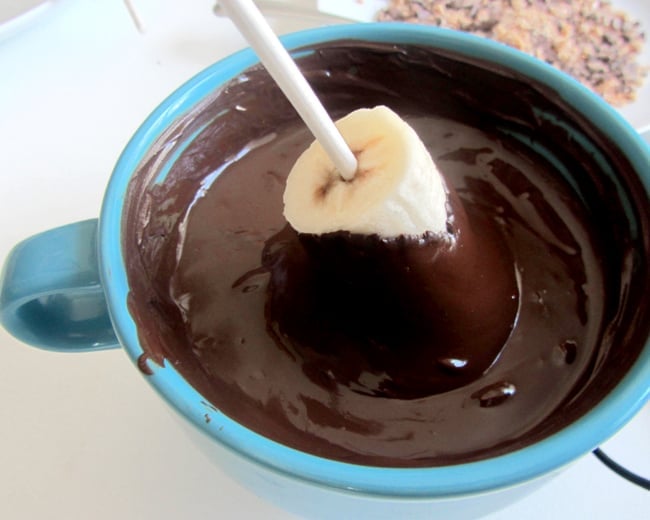 after you have coated your chocolate covered banana in toppings, lay it on a plate or cookie sheet to dry while you finish the rest of your bananas. once you are done, place all your bananas in the freezer. it is best to freeze them for at least an hour before eating. any that you don't eat can be put into a ziploc bag in the freezer until someone wants one.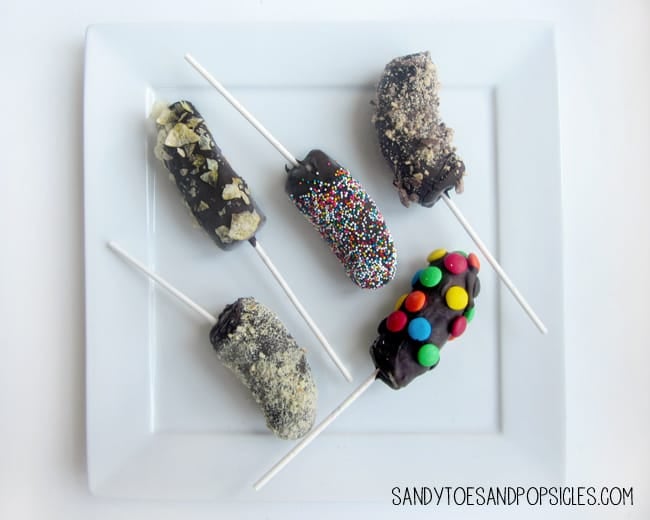 get ready for lots of smiles. my kids loved making these.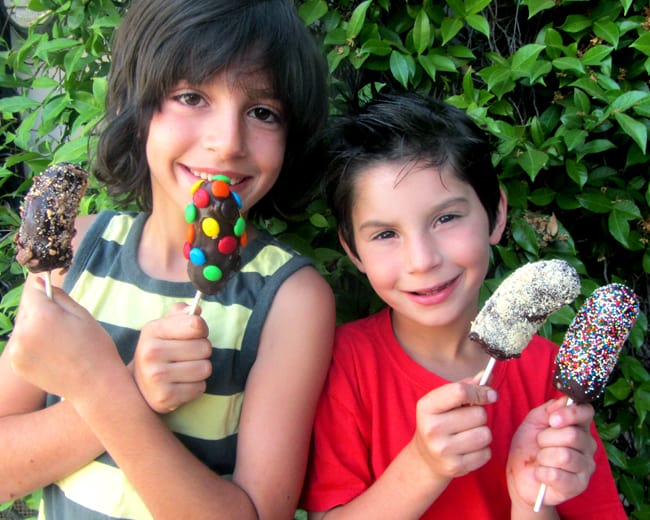 plus, they were really yummy to eat!