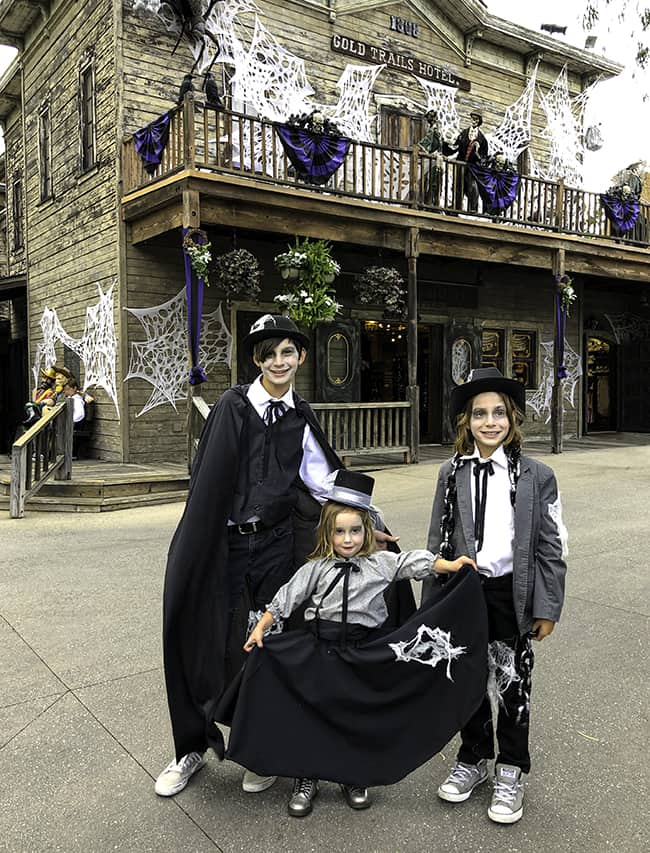 This year for Knott's Spooky Farm we decided that we really wanted to make our visits extra fun. Last year we dressed up as the Peanuts Gang and had a blast, especially trick-or-treating and entering the costume contest. So this year we thought dressing up as the Ghost Town Ghouls would be even more fun.
Oh. My. Goodness. Did we have the best time ever! Whoever said that Knott's was not magical is wrong. We had the most magical time at Knott's Spooky Farm. The kids got some special moments with the Ghost Town Ghouls and had an overall fun time trick or treating, playing games, and going to the shows. We ended the day with the Halloween Costume Contest in Camp Snoopy.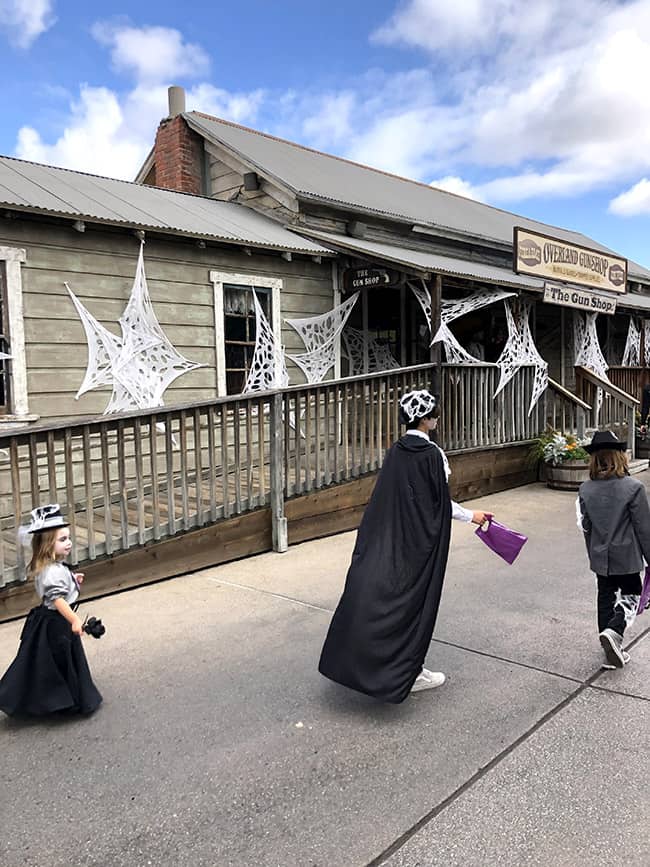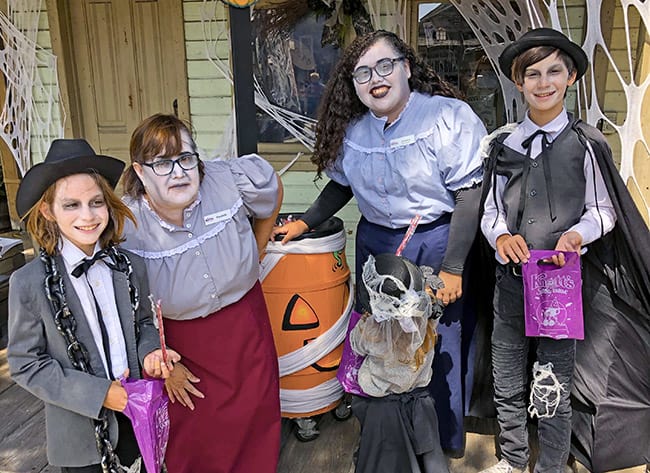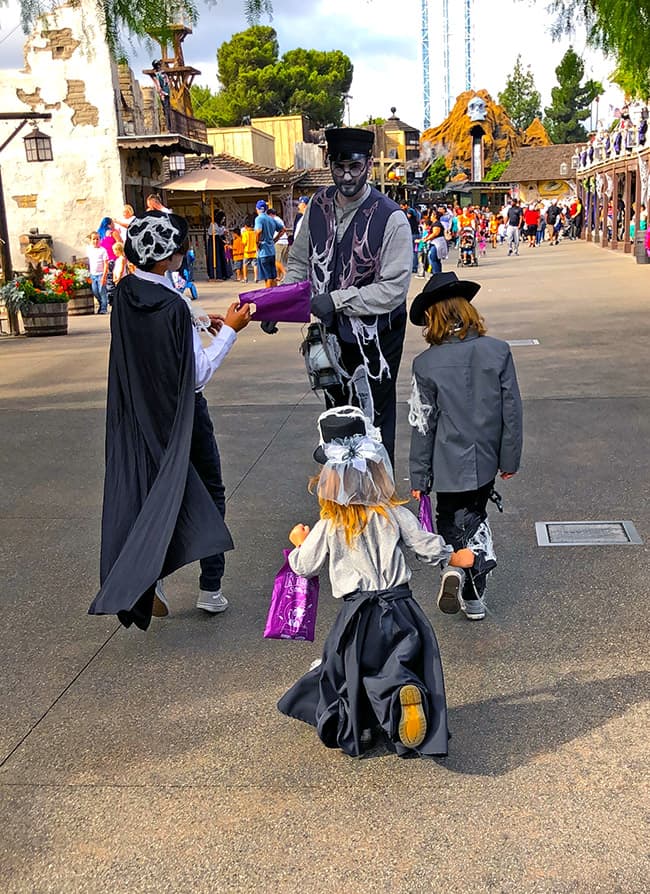 A lot of people asked me how I made the kids their Ghost Town Ghouls costumes. I can't tell you how many times people stopped to tell up they liked our costumes. So I thought I'd put this post together to explain how you can make one too. It's actually pretty simple. In an hour our two, you can make one or more!
The Ghost Town Ghouls wear costumes in mostly grayscale. Black, whites and greys are the colors you need to work with. I recommend first going through your house and looking for pieces of clothing that will work in these colors. You then can work your costume around those pieces. I actually sewed daughter's costume. It's a simple peasant top pattern in a grey calico, a dark grey belt, and a black circle skirt. If you can sew, then I recommend sewing one if you want it to be exactly what you are looking for. But you can just as well buy stuff to make one.
Here are photos of the Ghost Town Ghouls for inspiration.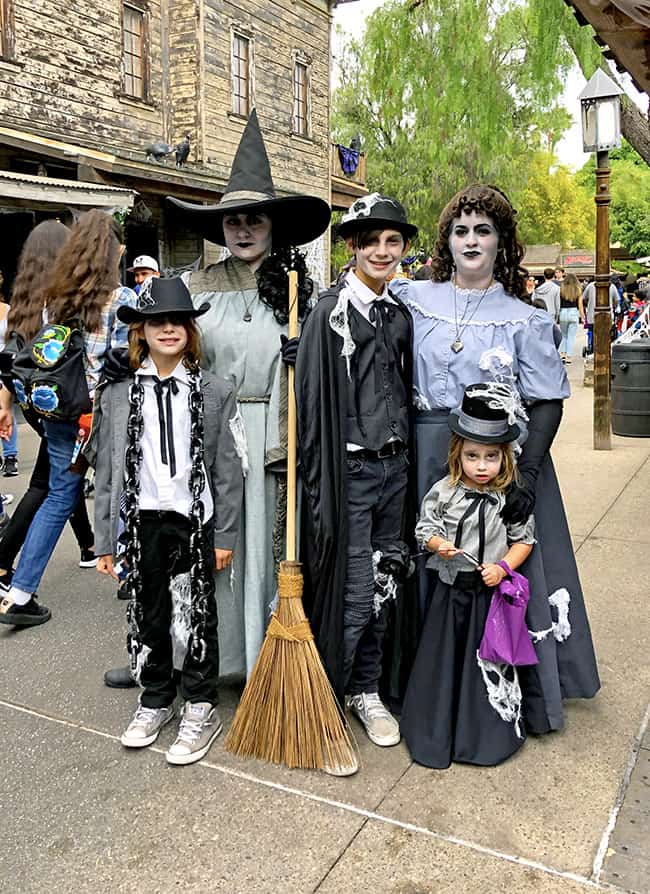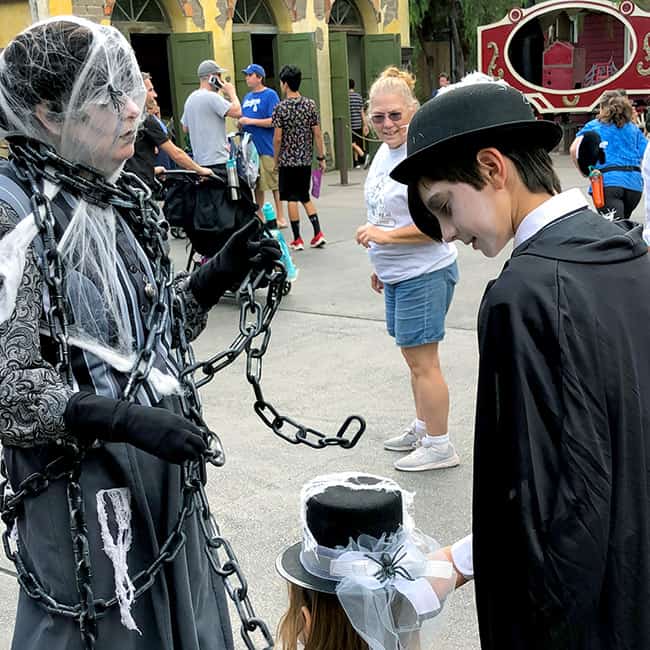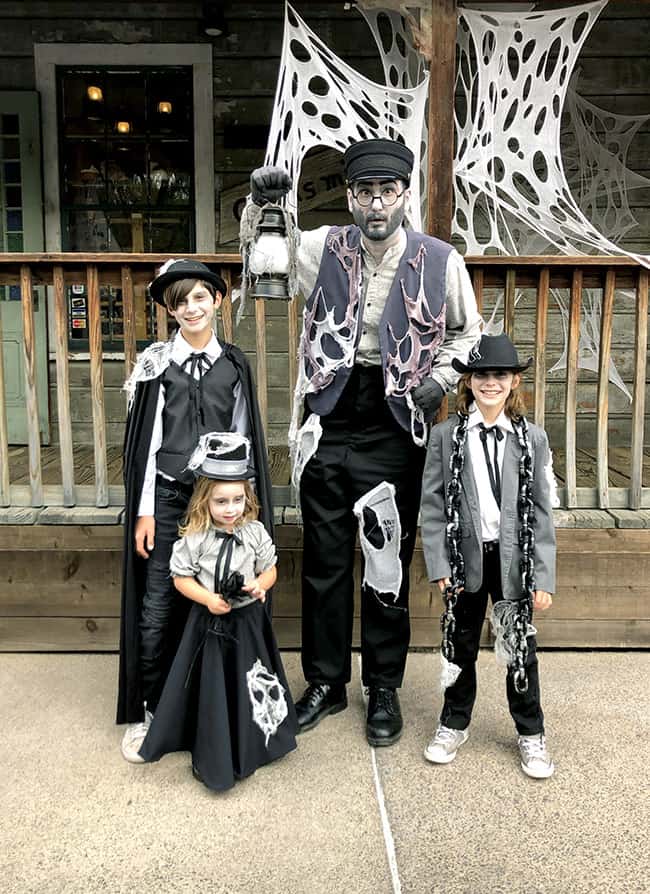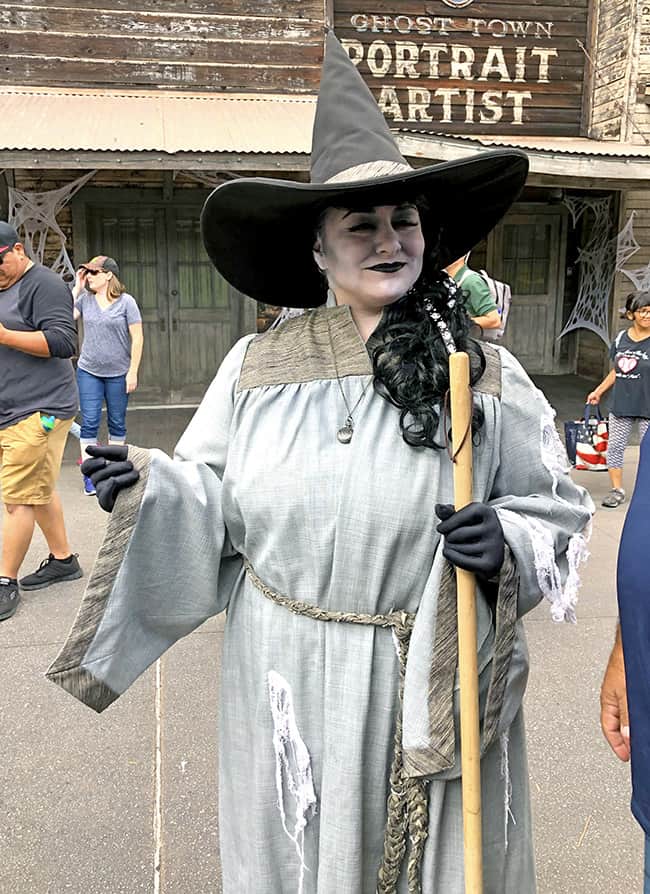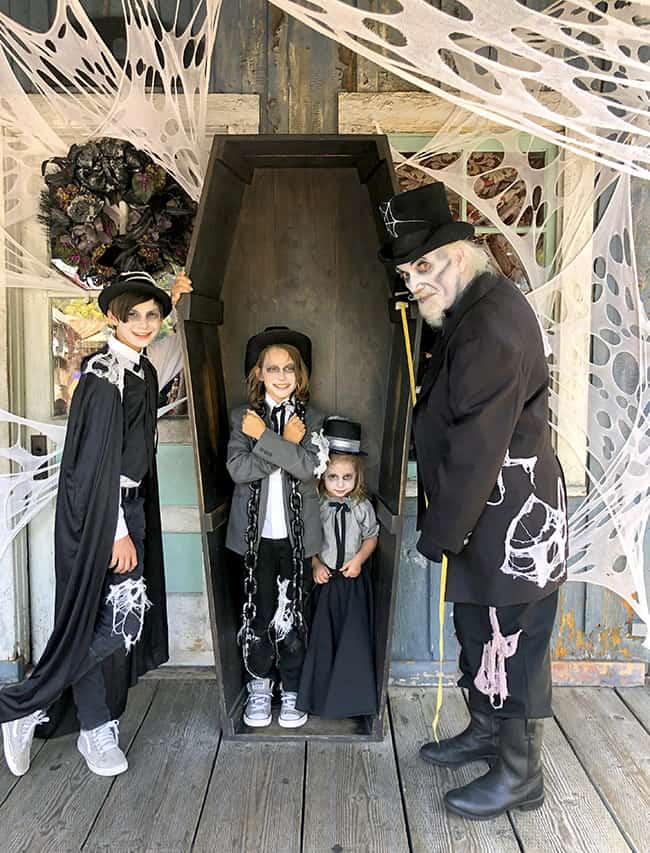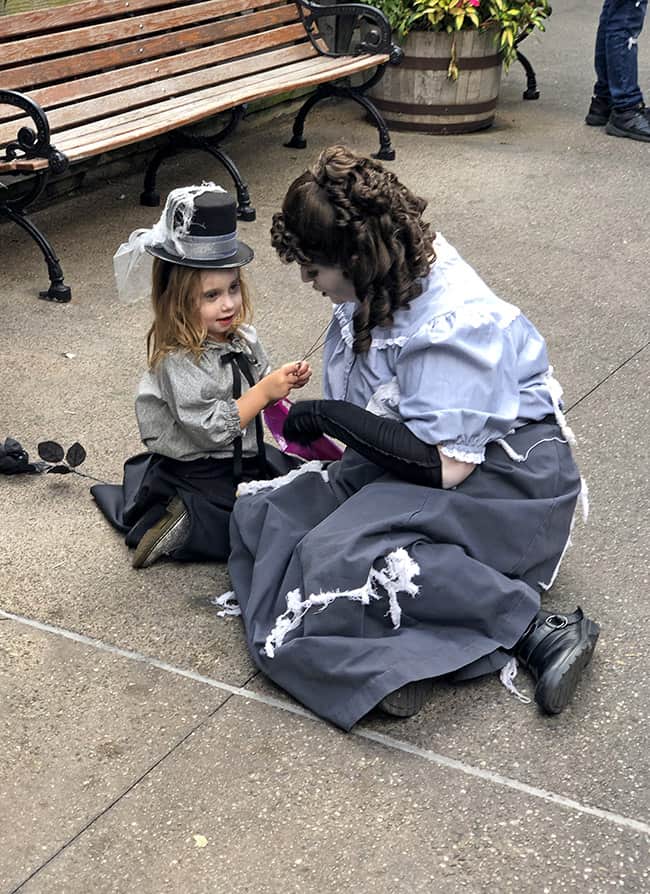 Now that you have seen some of Knott's Ghost Town Ghouls, let me show you what I came up with. I mostly used things I had at home already, and then added accessories.
For the boys, I had one Cowboy Ghoul, and one Ghost Town Townsperson Ghoul. Here are their costumes.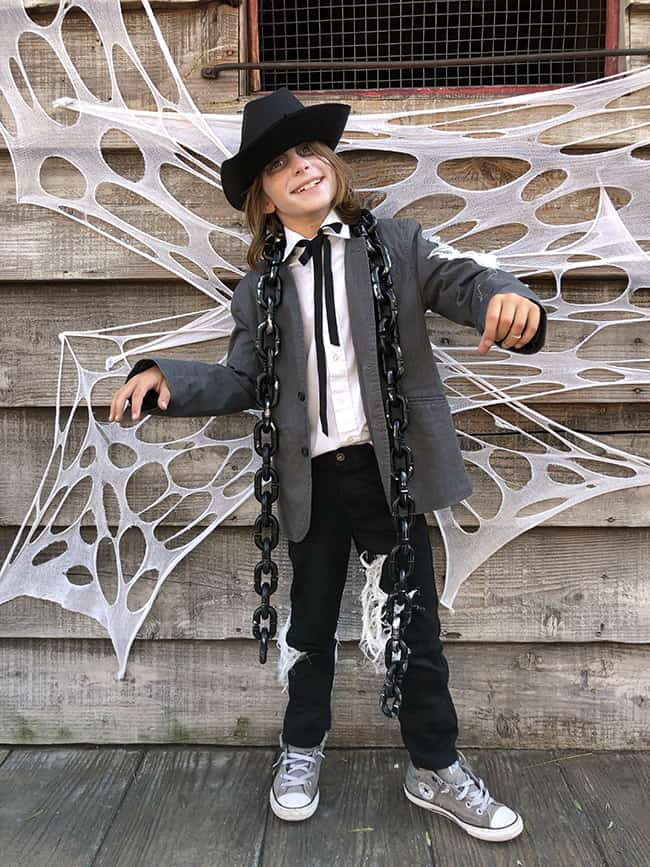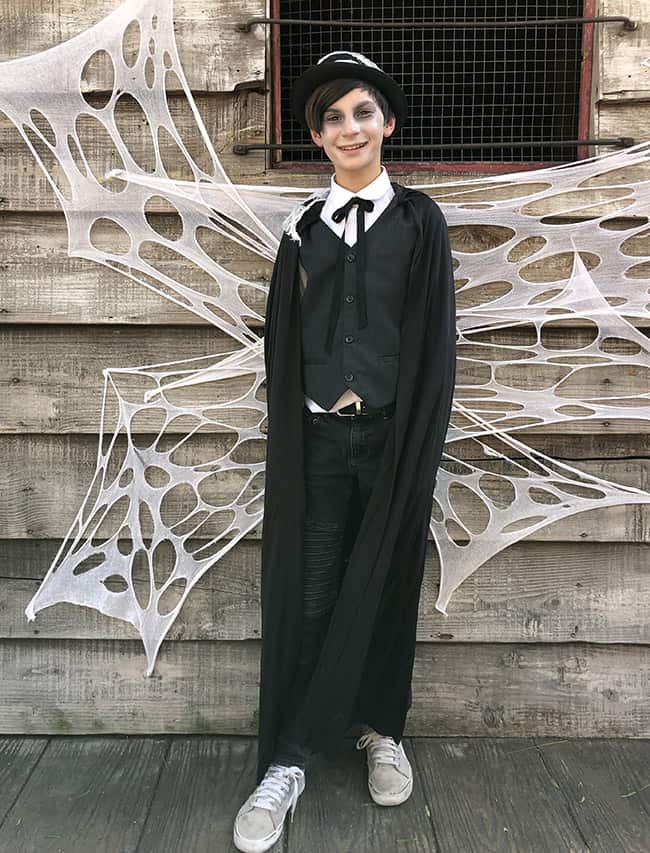 For the boys, I had them wear black pants and white shirts they already owned. We added a grey jacket to the cowboy costume and a vest and cape to the townsperson. I found the child sized cowboy hat and Derby hat at Party City. I used ⅝" ribbon for the bow ties, and the plastic chain I also got at Party City.
Here are some items I found online that you could use for inspiration to make your own Ghost Town Ghoul costume.
Derby Hat, Train Conductor Hat, Black Top Hat, Black or White Bandanas, Black Dickies Overalls, Black Pants, Black or Grey Dressy Vest, White Dress, Shirt, Black Cape, Bowtie and Suspenders, Black Boots, Black Cowboy Hat, and black ribbon.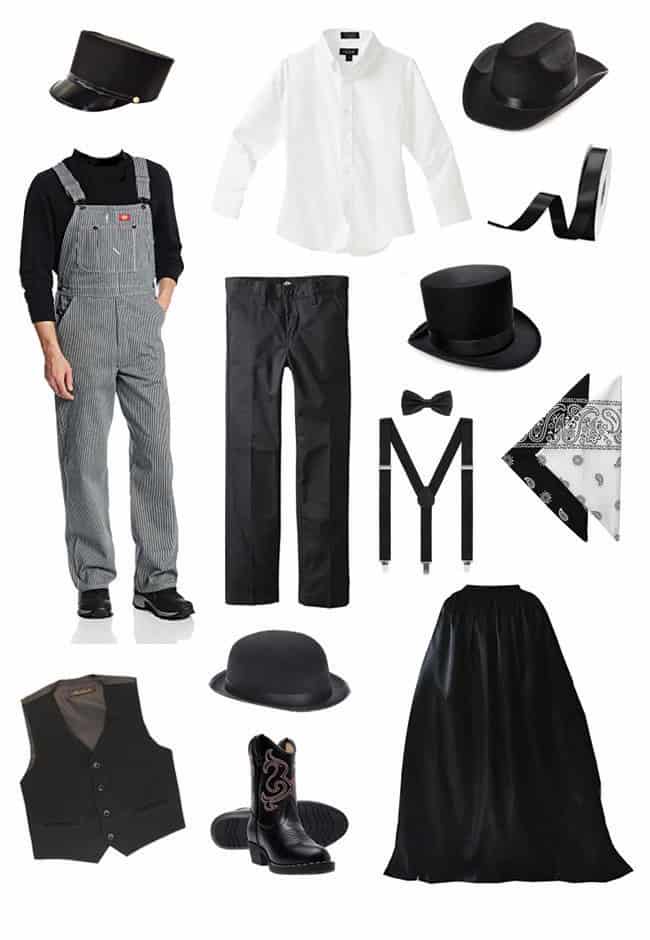 For my daughter, I made her costume as I mentioned before. Here she is holding one of the Ghost Town Ghoul's parasols. You could add one to your costume if you'd like. I got her mini top hat at Walmart, and I pinned a black ribbon to her shirt.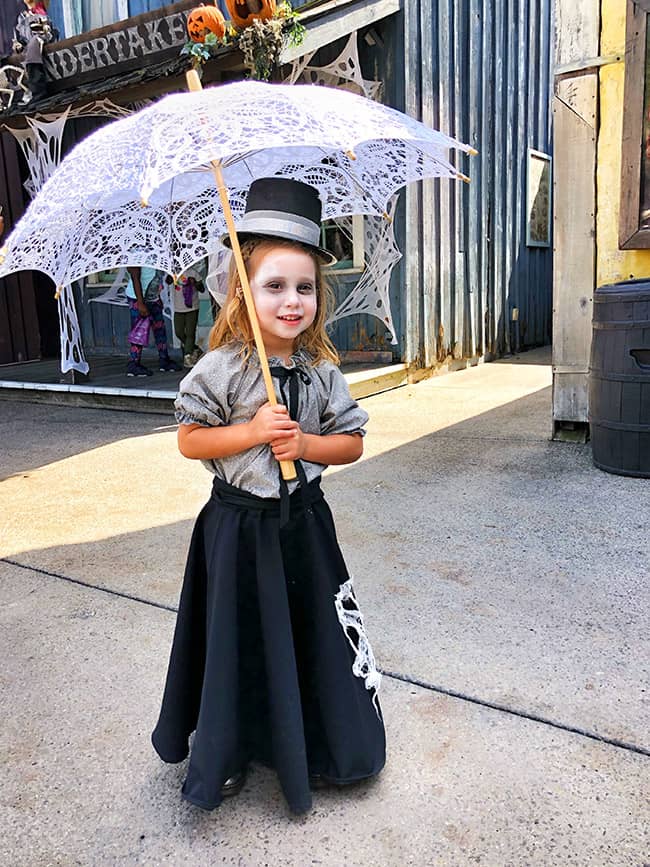 Here are some options I found online that you could use to make your own Ghost Town Ghoul girls costume. There are also witches in Ghost Town, so you could also go that route.
Spider Veil Witch Hat, Mini Black Top Hats, Tulle Pettiskirt, Long Black Dress, Black and White Checkered Dress, White or Grey Ruffle Blouse, Spiderweb Cape, Witch Costume, Black Bonnet, Grey Pilgrim Dress, Black Corset Belt.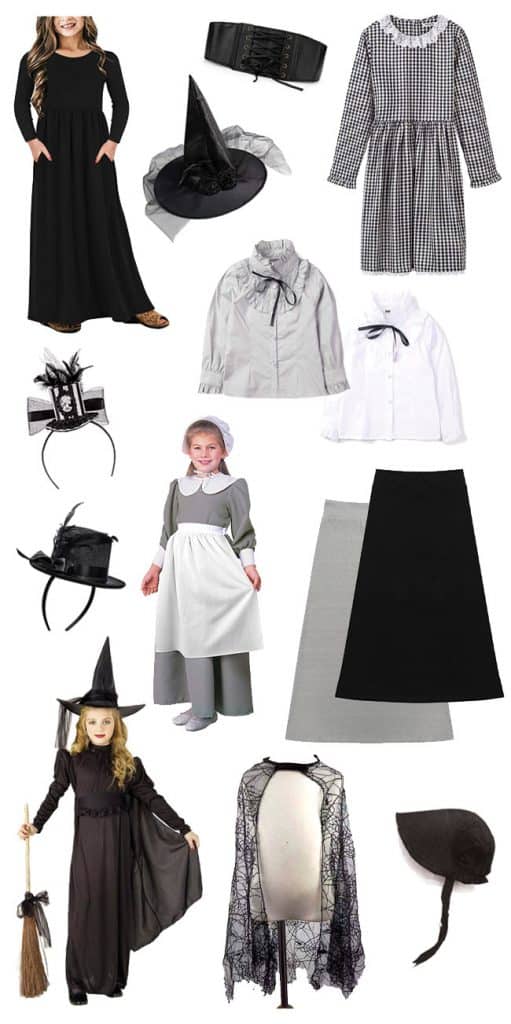 Once you have your costume pieces together, you will need some of the following to decorate them and make them truly Ghoulish. The main thing you will need is cheese cloth. This is what makes those cool spiderwebs that you see all over the Ghost Town Ghouls.
You can buy cheesecloth online or at the fabric store. Just ask where to find it once you get to the store. You will then cut pieces of it, and then cut holes into those pieces. Then rough them up and make them look like spiderwebs.
Once the pieces of cheese cloth look like spider webs, you can sew them onto your costumes. You can also glue them on, but I didn't want to ruin my kids clothes. If you sew them on, you can unstitch them when you are finished for Halloween. Make sure to add spiderwebs to the hats and skirts as wee=ll.
Here are some options I found online that you could use to finish off your Ghost Town Ghoul costume.
Plastic Spiders Cotton Spider Web Cheese cloth Plastic Chains Costume Makeup Black Lipstick Black Roses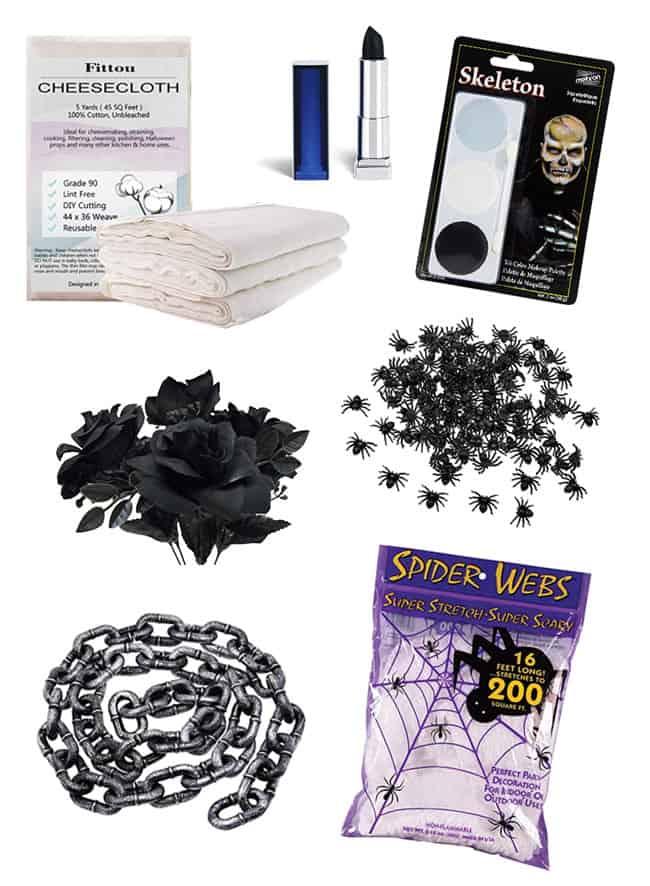 Ghost Town Ghouls have white faces and dark inset eyes. Use black makeup to darken in the shallows of your eyes, and white makeup to give that ghostly glow. Black lipstick is optional, but fun to add! The cottony stretchy spiderweb can be used to wrap around your head if you want to look like the school teacher, and you can add plastic spiderwebs to just about any part of your costume.
Wha la! You have a Ghost Town Ghoul costume.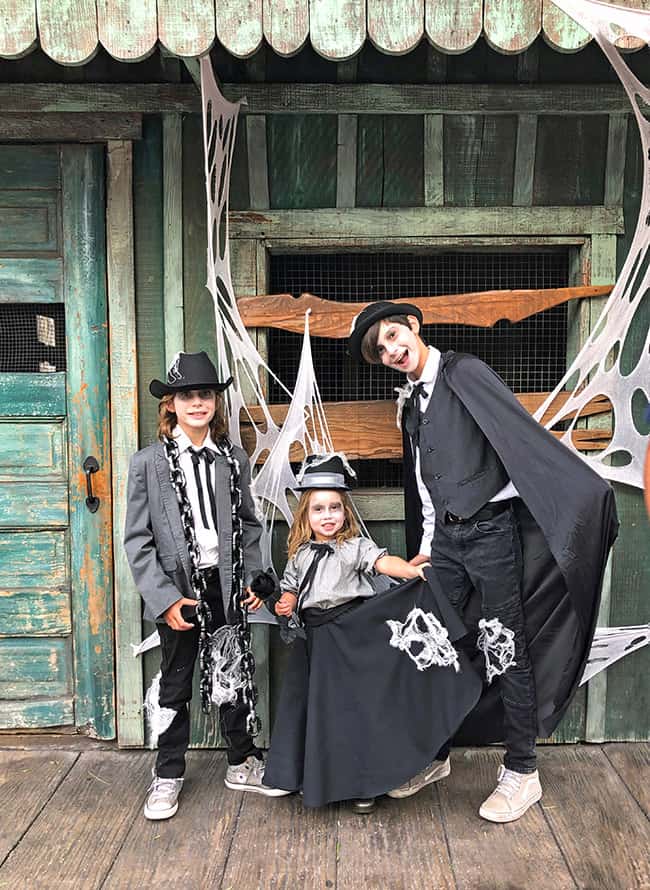 I hope this post inspires you to attend Knott's Spooky Farm and to dress up your kids! It doesn't have to be a Ghost Town Ghoul, but I can tell you that we've never had more fun doing so. There is a Halloween Costume Contest during Spooky Farm, so if you do dress up, make sure to enter. It is at 3:15pm on each day in Csamp Snoopy at the Camp Snoopy Theater.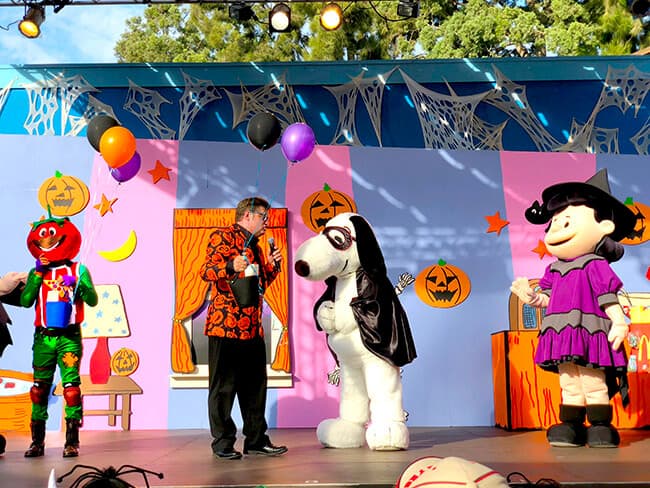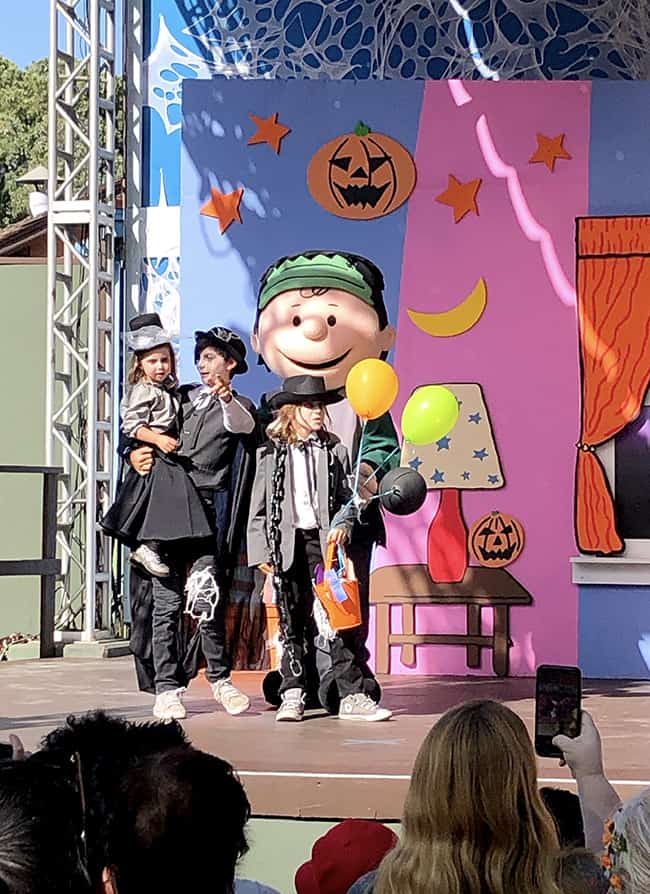 We had so much fun entering and actually won a prize!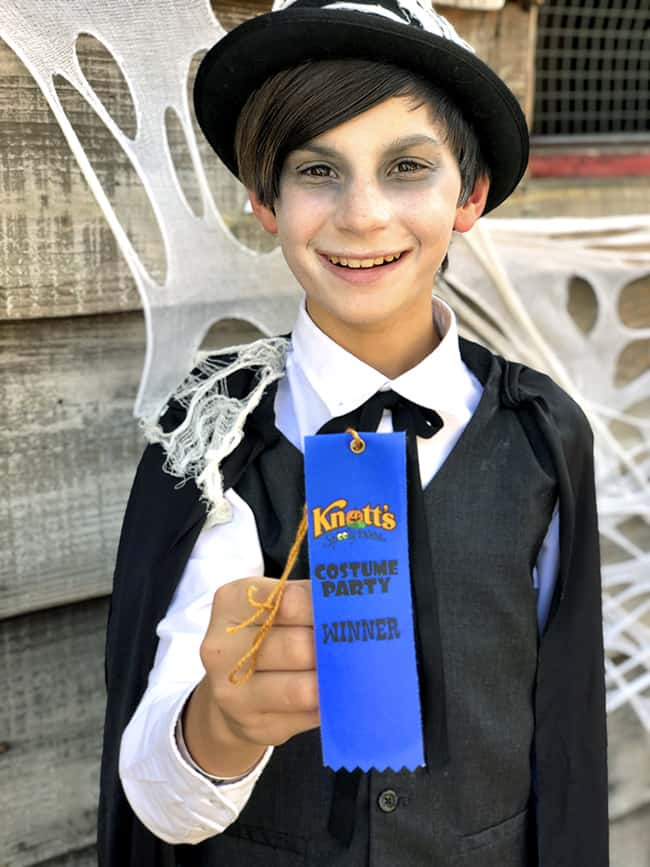 Also, if you are heading to Knott's any time soon, you will want to read this post. 101 Tip for Visiting Knott's Berry Farm. These are my best tips and tricks for visiting the park. You are sure to find something useful!