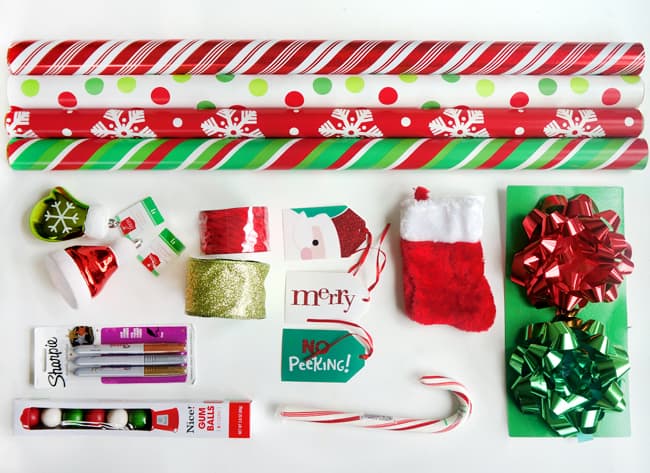 every year i host a Wrapping Party for some of my close friends were we get together and wrap our Christmas gifts. it is one thing i look forward to every year. i like to make a nice dinner, we sit and chat for a bit and then get to wrapping…helping each other get all our gifts ready for giving. i usually end up with the task of the bows, i love making large pretty bows…i also think that gifts that look prettier are more fun to open.
to get ready for my party, i went over to Walgreens to stock up on wrapping supplies. i love having all the presents under my tree match, so each year i pick out a color scheme and buy 4-5 wrapping papers, ribbons, and tags that all match. Walgreens had all sorts of great items to create some beautiful and creative gifts. lots of wrapping paper choices…and they weren't those cheesy grandma prints either.
i was able to find 4 different but matching wrapping papers, coordinating ribbon and tags…plus i found some great novelty items to top my gifts.
let me show you some of my finished gifts. for this one, i used sparkly fabric ribbon and red snowflake wrapping paper. to add a little bit of excitement, i attached this Santa hat ornament i found at Walgreens for just $1. it really made to present look festive.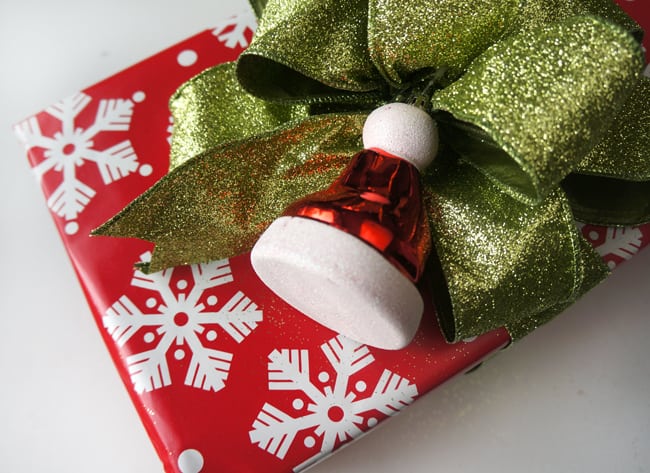 then i found this great polka dot wrapping paper and some red wrapping yarn. i also loved this "no peeking" gift tag. adding a small novelty item on top of your presents can really make them stand out. when i saw these holiday gum balls, i knew they would look great with the polka dots. i really love how this present turned out.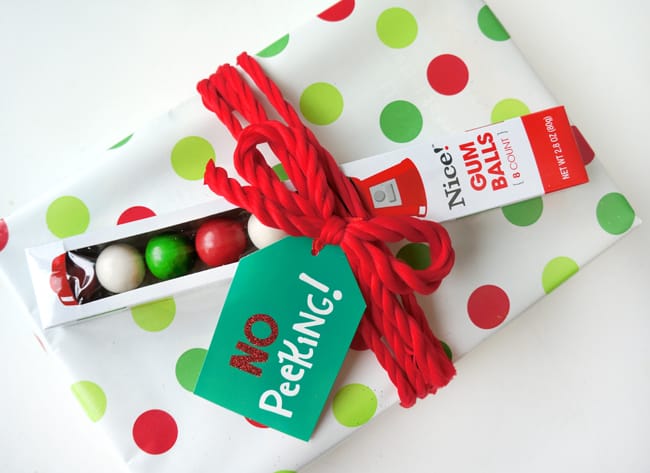 if you don't want to spend a lot of time wrapping, Walgreens has these great large stick-on bows that are 7" round. so much better than the little ones (however they have those too). i decided to use a hologram candy cane striped wrapping paper. i topped it off with this gigantic 12" candy cane i found for just $1. perfect combo.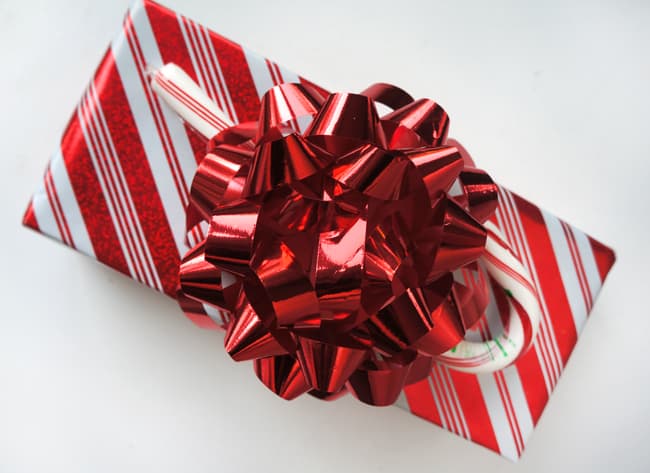 using a red and green striped paper, i used one of those large stick on bows and a Santa tag for this present. i also added this cute mini stocking i found for a $1 and placed a gift card in it. i am really not a fan of gift cards because i like to spend the time finding the perfect gift, but adding a gift card to a gift is great. and the stocking made a great holder for it.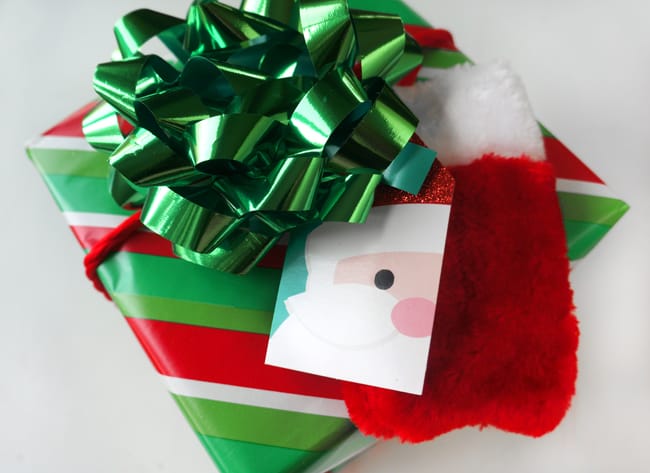 these are just some of the many options i found at Walgreens. there was so much more….like this Hallmark line of holiday bags, wrapping papers and pre-tied ribbons.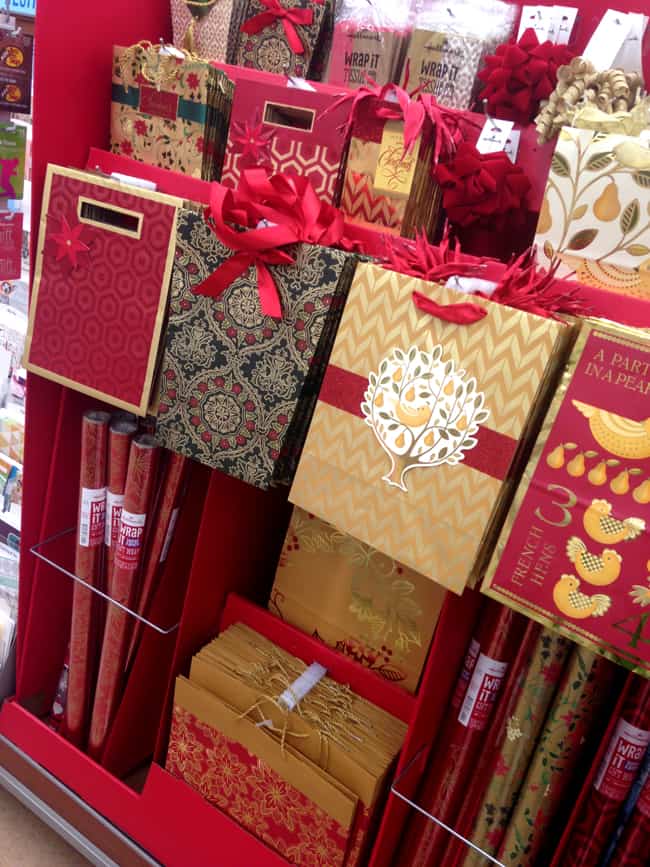 and it was even better that some Walgreens are opened 24-hours a day. i did all my shopping at 12 am. i had a little too much fun…cheek it out.
now to show you how to make pretty bows for your presents. it's pretty simple, and i am not an expert at it, but nevertheless, here is how i do it….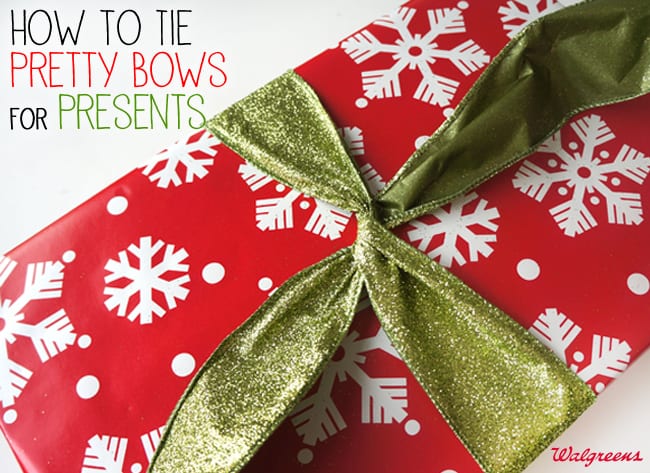 first, you are going to want to tie the ribbon around your gift with a simple knot. then cut the ends leaving 6-8 inch tails. you can use any type of ribbon to do this technique, but I love to use wide ribbon (with or without wired edges) to wrap my gifts with. i purchased the sparkly wired ribbon at Walgreens. beside being my favorite color for the holidays, i also love the glitter and wired edges because they help the bow stay big and full.
second, make the first loop of your bow. hold the end of the ribbon and fold it over to make a loop.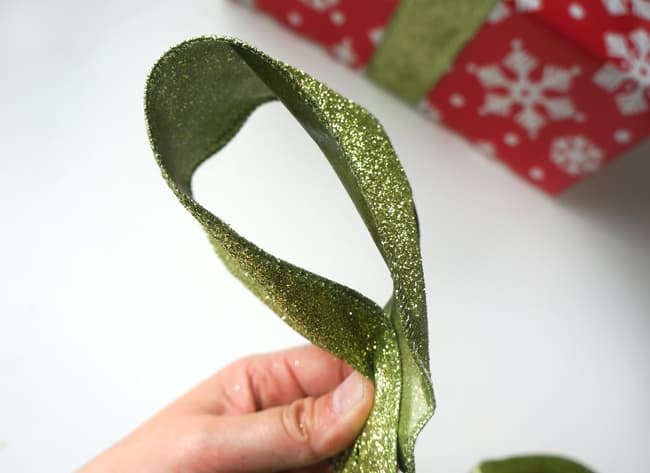 next, continuing to hold the first loop, make more loops by folding up the ribbon back and forth and holding it in the center. you can make as many loops as you want or can hold. cut the ribbon after your last loop leaving an extra inch long tail. for this bow, i made eight loops….four loops on each side.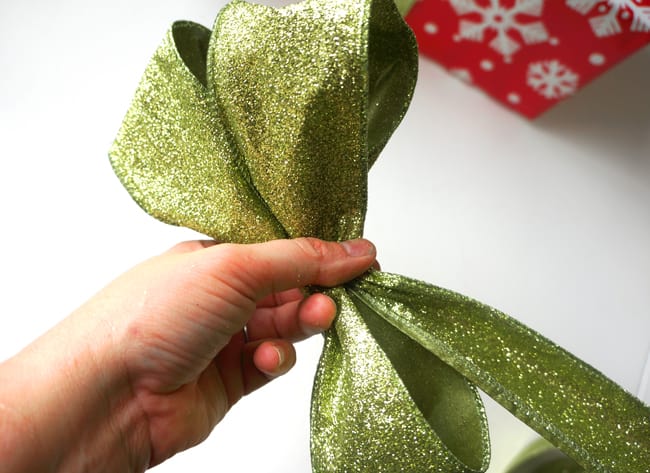 now, place your almost finished bow on the center of your package on top of the knot you created. continue to hold the center of the loops.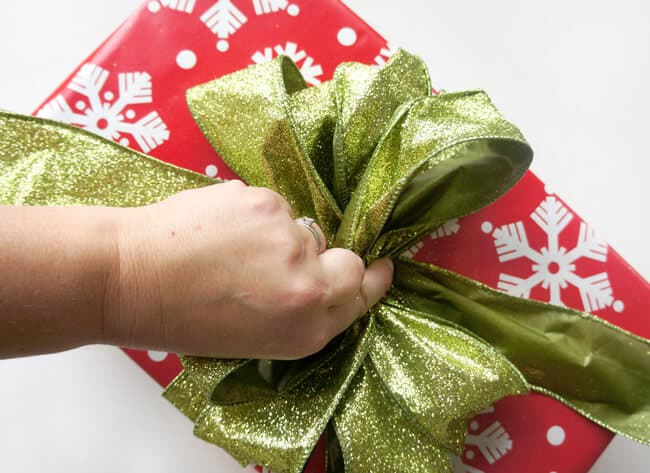 using the tails of the ribbon tied around your package, tie a knot around the center of your bow loops. your bow will now be attached to your package.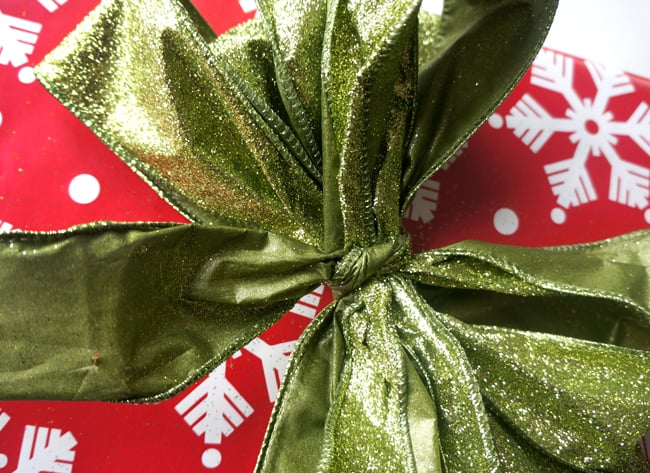 trim the tails to look nice…either at a slant or a "v" like the photo below. you now can fluff up your bow by opening and rounding out the loops. continue to do so until your bow looks pretty and polished.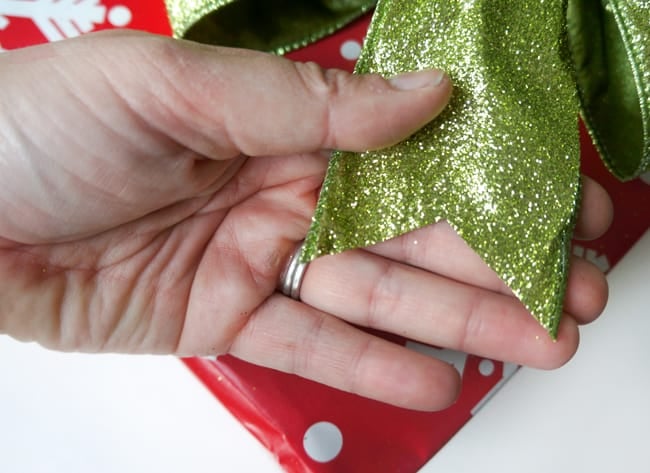 i am thrilled with how my gifts turned out! thanks Walgreens for the great selections.