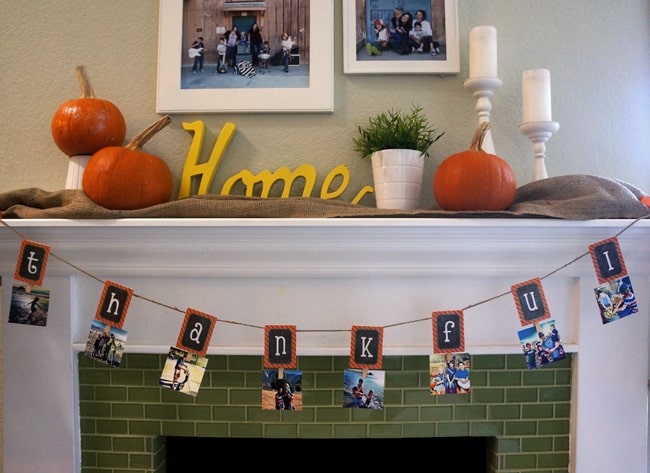 when Mod Podge asked me to do a tutorial for a holiday craft, i knew i wanted to create something for Thanksgiving. and since i love to take photos, why not make something to display my favorite instagram photos. so i created this "Thankful" Thanksgiving Banner.
to make a "Thankful" Thanksgiving Banner, i created a printable, and used Mod Podge to adhere it to wooden tiles. Mod Podge® is the number one all-in-one glue, sealer and finish and is available in a variety of formulas, i used the Glitter Mod Podge for this project because i wanted to add a little sparkle to my project, but i could have used original just the same. i use it for everything, if you're new to decoupage or want to know more, check it out on plaid's website.
also, i wanted to add a few Thanksgiving items to my mantel to make it more festive, so i had my little one paint the Glitter Mod Podge on our Halloween pumpkins. he really enjoyed it, and they came out great…and super glittery.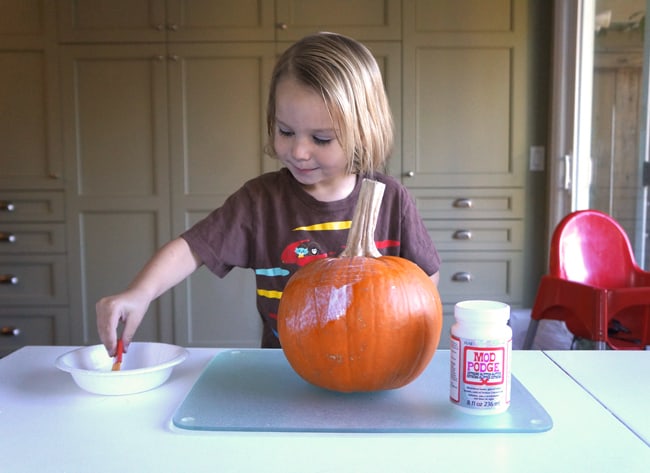 below is a tutorial on how to make your own "Thankful" banner. i have included the free Thankful Printable for you to use.
how to make a "Thankful" Thanksgiving Banner
what you need:
• (8) 2-½ x 3-½" wood or thick cardstock rectangles
• (8) wooden clothespins
• Glitter Mod Podge or original Mod Podge
• Mod Podge applicator brush or paint brush
• twine or ribbon
• glue gun & glue sticks
• craft knife or scissors
• Thankful Printable (printed on paper or coardstock)
(8) photos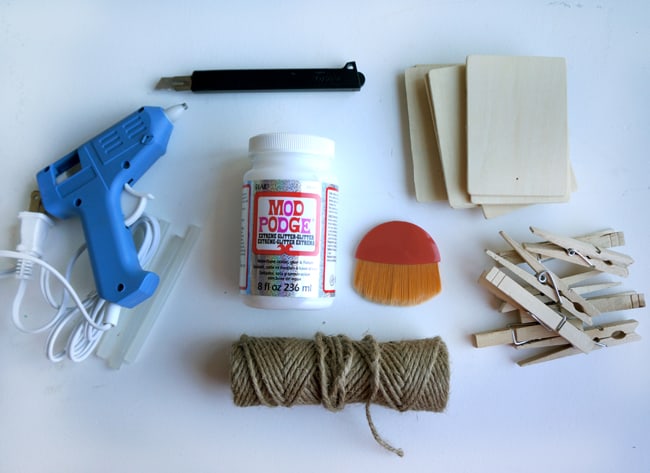 step 1 print and cut out printable to the size of your wooden rectangles.
step two generously apply Mod Podge to wooden rectangle and adhere each printable letter. let dry completely.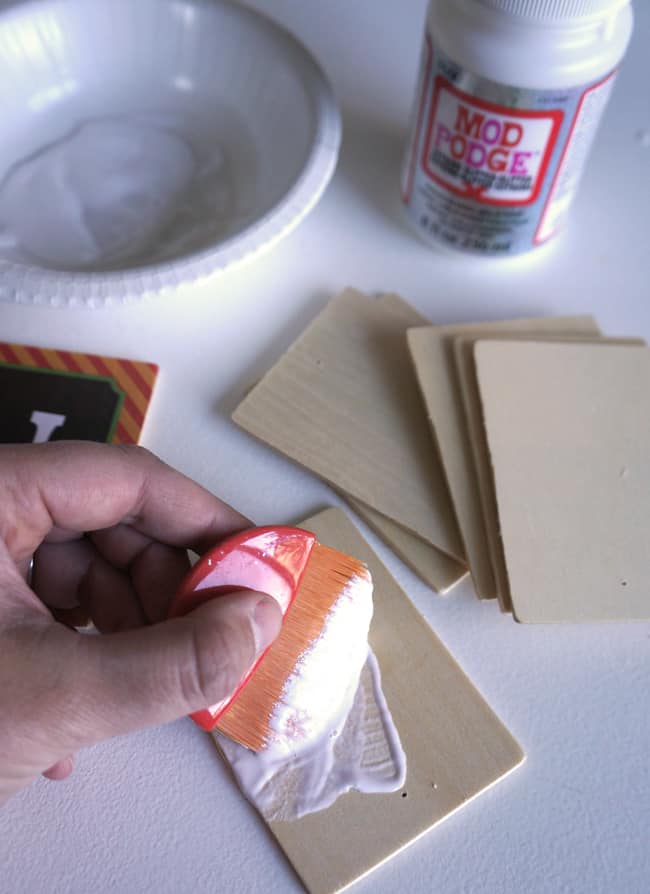 step 3 brush additional Mod Podge over the top of printable and let dry.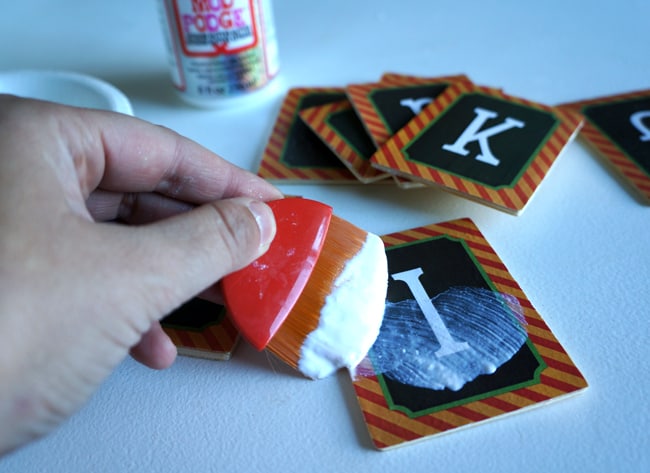 step 4 glue clothes pins to the back of each wooden rectangle using glue gun.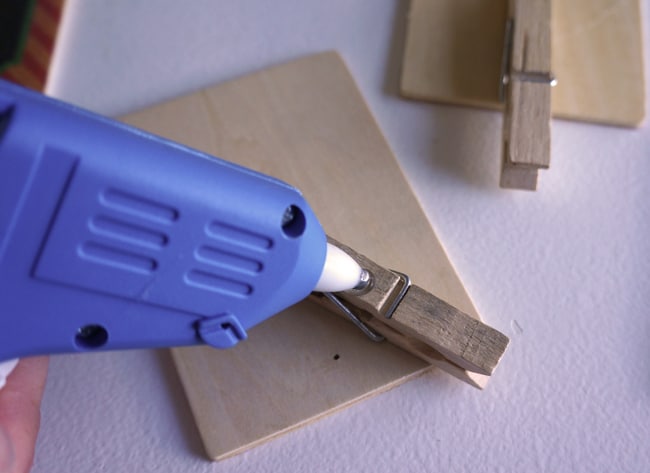 step 5 using a glue gun, glue each wooden rectangle to the twine (or ribbon) about 1" down from the top of the back of the rectangle. space the letters about 6 to 7" apart. make sure to use a big spot of glue, even covering the top of the twine. leave a couple feet of twine on each end so that you can hang you "Thankful" banner.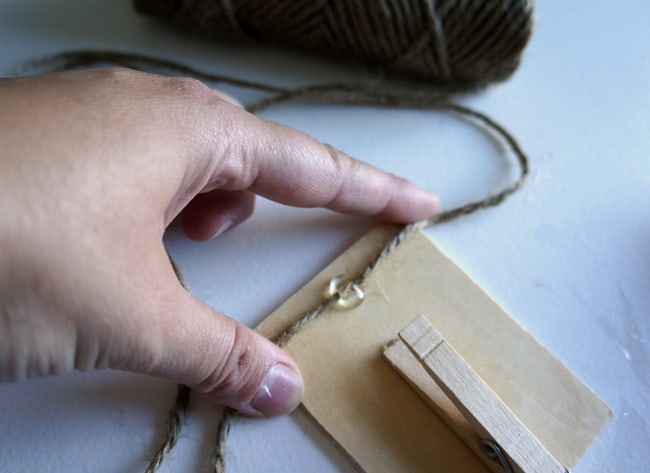 and there you have the finished "Thankful" banner. you can display it on your mantel, across a doorway or anywhere in your home. hope you can make one too…i am loving seeing my family photos displayed. Happy Thanksgiving.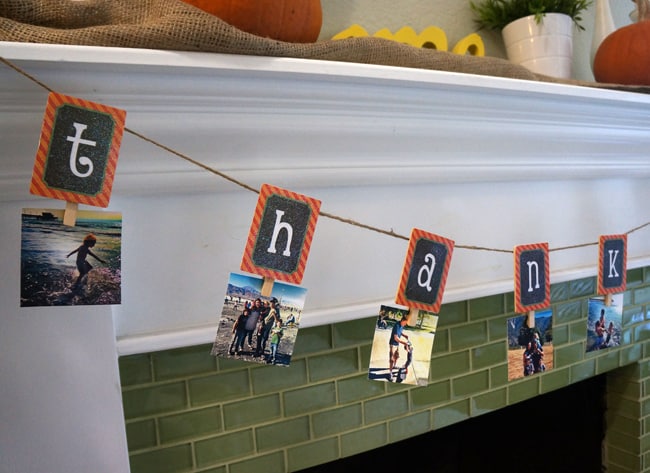 click here for the "Thankful" Thanksgiving Printable
{disclosure: this is a sponsored post. i received product to facilitate this tutorial. all thoughts and opinions are my own. }