(Sponsored) Valentine's Day is for being romantic with that special someone, but Galentine's Day is for having fun with friends! And this year, these kids happen to be my Galentine's!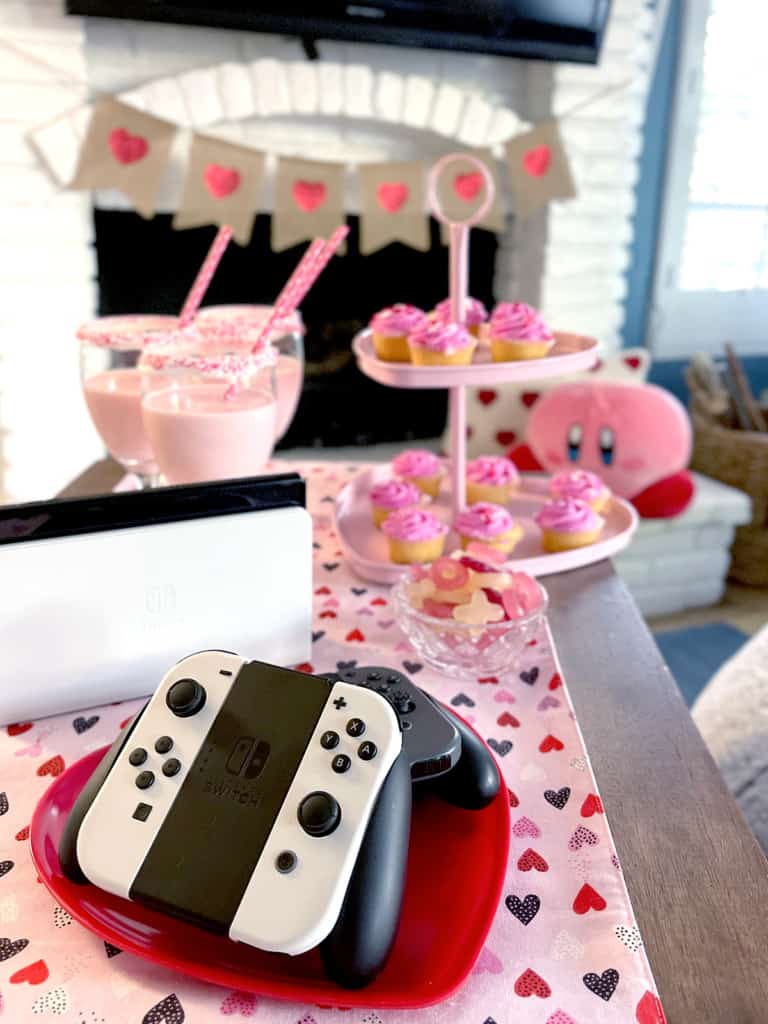 How are we spending Galentine's Day? By playing Nintendo Switch of course.
Our family just saved up and bought the Nintendo Switch OLED after enjoying our Nintendo Switch way too much during the pandemic. And we are in LOVE! But not romantically LOL.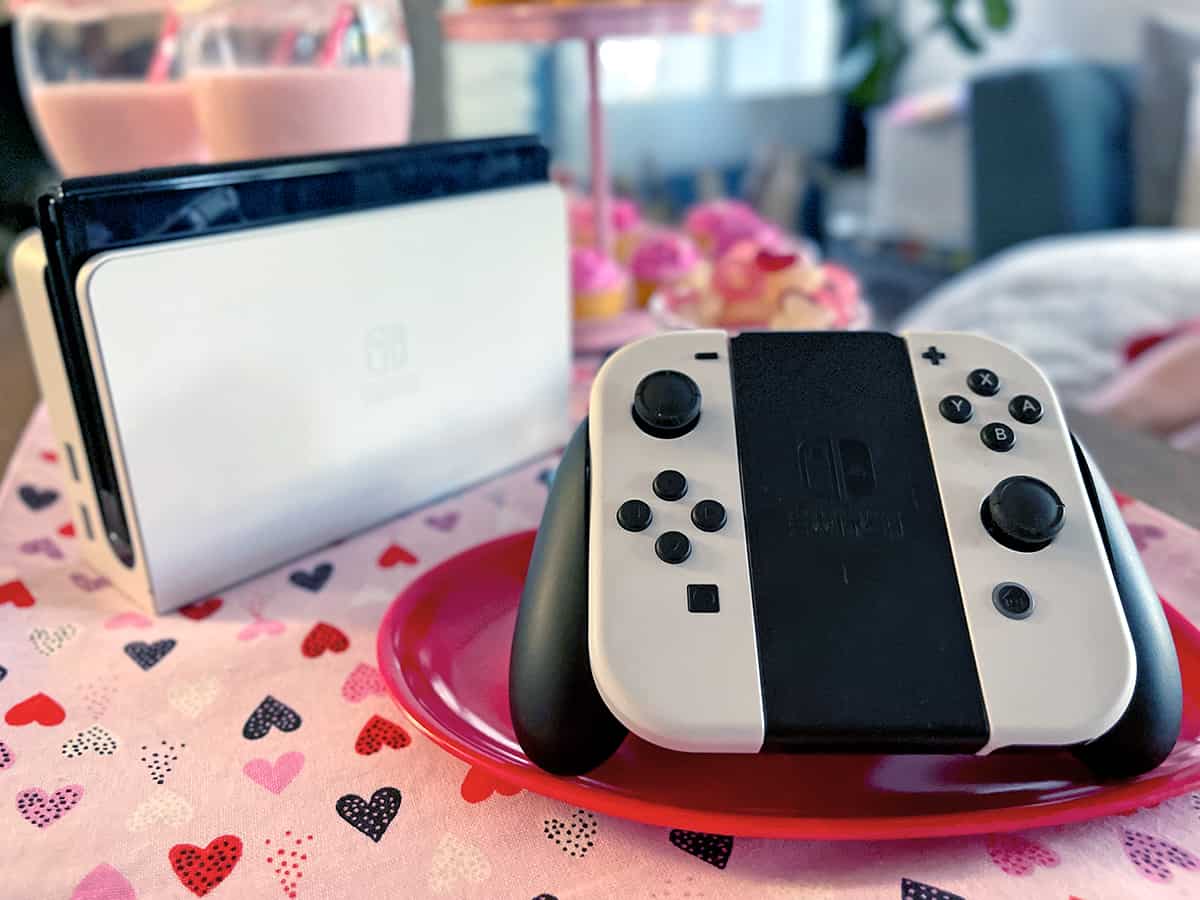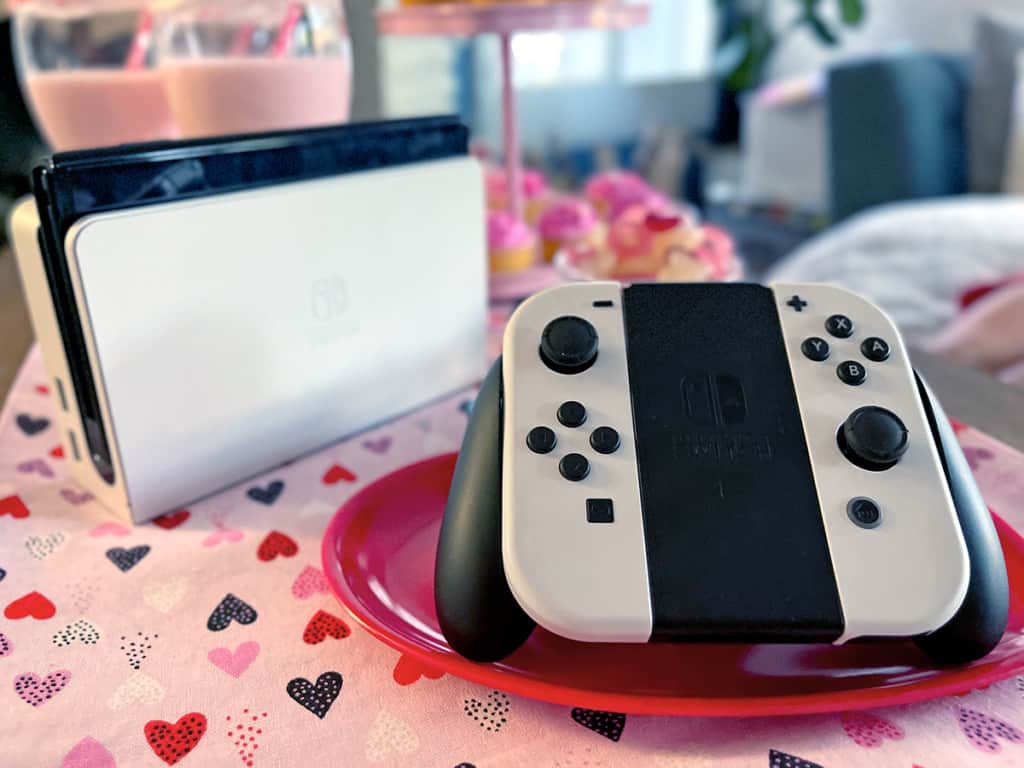 We've had a family gaming night almost every night since we got it. 30 minutes of play after dinner has been a great way to spend time together and unwind...way better than the kids running to their bedrooms trying to avoid doing dishes!
How to Have a Nintendo Galentine's Day Party
The great thing about having a Galantine's Day party with your kids, is that you don't have to stress about making things perfect or spending lots of money. Kids love just about any special attention you give them. Somethings as easy as pink milk and Valentine's cupcakes can make them feel special.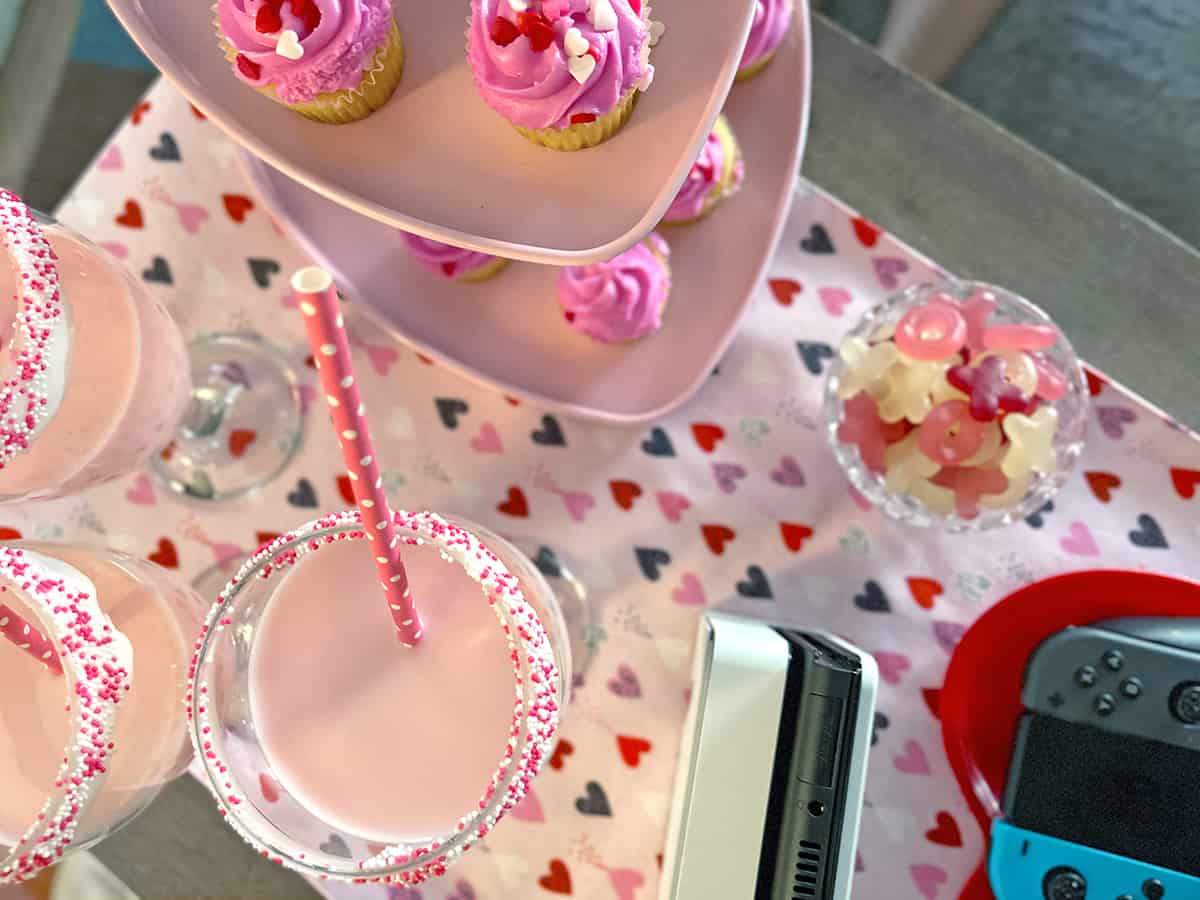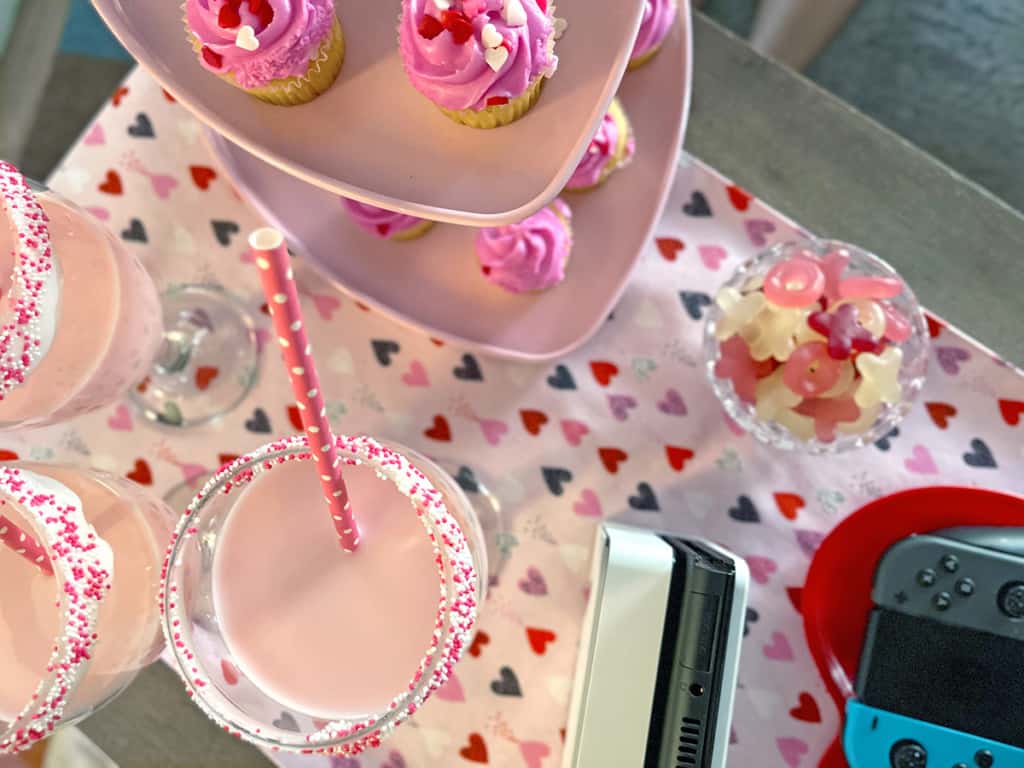 Pick a Fun Nintendo Switch Game
First off, pick a Nintendo Switch game that a everyone can play all at once. The great thing about Nintendo Switch is that there are games where 8 players can play at the same time!
Nintendo sent us two new games to try out – Big Brain Academy: Brain vs. Brain and Mario Party Super Stars. And both games were so much fun.
Big Brain Academy: Brain vs. Brain lets you play a series of brain-bending activities that test your mental agility. Play a wide variety of activities, like memorizing a series of numbers, identifying an animal as it slowly comes into focus, or helping guide a train to its goal in fun, fast activities.
Everyone can play the same level together at varying difficulties. So a kid can hold their own against an adult in this battle of the brains. It's true! My preschooler actually won me HA!
Mario Party Super Stars lets you play 100 classic minigames from the Nintendo 64 and Nintendo GameCube™. Race to get the most stars (and sabotage your opponents) on boards like the stellar Space Land or the spooky Horror Land! Party at your own pace by suspending a game and picking up right where you left off! The tides can turn quickly in Mario Party, so be prepared partygoers!
Our family really loved this one!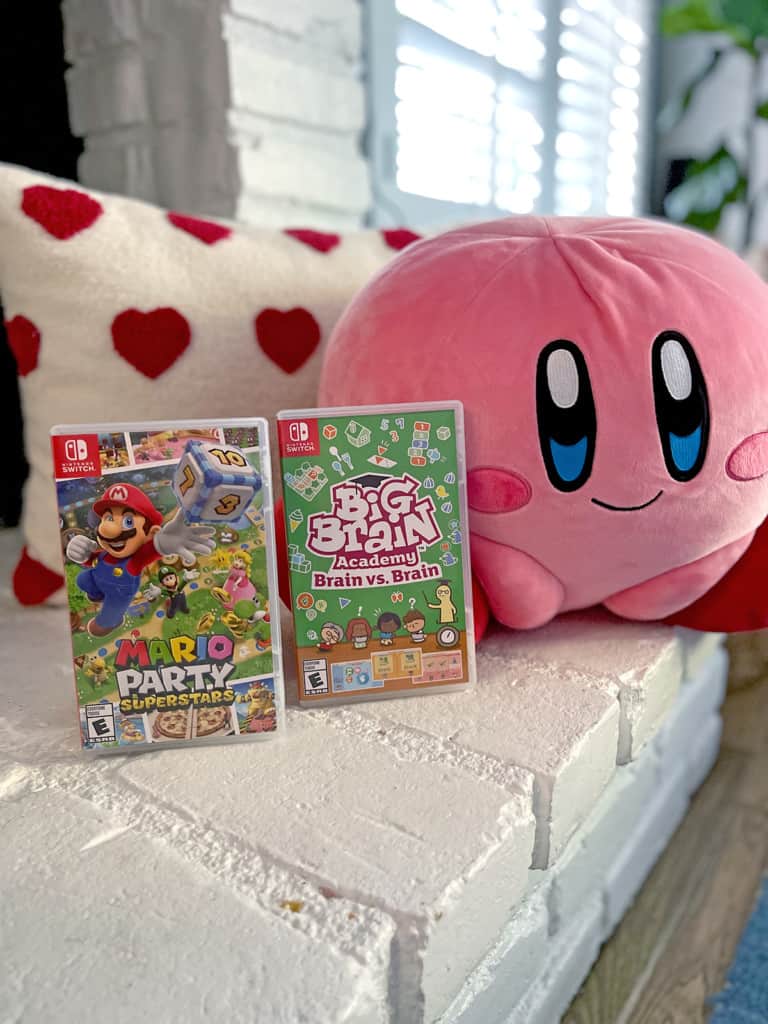 Easy Galentine's Day Party Food
Now let's make some Galentine's Day food. For our Galentine's Day Party Food, I went with a pink Kirby theme. Strawberry milk in cups rimmed with frosting and sprinkles, pink cupcakes with heart sprinkles, and Valentine's gummies for snacking.
It didn't take a lot of effort to make all the food, but the kids felt super special. And I found this tiered pink heart tray and heart tablecloth in my Valentine's box, so my table scape looked extra fancy.
Didn't it turn out cute?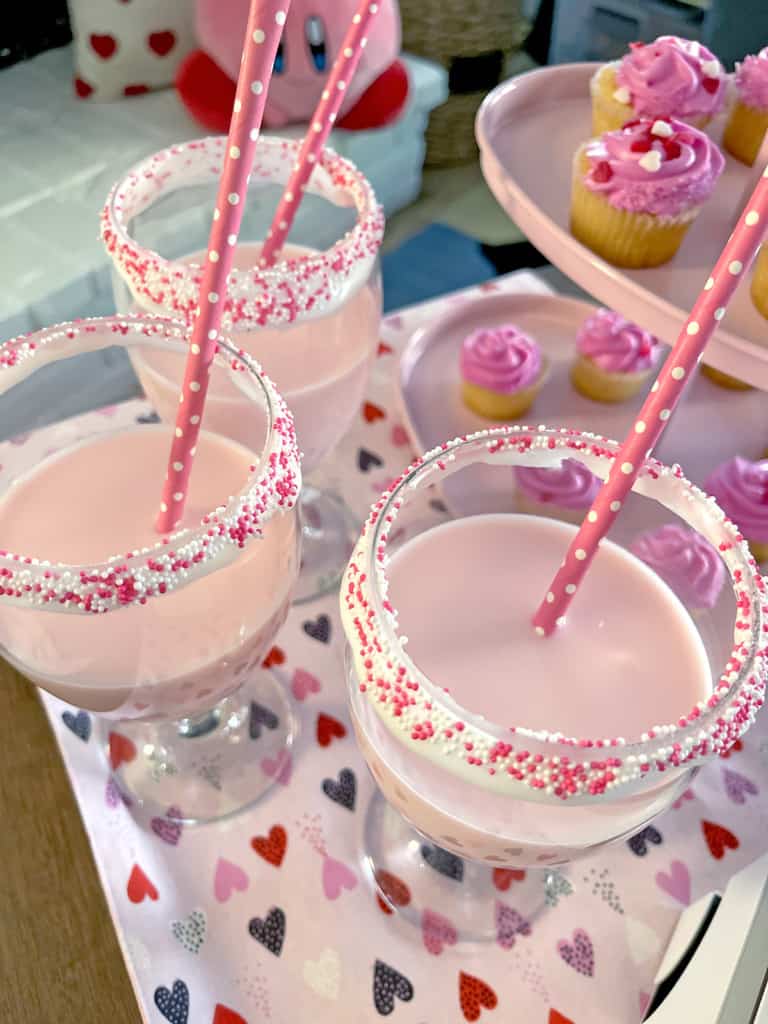 Nintendo Switch Galantine's Party Time!
Once you've picked out your games and got all the party food together, it's time to Have your Galentine's Party. This is the most important part of Galentine's Day – spending some special time with special people in your life.
Kids don't care what you're doing, as long as you are doing it together. But I can tell you, my kids think having their mom play video games with them is extra special! I'm pretty sure that won't last forever, but I'll take it as long as they do.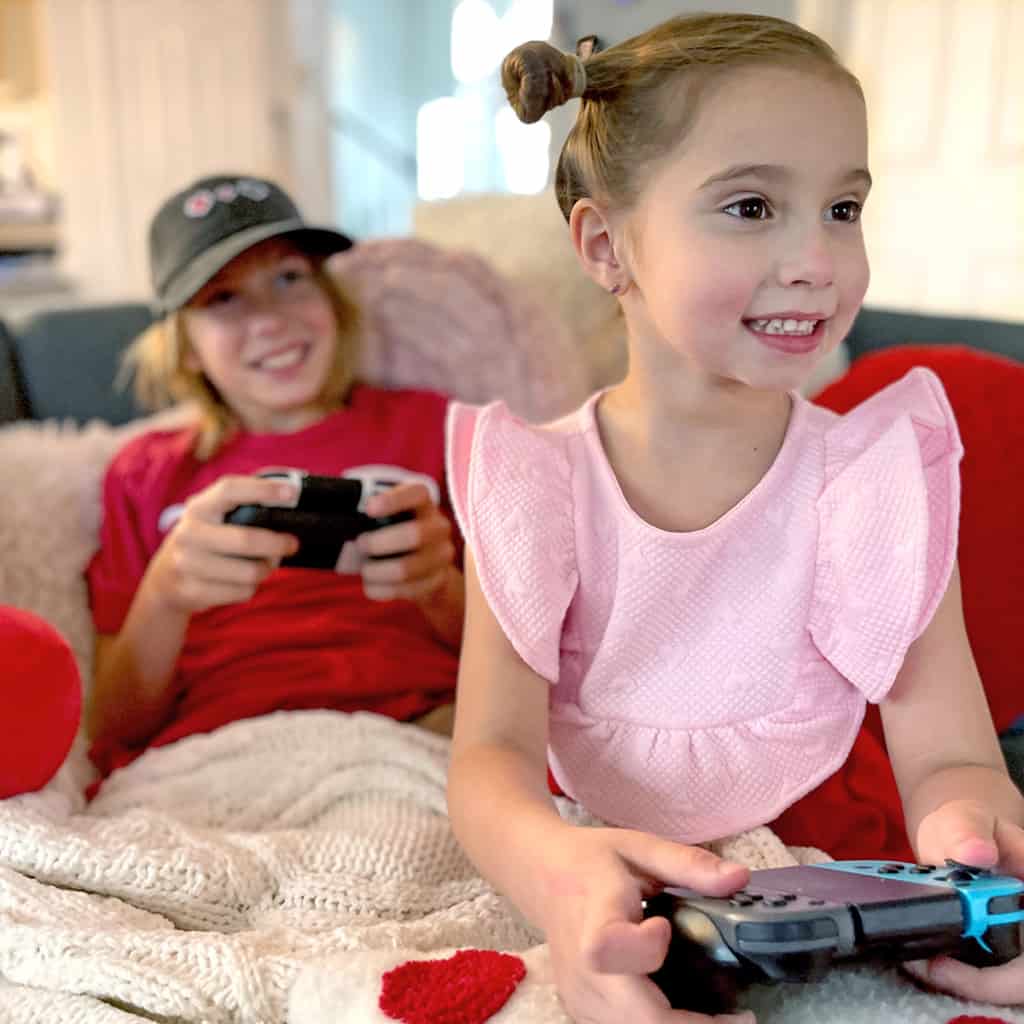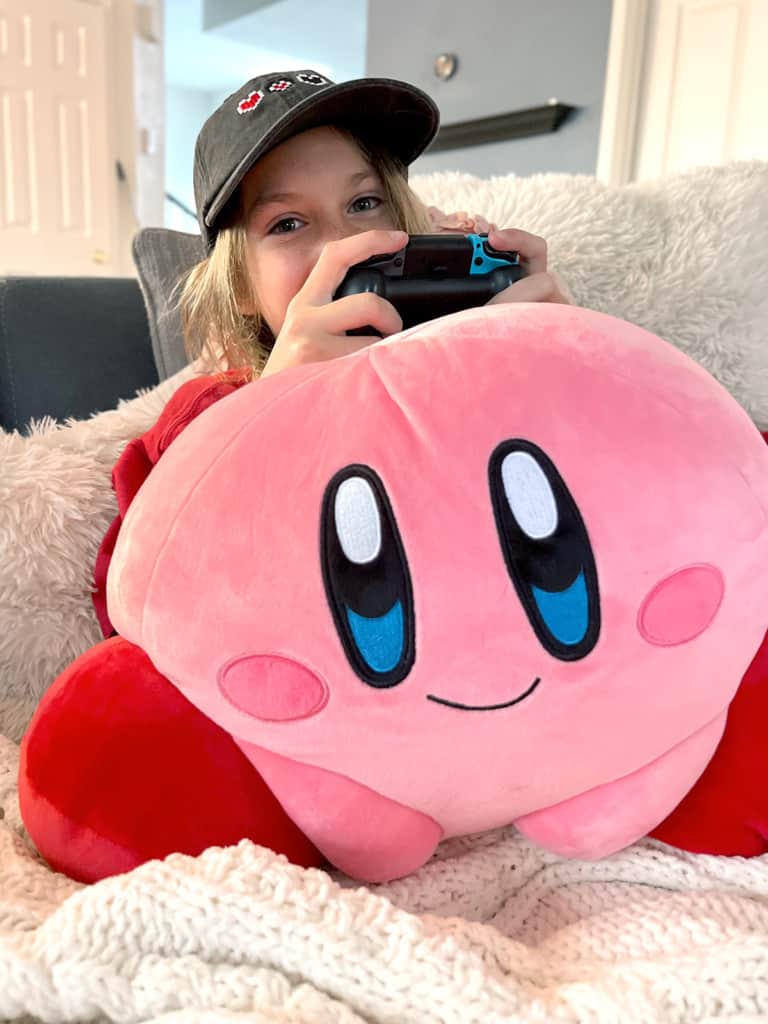 What I LOVE about the Nintendo Switch is that is so family-friendly.
Nintendo is GREAT for all ages! It has age appropriate games that aware clearly labeled and parental controls that a let you monitor their usage. You can limit their playing time, the kids of games they can play and when they can play as well. I have come to love and trust Nintendo so much throughout the years.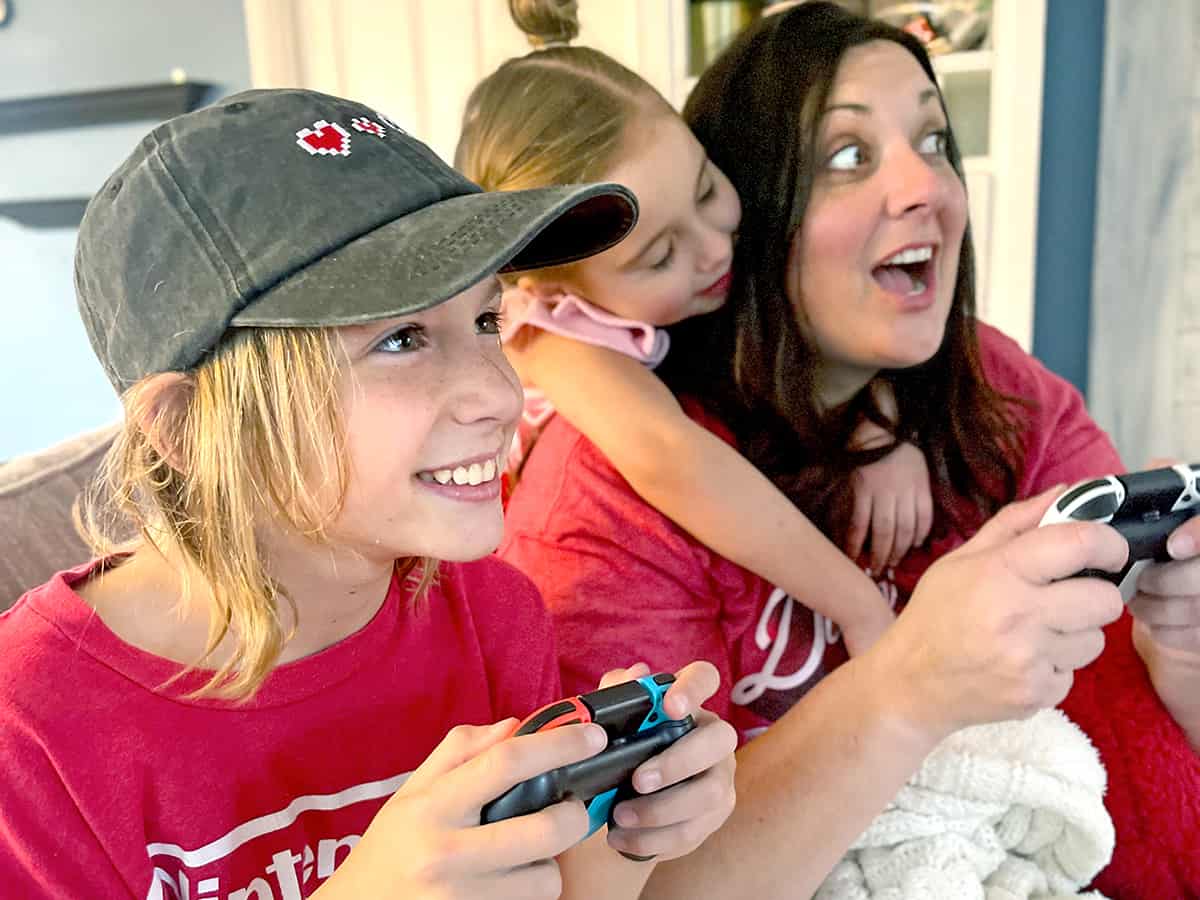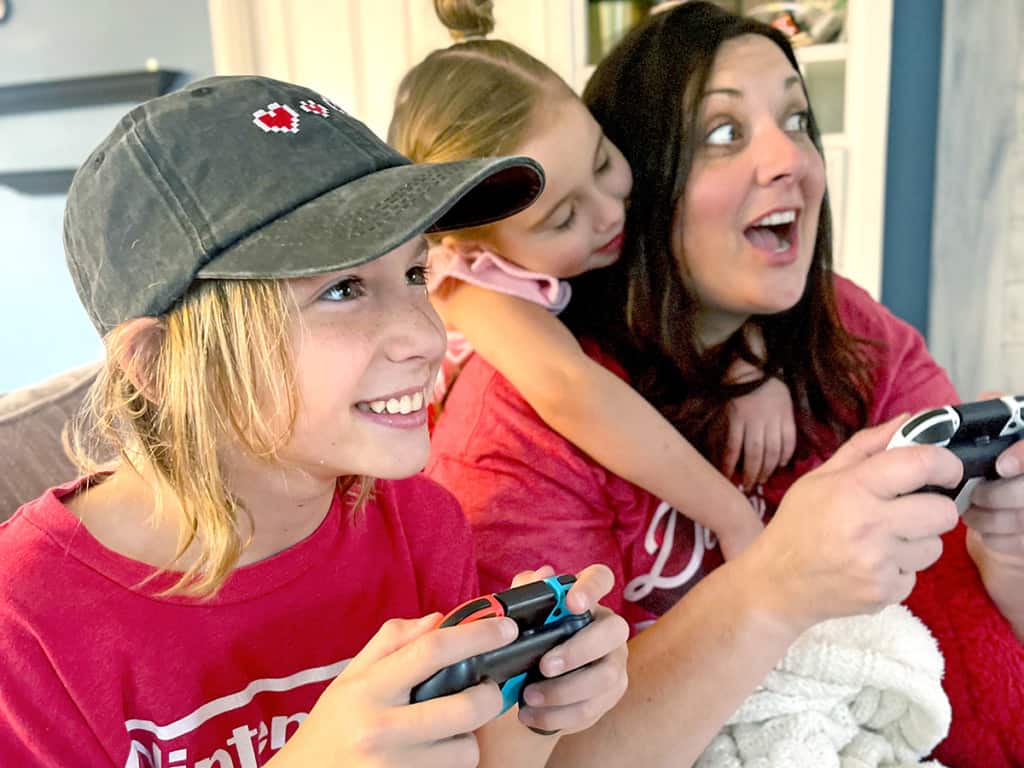 Nintendo Galantine's Day Party Craft
After we played our games, we did a fun Nintendo themed craft. We made Nintendo plant hangers by picking our favorite character to paint on them. I did Princess Peach...didn't it turn out super cute?
You can easily turn any plant container into a Nintendo character. all you need is some craft paint, and some paint brushed. Look at your Nintendo Switch game cases for some inspiration.
If you want a kit that a is already put together and ready to paint, check out these great kits by The Artie Party! The pots are very easy to paint, and they dry so fast. The paint, paint brushes, artificial plant, and pot with hanger all come ready to create in a fun box.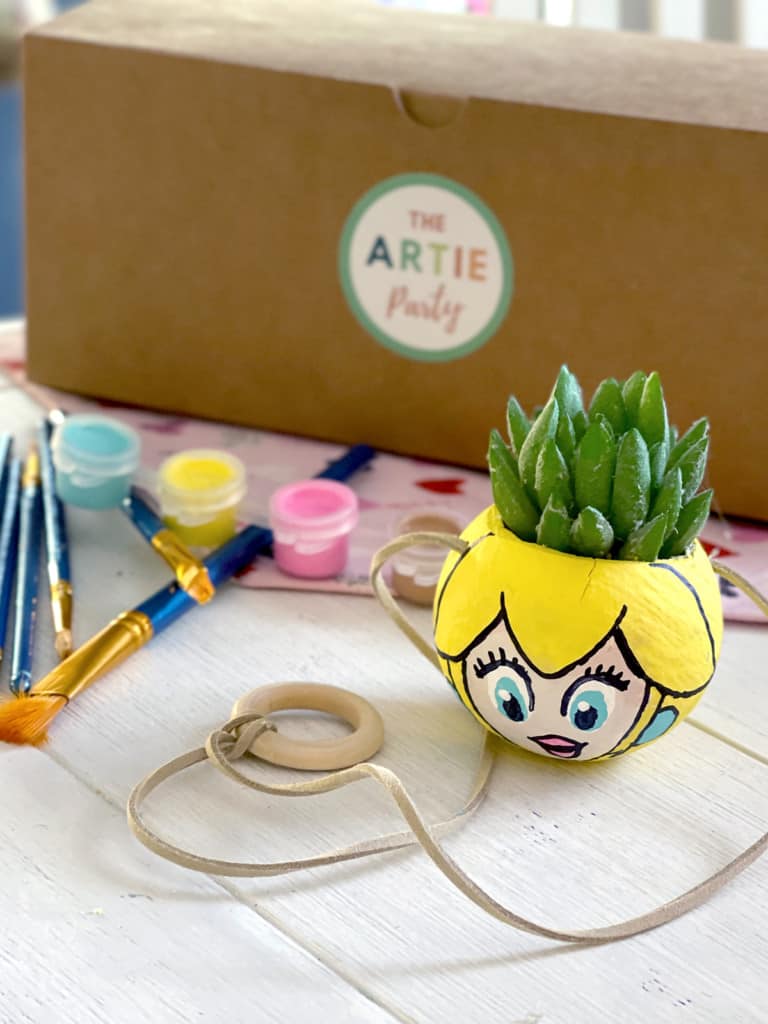 Where to Get Nintendo Themed Gifts for Galentine's Day
Galentine's Day doesn't have to include gifts...but it TOTALLY can!
You can find all sorts of Nintendo Swag like t-shirts, notebooks, plushies and even toys on the Nintendo Amazon site.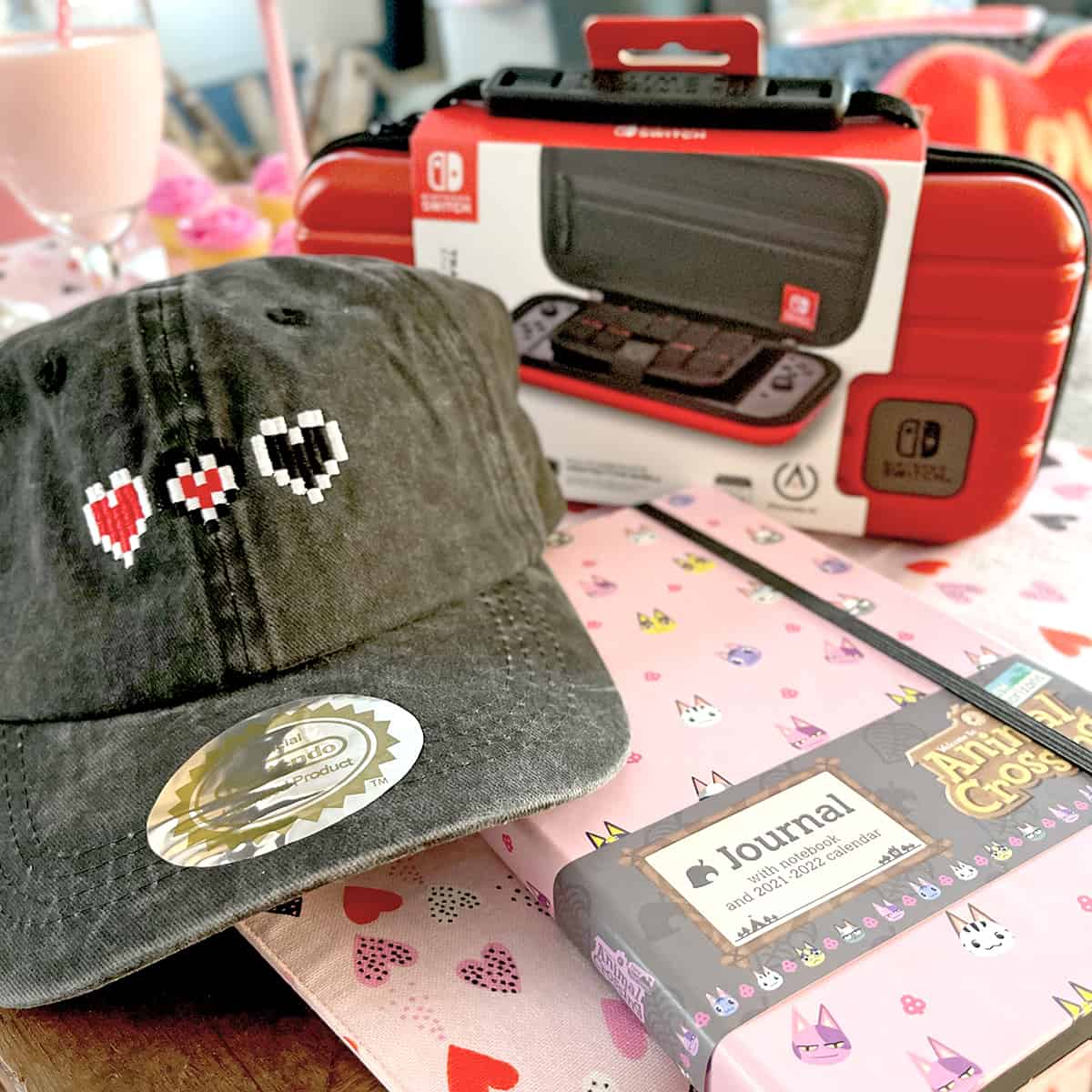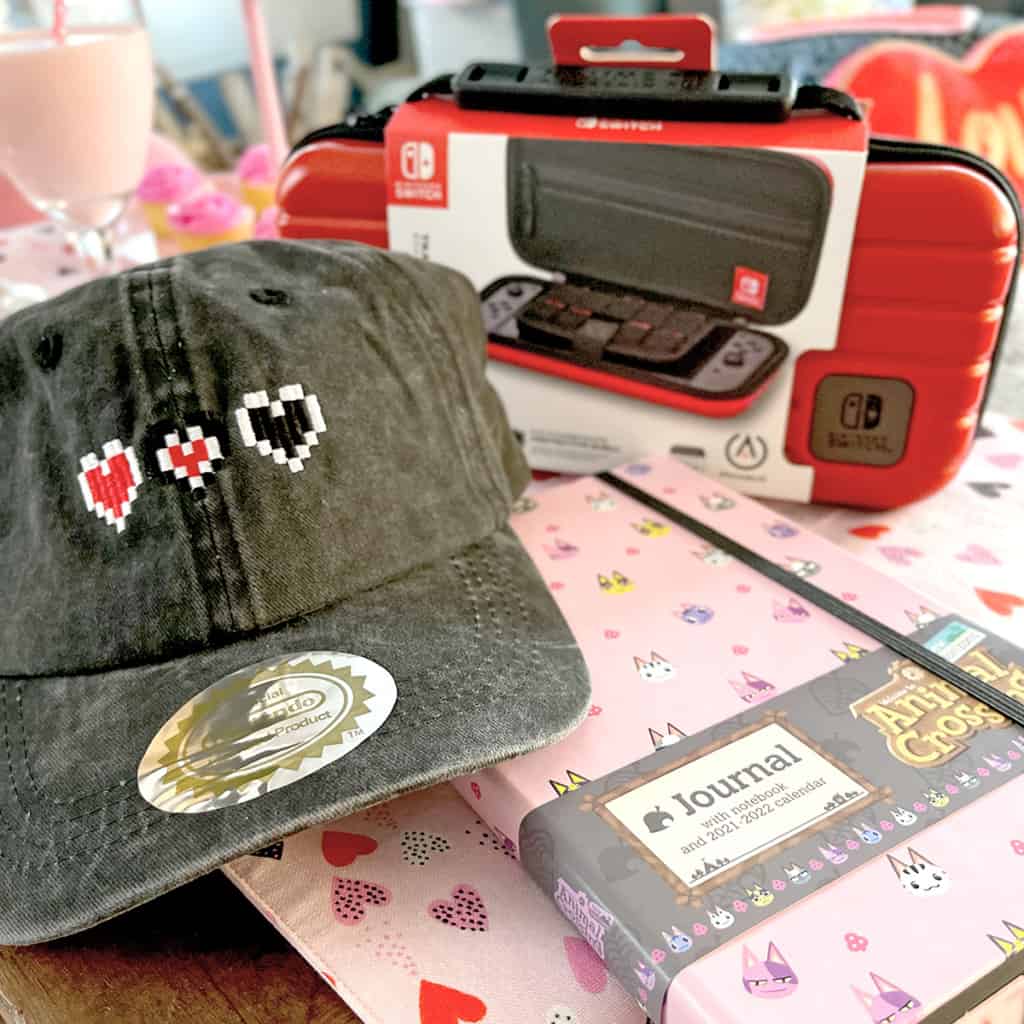 Did we have fun at our Nintendo Galentine's Day Party?
The kids and I had a blast at our Nintendo Galentine's Day Party! They kept saying "thank you, thank you mommy!" "We love playing games with you." We've been so busy with school and extracurricular, that we've missed a little down time. And this was perfect...relaxing, but also super FUN!
And remember, Nintendo Galentine's Day Parties are not just for kids!!!! Everyone LOVES playing Nintendo Switch. (Don't believe anyone who says they don't.) Who can you have a Nintendo Galentine's Day Party with?
Your friends - think girls night out with pink cocktails!
Couples - a fun date night don't you think?
Add another family - Family vs. family on the games? yes please.
Coworkers - Nintendo Switch is portable. What a fun lunch break!
Anyone!!!!
I hope we inspired you to have your own Galentine's Day party with your own family. They most likely will love it, and feel extra special that you put the thought into doing it. You don't even have to get super fancy.
HAPPY GALENTINE'S DAY!!!