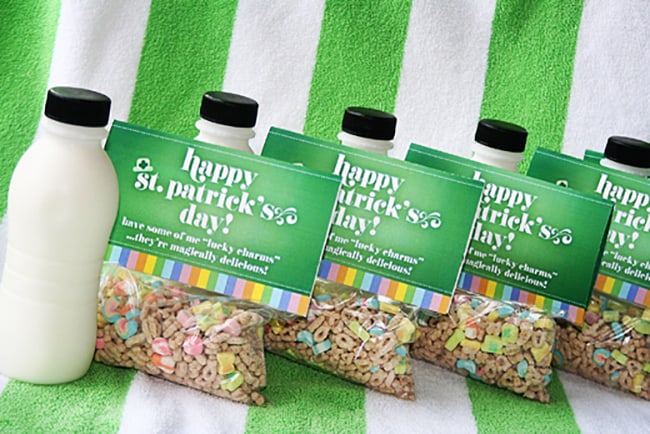 Only 3 days till St. Patrick's Day...and I am going to make the day super fun....and super green. The kiddies and I made these cute bags of Lucky Charms to give to their friends. We filled sandwich bags with Lucky Charms, and topped them with these cute toppers that I designed on the computer. The front say's Happy St. Patrick's Day, and on the back, there is a place to write a friend's name. We also bought individual bottles of milk to accompany them (I cut off the ugly label) when we give them out. You could even tint the milk green if you wanted to.
The boys are super excited to get to deliver them on wednesday afternoon, so their friends can enjoy them on St. Patrick's Day morning. I think they turned out very cute!
So.....do you want to make some for your your friends too???? Well....you are in LUCK! Because I am including the FREE Printable on this blog post. Here is the link for this FREE St. Patrick's Day Printable!!!!
To make theLucky Charms bags:
Print out the bag toppers here.
Cut out the bag toppers (i included crop marks) and fold them in-half.
Fill a lunch baggie half way full with Lucky Charms.
Fold the bag toppers over each baggie of Lucky Charms, and affix with double-sided tape.
Deliver with a bottle of milk to your LUCKY friend!
Happy St. Patrick's Day!