Halloween is one of our favorite times of year, a super exciting time filled with mini monsters, spooky snacks and creative carvings. But, little ghouls and goblins running around the neighborhood after dark can give some parents a scare. So I've partnered with Energizer® to share some easy tips for Halloween fun. On this post, I will share great ways to help you light up the night and focus less on the fright and more on the fun, plus some fun Halloween party ideas, so be sure to read the entire post!
Energizer has a great selection of LED Lights that I used in these fun ways to light up your Halloween. The best thing about using LED lights is that they are safe and won't catch on fire. Gone are the days of lighting up a pumpkin with a candle.
First of all, how about setting up this fun Glowing Drink Station for you little ghouls and goblins. IT is one of my favorite easy tips for Halloween.
How to Make a Glowing Drink Station
You will need clear jars or pitchers to hold the drinks. The ones I used were bought at a craft store, but they can be find at many local chain stores. You will also need a clear pie dish or short bowl to place underneath each drink container. I recommend using pie dishes because they make the most stable bases. I also found them at my local chain store for under five dollars each.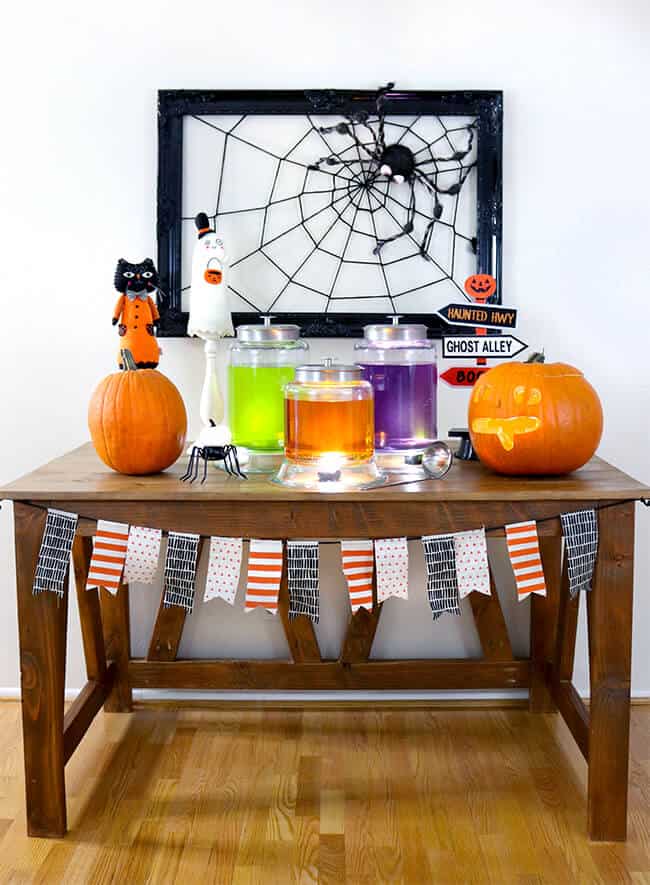 When you set up your Glowing Drink Station, you will want to place all your decorations on the table and decide on placement before you fill up the drinks. When it's party time, fill up your drinks and get ready to GLOW!
Place either an Energizer® LED Magnet Light or an Energizer® HD Vision headlight underneath each of the clear pie dishes or bowls. I actually prefer using the Energizer headlights because they are a little brighter, but both work great to light up the punch.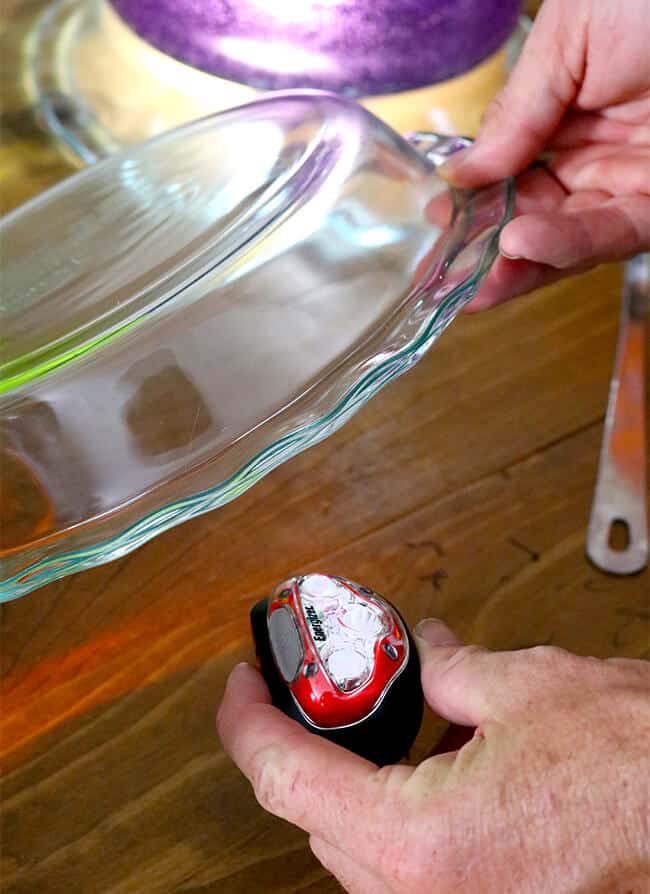 Now, place your drink container on top and pour in your colored drinks. You can color water, juice or soda with food coloring for the perfect color. Get ready for a fun spooky glow. You could even add dry ice for more fun! just imagine how great these look in a darkened room.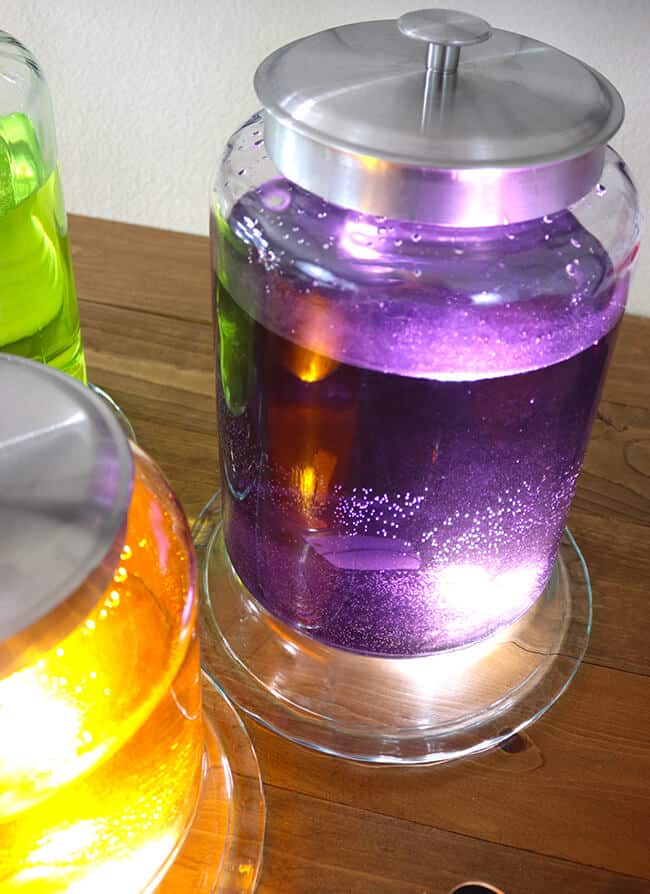 Did you see the spiderweb frame behind the drinks?!!!
Believe it or not, it's really easy and inexpensive to create. All you need is yarn and a frame. Any size will work.
How to Make a Spiderweb Frame
First, tape lengths of yarn to the backside of the frame in a wagon wheel pattern. 5-6 pieces will do.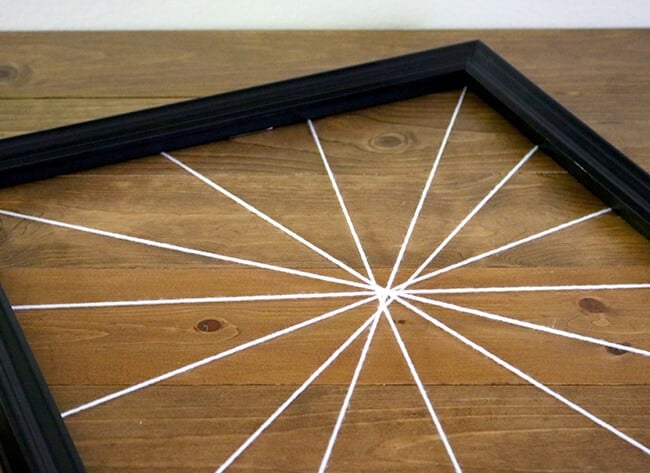 Then using more yarn, tie the end in a knot at the center of the web.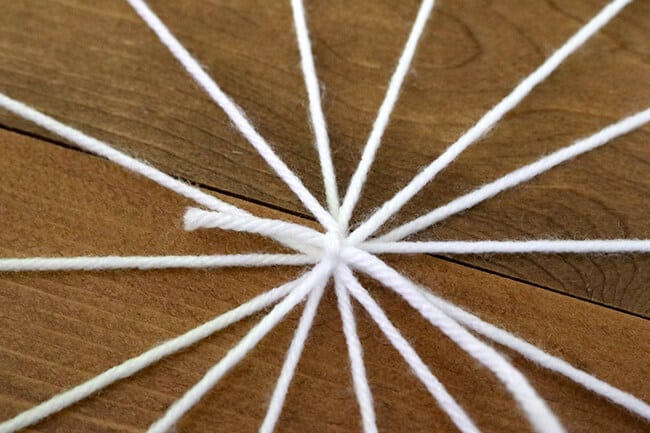 Next, starting from the center in a clockwise pattern, wrap the yarn around each strand. you will want to go over each strand first, then under and around again. then onto the next.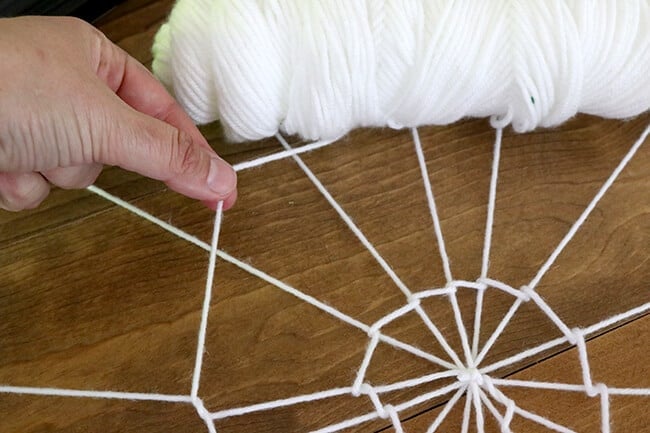 Continue wrapping until the web is finished. you will want to adjust it as you go to make sure it's even and spiral.
You can place a spider onto the web if you'd like. It makes a great backdrop for your glowing drink station, or hang it over the mantle. now to finish decorating your drink station. Use Halloween decorations of different heights, a flag banner or a lighted Jack-o-Latern also makes a nice touch. Make sure to keep it simple...less is more!
Making Your Carved Pumpkin Last Longer
Here's a Tip for Making Your Carved Pumpkin Last Longer. After you carve your pumpkin, fill the sink up with water. Add 2-3 tablespoons of bleach to the water. Then, submerge your pumpkin. Make sure to wash all of the debris and seeds out of it. Then, completely dry your pumpkin. This with get rid of any bacteria on it, and help it to last a little longer before it starts to rot.
once your jack-o-lantern is all dry, it's time to light him up! like i mentioned before, you don't want to risk a fire by using a candle in your jack-o-lantern (especially here in Southern California). use the Energizer® LED Magnet Light in lieu of a candle to keep your jack-o-lantern radiant. it's simple, just turn on the light and set it inside!
Now the drink station is complete!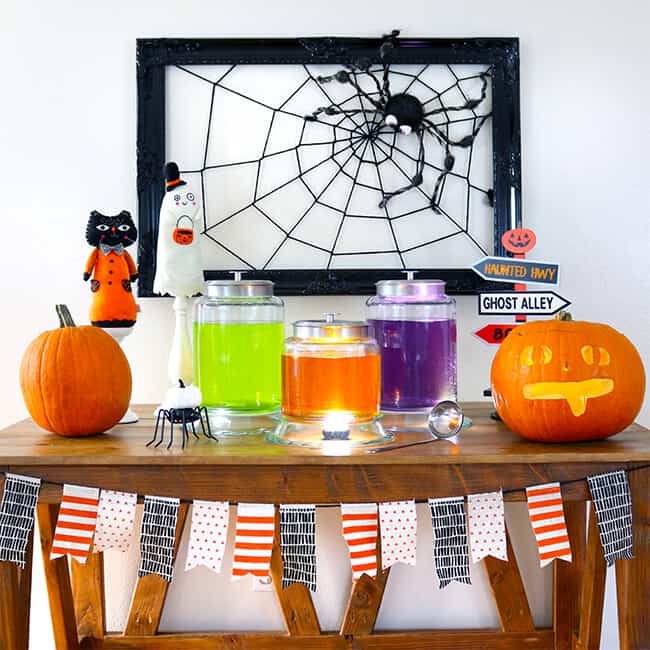 Time to head outside!
Have you been to a trunk-or-treat? They are becoming very popular nowadays. Instead of going door-to-door to trick or treating, you go car-to-car. People also decorate their cars for Halloween. It's called Trunk or Treat.
Trunk or Treat Frankenstein Car Decoration Idea
By using a red, green and black tablecloth, you can easily decorate your car as Frankenstein for Trunk or Treat. Simply line the inside with the read tablecloth. Then tape the green tablecloth over the opening. Cut the mouth of Frankenstein open to reveal the red.
Using cardstock, cut out eyes, teeth, bolts for the ears, and a scar for his face. Tape those on, and use the black tablecloth to create the hair. Be creative...anything goes!
Ready for some more easy tips for Halloween?
Easy Tips for Halloween Safe Trick or Treating
No matter what the costume is, i's really important to make sure the kids can be seen by cars and other people when they are trick or treating. You don't want to worry about your kids' safety after dark. Energizer® knows how important this is, so they have suggested a few ideas. A headlight wrapped around the wrists gives the perfect glow.
These Energizer® 2-in-1 Personal Light are hands-free and can illuminate after-dark activities (and keep little goblins from tripping!).
you can wear them as a necklace or use them as a flashlight wand.
i also like these Energizer® LED Magnet Lights. they easily clip onto costumes with magnetic force. no worrying about pins or hooks. its a great idea to place one on the front AND back of your child's costume.
you can also pair any of these lights up with a handheld flashlight or lantern. there can never be enough light during the dark hours of Halloween.
Remember that spider web frame?!! You can also use the same concept to make a giant spiderweb on your front entrance. Just use extra thick yarn which is available at the craft store and strong duct tape. You can let the neighbors know you're in the spirit by adding a festive glow to your entrance Energizer® Weatheready® 360º LED Area Light. I LOVE how this turned out.
Finally, if you are looking for more fun and easy tips for Halloween, then check this out. Here is a great way to decorate your home and add some Halloween glow. Simply hang some plastic jack-o-lantern treat buckets in the trees.
Hanging Glowing Jack-o-lanterns
Using fishing line or yarn, tie the plastic jack-o-lantern buckets to tree branches or anything else around the house. When it's dark, place your choice of one of the Energizer LED lights into each of them, and you will have flying glowing pumpkins! I love this trick so much because it's inexpensive and still looks super cool.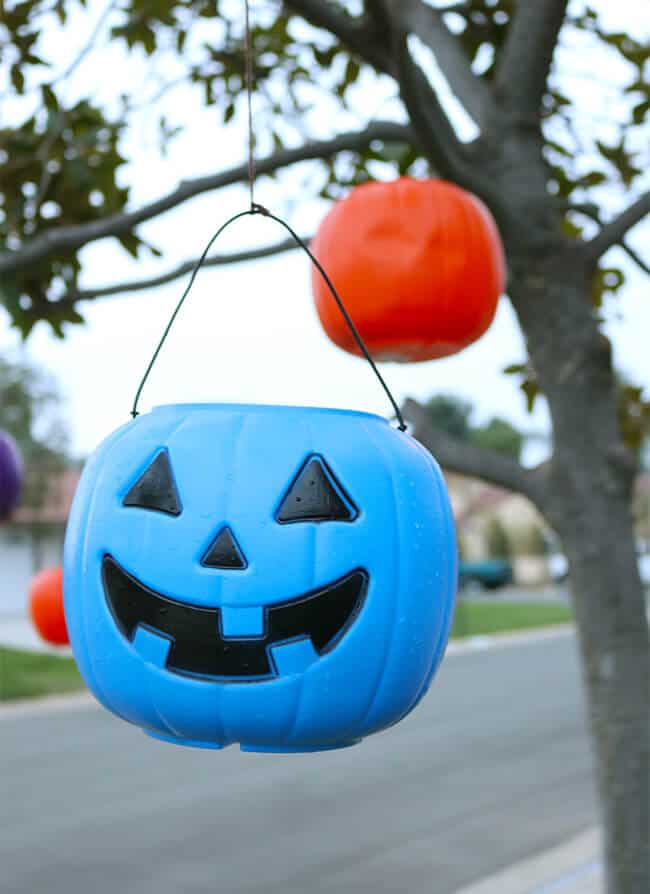 Finally, I have also shared all of these tips on FACEBOOK LIVE, so you can head over to my Facebook Page to watch it in action!
I hope you enjoyed these easy tips for Halloween fun! I had so fun sharing them with you. don't forget to head over to my Facebook Page to watch them LIVE. have a fun a safe Halloween, please let Energizer light your way to a fun and safe Halloween night!
{This is a sponsored post. All thoughts and opinions are 100% my own.}