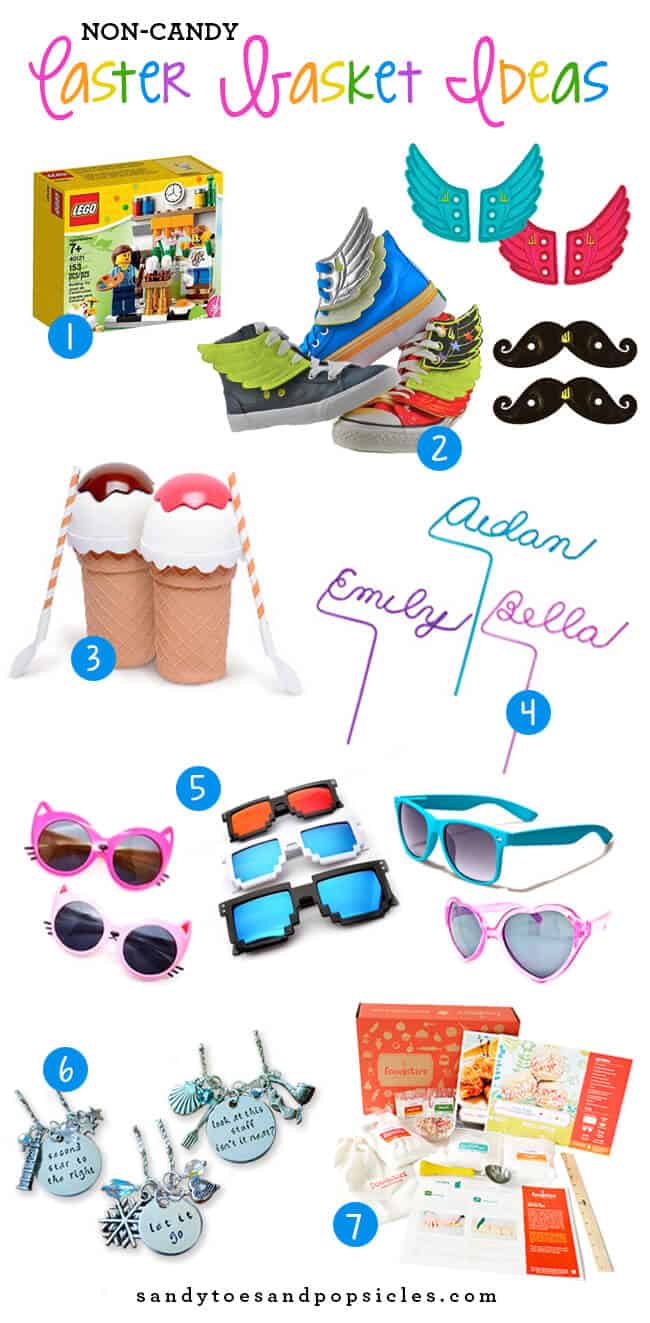 the Easter Bunny will be hopping around the corner in just a few weeks, and it's time to start thinking about what he is going to fill the kiddies baskets with. whenever i fill my boys baskets with candy, they never eat it...and that is probably a good thing. the past few years i have limited the candy and put a few fun non-candy items in their baskets. i don't like to spend a lot of money on Easter basket fillers, as i am not a huge fan of the Easter Bunny on this special holiday. i usually just put a pair of flip flops a small trinket they have been wanting, sometimes i even include a swim suit because i am going to have to get them one as soon as summer is here anyways.
here are some gifts i have found this year that i think would make great basket fillers. i will probably include one or two of these in their baskets along with so candy...because Easter candy is the best. if they don't eat it, i will. i thought i would share my picks in case you needed some inspiration.
1) LEGO Painting Easter Eggs Set - my boys love LEGO, and this Easter inspired set is sure to be a fun favorite on Easter. the mini figures are painting LEGO eggs with a paintbrush and pallete. how cute.
2) Shwings - these cool wings attach to your shoes and make your shoes stand out!  there are over 150 styles in an array of fun shapes and colors. Shwings have been spotted on many celebrity kids, including David and Victoria Beckman's sons Romeo and Cruz, Gwen Stefani's boys Zuma and Kingston, Heidi Klum's daughter Lou, Kendall and Kylie Jenner and many others. these are my fave!!!!!
3) Chill Factor Ice Cream Maker - with the Chill Factor Ice Cream Maker, kids can create their very own frozen treats at home in minutes - with no mess! simply freeze the Ice Cream Maker, add the ingredients, give it a shake and squeeze, squeeze, squeeze! in minutes they can enjoy a delicious, ice cream treat. there are many delicious flavors to create - a recipe guide is included for inspiration. you can even make yummy and healthy frozen yogurt treats, as well as refreshing sorbets!
4) Personalized Krazy Straws - get your child's name on a twisty bendy straw! how cool it that!
5) Hide + Seek Shades - stylish sunglasses in cool colors for kids. from wayfarers to aviators to cat eyes to pixels or hearts, they are the cutest sunglasses around. and the best thing about Subsidy Shades is that a portion of the proceeds go to helping parents pay for adoption. read all about this great cause on there website.
6) Charm Necklaces from With Love from OC - i love supporting local businesses, and these necklaces are made with love right here in the OC. choose from necklaces inspired by Disney movies, movie classics and television, they can even be personalized.
7) Foodstirs - designed by chefs and tested by kids, these food crafting kits help children get comfortable and creative in the kitchen. they also teach them basic cooking skills and inspire them to discover their inner chef. the kits come in a variety of themes with everything you need to create a yummy food creation. plus, they are delivered directly to your doorstep. cooking brings families closer, creates memories and allows for time to truly engage with each other. my boys really loved their Foodstirs kit.