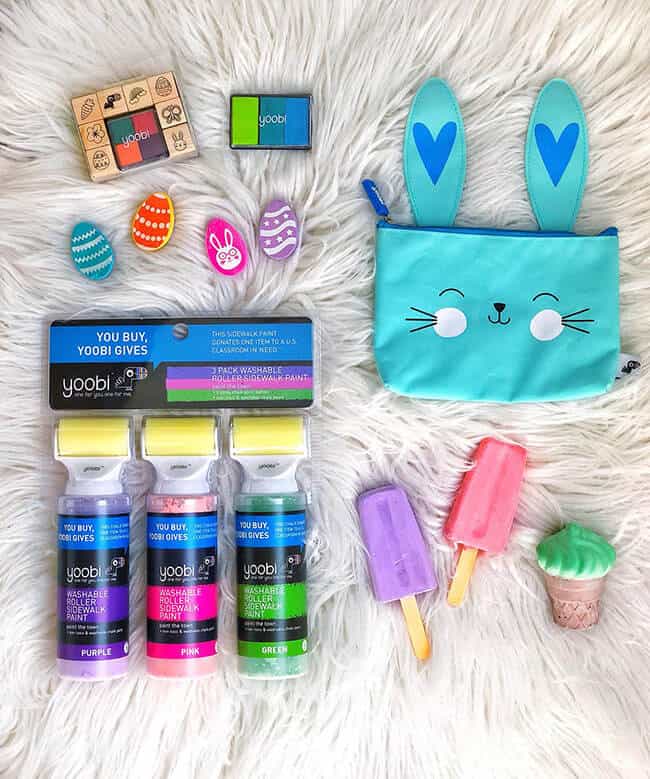 hippy, hoppity, Easter's on its way! so that means their are Easter baskets to fill. need some non-candy Easter basket ideas? check out these adorable non-candy Easter basket ideas from Yoobi. one of my favorite places to find the best and most colorful school, home and office supplies. and did you know Yoobi's motto? YOU BUY, YOOBI GIVES. every Yoobi item you purchase helps provide essential school supplies to classrooms in need across the U.S. i have seen first hand all the great work Yoobi does for our local schools....we just love them for all that they do for our community.
here are some of the fun items that will be filling my kid's Easter baskets....although, i must say that these items are fun anytime of the year. there are spring stamp sets, sidewalk chalks in the shape of ice cream, sidewalk paints and the cutest little bunny bag i've seen. it even has a pom pom tail on the back! of course, the washable popsicle sidewalk chalks are my absolute favorite. (i wonder why?!!!). you can buy these fun spring items directly online, at a Yoobi storefront or at your local Target stores!
Which one is your favorite?
What are you filling your Easter baskets with?
Here are the links, since many of you asked:
Yoobi Egg Stamp Set
Yoobi 8 Piece Stamp Set
Yoobi Bunny Zip Pouch
Yoobi Washable Popsicle Sidewalk Chalk
Yoobi Sidewalk Chalk Roller Paint
Yoobi Washable Ice Cream Sidewalk Chalk