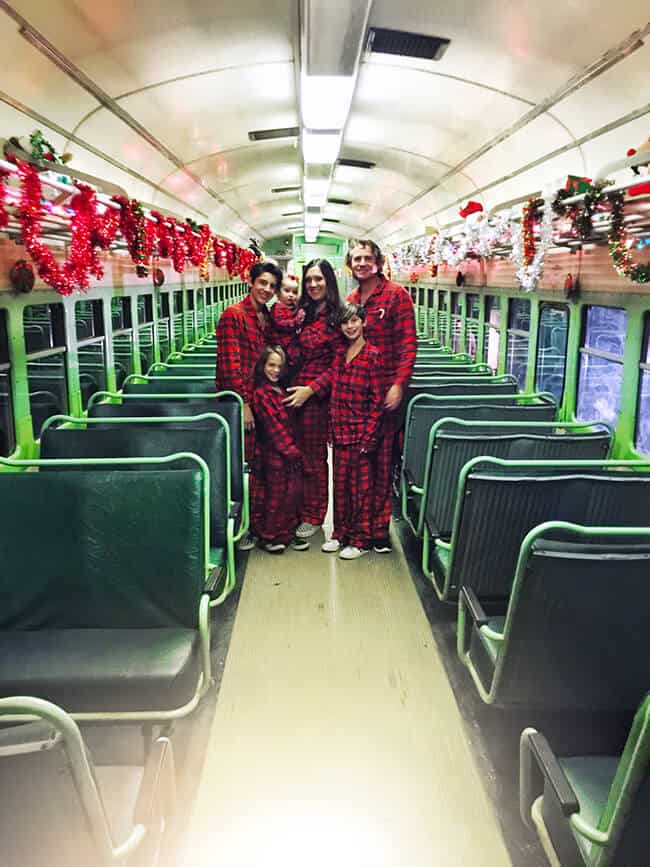 Last year our family discovered a magical Christmas adventure! We loved it so much that it will now be a family tradition every year. We took the Train to Santa's Workshop at the Orange Empire Railway Museum in Perris and what a special evening it was. Beginning at the end of November, you can take one of Orange Empire Railway Museum's vintage trains and embark on a magical train ride to visit with Santa Claus himself at his North Pole workshop. The evening includes not only a visit with Santa himself, but lots of fun activities including a model train display, cocoa and cookies and chatting with Santa's elves and Mrs. Claus. The Orange Empire Railway Museum is about a 40 minute drive from Orange County without traffic. I feel the trek is worth it, and if you plan ahead, you can grab a bite to eat before you head to the train station to begin your journey.
Since we've only been once, I can only provide you with my one time experience, but I continue to hear great things about the Train to Santa's Workshop. We took the 7:00pm train because I wanted it to be dark and more of a Polar Express experience. It was not crowded at all, but I heard that the 5:30 train was filled to capacity, so I would expect that would change the experience a bit.
I also made the entire family wear matching pajamas. Since I had never been, I read on their website that they recommended wearing pajamas. However, most only children wear wearing them. BUT...I wouldn't worry about that. WEAR YOUR PAJAMAS. It totally made the night, and everyone kept coming up to us saying we looked so festive and that they wished they would have worn theirs too. So I highly recommend. I asked my kids...including my teenager if they would wear their pajamas again this year, and they all said absolutely. It was so much fun.
The cool thing about this train ride, is that it takes place in a vintage train. A fully working train! You are sitting inside...not outside getting cold. It takes you on a 20 minute ride to visit Santa where you can watch out the windows, or talk to the conductor.
One of Santa's elves came through and talked to the kids and gave everyone a candy cane. It was great. Other elves led the passengers in Christmas songs, holiday trivia games and storytelling.
As the train arrived at Santa's Workshop, you could see Santa waving at the kids as the train arrived. The kids were so excited! We didn't know what to expect, but we were very impressed! The entire workshop was dressed up for Christmas, and we couldn't wait to board off the train to check it out.
We got to get our photos with Santa. You need to bring your own camera. Santa also gives each kids a stuffed toy.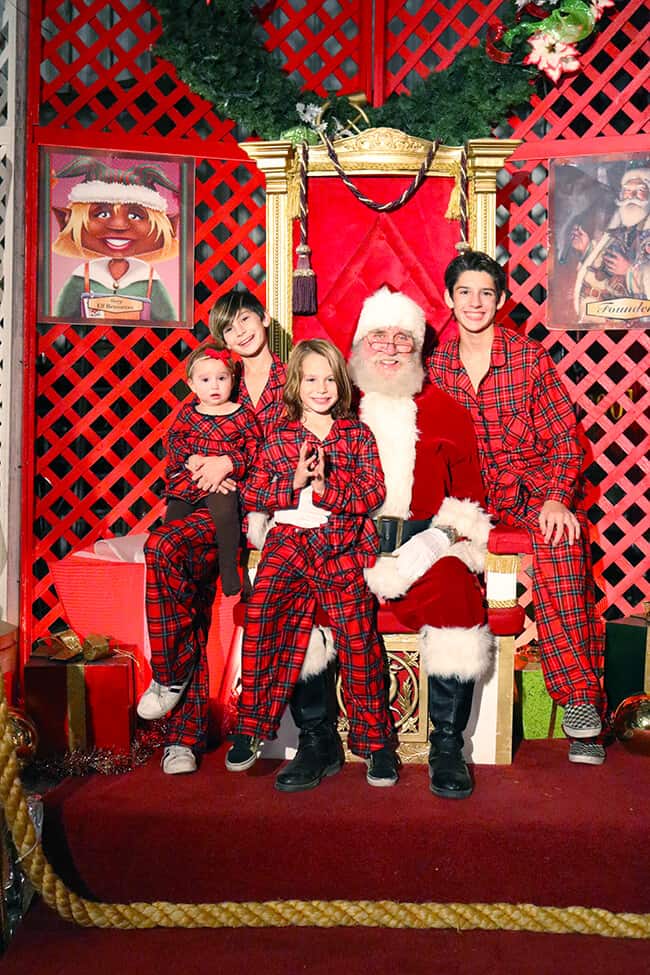 Then we explored the workshop and took lots of photos with the kids.
After you visit Santa, kids can do Christmas crafts or chat with Mrs. Claus and the elves. There are also lots of photo opps.
There are also train tables to enjoy (check out my older boys playing with the younger ones...LOVE IT), and also Thomas the Train ride ons for the littlest kids. Everyone loves trains.
When everyone had finished visiting Santa and enjoying his workshop, we boarded the train to go back to the train station. Santa waved goodbye to everyone.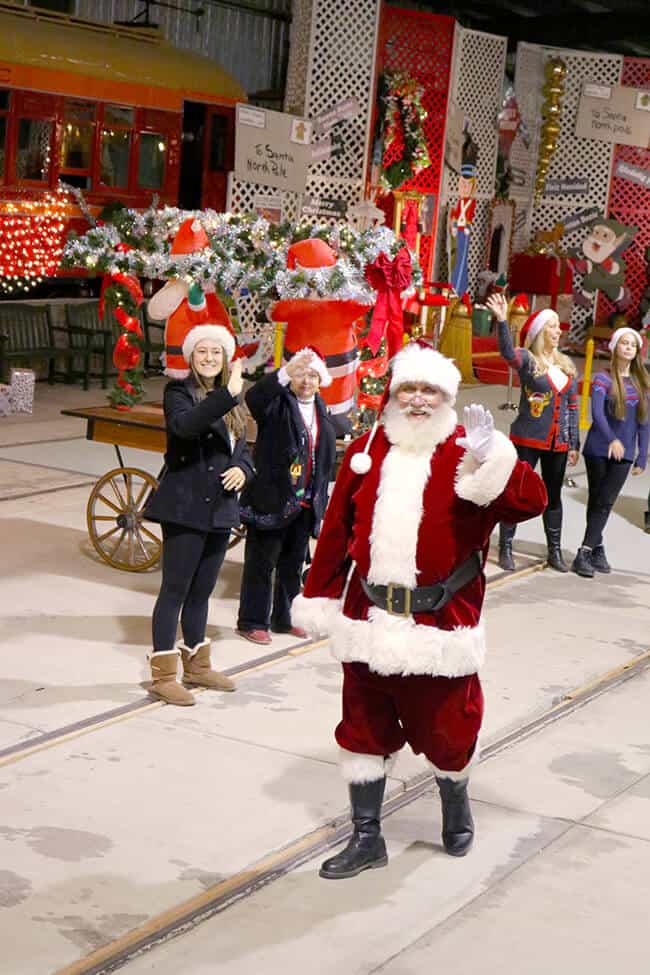 We then took the train back to the Pinacate Station. We were sad to leave...but more fun was coming up.
At the Pinacate Station boarding area, there is a huge model train display to enjoy and also vendors selling Christmas crafts and presents. If you decide to take the 7:00pm train, you may want to visit this area before you head over to see Santa. It closed pretty quickly when we got back, and we probably would have enjoyed visiting a bit longer.
If you wrote a letter to Santa, make sure to put it in Santa's mailbox!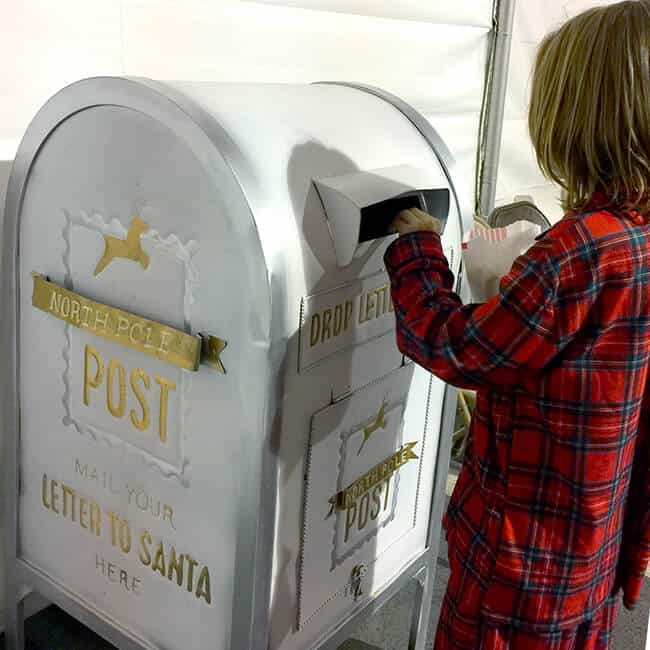 You can even get a cup of cocoa and a cookie to enjoy while you look at the trains. This is all included in your admission ticket.
It was the perfect way to end the night and keep ourselves warm and cuddly.
The Train to Santa's Workshop at the Orange Empire Railway Museum was great. There was a magical feeling in the air throughout the entire night. And my family had the best time. It truly left us with a festive Christmas spirit and fun memories we will never forget. Can't wait to go again this year!
Make sure to get your tickets soon. Not sure if they will sell out, but you don't want to miss your chance.