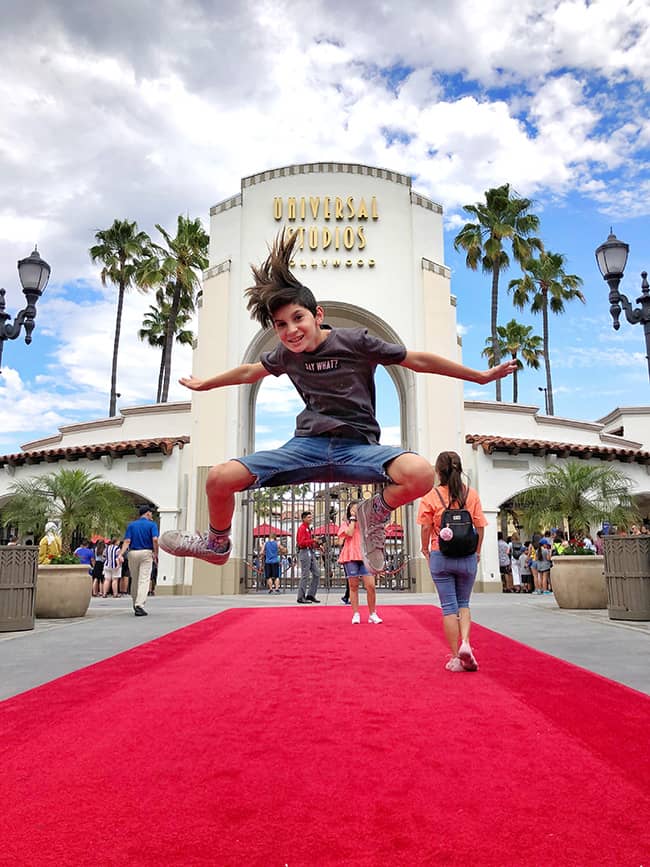 All summer, my boys have been anxiously waiting to go to Universal Studios Hollywood. We love it there, and were especially excited to go on the all-new Jurassic World – the Ride! Last week, the boy's summer wish finally came true. We headed to the park to enjoy a day full of fun...and to spend time with some dinosaurs!
What we love most about Universal Studios Hollywood is the magical way they bring to life the movies. Everywhere you look, it practically looks like a scene out of a film or television show. You could spend all day taking pictures of the park and never ever go on a ride if you felt like it. From the Wizarding World of Harry Potter to Simpson's Land to Minion Land to the Studio Tour tram ride, you never feel like you are in reality.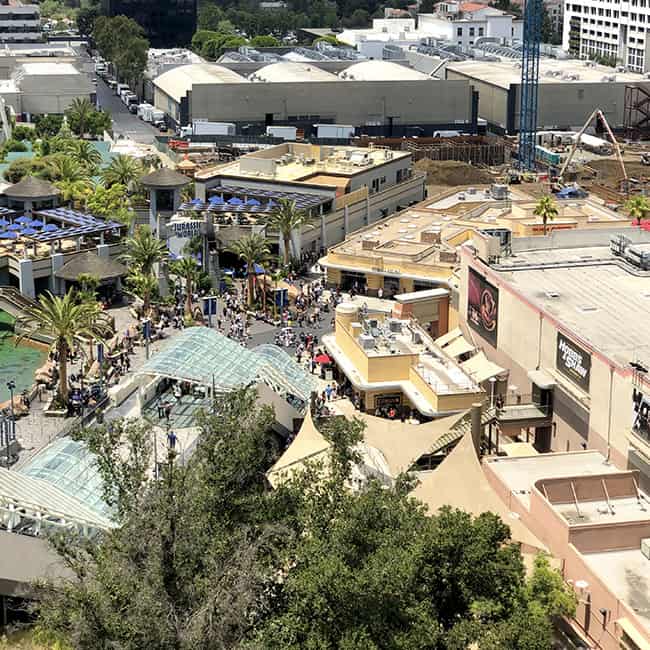 Our day started with heading down to Jurassic World – the Ride. We just couldn't wait any longer. The Jurassic Park Ride was our favorite, so we were excited to see how changed and was made into the Jurassic World version.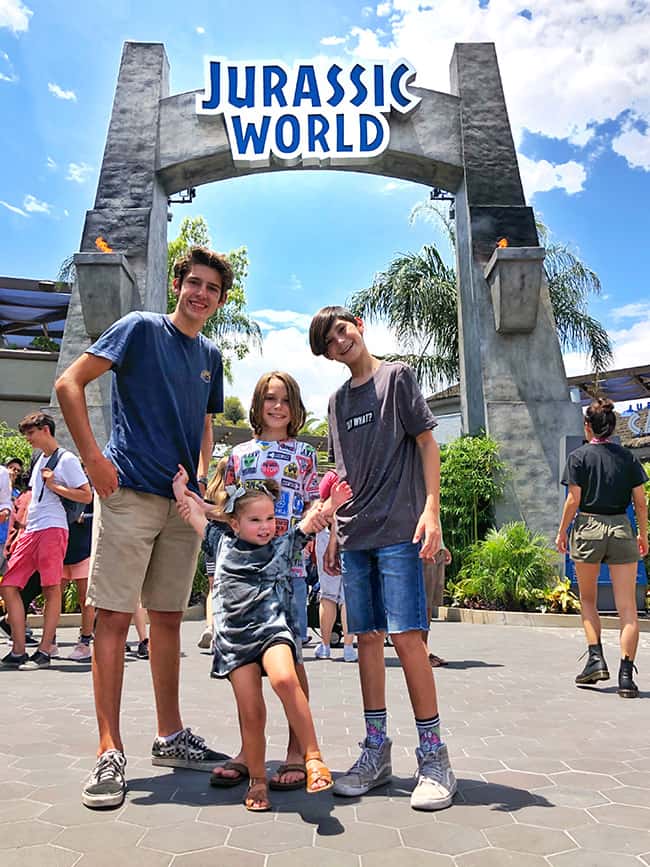 We weren't dissappointed! Jurassic World – the Ride is still AWESOME! Riders are able to feel like they have entered into Jurassic World and is brought to life with the addition of iconic dinosaurs from the movie, including the colossal Indominus rex and the magnificent aquatic Mosasaurus.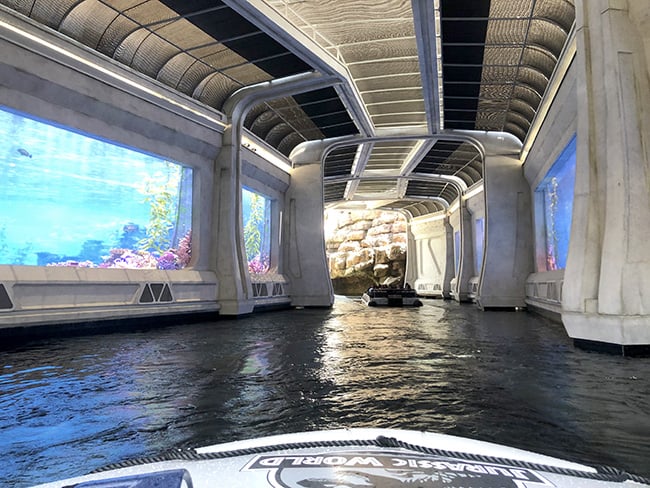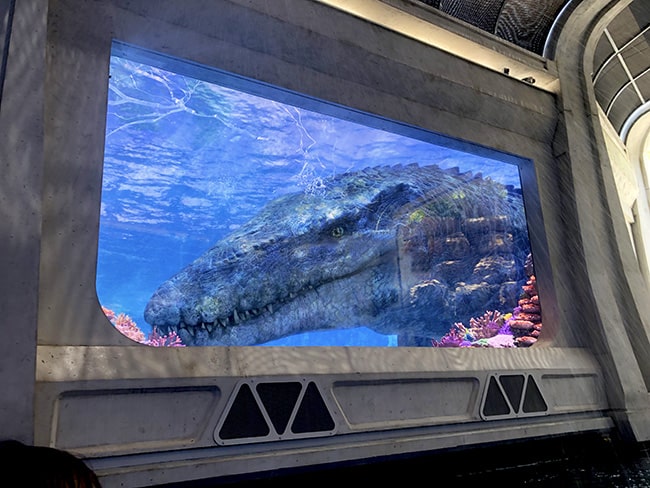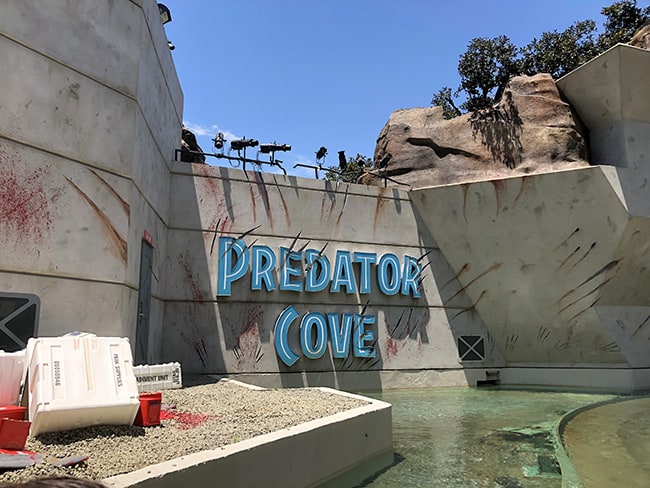 Of course, they just couldn't get rid of the AWESOME drop at the end of the ride. It's still there, so don't worry! We LOVED it and you're going to love it too.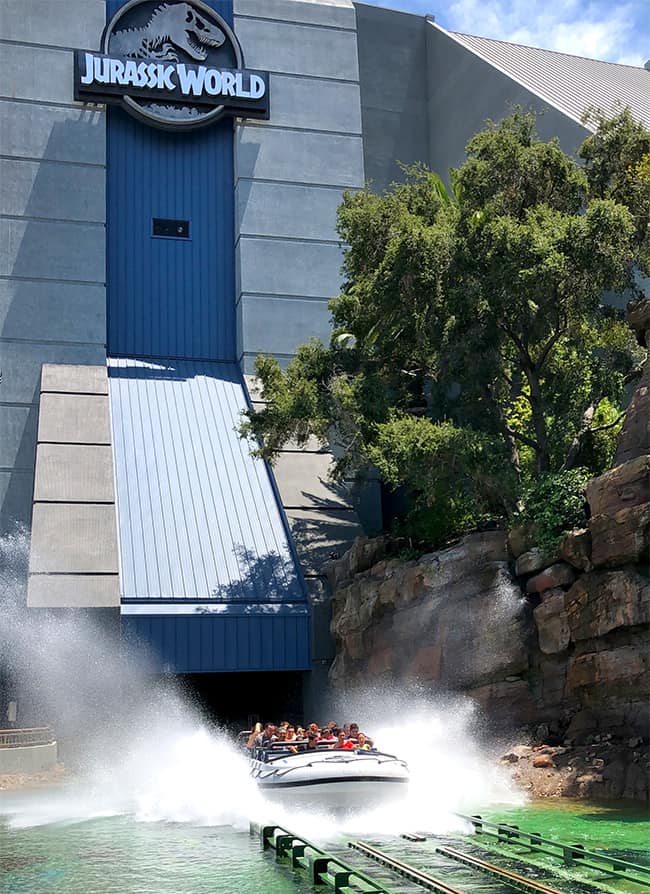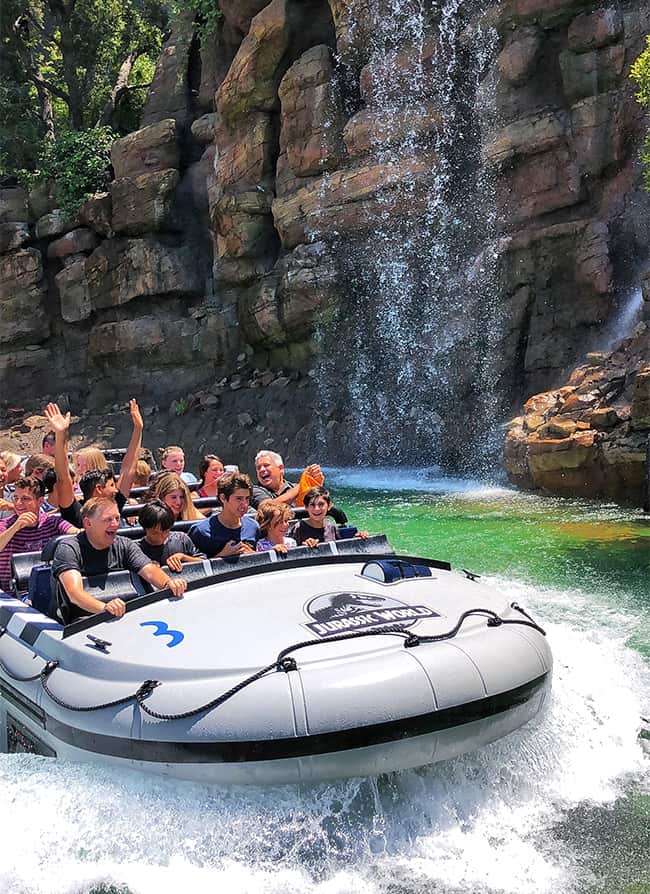 Dani was to short to ride Jurassic World – the Ride, so luckily we were able to utilize rider switch. This is where your party can wait in line as usual, but when you get off the ride, you can ask for a rider switch pass for two people. That the person who has stayed off the ride watching the little ones can then ride it without having to wait in the long line again. The psss is good for 2 people, and they can enter the express lane to ride.
While the big boys rode Jurassic World – the Ride first, Dani and I had a great time exploring the newly renovated Dino Play area for kids. They added so much to this area. This new interactive area has been designed to inspire children of all ages to explore and excavate giant dinosaur fossils. They have added musical instruments, rope bridges, and climbing areas. They have included lots of fun facts around the play structures that can help teach kids and adults about dinosaurs.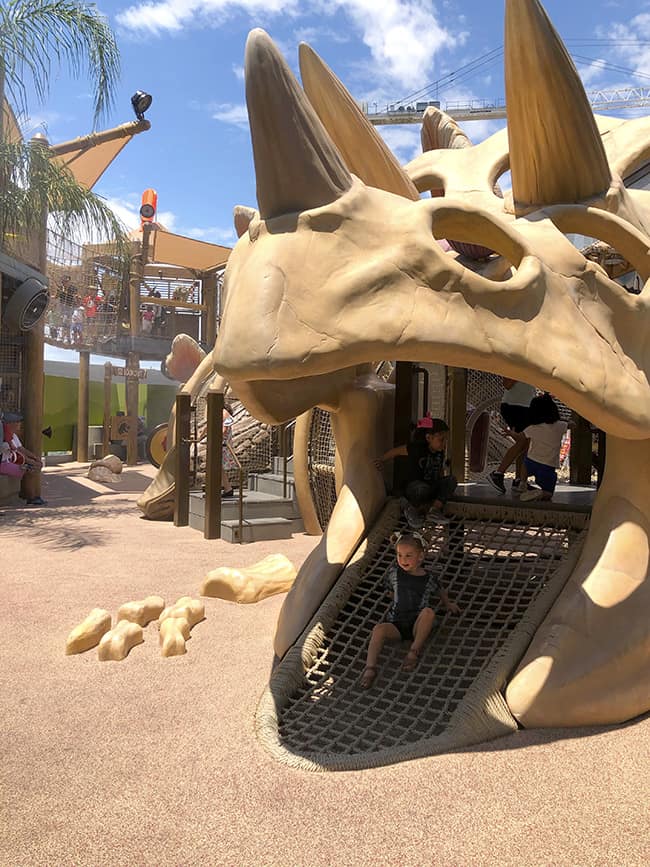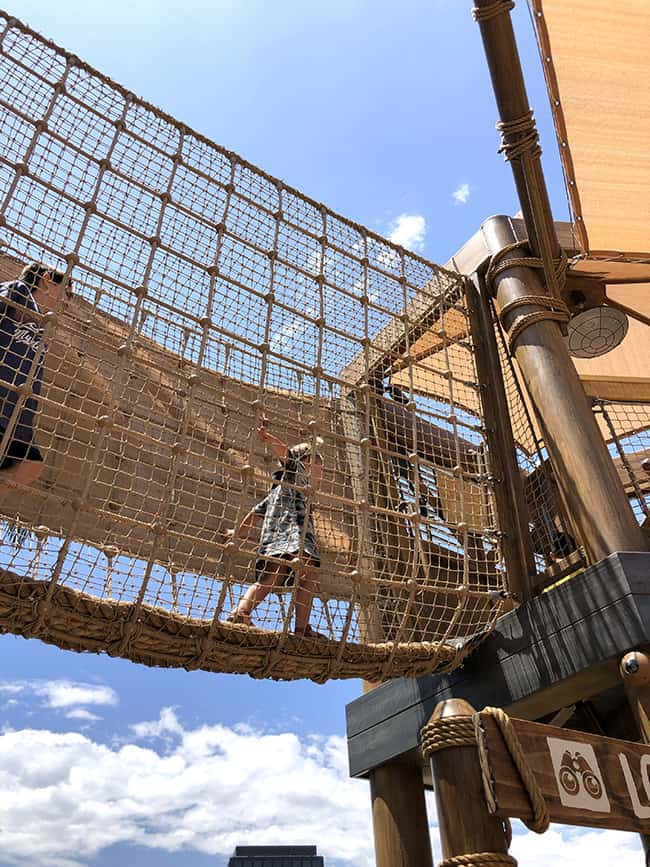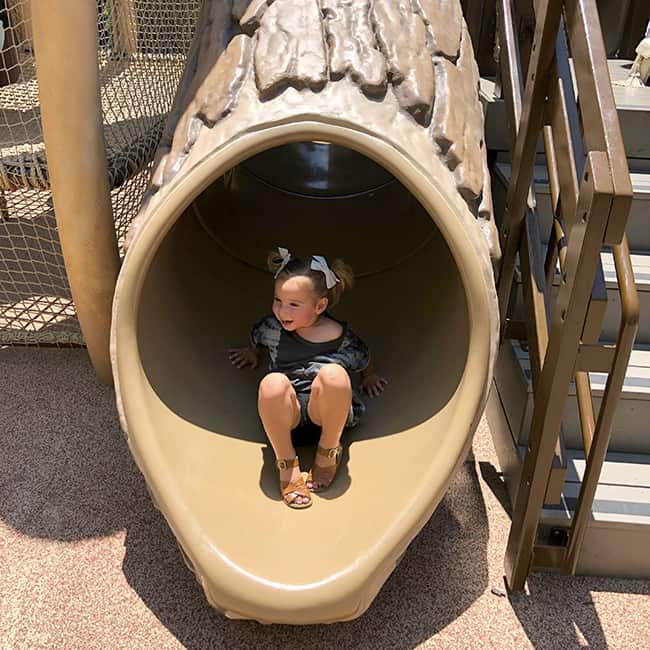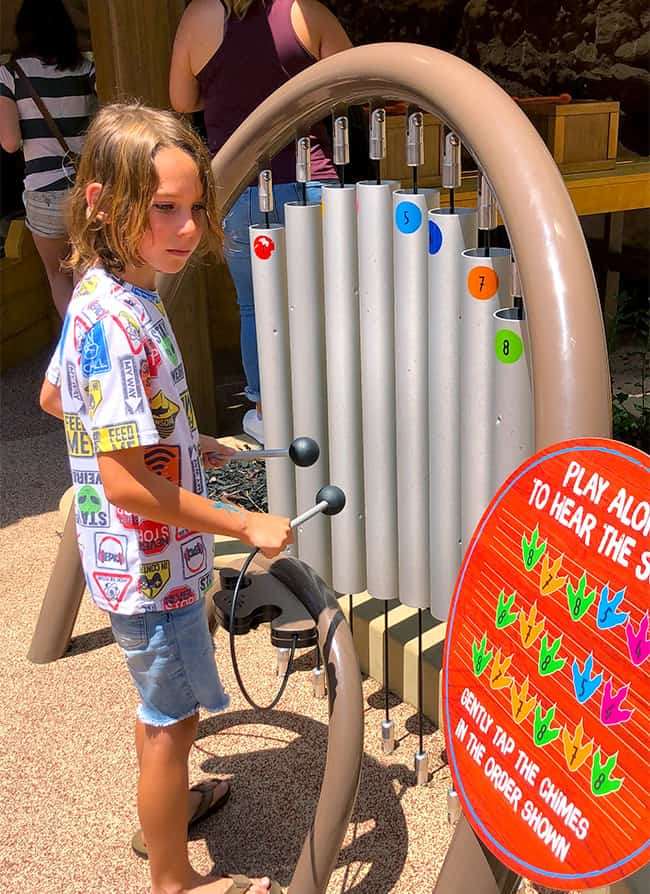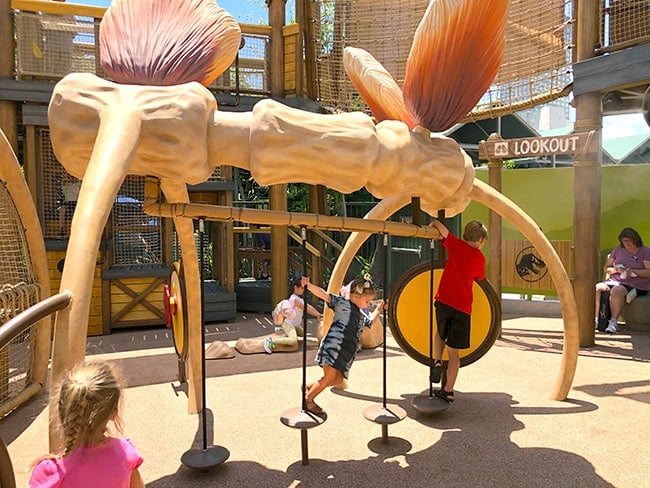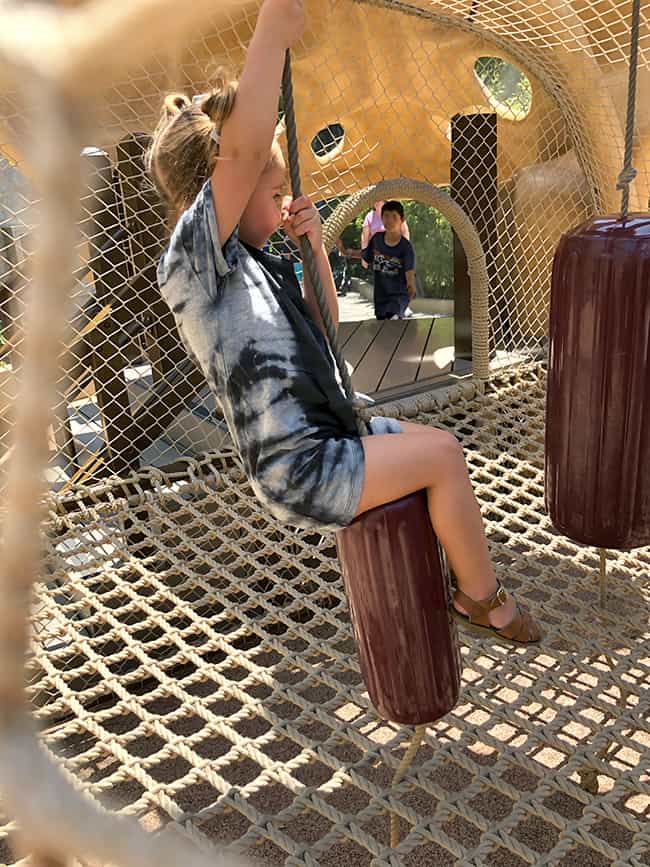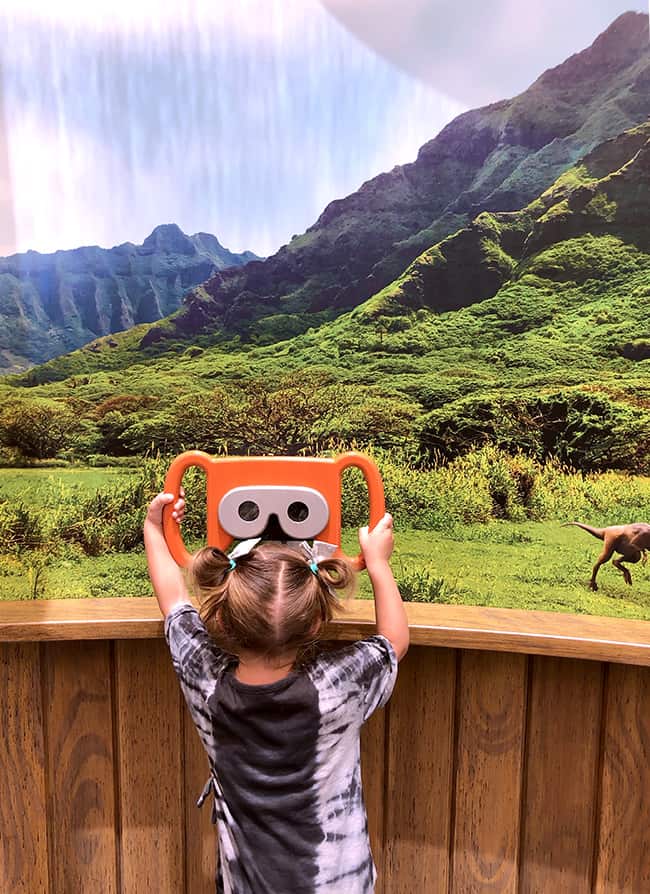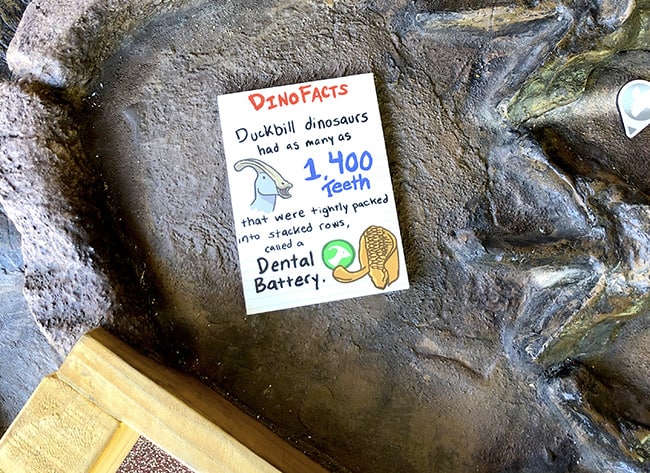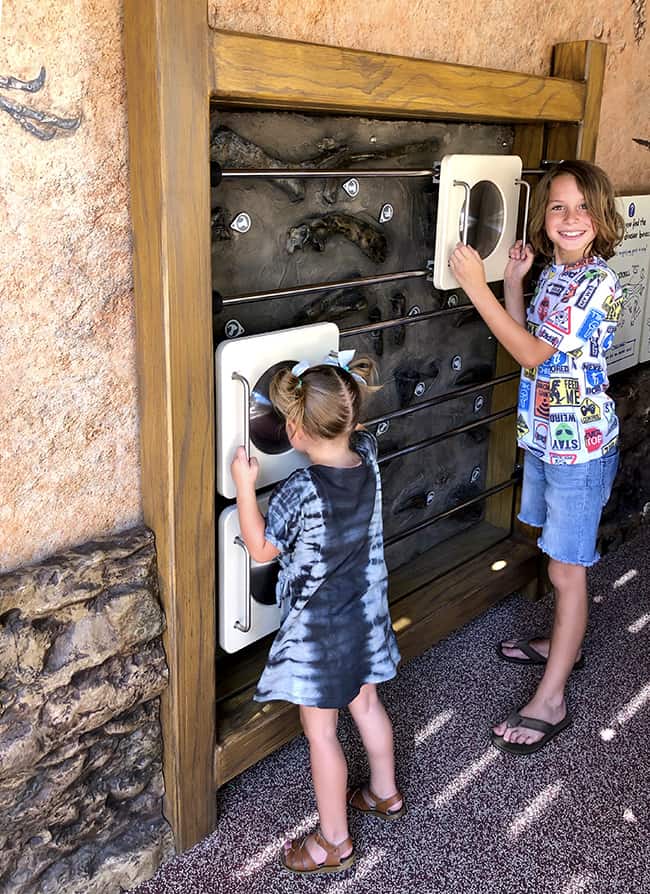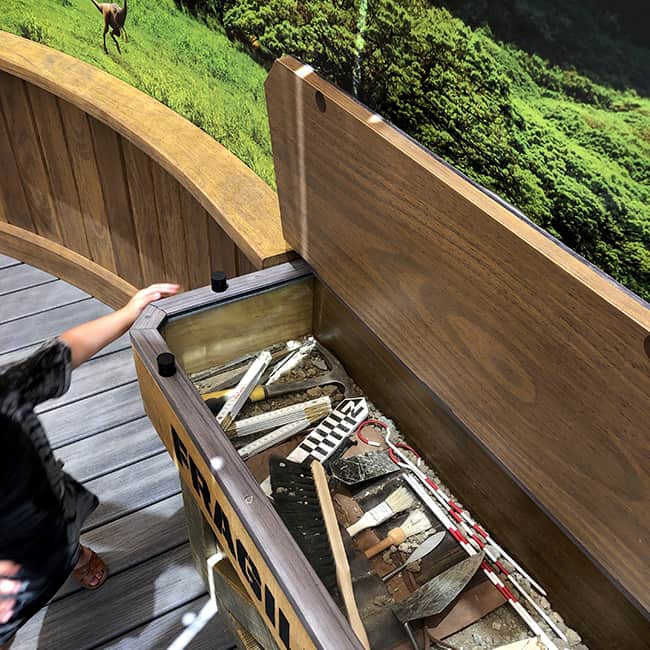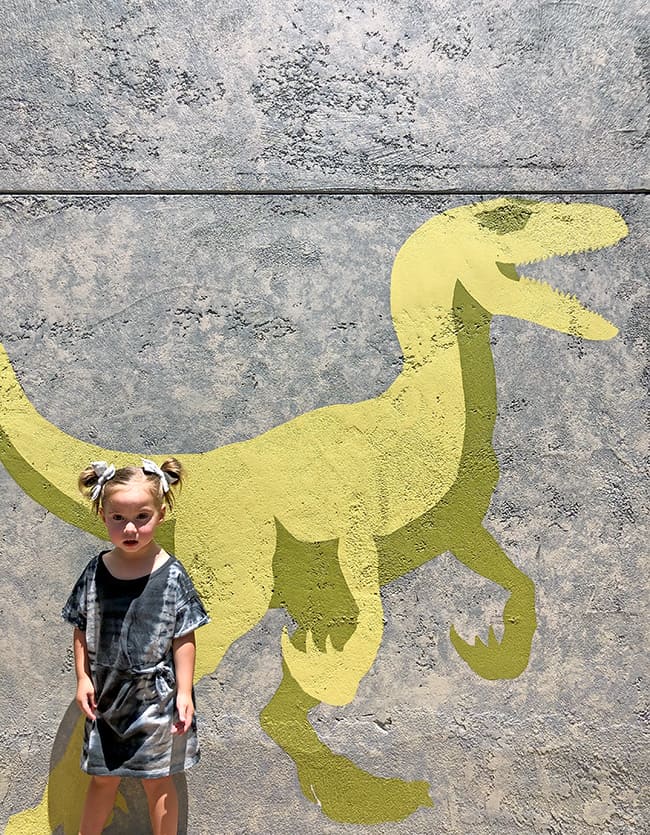 The boys and I switched places so that I could ride Jurassic World – the Ride....so good! And then we headed to lunch at the Jurassic Café. Their new menu includes Costa Rican-inspired cuisine and flavorful Tiki cocktails. Our top choices were the guacamole with plantain chips and the butter cake. YUM!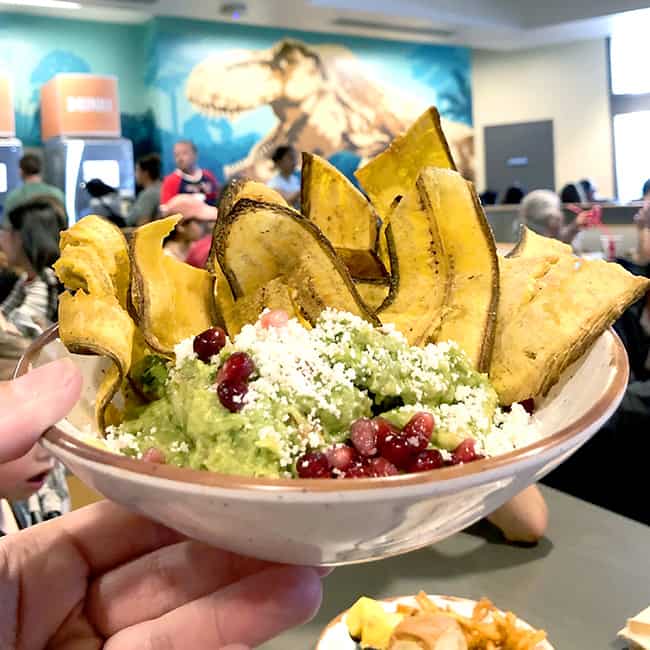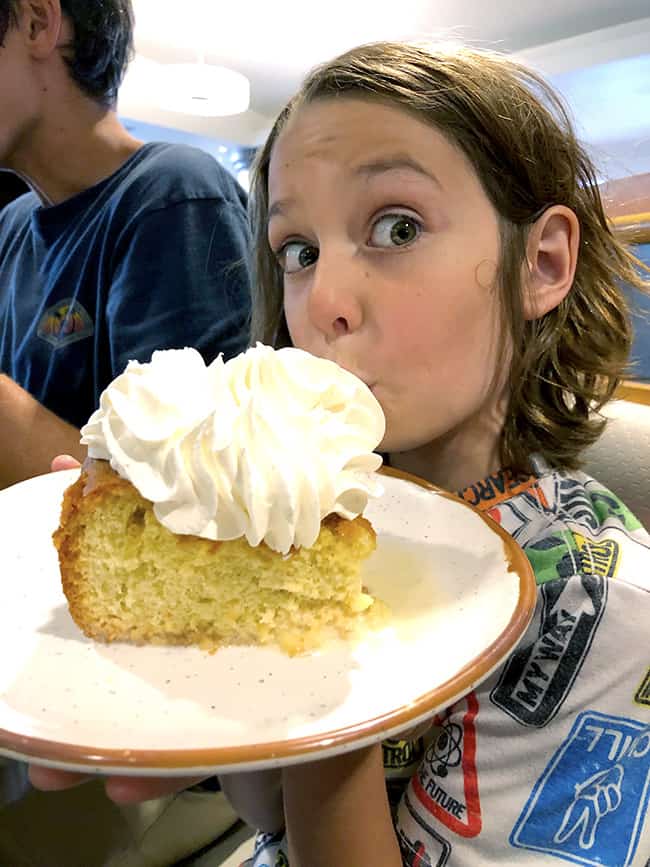 You can also check out the all-new tropical Isla Nu-bar with Jurassic drinks to cool you down. Or head to the Jurassic Outfitters store and see an array of souvenir limited edition and one-of-a-kind dimensional dinosaur sculptures.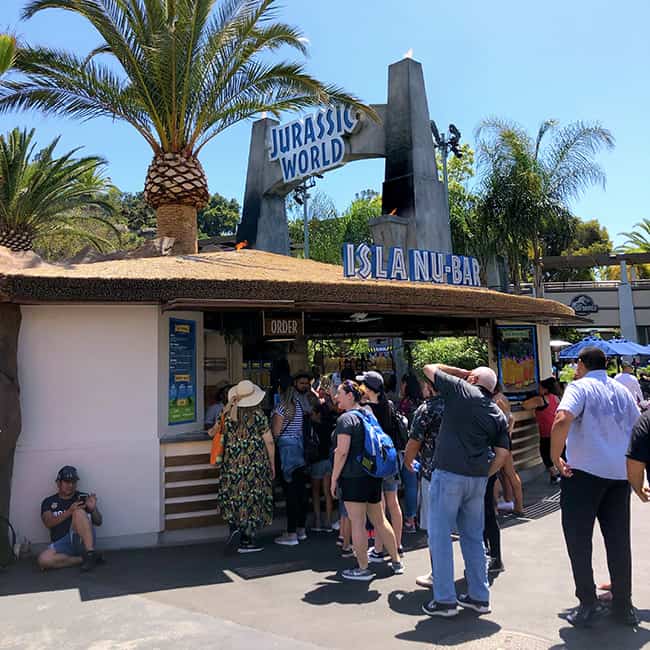 The final experience in the Jurassic World area of Universal Studios is the elaborately themed "Raptor Encounter". We loved this...as it seems so real! Owen makes an appearance with Blue, the beloved Velociraptor from the JURASSIC WORLD movies. Guests get to have a daring face-to-face encounter with her. Plus, they have adde the addition of two new dinosaurs – a Baby Raptor with her Raptor Handler and a life-size Triceratops. You can find this experience just outside the "Jurassic World—The Ride" entrance.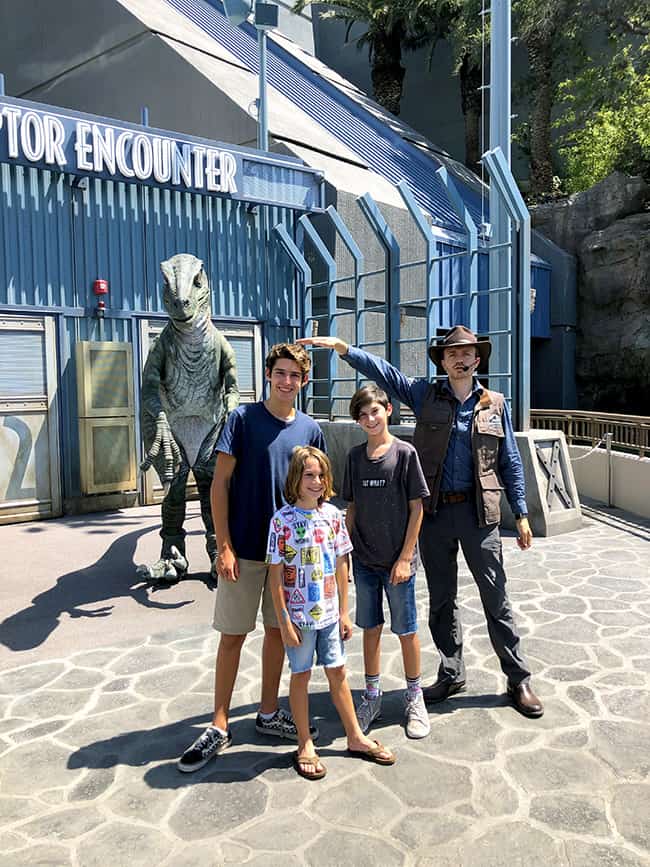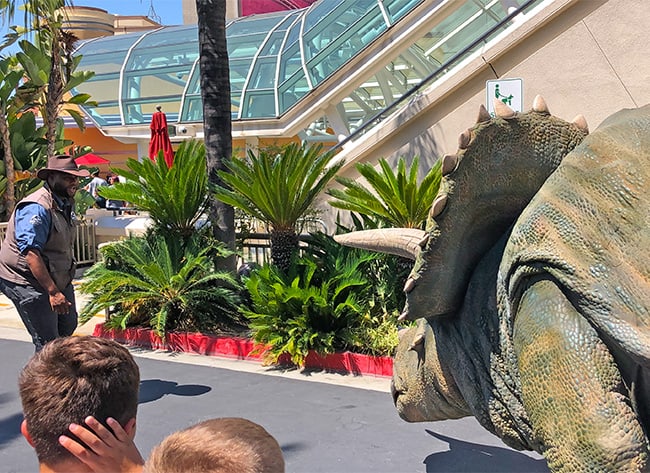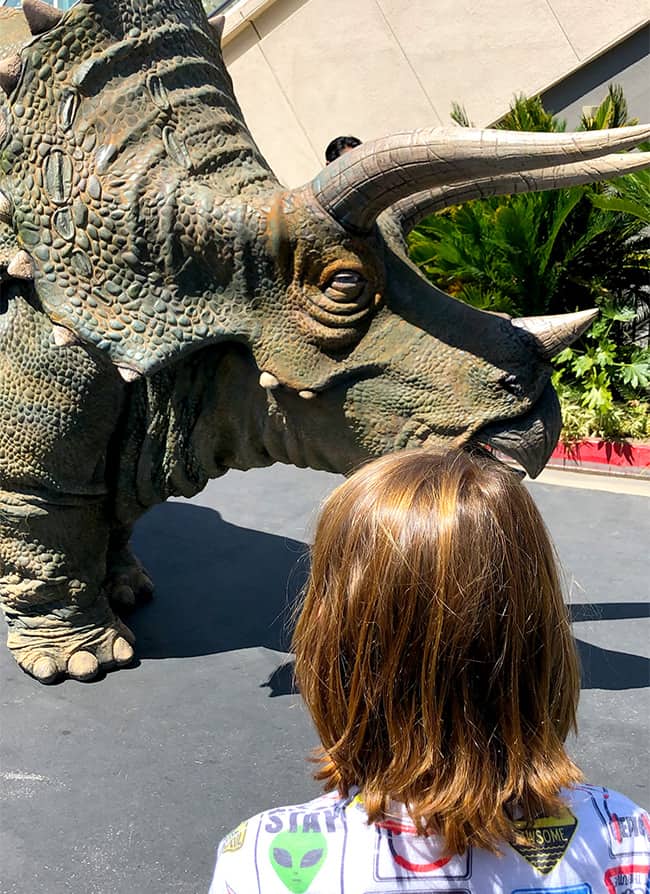 After all the Jurassic World fun, we headed over to one of our favorite attractions, the Studio Tour. This is where you take a tram and head down to the Universal Studios Backlot where they film movies and television shows. It also have a couple of ride experiences such at King Kong Skull Island, Earthquake and Fast and Furious. The great thing about the Studio Tram Tour is that it is never the same. Since they are always changing the sets for movies and filming in different locations, they have to switch it up. Plus you get a different tour guide each time.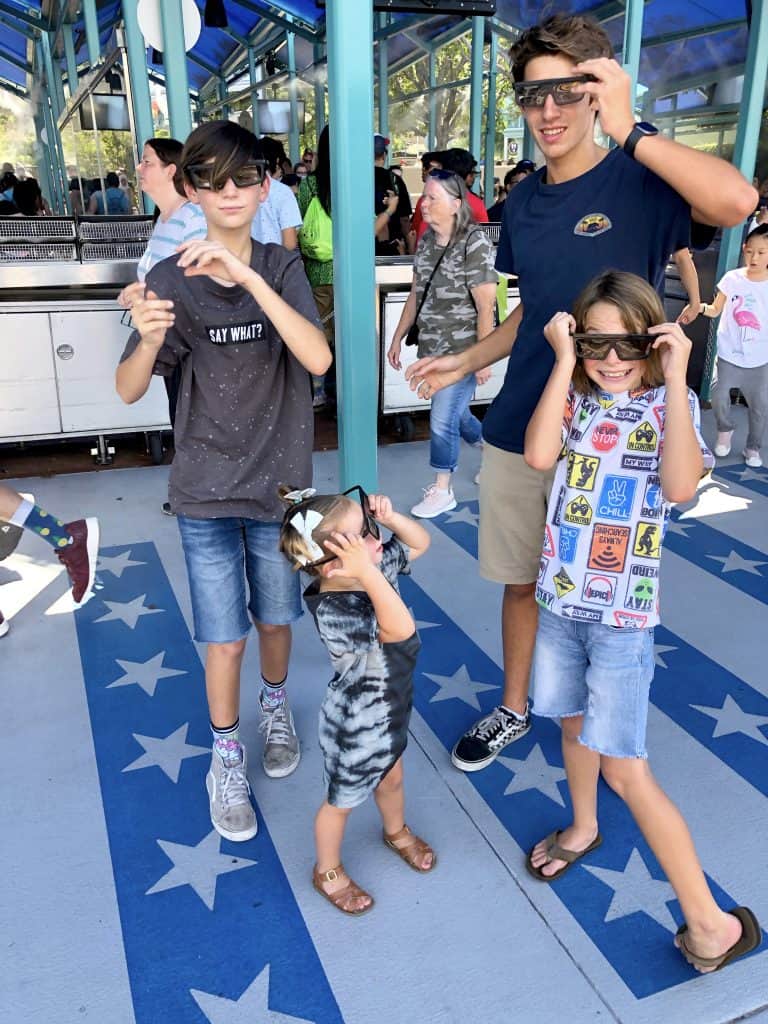 Everyone can go on the Studio Tour so this is a great ride to go on when everyone needs to rest their feet and cool down. Our favorite part has to be JAWS. I still remember this part from when I was little.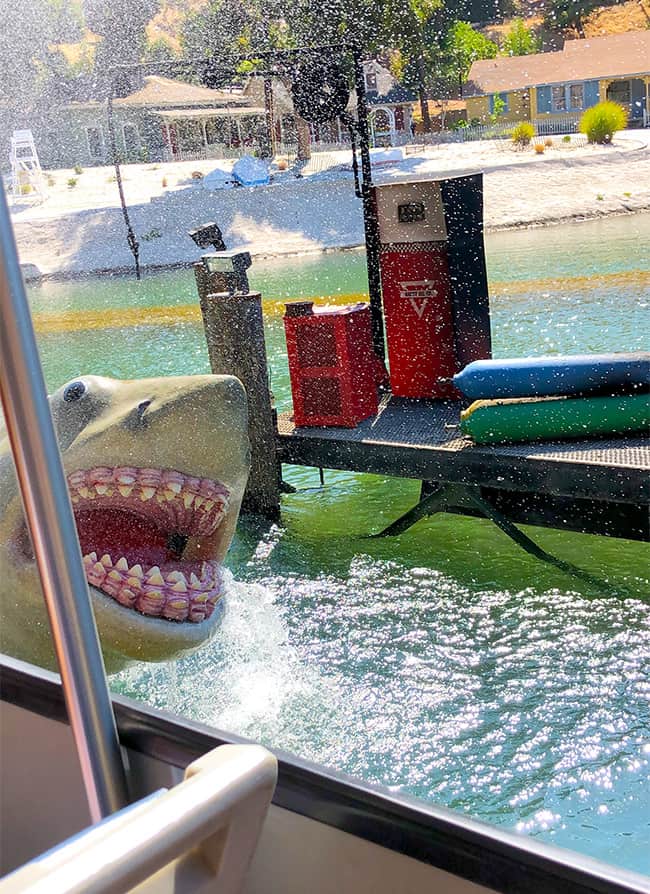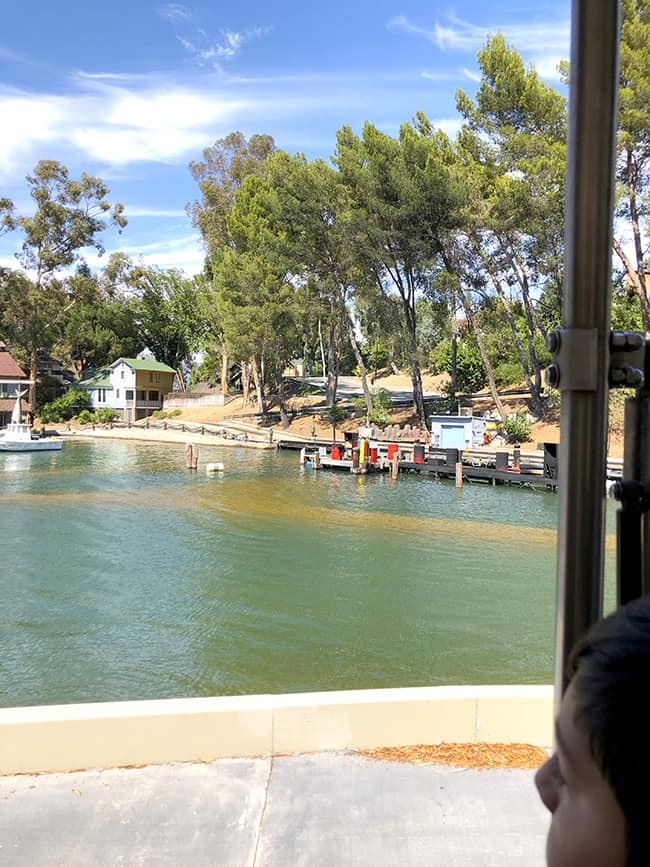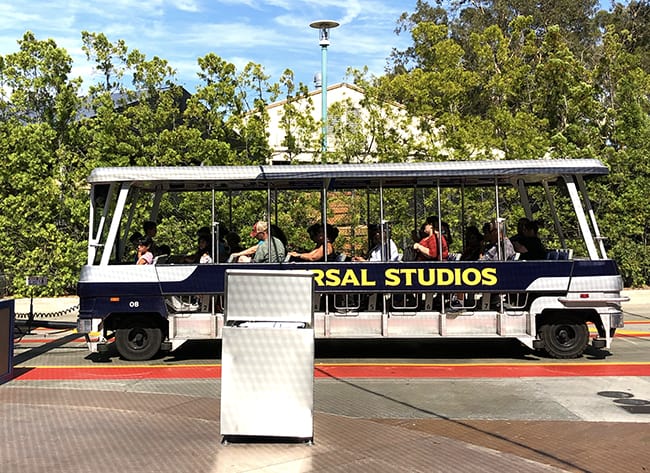 What to Do with Toddlers at Universal Studios Hollywood
It is true that there aren't many rides for toddlers at Universal Studios Hollywood. You must be 40 inches tall to ride most everything. So if you child loves rides, you may want to wait to go to Universal until they reach this height requirement. However, I have taken my toddler many times and haver still had a lot of fun.
After we when on the Studio Tour, the boys wanted to go on the rest of the rides that Dani wasn't tall enough for. We could have opted to use "rider switch," but I thought the best thing would be for the boys to ride rides, and I take Dani around to do other things. Toddlers can go on the Studio Tour, Kung Fu Panda Adventure, Super Swirly Fun Ride, all the great shows, and the Minion Land Water Park. Plus there is so much to see, you could just wonder around the park and still never get board.
It was hot, so we opted to play in the fountains in the middle of the Universal Studios Plaza. We also checked out the water area in Minion Land. Luckily I remembered a swimsuit and towel. Plus, kids need to be wearing shoes at all times. So I suggest bringing waterproofs shoes to use.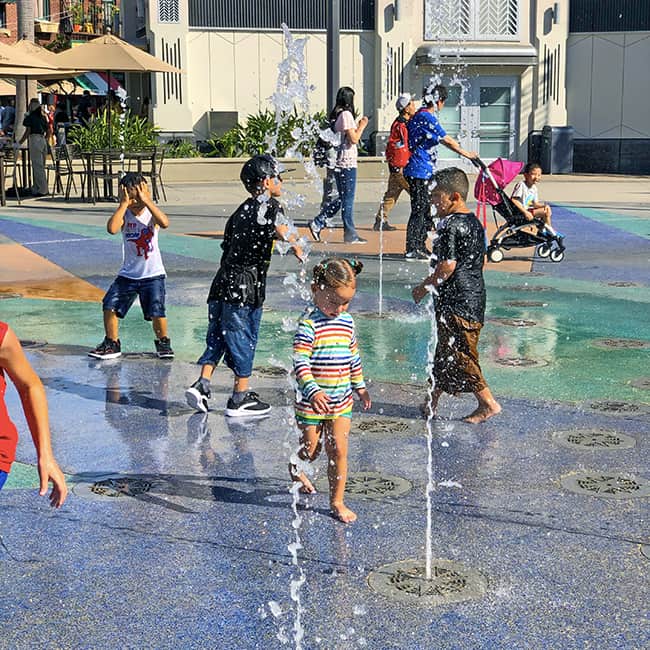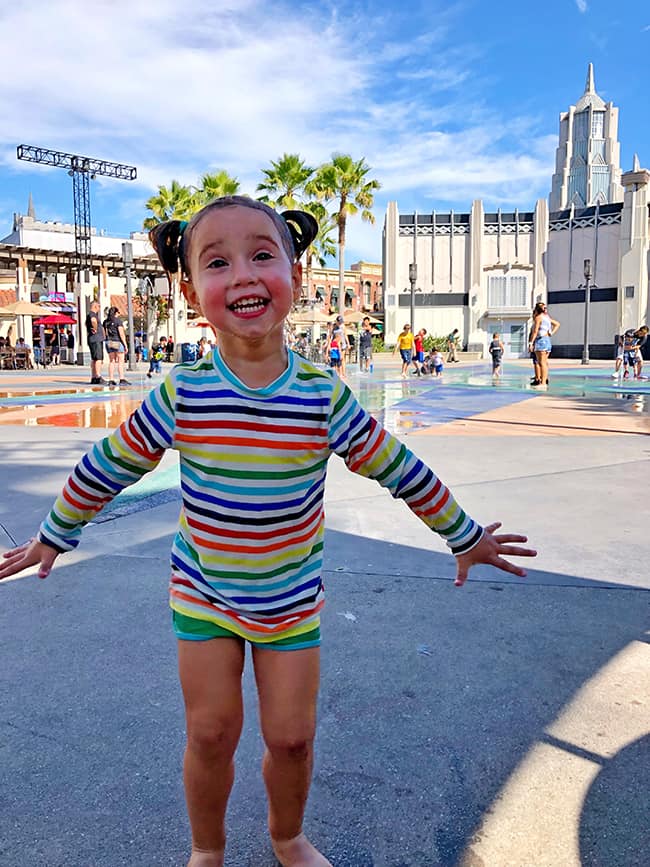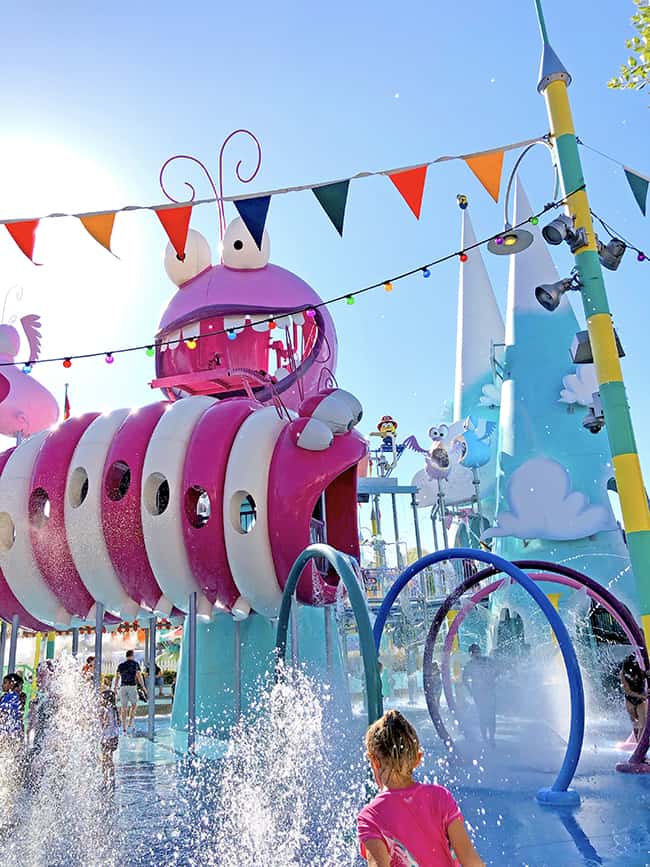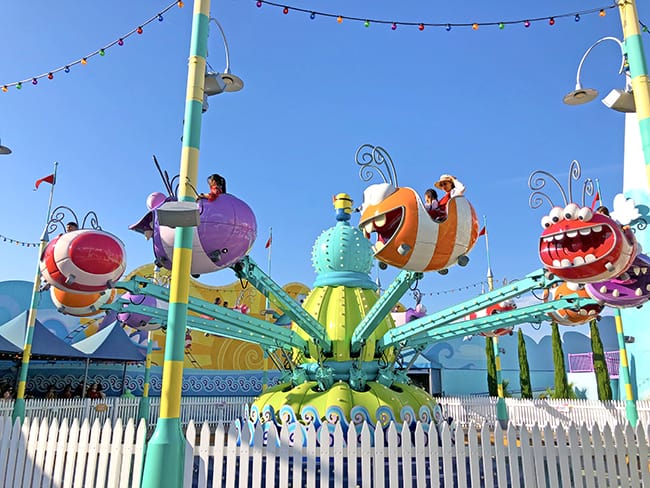 Did I mention that the Dreamworks Trolls have come to Universal Studios Hollywood? We got to meet Poppy, Branch and Guy Diamond. They dance, and greet guests and even fart glitter LOL.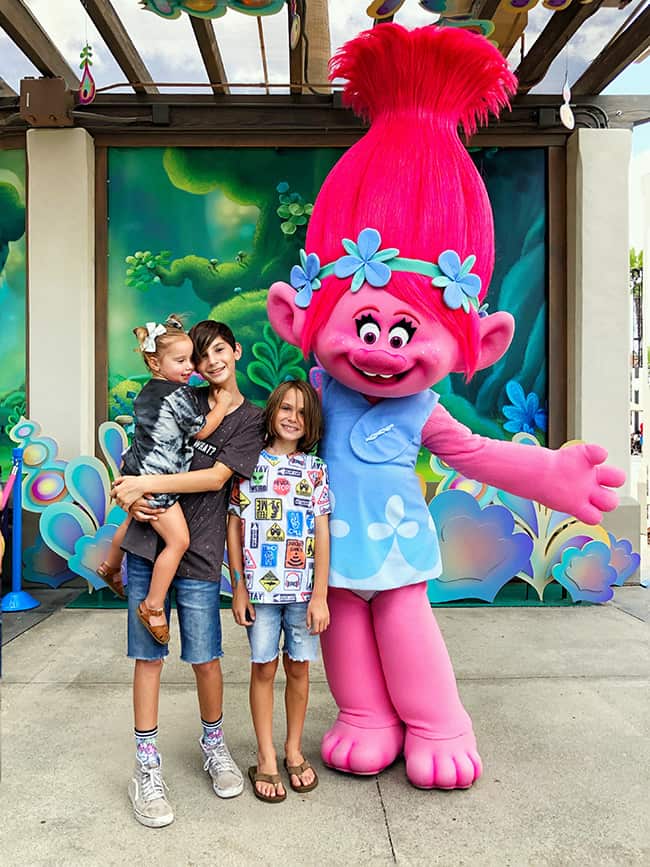 The last thing on our list for the day was going to the Wizarding World of Harry Potter. The kids have wands, so they were excited to see if they could still cast those spells around the land. Honeydukes Candy Store is always a hit and we definitely wanted some frozen butter beer. We stayed until DARK!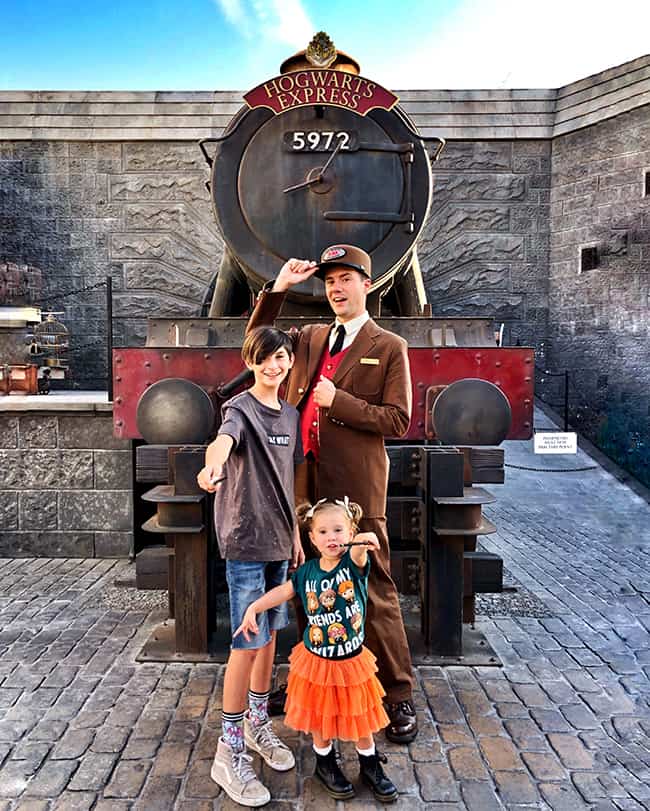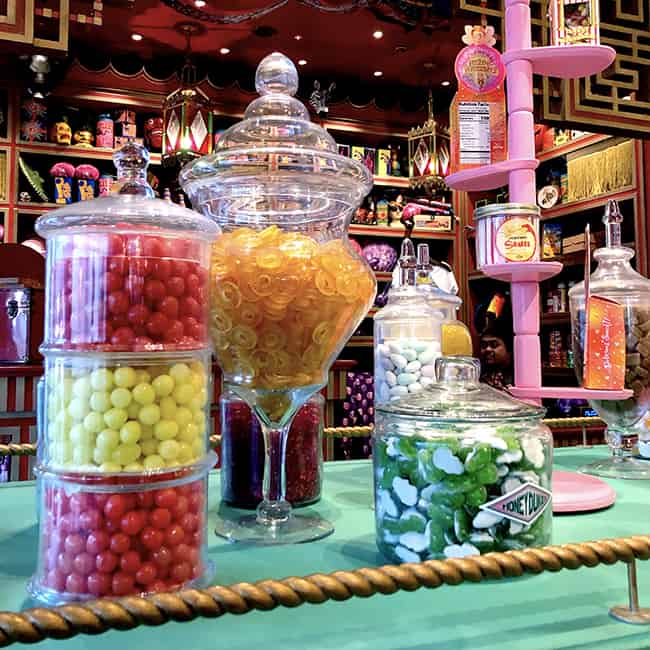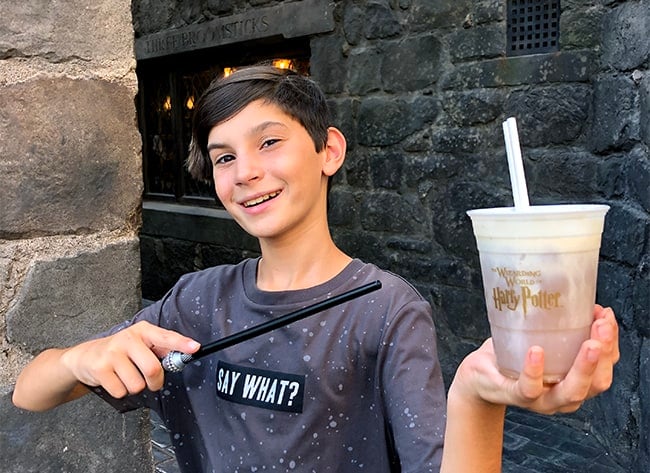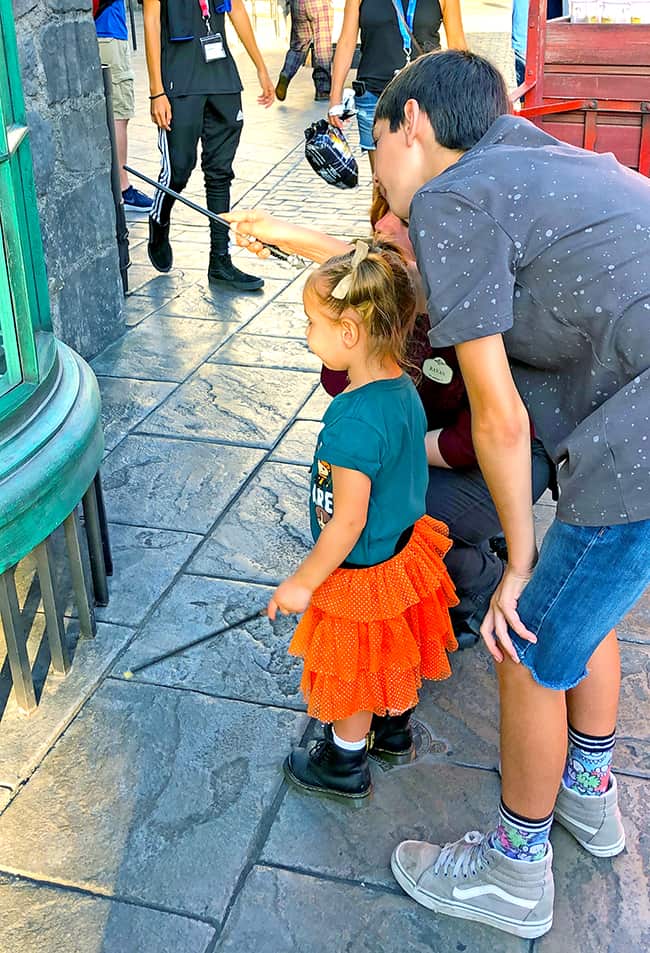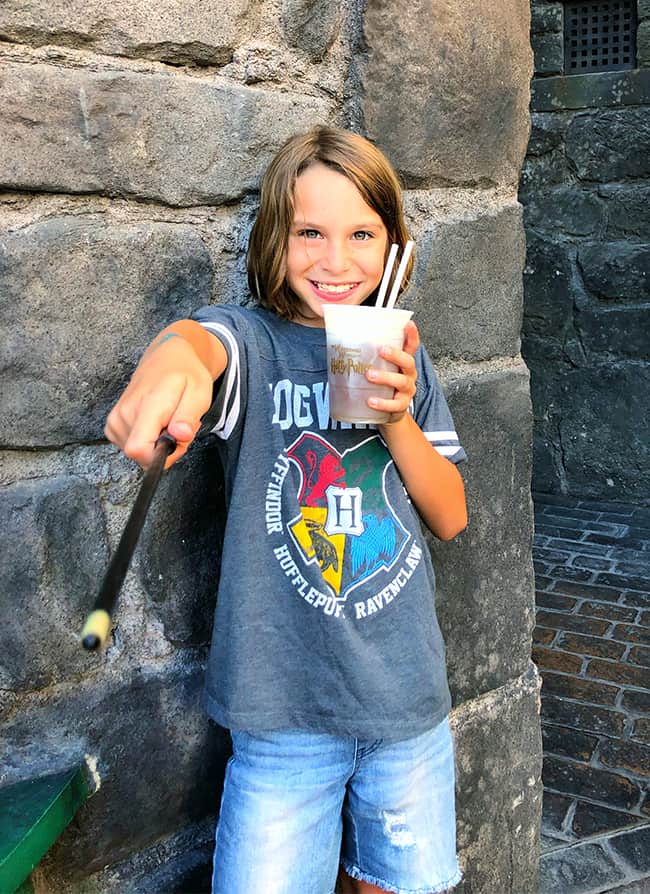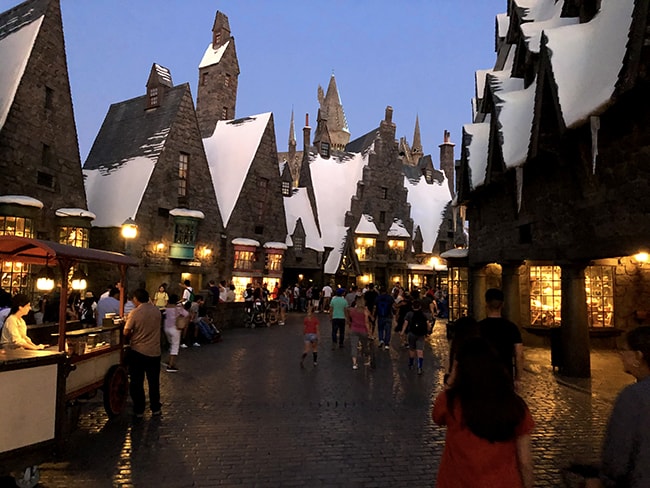 We ended the day watching the return of the Hogwartz Dark Arts show. It illuminates the evening sky with nightly shows featuring lights, music and special effects. It was AWESOME!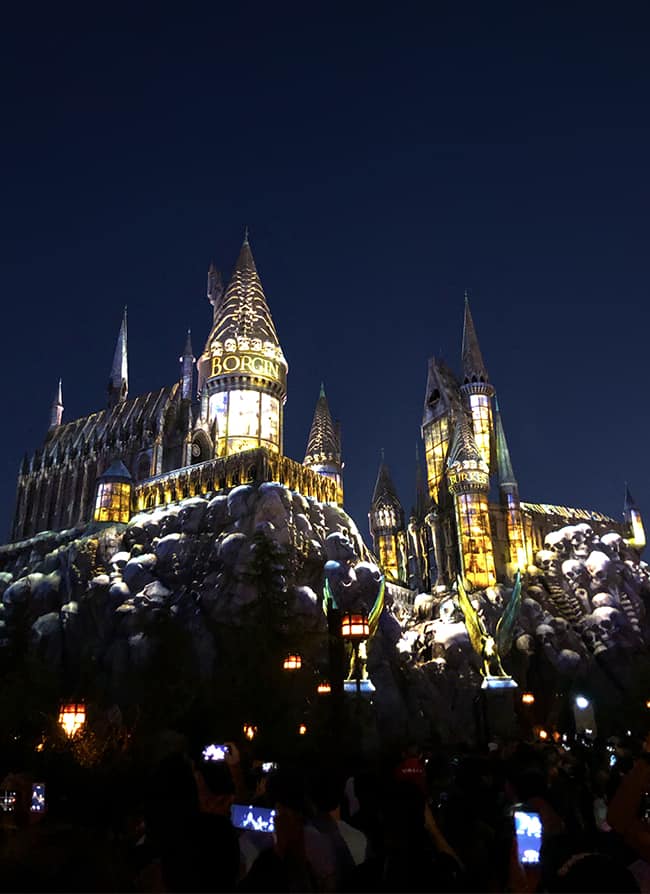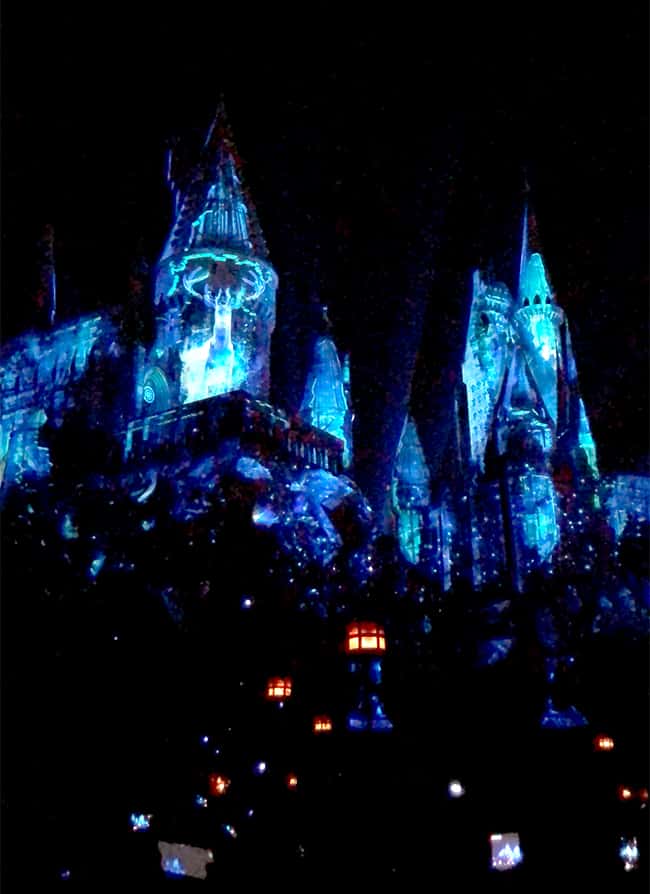 What a spectacular day! We always love our visits to Universal Studios Hollywood. It's clean, fun and there is so much to do. If you live in Southern California or are just visiting, I highly recommend putting it on your list of things to do.
{Disclosure: We were invited guest of Universal Studios, however, we would go regardless. We love it there! All thoughts and opinions are 100% my own.}