Knott's Scary Farm is BACK...and celebrating its 50th Anniversary!!! Southern California's favorite Halloween haunt event has returned with 29 terrifying nights of screams from September 21 – October 31, 2023. Get ready to experience the longest-running and most haunting Halloween theme park event, with innovative new scares and bone-chilling thrills for Scary Farm's 50th frightful year.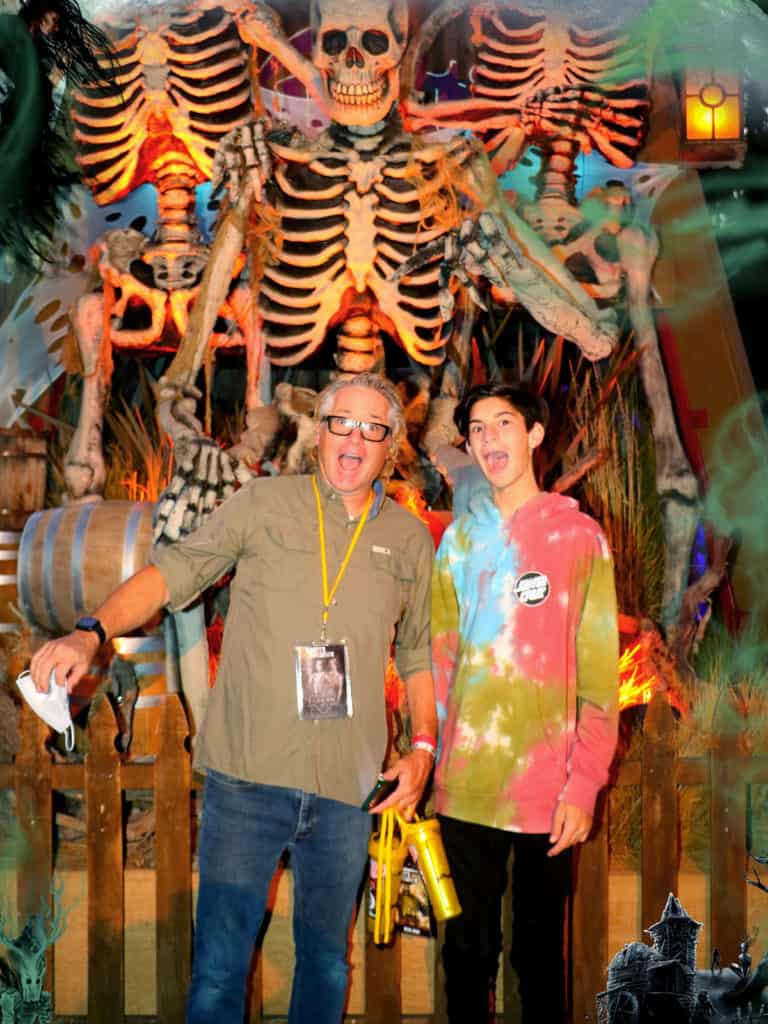 This year's theme is Where Nightmares Never End! Terror comes to life as the theme park shifts into your worst nightmare, with horrifying monsters and hair-raising scares looming around every turn.
Guests will come face to face with their most horrifying fears as they brave through the park's 19 haunted experiences, including five spine-chilling scare zones, ten monstrous mazes, four sinister shows, scary food, and two seasonal ride overlays - Calico Mine Ride and Timber Mountain Log Ride.
I don't know about you, but my teens look forward to Knott's Scary Farm all year long!!!
Jump to: What's New for 2023 | Scary Farm Mazes
Scary Farm Food | Scary Farm Map | Scary Farm Tickets
Scary Farm Shows | Scary Farm Scare Zones

What's New for 2023?
I am so excited to share that there will be some new scary attractions at Knott's Scary Farm this year. First of all, there are THREE NEW MAZES – Cinema Slasher, where guests travel through the silver screen and into a trilogy of slasher movies. The Chilling Chambers, a nostalgic nod to Scary Farm's past. And Room 13, where the violent murders at The Blind Tiger interrupt the Prohibition-era revelry on Memory Lane.
Then there are THREE NEW SHOWS. You are in for a scarific treat, because the new shows are going to be AMAZING!! Get ready for Dr. Cleaver Returns at the world-famous Bird Cage Theatre, Music, Monsters & Mayhem, and finally...the show you are all have been waiting for to come back, The Hanging: Uncancelled. Taking place in the infamous Wagon Camp!!!!
The year, there is an updated Chaperone Policy and Bag policy. Read about them here.
Lastly, there is the new Legacy Haunt Store & Museum! In celebration of Knott's Scary Farm's 50th Anniversary, they have opened the cemetery gates to its 50th Anniversary Legacy Store and Museum. The immersive retail experience features exclusive specialty 50th-anniversary merchandise! Plus tributes to Knott's Scary Farm's horrific past.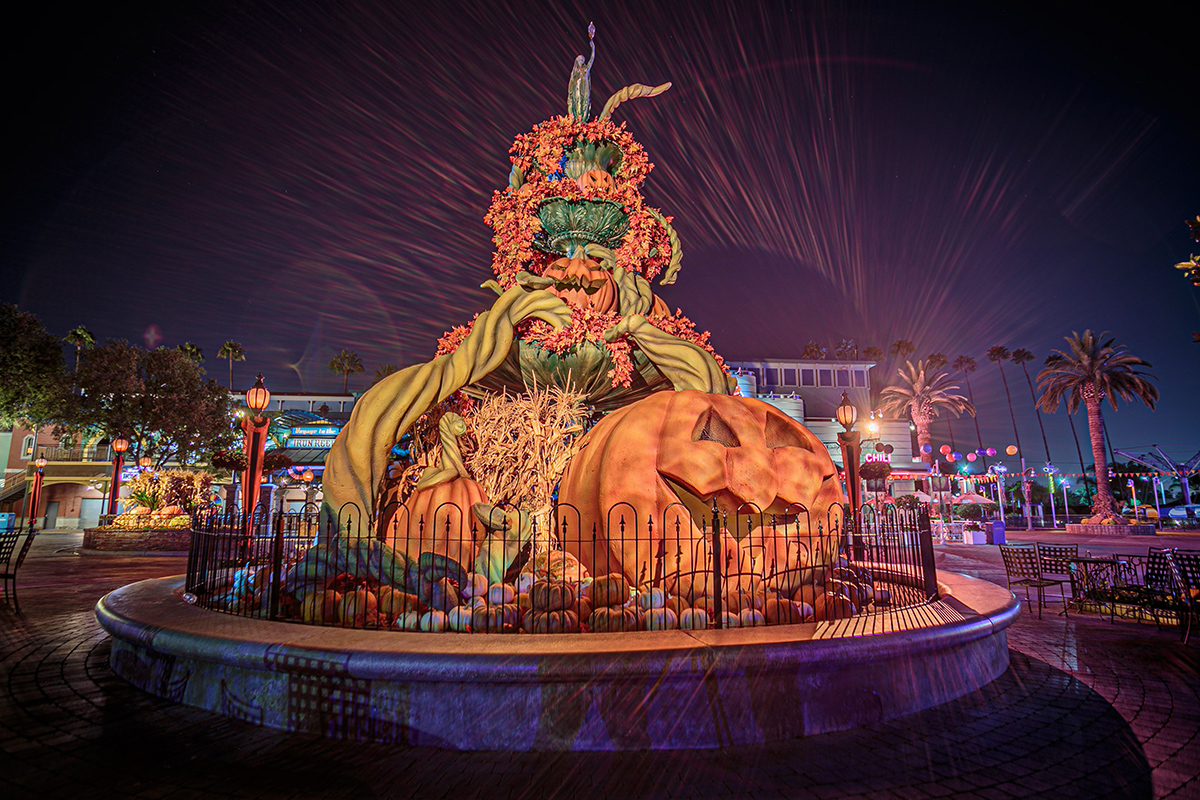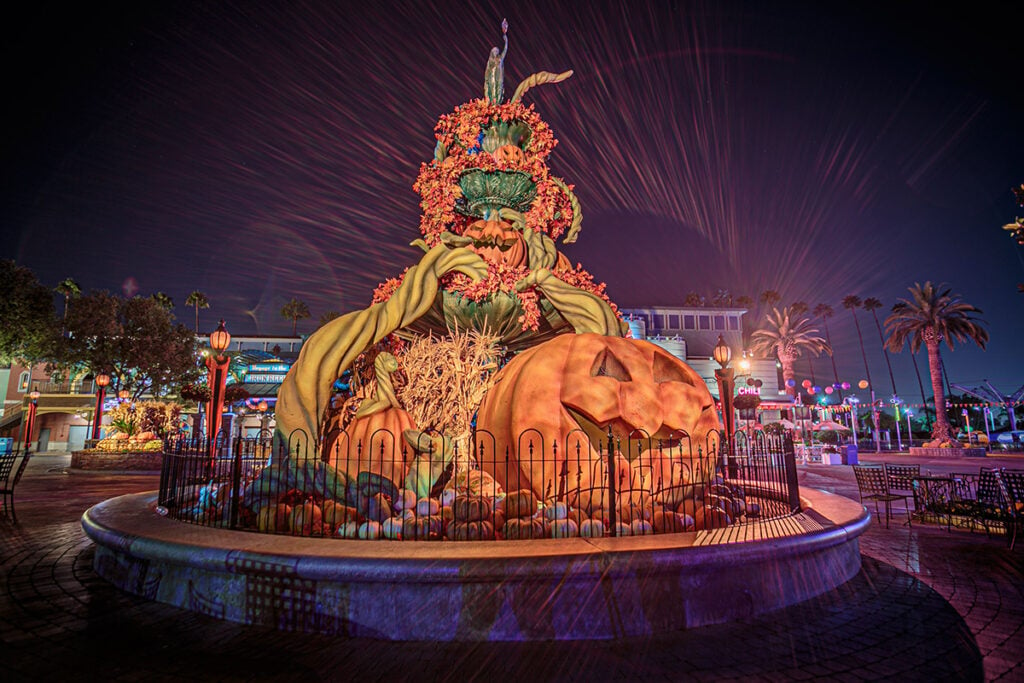 Knott's Scary Farm 2023 Mazes
This year, Knott's Scary Farm will have 10 mesmerizing mazes! If you want to experience something new, head over to one of the three new Knott's Scary Farm mazes. You can choose from:
Cinema Slasher
Room 13
The Chilling Chambers.
About the New Knott's Scary Farm Mazes
First of all, embark on a journey through the Cinema Slasher maze. Enter the horror film worlds of the Midnight Theater, where you must survive the deadly Slasher's rage. Can you escape these movie nightmares, or will you be trapped among decaying corpses in the ruined theatre?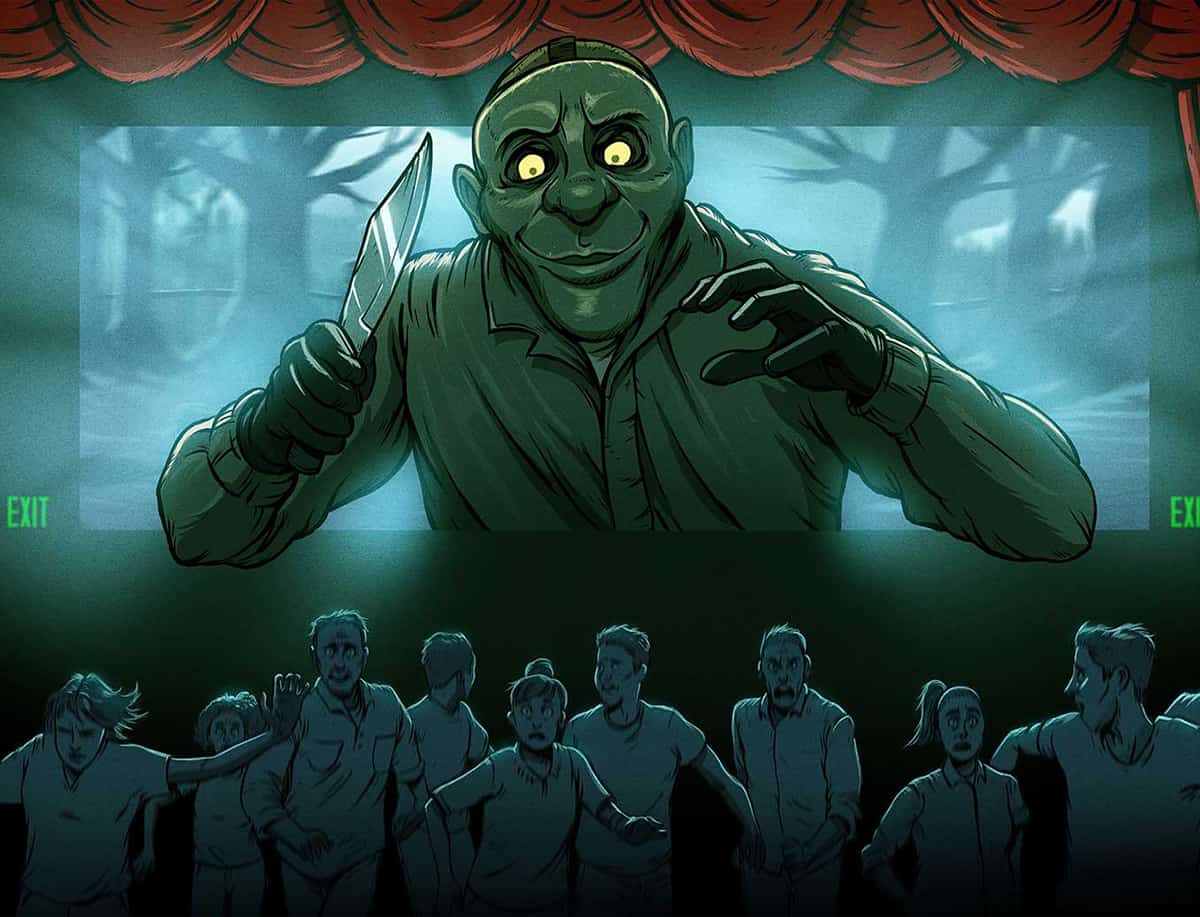 Located on Memory Lane off the Boardwalk is the all-new Room 13 maze. Violent murders at The Blind Tiger interrupt the Prohibition-era revelry on Memory Lane. The dangerously addictive new cocktail named The Devil's Elixir seems to be at the root of the mayhem, but where did it come from? The answers may lie at the heart of the extravagant Argive Hotel, where many have checked in… but none have checked out.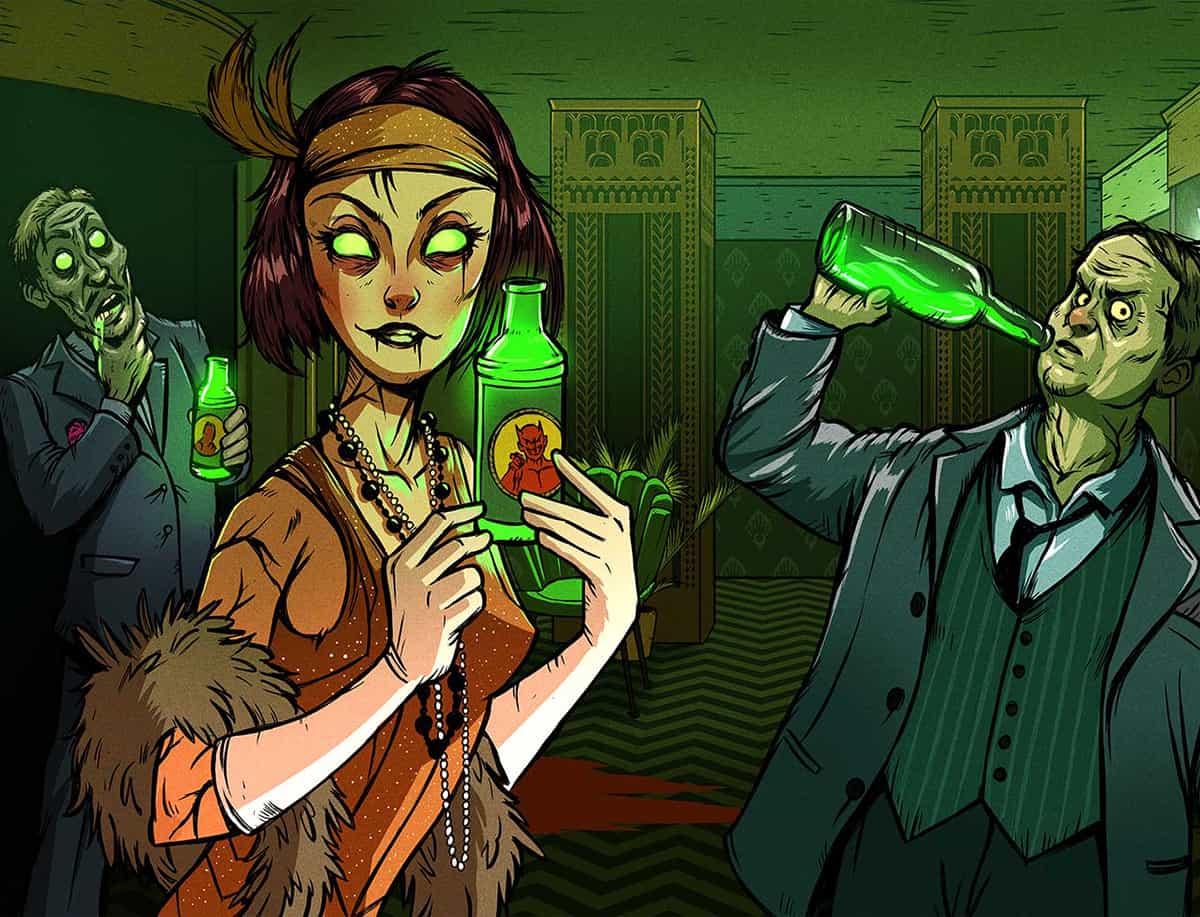 And finally, honoring Scary Farm's inaugural maze of 1977, "10 Chilling Chambers," the new tribute maze The Chilling Chambers pays tribute to its past while horrifying today's audience. The Keeper leads you through a foreboding cathedral, encountering classic maze themes. Unleash 50 years of modern terror, reliving the eerie collections and diabolical characters of seasons past.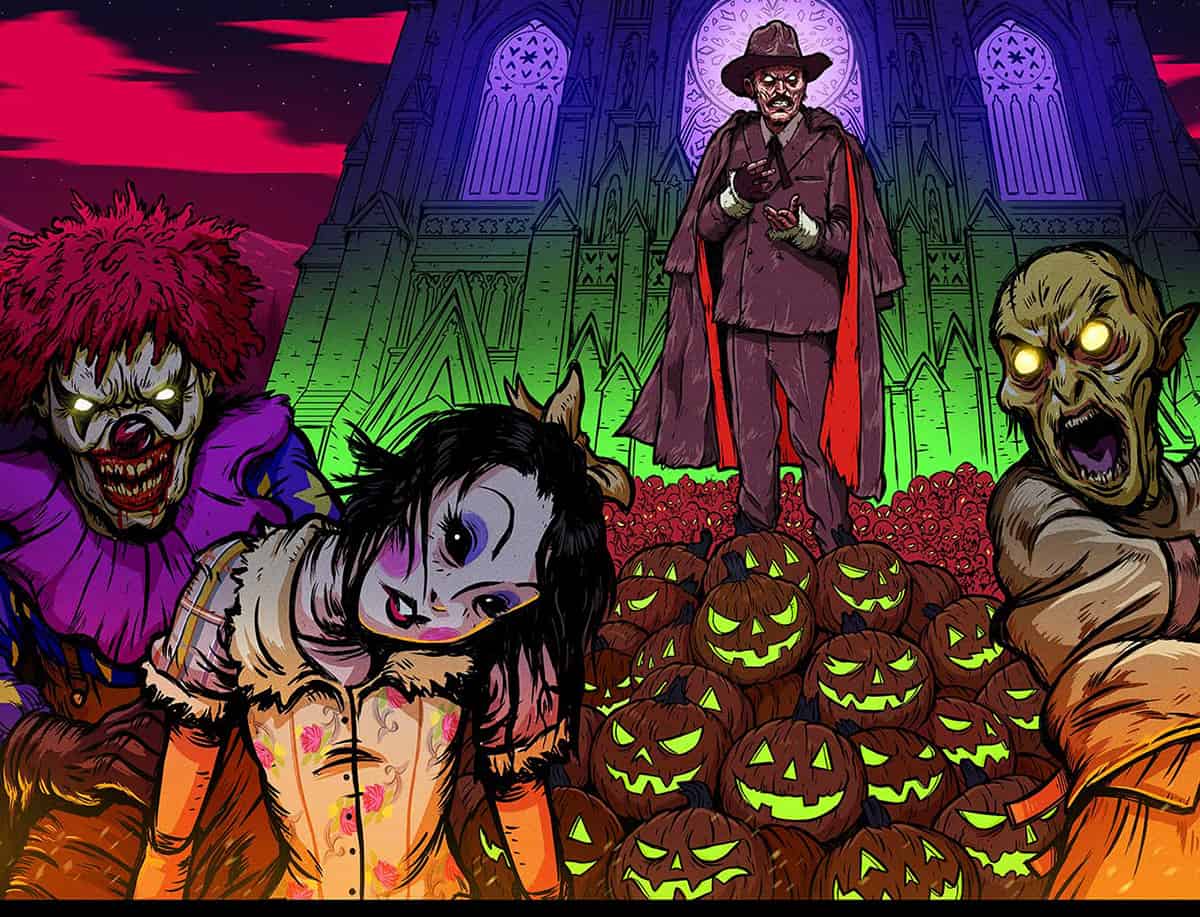 Returning Knott's Scary Farm Mazes
The Grimoire, one of the past year's favorite mazes. Turn the page and enter the world of an ancient relic whose dark stories exist purely to turn your greatest nightmares into a reality. Enter the world of a mysterious spell book and escape the demonic creatures inside or be eternally trapped within!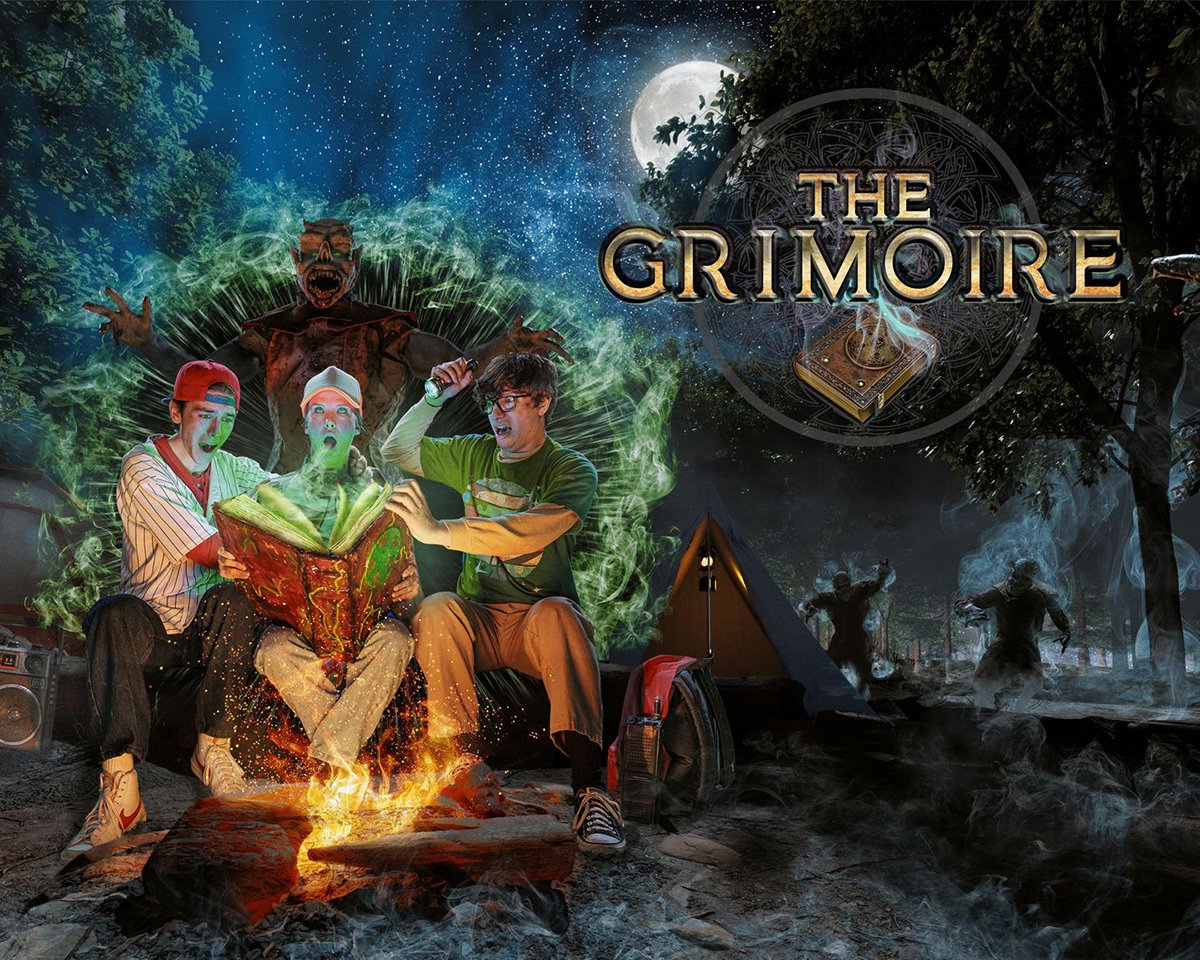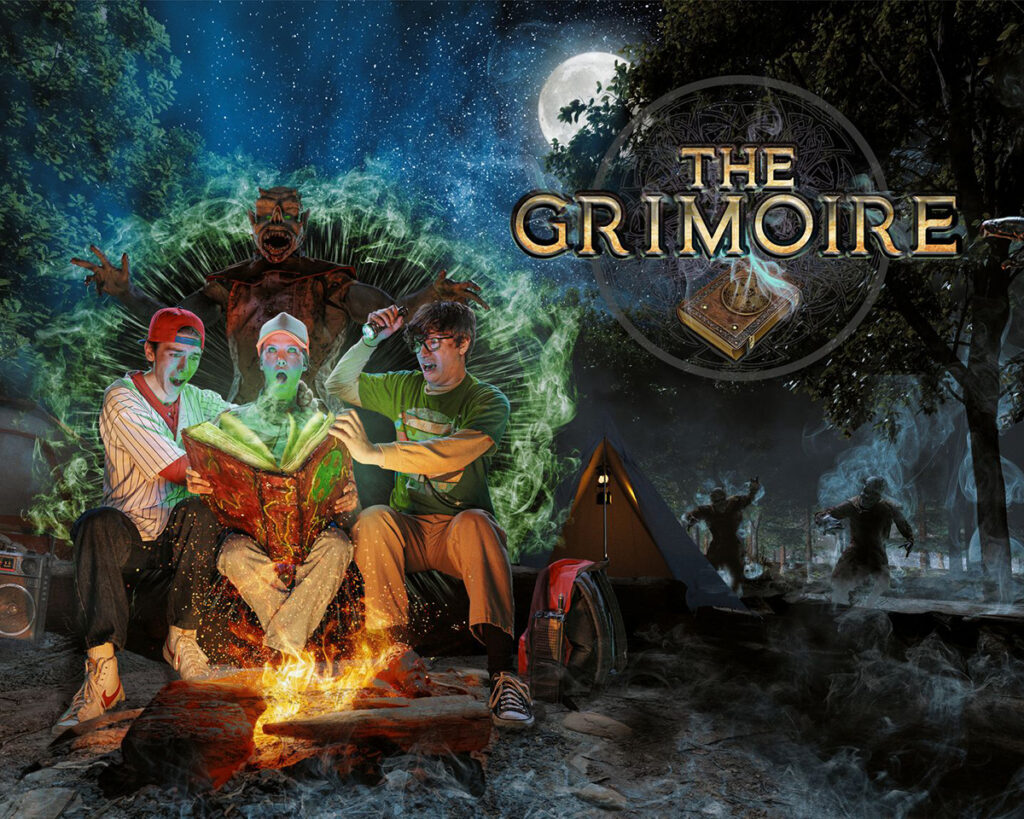 Knott's Scary Farm's Bloodline 1842, allows guests to armed themselves with the latest Bellatorian weaponry. You can choose to heed the call to action and embark on a perilous journey with the immortal Daybreakers.
Travel through the busy city streets of Valdonia while hunting the bloodthirsty Valhymphri in an all-out war. Bring light into the darkness, survive the vicious onslaught of vampires, and bring honor to your order!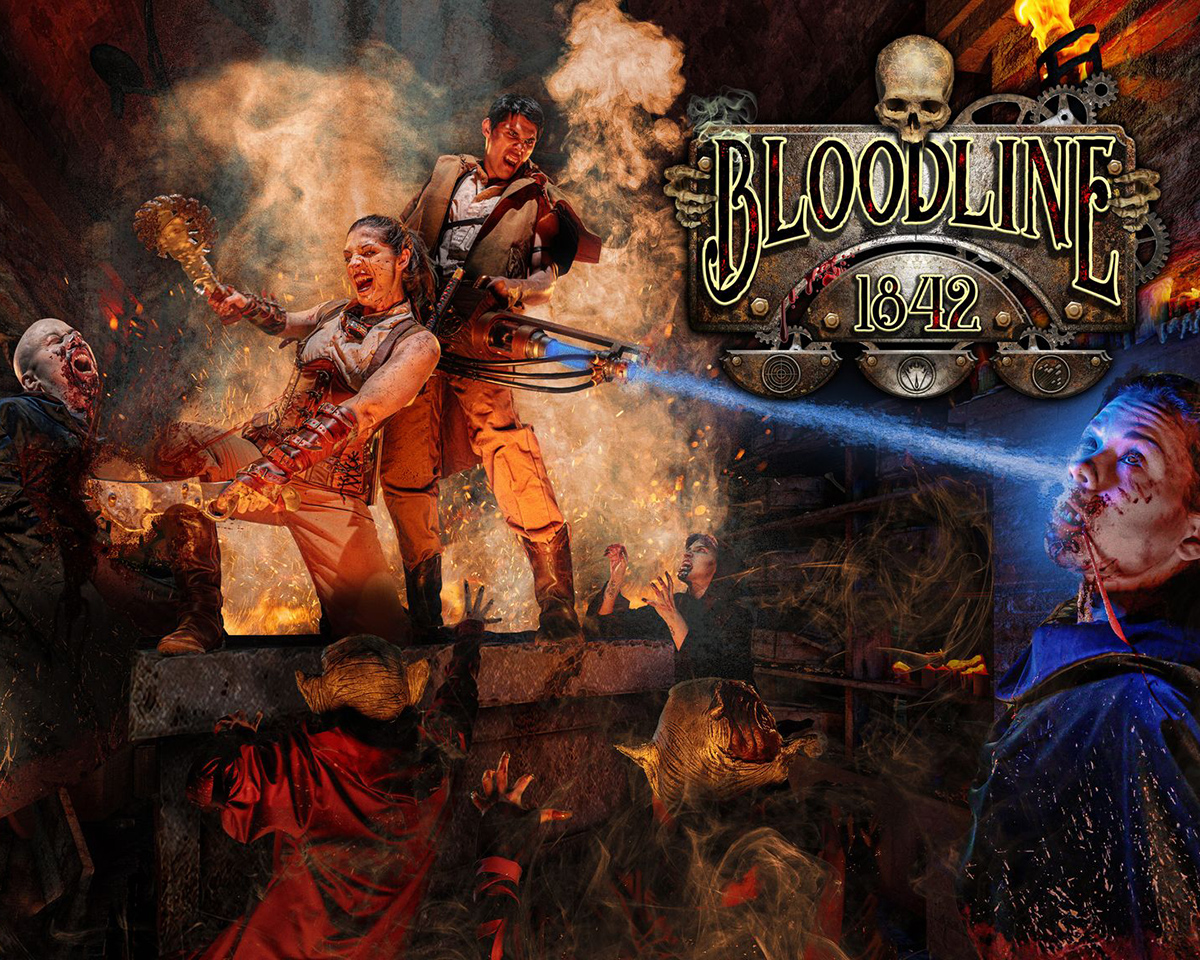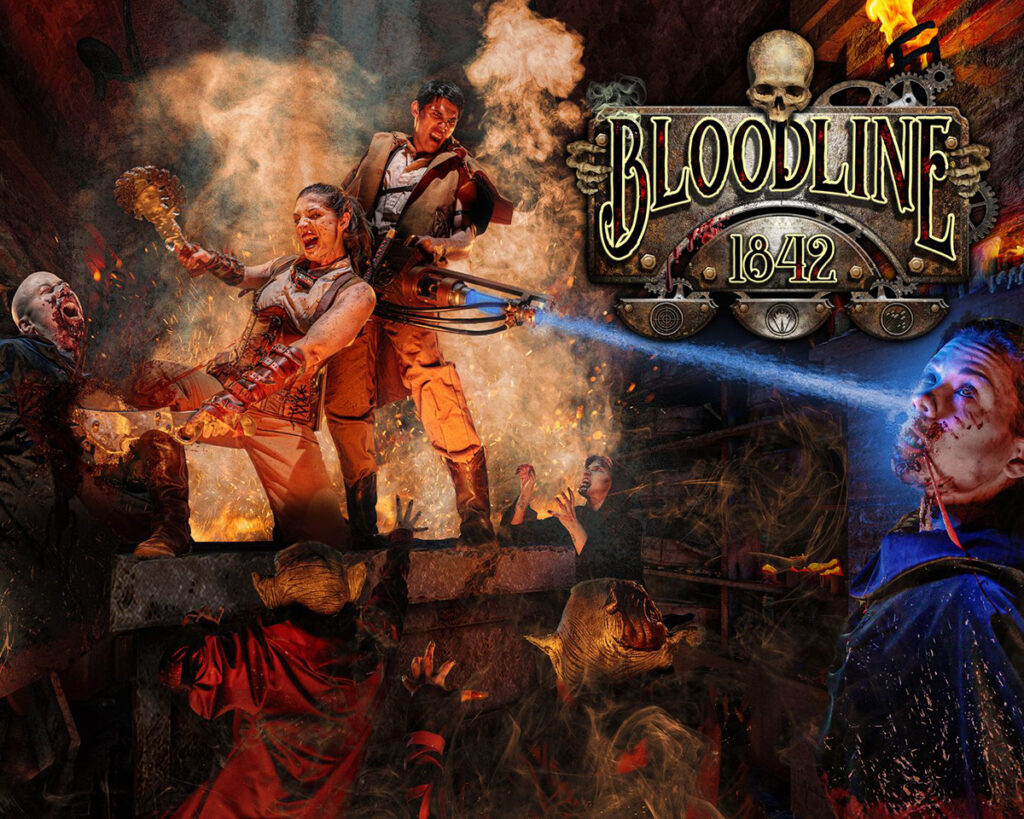 Mesmer: Sideshow of the Mind. This is Knott's Scary Farm's newest haunted maze. Within the canvas tent lies the secret of the most potent force in the universe - the human mind. Get ready to succumb to the hypnotist Mesmer and his sinister sideshow as they prey on your hidden fears. Finally, release your inner thoughts and descend into a world of madness, torture, and eerie enlightenment.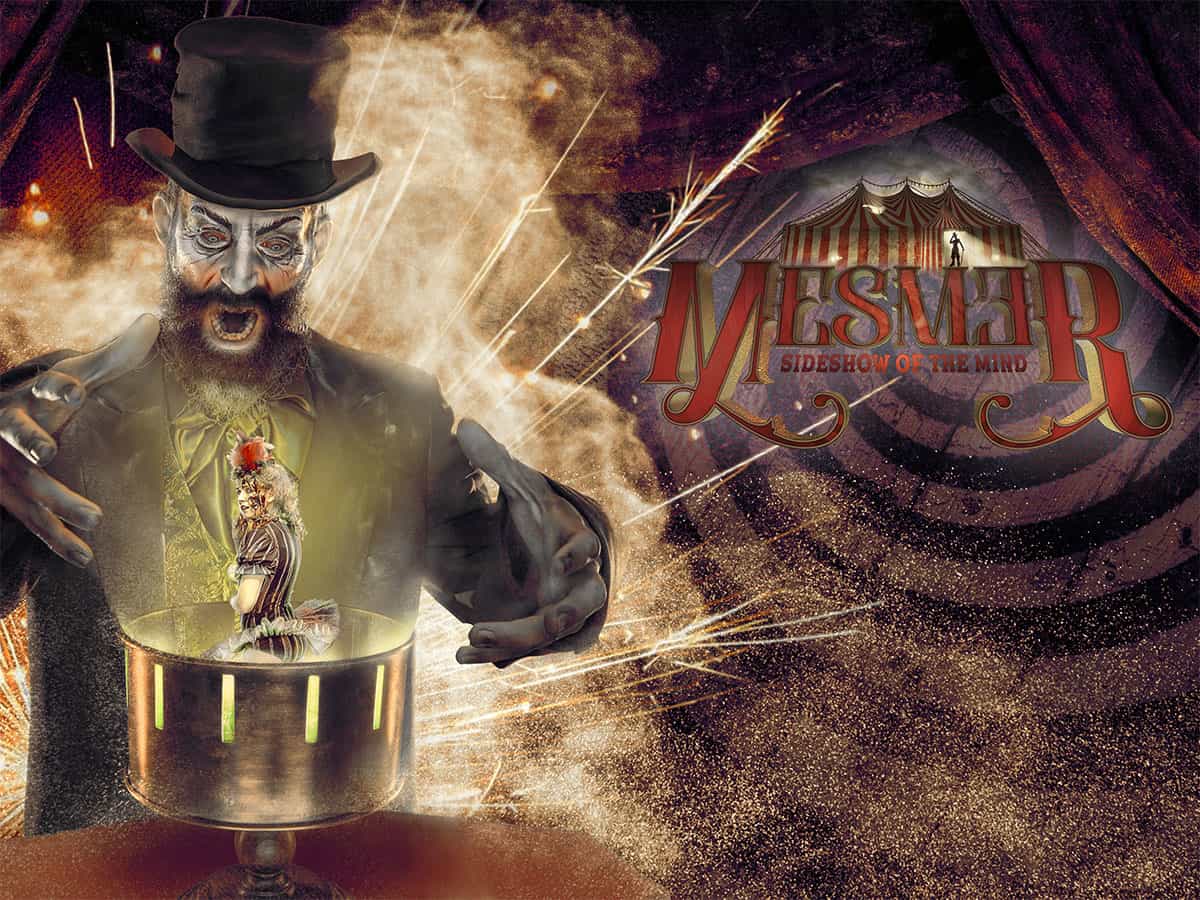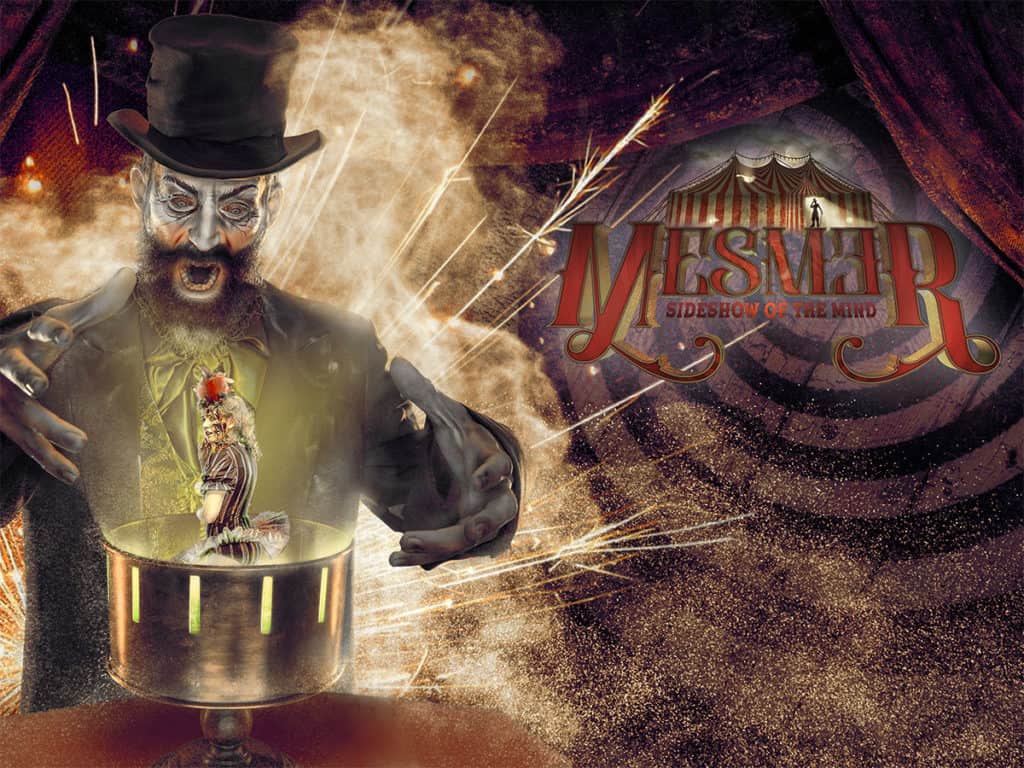 Mysterious lights and strange noises have begun to emanate from the eerie abandoned wax museum in the maze, Wax Works. Blood-curdling screams echo through the halls as victims are horrifyingly submerged into a hot cauldron of bubbling wax. Plastic surgeon, Dr. Augustus Scratch, will be ready to show off his beautiful yet terrifying life-like masterpieces of hot molten wax and bloody flesh. Run away or eventually become the newest masterpiece to add to his collection.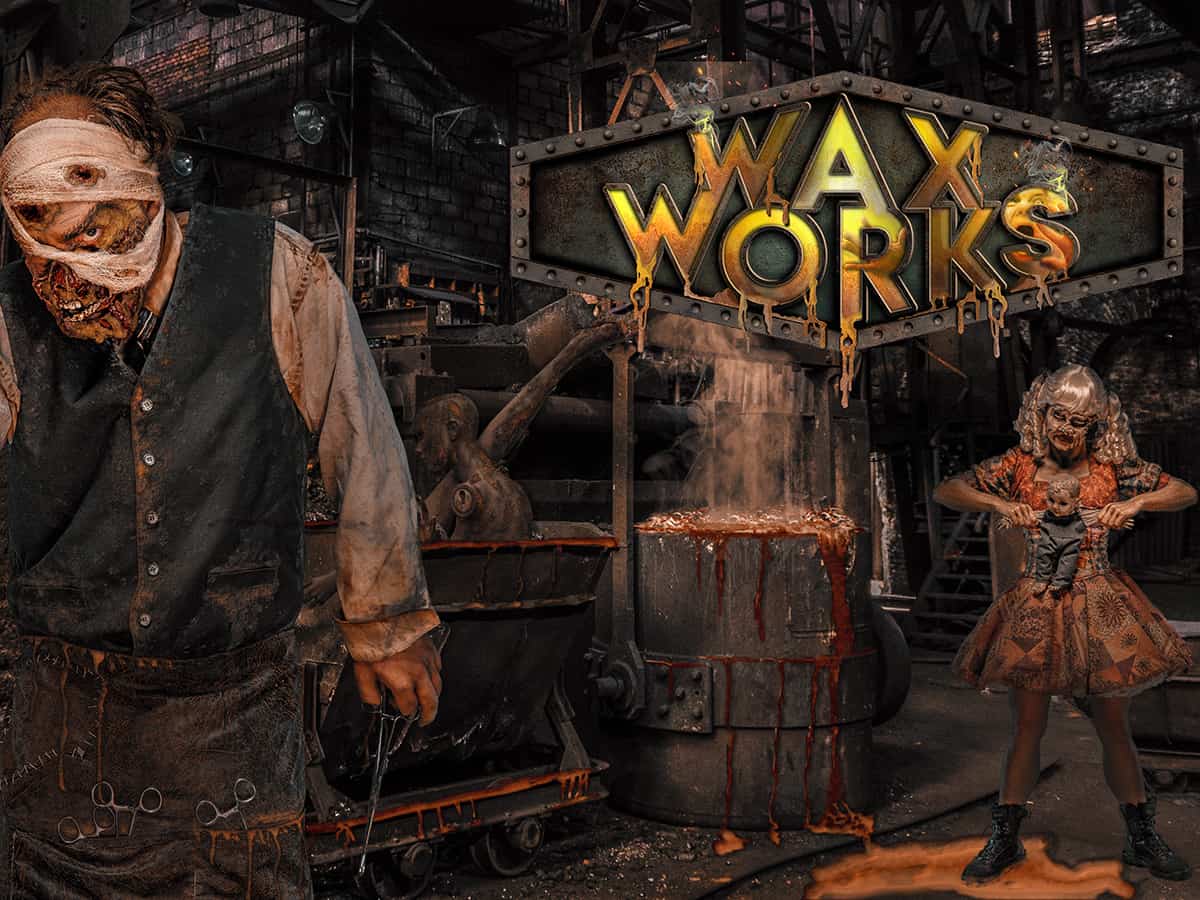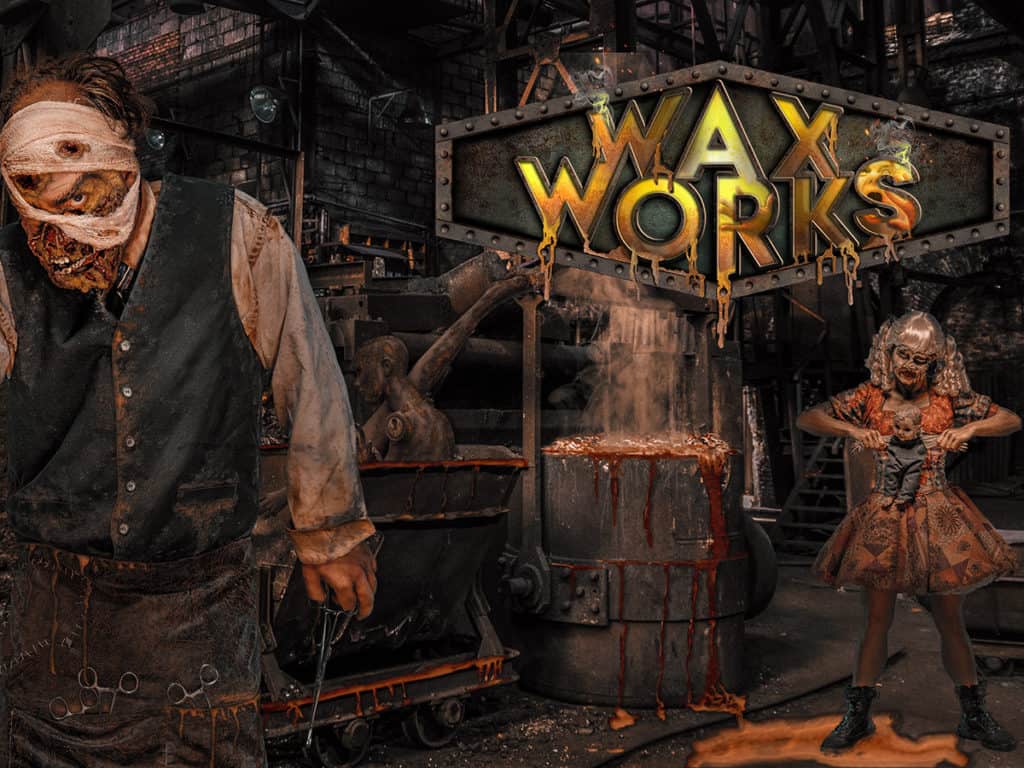 Even more mazes!
Origins: The Curse of Calico is where you will discover the secret of the evil fog that hangs over Knott's Scary Farm. Unearth the sinister paranormal activity that plagues Calico. Soon, Sarah Marshall will be put on trial for her suspected crimes of witchcraft. The Green Witch will rise and curse the townsfolk, transforming those who have accused her into malicious creatures with an eternal quench for the living.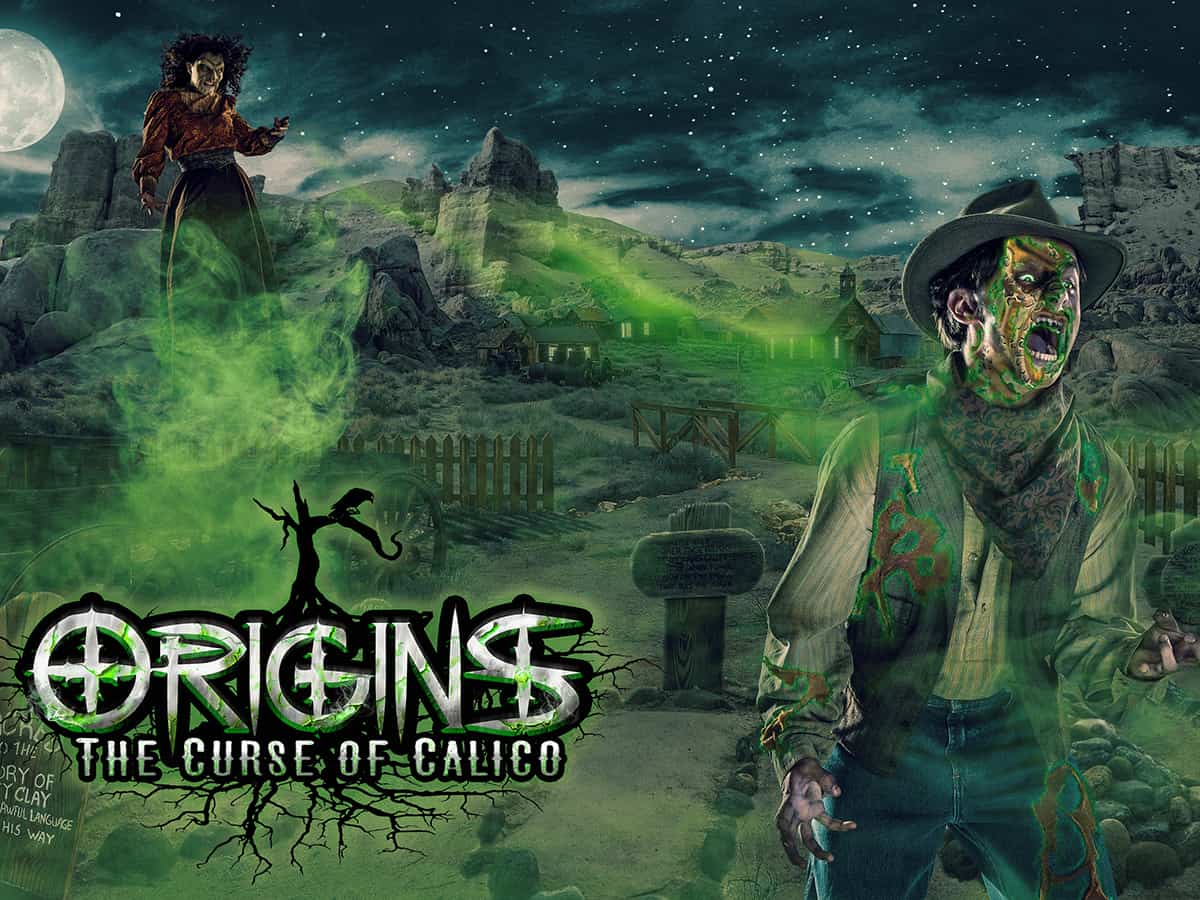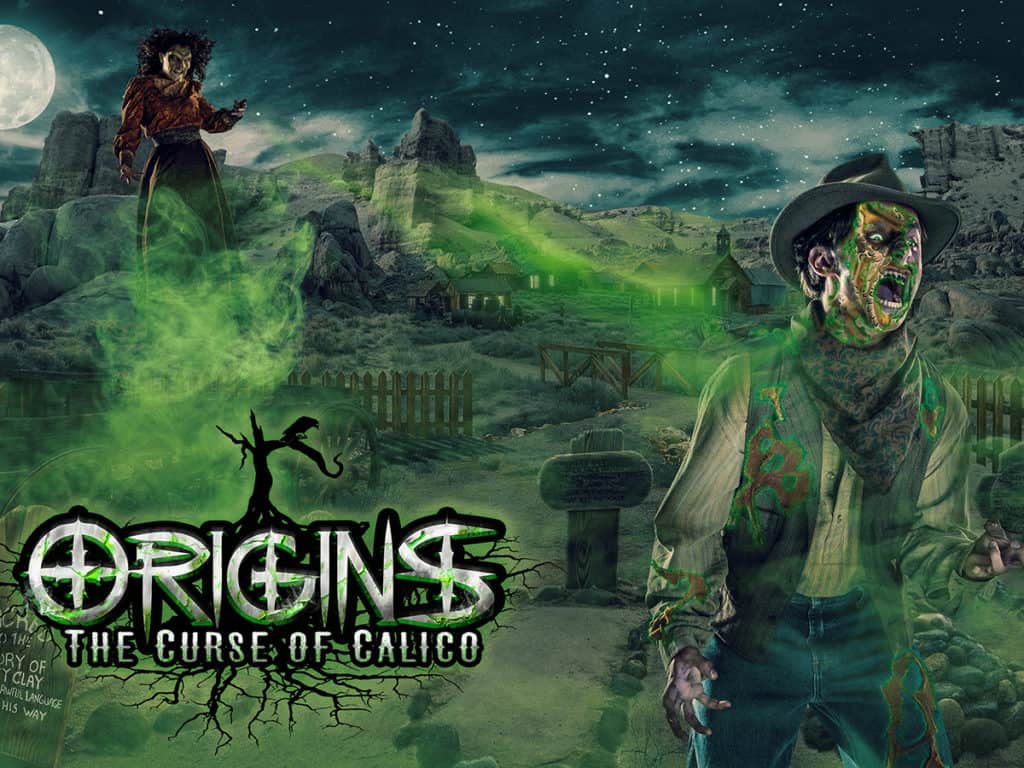 A heavy fog drapes over an abandoned port village where ancient creatures lurk in the maze The Depths. Inside the pitch-black underground caves hide below the seaside shores. The Nightwatch Mining Crew has mysteriously disappeared, and village rumors point to the eerie tunnels the town sits upon.
Warning, all who enter never resurface. Myths of the terrifying horrors that lurk within the cave have often been whispered yet are never confirmed. Did the crew meet their demise at the hand of vicious creatures that live within the cave? Discover if the superstitions revolving around the cave are true or not.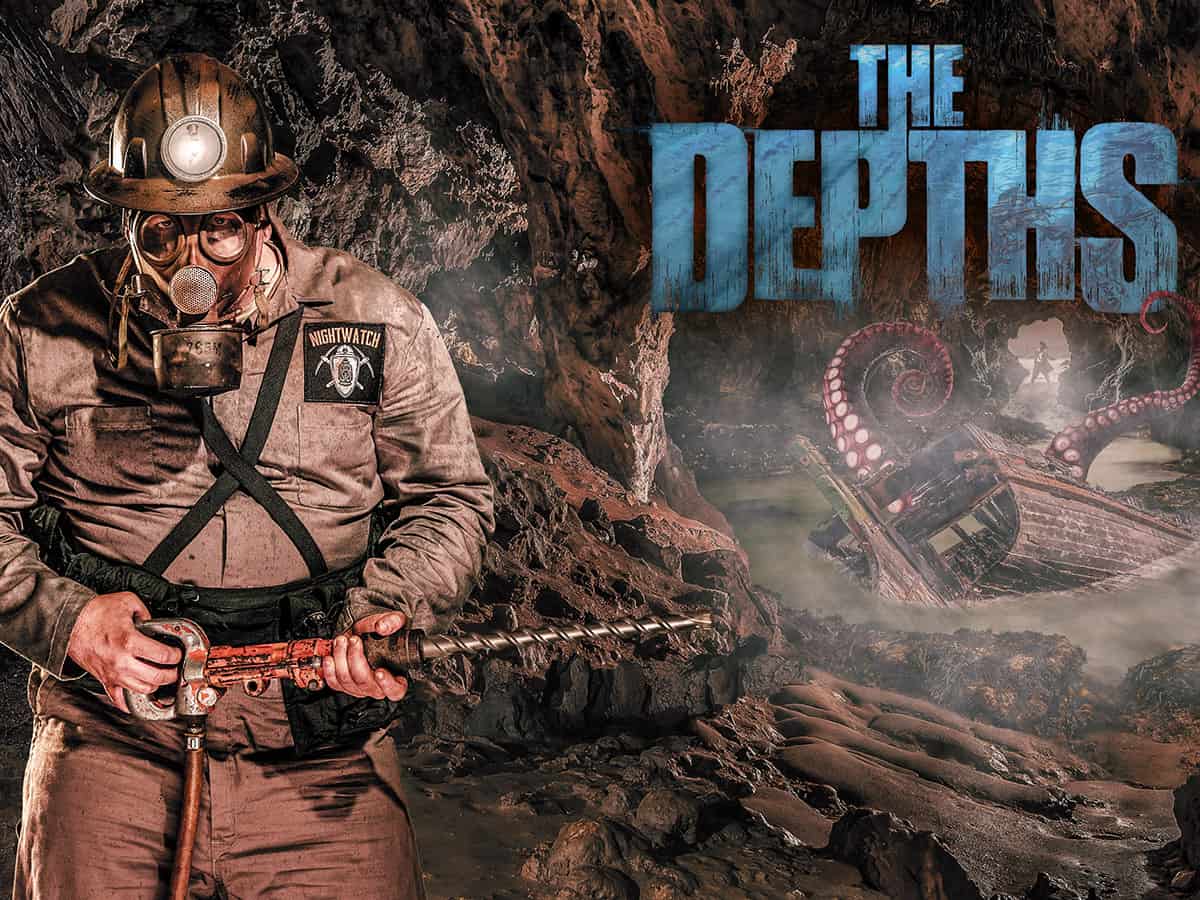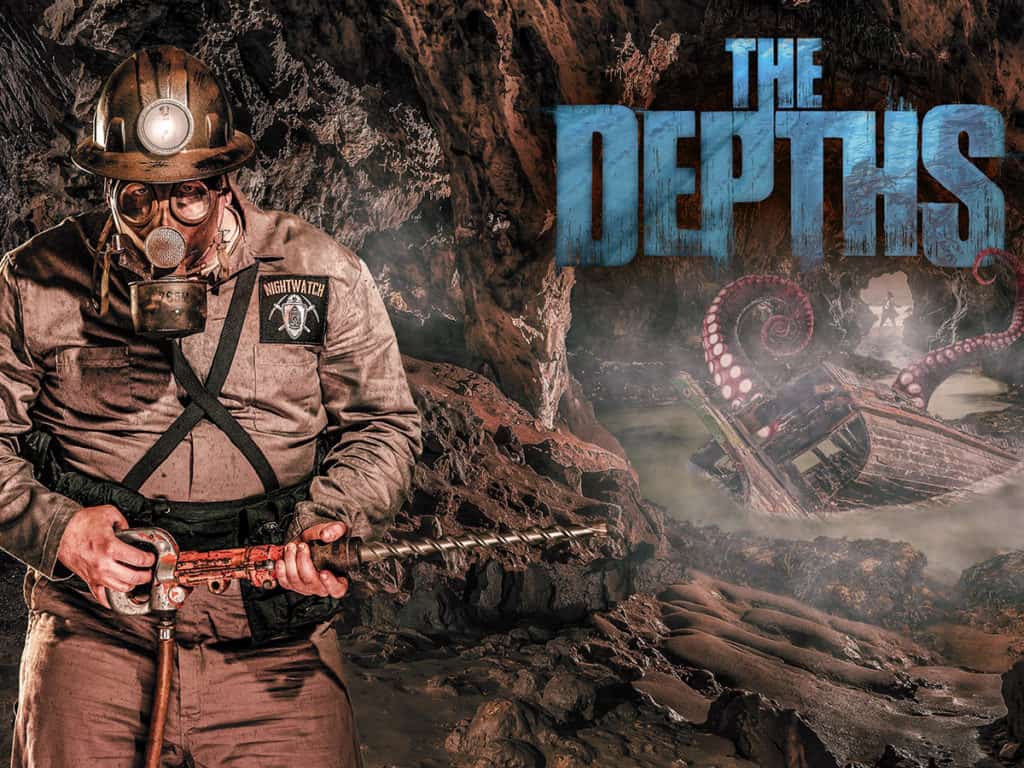 Teleport beyond earth into a realm where the darkness is absolute in Dark Entities. In the depths of space, a lone station faces terror beyond all imagination. An extraterrestrial mutation has invaded the station, and it's on the prowl for new hosts. The unearthly inhabitants' force increases as it feeds on its unwilling victims. Escape the dark entities before their deadly force is running out!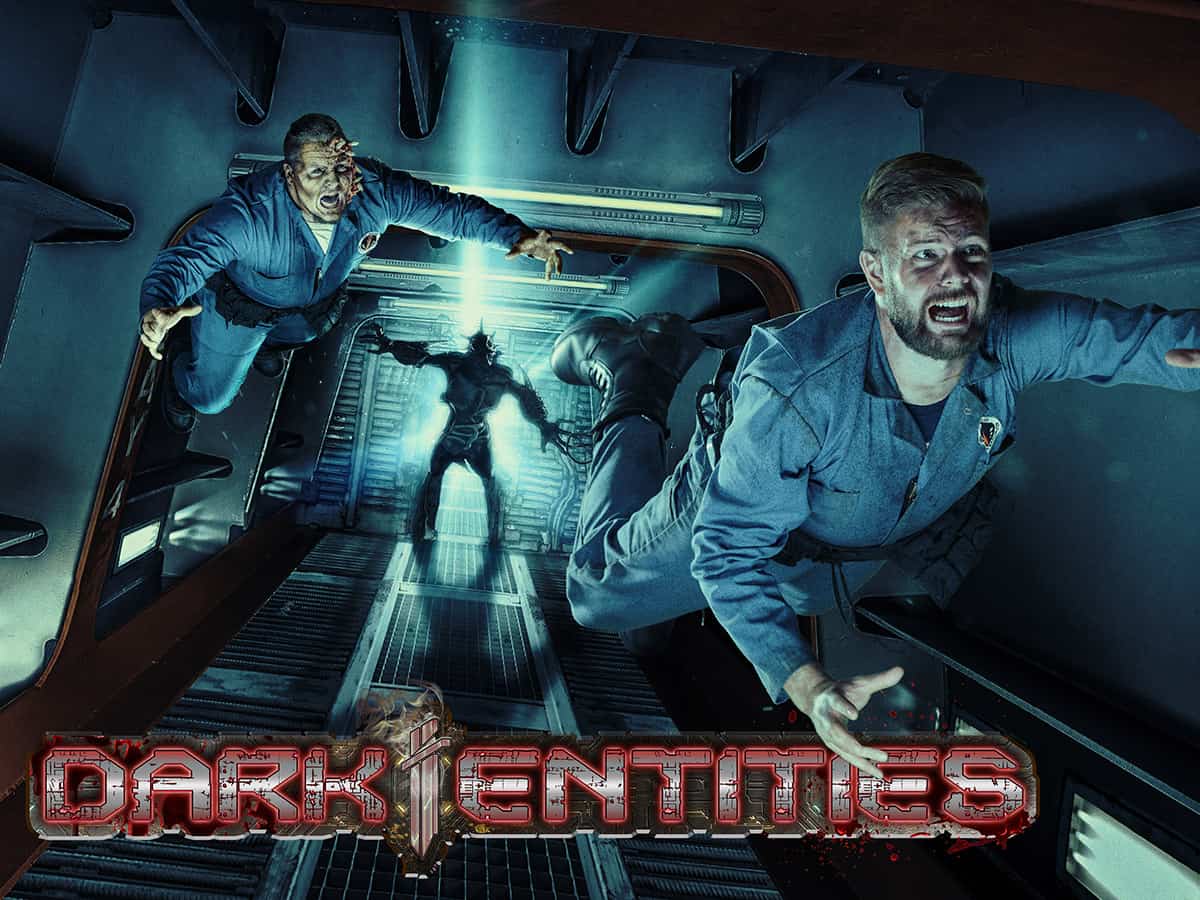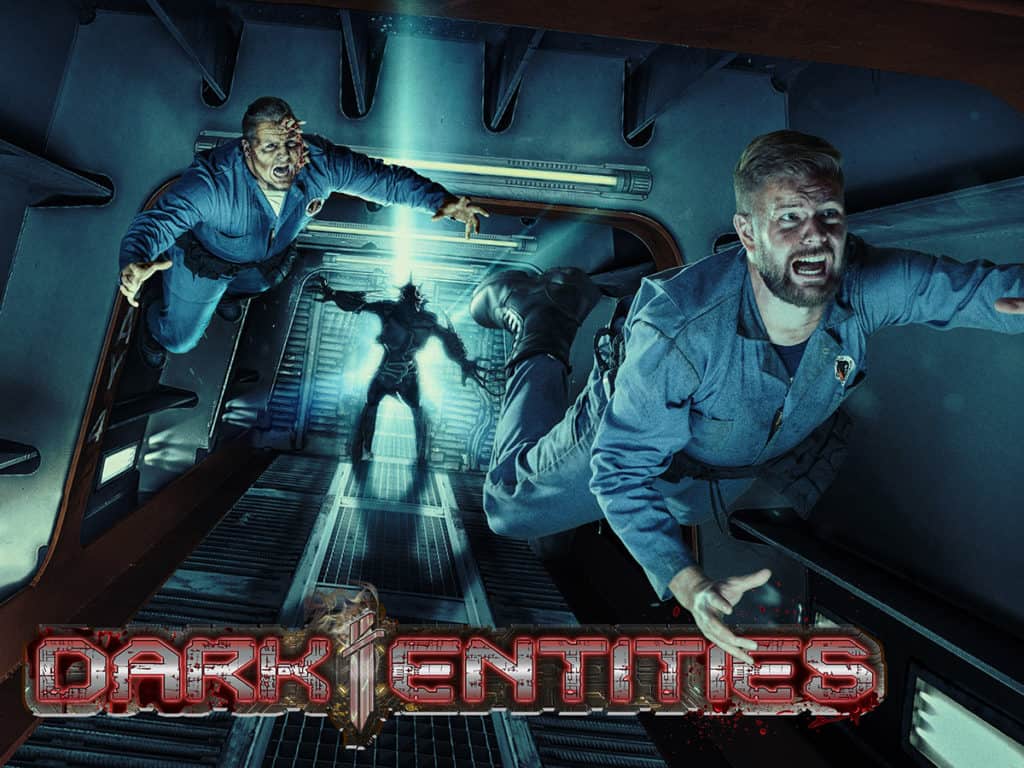 Scary Farm Shows for 2023
The Scary Farm shows are something that I look forward to every year. Not only are they entertaining, they are the perfect way to get a break from screaming and running away from monsters.
The most exciting things is that this year there are 3 new shows! That's a record for the number of top-notch scary shows to debut at Knott's Scary Farm.
The new Scary Farm shows...
The Hanging: Uncancelled - One of the biggest surprises of 2023, The Hanging is BACK!!! The Lawman has returned to track down the vilest villains of the past year in this pop culture parody stunt extravaganza. No one is safe when the gates of the Wagon Camp swing open.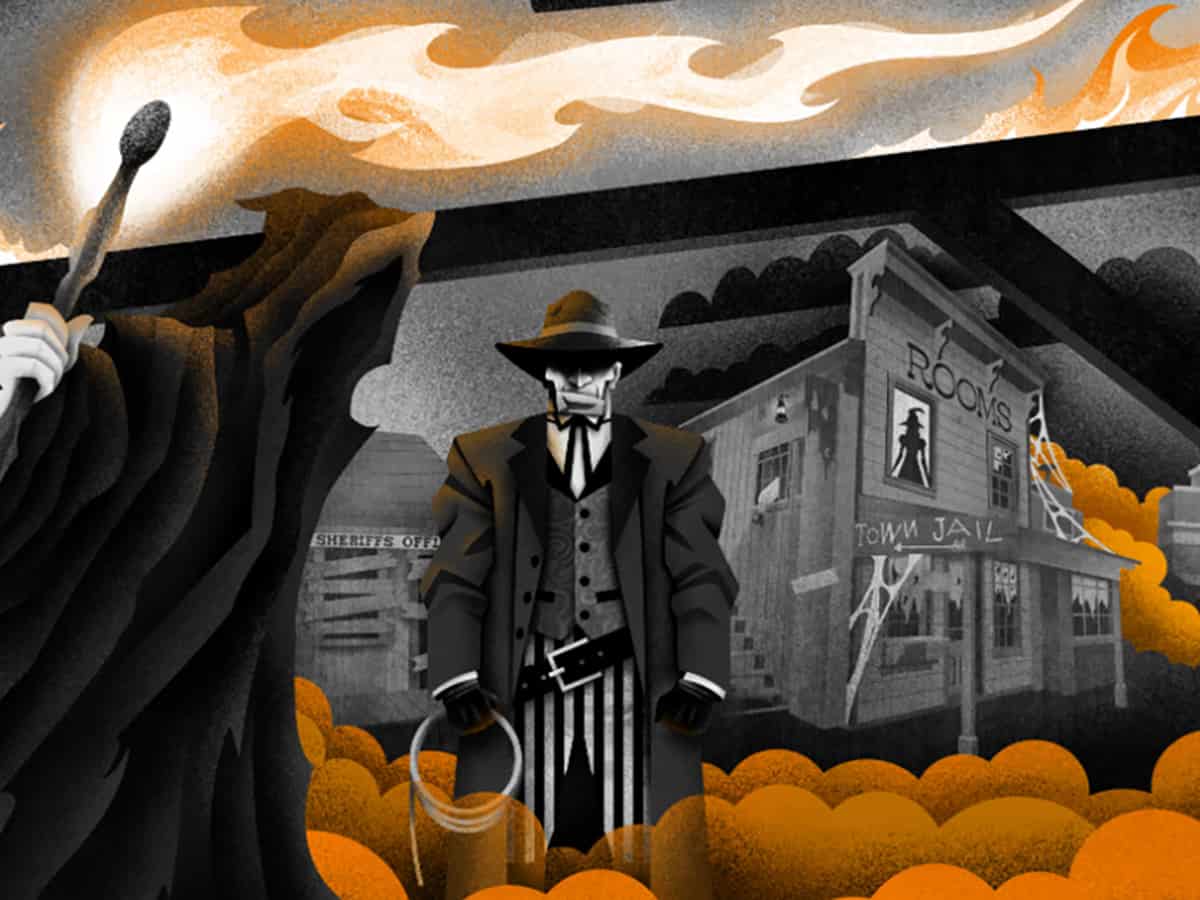 Dr. Cleaver Returns - Debuting in world-famous Birdcage Theater, your favorite demented doctor is back for more Halloween hijinks! Grab at seat for a journey into the great beyond...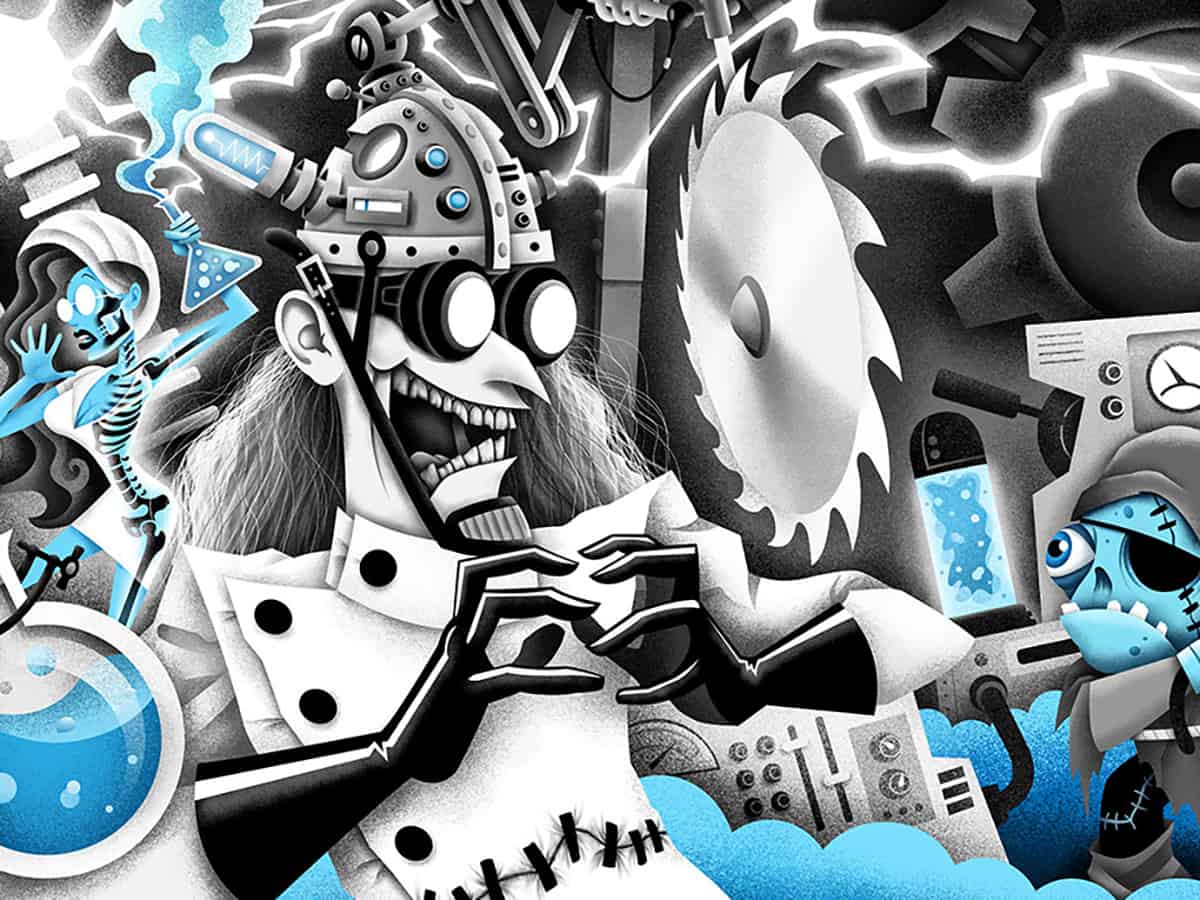 Music, Monsters & Mayhem - "Music, Monsters and Mayhem" takes you on a scintillating and provocative musical journey celebrating 50 years of terror and frights. Featuring a rockin' score, wild laughs, and a cast of singing and dancing monstrosities bound to get your heart racing with screams of delight!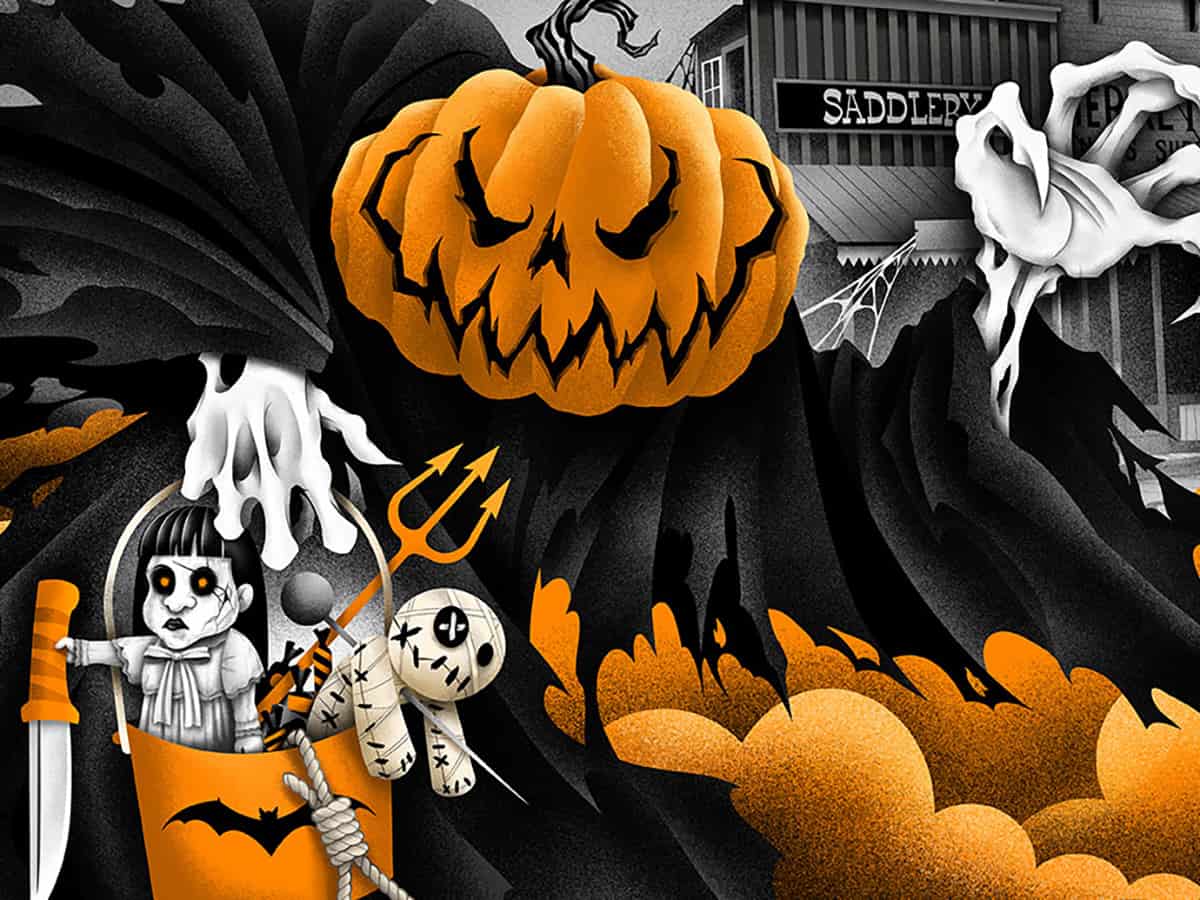 Returing Scary Farm Show...
Le Magnifique Carnaval du Grotesque is playing at the Calico Mine Stage. Step right up and walk into the mystique and darkness of the malevolent Le Magnifique Carnaval Du Grotesque. This reimagined show features a collection of death-defying feats and dangerous carnival acts to delight your darkest desires and fill your senses with terror.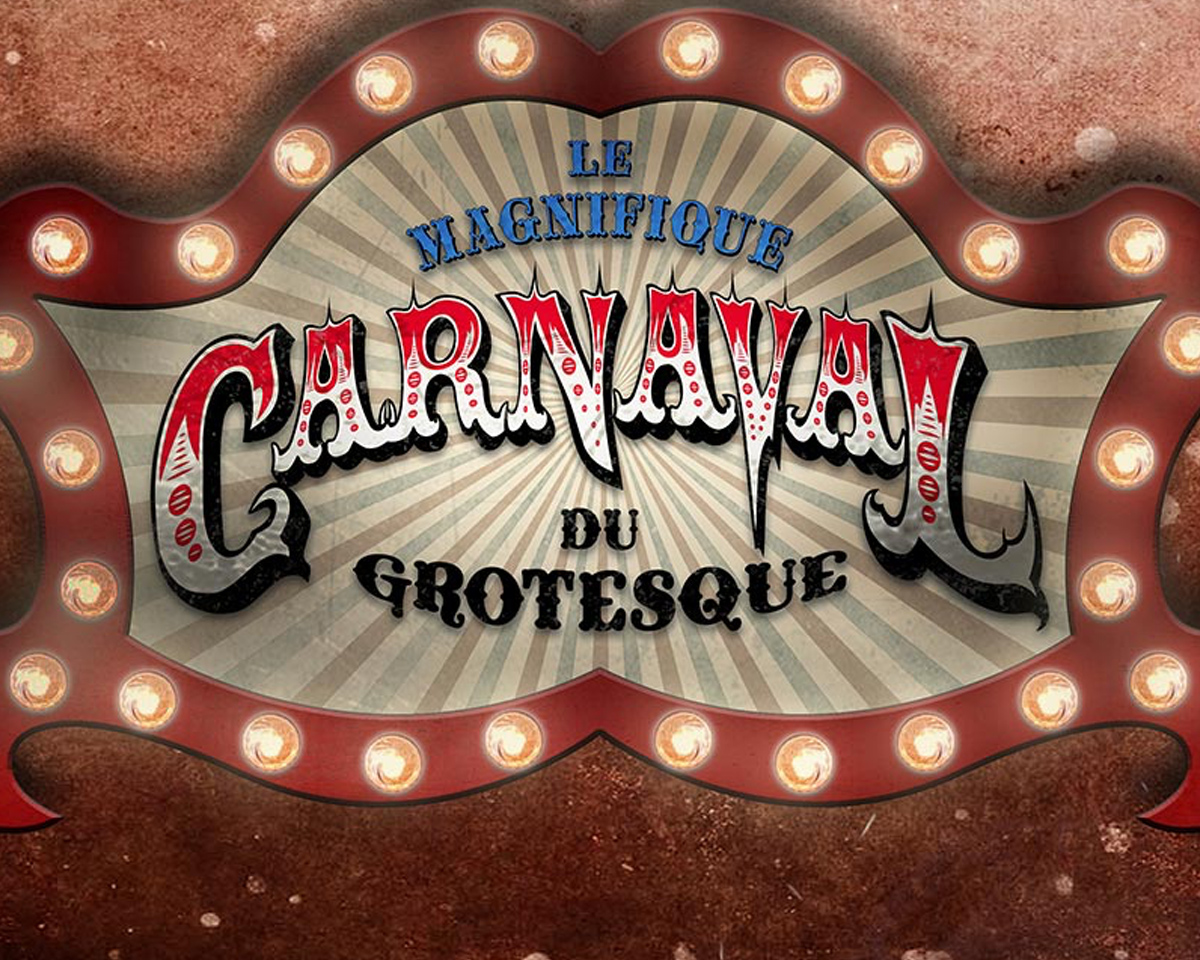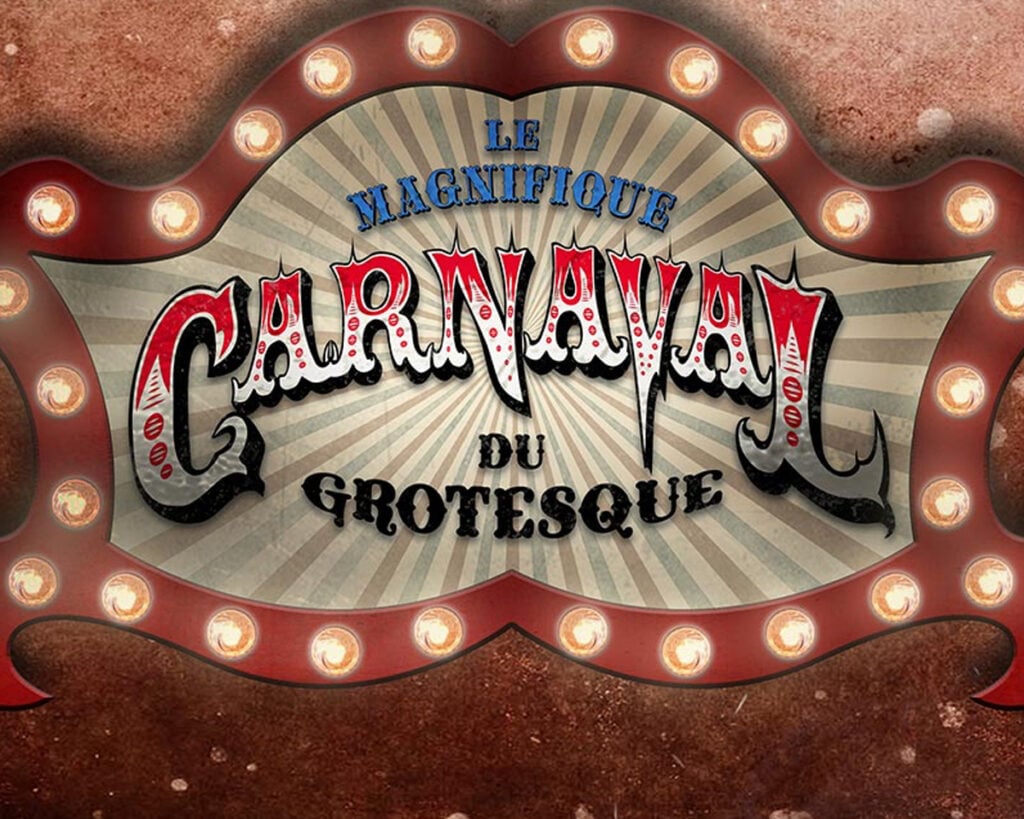 Scary Farm Scare Zones for 2023
Knott's Scary Farm is far more than just their haunted mazes.
Every night monsters spill out onto the streets of Knott's and turn theme park midways into bone chilling scare zones. From the world-famous Ghost Town Streets to the Boardwalk area filled with evil clowns, there's nowhere to hide in Knott's Scary Farm.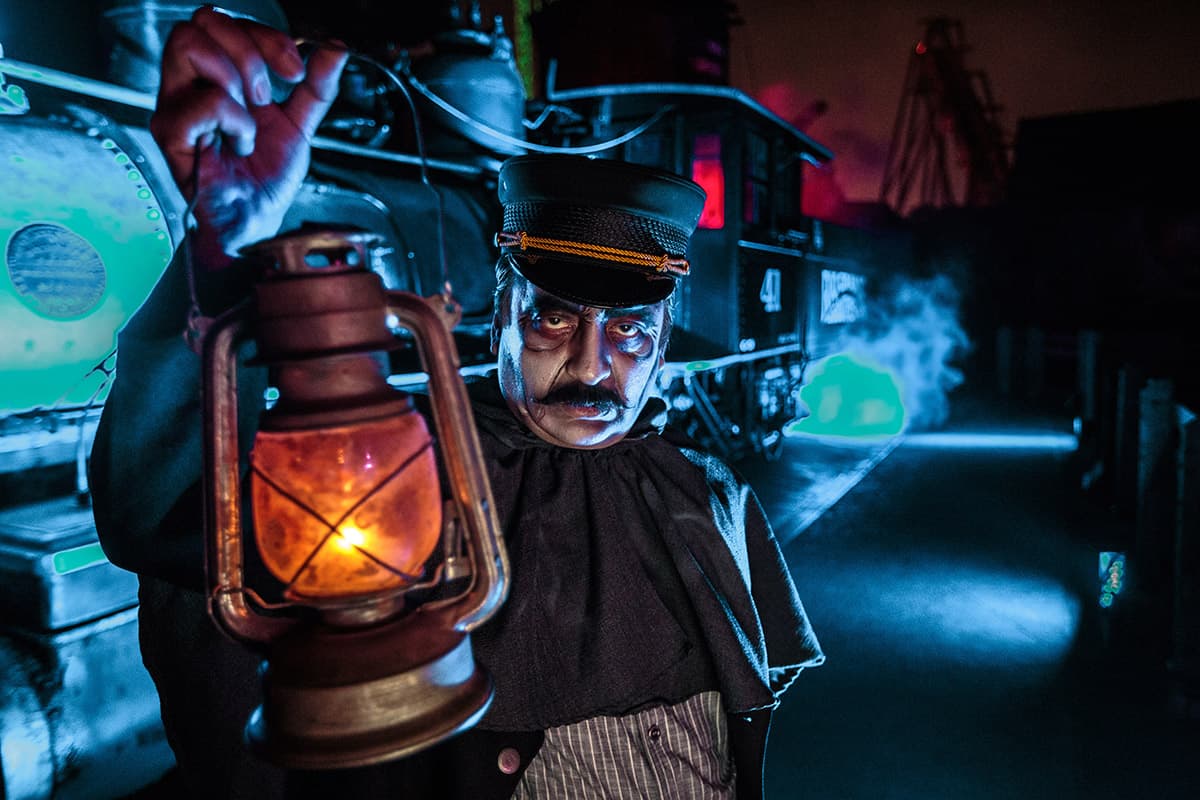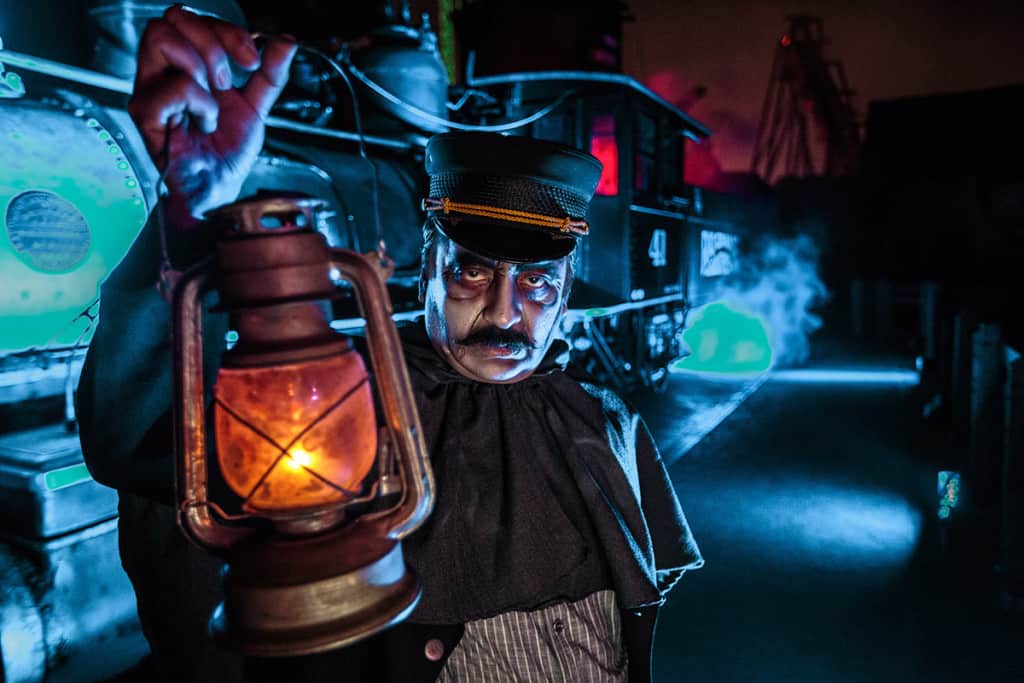 This year there is one all-new scare zone, making a total of five amazing Scare Zones.
Step back into the dark decadence of a by-gone era as the scare zone The Gore-ing 20's terrorizes even the bravest and most brutal souls. Here gangsters run illicit hooch for the ghostly revelers as the otherworldly musicians play the music of the damned. Tell the Bouncer the secret password, and you'll have the time of your life for as long as it lasts.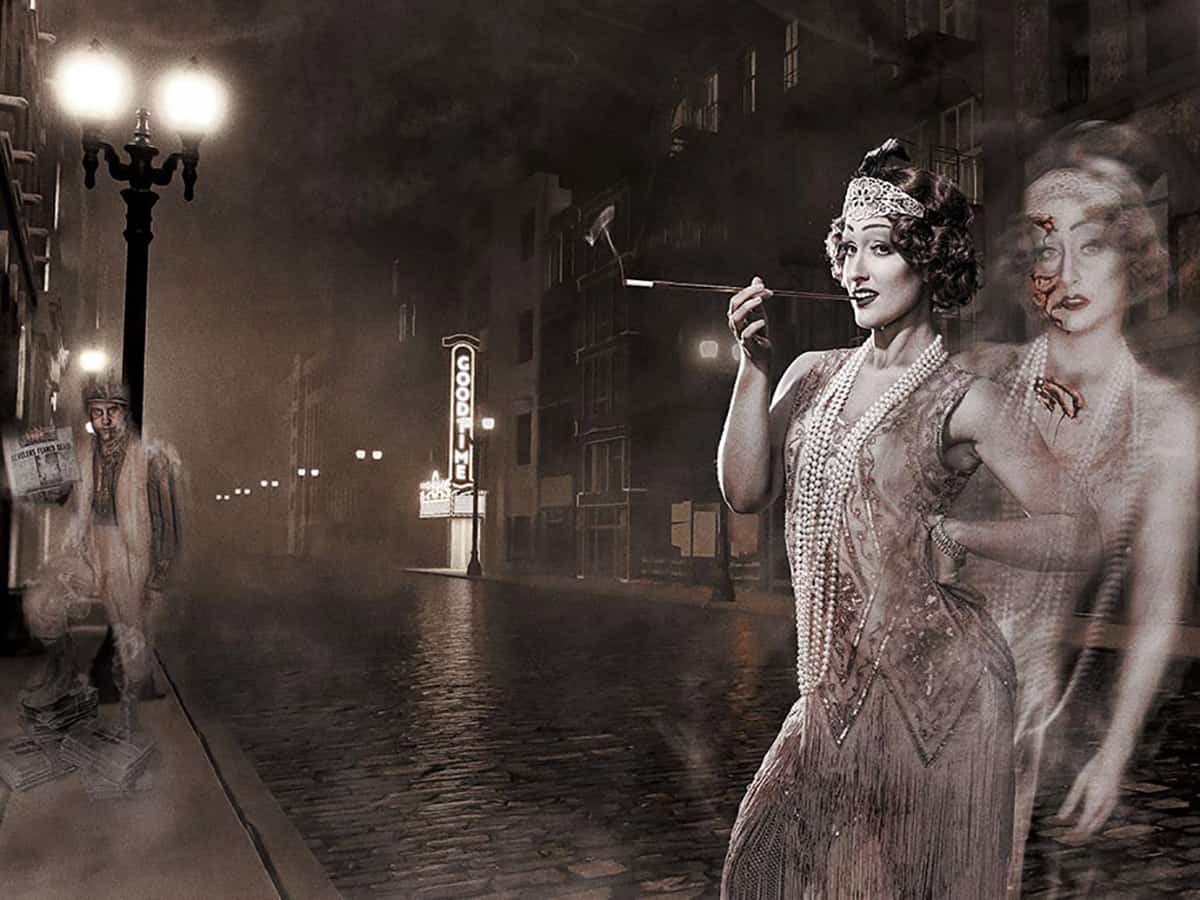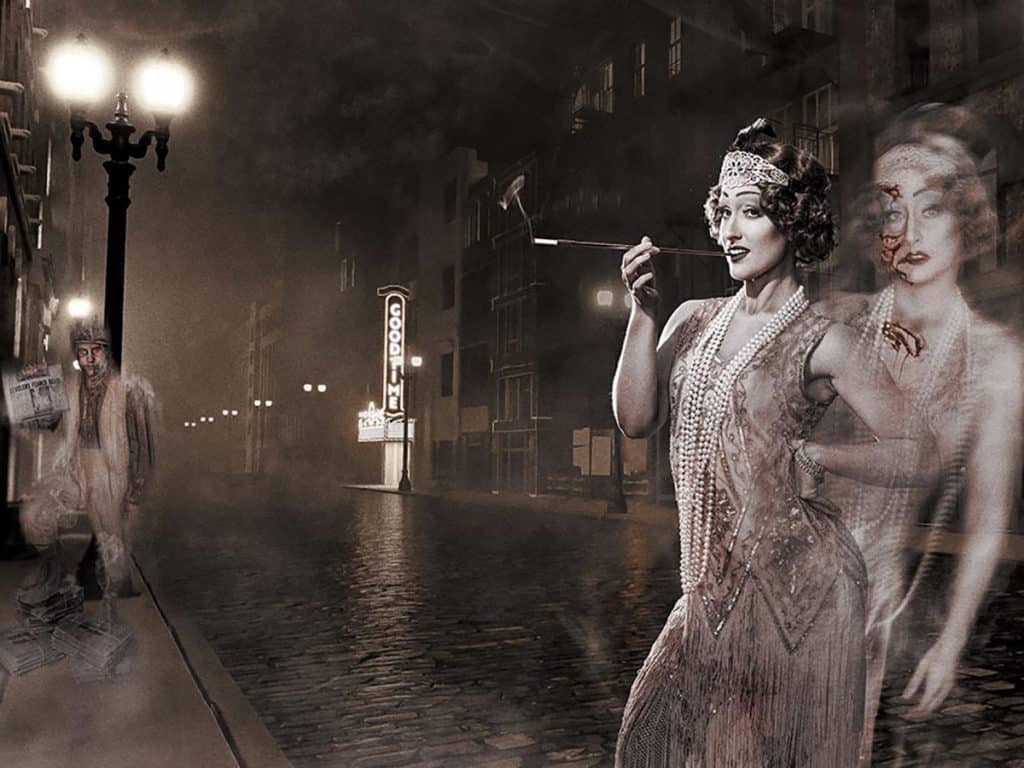 Ghost Town Streets is the original and largest, most terrifying scare zone at Scary Farm. Bands of half-human, half-animal monsters prowl the streets and inhabit the fog. Be especially carefully of the stunning sliders, who lunge from fog-filled corners of the land.
On the Boardwalk, the clowns want your undying attention in the CARNEVIL scare zone.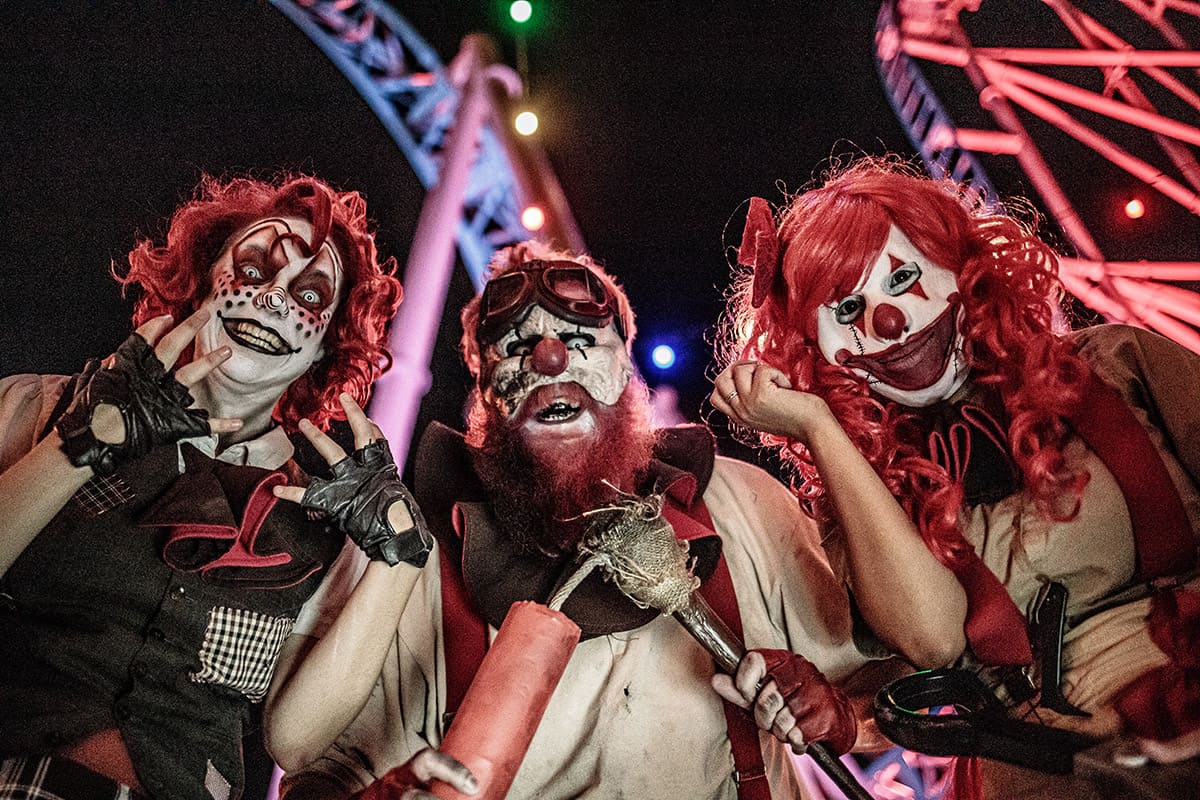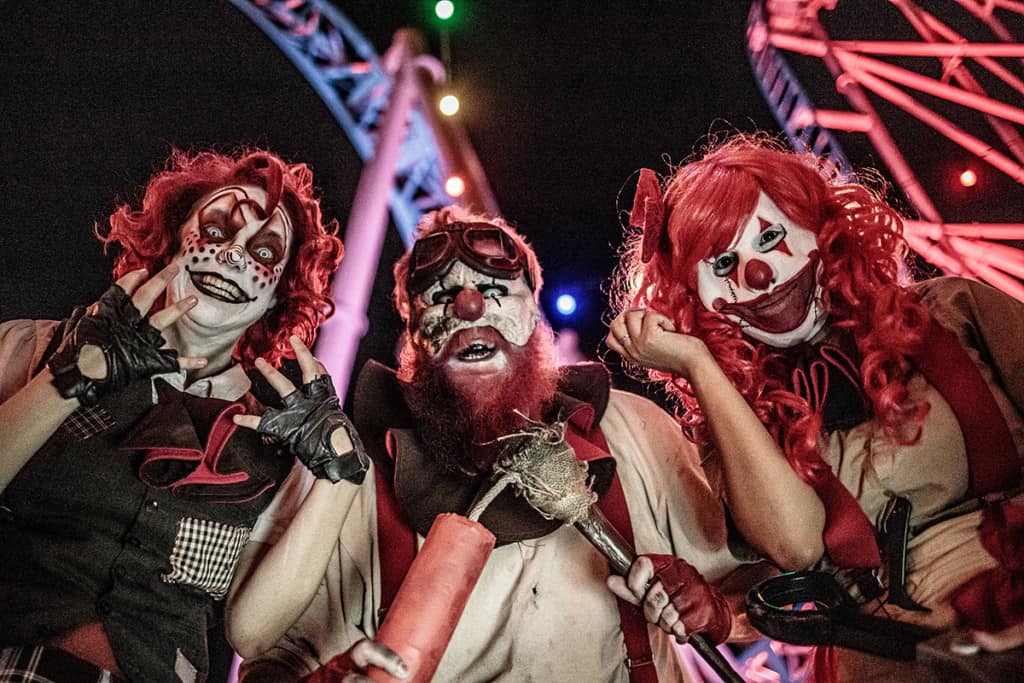 And finally, The lake underneath Knott's Silver Bullet rides recedes to reveal the Forsaken Lake scare zone. Gothic creatures ravaged by the dark and murky waters wander from their crypts preying on unsuspecting visitors. Don't be one of the victims that gets dragged back to a watery grave.
50th Anniversary Legacy Haunt Store and Museum
In celebration of its landmark milestone, Knott's Scary Farm has creaked open the cemetery gates to its 50th Anniversary Legacy Store and Museum. The immersive retail experience features exclusive specialty 50th-anniversary merchandise fans will die for while the museum presents historic exhibits highlighting Knott's Scary Farm's frightfully rich past.
Featured inside the Legacy Store are tributes to Knott's Scary Farm's horrific past haunts, such as the Green Witch's house, CarnEvil creeps, a cemetery filled with maze memorials, and a portion "dead-icated" to the granddaddy of all scare zones, Ghost Town. The 50th Anniversary Legacy Store and Museum is the ultimate celebration of Knott's Scary Farm!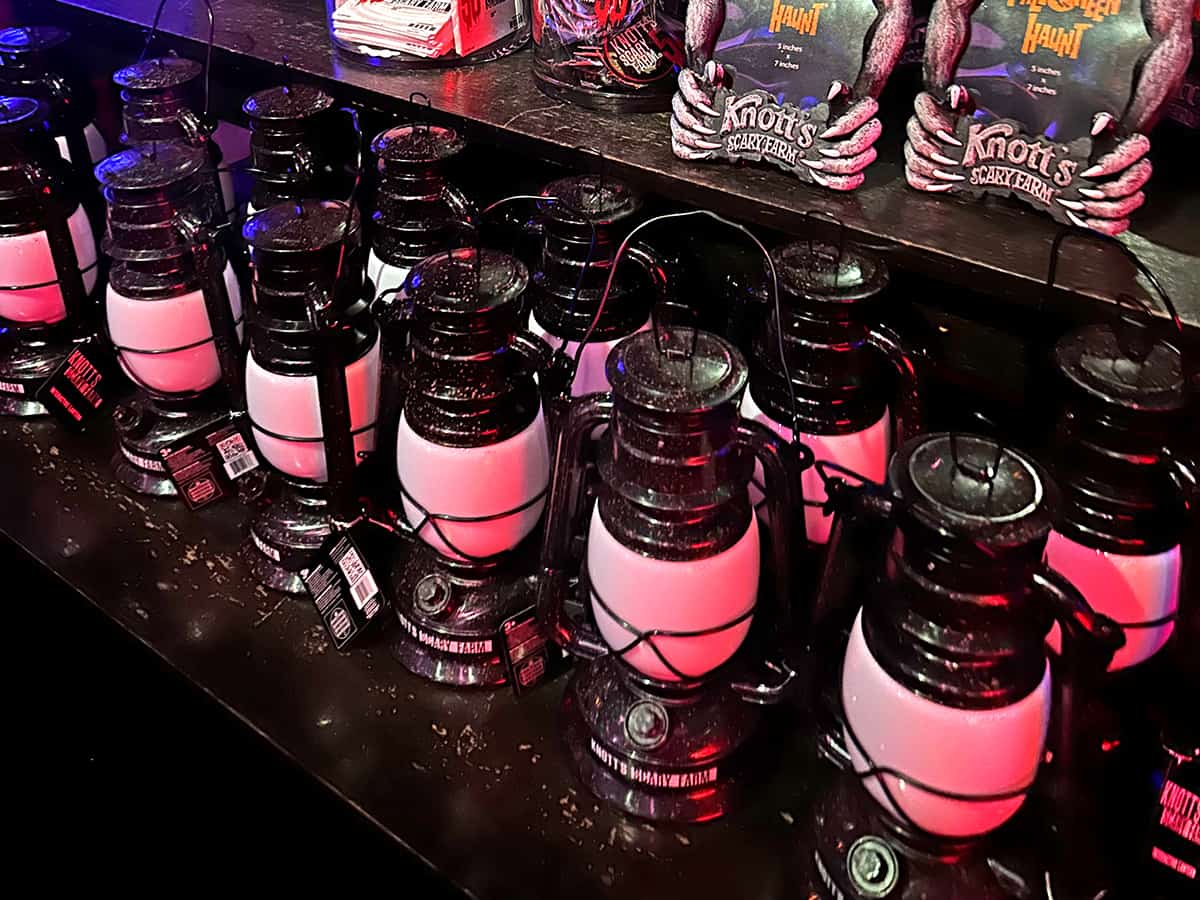 Scary Farm Interactive Lanterns: New for 2023!
The new Scary Farm Interactive Lanterns are going to be one of the hottest items at Scary Farm year. For $39.99, you can carry a lantern like the ghost conductor. They not only light up, but they also interact with the mazes, scare zones and areas throughout the park. There are supposed to be over 100 special interactions with the lanterns.
The RFID-enabled lantern will trigger special effects throughout the farm. As you go through mazes and scare zones you may notice that the lantern will change color or go dark based on the environment.
You can purchase the lantern in the Legacy Haunt Store or inside the park during Knott's Scary Farm while supplies last.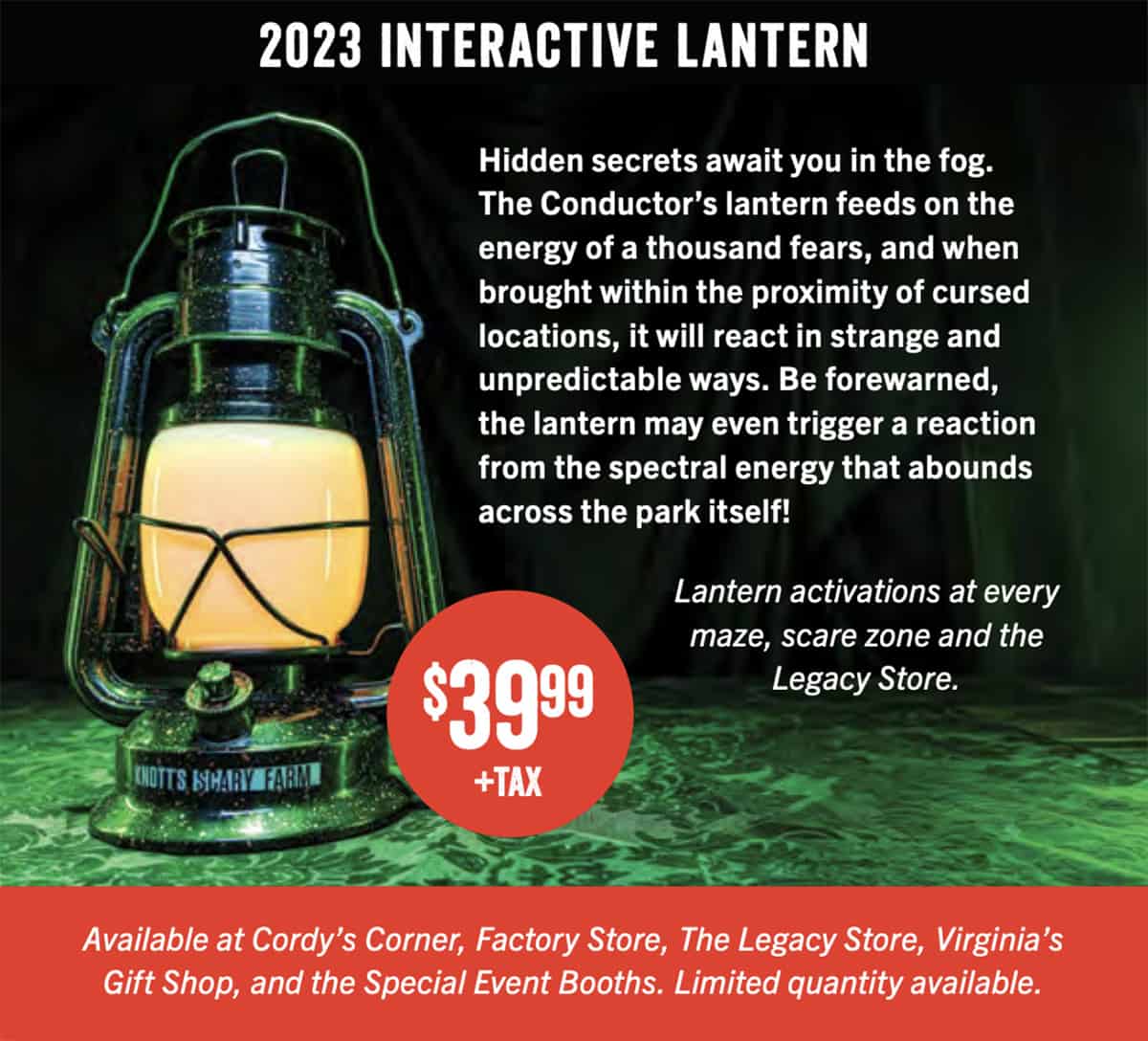 Haunted Rides at Knott's Scary Farm
There are two Knott's Berry Farm rides that have a Halloween overlay this year for Scary Farm. Timber Mountain Log Ride has been transformed into Halloween Hootenanny. The Ride's interior features surprises such as the Log Ride residents celebrating the Halloween Hootenanny. Venture past the Calico Coffin Creeper band, the town's green witch, and splash down Skull Mountain through a labyrinth of jack-o-lanterns set to an original Krazy Kirk and the Hillbillies soundtrack.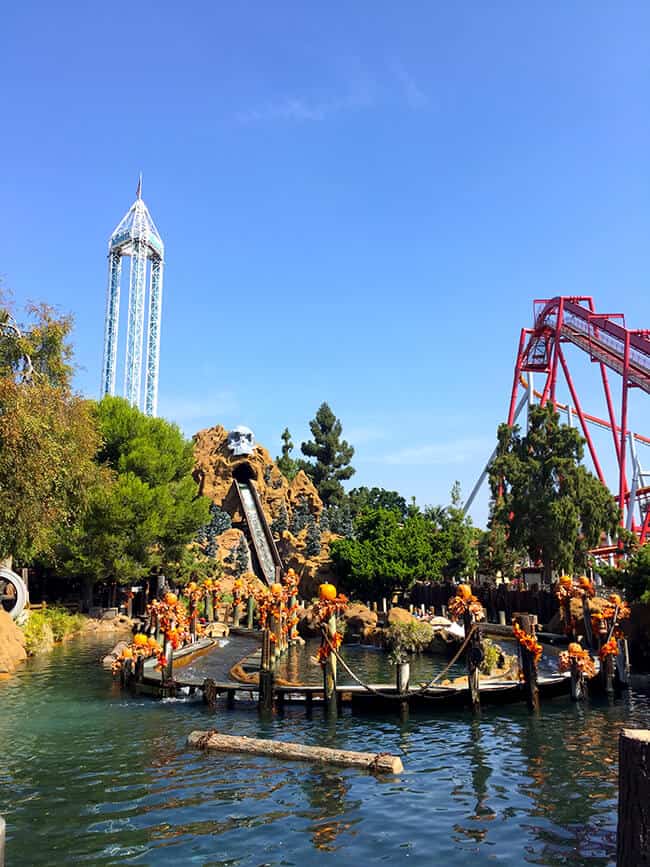 And then, the Calico Mine Ride has been turned into the Calico Candy Mine Ride. Every Halloween, the calico mine mysteriously transforms from silver ore to pure candy. The music is lively, and the lighting is colorful. It's a fun sight to see each year.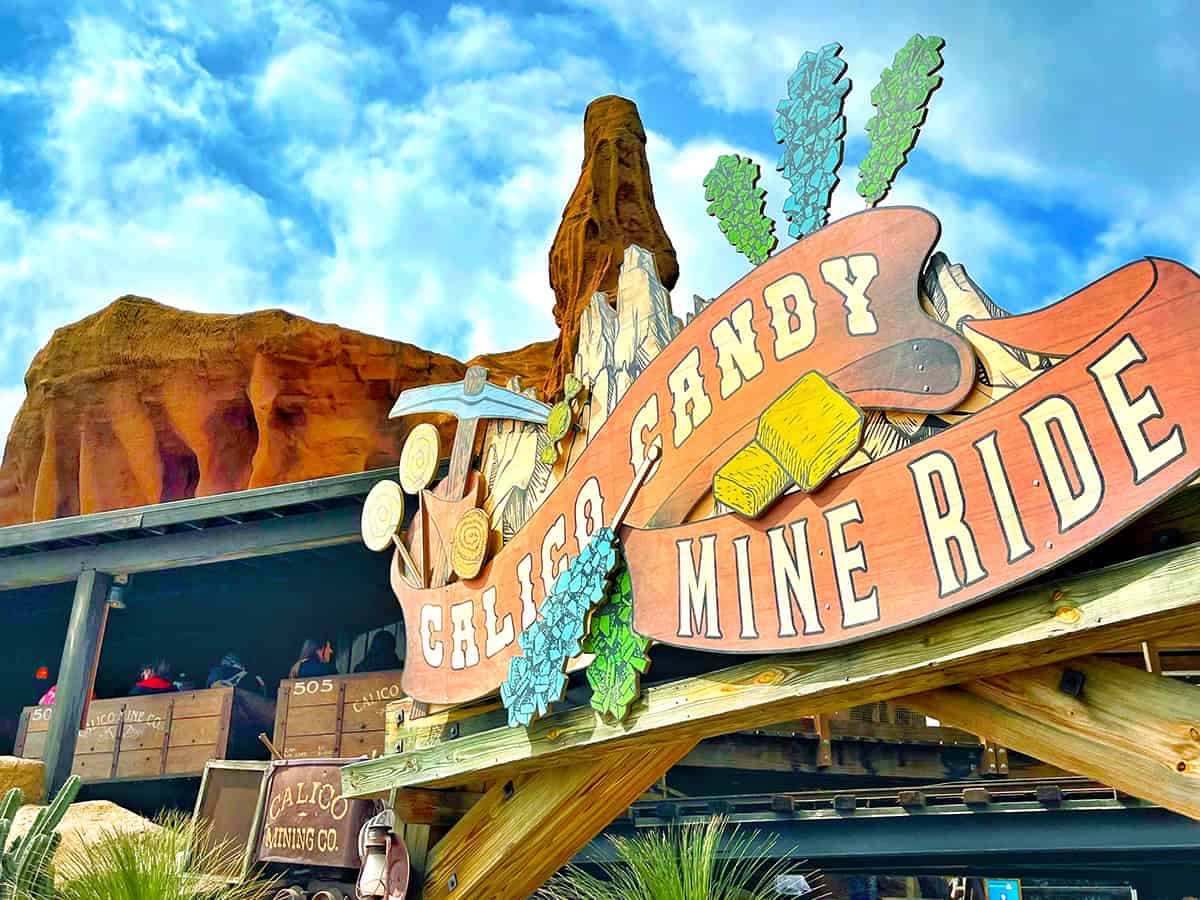 2023 Scary Farm Food Offerings
Knott's has outdone themselves with scary foods this 2023 season. There are a lot of new and exciting choices this year. There are not only Scary Farm entreés, there are also desserts and snacks that are to die for! From spooky funnel cakes to spooky pizza...there is something for everyone. Click here for more info on 2023 Scary Farm Foods.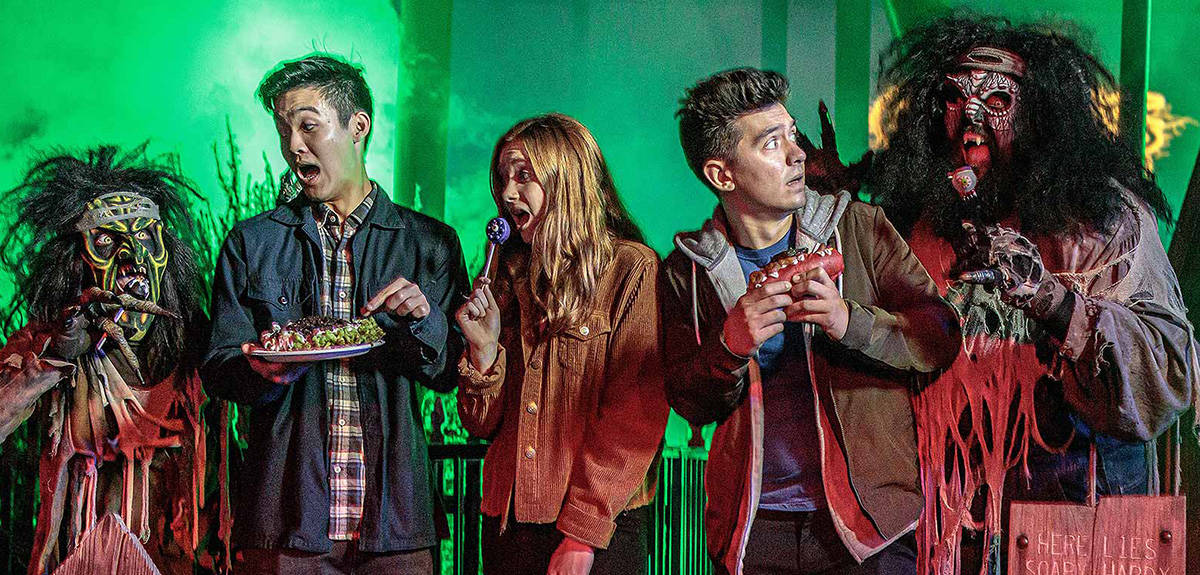 Here is a full list of the new scary foods that will be available at Knott's Scary Farm.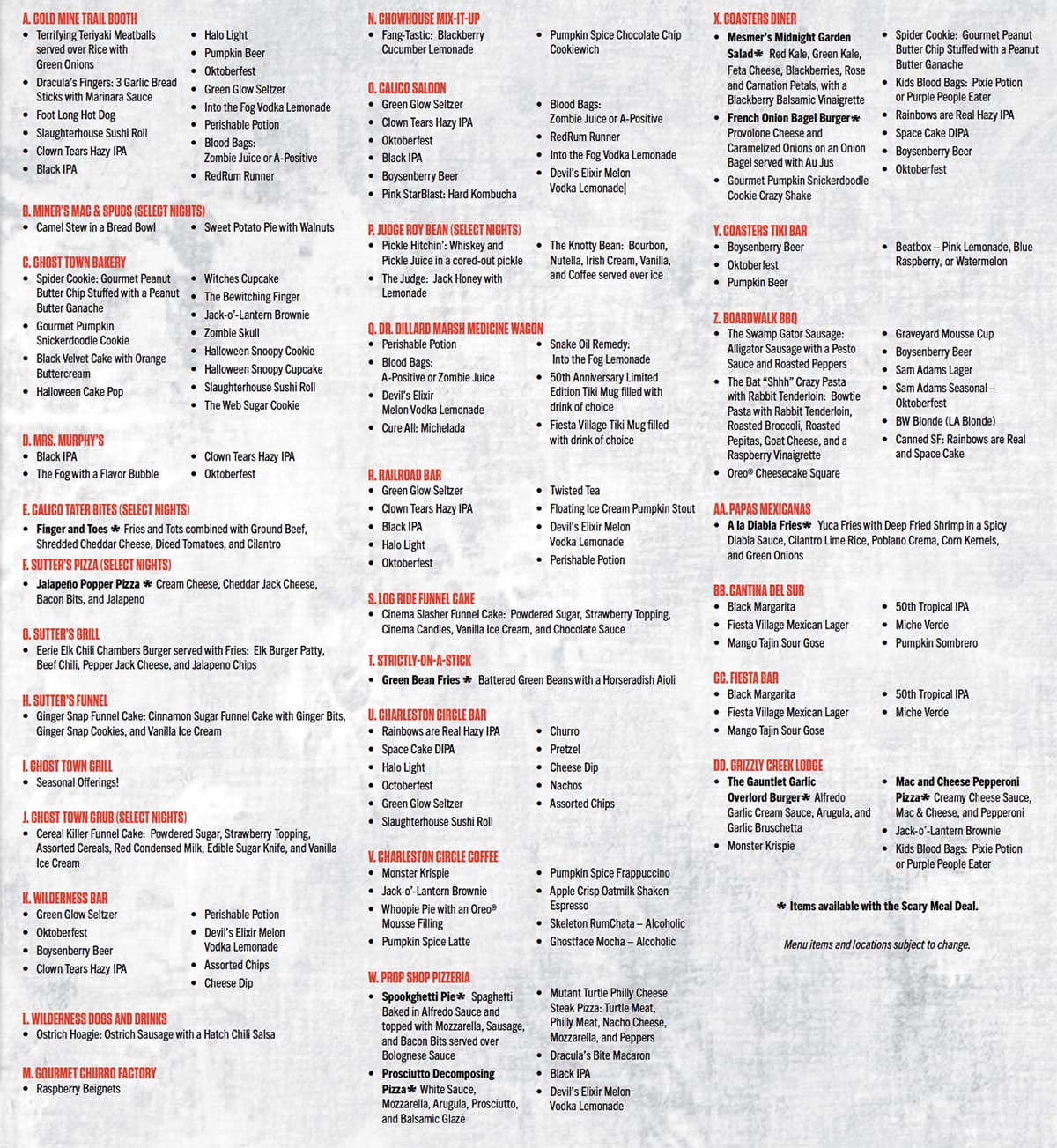 Do you have a Knott's Berry Farm Food Plan? Guess what? Some of the Scary Farm offerings are available as part of the meal plan! However, meal plans do not work during Scary Farm hours.
Meal Plan Eligible Scary Farm Foods:
French Onion Bagel Burger
Mesmer's Midnight Garden Salad
A la Diabla Fries
Finger and Toes
Jalapeño Popper Pizza
Green Bean Fries
Mac and Cheese Pepperoni Pizza
The Gauntlet Garlic Overlord Burger
Spookghetti Pie
Prosciutto Decomposing Pizza
Scary Farm BOO-FET
Boo-fet offers a special chance to dine with the monsters of Scary Farm. The menu includes Knott's classics such as Mrs. Knott's fried chicken, a chef carving station, boysenberry pie, and more. BOO-fet meal also include a 2023 souvenir bottle, which gives unlimited refills on the night of, plus only $5 all-day refills for each additional visit through 2023. Boo-fet dinner starts at $45.
After dinner, enjoy early entry into select areas of Knott's Scary Farm a few minutes before it opens to other mortals. Boo-fet early entry will be to:
Bloodline 1842 maze
Dark Entities maze
The Depths maze
Wax Works maze
Exclusive photo opportunities with the monsters.
Click here for more information about the Scary Farm Boo-fee Dinner.
Scary Farm Fright & Fast Lane Passes
What is a Fright & Fast Lane pass? This pass allows you to ride and scream all night long with unlimited priority access to all mazes plus priority boarding on all Fast Lane rides. Fright & Fast Lane starts at $145 and varies by night. Separate Scary Farm park admission required and not included.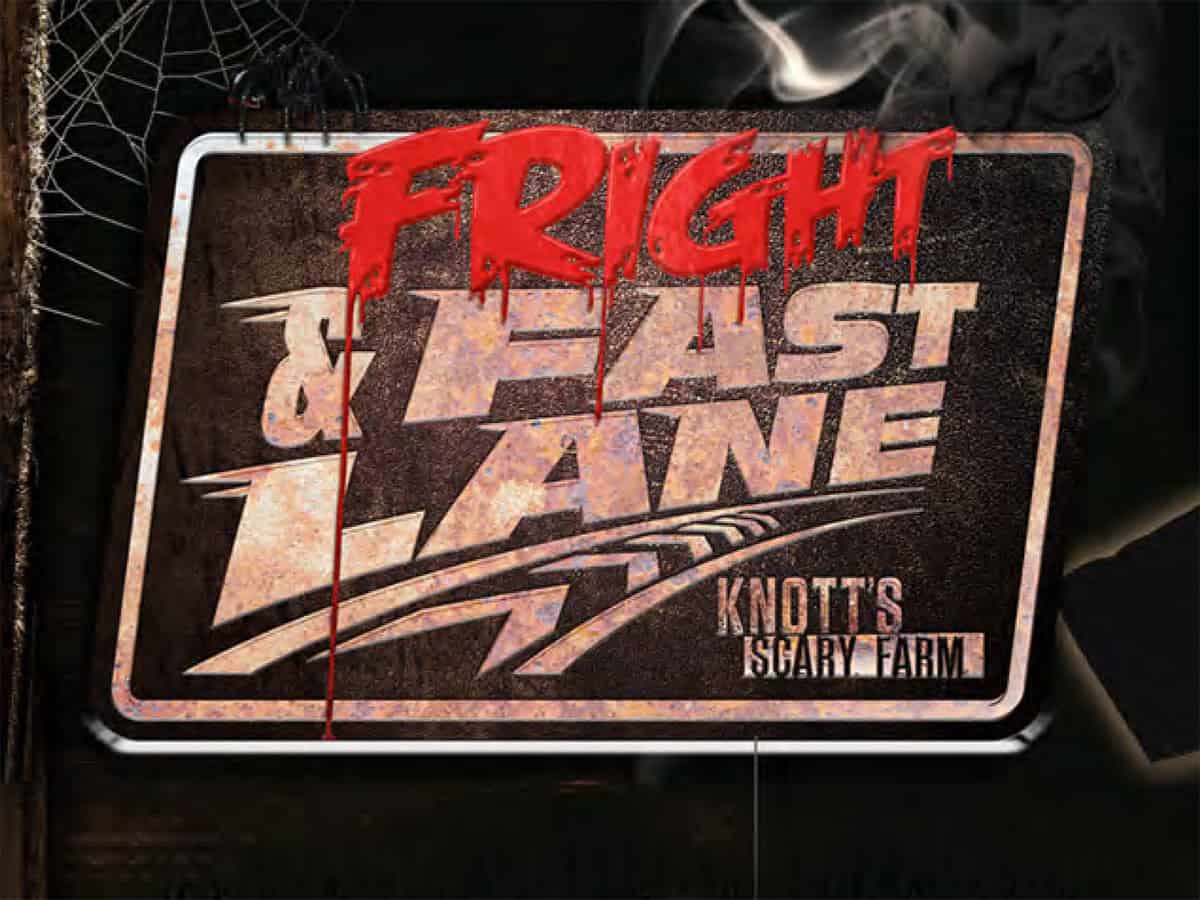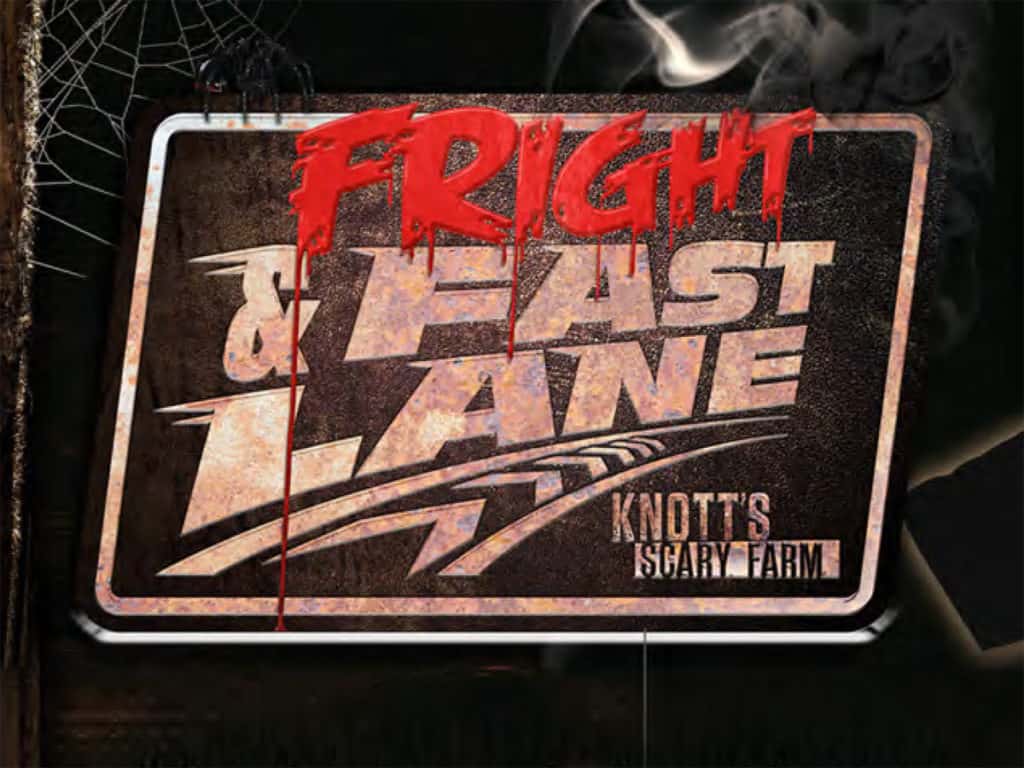 Is the Fright & Fast Lane pass worth it?
Scary Farm can get crowded and the lines long. If you want to go on everything, then yes! Of course, it also depends on your budget. Also, everyone in your party will need one as they are not transferable.
Attractions that accept a Knott's Scary Farm Fright & Fast Lane Pass:
Unlimited Priority Access to All Mazes
Unlimited Priority Access on All Fast Lane Rides
(You can go as many times as you would like on all the mazes and rides.)
Available while supplies last! Scary Farm Fright & Fast Lane passes have limited availability in the quantities sold each night.You can purchase a Fright & Fast Lane pass online, or at the park in the General Store, Cordy's Corner, Casa California or Guest Services.
Knott's Scary Farm Dates, Hours and and Tickets (2023)
The 50th year of Knott's Scary Farm starts on September 21 and runs through October 31, for a total of 29 terrifying nights. Starting September 21st, it runs every Wednesday, Thursday, Friday, Saturday and Sunday until October 29th AND Halloween!
2023 Knott's Scary Farm Dates are: September 21, 22, 23, 24, 28, 29, 30, and October 1, 4, 5, 6, 7, 8, 11, 12, 13, 14, 15, 18, 19, 20, 21, 22, 25, 26, 27, 28, 29 and 31.
Knott's Scary Farm is open 7:00 pm –2:00 am on Fridays and Saturdays and 7pm – 1am on select Wednesdays, Thursdays, and Sundays.
You can buy tickets for Scary Farm 2023 here. They start at $59.99.
Knott's Scary Farm Discount Tickets (2023)
Currently you can only get discounts on general admission Knott's Scary Farm tickets by purchasing tickets directly from Knott's ONLINE. By purchasing online, you will save up to $50 from the gate price!
Does Knott's Scary Farm Have an App?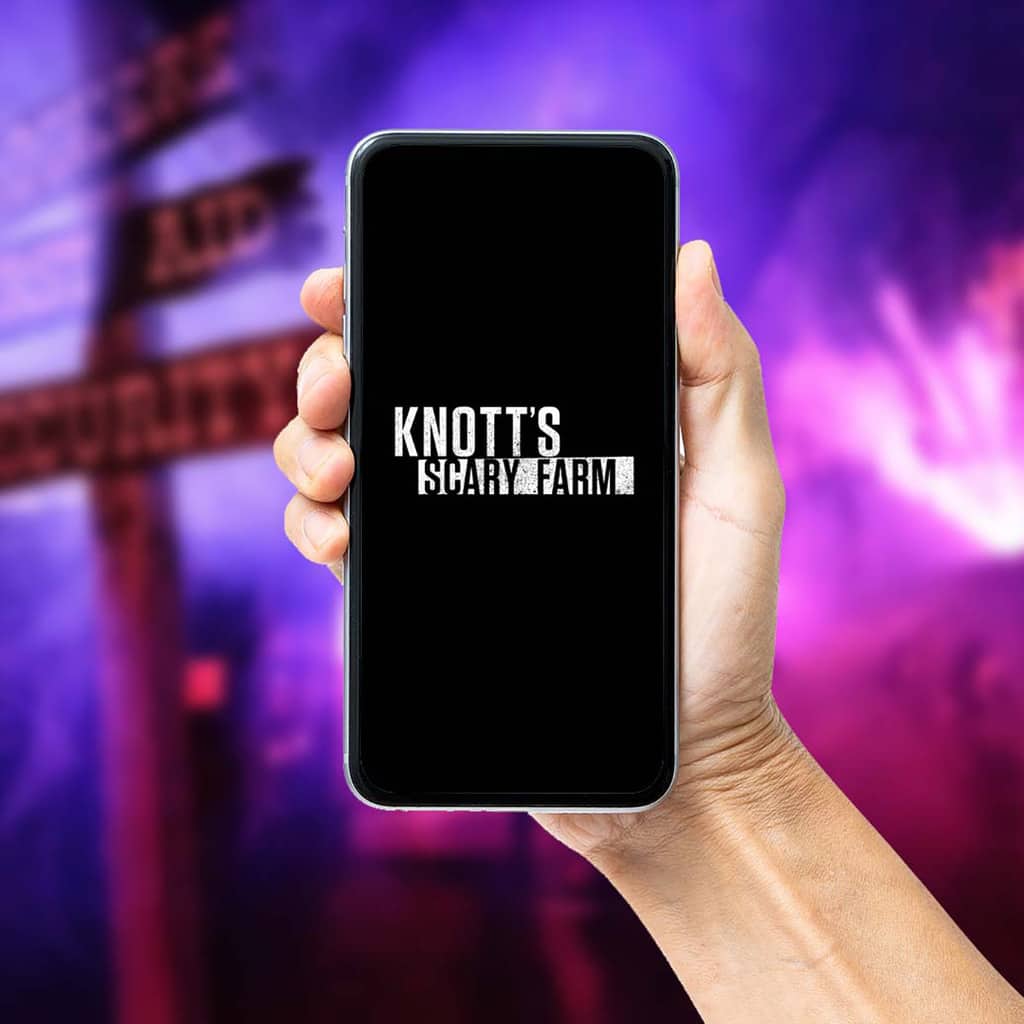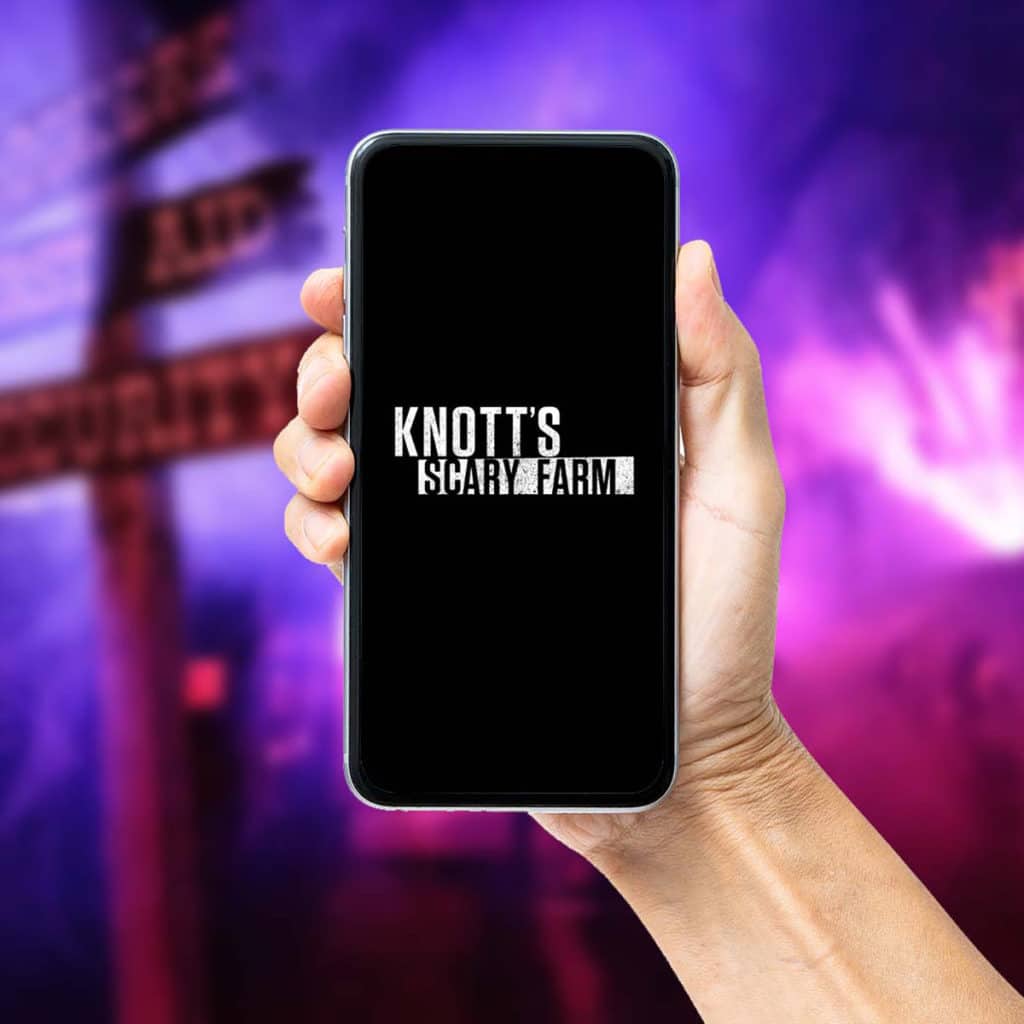 Yes! Knott's Scary Farm does have an app! Navigate your nightmares with a complete guide to all the haunted shows and attractions on their free mobile app.
Download the Knott's Scary Farm App Here.
Chaperone Policy at Knott's Scary Farm
Under the chaperone policy, all general park guests ages 15 years old or younger must be accompanied by a chaperone who is at least 21 years old to be admitted to the park. The chaperone must present a valid photo ID with date of birth. One chaperone may accompany no more than (10) guests ages 15 or younger per day.
Guests 16 years or older can be asked to present a valid government issued photo identification with date of birth at entry to verify their age in order to enter the park.
Click here for full Chaperone Policy Guide
Bag Policy at Knott's Scary Farm
Guests are only allowed to bring clear plastic bags no larger than 12" x 12" x 6" or non-clear wristlets or clutches no larger than 5"x 8"x 2" into the park during KNOTT'S SCARY FARM. This includes purses, backpacks, or diaper bags. All bags will be subject to search prior to entry.
Stay at the Knott's Berry Farm Hotel During Scary Farm
Stay on property at the Knott's Hotel and you'll gain access to the best pricing on tickets.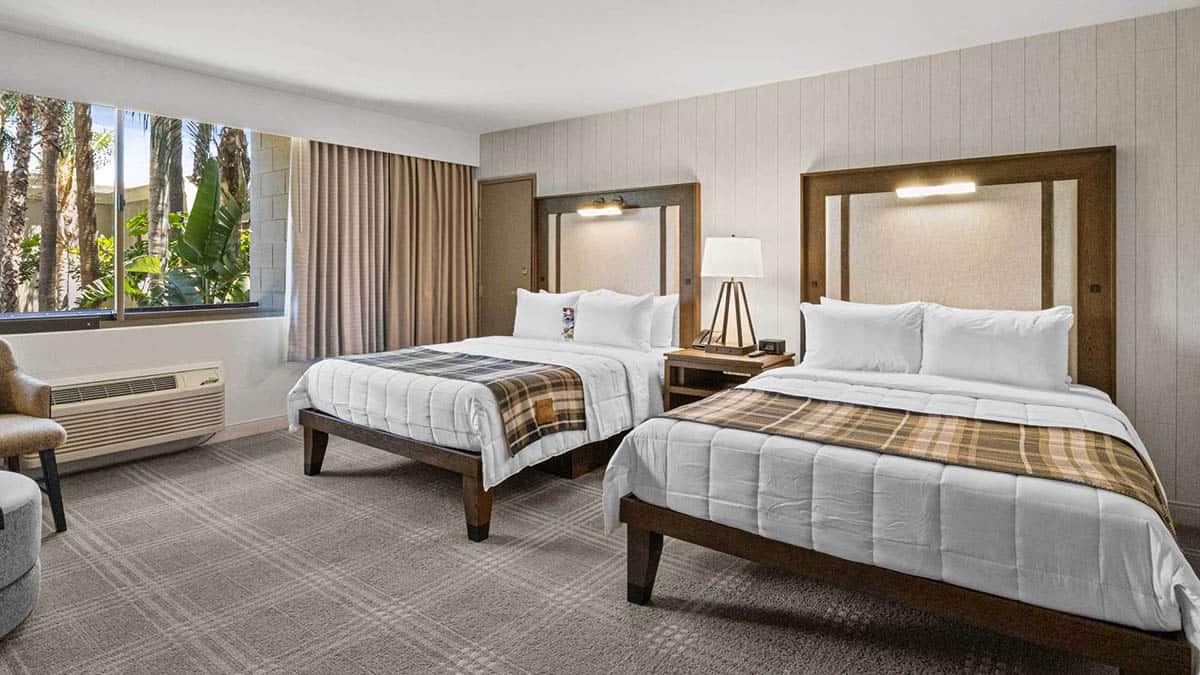 Why would you want to stay anywhere else? Packages range from a hotel stay with admission to Knott's Scary Farm and a collectible Scare Key to all inclusive packages that include a hotel stay, admission to Knott's Scary Farm and Knott's Berry Farm, collectable t-shirt, key, a pre-scare dinner, breakfast and a Fright Lane Pass!
To check out all the Knott's Scary Farm Hotel packages click here!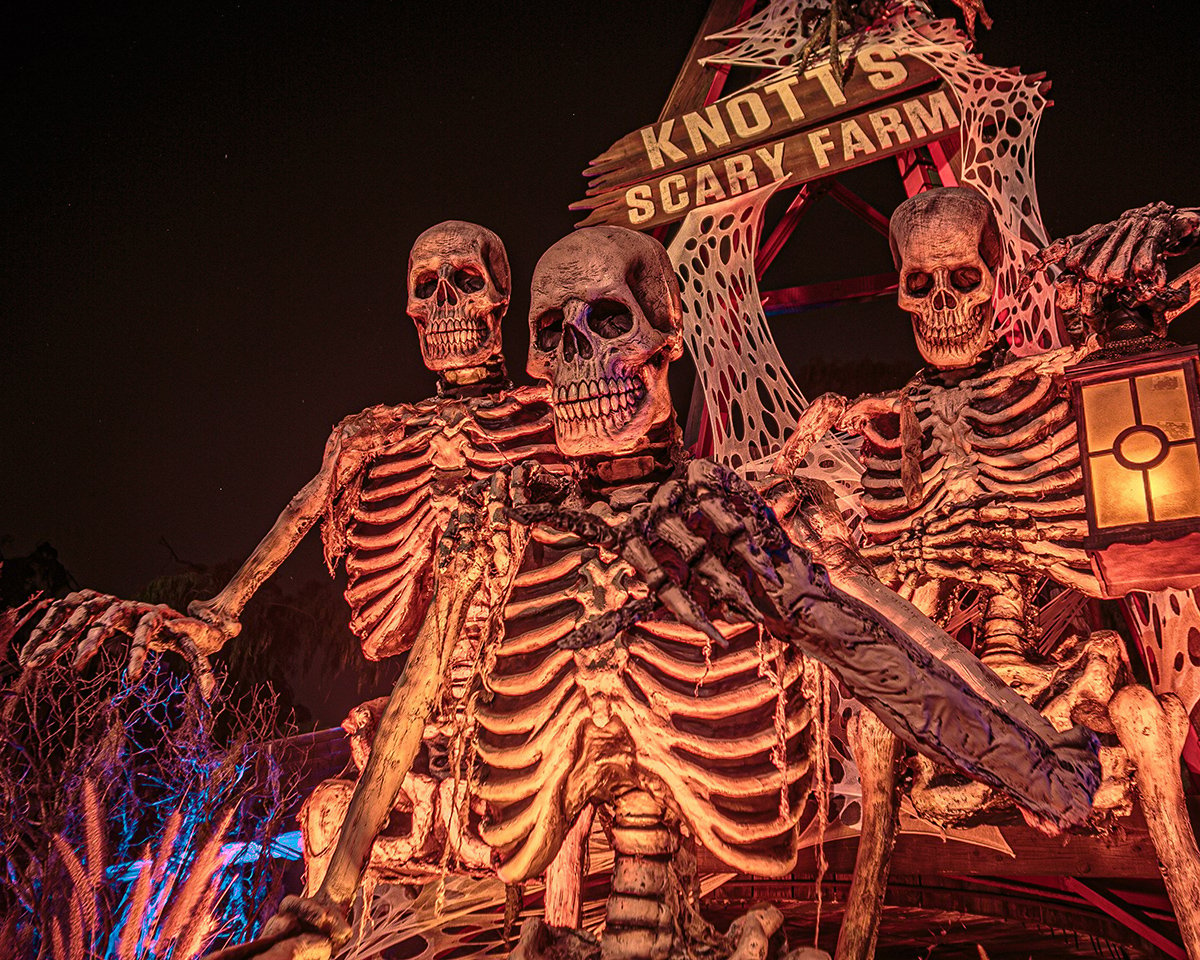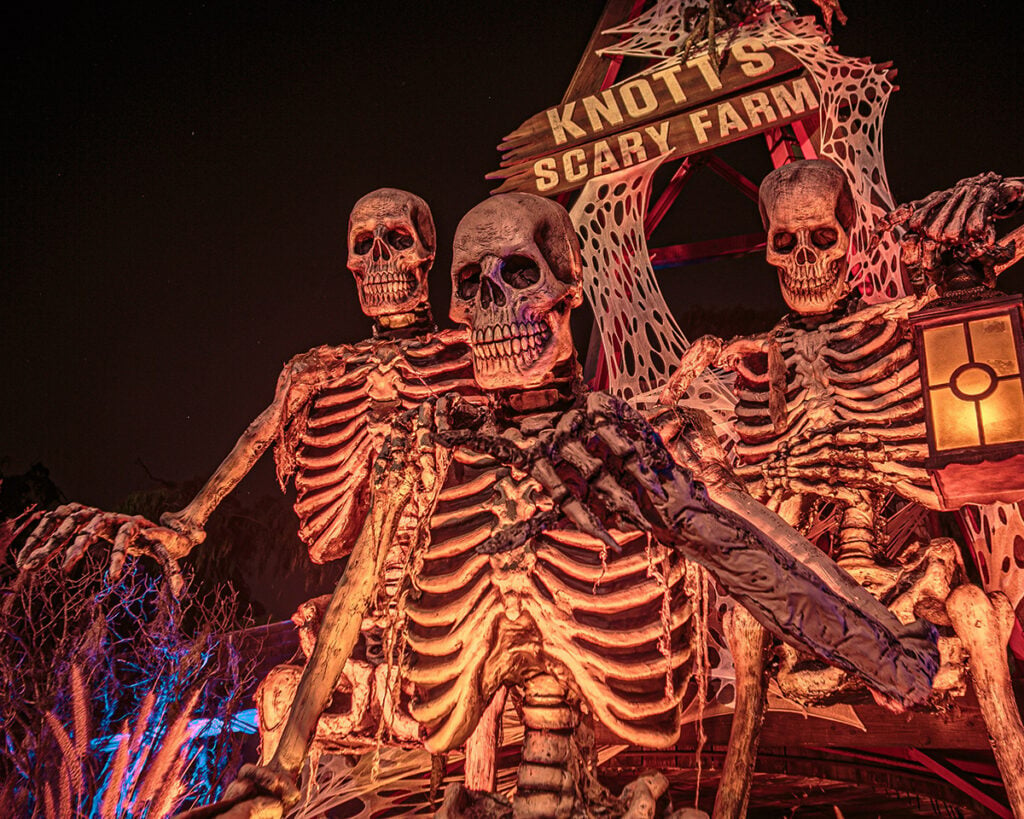 Knott's Scary Farm FAQ
Here are some frequently asked questions about Scary Farm that you may have...
Is Knott's Scary Farm kid-friendly?
Should you bring your kid to Scary Farm? That all depends. It's VERY SCARY!!!!! Scary Farm is recommended for ages 13 and older. Are you are comfortable with your child being present for the following situations?
The mazes are gruesome.
Do they get scared easily?
Do they ever have nightmares?
Do you want them to see blood and gore?
Do you want them to hear fowl language. When people get the crap scared out of them...they tend to drop foul language!
Can they stay up late?
Ask yourselves these things and then decide. So yes, even 10 year olds can go to Knott's Scary Farm. In my opinion, I wouldn't bring a child younger than 10 ever. But you know your child best.
Can the monsters touch you at Knott's Scary Farm?
No. They are not allowed to touch you.
Do you have to be vaccinated to go to Knotts?
No. They do not ask you for proof. But recommend that you take personal safety precautions.
When did Knott's Scary Farm start?
1973. It originally began as a three-night affair, and now has turned into a season long event.
Is Knotts Scary Farm ending?
No. Knott's does not have plans to cancel Scary Farm anytime soon.
Can you wear costumes to Knott's Scary Farm?
No. Knott's does not allow costumes at Scary Farm.
How long are the lines at Knott's Scary Farm?
Lines for the mazes at Scary Farm. Plan on waiting anywhere from 30 minutes on less busy days, and 1-2 hours per maze on busy days. If you don't want too wait in lines, you have the opportunity to buy a Fright Lane past for $135.
Can you use Cash at Knott's Scary Farm?
No. Knott's has moved to a cashless system. They do accept debit and credit cards. They do have Cash-to-Card kiosks that can transfer cash to a card which can be used anywhere, not just at the park.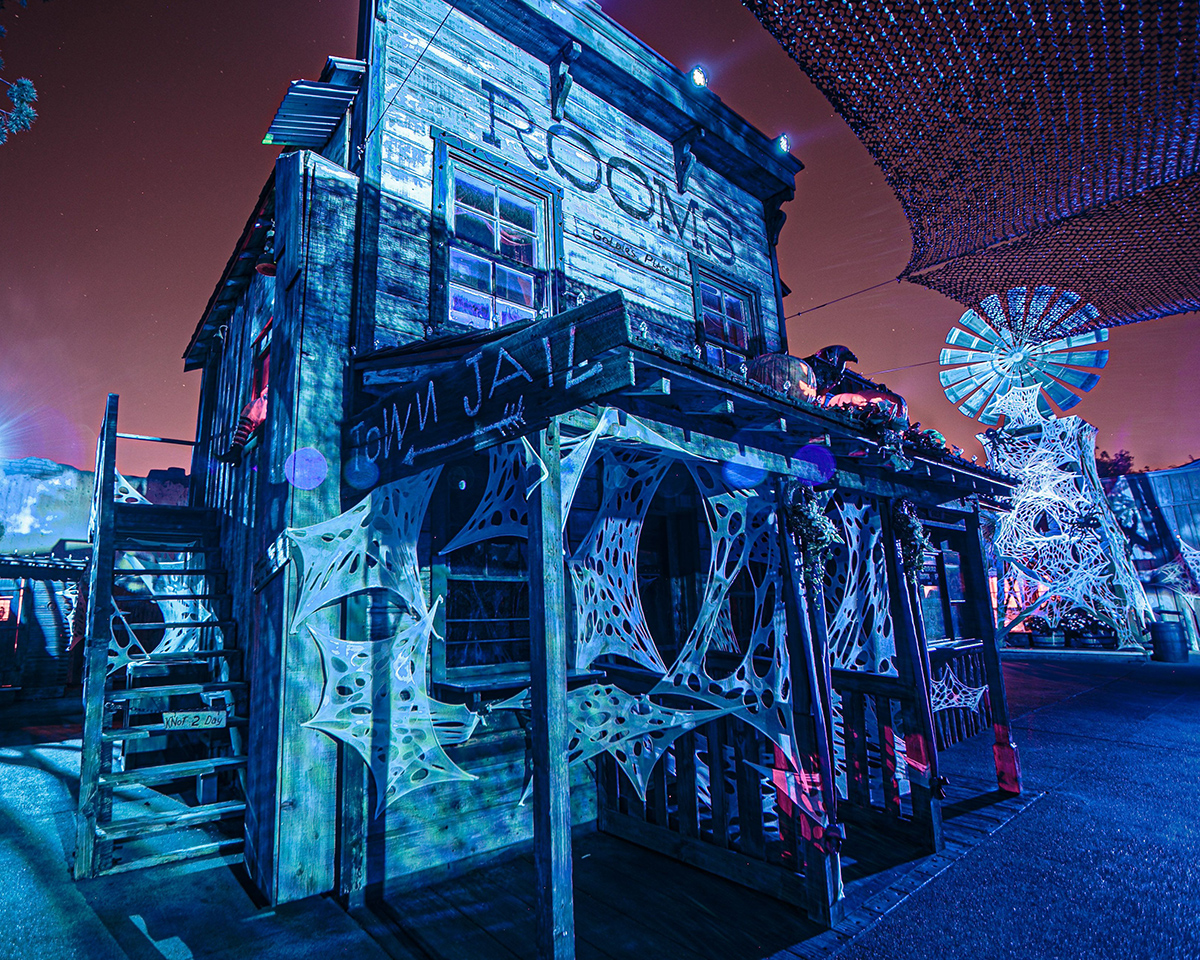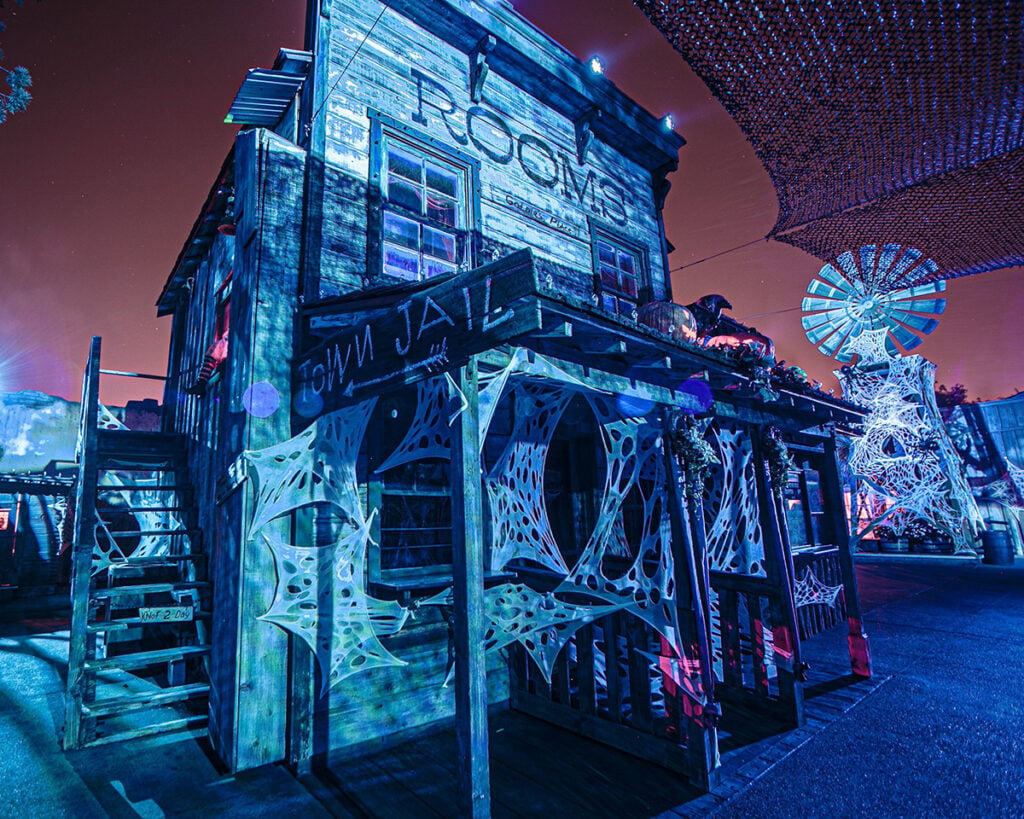 Tips & Tricks: Be Prepared Before you go to Scary Farm
There are a couple things that I suggest to do before you head to Knott's Scary Farm in order to make your night more enjoyable.
First, make sure to buy your tickets!
Download the Knott's Scary Farm app and upload your ticket.
Read this blog post thoroughly and choose the options that look best to you. Which are you must see mazes. Which shows do you want to see and what time are they playing. Do you want to purchase a Fright & Fast Lane Pass? Are you going to get a hotel room?
Learn the stories behind each of the mazes! This way you will understand the storyline as you go through them. You can learn about each of the Scary Farm mazes here.
Knott's Scary Farm Map
Download the below map and guide to your phone. Download it here. This way you can find all the mazes, scare zones, and shows easily.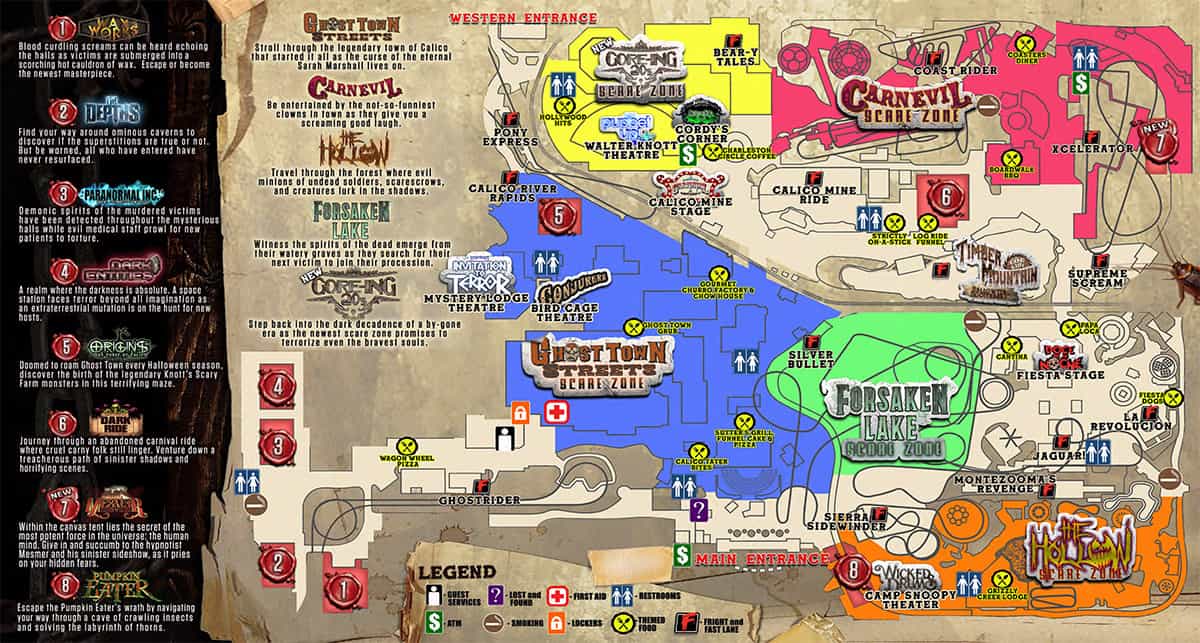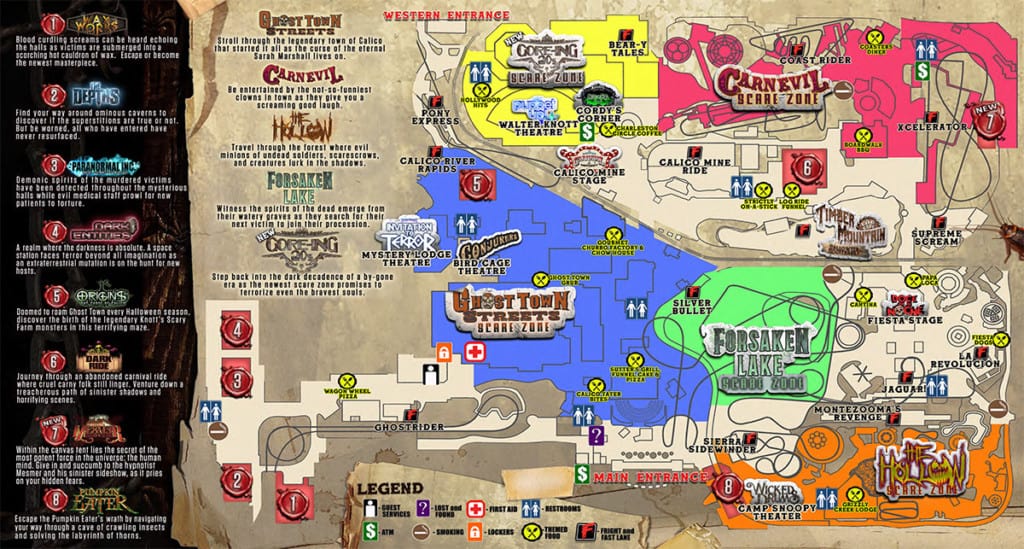 Finally, Is Knott's Scary Farm Worth it?
If you like being scared and immersed in monsters and scary scenery....the YES!!! I would say the Knott's Scary Farm is 100% worth it. The mazes are very professionally done, the actors are amazing and the costumes...they are spectacular. So much work in put into all the shows, food, designs and creating the most frightening evening ever. The designers work on Scary Farm all year long...and it shows! You're going to love it.