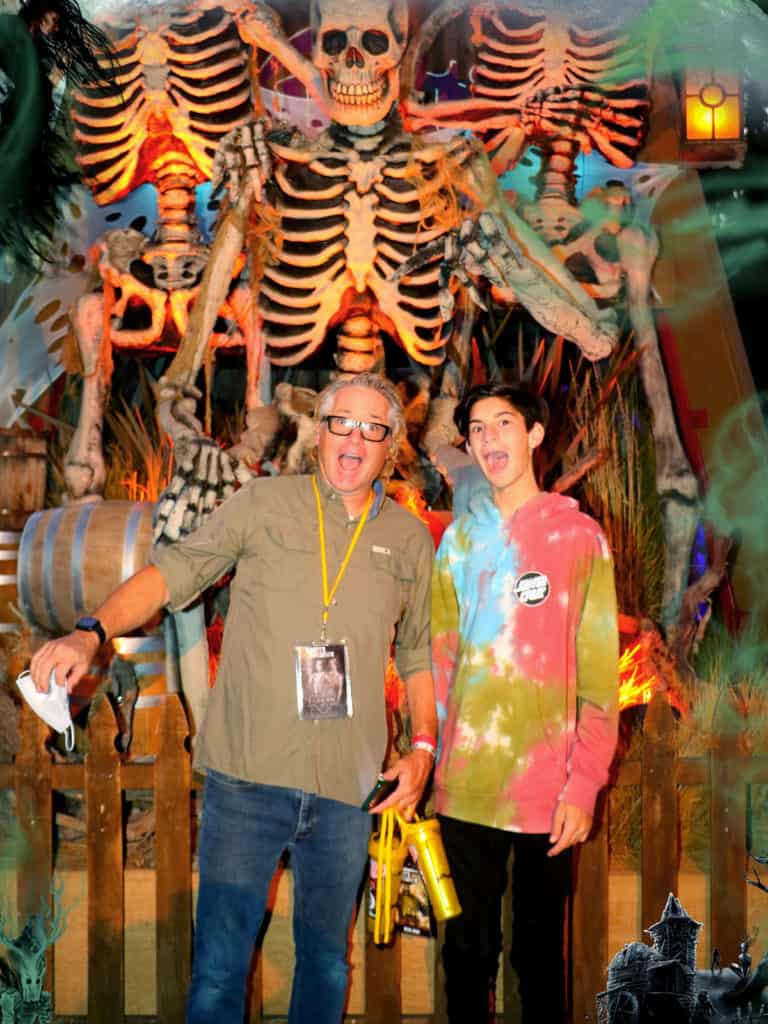 Knott's Scary Farm is BACK!!! Southern California's favorite haunted Halloween event has returned 27 terrifying nights of screams from September 16 – October 31. Get ready for innovative new scares and bone-chilling thrills for Scary Farm's 48th frightful year. There are 15 haunted attractions including mazes, scary food, shows, scare zones and more. I don't know about you, but my teens look forward to Knott's Scary Farm all year long!!!
This year's theme is Where Nightmares Never End! Terror comes to life as the theme park shifts into your worst nightmare, with horrifying monsters and hair-raising scares looming around every turn. Besides 8 mesmerizing mazes, there are five sinister scare zones, and two seasonal ride overlays - Calico Mine Ride and Timber Mountain Log Ride.
Click here to purchase Knott's Scary Farm Tickets.
What's New for 2021?
I am so excited to share that there will be some new scary attractions at Knott's Scary Farm this year. First of all, there is a new maze, Mesmer: Sideshow of the Mind! It is a scary carnival theme which you can read more about below.
Then there are 3 new shows. Carnaval du Grotesque playing on the Calico Mine Stage, Invitation to Terror that you will find at the Mystery Lodge and Wicked Drums playing in Camp Snoopy. You can read more about these new show below.
Lastly, there is a new themed scare zone. Step back into the dark decadence of a by-gone era as the newest scare zone The Gore-ing 20's has arrived. You will find this area back by the Charles Schultz Theater, Berry Tales ride and the bumper cars.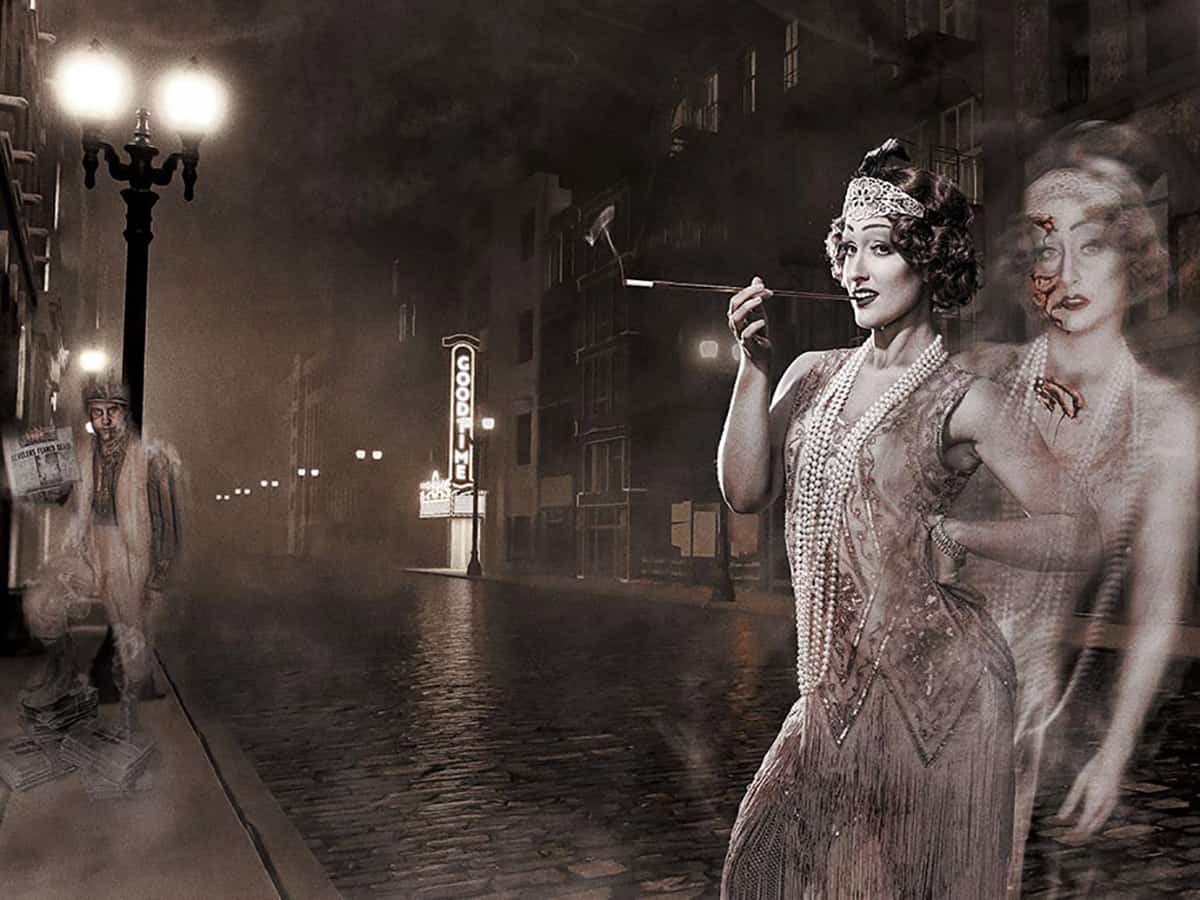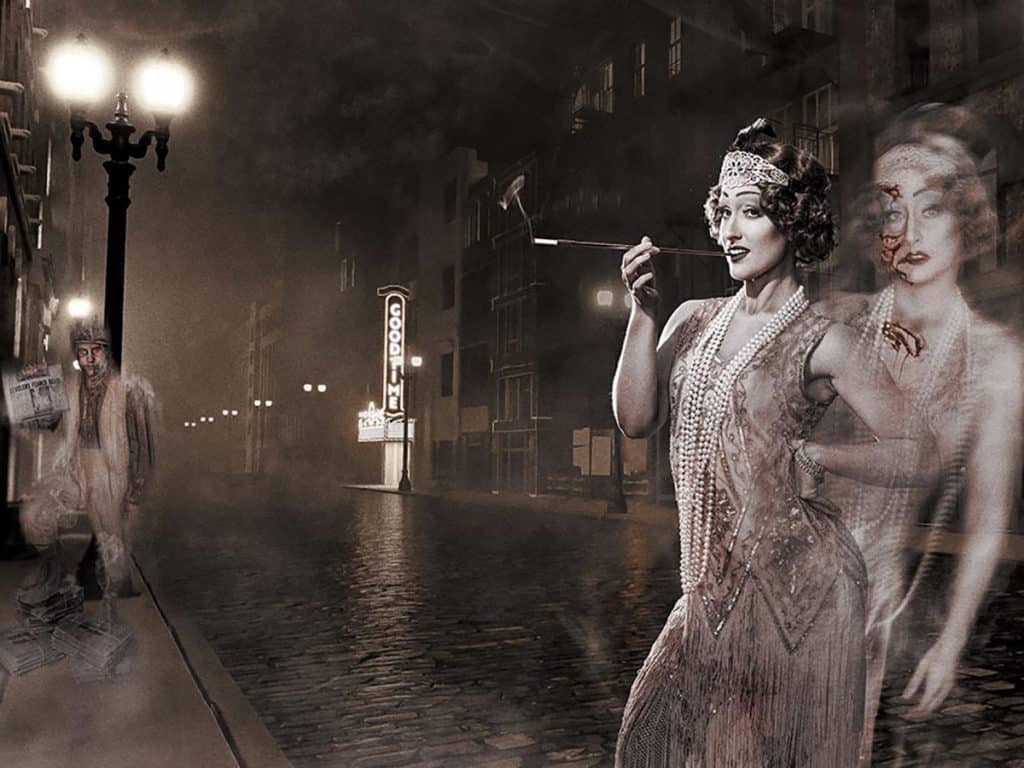 Knott's Scary Farm 2021 Mazes
This year, Knott's Scary Farm will have 8 mesmerizing mazes!
First off, head over to Mesmer: Sideshow of the Mind. This is Knott's Scary Farm's newest haunted maze. Within the canvas tent lies the secret of the most potent force in the universe - the human mind. Get ready to succumb to the hypnotist Mesmer and his sinister sideshow as they prey on your hidden fears. Finally, release your inner thoughts and descend into a world of madness, torture, and eerie enlightenment.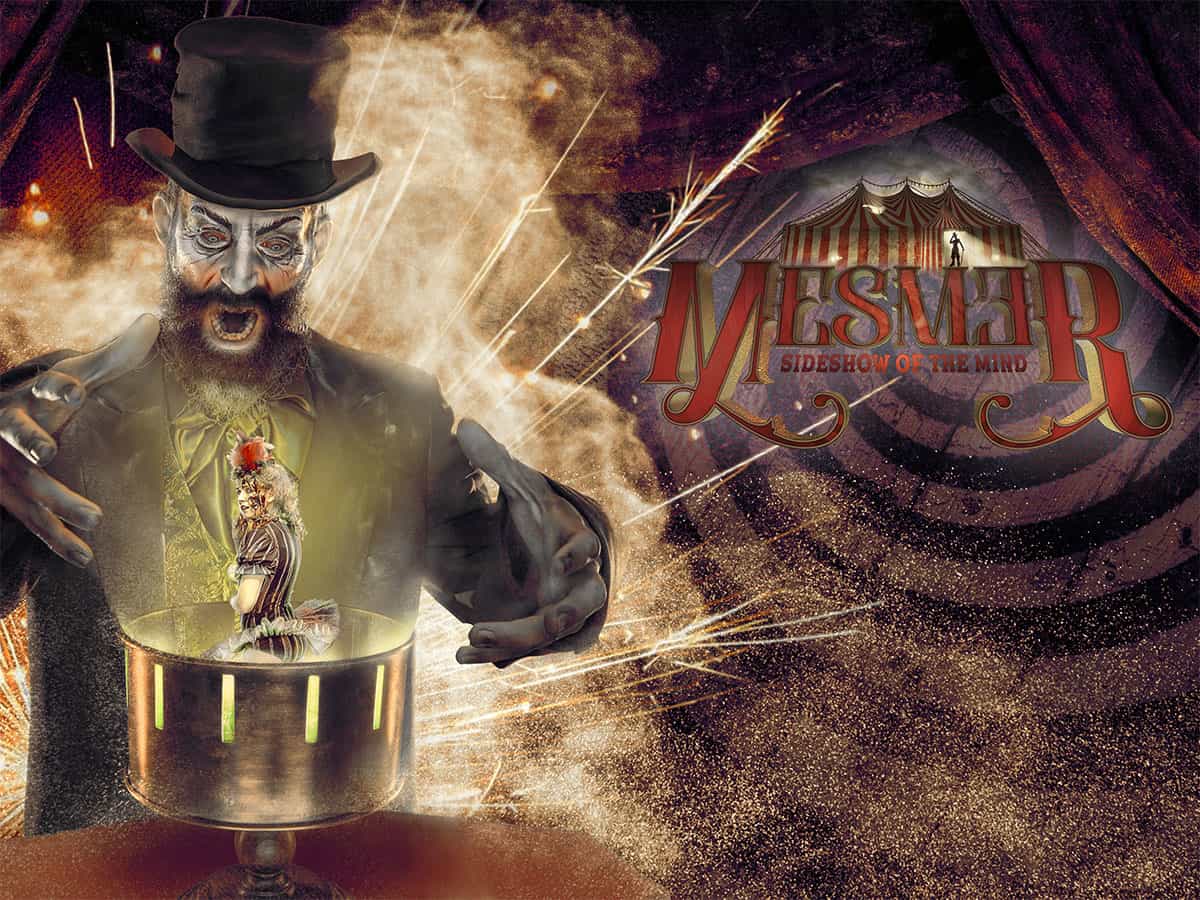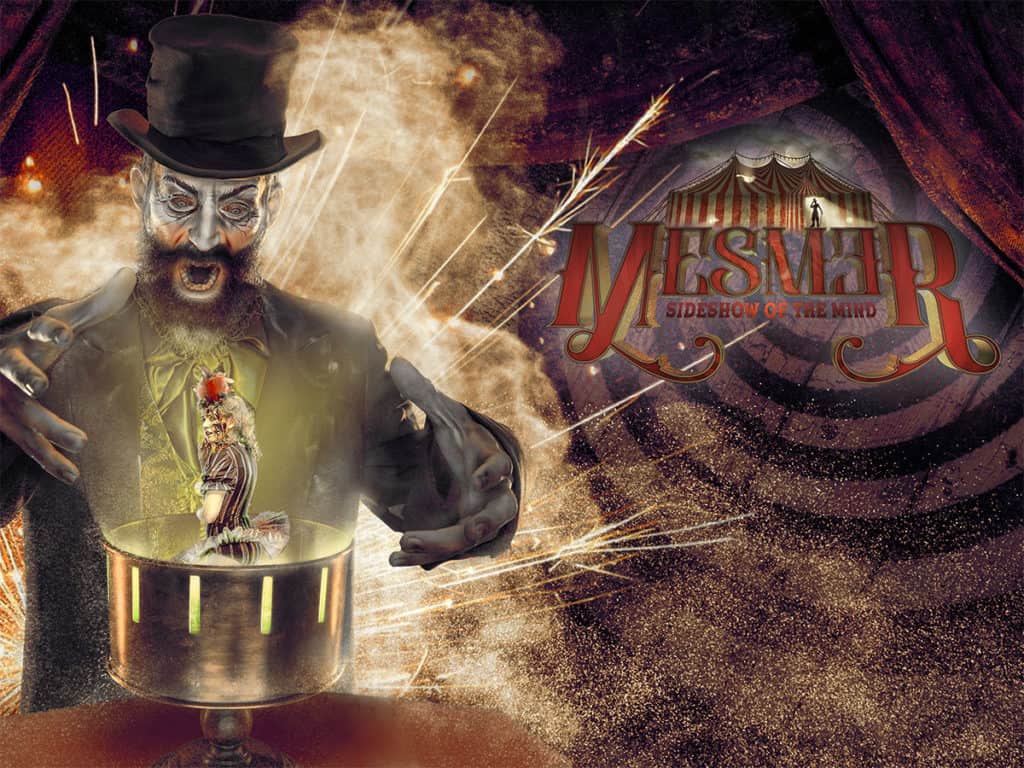 Mysterious lights and strange noises have begun to emanate from the eerie abandoned wax museum. This is the theme of the maze, Wax Works. Blood-curdling screams echo through the halls as victims are horrifyingly submerged into a scorching hot cauldron of bubbling wax. Plastic surgeon, Dr. Augustus Scratch, will be tinkering each night, ready to show off his beautiful yet terrifying life-like masterpieces of hot molten wax and bloody flesh. Run away or eventually become the newest masterpiece to add to his collection.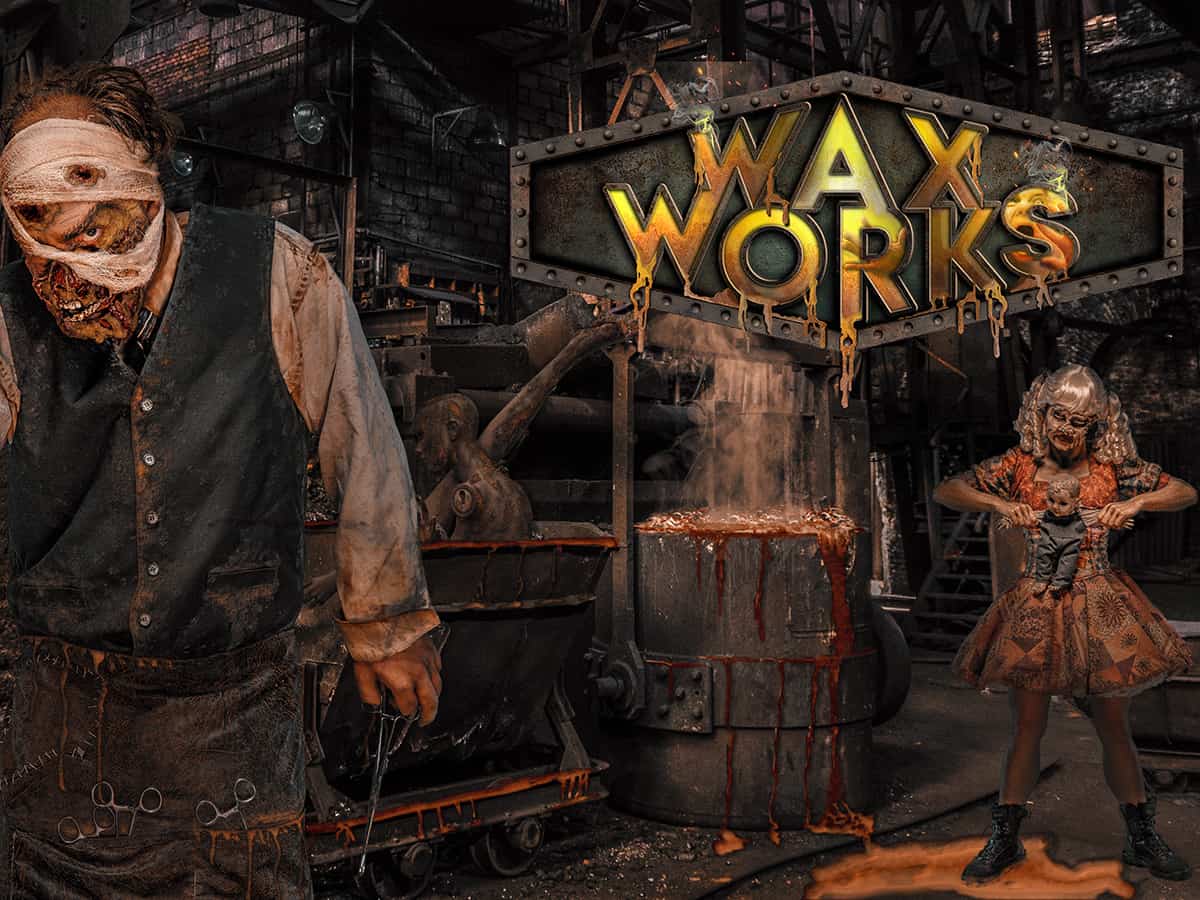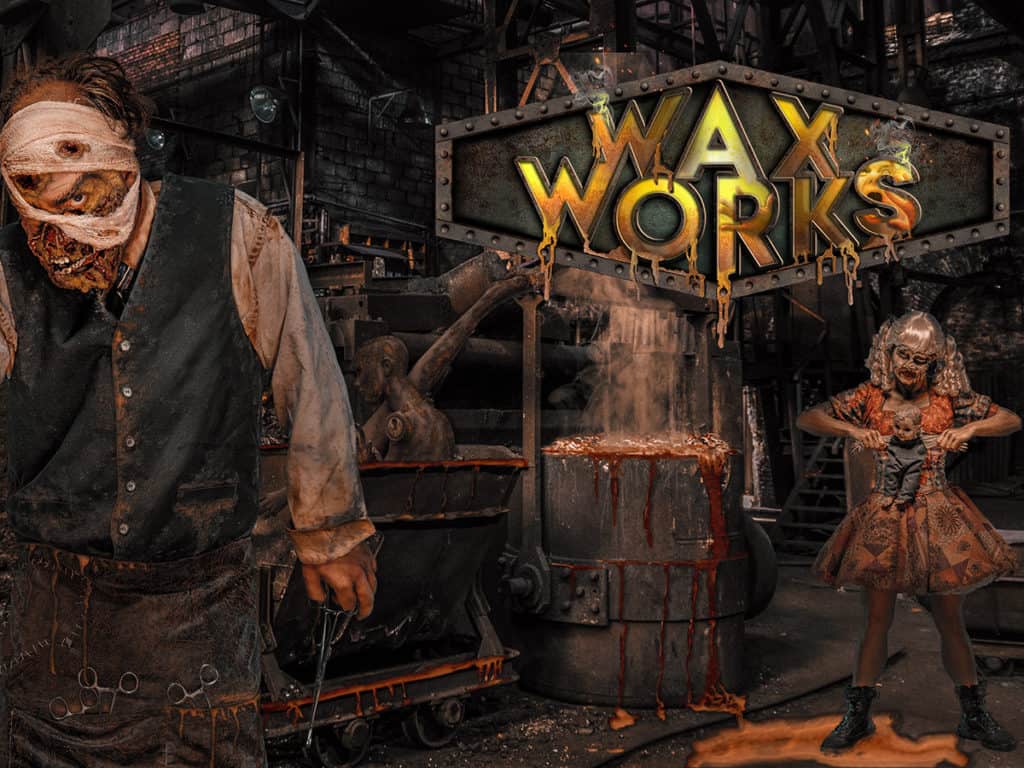 Even more mazes!
Origins: The Curse of Calico is where you will discover the secret of the evil fog that hangs over Knott's Scary Farm. Unearth the sinister paranormal activity that plagues Calico. Soon, Sarah Marshall will be put on trial for her suspected crimes of witchcraft. The Green Witch will rise and curse the townsfolk, transforming those who have accused her into malicious creatures with an eternal quench for the living.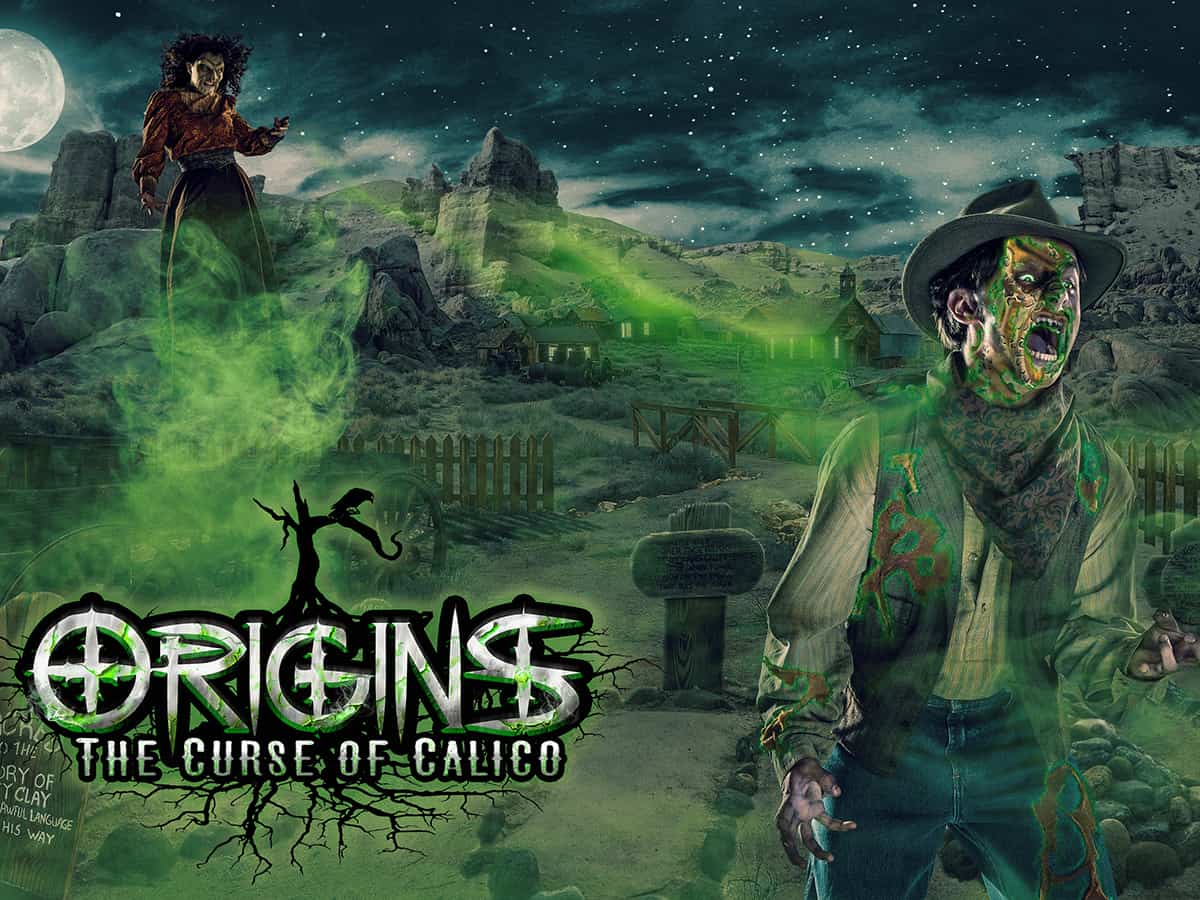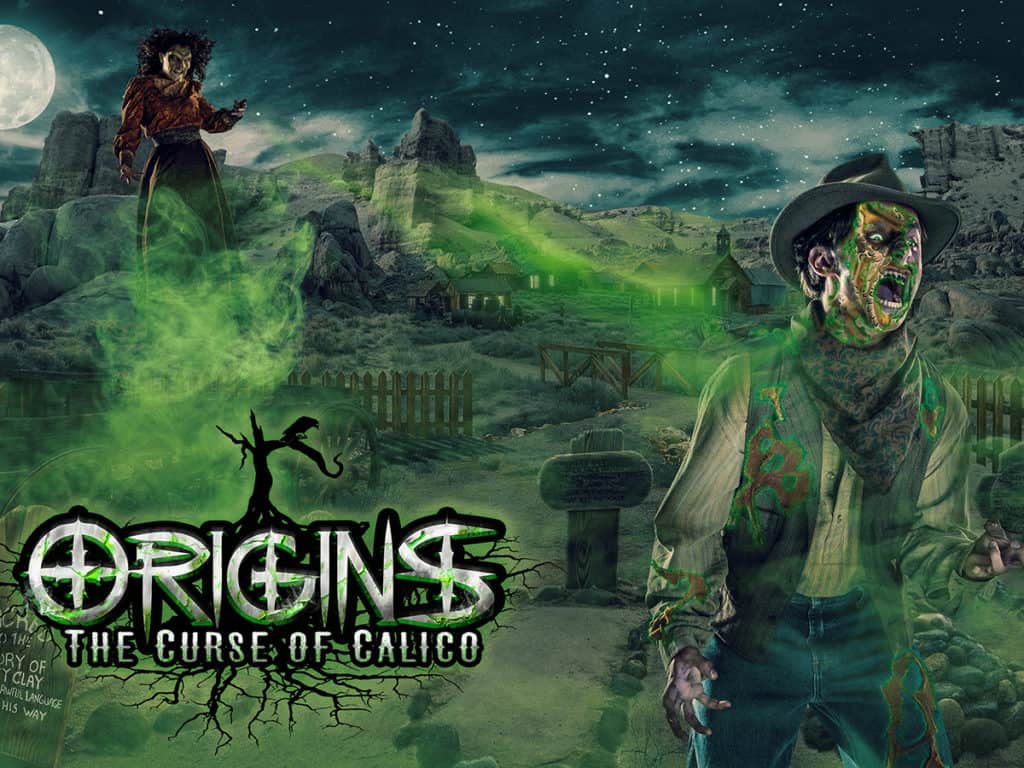 PARANORMAL, INC. – The Haunting of Hayden Hill: Paranormal Inc. maze reopens its doors one final time to those brave enough to uncover a bizarre and supernatural adventure. Guests investigate the haunted hospital where the patients continue to be tortured for decades by deranged doctors and nurses. In addition, demonic spirits of the murdered victims line the mysterious halls, while evil medical staff prowl for new patients to torture.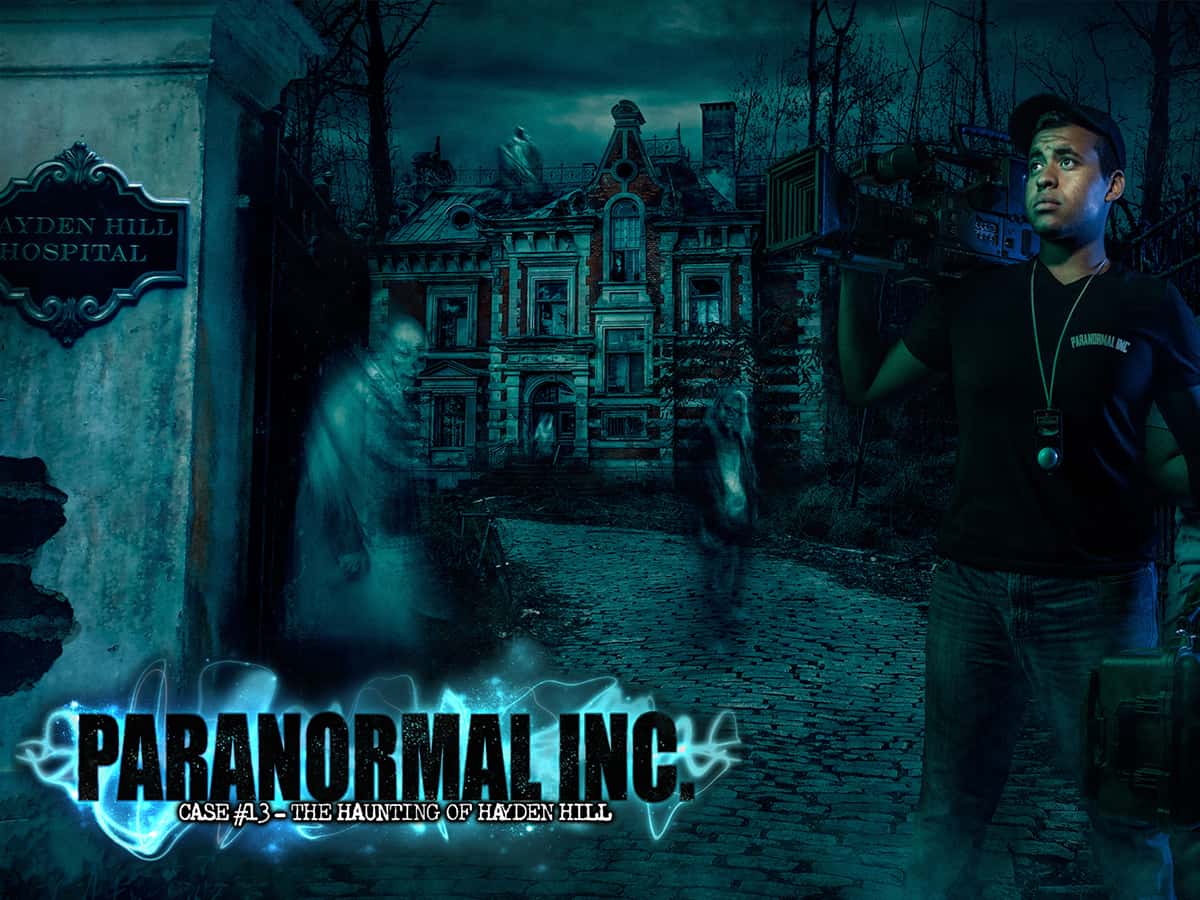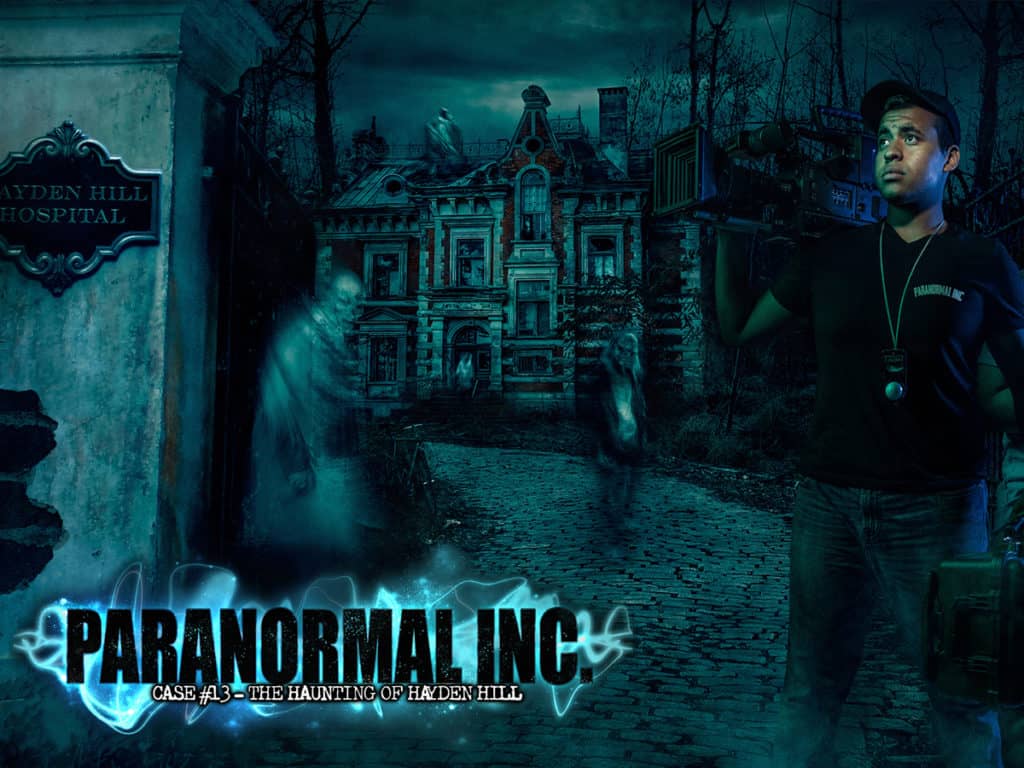 Survive the wrath of the murderous 7-foot tall creature that haunts the old woods surrounding The Hollow as you enter the Pumpkin Eater maze! A creature is on the prowl, hidden within the dark confines of the haunted town he once terrorized. To escape Pumpkin Eater's wrath, all who enter must go on a quest through the silent town of victims, face a cave of crawling insects and solve the labyrinth of thorns that blocks the way out.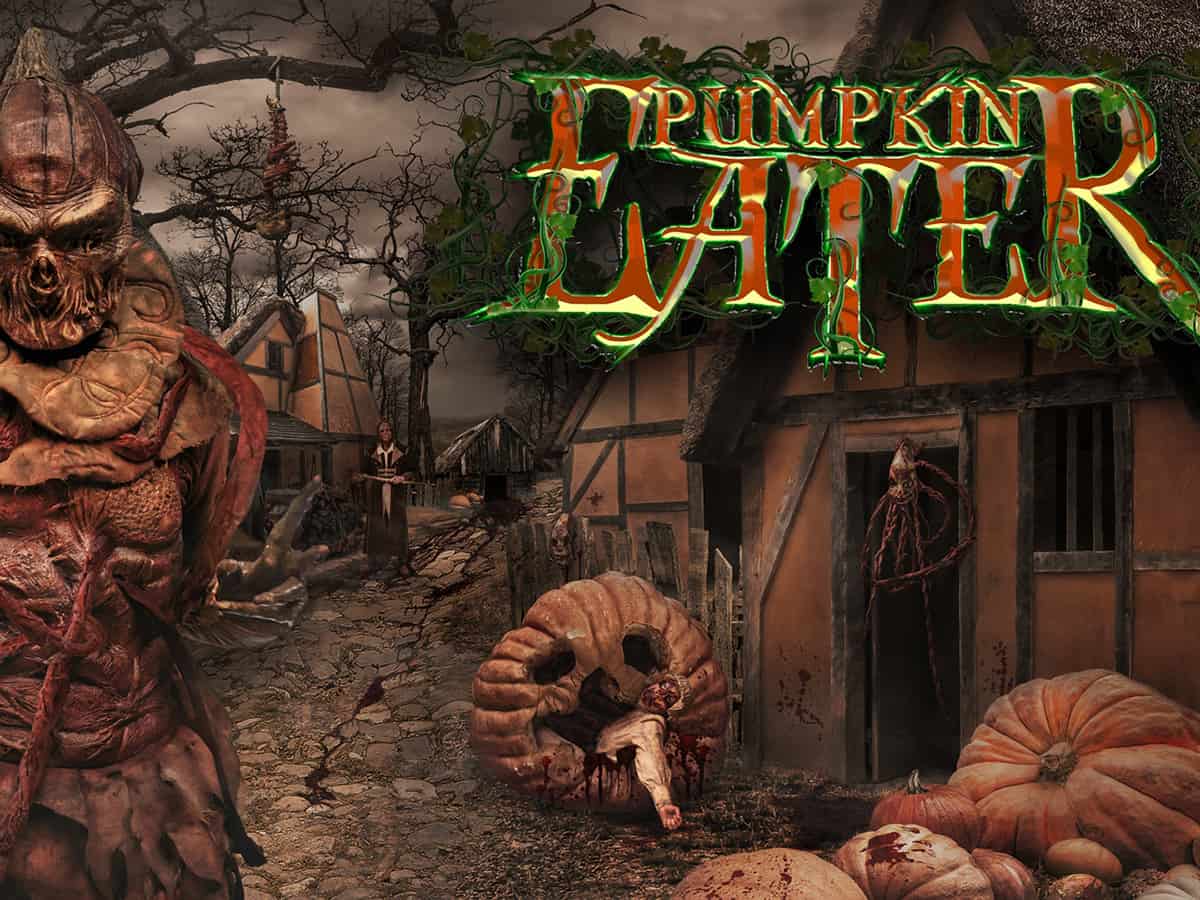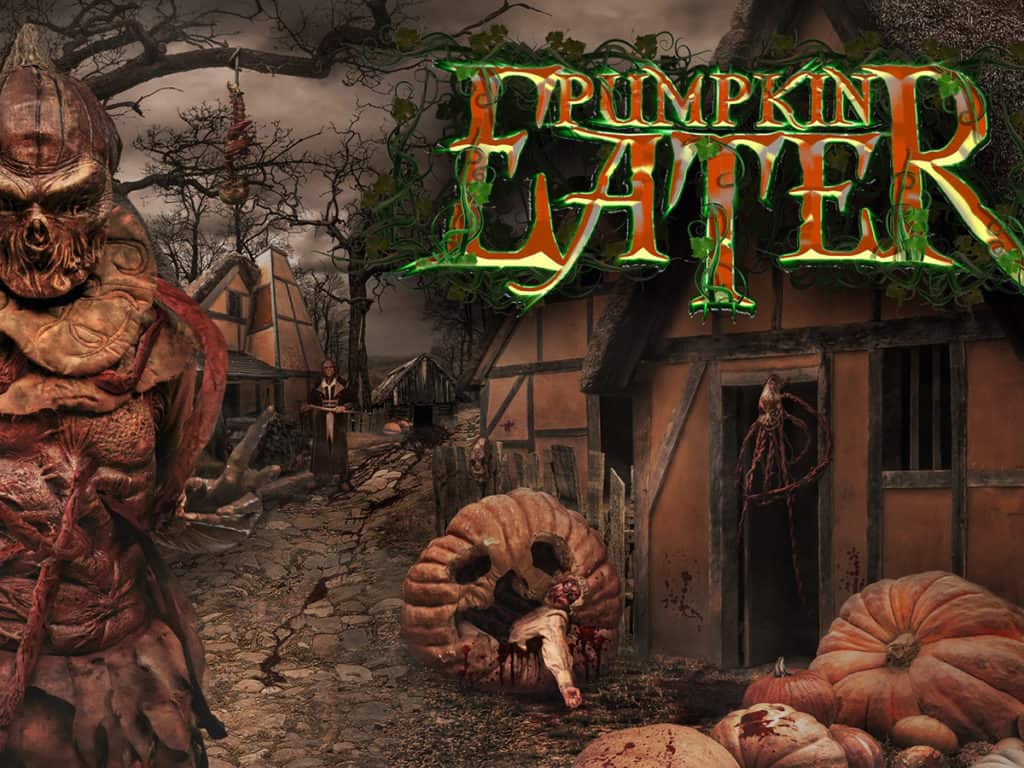 Journey through an abandoned carnival ride where cruel carnie folk still linger in the shadows in Dark Ride: Castle of Chaos. The carnival freaks and carnies have created a dark world of terror which they plan to unleash on those who enter. Brave visitors will journey through a treacherous path, right into the bowels of a long-neglected attraction.
Beware of the sinister shadows and horrifying characters that cast gloom over the once pleasant ride resulting in everyone's worst nightmare, being trapped inside an abandoned carnival ride without a way out.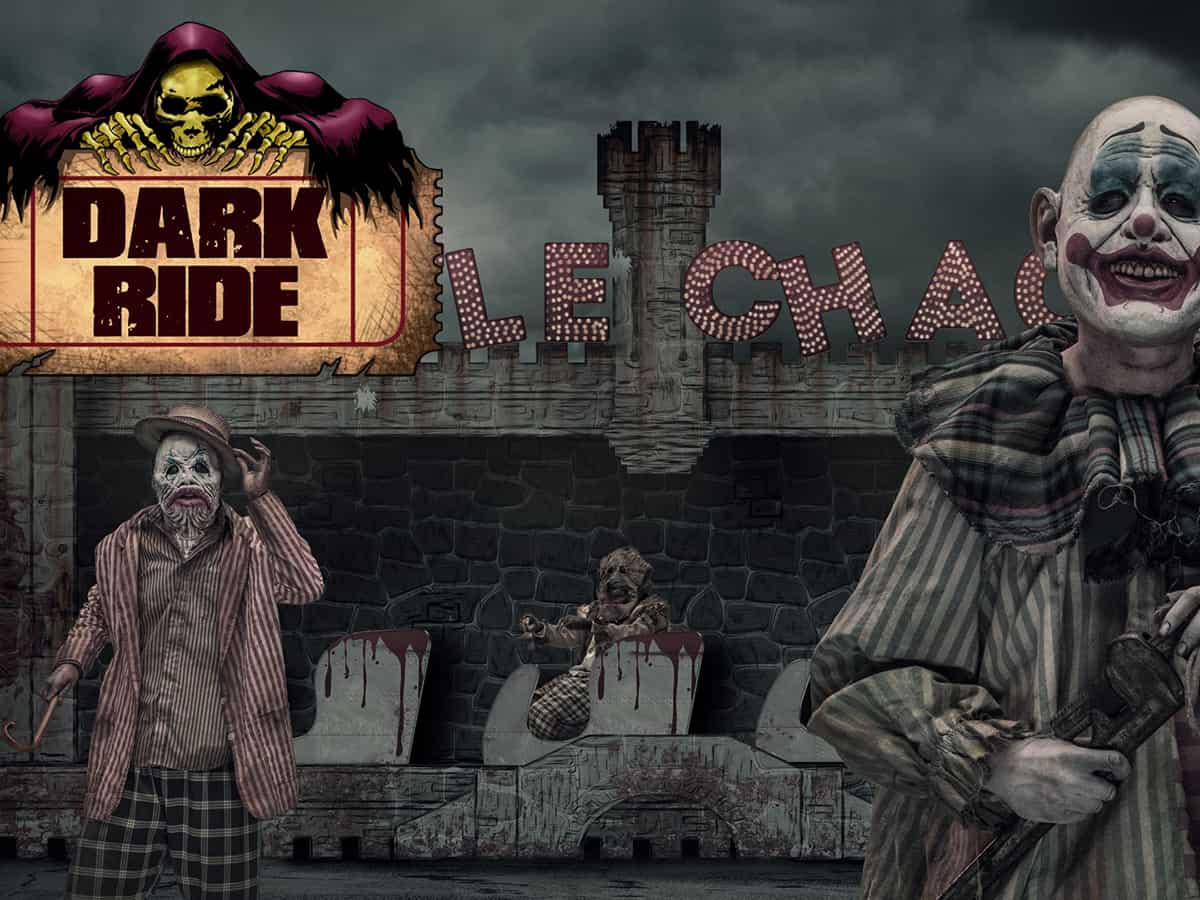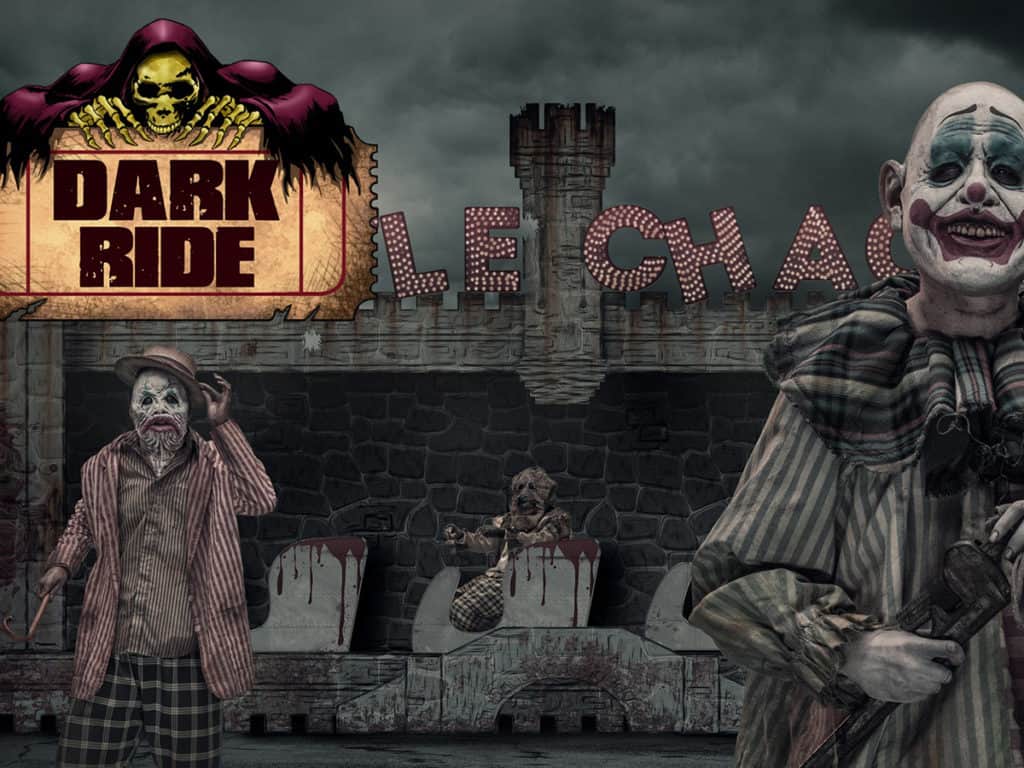 A heavy fog drapes over an abandoned port village where ancient creatures lurk in the maze The Depths. Inside the pitch-black underground caves hide below the seaside shores. The Nightwatch Mining Crew has mysteriously disappeared, and village rumors point to the eerie tunnels the town sits upon. Warning, all who enter never resurface. Myths of the terrifying horrors that lurk within the cave have often been whispered yet are never confirmed. Did the crew meet their demise at the hand of vicious creatures that live within the cave? Discover if the superstitions revolving around the cave are true or not.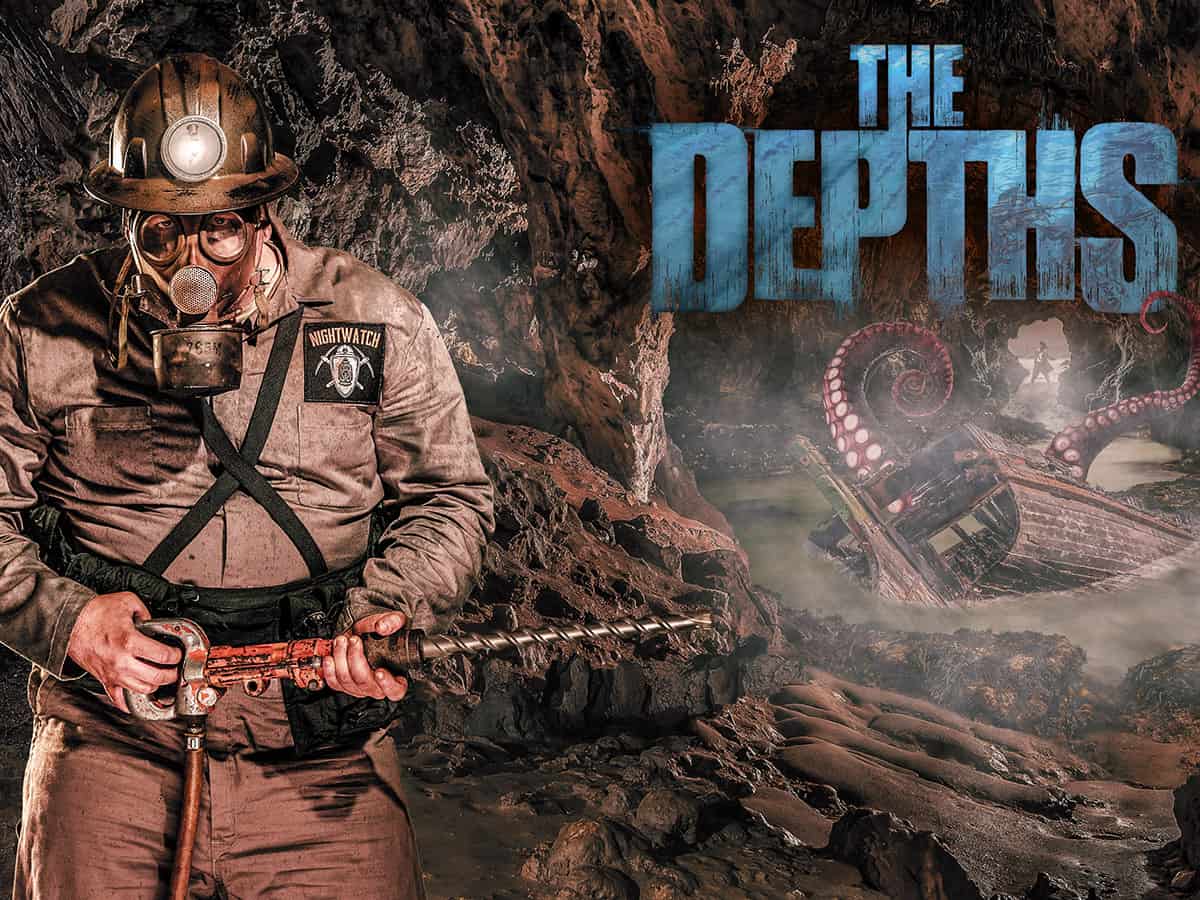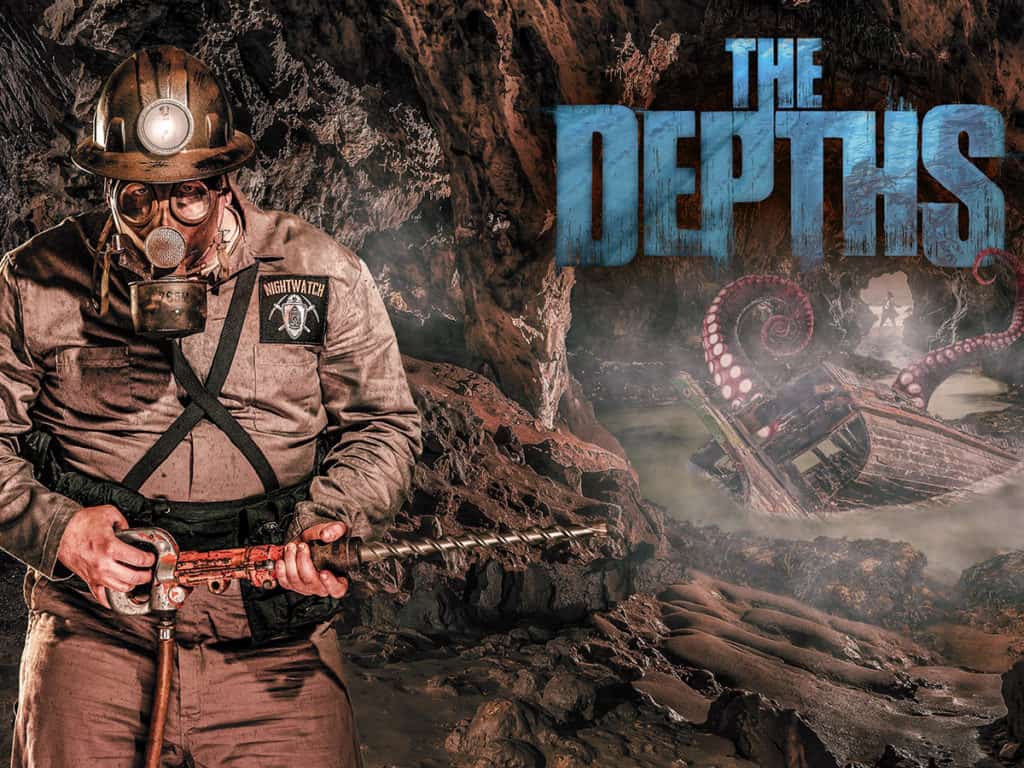 Finally, teleport beyond earth into a realm where the darkness is absolute in Dark Entities. In the depths of space, a lone station faces terror beyond all imagination. An extraterrestrial mutation has invaded the station, and it's on the prowl for new hosts. The unearthly inhabitants' force increases as it feeds on its unwilling victims. Escape the dark entities before their deadly force is running out!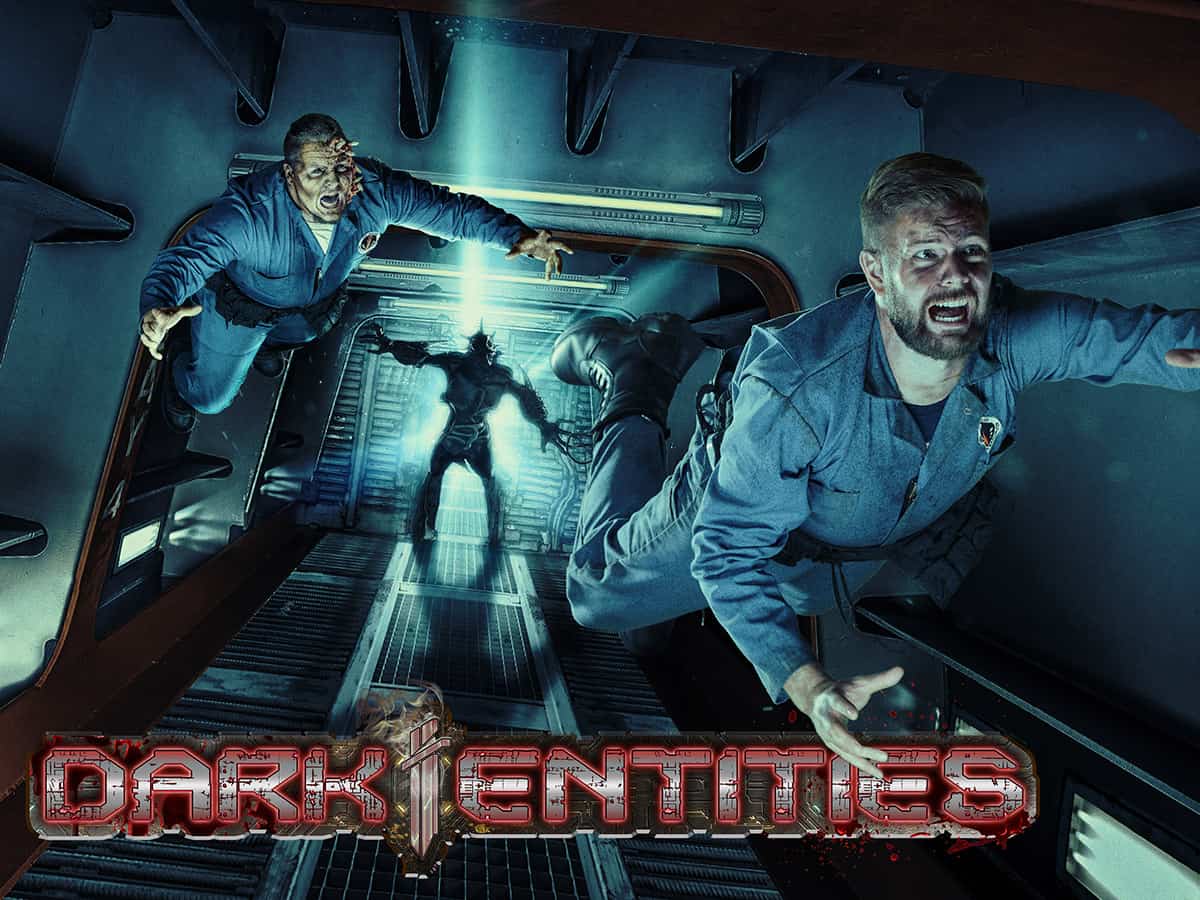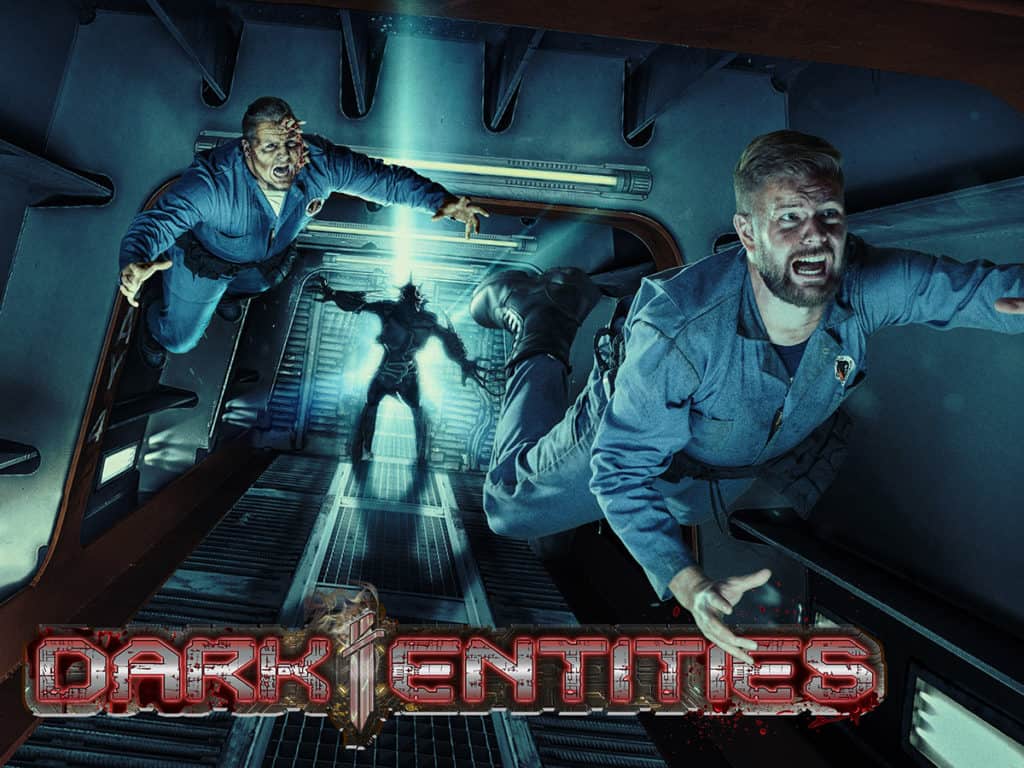 2021 Scary Farm Shows
The Scary Farm shows are something that I look forward to every year. Not only are they entertaining, they are the perfect way to get a break from screaming and running away from monsters.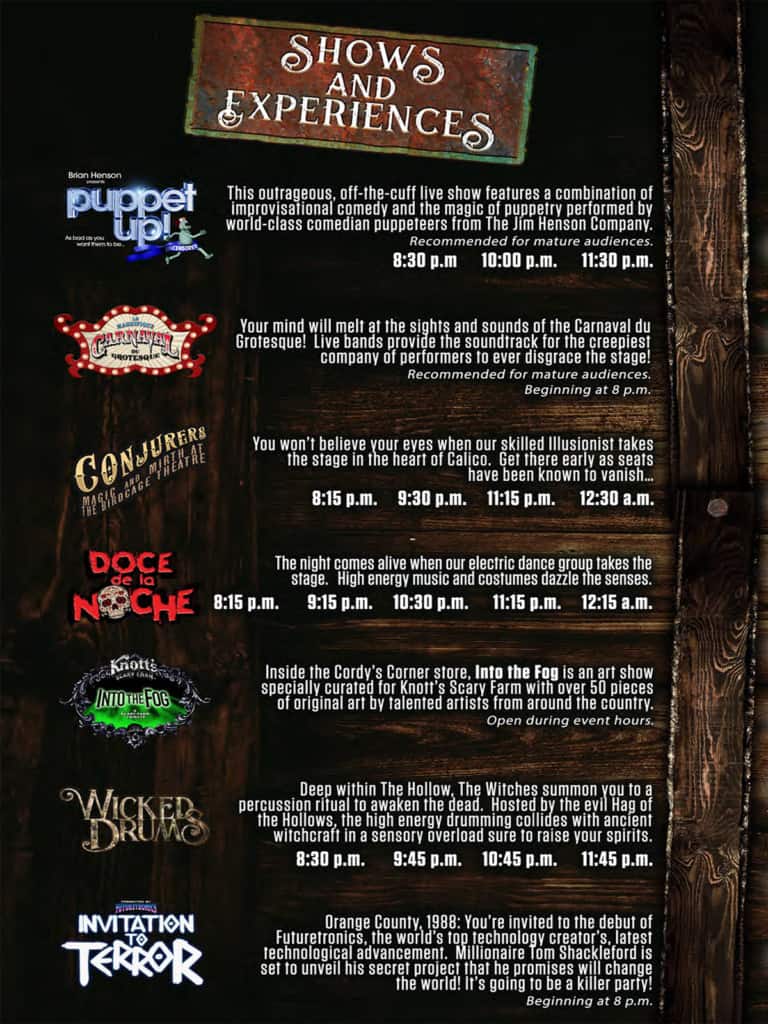 The most exciting things is that this year there are 4 new shows! That's a record for the number of top-notch scary shows to debut at Knott's Scary Farm.
Back at Scary Farm this year is the crowd favorite - Puppet Up! Uncensored showing at The Walter Knott Theater. It's an outrageous show featuring a both improve comedy and the magic of puppetry. This hilarious show is being performed by a cast of world-class comedian puppeteers from The Jim Henson Company. It's definitely not your ordinary puppet show. Best of all, every show is different because the audience plays a huge role in participation. BTW, it's also uncensored, so beware...anything goes including swearing and adult content.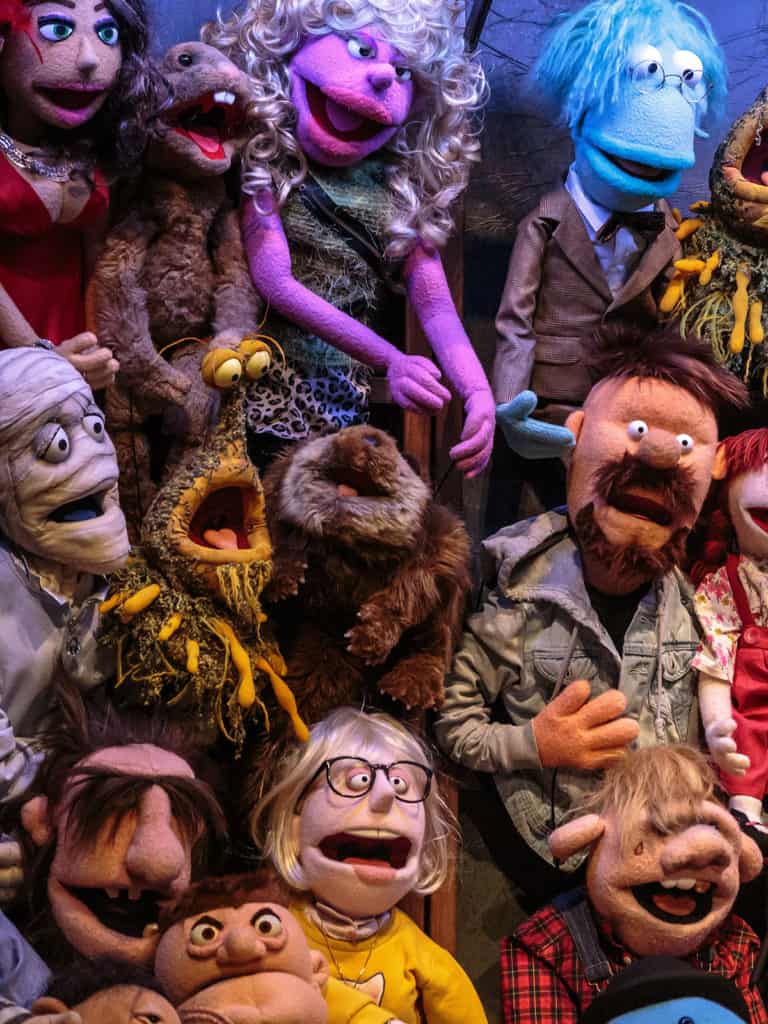 Conjurers is back again at the Bird Cage Theater. You won't believe your eyes when our skilled Illusionist takes the stage in the heart of Calico. Make sure to arrive early, as seating is limited and may vanish before your eyes.
The new Scary Farm shows...
Carnaval du Grotesque is playing at the Calico Mine Stage. Grab a seat as the show is about to begin! Your mind will melt at the sights and sounds of the Carnaval du Grotesque. Live bands provide the soundtrack for the creepiest company of performers to ever disgrace the stage.
Invitation to Terror plays nightly at the Mystery Lodge near Bigfoot Rapids. It's a digital illusion horror show that tells the story of Millionaire Tom Shackleford. He will unveil the secret project that he promises will change the world. The scene is Calico 1986, where guests will experience the debut of Futuretronics. It's going to be a killer party with plenty of terrifying surprises no one will ever see coming.
Head over to the Camp Snoopy Theater and witness Wicked Drums. Deep within The Hollow, The Witches summon you to a percussion ritual to awaken the dead. Hosted by the evil Hag of the Hollows, high energy drumming collides with witchcraft in a sensory overload!
Doce de la Noche (Show) – Fiesta Plaza. The night comes alive at the stroke of midnight when our electric dance group takes the Fiesta Village stage. Dressed in colorful and vibrant colors, the lively dancers dazzle all with their moves set to high-energy music, which takes over all senses and has everyone dancing their feet off.
2021 Scary Farm Scare Zones
Knott's Scary Farm is far more than just their haunted mazes.
Every night monsters spill out onto the streets of Knott's and turn theme park midways into bone chilling scare zones. From the world-famous Ghost Town Streets to the Boardwalk area filled with evil clowns, there's nowhere to hide in Knott's Scary Farm.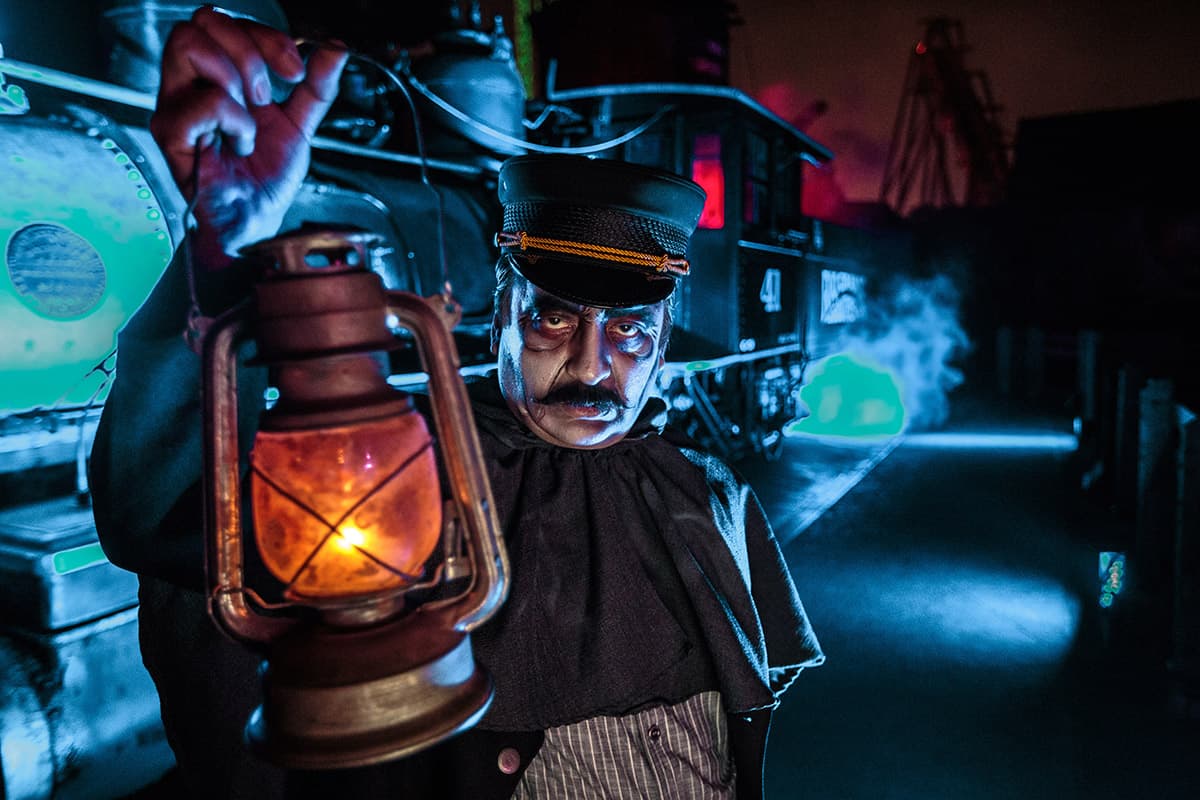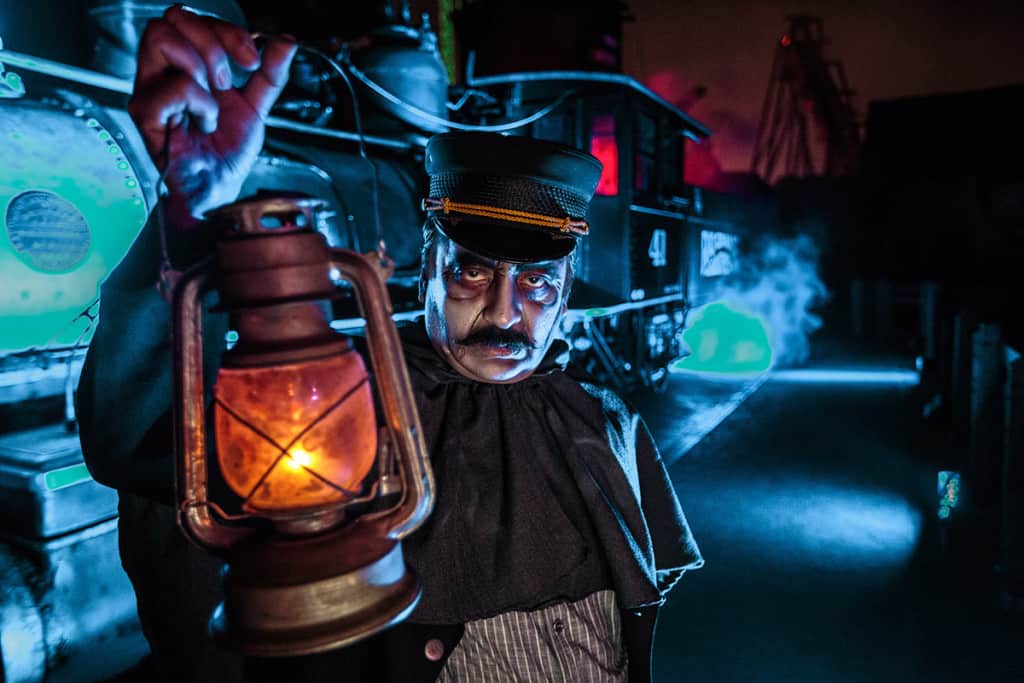 Besides the the newest scare zone, The Gore-ing 20's, there are 4 additional Scare Zones.
Ghost Town Streets is the original and largest, most terrifying scare zone at Scary Farm. Bands of half-human, half-animal monsters prowl the streets and inhabit the fog. Be especially carefully of the stunning sliders, who lunge from fog-filled corners of the land.
The Hollow scare zone will terrorize guests as the Witches of the Hollow, and their armies of creatures have risen once again to battle with the Witch Hunter.
On the Boardwalk, the clowns want your undying attention in the CARNEVIL scare zone.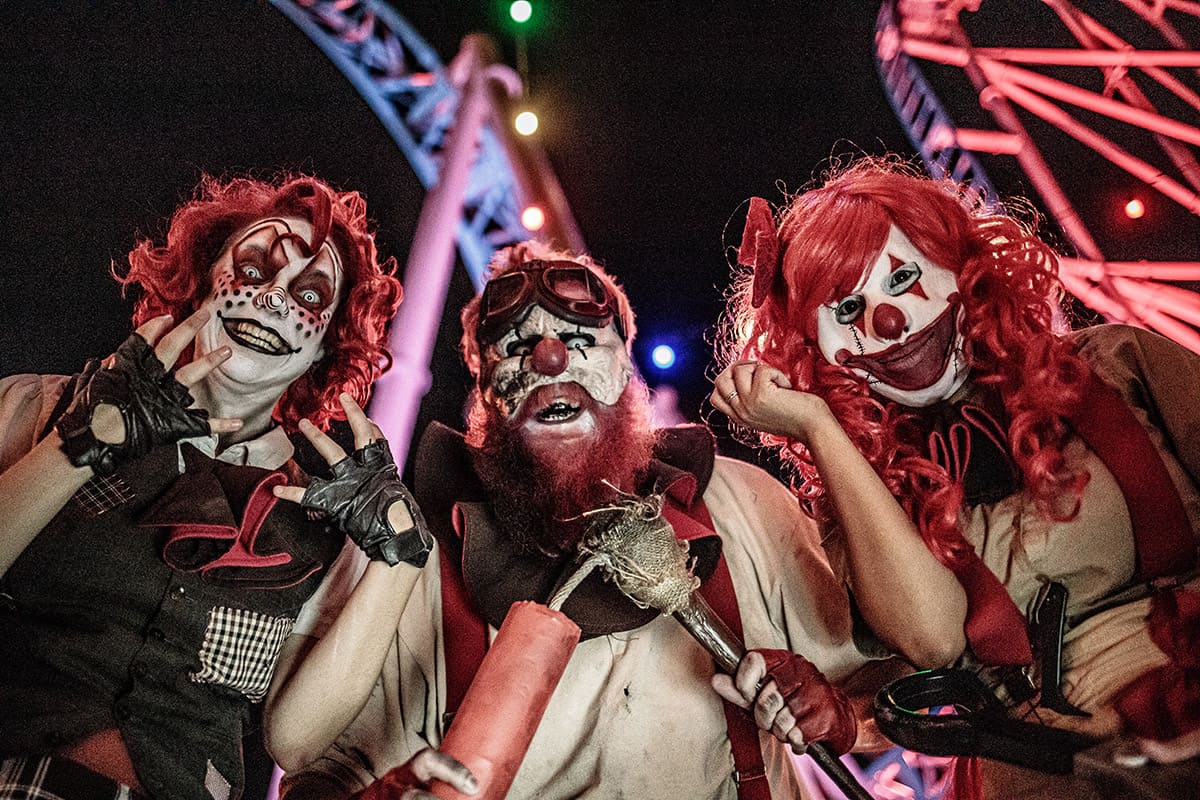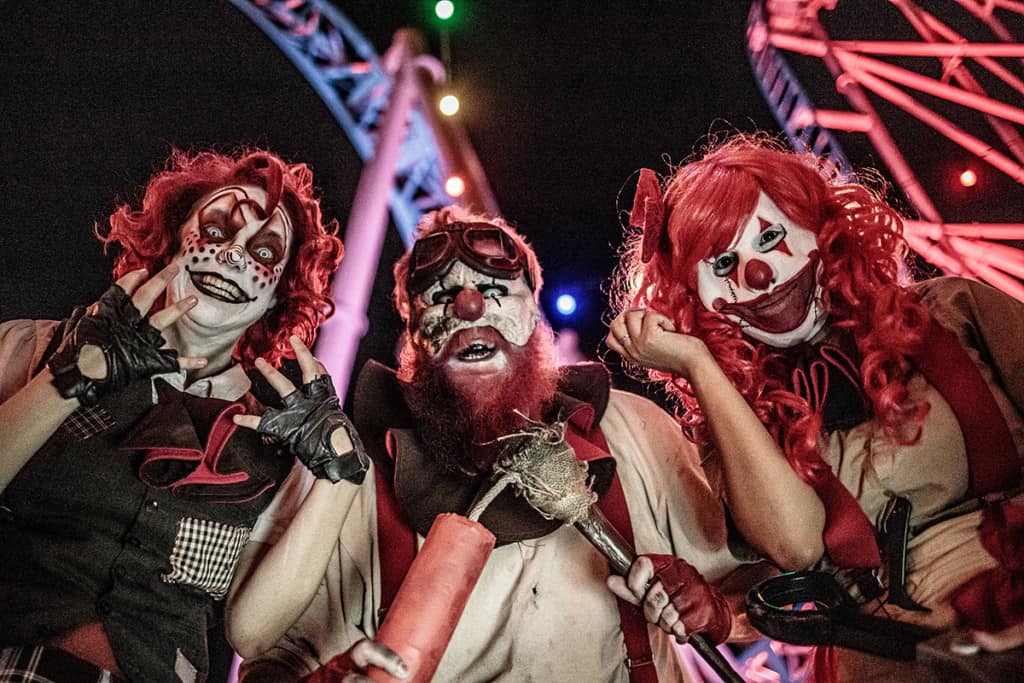 And finally, The lake underneath Knott's Silver Bullet rides recedes to reveal the Forsaken Lake scare zone. Gothic creatures ravaged by the dark and murky waters wander from their crypts preying on unsuspecting visitors. Don't be one of the victims that gets dragged back to a watery grave.
Haunted Rides at Knott's Scary Farm
There are two rides that have a Halloween overlay to get them in the spirit of Scary Farm. Timber Mountain has been transformed into Halloween Hootenanny. Log Ride residents celebrate the Halloween Hootenanny, which adds a seasonal twist to a park favorite. The Ride's interior features surprises as guests venture past the Calico Coffin Creeper band, the town's green witch, and splash down Skull Mountain through a labyrinth of jack-o-lanterns all set to an original soundtrack by Krazy Kirk and the Hillbillies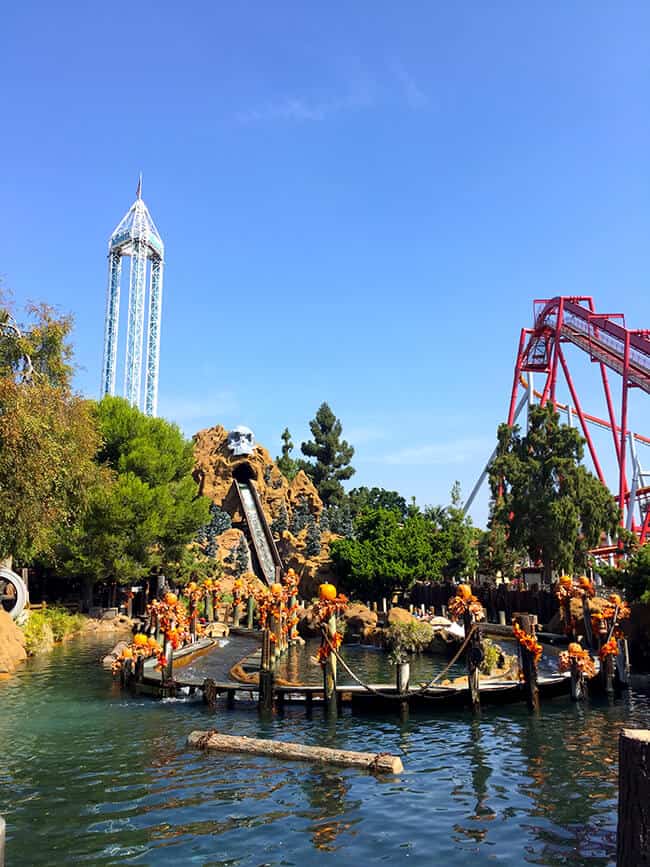 Also, the Calico Mine Ride has been turned into the Calico Candy Mine Ride. Every Halloween, the calico mine mysteriously transforms from silver ore to pure candy. The music is lively, and the lighting is colorful. It's a fun sight to see each year.
2021 Scary Farm Food Offerings
Knott's has outdone themselves with scary foods this 2021 season. There are a lot of new and exciting choices this year. There are not only Scary Farm entreés, there are also desserts and snacks that are to die for! From spooky funnel cakes to spooky pizza...there is something for everyone.
Do you have a Knott's Berry Farm Food Plan? Guess what? Some of the Scary Farm offerings are available as part of the meal plan!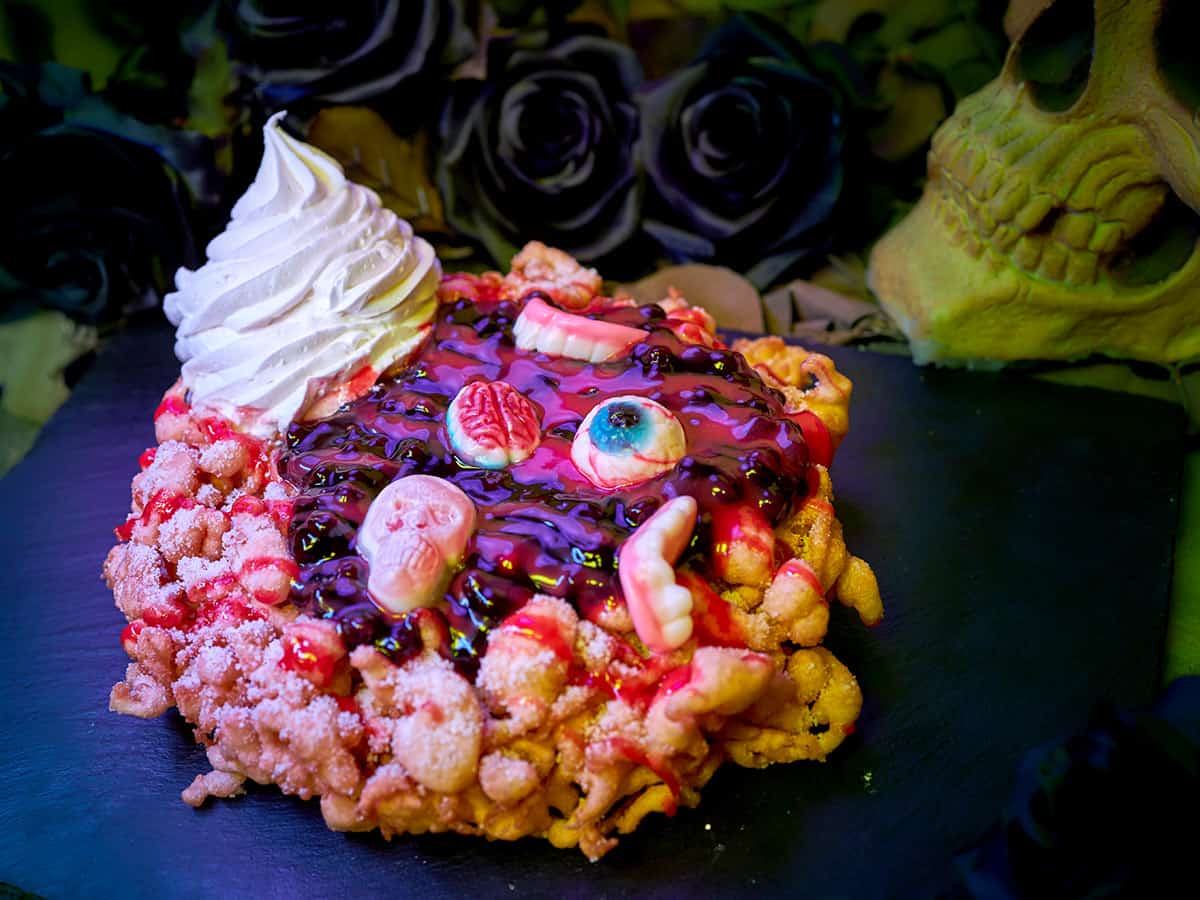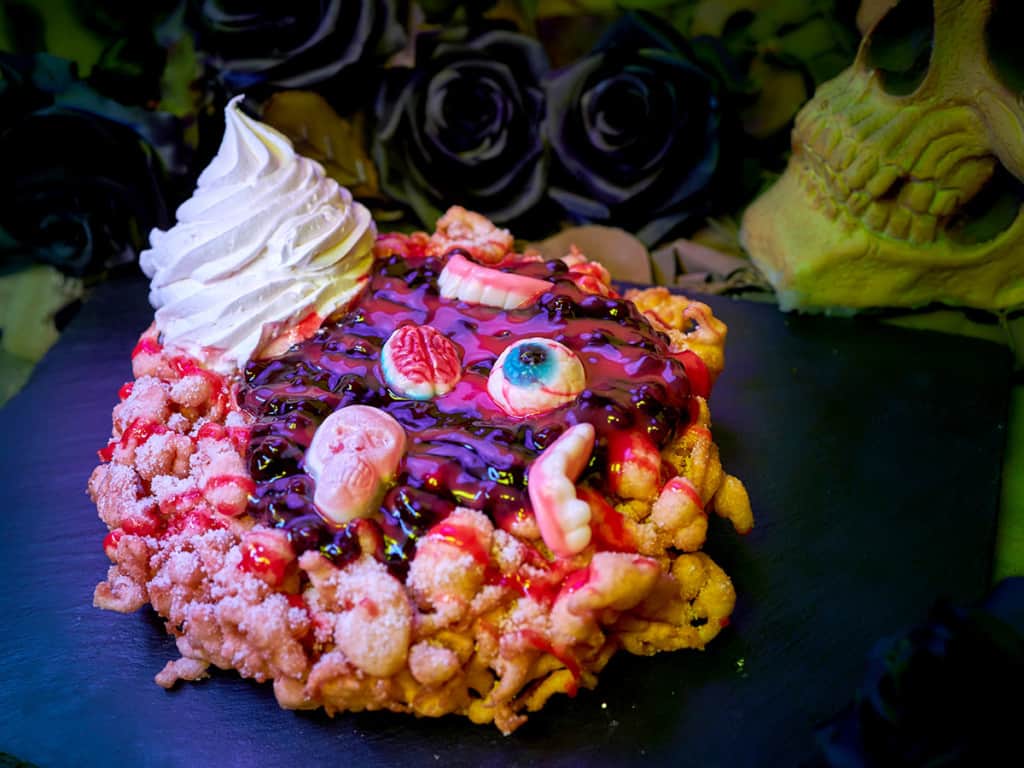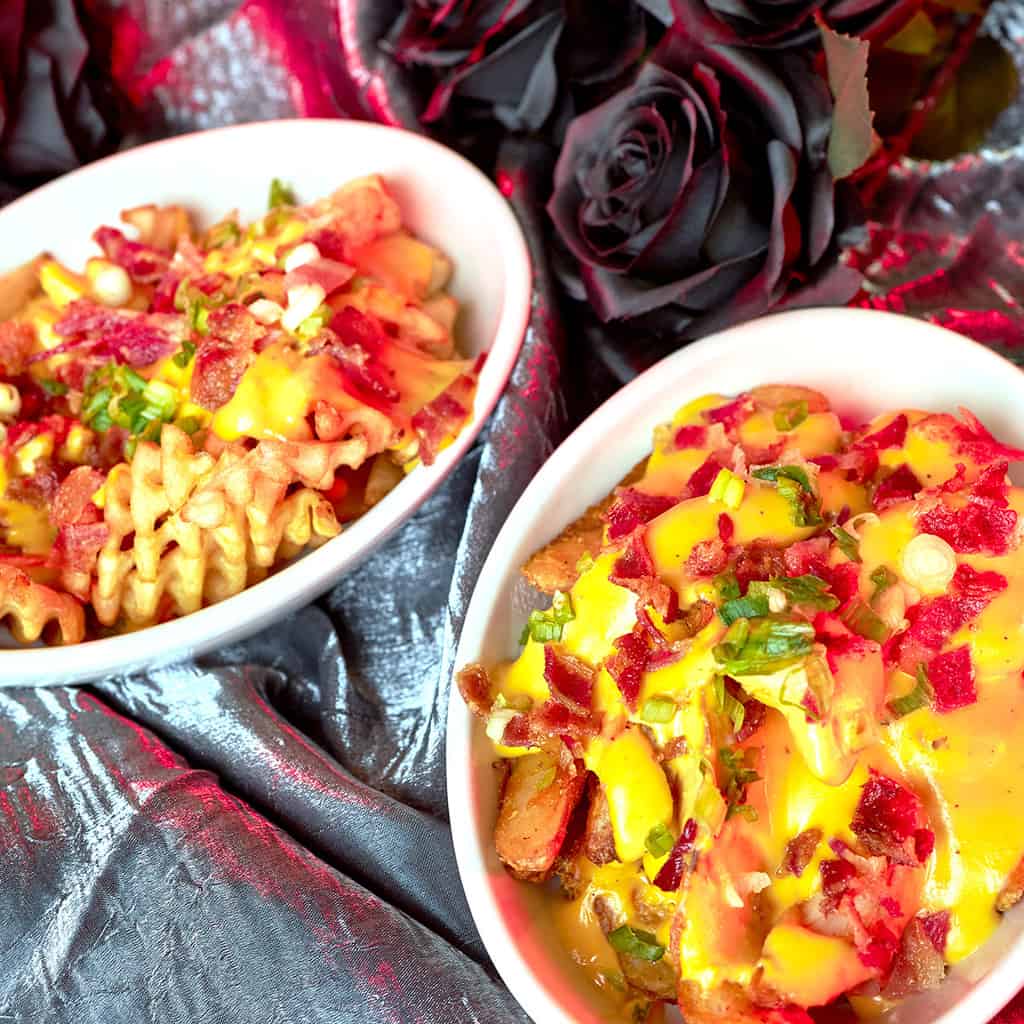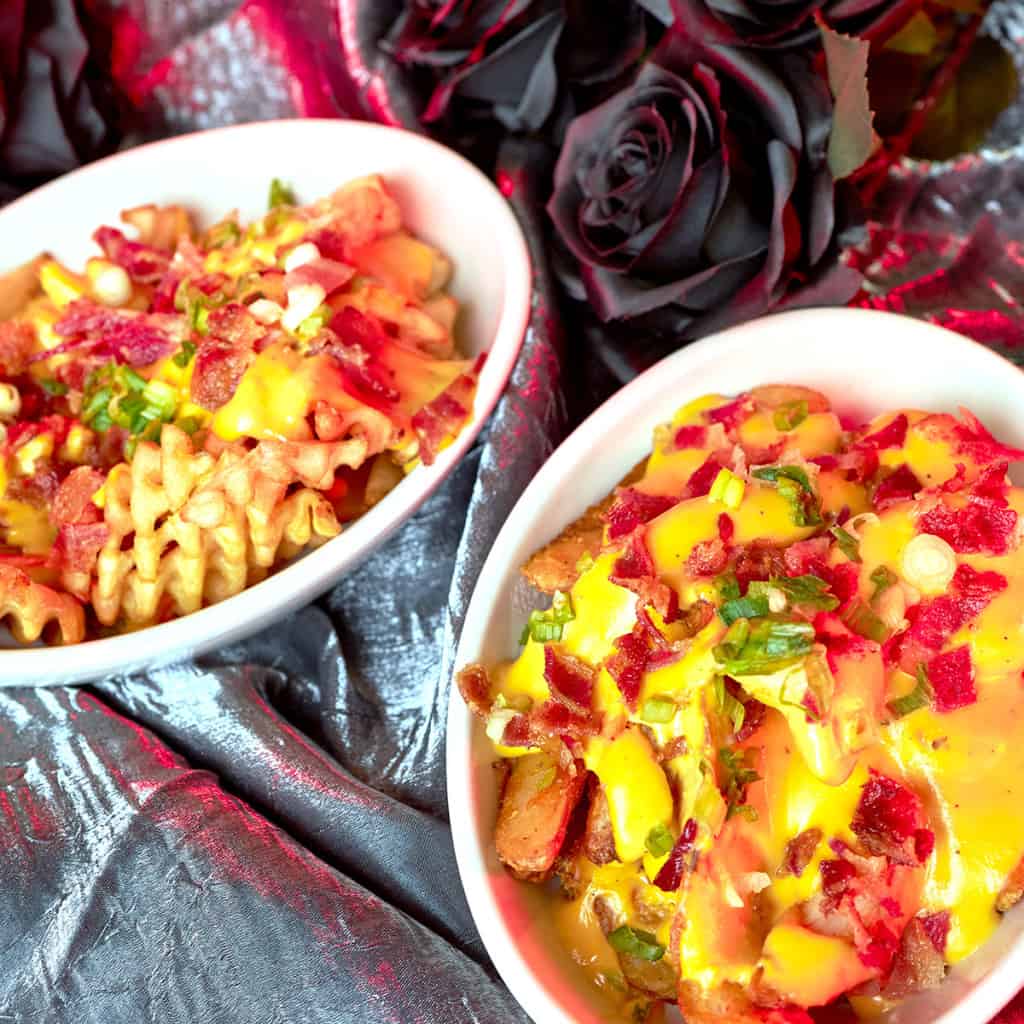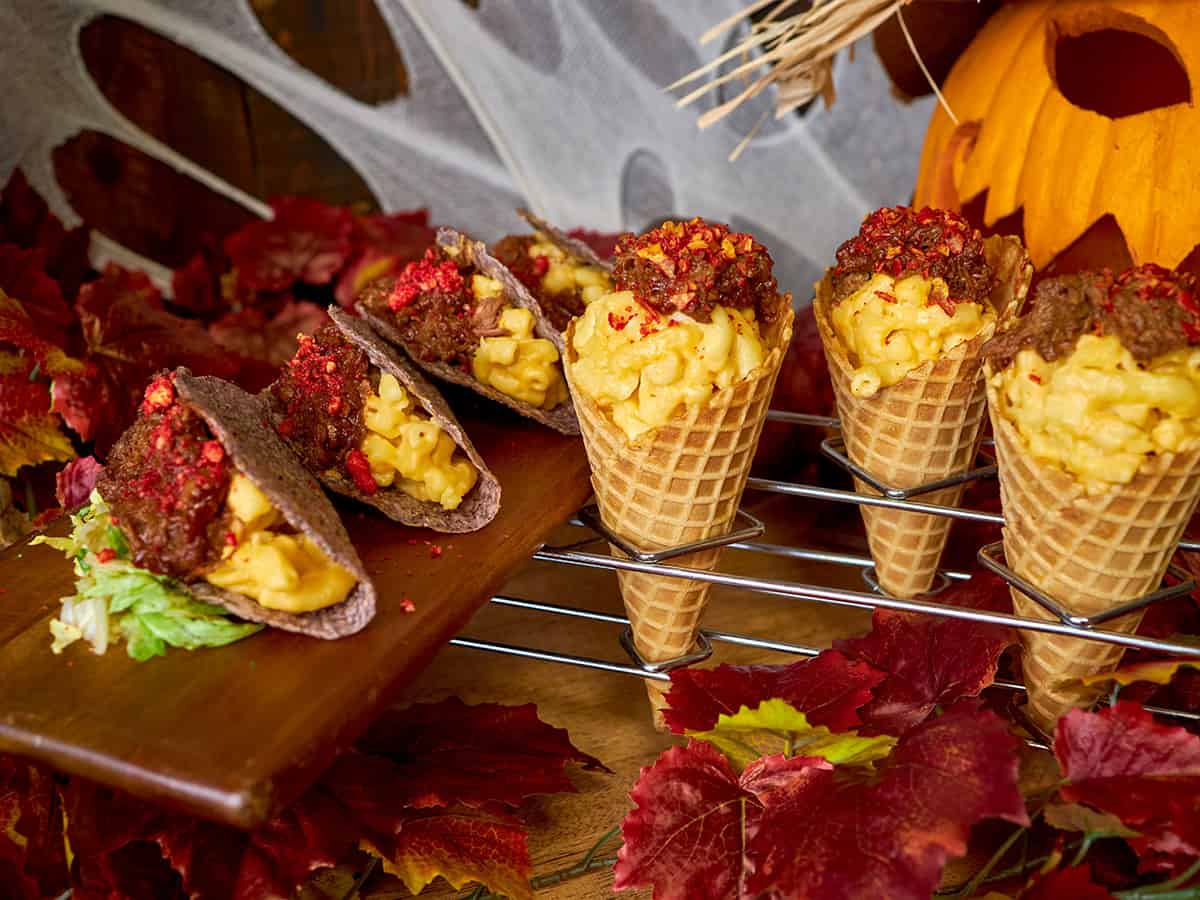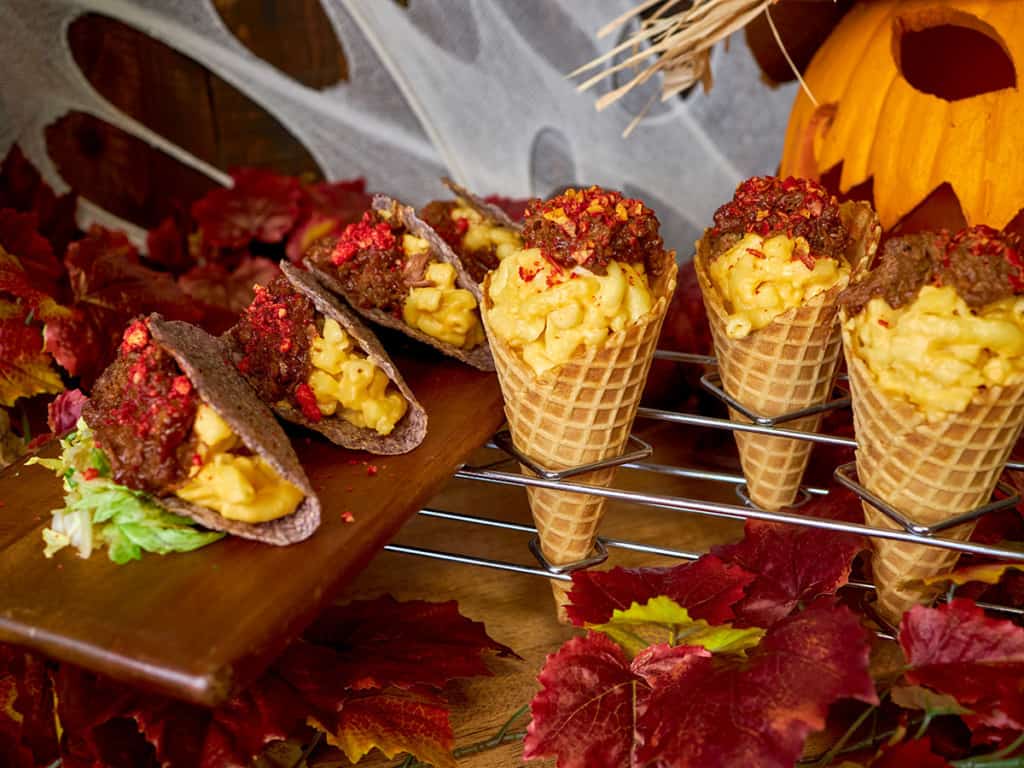 Here is a full list of the new scary food available.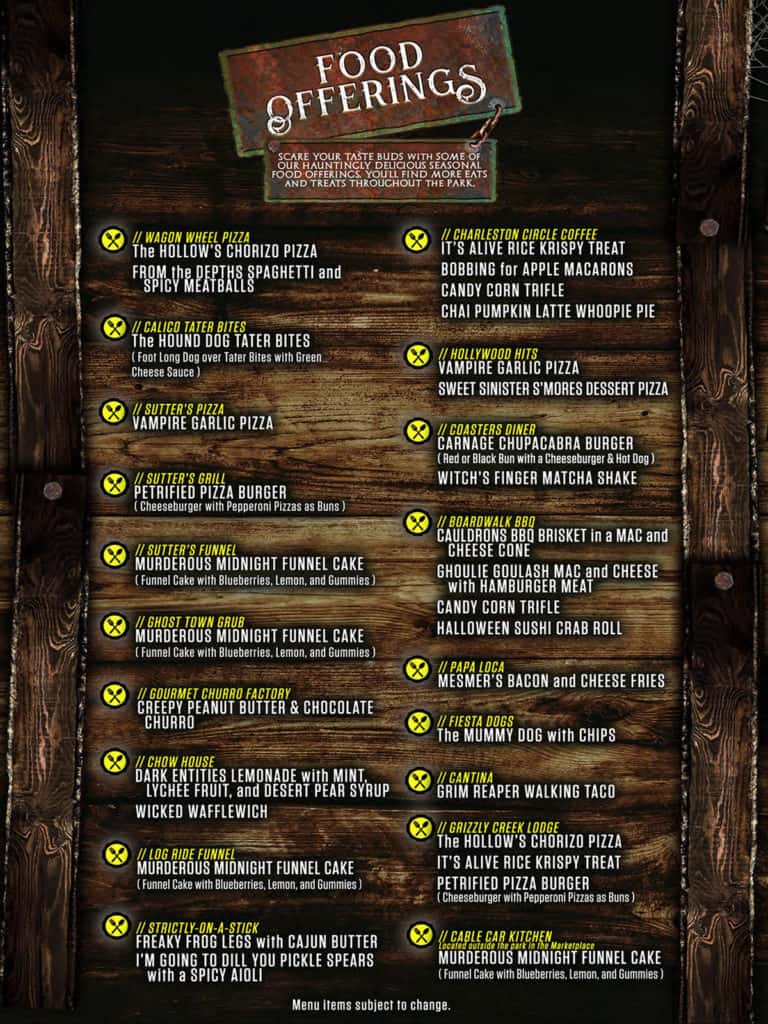 Scary Farm BOO-FET
Munch with the monsters before you face your fears. Treat yourself to a Knott's Scary Farm Boo-fet dinner followed by early entrance to select areas of Knott's Scary Farm. The dinner features endless portions of signature Knott's entrees and desserts with a souvenir bottle. The menu includes Knott's classics such as Mrs. Knott's fried chicken, a chef carving station, boysenberry pie, and more.
Boo-fet diners receive early entry to select mazes and attractions, plus have exclusive monster photo opportunities before the park opens to the public.
Click here for more information about the Scary Farm Boo-fee Dinner.
Scary Farm Fright & Fast Lane Passes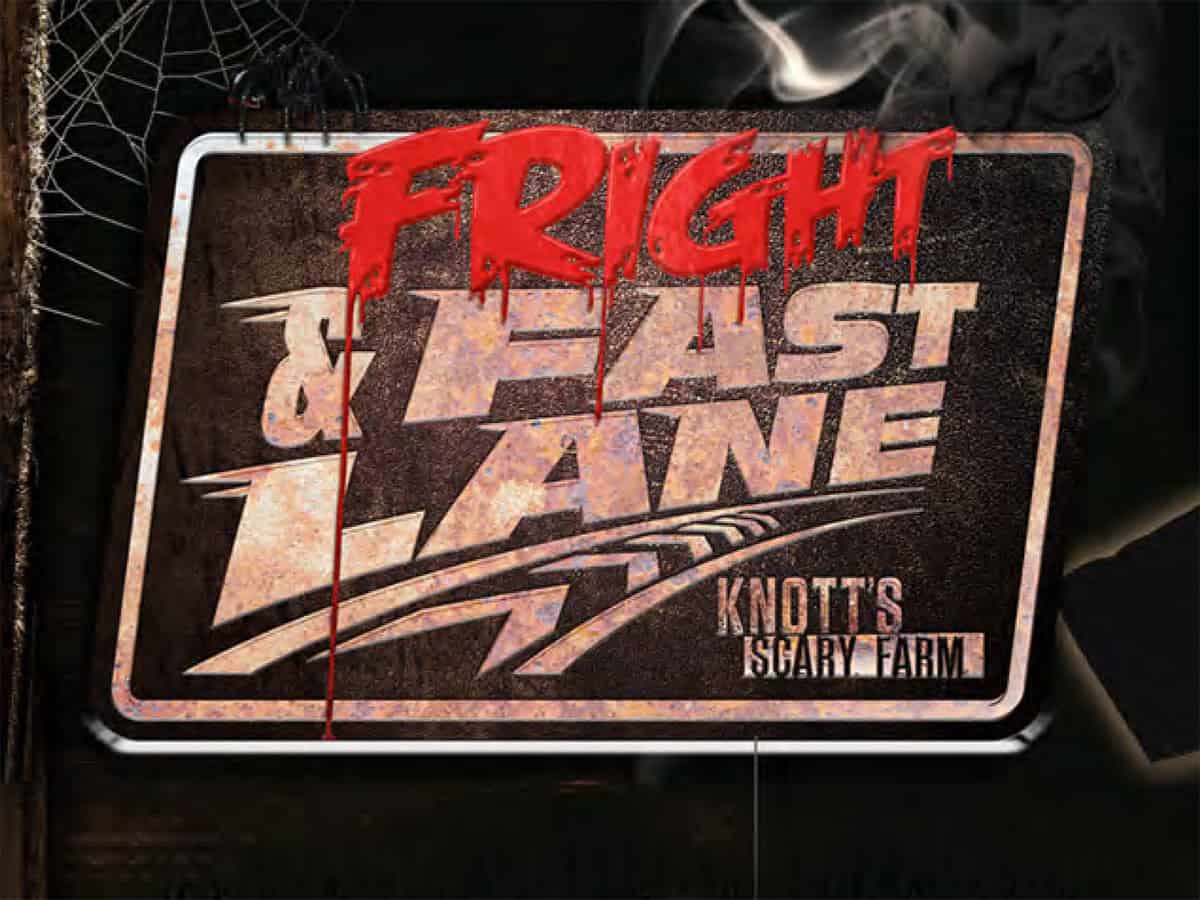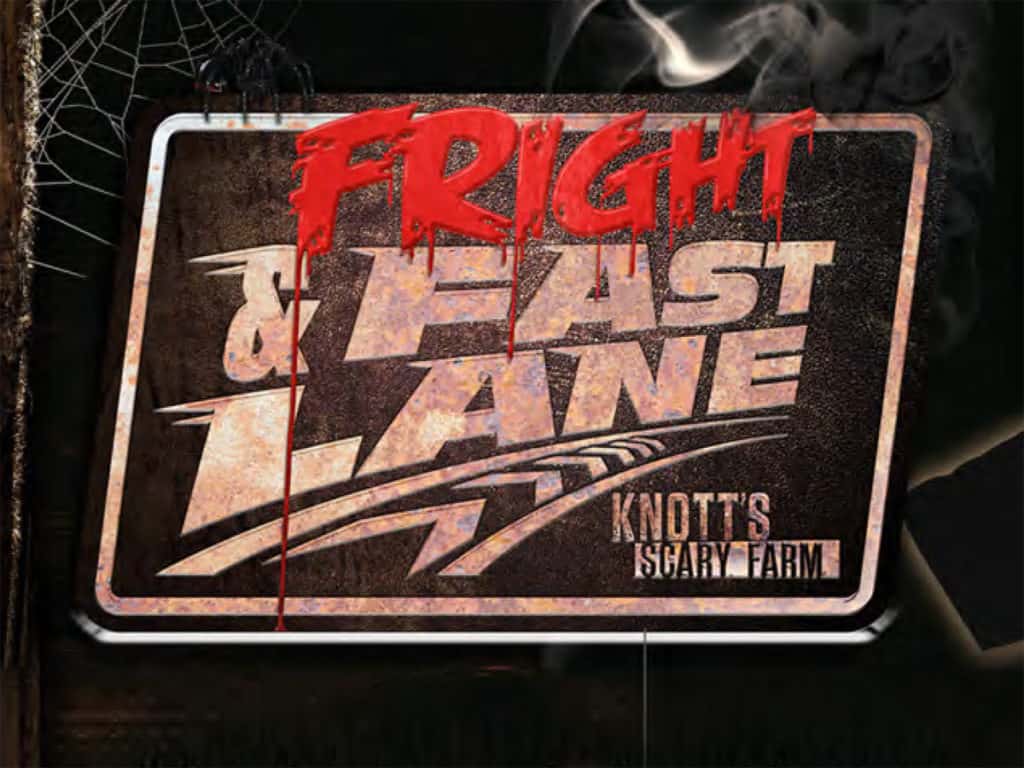 What is a Fright & Fast Lane pass? This pass allows you to ride and scream all night long with unlimited priority access to all mazes plus priority boarding on all Fast Lane rides. Fright & Fast Lane starts at $99 and varies by night. Separate Scary Farm park admission required and not included.
Is the Fright & Fast Lane pass worth it? Scary Farm can get crowded and the lines long. If you want to go on everything, then yes! Of course, it also depends on your budget. Also, everyone in your party will need one as they are not transferable.
Here are the attractions that accept a Fright & Fast Lane Pass:
Priority Access to All Mazes
Silver Bullet • Supreme Scream • Calico River Rapids
Ghost Rider • Coast Rider • Sierra Sidewinder
Calico Mine Ride • Timber Mountain Log Ride • Jaguar!
La Revolucion • Pony Express • Montezooma's Revenge
Xcelerator • Bear-y Tales
You can purchase a Fright & Fast Lane pass online , or at the park in the General Store, Cordy's Corner, Casa California or Guest Services.
Does Knott's Scary Farm Have an App?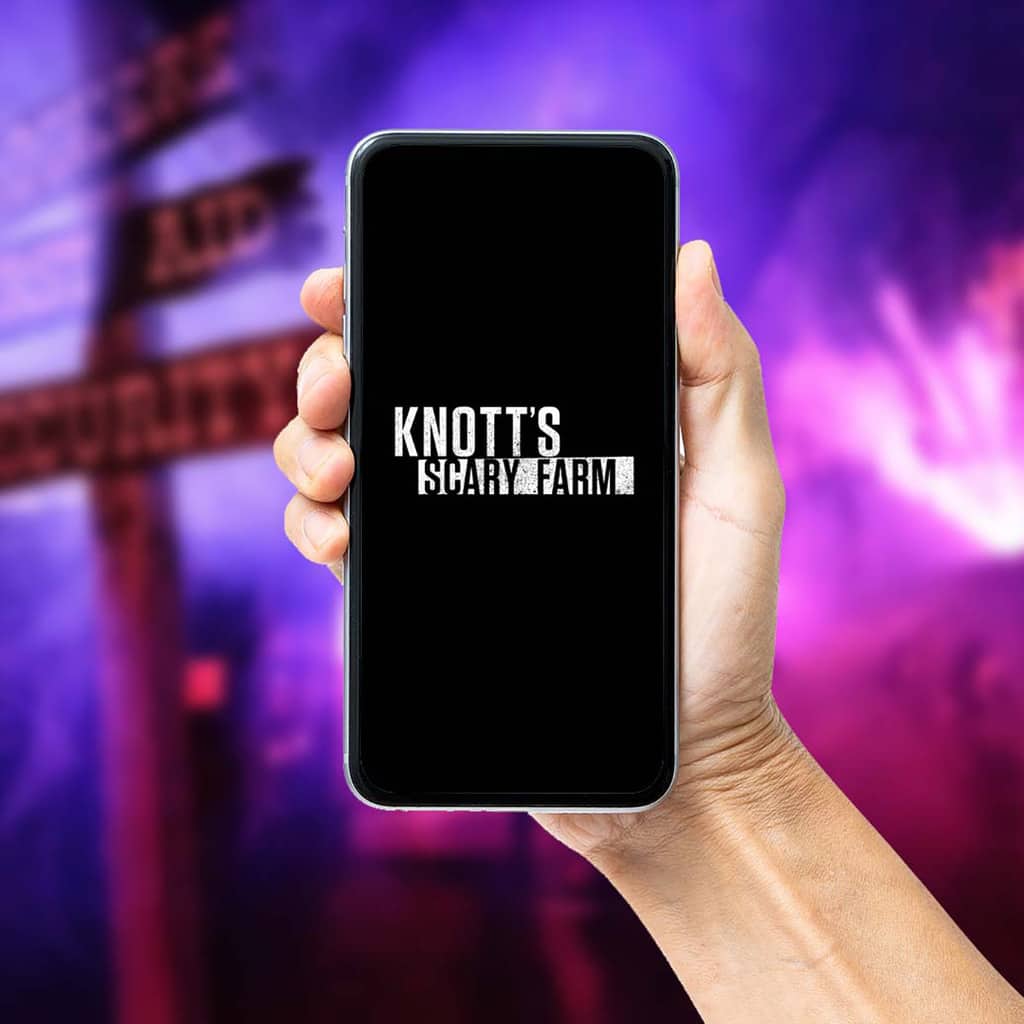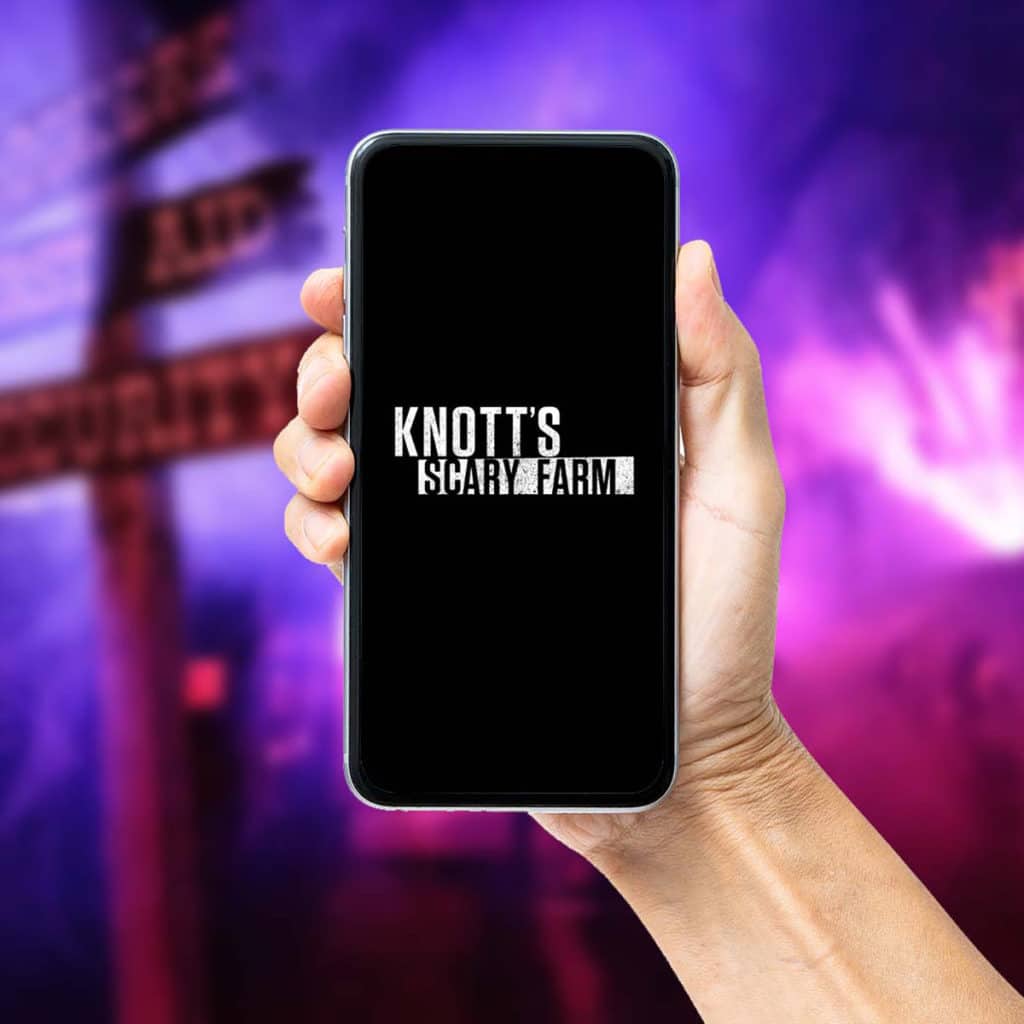 Yes! Knott's Scary Farm does have an app! Navigate your nightmares with a complete guide to all the haunted shows and attractions on their free mobile app.
Download the Knott's Scary Farm App Here.
Stay at the Knott's Berry Farm Hotel During Scary Farm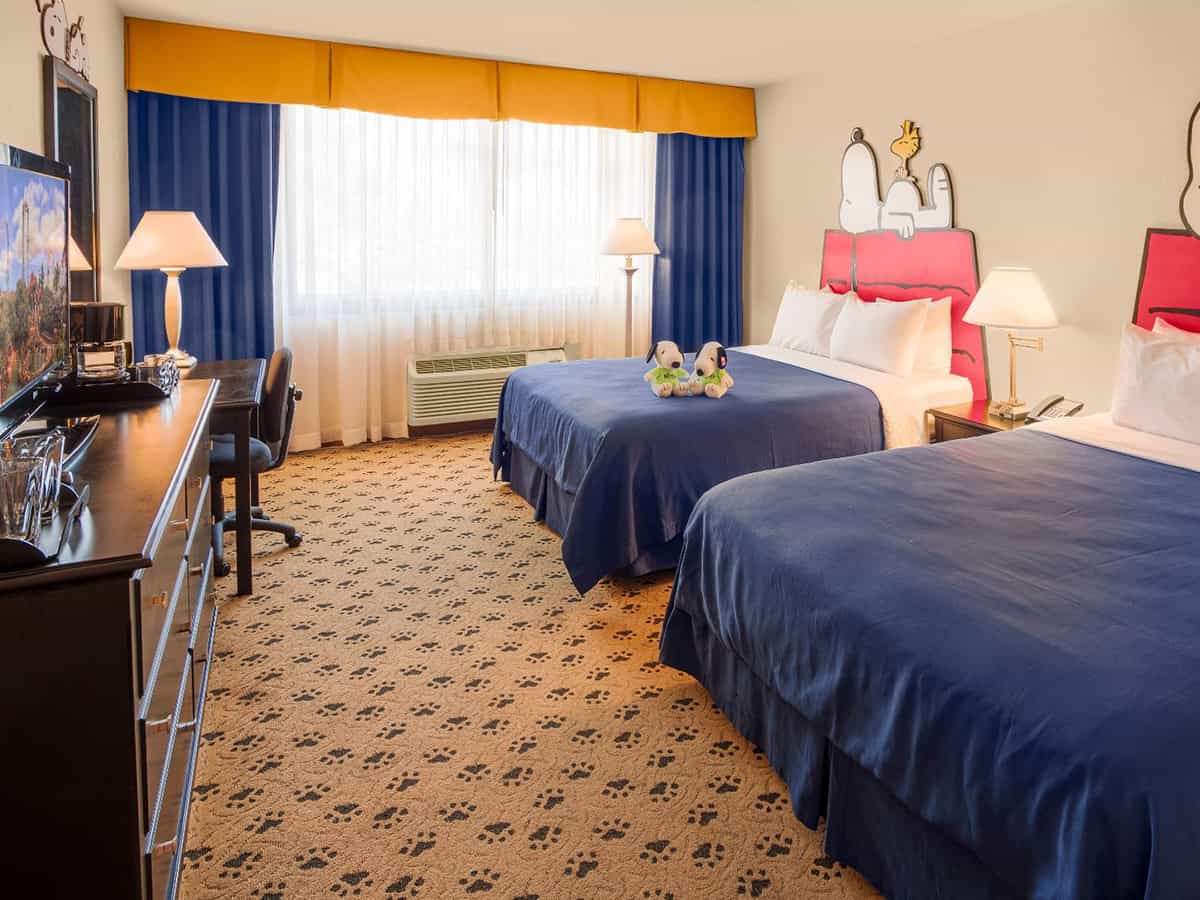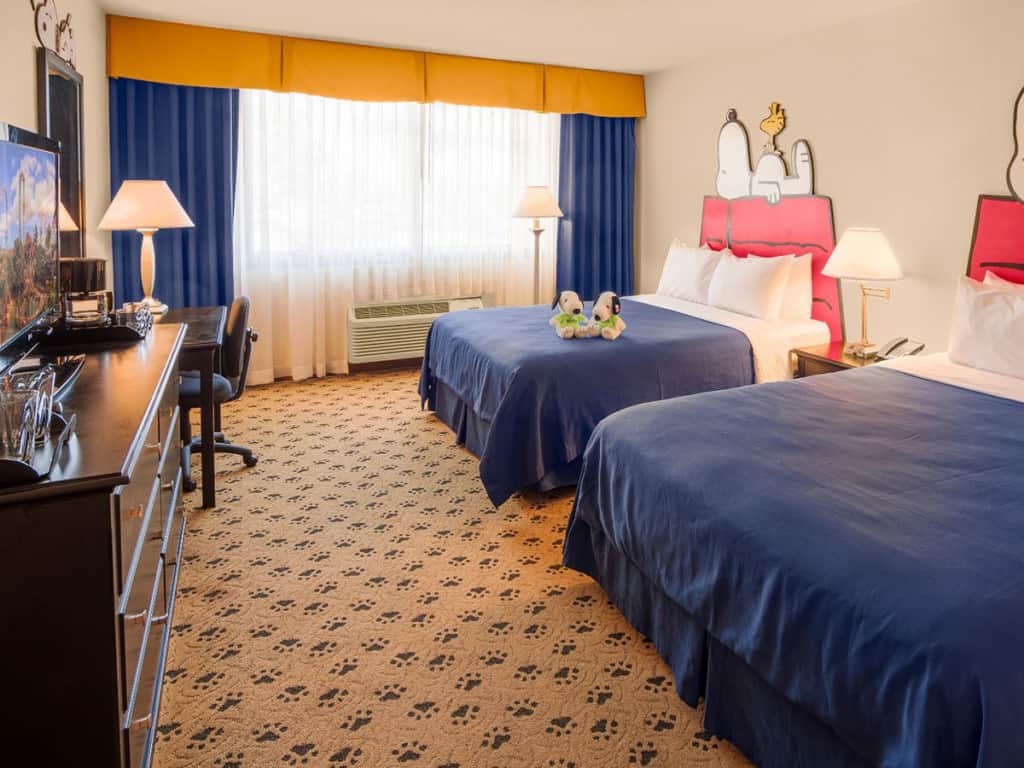 Stay on property at the Knott's Hotel and you'll gain access to the best pricing on tickets. Why would you want to stay anywhere else? Packages range from a hotel stay with admission to Knott's Scary Farm and a collectible Scare Key to all inclusive packages that include a hotel stay, admission to Knott's Scary Farm and Knott's Berry Farm, collectable t-shirt, key, a pre-scare dinner, breakfast and a Fright Lane Pass!
To check out all the Knott's Scary Farm Hotel packages click here!
Finally, Is Knott's Scary Farm Worth it?
If you like being scared and immersed in monsters and scary scenery....the YES!!! I would say the Knott's Scary Farm is 100% worth it. The mazes are very professionally done, the actors are amazing and the costumes...they are spectacular. So much work in put into all the shows, food, designs and creating the most frightening evening ever. The designers work on Scary Farm all year long...and it shows! You're going to love it.
Should I Bring my Child to Scary Farm?
That all depends. Scary Farm is recommended for ages 13 and older. It's SCARY!!!!! Additionally, when people get the crap scared out of them...they tend to drop bad language! Most of the mazes are gruesome. In my opinion, I wouldn't bring a child younger than 10 ever. But you know your child best. Do they get scared easily? Do they ever have nightmares? Do you want them to see blood and gore? Do you want them to hear fowl language. ask yourselves these things and then decide.
Be Prepared Before you go to Scary Farm
There are a couple things that I suggest to do before you head to Knott's Scary Farm in order to make your night more enjoyable.
First, make sure to buy your tickets!
Download the Knott's Scary Farm app and upload your ticket.
Read this blog post thoroughly and choose the options that look best to you. Which are you must see mazes. Which shows do you want to see and what time are they playing. Do you want to purchase a Fright & Fast Lane Pass? Are you going to get a hotel room?
Download the below map and guide to your phone. Download it here. This way you can find all the mazes, scare zones, and shows easily.