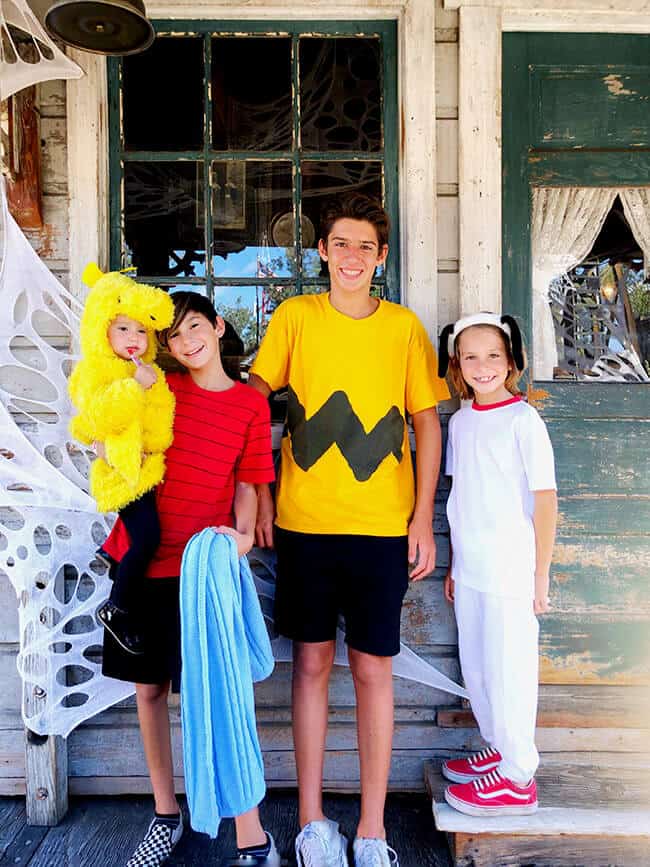 Knott's Spooky Farm has always been a favorite of our family. Not to be confused with Scary Farm, Spooky Farm isn't scary at al,  and is geared towards kids ages 4-12. Dressing up in costumes, going trick-or-treating, and enjoying the Farm all decorated for Halloween is so much fun. It's always #1 on our family's Fall bucket list...because of course, we LOVE Knott's, and two...the whole family can enjoy it. If you have never been to Knott's Spooky Farm, this year is the time to go. It's happening now at Knott's Berry Farm on weekends during the month of October and on Halloween. It's even better than last year, with even more to do. Best of all, its included in the cost of admission.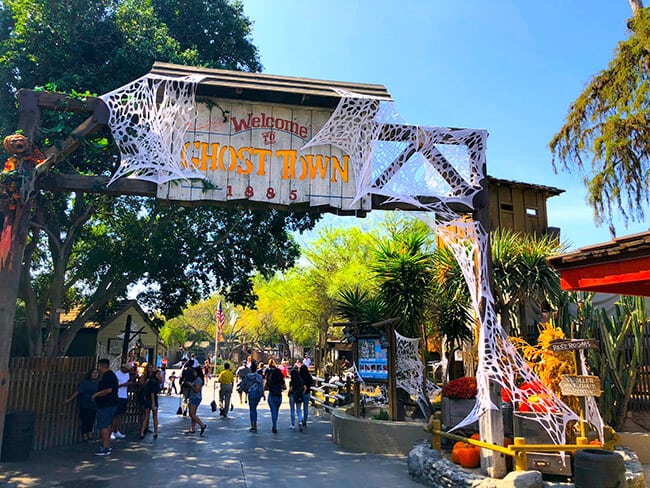 Insider Tips for Knott's Spooky Farm
Let me share all the fun you can enjoy at Spooky Farm, along with some insider tips to make the day more fun. First of all, I recommend going on Sunday if you want it to be a little less crowded. It most likely will be a bit crowded during Spooky Farm, but if you aren't planning on doing a full day of rides, the Spooky Farm activities aren't busy at all.
Make sure to pick up a map on your way into the park, so you know what happening at Spooky Farm, and where are the Halloween Stations are. There are trick-or-treat stations, fun shows, Halloween activities and more marked on the map.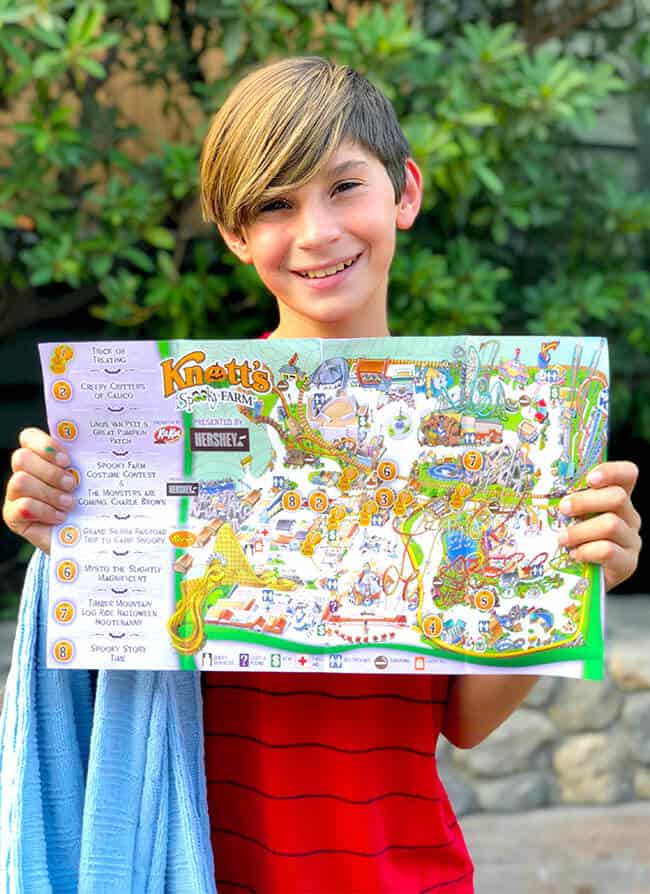 This year, the kids wanted to dress up in a PEANUTS gang theme for Spooky Farm. And just so you know, anyone can dress up at Knott's. Their costumes were pretty easy to make...except for Woodstock, which I made from a sewing pattern many years ago. But if you really wanted to dress up like Woodstock, you could get a yellow shirt and a yellow hat online, and glue some yellow feathers to them. a pair of black legging and shoes, and you will be all set to go as Woodstock.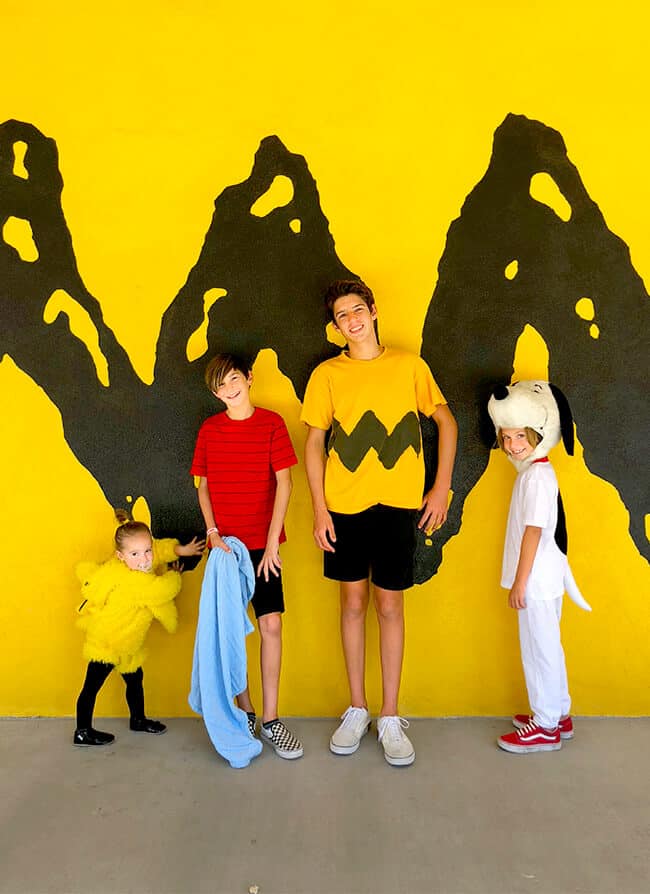 For Charlie Brown, we purchased a Charlie Brown shirt at the Knott's souvenir shop, and paired with shorts, socks and shoes. For Linus, I got a simple red t-shirt and drew lines across it with a black felt tip marker. Then we paired it with Linus's signature blanket and black shorts.
For Snoopy, I glued a large black spot to the back of a white t-shirt, then colored in the color with a red felt tip marker. for the tail, I cut two tail shaped pieces of white felt, and sewed them together on two sides. Then I stuffed them with stuffing and had sewed to the shirt. A pair of baseball pants finished off the outfit. The large head was actually made for us when I had the Woodstock costume made, but we found it to be too much hassle at the park, so we purchased Snoop ears at the Knott's Souvenir shop. They are so cute and can be worn all year round.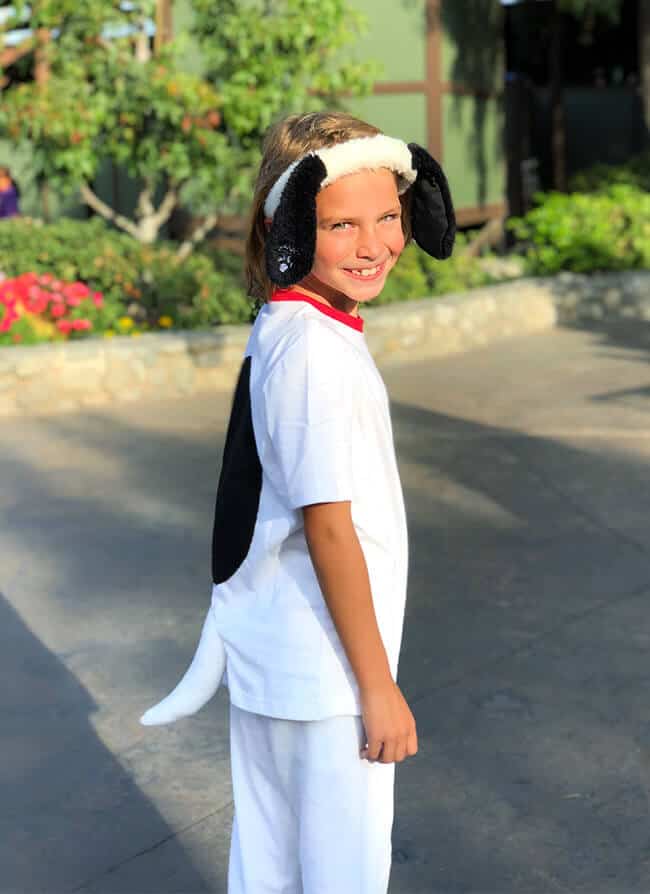 Now that I've shown you our costumes, it's time to go Trick-Or-Treating. During Spooky Farm kids can go trick or treating through the streets of Knott's. This is the first year that Dani is able to walk and trick-or-treat on her own, so it was fun for the whole family to help her through the park.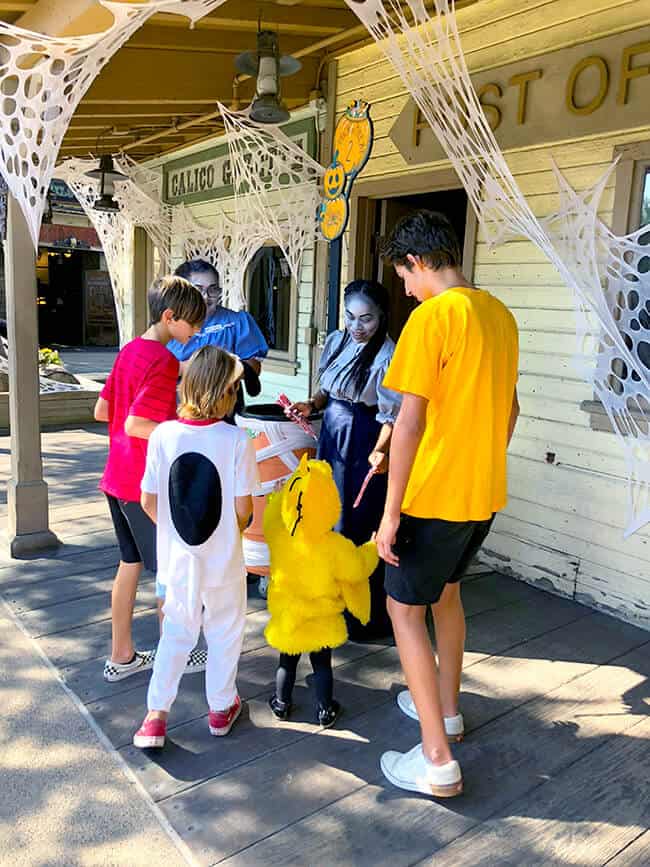 The Ghost Town monsters pass out the candy to the kids all day long. And don't worry about bringing your own trick-or-treat bucket because Knott's will give the kids treat bags when they enter the park. The less stuff you have to bring the better.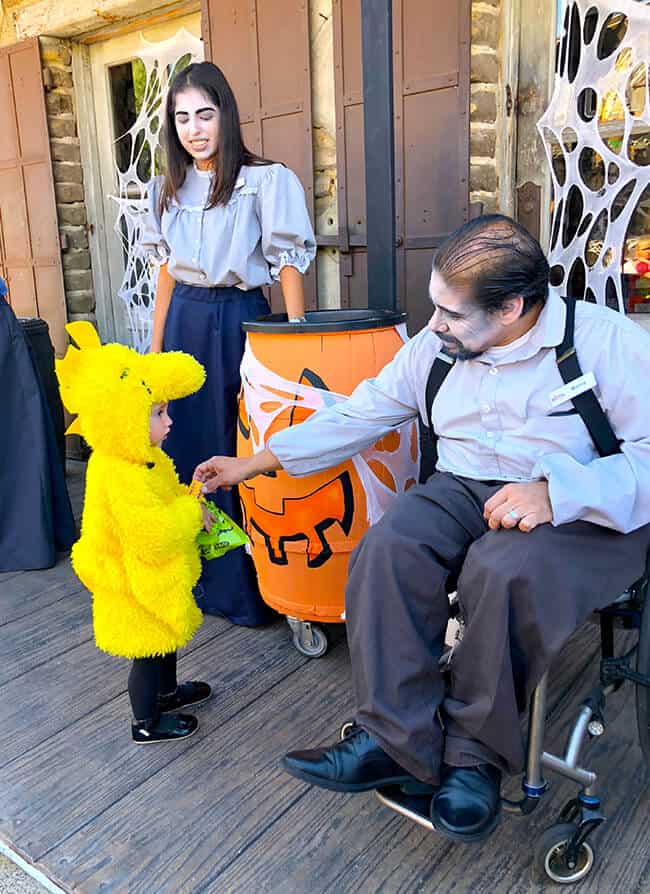 If you put in the work to wear a costume, then you must enter The Peanuts Costume Contest. This fun costume contest is held at the Camp Snoopy Theatre. And for an insider tip, the more creative you are with your costume, the better chance you will have to win. And let me tell you, the host of the costume contest is pretty funny. He tells great jokes to entertain the parents!
Snoopy, Lucy and Charlie Brown all pick their favorite costumes, so you have three chances to win. Everyone who wants to enter, lines up and gets their chance on stage. Don't be late to the contest or you'll miss your chance to enter.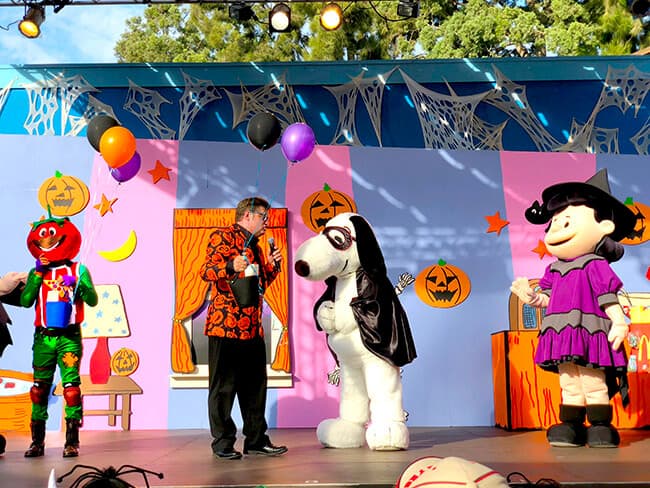 Here is my gang up on the stage dressed up as the Peanuts Gang. Although we didn't win, it was so much fun.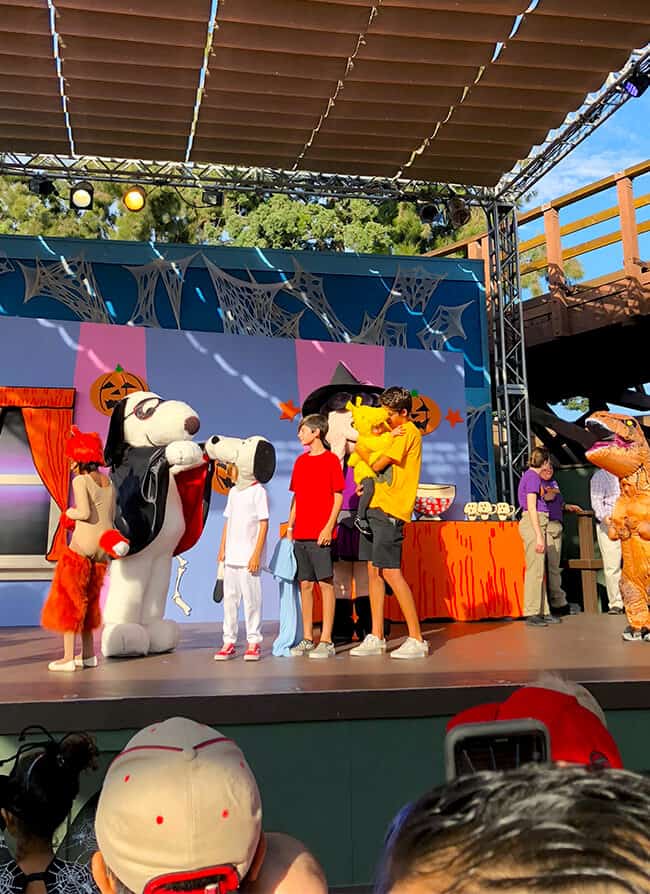 Did you know that you can visit Snoopy and the rest of the Peanuts gang dress up for Halloween? There is a meet and greet area located by Snoopy's Red Baron airplanes. The best time to go is right after one of the Camp Snoopy Shows. After the shows, they usually escort some of the characters out. So jump in line and be the first to get your photo taken.
If you want some hands on fun, make a visit the Creepy Critters of Calico. Inside the Livery Stable in Ghost Town the are a bunch creepy little critters such as bugs, spiders, beetles and turtles. Make sure to say hi to the skeleton horse as you walk in.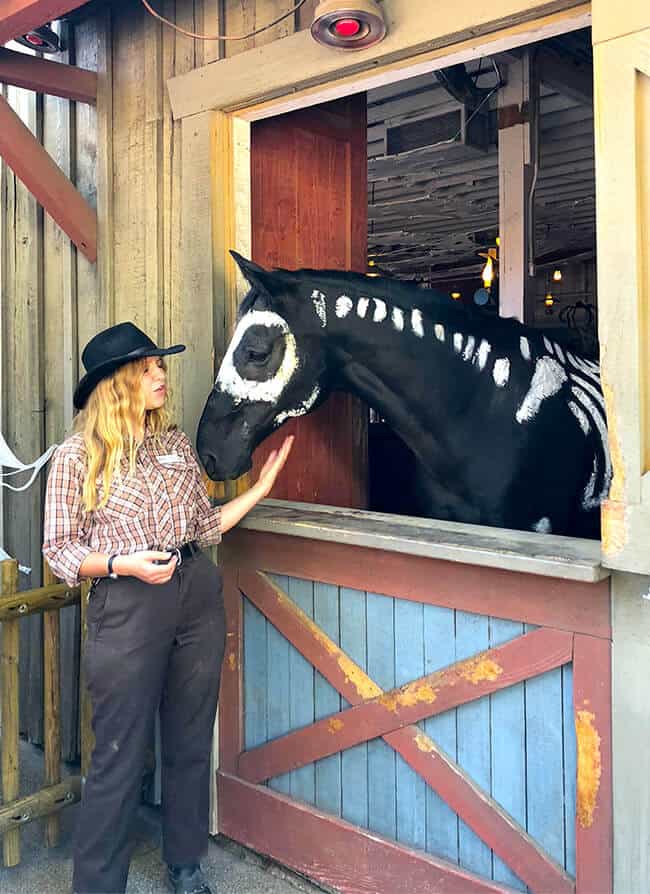 You can even touch a giant boa constrictor. No thank you!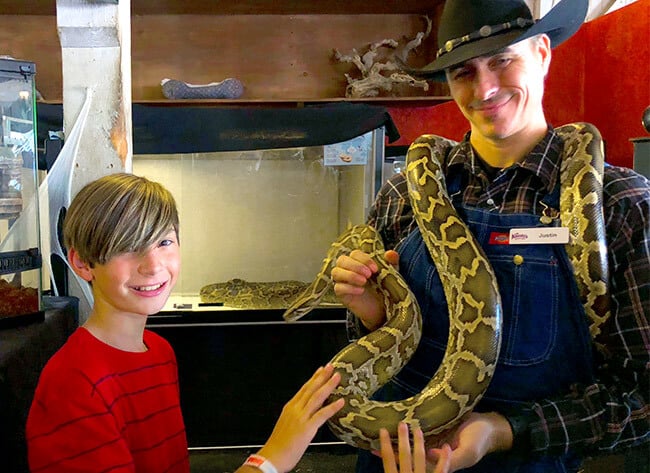 Have you ever seen a lizard with a hat?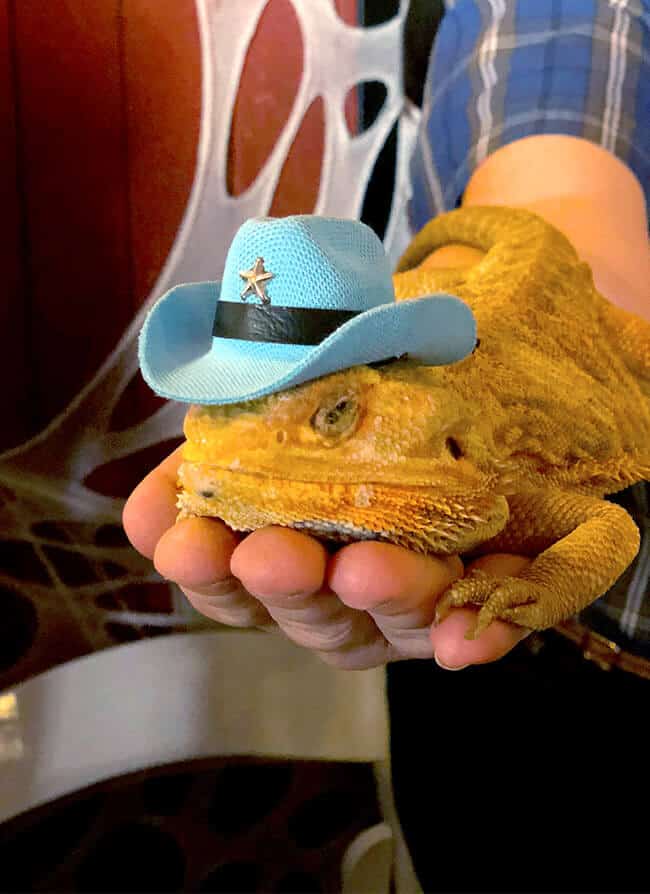 There is even a rat town where you even pet and play with them.
This year, they have Spooky Storytelling shows at the Birdcage Theater in Ghost Town. It's fun because the audience gets to participate and the show is really funny. I recommend getting in line at least 15 minutes if more beforehand. Seating is limited and not everyone in line will fit inside the small theater.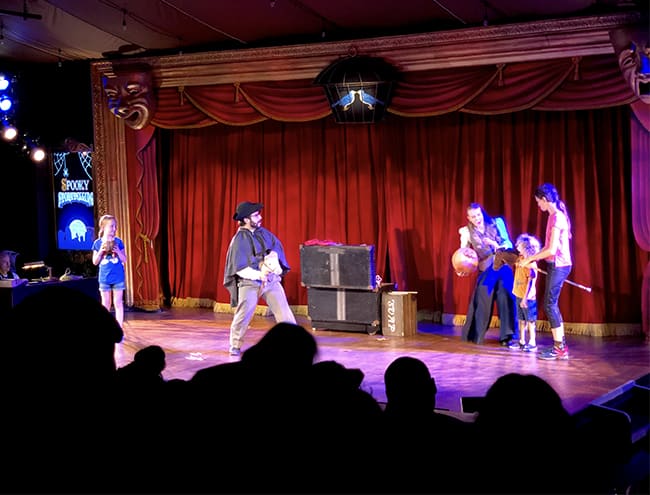 You know me and fun treats. I am always on the hunt to find the most Instagramable treats in Orange County. Knott's Berry Farm has plenty of Spooky Treats for Halloween. You will get the best selection at one of the Knott's Bakeries that are located just outside the park, and inside the park next to Ghost Rider. There will be cookies, cupcakes, donuts, candy and more.
Our favorite are the Halloween donuts. You can even purchase them on your way into the park at the Knott's Bakery Express located near the security lines.
Year round, Knott's offers Snoopy Cookies, but during Halloween, you can get Snoopy Vampire Cookies. Oh so cute.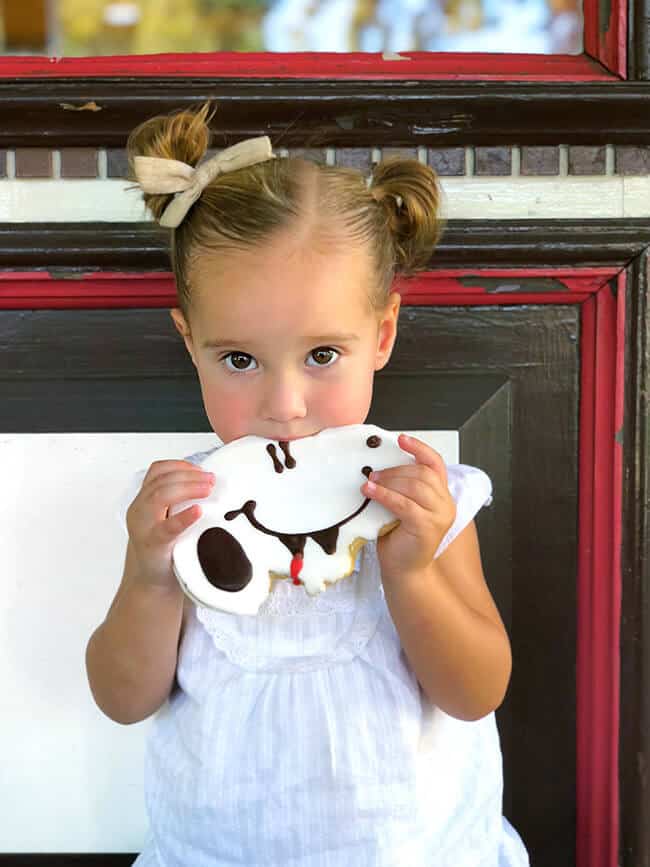 If you had over to Ghost Town, you can find special Halloween Churros at the Churro Factory, or get a Halloween treat at the Calico Candy Store.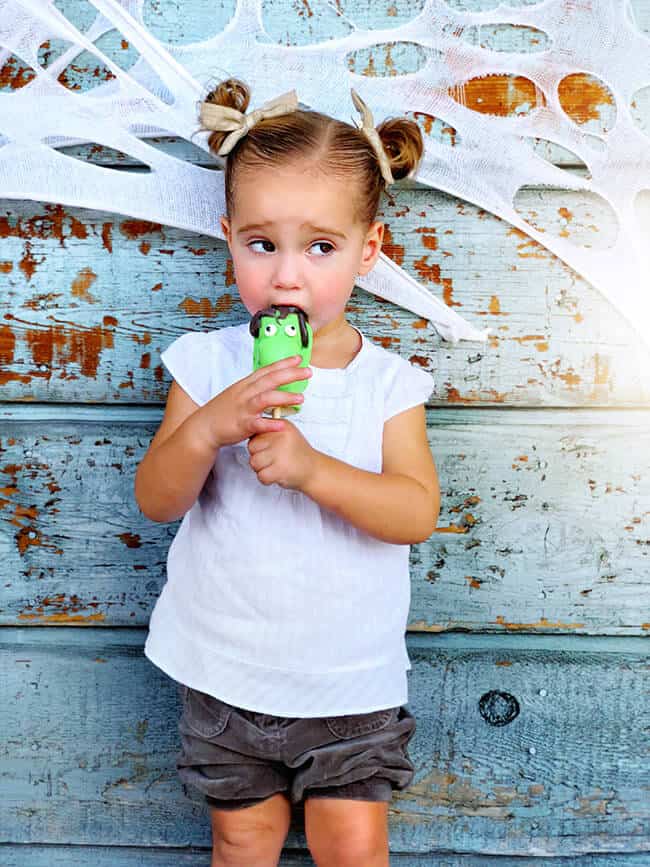 I mentioned before, you don't have to do rides to enjoy Spooky Farm. There are plenty of non-ride activities. In Calico Square, you can visit the Great Pumpkin Patch, and enjoy some down time coloring Halloween Snoopy pages. There is pumpkin decorating and cookie decorating as well!
Finally, make sure to check out some of the Halloween Entertainment at Knott's Spooky Farm. There are family friendly shows happening all around the park. There is Spooky Story Time and the Calliope Cancert at the Bird Cage Theater.
The "Monsters Are Coming" Stage Show at happening Camp Snoopy Theatre, and the astonishing Magician at the Calico Saloon! These shows are great for all ages, and give you the perfect chance to rest your legs after trick-or-treating through the streets of Knott's.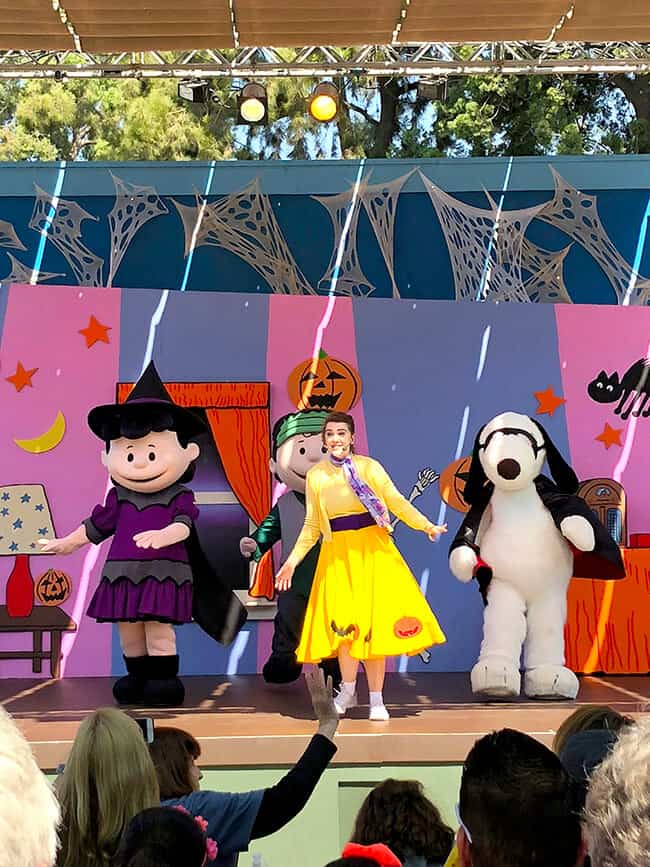 You also want to stop and get measured for you coffin! Well, not really, but its fun nonetheless.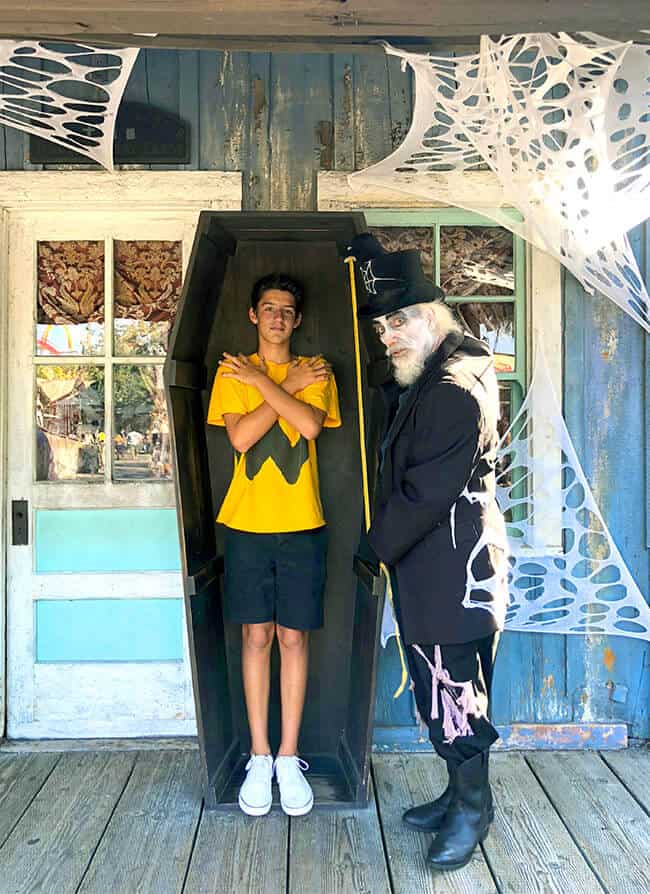 As you can see, you can make an entire day enjoying the seasonal offerings of Knott's Spooky Farm. It's just one of the Seasons of Fun the Knott's has during the year. You can enjoy them all by purchasing a Knott's Season Pass...such a great deal if you want to check out Knott's for Winter, Spring, Summer and Fall.