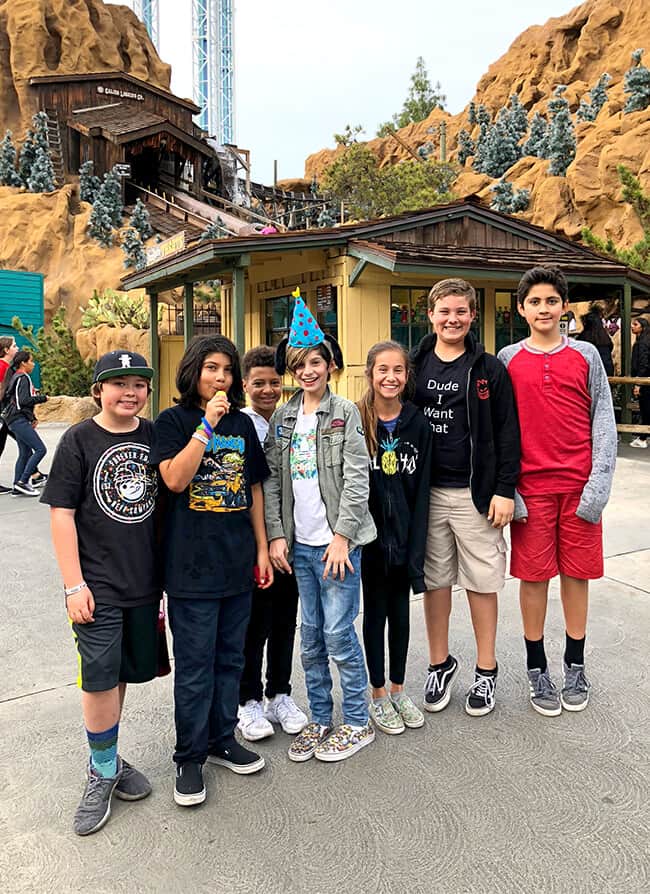 this year i had a special request from my middle son. he wanted to celebrate his 12th birthday at Knott's Berry Farm with six of his friends. of course the answer was yes, as Knott's Berry Farm is one of our family's favorite places to be, and since we have annual passes, we wouldn't have to buy tickets for ourselves, just our friends. i was so excited to celebrate my little guy at Knott's and we ended up having the perfect party with his friends.
here are some insider tips on How to Celebrate Your Birthday at Knott's Berry Farm.
Get a Happy Birthday Button
did you know that Knott's Berry Farm gives free birthday buttons to those celebrating their birthday at Knott's? well, they do! just head over to Guest Services, located in Ghost Town near the lockers, and tell them you are celebrating your birthday. they will customize a birthday button with your name on it for you to wear around the park and keep as a keepsake. this way, everyone will know it's your birthday. and many of the employees in the park will stop you and wish your a Happy Birthday.
Wear Some Happy Birthday Snoopy Ears
now that you have your birthday button, i also suggest getting the Happy Birthday Snoopy Ears. you can purchase them in the Snoopy's Headquarters right outside the park, at the General Store in Ghost Town or Snoopy's Camp Store in Camp Snoopy. they are reasonably priced and make extra special photos for your birthday.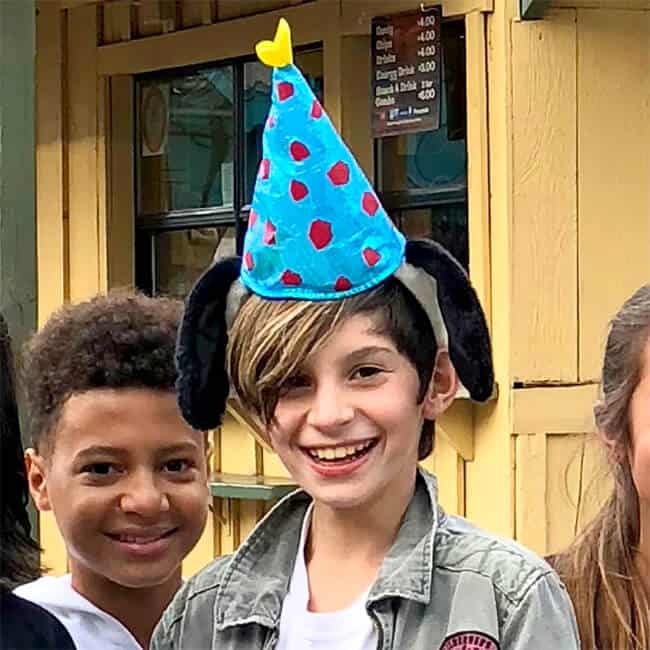 Get Fast Lane Passes for Your Party
now it's time for some rides. the rides are some of the best things at Knott's, but you'd probably rather skip the lines for your special day. i suggest if you can, splurge on Fast Lane Passes to let you skip some of the lines....especially the big roller coasters. this way you are your friends will get to go on the most rides possible!
Get a Birthday Cake at Knott's
did you know that Knott's Berry Farm sells birthday cakes! they actually sell all kinds of cakes...that are pretty tasty if i do say so myself. i would say this is Knott's best kept secret. their bakery has so many great cakes and cupcakes of all flavors, that you can even have customize with a "Happy Birthday" message. the prices are pretty great too. during my son's party at Knott's, i stopped into the Farm bakery, and they customized a cake for me on the spot. it was really cute too...with a Snoopy's face and colorful confetti. just perfect for his party.
you can pick up Knott's Berry Farm cakes at the Mrs. Knott's Bakery Express outside of Knott's in the California Marketplace, or at the Ghost Town Bakery near Guest Services. you can call ahead to get a specific cake, or take your chances and get what they have. either way, i am sure you will be happy with your cake.
i am so happy Kyle decided to celebrate his birthday at Knott's. it ended up being a very special day with his friends and family. and the little added birthday touches from Knott's made are time celebrating extra special.