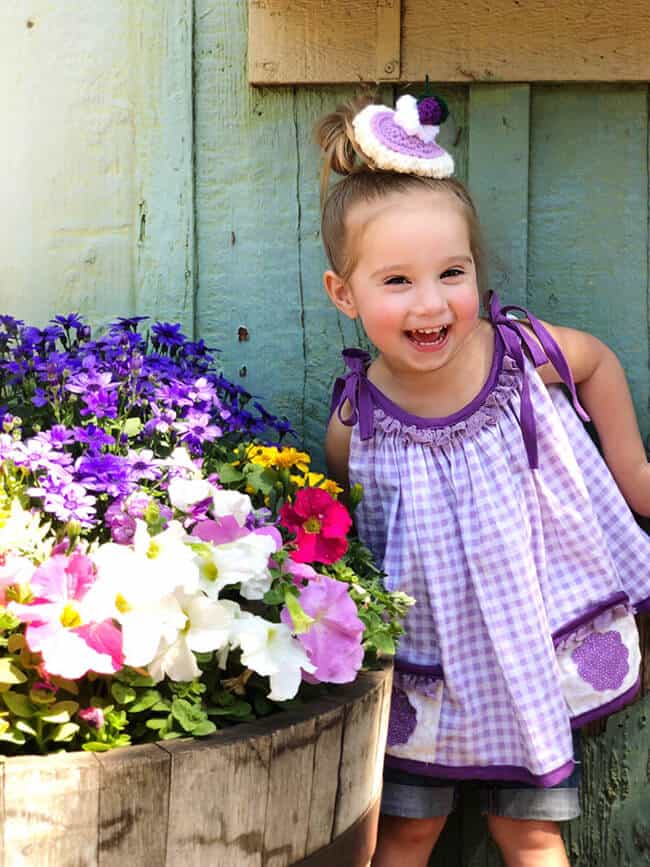 Today is Boysenberry Day at Knott's Berry Farm because it's National Boysenberry Day! This means you will see people dressed-up at the park to celebrate the yummiest berry ever - the BOYSENBERRY! How are we celebrating? By going to Boysenberry Festival of course! Dani is ready in her boysenberry top that I made her especially for the occasion. It turned out super cute in my opinion. And I opted for a purple sundress that I bought last year from Torrid in anticipation of the Boysenberry Festival. I normally don't love purple, but when it has to do with boysenberries, I do. It paired perfectly with some of the Knott's Berry Farm boysenberry sugar cookies that are available in the Ghost Town Bakery. Also, if you go to Knott's today, you will get a National Boysenberry Day Button and there is a Boysenberry Day Berry Best Dressed Contest on the Calico Stage at 4:00pm.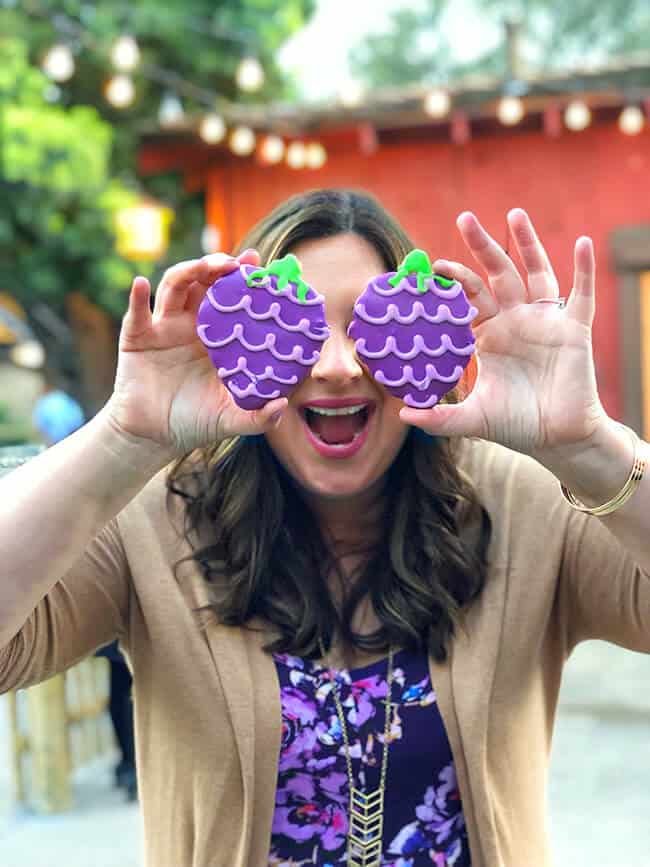 People who love Knott's from all over Southern California and beyond, will be dressed up in anything from lavender dresses to suits, to gingham skirts and purple shoes. But don't worry, if you can't get to Knott's Berry Farm today, you still have time. Knott's is having their FAMOUS Boysenberry Festival all month long from March 30 - April 28th. It's their best year ever, with more boysenberry food options than ever before. My all-time favorite has always been the Boysenberry dipped Boysenberry Cheesecake. YUM YUM. So get your purple on and get over to Knott's. You don't want to miss it!
Need some Boysenberry  inspiration?
Here are some of my favorite Boysenberry-inspired looks that I have seen at the Knott's Boysenberry Festival.
Little Gray Thread made her girls some adorable lattice pie dresses with Snoopy and the Peanuts gang fabric. They are the cutest little cutie pies...and Snoopy in his purple cubby suit is the best thing ever.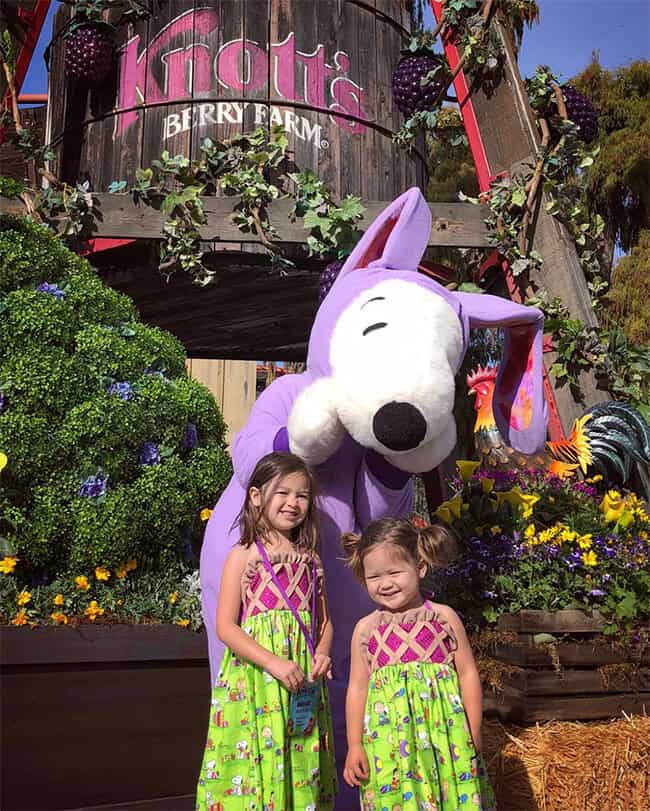 Chloe Noelle is rockin' the vintage hair and the pie belt buckles and hair clip.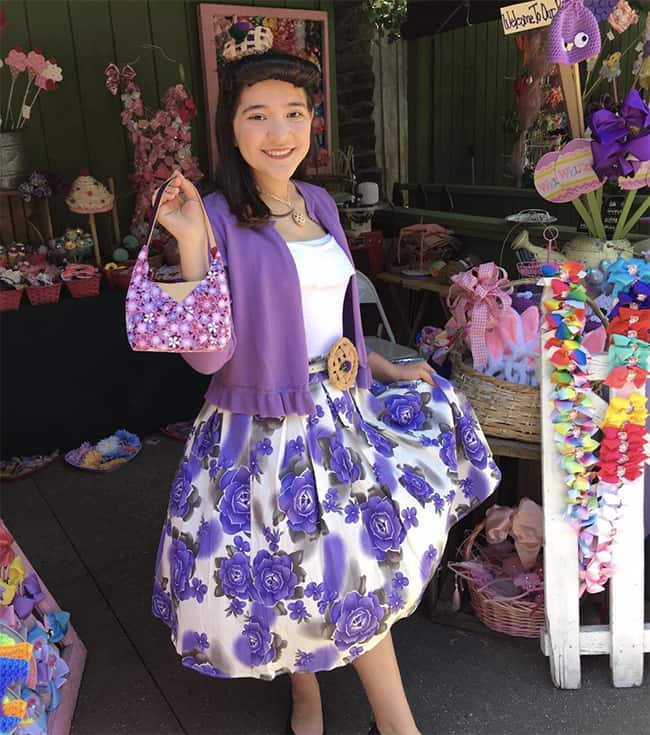 Clementine County made her girls Boysenberry Festival inspired poodle skirts. Look closely and the details...so cute!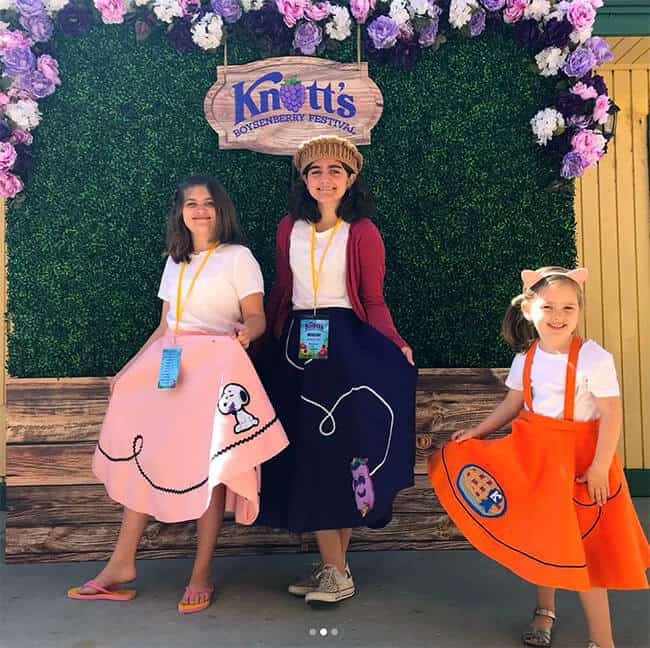 I am crazy over the next looks. These ladies know vintage fashion and how to make it fun and boysenberry inspired. Next year I am definitely going to dress up like this.
Found this photo on the Knott's Instagram Page.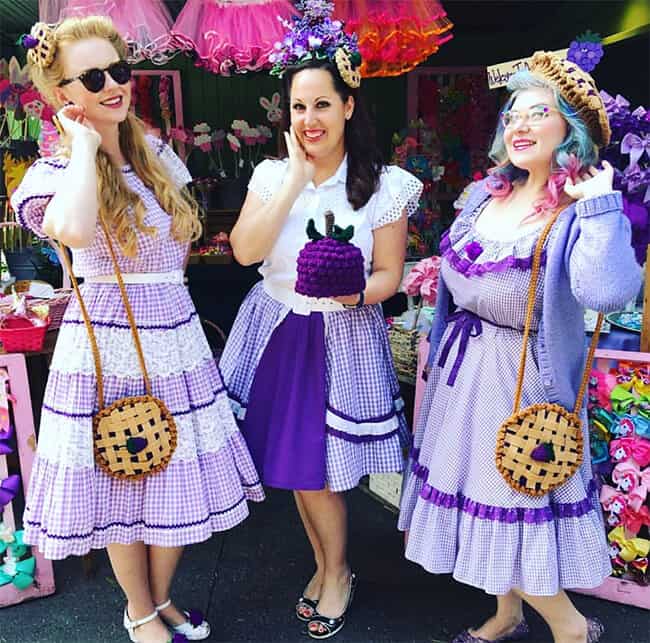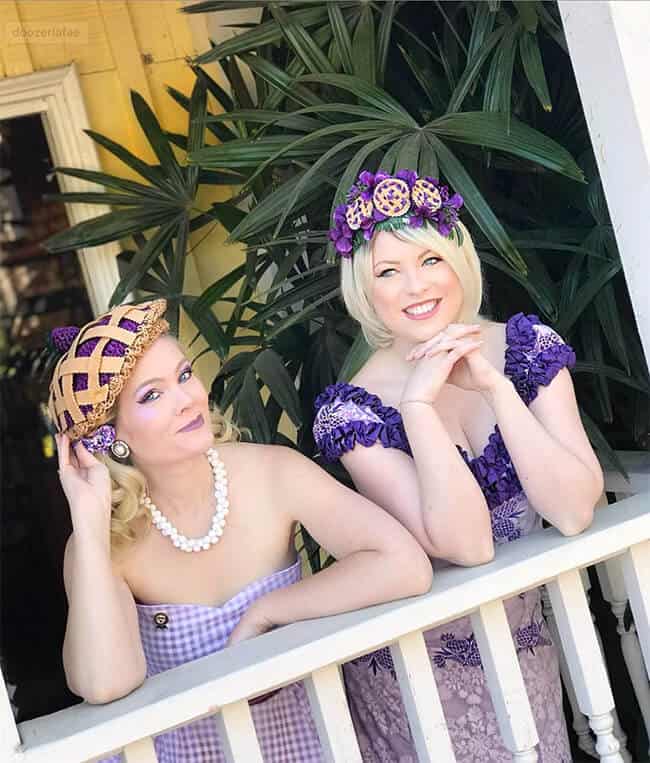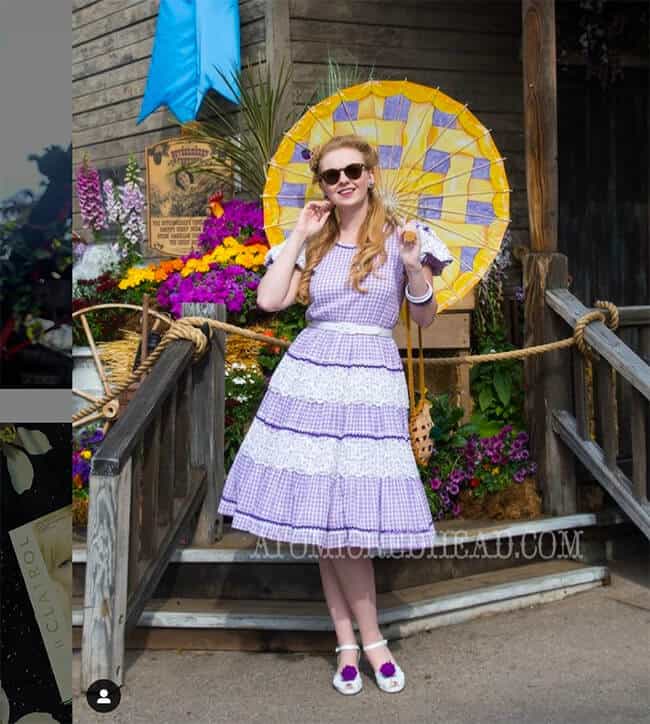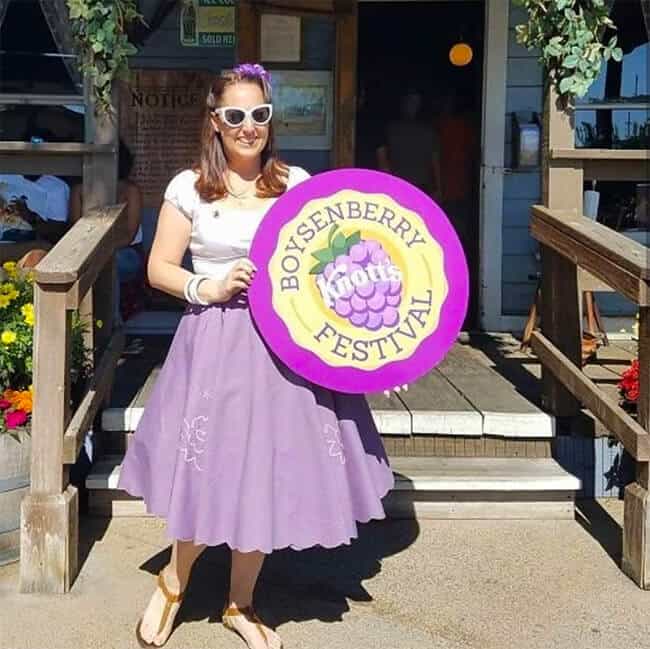 If you are going for simple, you can just use purple accessories. Purple glasses, a hat, a necklace or shoes will tell everyone that you are at Knott's to enjoy the boysenberries.
It's easier than you'd think to find purple and lavender things to wear to the Boysenberry Festival. Knott's has lots of fun shirts and even boysenberry socks. Also, you can look up purple clothing on Amazon and find a million things that are very reasonably priced. Below I have put together a round-up of some of my favorites. With Amazon Prime, you can get the perfect outfit in time to wear to the Boysenberry Festival. Aren't those dresses super cute?!!!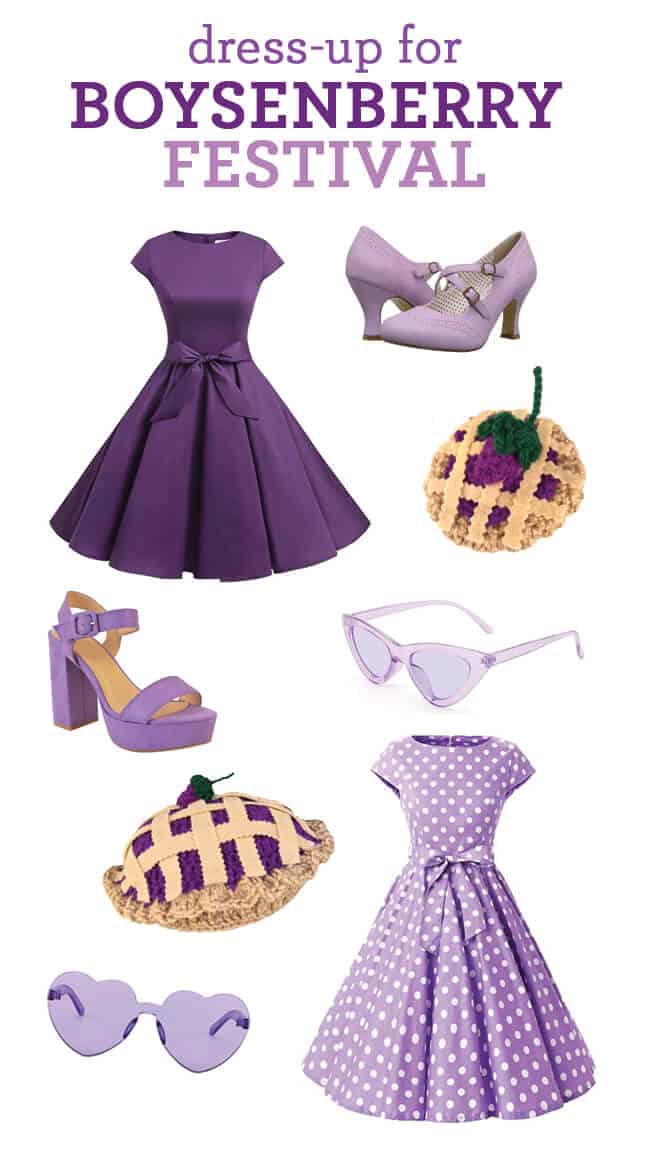 Polka Dot Lavendar 50s Rockabilly Swing Dress  |  Pin Up Couture Women's FLAPPER-35 Pump 
Retro Rockabilly Prom Dresses Cap-Sleeve  |  Platform Purple High Heel Sandals
Cat Eye Sunglasses  |  Colorful Purple Heart Sunglasses
Handmade Boysenberry Pie Hairclip  |  Handmade Boysenberry Hat
You can get the handmade knitted hats, beanies and hair clips like the ones above at Knott's. Miss Doolittle's handmade booth is located near the entrance to Calico Square, in front of the General Store. She can make custom orders as well, just ask.
I hope this post has inspired you to get your boysenberry on! It's so fun to get dressed up and even more fun to head over to Knott's and experience the Boysenberry Festival. Happy Boysenberry Day!