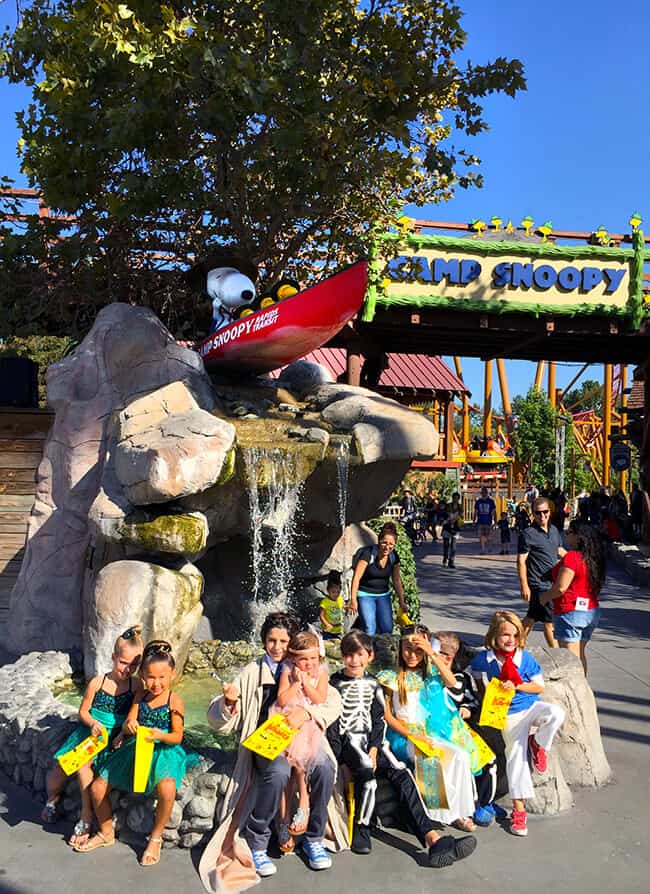 last weekend i was so excited to be able to to take some of my cutie nieces and nephews, along with my own boys to Knott's Berry Farm. that's a total of nine kids! yes a lot, but i really wanted them to get to experience Knott's Berry Farm like my boys get to all the time. it was especially exciting because this month, on the weekends, Knott's Berry Farm becomes Knott's Spooky Farm.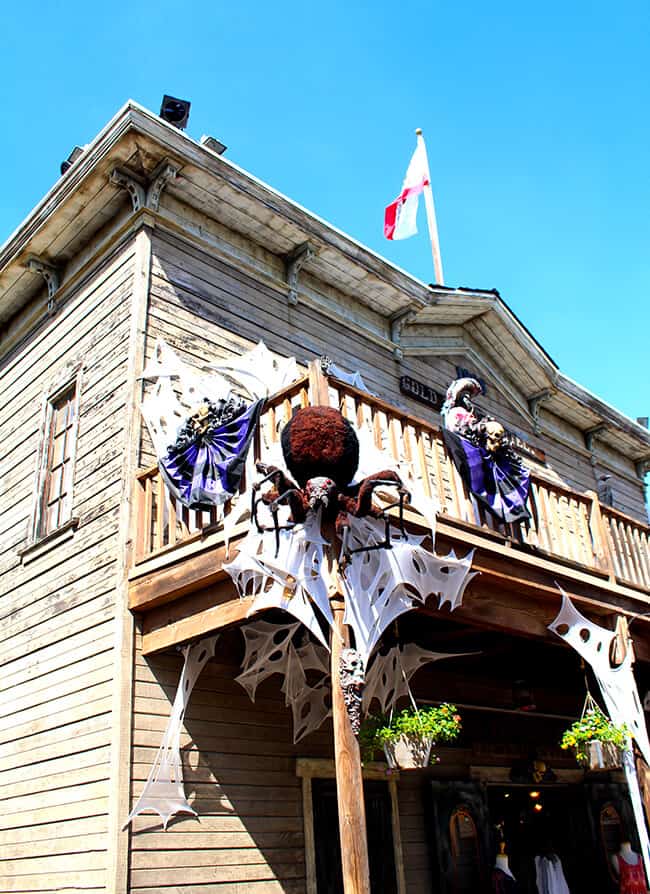 Knott's Spooky Farm uses the whole park for a day of not too scary family fun. one of the favorites of the kids was Spooky Hollow, which is a fun maze complete with spooky trees, giant jack-o-lanterns, and fun halloween scenes. at the end is an option to purchase a small pumpkin and decorate it. it's kind of like the kiddie version of Knott's Scary Farm...but not really scary. they thought that was really cool.
this year the trick-or-treating takes you through the streets of Ghost Town. there are 6 different stations and each one has a cute door and doorbell, candy, and a friendly Ghost Town character to greet you. the lines can get long but they move really quickly. i suggest making this your first stop of the day!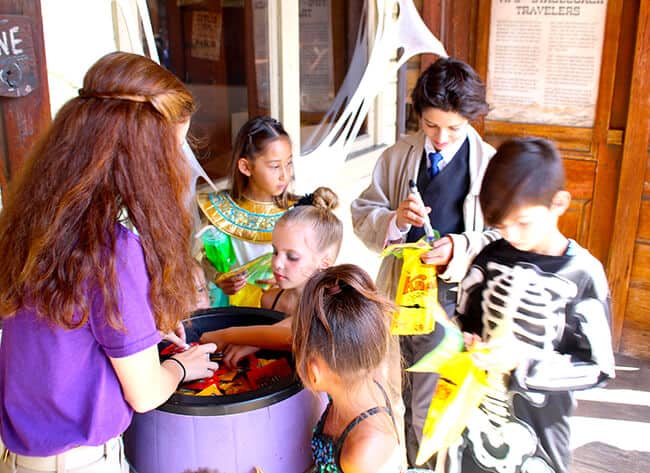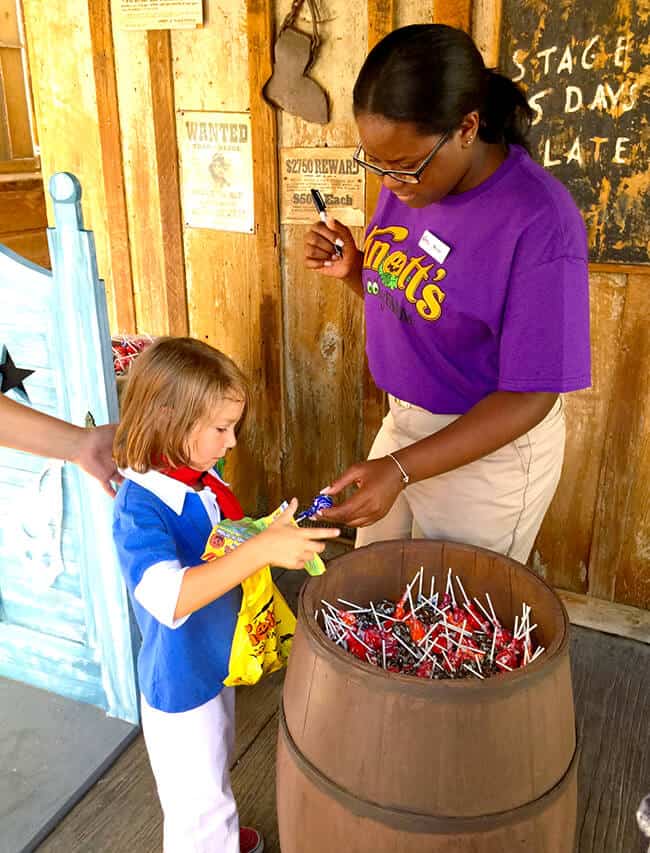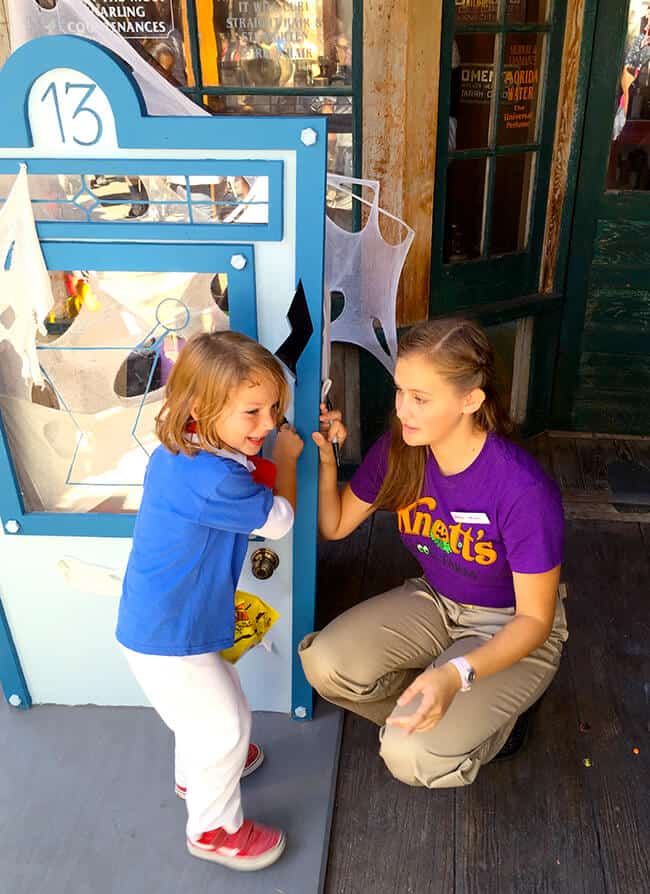 the Ghost Town monsters were great and super fun. they weren't scary at all, and were happy to pose for a picture or play with the kids for a moment.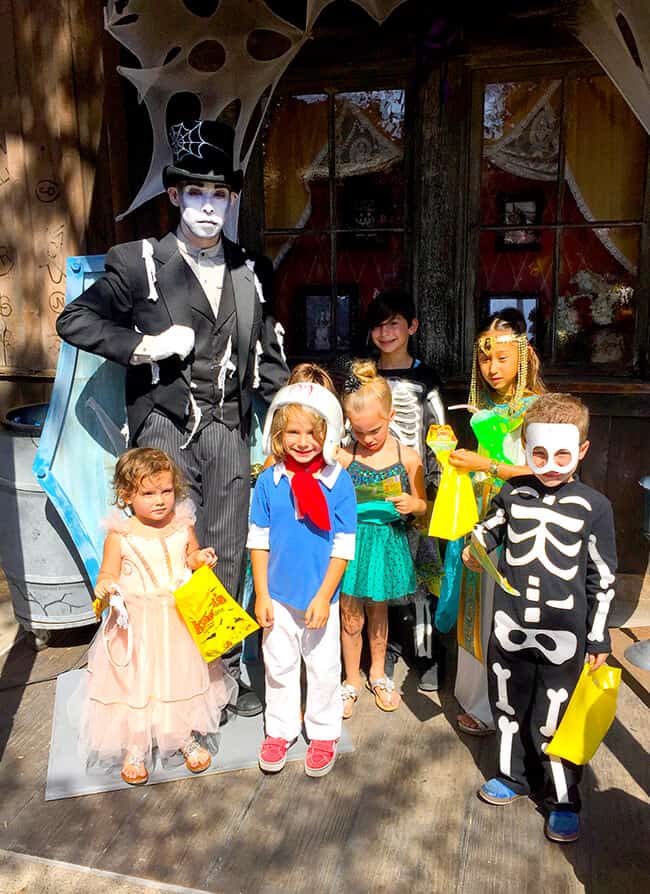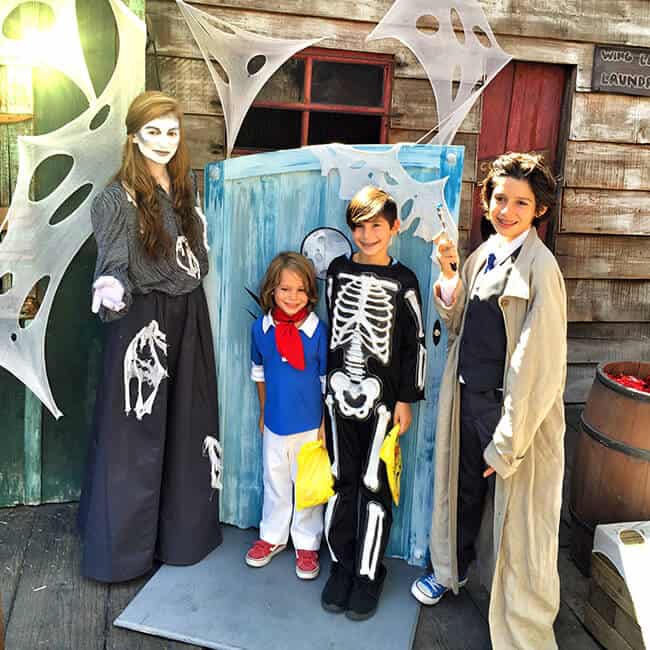 after you're done trick-or-treating you can head to the Creepy Crawly Cabin and hang with some slithery, slimy, creepy, crawly critters. i am definitely not a fan of bugs, but some of my nieces like them way too much!
another annual favorite of the day was Snoopy's Costume Contest and Dance Party. the kids were all dressed up and loved being able to show off their costumes to the crowd and dance with their favorite Peanuts characters. the boys waited for their turn on stage, they were very excited. there were a lot of contestants, but the contest went pretty quickly.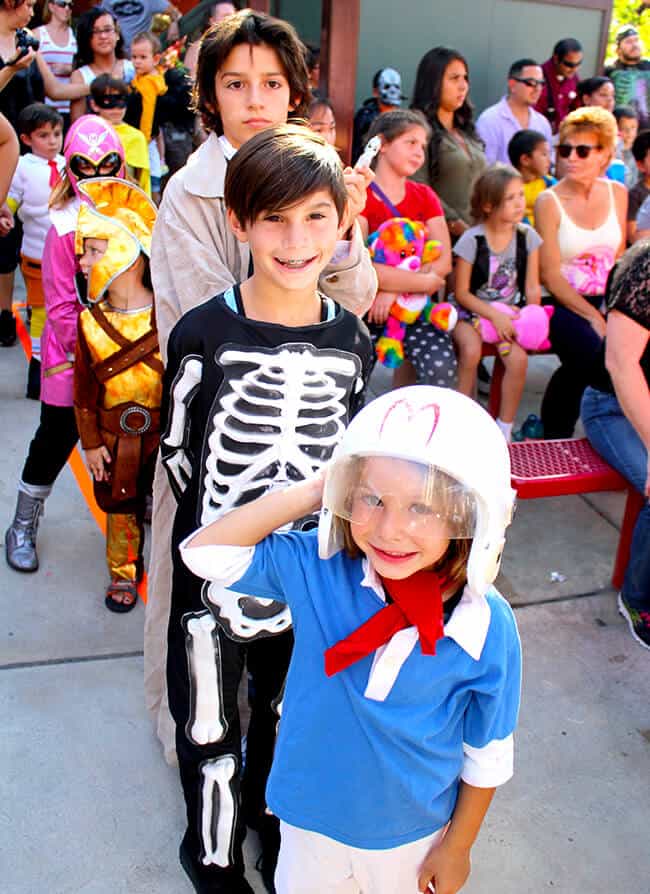 as they walked across the stage the MC announced what they were dressed as to the audience.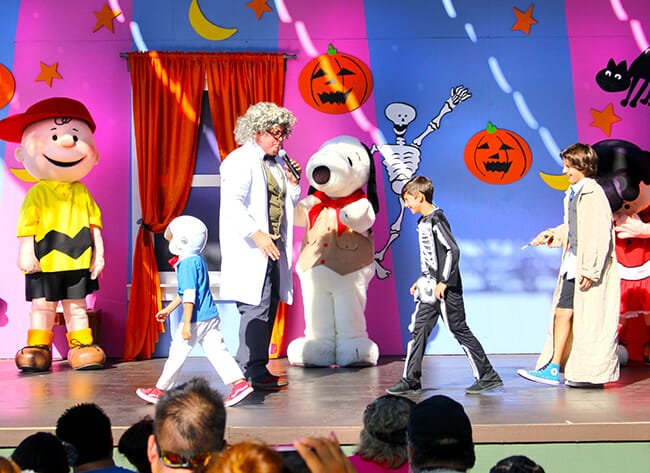 he was hilarious and an awesome comedian. he really knew his stuff, and had my husband laughing his head off!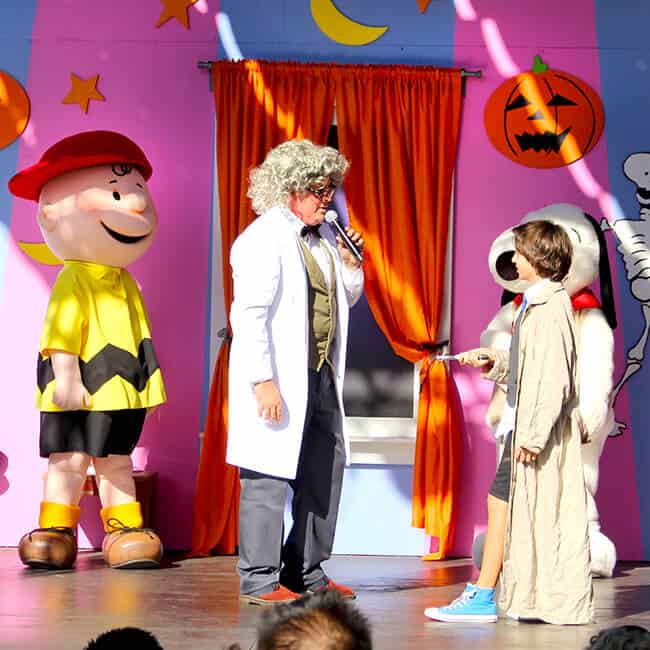 everyone in the crowd loved the costume contest, and there were three winners at the end who got a nice gift bag full of Knott's swag.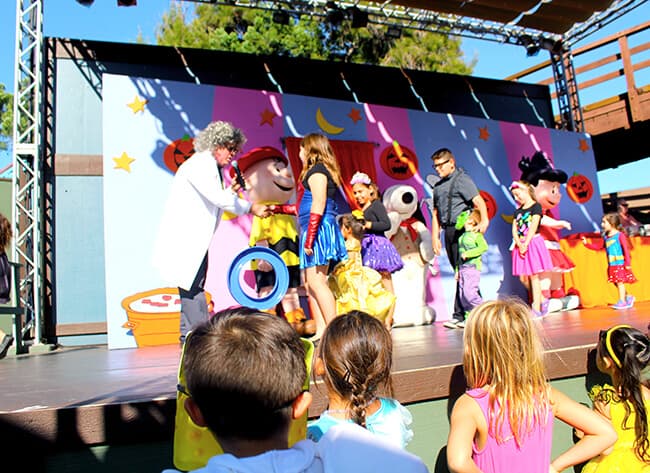 the Camp Spooky Theatre not only holds the Snoopy's Costume Contest and Dance Party, it also has a great Halloween show called "The Monsters are Coming, Charlie Brown!" i suggest saving seats early, as the theater was packed with excited people. it's the perfect way to rest your feet after all the Ghost Town trick or treating. and if you didn't bring a costume, you can head the the Monster Masquerade Ball and make your own mask to wear, and join in the fun monster karaoke.
i had a great time taking my boys and their cousins around Knott's Berry Farm for the day. not only did we enjoy all of the Knott's Spooky Farm events, we also enjoyed the classics like the Log Ride, the Steam Engine and Camp Snoopy rides. even grandma and grandpa had a good time. and we couldn't leave the park without grabbing some of Mrs. Knott' s famous fried chicken. you can get a bucket of it at Chicken-to-go or dine at Mrs. Knott's Chicken Dinner Restaurant.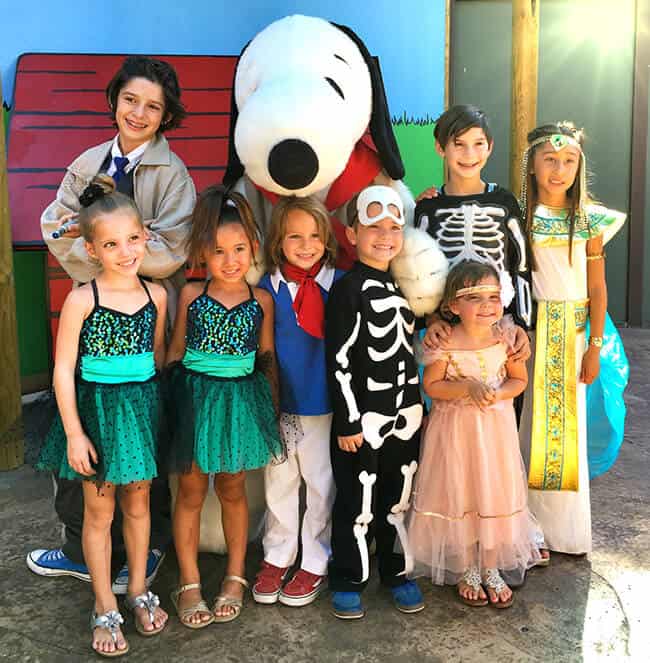 you can visit Knott's Spooky Farm any weekend in the month of October. it's free with admission, so it's a great way to get into the Halloween spirit and not break the bank. speaking of which, why not upgrade your ticket and get an annual pass for next year. it's such a great deal and there are no black out dates!!!!!