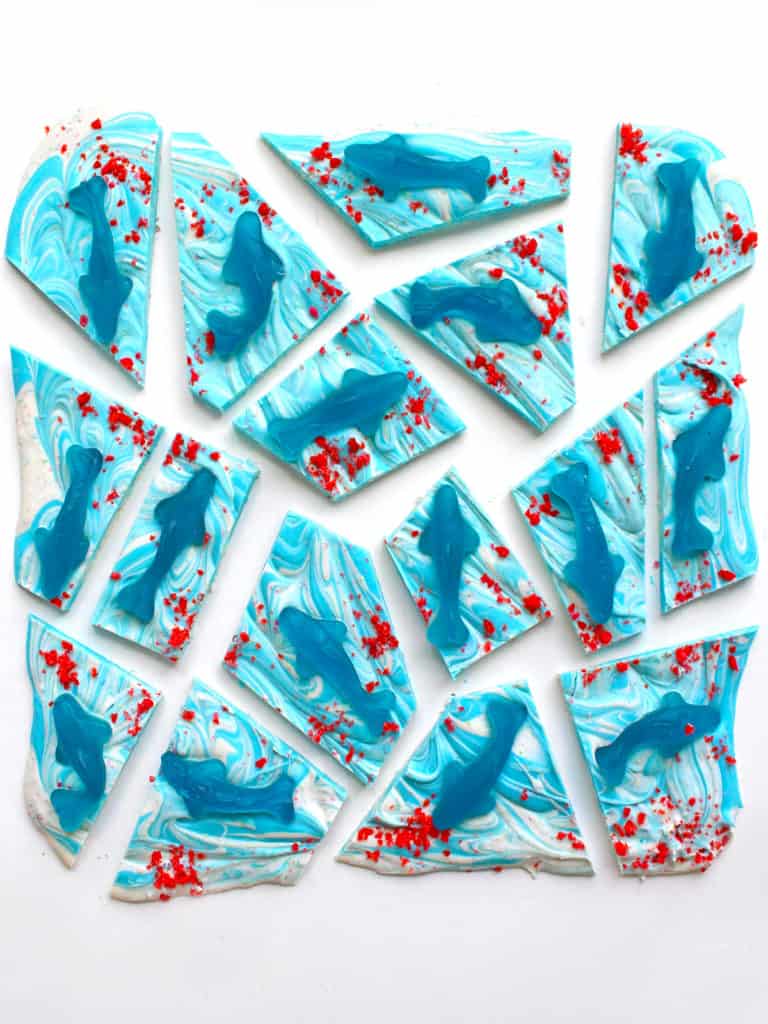 We LOVE shark week over here. I'm not sure how we've become so obsessed with sharks, but we have been watching the Discovery Channel's Shark Week shows the past few night. the boys have also been begging to make shark themed food. yesterday we made a watermelon shark. and today we made Shark Chocolate Bark.
it turned out pretty cool! and it was easy to make. i put together this quick tutorial on how to make it. plus, the recipe is easy enough for kids to make.
what you need to make Shark Chocolate Bark
two colors of chocolate melts, shark gummies, Pop Rocks (or sprinkles), parchment paper and a toothpick. i found the shark gummies at Spouts and the Pop Rocks at Michael's.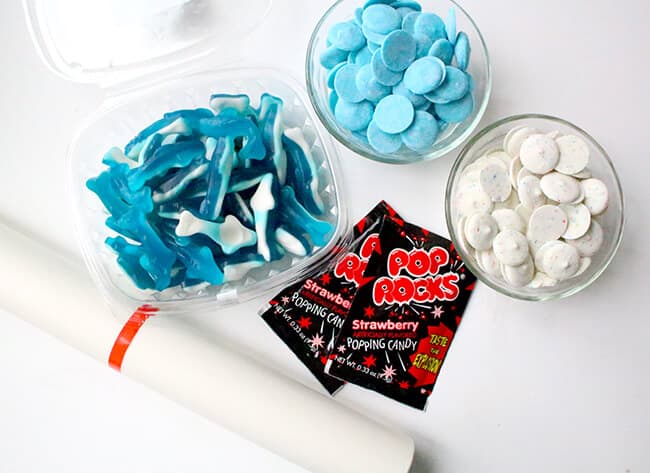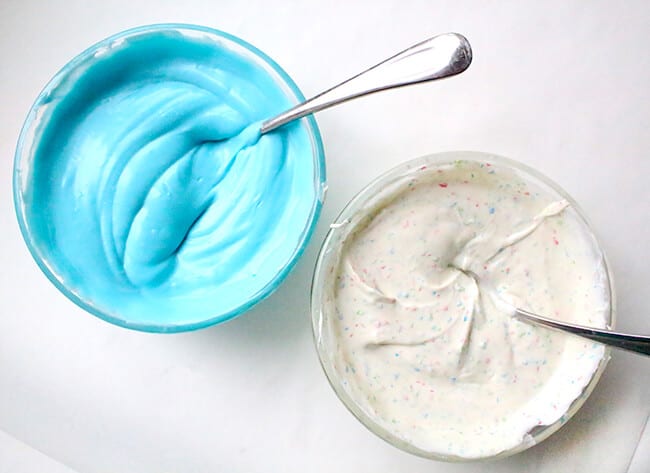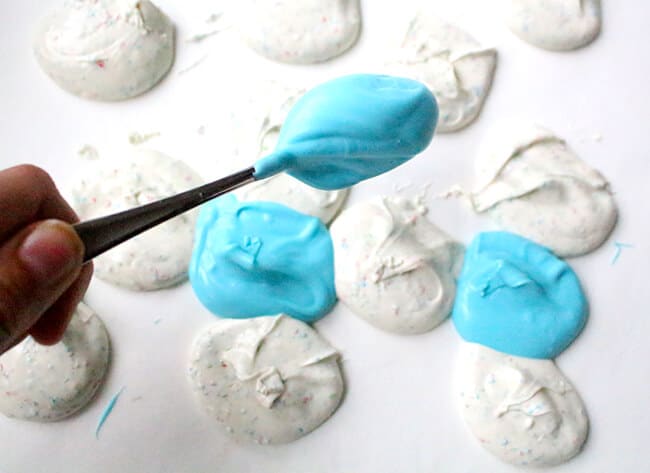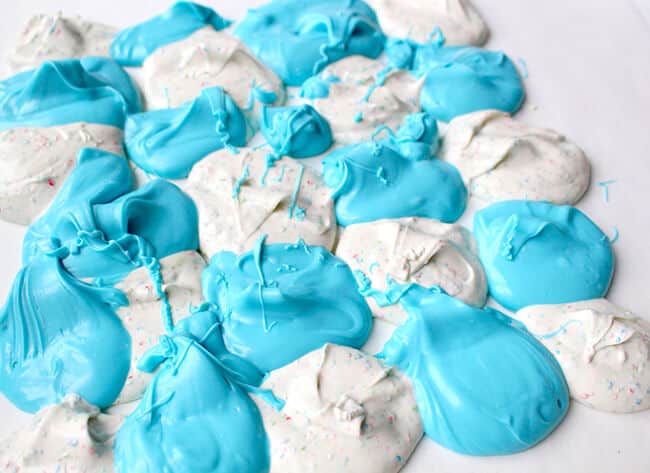 first, melt the chocolate in the microwave. be careful not to over cook. i like to use the chocolate melts you get at the craft store. i found a light blue and a white chocolate that had speckles of other colors in it. i thought these would be good and not too dark so that you could still see the blue sharks on top of it.
on a piece of parchment paper, spoon scoops of melted chocolate to create a square.be sure to alternate colors so that both colors will be evenly represented in your candy square.

you should end up with something like this.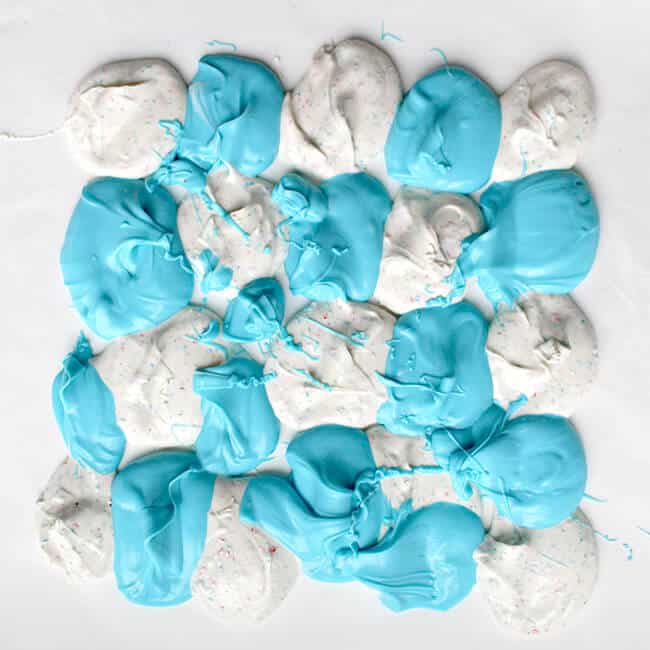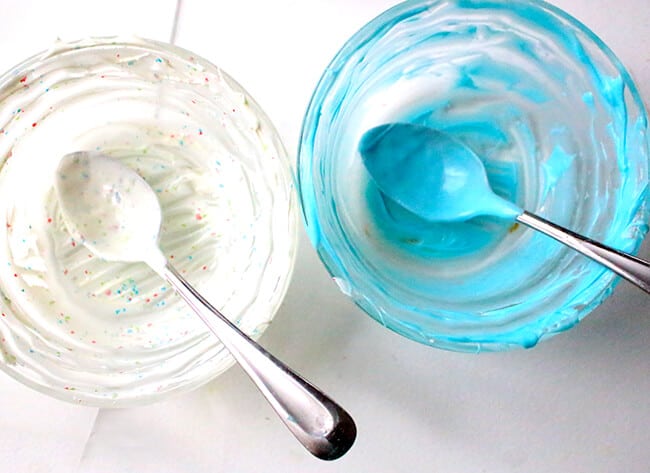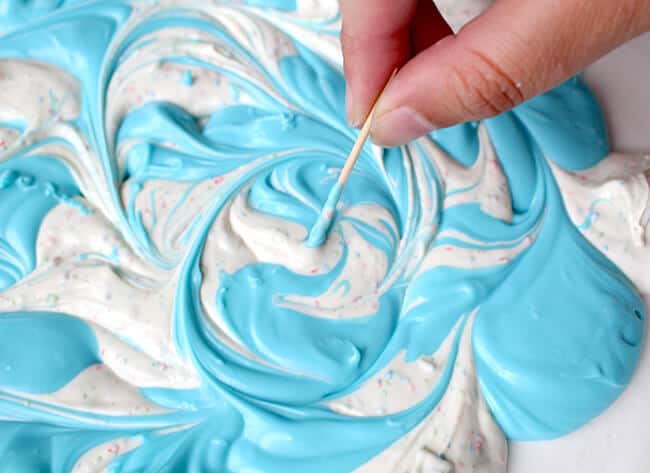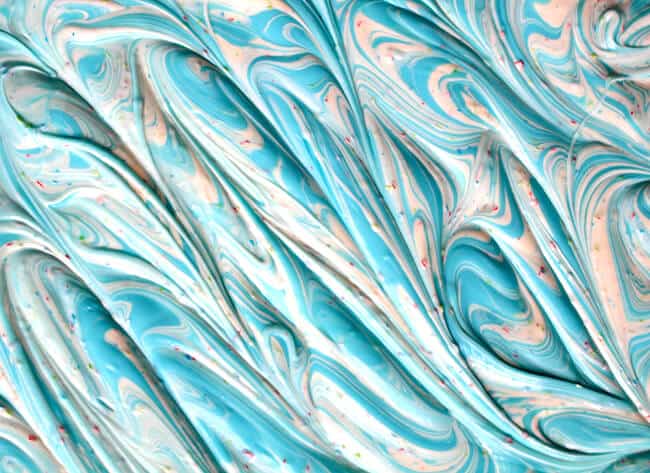 use all the chocolate.
now, take a toothpick and swirl the two chocolate colors together. you want to move quickly before your chocolate starts to harden. you really can't mess this part up, just keep swirling until you like your results.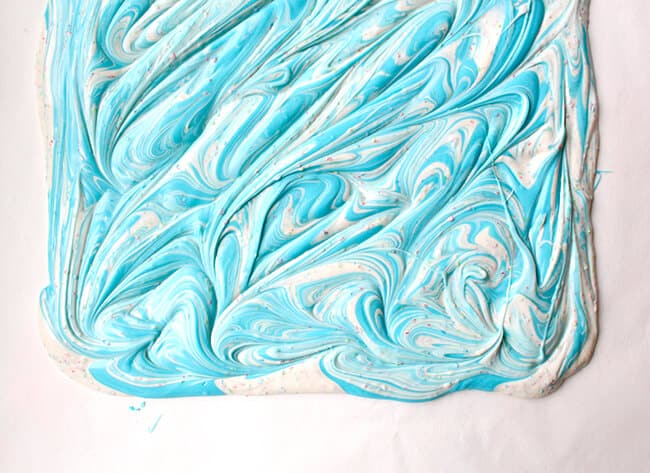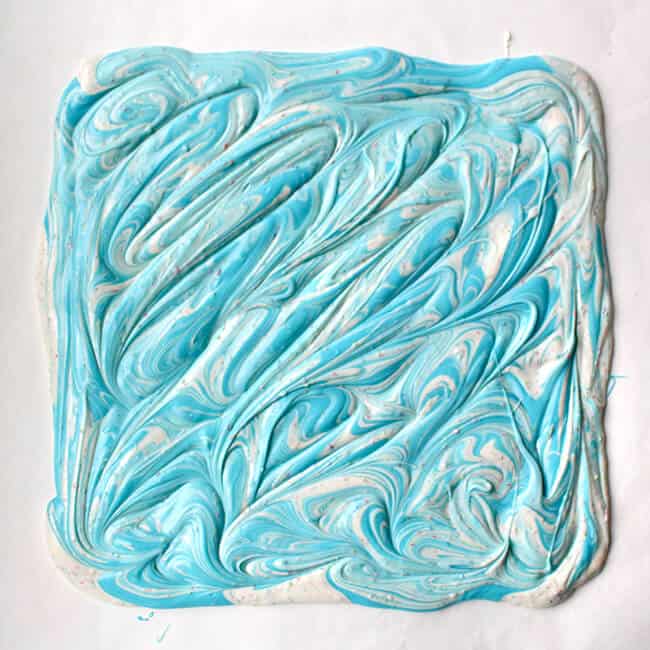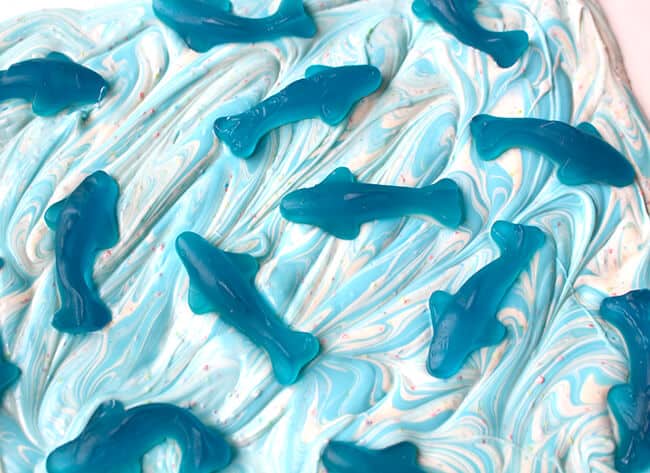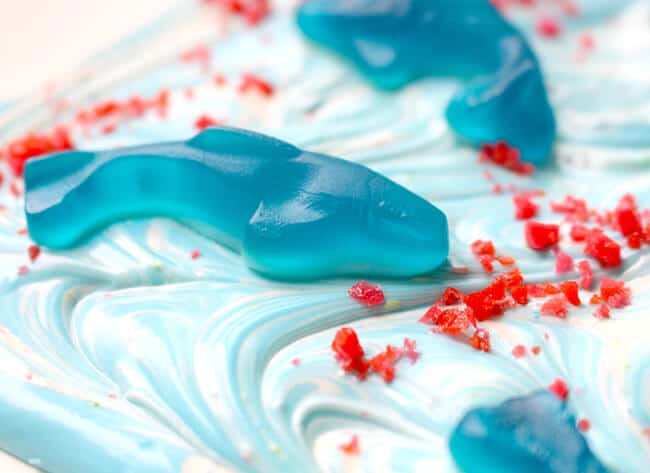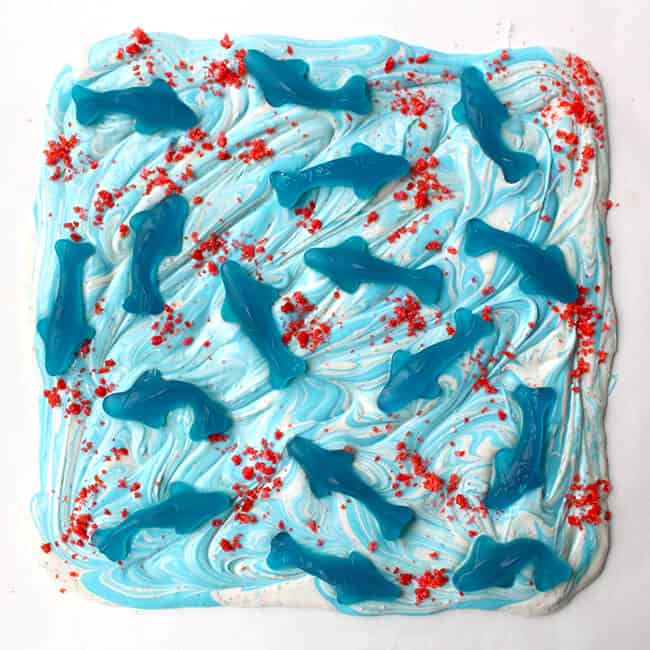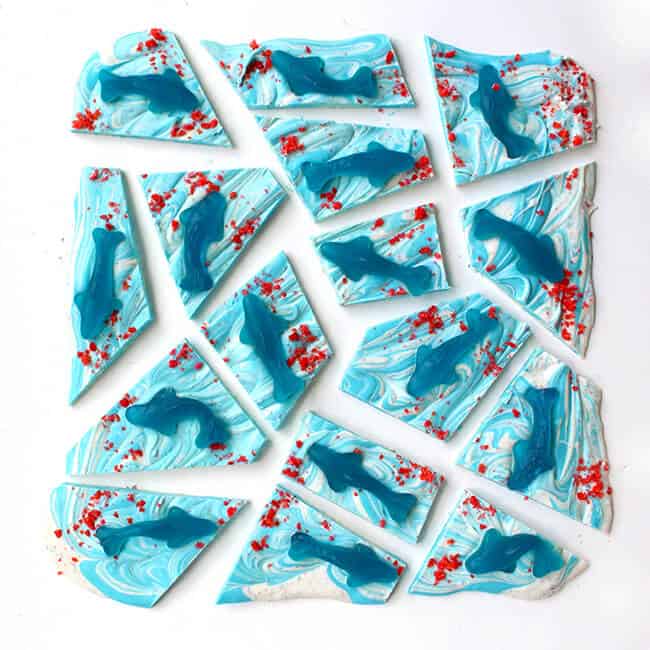 make sure to make nice edges for you square. use

your completed swirled chocolate square should look something like this. ⅜"-½" thickness.add the shark gummies evenly over the chocolate. i like to put them sort of close together so that when i cut the chocolate bark, everyone gets a shark. my kids insisted on added red candy to the Shark Bark because according to them, sharks LOVE blood. i found these red Pop Rocks at the craft store and they worked perfectly. we sprinkled them around all the sharks. you are now finished making your Shark Chocolate Bark. wait until it is completely cooled and the chocolate is hard before you cut it. finally, once the chocolate has hardened, it's time to cut the Shark Chocolate Bark. using a large sharp knife, cut the chocolate into single servings. i like to cut it just when the chocolate has hardened but is still very slightly warm. it makes for nice cuts.i like to cut the chocolate so that each piece has a shark gummy.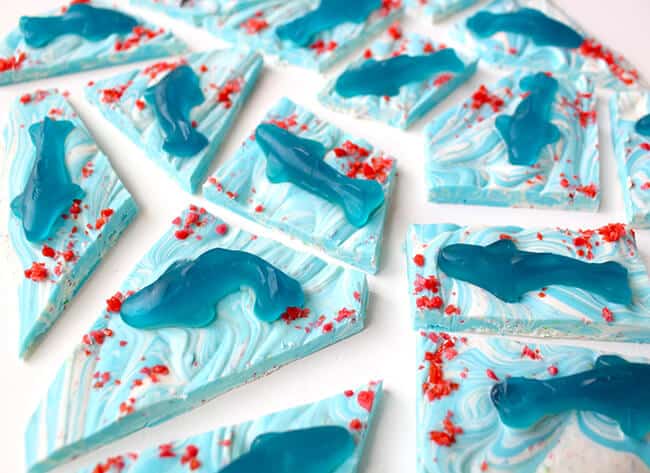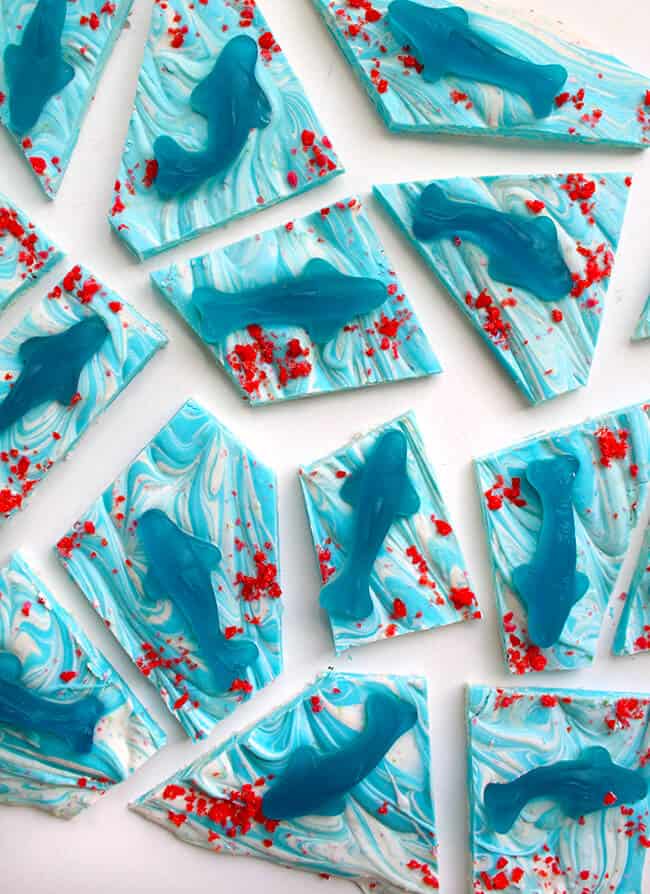 eat immediately or store in and air tight container. enjoy for Shark Week or for any summer occasion!