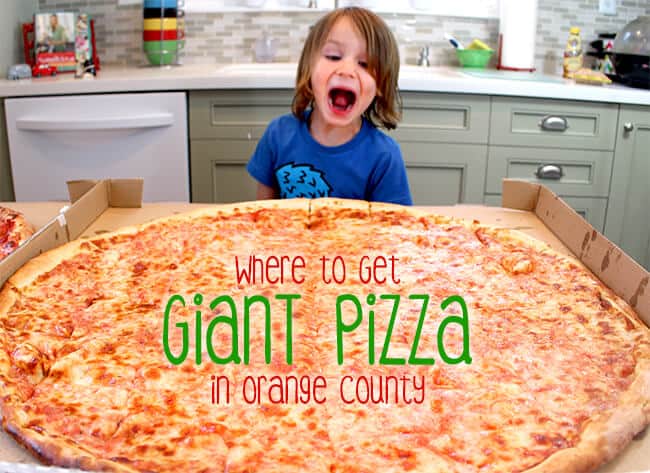 ever since i shared photos of my son's birthday party last month, i've had so many emails and Facebook messages asking me "where did you get those GIANT PIZZAS????" with that much interest, i knew i had to write post about where i got them. there is just something super cool about a ginormous pizza, and these pizza pies span well over two feet wide. at 28 inches round, these pizzas were the hit of the party...and my instagram account. i guess the bigger the food is, the better.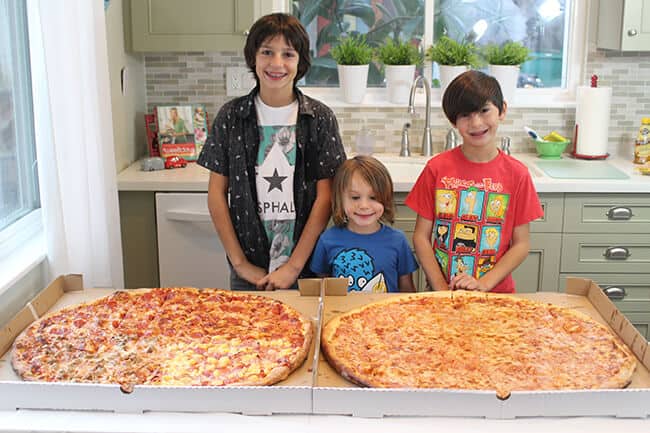 so where did i get the GIANT pizzas?  i got them at Rosa's Pizza located on Bradford Avenue in Placentia. a little hole in the wall mom and pop establishment that has been serving up pizza in Orange County for more than 30 years! they are especailly known for their the giant pizzas that are called "Big Mama" pies. probably some of the biggest pizzas you've ever seen. plus, they also serve fresh salads, deli sandwiches, spaghetti & meatballs and more.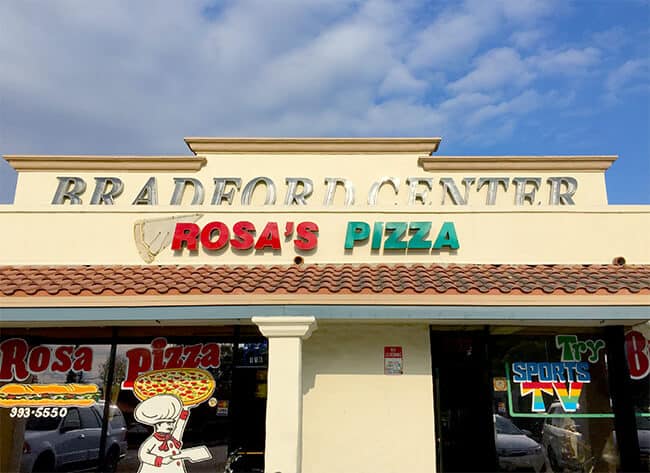 how did i know about theses giant pizzas? well, many years ago i had a summer school science teacher named Mr. Benson. he was one of my favorite teachers who has since past away from cancer years ago. he told the class that if we studied hard during the summer (i was taking the class to get ahead in highschool), that he would buy us a giant pizza. he was so excited in how he described them. and sure enough, on the last day of summer school, he brought us giant pizzas. he was such a fun teacher.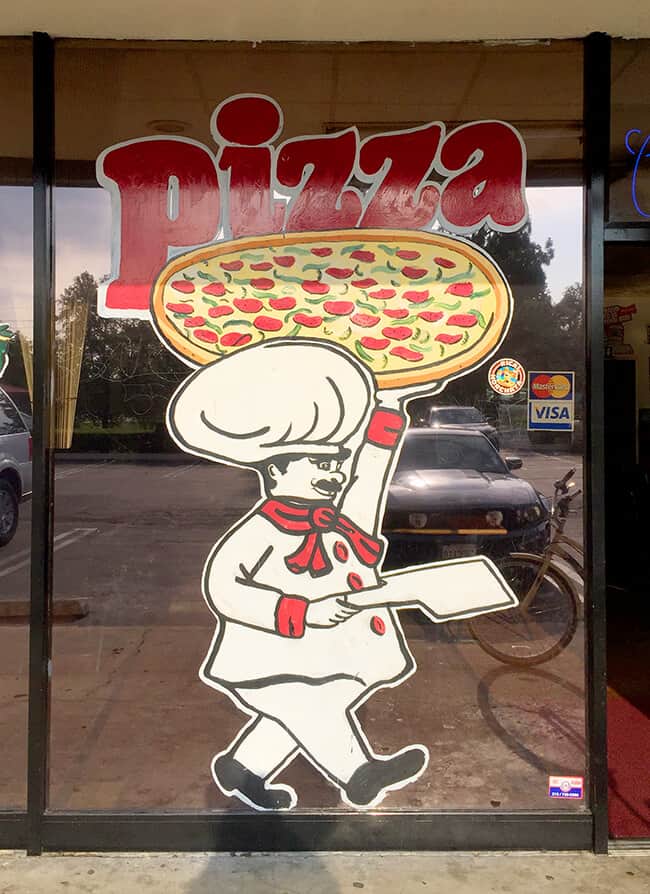 these giant pizzas range in price from $31.00 for plain cheese to $33.62 for 1 topping to $53.25 for a combo pizza. you can order plain cheese, get two halves with different topping or even quarters all with different toppings. each pizza has 45 slices and is cut in squares, not wedges.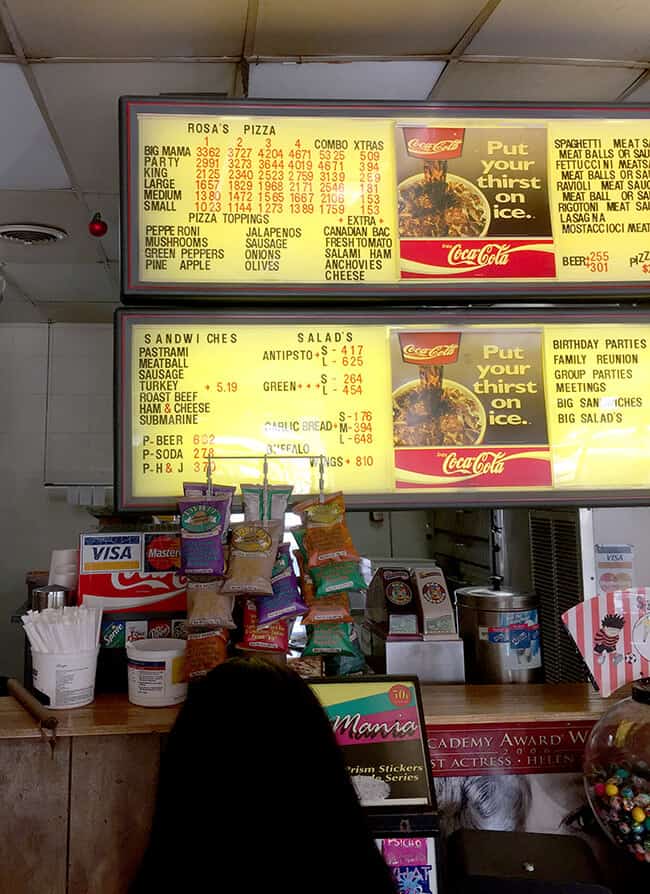 the "Big Mama" pizzas come in giant boxes, so be prepared with a truck, mini van or car that's seat fold down to fit them in. i am pretty sure a regular car will not work to transport these giant pizza. i also recommend only getting these pizza for takeout. the restaurant is pretty old, run down and dark inside, so i personally would prefer to eat them in the comfort of my own home.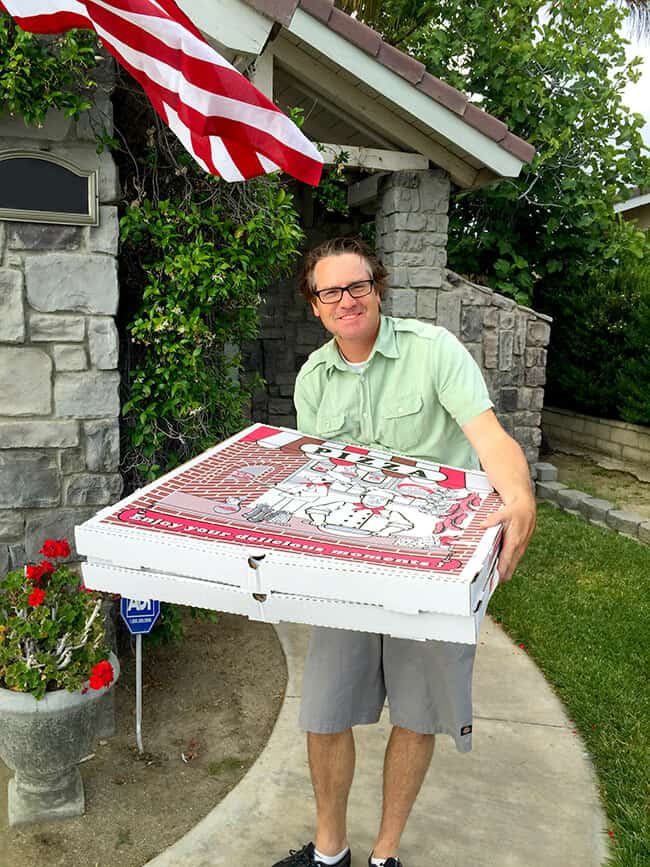 i was told that each pizza serves 10-12 people. we bought 2 pizzas and still had a ton leftover, so I would say it feeds more like 14-16 people, unless you have really big eaters. and as for the taste, they are good!  just like any take out pizza. i would say the taste similar to Ameci's or Domino's. but i can't really describe exactly how they taste. i will say that i really loved the pizza with the toppings over the plain cheese.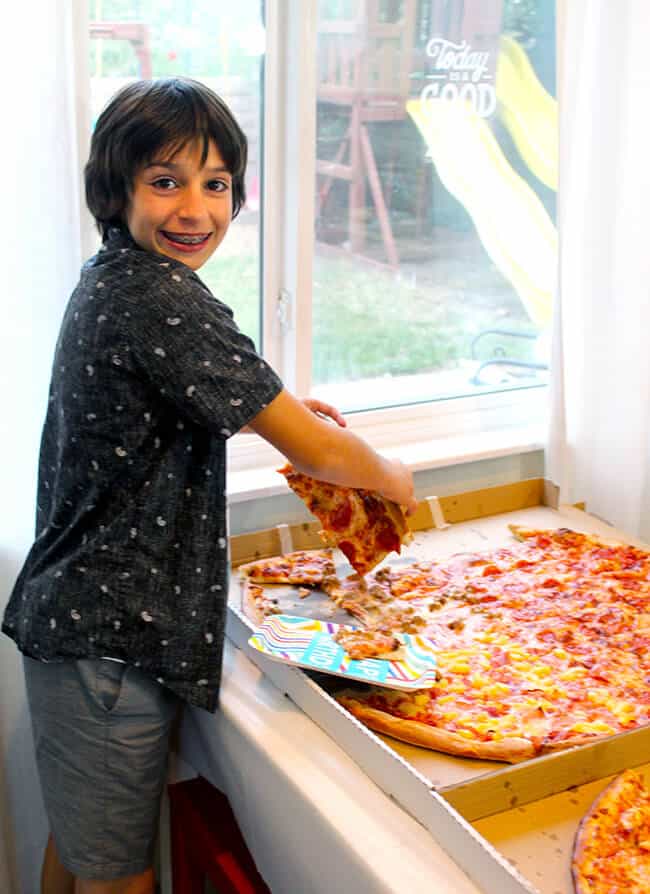 we will definitely be getting more giant pizzas in the future. the excited look on everyone's faces was worth it alone to get them again.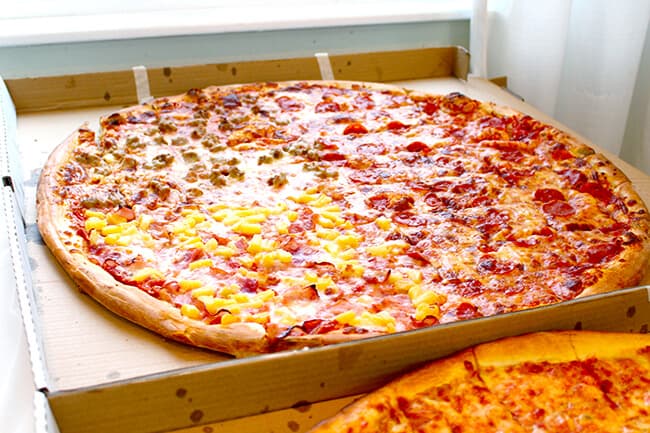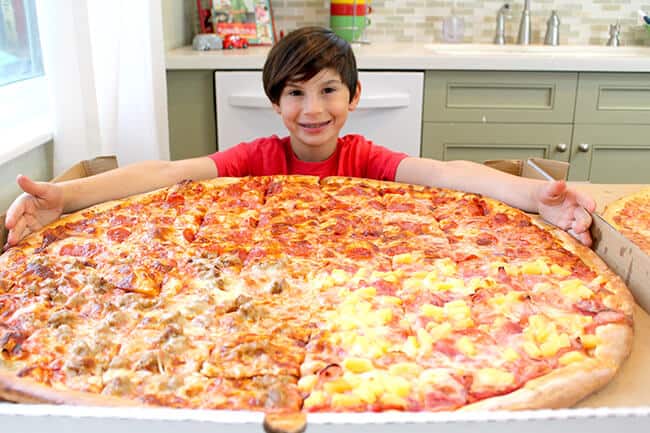 below is the information on where to get your own giant pizza. i have also included the information for other pizza places that serve giant pizzas, i have not been to most, but they came recommended by my readers.
Rosa's Pizza in Placentia (28" pizza)
116 N. Bradford Avenue, Placentia, CA 92870
(714) 993-5550
Italian Pizza Rosa in Anaheim - i have not been here (28" pizza)
2825 E Lincoln Avenue, Anaheim, CA 92806
(714) 630-0750
Great Manhattan Pizza in Anaheim - i have not been here (30" pizza)
9842 Katella Avenue, Anaheim, CA 92804
(714)532-2233
Giavonni's Pizza in Fullerton - (24" pizza)
922 Williamson Avenue, Fullerton, CA 92832
(714) 526-5561
Big Rob's Pizza in Westminster - i have not been here (28" pizza)
13452 Goldenwest Street, Westminster, CA 92683
(714) 891-1148
Dano's Pizzerio in Fountain Valley - i have not been here (28" pizza)
16505 Magnolia Street, Westminster, CA 92683
(714) 842-4999
Ball Park Pizza Team in Mission Viejo - (28" pizza)
28813 Los Alisos Blvd, Mission Viejo, CA 92692
(949) 830-3436
Ciro's Pizza in Buena Park - (28" pizza)
6969 La Palma Avenue, Buena Park, CA 90620
(714) 523-3381
Pizza D'oro in Costa Mesa - (28" pizza)
1145 Baker Street (near Fairview), Costa Mesa, CA  92626
(714) 549-0685
Pizza D'oro in Huntington Beach - (28" pizza)
8468 Indianapolis Avenue, Huntington Beach, CA 92646
(714) 536-9383
Gina's Pizza - (28" pizza)
Corona Del Mar, Costa Mesa, Irvine, Laguna Beach, Newport Beach
Locations and Phone Numbers Here
now go get some GIANT pizzas!!